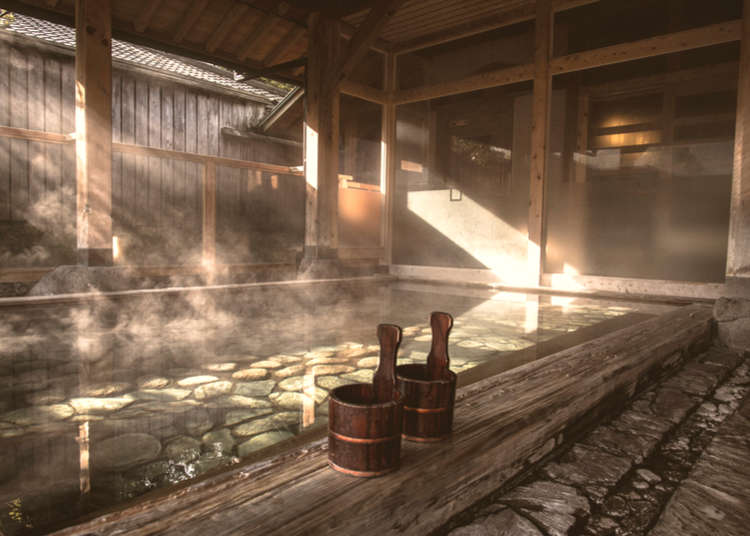 Japan is a volcanic country and thus, has many hot springs. It could be said that the hot springs are the spirit of Japanese people! Let's take a look at three Tokyo hot springs hotels where you can enjoy a hot spring bath, called "onsen," without a stay, as well as two other popular hot spring facilities located right in Tokyo.
1. Okutamaji: A Large Public Bath Overlooking the Tamagawa River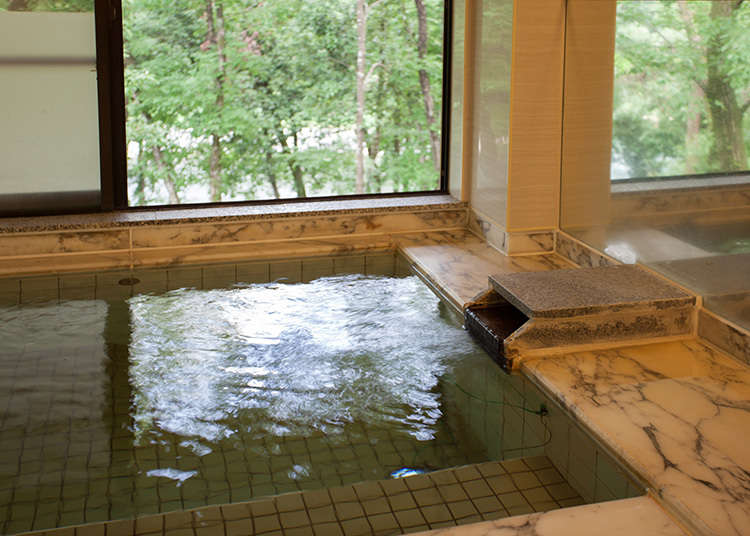 Located in Ome, known for having an abundance of nature, the Okutamaji Hotel commands a view of the clear Tamagawa River. Ome Ishigami Onsen within the facility is an alkaline simple sulfur hot spring that is clear and colorless. Although it has a slight scent of eggs, it is known for being a hot spring of beauty, which is said to make your skin smooth and nice.

It is said to be effective for various ailments including lower back pain, fatigue recovery, and insomnia, among others. The large spacious public bath with a wide window is situated at close range to the clear stream of Tamagawa and sprawling green nature.
青梅石神温泉 清流の宿 おくたま路

Address

2-371, Futamatao, Ome-shi, Tokyo, 198-0171, Japan

Phone Number

0428-78-9711
2. Hotel Chinzanso Tokyo: A Spa Where You Can Savor the Atmosphere of a Resort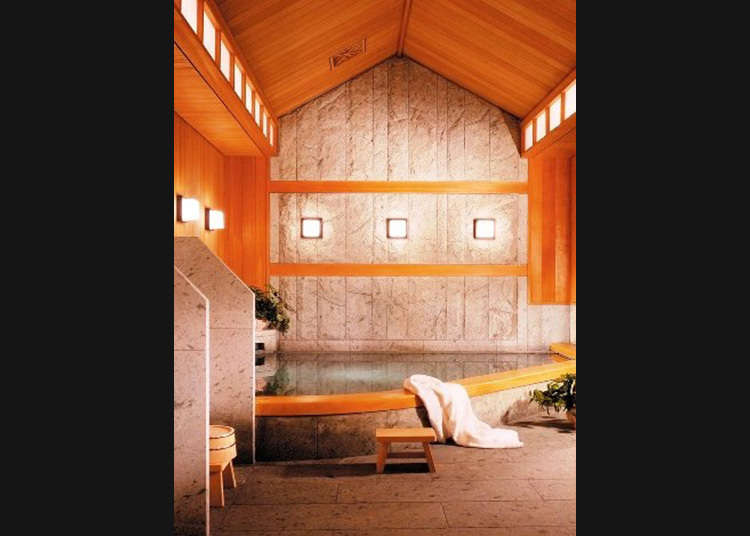 Hotel Chinzanso Tokyo has a garden like a forest and provides world-class hospitality. In the day-use plan "Relax Day Plan," after relaxing at the spa and related spa treatments, take an afternoon tea at the hotel lounge that is included in the plan. The hot spring water is sent directly from Shizuoka Prefecture. You can enjoy their heated swimming pool, open-air jacuzzi, all without stepping foot out of Tokyo. In this package, you are free to use a guest room from 10:00 a.m. to 6:00 p.m. If you feel tired, you are free to take a rest in the room. With a drink at the bar included, this is a luxurious package plan allows you to savor the feelings of a resort in just one day.

The hot spring water is diluted, heated, filtered, and disinfected.
Address

Bunkyo-ku, Sekiguchi 2-10-8, Tokyo-to, 112-8680
View Map

Nearest Station

Edogawabashi Station (Tokyo Metro Yurakucho Line)
17 minutes on foot


Vacancy search, reservation

from

46,398JPY

1room, 2adults

Check with our partner site as the latest rates, rate details, and guest room requirements may vary.
3. Hotel Suehiro: Located in front of Kamata Station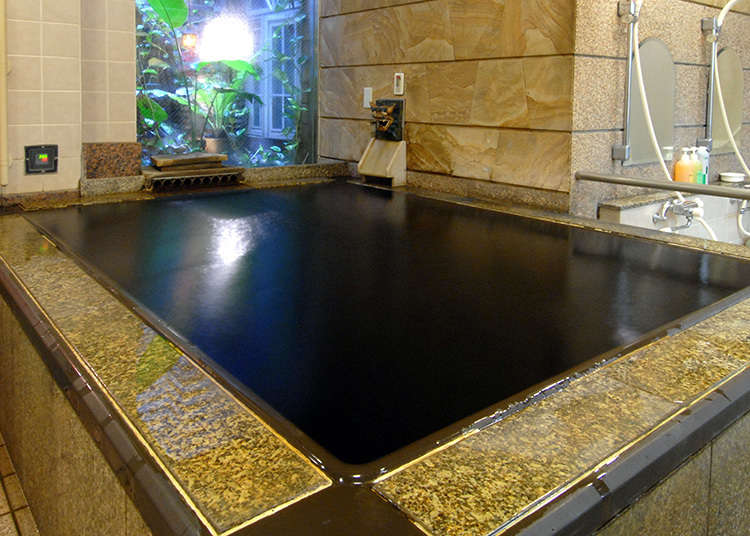 Hotel Suehiro, 20 minutes by car from Haneda Airport and 25 minutes to Tokyo Station, is a commercial hotel that is an ideal base for sightseeing. The hot spring water drawn up from beneath the hotel is "kuro-yu," a type of black spring water. It is not a volcanic hot spring, but ground water which has turned into a hot spring with dissolved components of vegetation and foliage buried in the Paleozoic stratum. It is nicknamed "Bijin no Yu" (a hot spring for beautiful women) because the water is said to give skin is given a moisturized and a smooth feeling after bathing. The feature of these Tokyo hot springs is it warms the body to the core and a chill after bathing is not likely to occur. This is because of the sodium contained in the water. You can visit it empty-handed because the fee includes rental towels.

(*Ed. Note: Hotel Suehiro closed at the end of December 2018)
蒲田黒湯温泉ホテル末広

Address

8-1-5, Nishikamata, Ota-ku, Tokyo, 144-0051, Japan
4. Maenohara Onsen Saya-no-yudokoro: A Cloudy Hot Spring Flowing Directly from the Source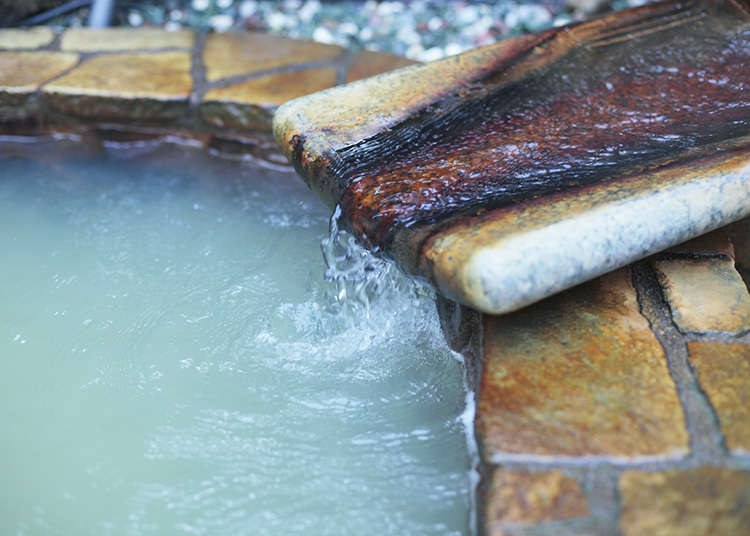 Maenohara Onsen Saya-no-yudokoro is a Tokyo hot springs facility without accommodations. It is a composite facility consisting of various kinds of baths, massages, a stone sauna, a Japanese-style garden, and restaurants. The distinctive feature is their "gensen kakenagashi" hot spring water.

"Gensen kakenagashi" means that the hot spring is neither diluted with water, nor is it filtered, and no chemicals have been added. Instead, the natural hot spring gushing out from underground is flows directly into the bathtub. Saline substances attached to the skin keeps sweat from evaporating. Thus, a chill after bathing is prevented and a warm feeling remains in the body even after stepping out of the onsen.

There are other baths including an open-air onsen surrounded by green, lying bathing (you can lie down in the bath), and "tsubo-yu" which is a bath for one person's use. During the day you can look at the blue sky and at night you can gaze at the moon and stars while you enjoy a hot soak. They also have a jet bath, a dry sauna, and a steam sauna.
Address

3-41-1, Maenocho, Itabashi-ku, Tokyo, 174-0063
View Map

Nearest Station

Shimura-Sakaue Station (Toei Mita Line)
8 minutes on foot


Phone Number

03-5916-3826
5. Shimizu-yu: Indulge in Two Kinds of Natural Hot Springs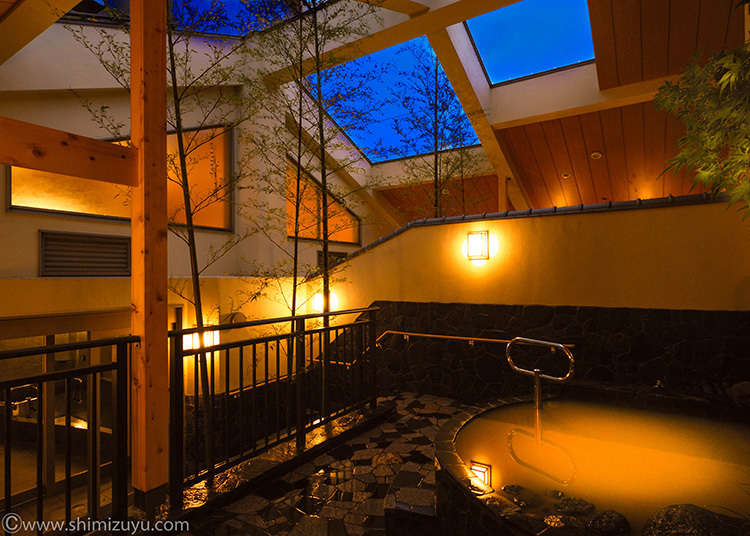 A public bath where you get to enjoy two natural hot springs, kuro-yu and kogane-no-yu, with each featuring different qualities.

Kuro-yu is a dark amber-colored Tokyo hot springs whose waters are famous for beauty. It is said to be effective for all kinds of diseases because it is excellent in retaining warmth. At Shimizu-yu, they enhance the concentration of nano bubbles in the water.

The super minute bubbles enhance the effectiveness. Kogane-no-yu is ocherous hot spring water gushing out from a layer deeper than that of kuro-yu. It is said to have a healing effect. Enjoy an open-air bath with the water flowing directly from the hot spring source. It is recommended to take the two baths in turn.

First get in kogane-no-yu, then kuro-yu. Then, repeat the process. Don't rinse your body after bathing because the water contains ingredients to beautify the skin.
Address

3-9-1, Koyama, Shinagawa-ku, Tokyo, 142-0062
View Map

Nearest Station

Musashi-Koyama Station (Tokyu Meguro Line)
5 minutes on foot


Phone Number

03-3781-0575
*This information is from the time of this article's publication.
*Prices and options mentioned are subject to change.
*Unless stated otherwise, all prices include tax.
Search for International flights