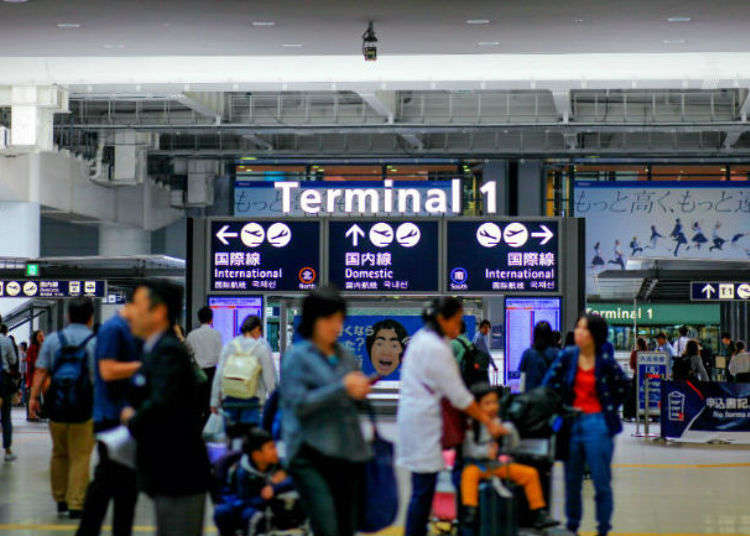 You can gain a valuable learning experience from traveling abroad. Even though you thought you planned your trip perfectly, unexpected things are sure to happen. You might get to the wrong airport while your booked flight is preparing to leave from another airport. According to the employees of an airline company, there is at least one pair of travelers who get to the wrong airport per day. If you get to be in this situation, what should you do? Which transportation is the best way to get to in the nick of time? We'll show you what to do.
■ Narita Airport and Haneda Airport at a glance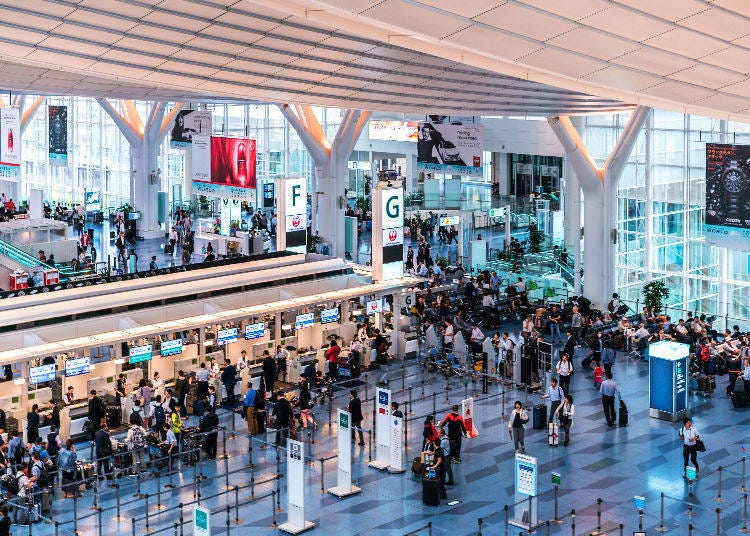 First, as an example, let's take a look at the number of passengers on the international and domestic flights between Narita Airport and Haneda Airport. The below data shows the number of passengers who used either Narita or Haneda airports in April 2018.

The number of passengers for international flights
・Narita Airport: 3,471,866 passengers
・Haneda Airport: 1,511,451 passengers

The number of passengers for domestic flights
・Narita Airport: 573,684 passengers
・Haneda Airport: 5,341,546 passengers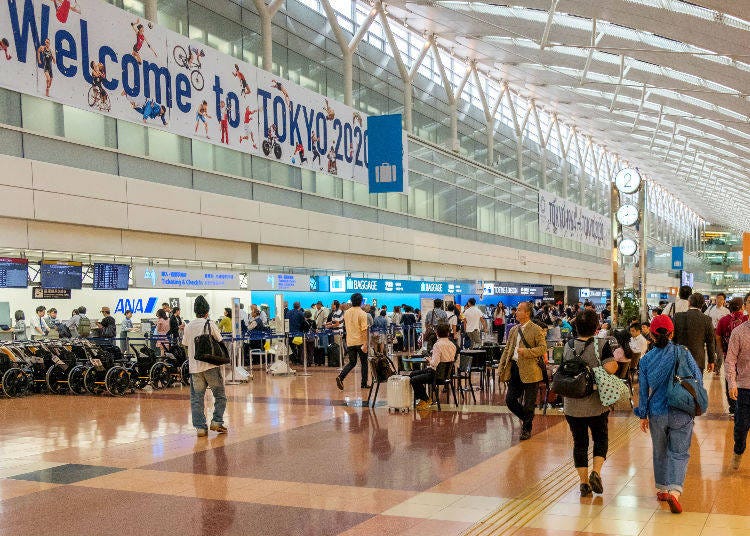 From the data, you can see clearly the difference between the two airports. Certainly, the number of flights will be different. In the summer of 2018, Haneda Airport had 783 flights per week, while Narita Airport had 1,672 flights per week. It is more than twice as much as Haneda. However, it'll depend on your flight schedule, destination, and airline which airport you will have to use, as it is very difficult to say particular destinations lead to particular airports. Then, why do people confuse airports? Below are the reasons.

1. The airport code for Narita Airport is NRT (TOKYO). Even though the TOKYO bit might seem to indicate that airport is located in Tokyo, the airport is actually located in Chiba—the adjacent prefecture.
2. When you arrive to Japan, whether it is at Haneda (or Narita Airport) Airport, you might have to leave from the other airport.

From the first reason, although Narita Airport (NRT) is located in Narita City, Chiba Prefecture, many people likely think it's located in Tokyo and it's the only international airport in Tokyo. In fact, Haneda Airport (HND) is also an international airport around Tokyo.
As I have referred before, some people get to the wrong airport. Specifically, it happens often when you have connecting flights for your destination. Before you go to the airport, check your ticket and confirm which airport to use.
■Where are the airports located?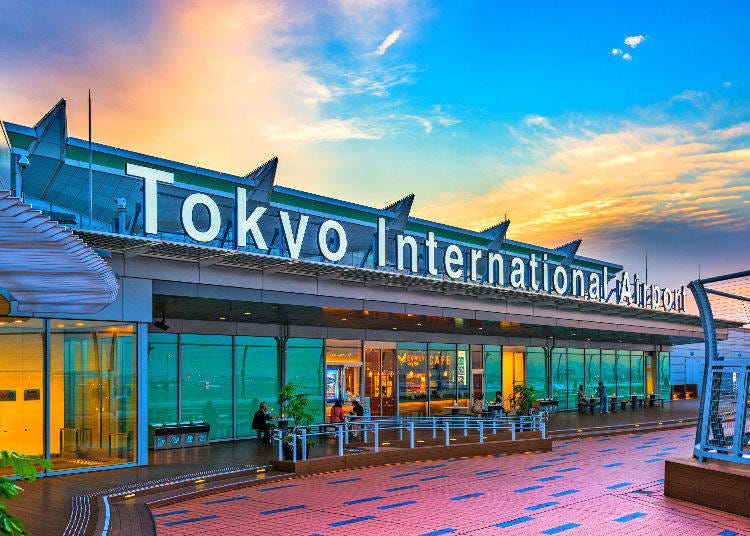 The distance between two airports is about 80 kilometers (50 miles) taking a taxi. You can take either a train or a bus to go to the other airport, but taking a taxi is the fastest way since it takes only one hour each way between Narita Airport and Haneda Airport. Nevertheless, it depends on your budget and the arrival time. Let's take a look at how to go to both airports from Tokyo Station.

●Tokyo Station to Narita Airport (Official name: Narita International Airport)
Narita Airport is located at: 1-1, Furugome, Narita-shi, Chiba, 282-0004, Japan

Even though Narita Airport is called Tokyo's gateway, in conjunction with Haneda Airport, it is located in Chiba Prefecture which is adjacent to Tokyo. The distance from Tokyo Station to Narita Airport is about 70 kilometers (43 miles). Since it takes some time to get to this airport, let's compare the time on a direct bus from Tokyo station to the time on a train.

Bus
・Tokyo Station (leaves from Yaesu North Exit) to Narita Airport (Terminal 1): 1 hour.
Train
・Tokyo Station to Narita Airport Terminal 1 Station: 50 min.

If you take a bus, there is a "Tokyo Shuttle" bus and "The Access Narita" bus. The minimum travel time takes around an hour for both and the fare is 1,000 yen for one way. On the other hand, if you take a train, there is the "Narita Express" which takes you to the airport directly. You can also take this train not only from Tokyo Station but also from Shibuya, Shinjuku, Ikebukuro and Yokohama stations. The fare is 3,020 yen for one way. It's more expensive than using a bus, but faster to go to the airport if there are no delays. But it depends on your budget and schedule to take either a train or a bus.

●Tokyo Station to Haneda Airport (Official name: Tokyo International Airport)
Haneda Airport is located at: Hanedakuko, Ota-ku, Tokyo, 144-0041, Japan

Haneda Airport is not as far from Tokyo Station as Narita Airport. The distance from Tokyo Station via highway is only 20 kilometers (12 miles). Currently, Haneda Airport is planning to boost the number of international flights in time for the 2020 Tokyo Olympics. Since the opportunity for the people visiting Japan to use this airport will increase in the near future, it is smart to confirm its relationship with Tokyo Station. Below is the travel time by bus and train.

Limousine Bus
・Tokyo Station (leaves from Yaesu North Exit) to Haneda Airport (Terminal 1): 40 min.
Airport Express
・Tokyo Station via Shinagawa Station to Haneda Airport International Terminal Station : 40 min.

If you take a bus, there is a "Limousine Bus" which goes back and forth between Tokyo Station and Haneda Airport. The travel time is about 40 minutes, the fare is 930 yen for an adult and 470 yen for a child under 12 years old.
If you take a train, the combination of the JR line and Keihin Kyuko Dentetsu is the fastest and cheapest way to go to the airport. First, take the Keihin Tohoku Line (bound for Kamata) from Tokyo Station and head to Shinagawa Station. Then, if you take the Keikyu Main Line Airport Express (Bound for Haneda Airport domestic terminal line) at Shinagawa Station, you will arrive at Haneda Airport in about 40 minutes. The fare is 572 yen for prepaid IC card and 580 yen for a ticket.
While there is no big difference in time between the bus and the train, there is a big difference in fare. In the end, it will depend on your circumstances.
■The travel time and fare of public transportation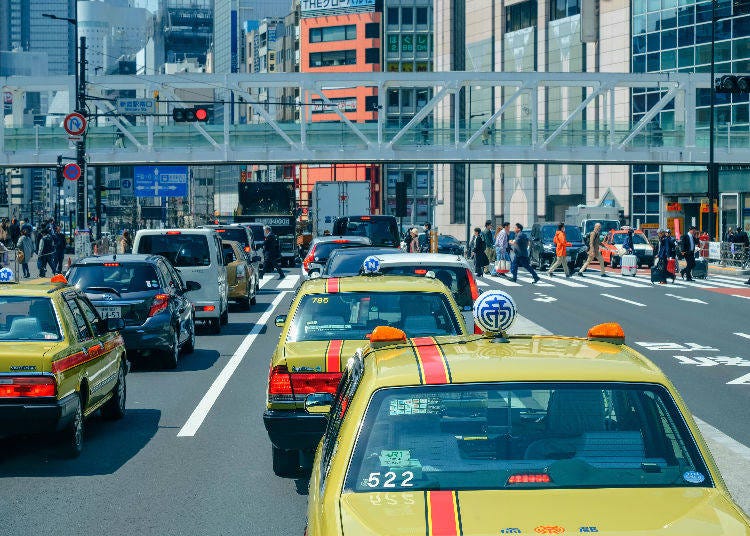 If you find you got to the wrong airport, stay calm and breathe. The first thing you should do is to have a good grip on how much time is left. The best choice for you depends on the time and the situation. The shortest access time and fee in general public transportation are as follows:

Train (The Keisei Narita Sky Access Line, Access Express)
Fare: 1,800 yen (1,787 yen if you use the IC card)
Travel time: 1h40 min.
Points of concern: It is a direct train between Narita Airport and Haneda Airport. Since there is only one train an hour, you need to confirm the time.

Bus (Limousine bus)
Fare: 3,100 yen
Travel time: 1 hour
Points of concern: There are 4 bus terminals for the "Limousine bus" in Narita Airport and there are 3 bus terminals in Haneda Airport. The arrival time depends on road conditions and the bus runs every 20 ~ 30 min.

Taxi
Fare: Around 28,900 yen ~ 30,000 yen
Travel time: 1 hour (using the toll road), 2h40min (without the toll road)
Point of concern: If you use the highway, you will have to pay for the toll. An extra late charge will be added from 10pm to 5am.

The most common ways are those 3 above. Taking into the account the fare and the time, the limousine bus is the most recommended way. However, as the arrival time depends on the road condition, it is difficult to be sure to get there on time. Also, the same is true about using a taxi, but a taxi is more mobile than the bus. There is the "Airport Express" between Narita Airport Terminal 1 Station and Haneda Airport domestic line Station. It's recommended if you have enough time. We'll introduce the recommended transportation by situations here.

1. When you have enough time (over 4 hours)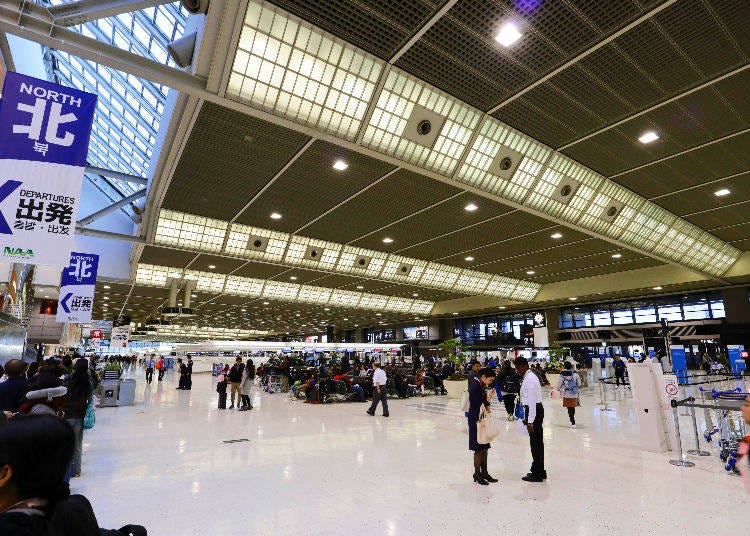 For such people, traveling by "Airport Express" is recommended. The fare is reasonable and costs 1,787 yen for one way. Barring any delays, the train schedules in Japan are very accurate, take it if you're not in a hurry.

2. When getting to the airport is the highest priority (2 hours ~ 3 hours)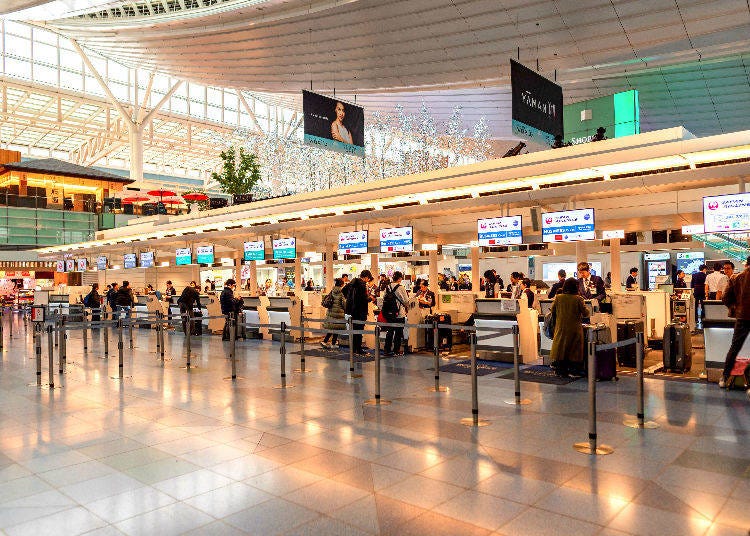 When you only have 2 or 3 hours, the only way to get to the airport is a taxi. The fare is expensive, but you will lose much more money if you miss your flight. Since they accept credit cards, there is nothing to be worried about.

3. When you think you don't enough time (less than an hour)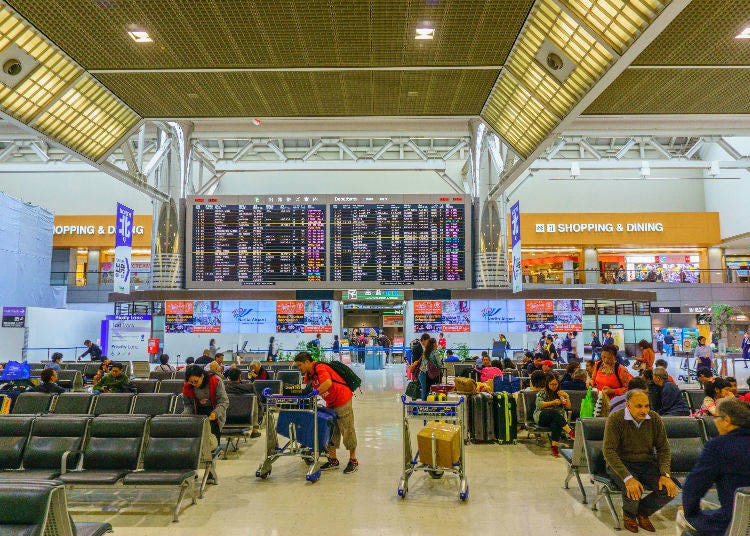 The shortest travel time by a taxi is for 60 min. If you find you won't be able to get there in time, try to call the airline for your flight. Depending on your flight ticket, you may be able to change your flight without extra fee. Never give up on getting in time for your flight since some airline companies have an unofficial rule -- the "Flat Tire Rule". This rule permits you to standby for free on the next flight when you have an unavoidable circumstance such as an accident. It is not allowed to use for only getting late though, it's worth to have it in your mind.

4. Will miss your red-eye or late flight?
If you leave Japan in the early morning or the late night, you will find that there are no trains, but there are two types of buses: one is an early-morning and the other one is a late-night bus. For instance, there is a bus that leaves from the greater Tokyo area at 4 am. Never forget to check the way to the airport while you're planning your trip.
■ In order not to ruin your stay in Japan in the last few hours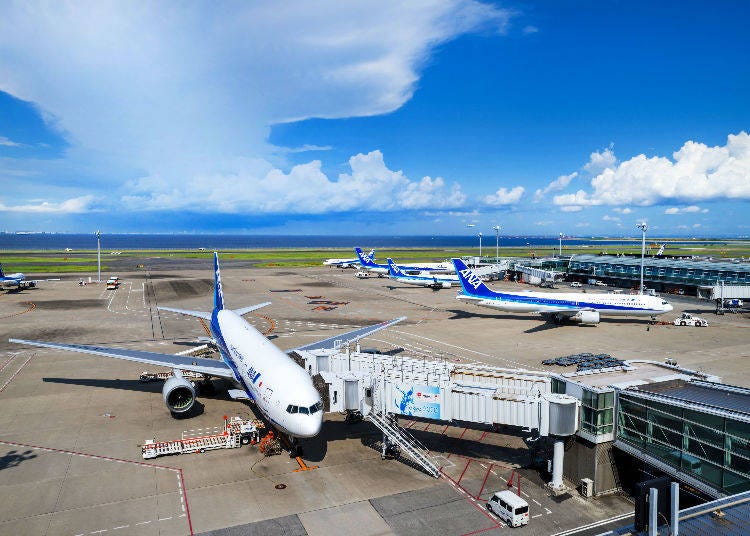 Regardless of domestic flights and international flights, it's better to check in by 2 hours or more in advance. Even if that isn't possible, always try to get to the airport where your flight leaves at least 1 hour before. It's really important to keep your flight information in mind so that you won't get late to either the airport nor miss your flight.
*This information is from the time of this article's publication.
*Prices and options mentioned are subject to change.
*Unless stated otherwise, all prices include tax.
Recommended places for first-time visitors to Tokyo