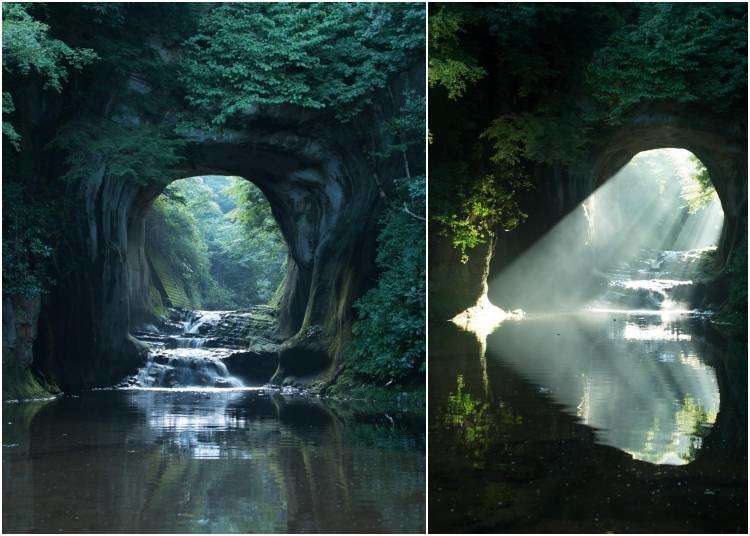 Some of the most beautiful waterfalls in Japan are actually not far from Tokyo. But when asked to picture Tokyo, most people tend to visualize a high-tech, urban environment teeming with people forever on the move. While this isn't entirely inaccurate, the greater Tokyo area has so much more to offer those less inclined to city life.

Travel just a few hours from the city center and you can find yourself surrounded by some of Japan's most stunning natural beauty. For those looking to experience the great outdoors without venturing far from the city, we've put together a list of breathtaking waterfalls in Japan that can all be visited as day trips from Tokyo!
1. Kegon Falls - Tochigi Prefecture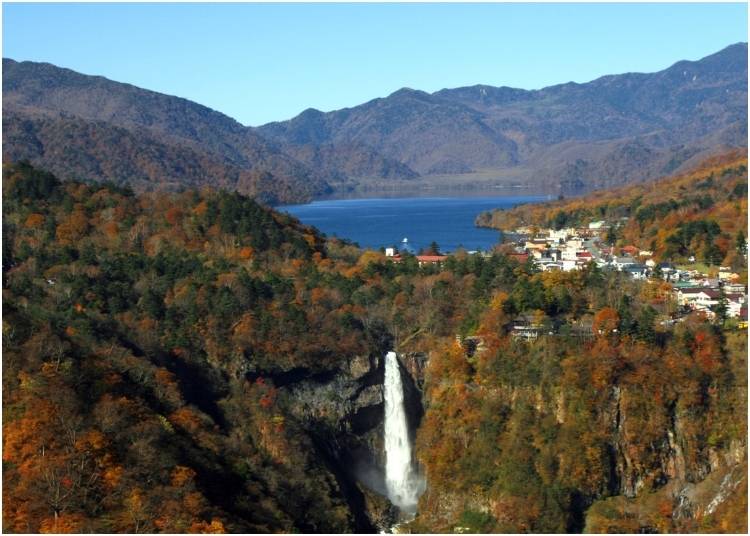 Image courtesy of Tochigi Prefecture Tourism & Local Products Association
Roughly two hours north of Tokyo sits the picturesque mountain city of Nikko. The area has long been famed for its natural beauty; at one time being the go-to destination for European diplomats building homes in Japan. With so much jaw-dropping scenery to be found in one area, it comes as little surprise that Nikko is home to two waterfalls on our list; the most famous of which being Kegon Falls.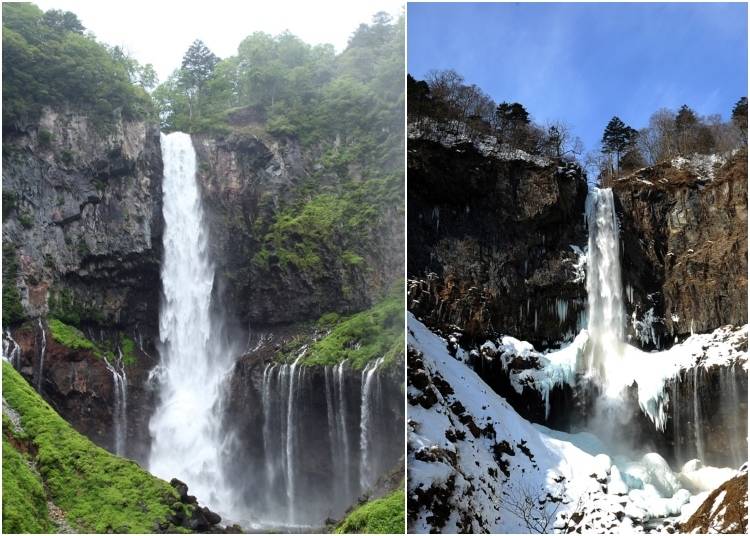 Images courtesy of Tochigi Prefecture Tourism & Local Products Association
Upon first sight, it becomes instantly apparent why Kegon Falls is ranked as one of Japan's three most beautiful waterfalls. At just under 100 meters tall, it stands powerfully apart from the otherwise serene surroundings. The view is particularly beautiful in late spring to early summer when it is engulfed by lush green overgrowth.

These falls in Japan serve as an outlet for nearby Lake Chuzenji, both of which can be seen from Kegon's free observation deck. To truly appreciate its impressive scale, tickets can be purchased for 550 yen (about $4.85 USD) to ride an elevator to the base of the falls. Those looking for more of a bird's eye view can ride the nearby Akechidaira Ropeway to take in the entirety of the landscape.

Access via Public Transportation: Take the JR or Tobu Nikko Line to Nikko Station. From here, take the local Tobu bus to Chuzenji Onsen. From this stop, Kegon Falls is roughly five minutes away on foot.
2. Nomizo no Taki - Chiba Prefecture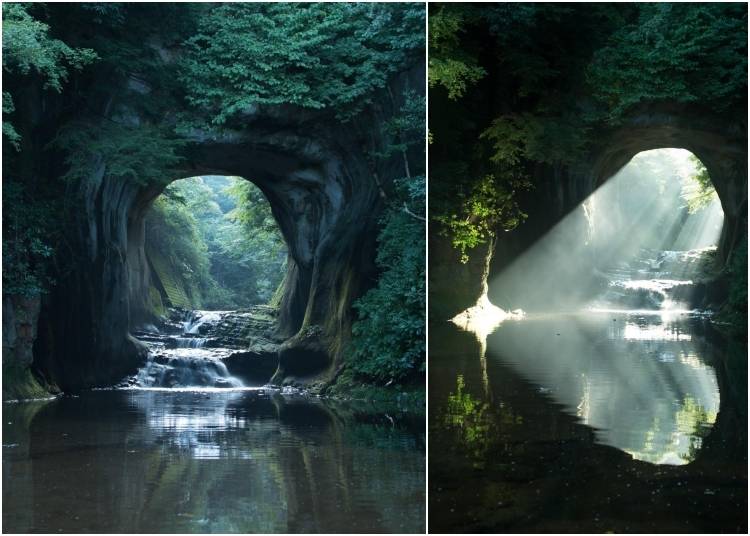 Fans of the dreamy Japanese landscapes often portrayed in anime will love Chiba Prefecture's Nomizo no Taki. Though technically a man-made waterfall, this fact does not detract from its straight-out-of-a-fantasy-novel aesthetic. While waterfalls are typically notable for their height, Nomizo no Taki has instead garnered a great deal of fame due to its surreal early morning ambiance that occurs from March through September.

As the sun begins to rise, the circular stone opening at the top of the fall is flooded with light, casting an otherworldly spotlight onto the water below. Though beautiful throughout the day, it's best to plan your visit so that you will arrive in the early morning hours in order to catch this stunning light show. If you are driving, reaching Nomizo no Taki by sunrise shouldn't be an issue. However, if you plan to take public transportation, you may want to consider spending the night somewhere nearby in order to ensure you reach the falls in time.

Access via Public Transportation: From Tokyo Station, take the Ama Kamogawa bus line to Kimitsu-Furusato-Bussankan bus stop. From here, Nomizo no Taki is roughly 20 minutes away on foot.
3. Nishizawa Gorge (Nanatsugama Godan no Taki) - Yamanashi Prefecture
Located in nearby Chichibu Tama Kai National Park in Yamanashi Prefecture, Nishizawa Gorge is a five-tiered waterfall famous for its sparkling, emerald green water.

Though it can be found on the list of 100 best waterfalls in Japan, it is not often visited by the average traveler, as it takes approximately 90 minutes to reach from the start of the trailhead. However, those willing to make the somewhat strenuous hike will be rewarded with views of blooming rhododendrons in summer and vibrant foliage in autumn.

Along the way, several smaller waterfalls can be seen before arriving at your destination as well.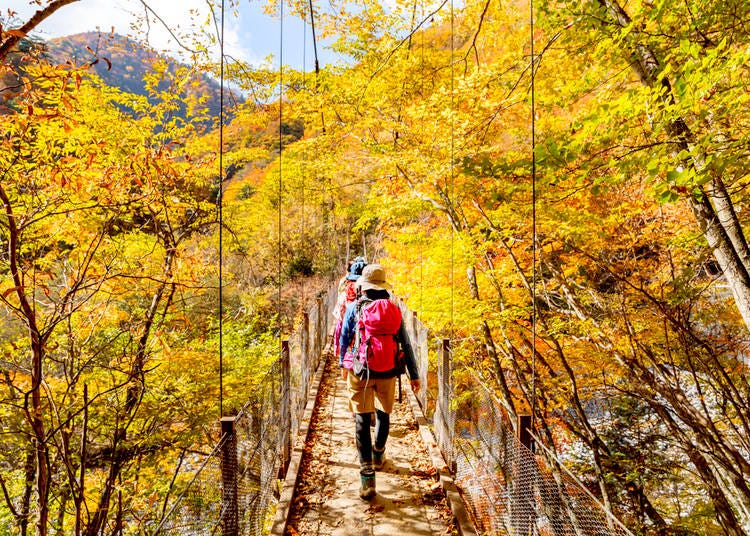 The hike to the top of these waterfalls in Japan offers incredible landscape views of the surrounding Nishizawa Valley and distant mountains.

Nature lovers will appreciate the change of scenery brought on by each new season, but most hikers seem to agree that fall is the best time of year to visit these waterfalls in Japan. Those looking to experience the gorgeous fall foliage at its peak should plan to visit between mid-October to late November.

Access via Public Transportation: Take the JR Chuo Line to Yamanashi-shi Station. From here, travel via city bus for approximately one hour until you reach the Nishizawa-keikoku bus stop. Once here, follow the signs to the start of the trailhead.
4. Shasui Falls - Kanagawa Prefecture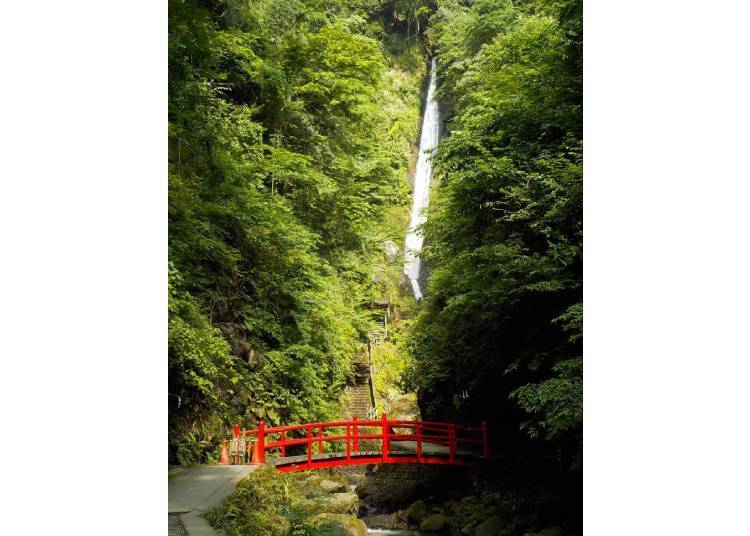 Tucked away in the quiet countryside town of Yamakita in Kanagawa Prefecture, the Buddhist temple Saisho-ji is home to Shasui Falls.

The 90 meter high waterfall is broken into three separate drops, the first and highest fall being 69 meters high. Given its location, the falls have long been used as part of Buddhist purification ceremonies.

During the ritual, people stand under the falls, allowing the powerful stream of water to wash over them. According to local legends, a famous Buddhist monk by the name of Mongaku once spent 100 days meditating under the waterfall.

Summer is the most popular time of year to visit Shasui Falls, as the dark green leaves of the nearby trees contrasting with the vibrant red foot bridge set before the base of the falls makes for an excellent photo opportunity.

Every year on July 4th, a fire festival is held near the falls during which visitors can watch many performances, including a taiko drum competition. If you are fortunate enough to visit on this day, the sound of these traditional drums in the presence of Shasui Falls will certainly make for an unforgettable experience.

Access via Public Transportation: From Tokyo Station, take the Tokaido Line to Kozu Station, at which point the train will change to the Gotemba Line. Continue on this train until you reach Yamakita Station. From here, the falls are 30 minutes away on foot.
5. Hossawa Falls - Tokyo Prefecture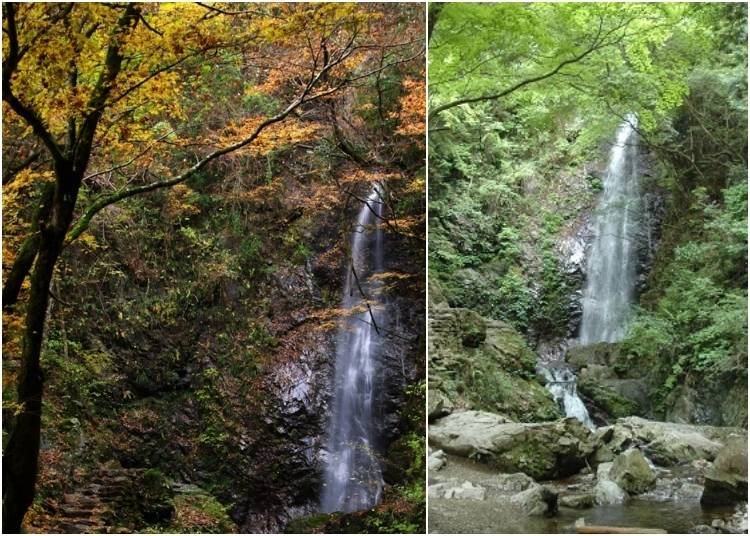 While not the only waterfall in Tokyo Prefecture, Hossawa Falls is the only one to be included in the list of the 100 best waterfalls in Japan. Located in the tiny village of Hinohara on the outskirts of Tokyo, it's reachable in under two hours from the city center via public transportation.

The four-tiered waterfall stretches over a total of 62 meters to its base. Local legends say that a massive snake lives in the pool where the water from Hossawa Falls collects. This could explain why the most popular time of year to visit is in the winter, when the falls are completely frozen over. That being said, the falls warrant a visit at any time of year… but maybe keep your feet out of the water, just in case.

Access via Public Transportation: From Shinjuku Station, take the Chuo Line to Haijima Station. Once here, the train will change to the Itsukaichi Line. Continue on this train until Musashi-Itsukaichi Station. From here, take a bus from bus stop 1 to Hossawa no Taki Iriguchi bus stop, at which point the Hossawa Falls will be 10 minutes away on foot.
6. Shiraito Falls - Shizuoka Prefecture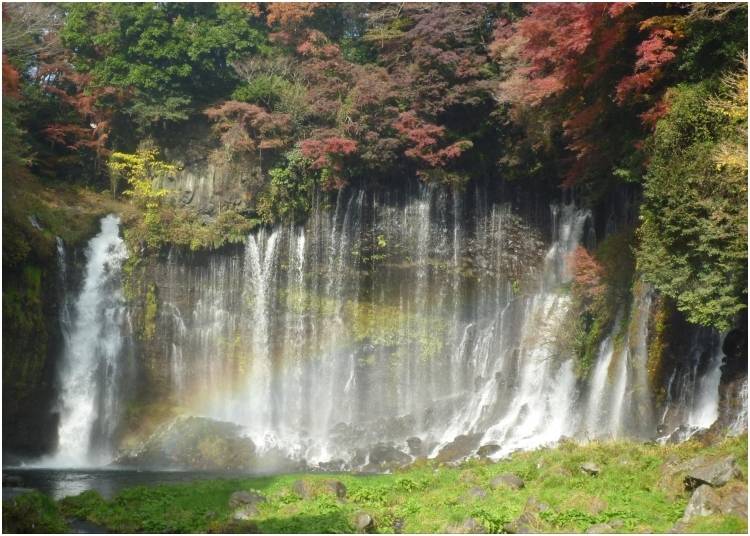 Fed by the waters of nearby Mount Fuji, Shiraito Falls may not be the tallest falls on our list at just 20 meters high, but it is without a doubt one of the most captivating. The name Shiraito translates to, "white threads".

It has been dubbed as such because rather than one central stream of water, the falls consist of hundreds of individual streams stretching across a 150 meter-wide rockface, resembling flowing white threads.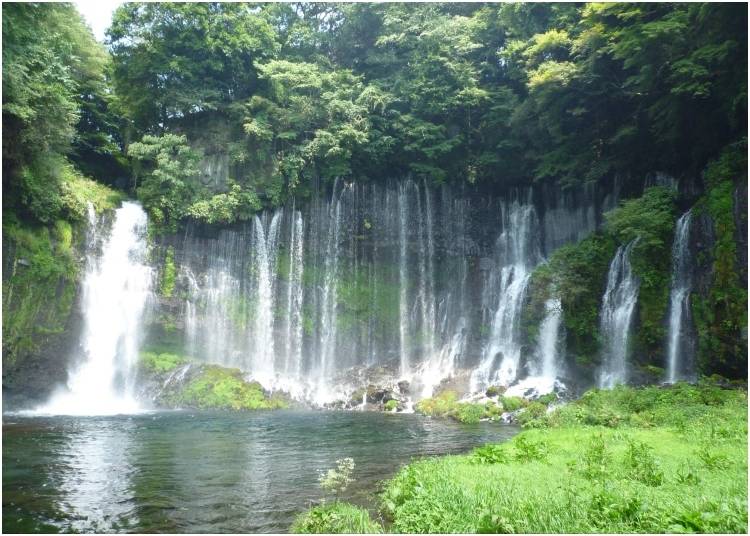 The falls are typically at their most impressive in late spring as snow from Mount Fuji begins to melt. This spot is also popular with hikers and nature photographers in autumn as the fall colors beautifully accent these flowing strands of water. As an added bonus, another waterfall, Otodome Falls, is just a five-minute walk away.

Access via Public Transportation: From Tokyo Station, take the highway bus from the Yaesu South Exit for approximately 3 hours until you reach Shiraito no Taki bus stop.
7. Fukuroda Falls - Ibaraki Prefecture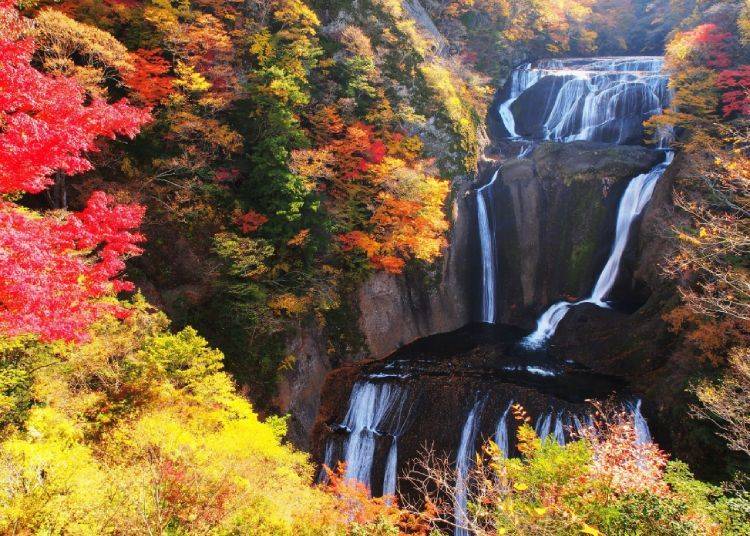 Accompanying Kegon Falls on the list of the three most beautiful waterfalls in Japan is Fukuroda Falls in Ibaraki Prefecture. Set amongst the picturesque mountain town of Daigo, it is the tallest waterfall on our list at 120 meters high.

These falls in Japan are spread out over four tiers, all of which can be seen from its upper observation deck. Though technically a separate waterfall, Namase Waterfall, which can be seen along Fukuroda's hiking path, feeds into Fukuroda Falls as well and could be considered the fifth tier to this already impressive display.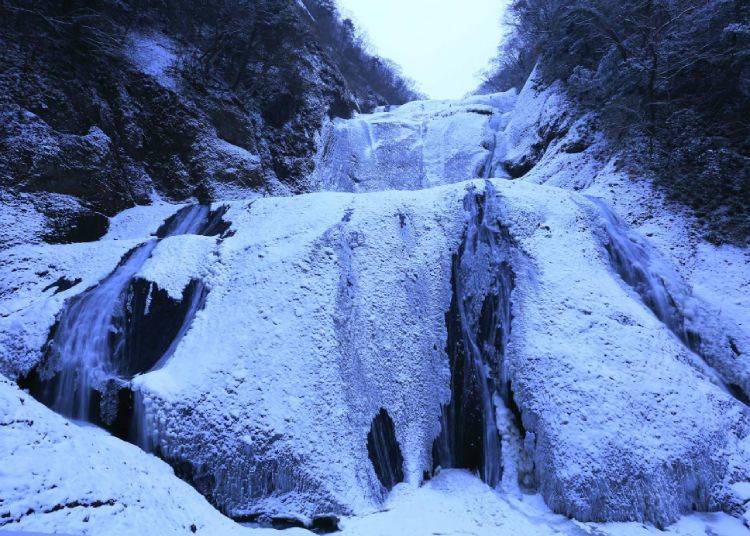 Nature lovers will find new reasons to visit Fukuroda Falls with every changing season. In late spring through summer, melting snow and ice makes its way down the rockface in powerful, overflowing streams. In autumn, the now tamer falls are highlighted by deep red and yellow foliage.

On rare occasions when winter temperatures drop low enough, the falls will freeze over, creating an incredible moment, seemingly locked in time. Between November and February, Fukuroda Falls also takes part in the winter tradition of Illuminations. After dark, the falls are lit with colorful moving lights and accompanied with ambient music to create a surreal, magical mood.

Access via Public Transportation: From Ueno Station, take the Hitachi-Tokiwa or Joban Line from to Mito Station. Then, change to the Suigun Line to Fukuroda. Once here, take the bus from Fukuroda station to Takimoto bus stop.
8. Ryuzu Waterfall - Tochigi Prefecture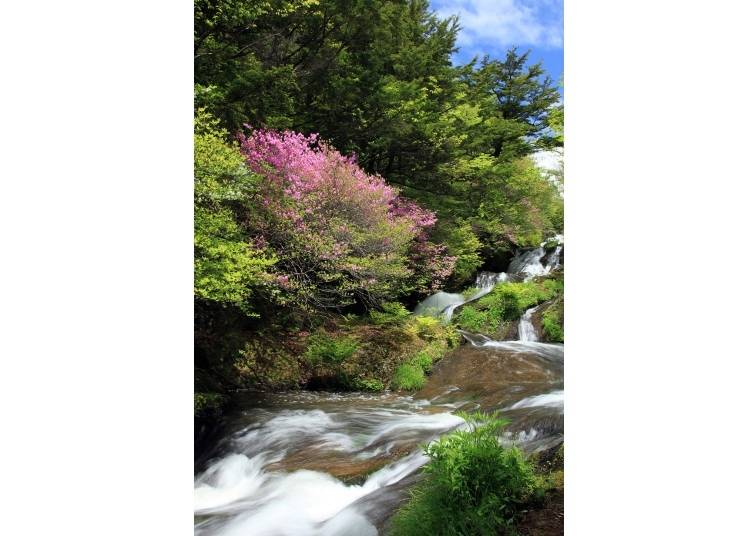 Image courtesy of Tochigi Prefecture Tourism & Local Products Association
Located within walking distance from the previously mentioned Kegon Falls, Ryuzu Waterfall is another must-see waterfall in Nikko. Its name, which translates to "dragon's head" comes from the unique forked path of the fall which bears a resemblance to its namesake. In autumn, the rich colors of the foliage invoke an appropriately fiery ambiance to the scene.

Ryuzu Waterfall can be enjoyed from the free observation deck located at the back of a nearby teahouse. What better way to spend an autumn afternoon than by sipping matcha, surrounded by nature, with the soothing sounds of flowing water as your soundtrack? After some hot tea and traditional Japanese sweets, you'll be ready to enjoy all of the natural beauty that Nikko has to offer.

Access via Public Transportation: From Nikko Station, take the Tobu bus bound for Yumoto Onsen and get off at the Ryuzu no Taki bus stop. The ride takes approximately one hour and costs 1400 yen.
Beautiful waterfalls near Tokyo
Despite being one of the world's largest cities, you don't need to travel far from Tokyo for an outdoorsy escape. When city life starts to feel a bit too hectic, a day trip to one of Japan's many waterfalls could be just what you need to unwind.
Written by: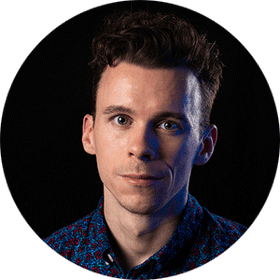 Love waterfalls in Japan? Book an unforgettable experience!
Make your trip extra memorable by booking one of these recommended tours.

*This information is from the time of this article's publication.
*Prices and options mentioned are subject to change.
*Unless stated otherwise, all prices include tax.
Limited time offer: 10% discount coupons available now!