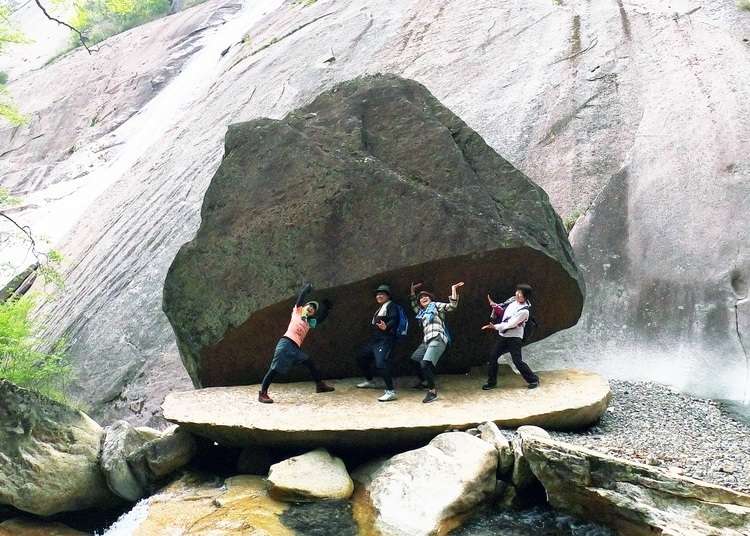 Nobeoka City is an attractive blend of ancient and new located in the northern part of Miyazaki Prefecture, the home of Japanese mythology. Sitting among castle ruins and cutting-edge modern factories, the city is surrounded by majestic mountains registered in the UNESCO World Network of Biosphere Reserves. Nobeoka offers much to see and do: traditional events, outdoor sports, and delicious seafood such as oyster and lobster. Nobeoka is famed for a traditional river-fishing method that uses ayu yana, or large fish-traps. The crystal-clear waters that run down to the sparkling sea will enchant you, too.
Grab a paddle and kayak down a stunningly clear river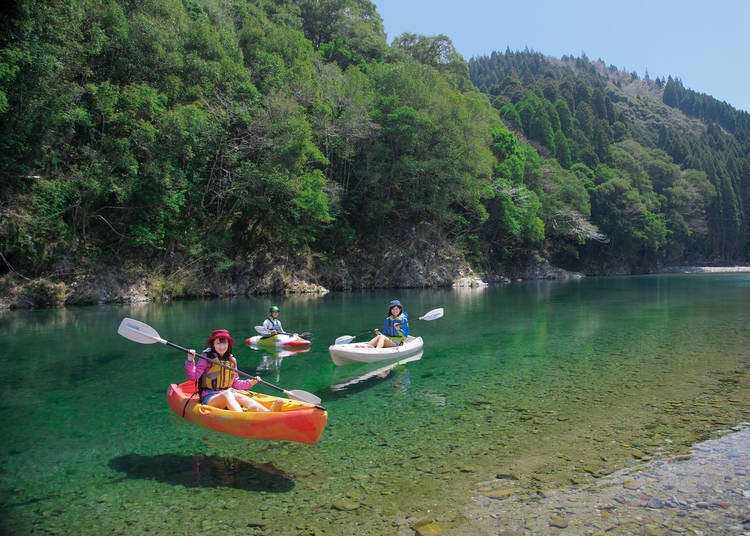 The Kogawa River is exceptionally clear
The Kogawa River, which runs into the Kitagawa River, is a beautiful, transparent waterway that originates in the mountainous border between Oita Prefecture and Miyazaki Prefecture. Professional kayaking guides regard the river as one of the top kayaking spots in Japan. The water is so clear you'll feel like you're floating in mid-air (until you look down and see the riverbed below).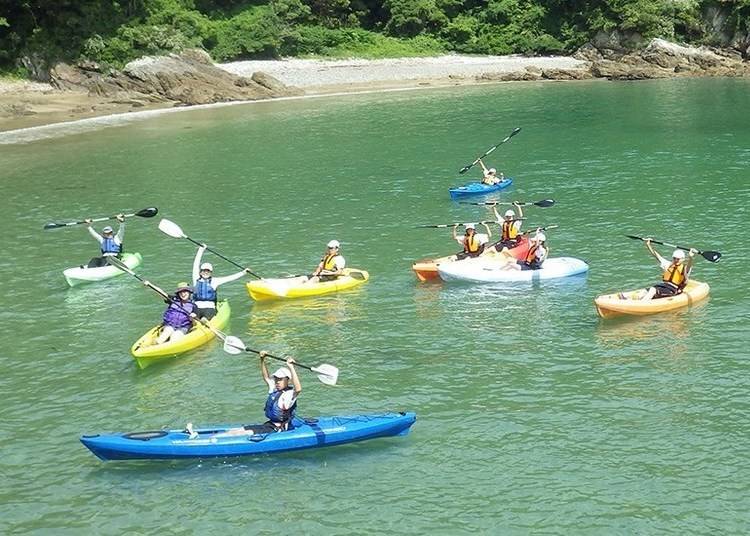 Kayak enthusiasts enjoy the great weather
The river boasts chinkabashi sinking bridges, which disappear below the water during high tide. Nobestar, a Specified Nonprofit Corporation (NPO) provides local guides who know the Kogawa River inside out. The guides can speak some English, so communication is no problem.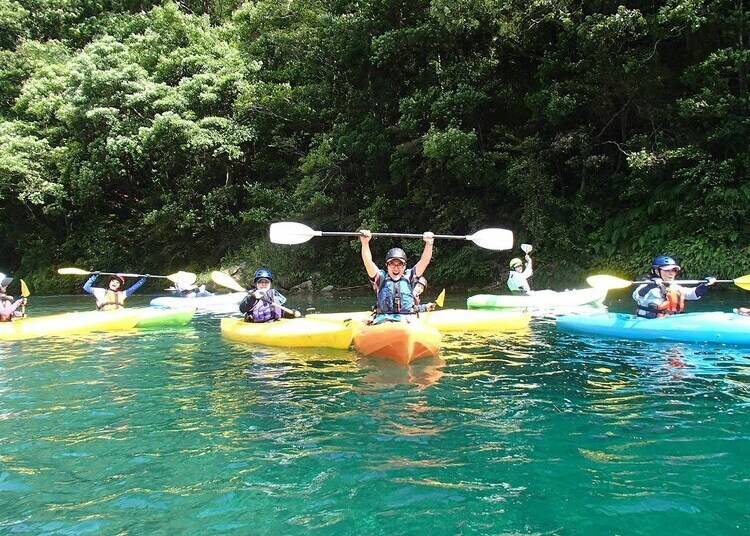 Kayakers having fun on the river
Try your hand at kayaking - even if you're a total novice. Prices start from 8,000 yen per person for groups of two to 40 people. And don't worry about getting wet; the river water is quite warm due to the lush forest that covers the surrounding area. Over 170 species of fish and other aquatic creatures call the river home.
Nobeoka Tourist Association

延岡ふるさとツーリズム協議会

Address

131-5, Higashihonkoji, Nobeoka City, Miyazaki Prefecture

Phone Number

0982-29-3835

Program:Kogawa River Canoe Experience
Meeting points:Kawachimyo Kitagawa-cho, Nobeoka City, Miyazaki Prefecture
Dates:April–September
Fee:8,000 yen (tax included)
Time required:Two hours
Requirements:Reservations required
Available languages:Japanese/Basic English
Email:nobesta3835@gmail.com
Experience life on a small island with fun watersports and delicious seafood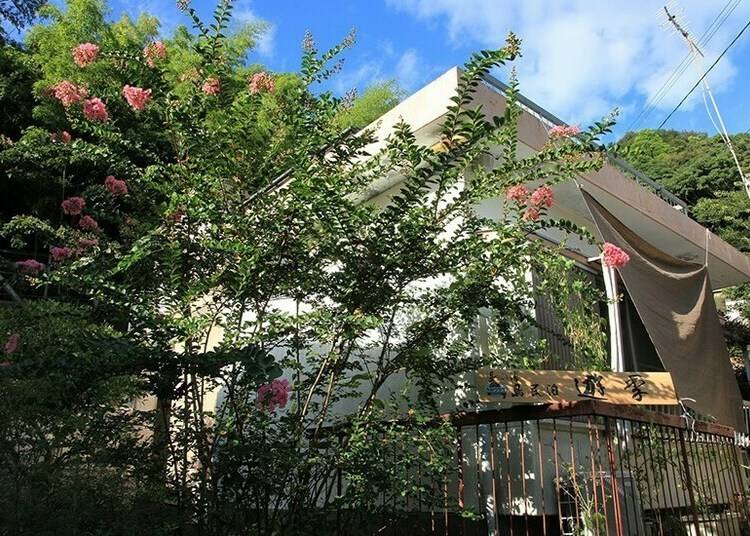 An exterior shot of the Yuki guesthouse
Take a trip to Shimanoura Island - about six kilometers from the mainland in the northern part of the Hyuga-nada Sea. Here, you'll find Yuki, a homely, family-run guesthouse. The host designed Yuki so visitors can enjoy every facet of this peaceful little island. The host is also a knowledgeable guide and will happily take you on town walks, sea kayaking at the popular Kagenoura private beach, and a tour to discover Sanjusan Kannon (33 Buddhist gods of mercy), in addition to other sites around the island. Sea kayaking requires a reservation (5,500 yen per person; four to twenty people; must be over 13 years old).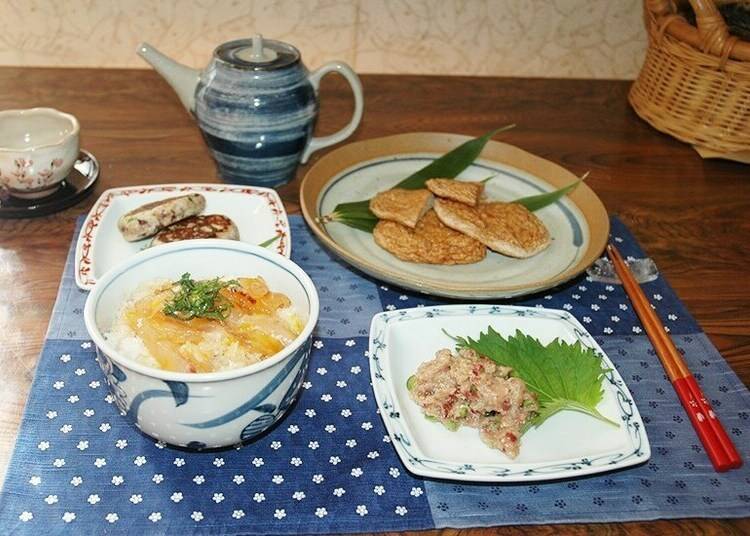 Enjoy Yuki's healthy, locally sourced food
The host mother, meanwhile, will serve you fantastic island-style dinners and breakfasts made with fresh seafood, including sardines, mackerel, and sea bream. There is much to enjoy on this bounteous Pacific Ocean island: the sea breeze, the sun, the delicious cuisine, and the islanders' welcoming smiles.

To Urashiro Port from Nobeoka Station takes about 15 minutes by car. Shimanourashima Island is then 20 minutes by ferry, or 10 minutes by high-speed boat.
遊季

Address

40-2, Shimaura-machi, Nobeoka City, Miyazaki Prefecture

Price per person:8,000 yen per night (including two meals)
Requirements:Maximum of five guests
Languages available:Japanese
Email:kankou@city.nobeoka.miyazaki.jp
Geology comes alive at Pakkun Rock and Mt. Kamisan cavern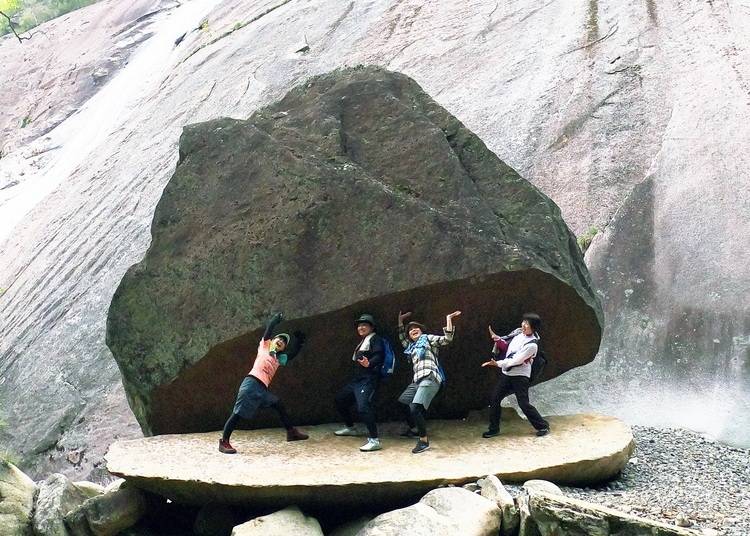 Visitors strike a pose at Pakkun Iwa
For a unique photo opportunity, visit Pakkun Iwa, a giant rock that bears more than a passing resemblance to Pacman, the famous video game character. In Japanese, "pakkun," means "to open the mouth widely." The rock is very popular with visiting tourists and makes a great talking point for those if you like to upload pictures on social media. Pakkun Iwa is about a one-hour walk from Shishigawa Camping Ground in northern Nobeoka. For a further taste of the area's unique geology, visit the Kamisan ruins at the foot of Mt. Kamisan, which date back about 3,000 years to the Jomon period.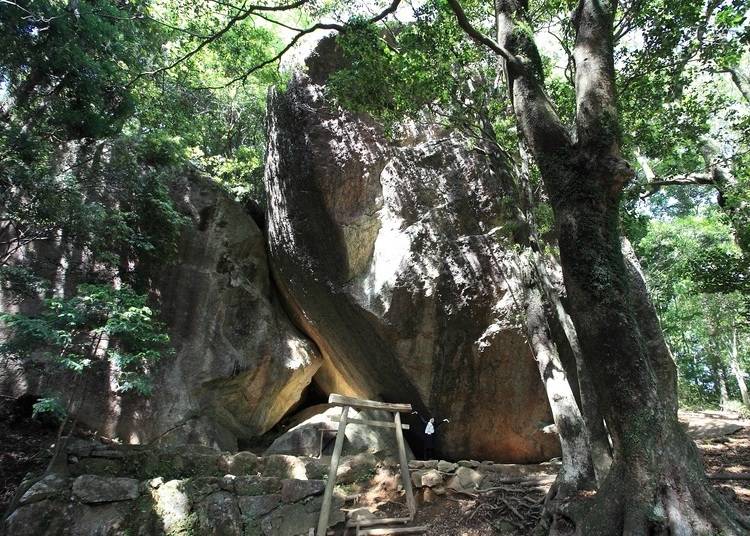 The Kamisan ruins at the foot of Mt. Kamisan
To reach this venerated spot, climb 240 stone steps through a bamboo forest until you see an ancient cavern formed by two huge rocks leaning against each other: one is 24 meters high while the other is 15 meters high. A 2-meter-tall triangular rock sits in the gap between the two stones, creating a cavern space that is considered sacred. For a more rewarding and informative experience, engage a local guide to show you around both Pakkun Iwa and Mt. Kamisan. And, to relax after your long trek, consider stopping by the nearby Horigawa Hot Spring to soothe your tiredness away.
パックン岩

Address

Kamishishigawa, Kitakata-machi, Nobeoka City, Miyazaki Prefecture

Program:Pakkun Iwa Trekking
Fee:From 4,000 yen per person (four people or more)(Tax excluded.)

Mt. Kamisan
Location:Horigawa River, Kitagawa-machi, Nobeoka City, Miyazaki Prefecture
Program:Mt. Kamisan Trekking
Fee:From 5,000 for person (two or more people)(Tax excluded.)

Available languages:Japanese/Basic English
Tel:0982-29-3835 (NPO Himuka Kando Taiken World)
Email:nobesta3835@gmail.com
Getting to Nobeoka, Miyazaki Prefecture:To Miyazaki Airport takes about 90 minutes from Haneda International Airport and about 60 minutes from Kansai International Airport. The subsequent drive to Nobeoka takes about 75 minutes.
*This information is from the time of this article's publication.
*Prices and options mentioned are subject to change.
*Unless stated otherwise, all prices include tax.