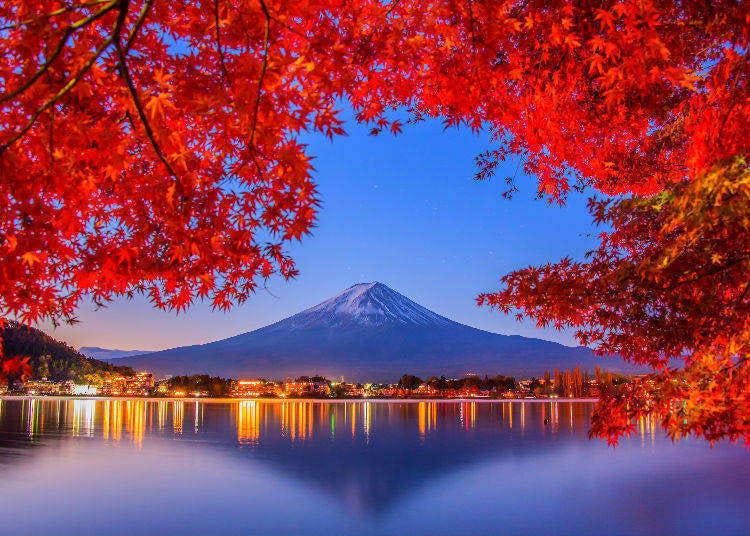 Fall in Japan refreshes us with its cooler temperatures and crisp weather. The main highlight of the season is the fall colors in Japan, called koyo in Japanese, transforming Japan into a wonderland of vivid hues.

The Adirondacks in the state of New York or Llanrwst in Wales are world-famous autumn leaf spots. However, Japan's fall foliage spots are defined by the serene and pure beauty that comes from a unique harmony between nature and man-made buildings and structures.

To let you savor this tranquil spectacle of the seasons, we're taking you to eight iconic fall leaf spots throughout Japan, show you how to get there, and when to make the most out of the colorful foliage!
1. Lake Kawaguchi (Fuji Five Lakes) in Yamanashi Prefecture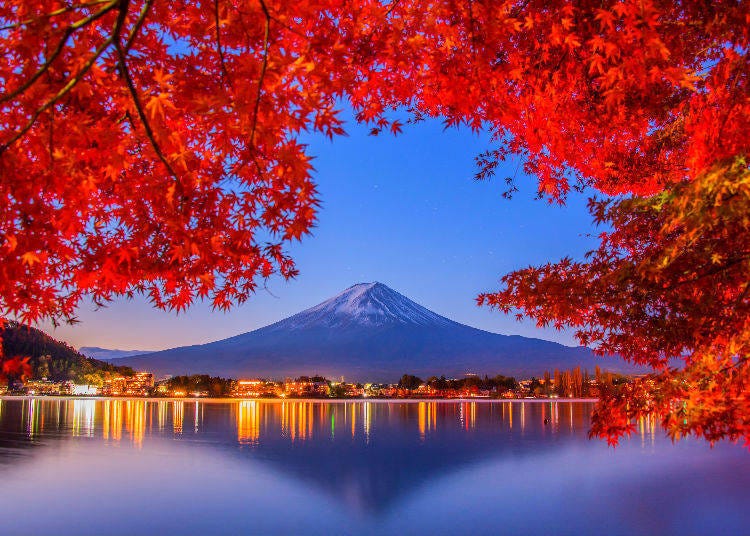 - Best time: from mid-October to mid-November
- Access (train): from Tokyo Station to Ōtsuki Station (Chūō Main Line, about 1 hour 16 minutes); from Ōtsuki Station to Kawaguchiko Station (Fujikyuko Line, about 43 minutes)
- Notes: accessible around the clock

The Fuji Five Lakes area describes the five lakes that lie at the foot of Mount Fuji: Lake Kawaguchi, Lake Yamanaka, Lake Motosu, Lake Shōji, and Lake Saiko.

Among them, Lake Kawaguchi is the most well-known for its stunning fall colors, most prominently represented in the Maple Corridor and its 60 beautiful trees, as well as a 1.5km-long "fall leaf avenue."

Furthermore, the "Lake Kawaguchi Autumn Leaf Festival" is held every year on the northern shore of the lake. The colorful Japanese maple trees are lit up in the evening and the area is crowded with food and souvenir stalls, offering local crafts and more! With the majestic Mount Fuji in the background, Lake Kawaguchi is a wonderful spot to feel the beauty of fall colors in Japan.
2. Meijijingu Gaien (Tokyo) – The Golden Ginkgo Promenade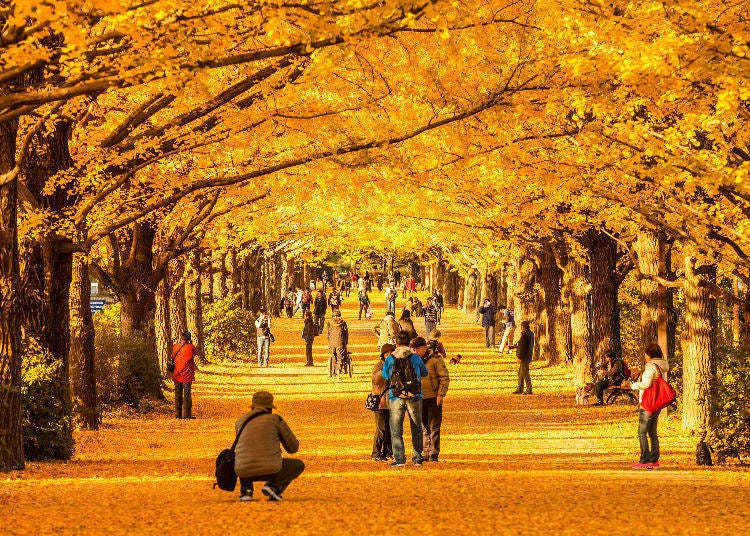 Photo credit: structuresxx / Shutterstock.com
- Best time: from early November to early December
- Access (train): Shinanomachi Station (JR Chūō-Sōbu Line), 10 minutes on foot
- Notes: "pedestrian paradise" on Sundays and national holidays from 9:00 a.m. to 5:00 p.m.

The numerous ginkgo trees in Meijijingu Gaien (the Meiji Shrine Outer Gardens) were planted in 1926. From mid-November, the 146 trees lining the broad avenue turn to a vivid yellow and transform about 300 meters into Tokyo's famous "Golden Road."

Sundays and national holidays are a great time to see fall colors in Japan here, as the area bans all vehicles and becomes a pedestrian paradise, letting you leisurely stroll through this golden spectacle.

Stop by a local café, take a break on the terrace, and allow yourself to be thoroughly enchanted by the scenery. Every year, this fall leaf spot attracts about 1,800,000 people, making it one of the most famous golden ginkgo locations in all of Japan.
3. Lake Towada in Aomori and Akita Prefecture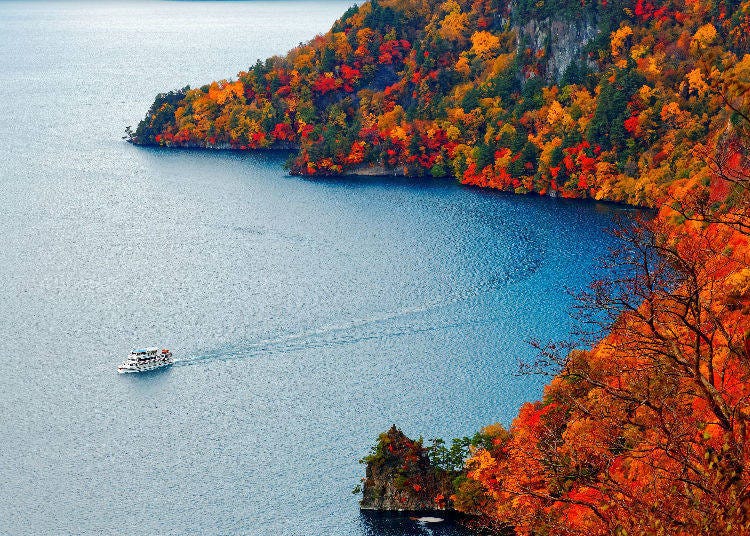 - Best time: from mid-October to early November
- Access (Shinkansen): from Tokyo Station to Shin-Aomori Station (Tohoku Shinkansen, about 3 hours); from Shin-Aomori Station to Yasumiya Bus Stop (route bus, about 3 hours)

Lake Towada is a crater lake that sits on the prefectural border between Aomori and Akita. It is lush in nature and the seasonal scenery of the lake is simply breathtaking. Deciduous trees such as beech, maple, and the Japanese rowan (mountain-ash) grow abundantly on Lake Towada's shores, taking on deep colors all at the same time as fall comes around.

Stunning reds and yellows dance on the blue waters of the lake, creating autumn scenery that is so vivid and rich, it almost looks like a painting. Kōgakudai Observation Deck and other spots dot the vicinity, allowing you to take in the scenery from various angles.

Pleasure boats cruise the lake's waters outside of winter, so hop on board and enjoy Lake Towada's fall leaves from a unique perspective!
4. Risshaku-ji Temple (Yama-dera) in Yamagata Prefecture
- Best time: from late October to early November
- Access (Shinkansen): from Tokyo Station to Yamagata Station (Tohoku Shinkansen, about 2 hours 50 minutes); from Yamagata Station to the spot (by car, about 30 minutes)

With a history of more than 1,100 years to look back on, Risshaku-ji Temple is one of the most sacred sites of the Tohoku area and is known as a "power spot" that wards against evil throughout Japan.

Beech, maple, ginkgo, and other deciduous trees take on the most vivid colors come fall and are stunningly lit up after the sun has set, alongside the temple's ancient main hall.

The combined scenery of lush, fall-colored trees, and the enigmatic Risshaku-ji Temple is a sight that you are sure to remember as one of the most impressive memories you've made in Japan.
5. Mikuni Pass in Hokkaido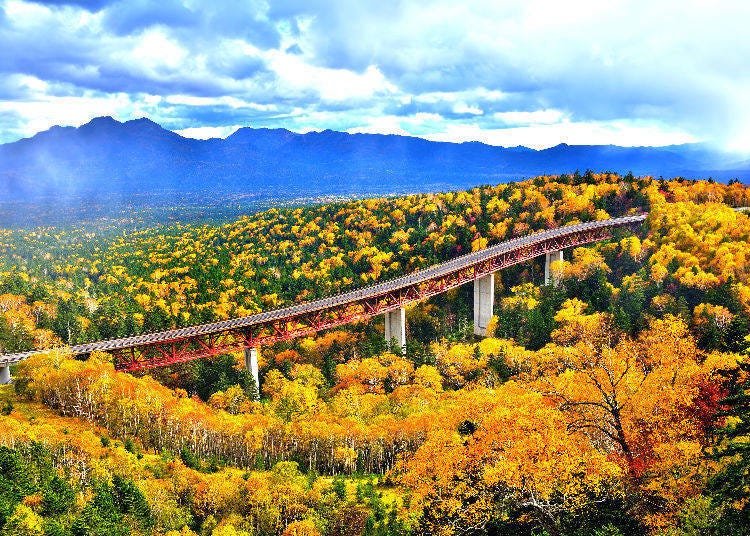 - Best time: late September to mid-October
- Access (plane): from Narita Airport (Tokyo) to Asahikawa Airport (Hokkaido, about 1 hour 30 minutes); from Asahikawa Airport to the spot (by car, about 2 hours 30 minutes)

The Mikuni Pass's highest point is at 1,139 meters above sea level, making it the highest pass in all of Hokkaido. Looking down from it, a picturesque scenery called the Tokachi-Mitsumata Caldera spreads in front of your eyes.

It is hard to imagine that this lush primeval forest was once a caldera lake over 500,000 years ago, now inhabited with a rich diversity of plants that shine in reds and yellows during fall.

Mikuni Pass also features an S-shaped bridge called Masumi Bridge, and despite being an impressive man-made structure, it does not mar the natural scenery at all. Rather, it seems to be in tranquil harmony with its lush surroundings, creating a spectacular, one-of-a-kind panorama of fall colors in Japan.
6. Bishamon-do Temple in Kyoto Prefecture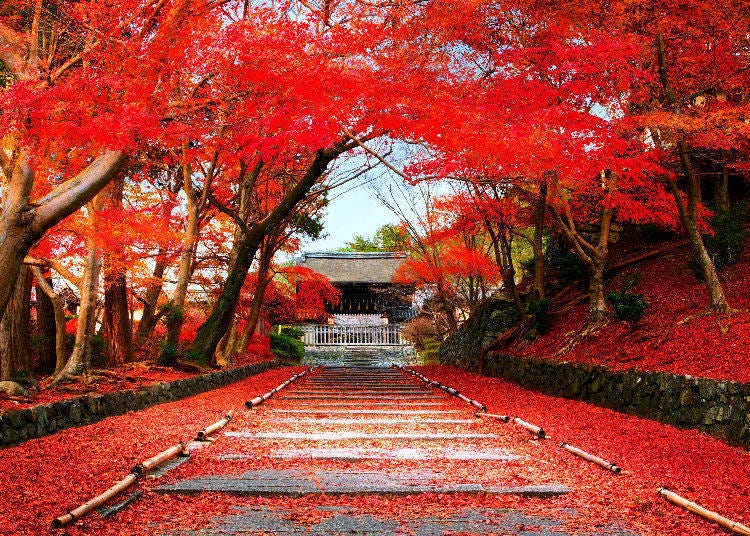 - Best time: late November to early December
- Access (train): from Kyoto Station to Yamashina Station (JR Tōkaidō Main Line), a 15-minute walk to the spot
- Notes: the precincts are free to visit, but the main hall requires an admission fee.

Bishamon-do Temple is one of Kyoto's Tendai-sect temples. It enshrines Bishamonten, a Buddhist deity associated with good fortune, and a lot of people visit the temple in hopes of boosting their luck.

Spring sees over 100 shidare-zakura cherry trees blossom on the precincts, while Bishamon-do Temple's approach is covered in vivid fall foliage at the end of fall. This phenomenon is called shiki koyo in Japanese – "a bed of fall leaves." The road to the temple and its bed of deep red might be the most iconic of Bishamon-do Temple's seasonal sights, and one of the best places for Kyoto autumn leaves.
7. Irohazaka Winding Road in Nikkō, Tochigi Prefecture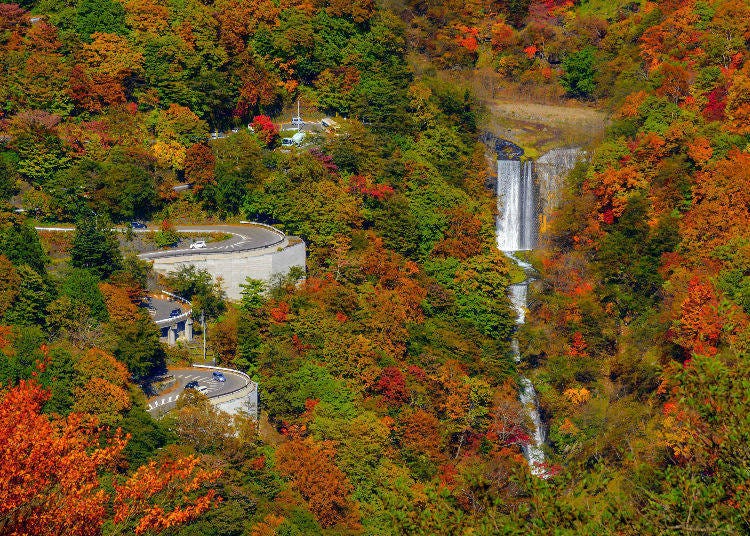 - Best time: mid-October to late October
- Access (Shinkansen): from Tokyo Station to Utsunomiya Station (Tohoku Shinkansen, about 50 minutes), Utsunomiya Station to the spot (by car, about 1 hour 30)

The Kanto area is dotted with beautiful and iconic fall leaf spots, such as Odashirogahara and Ryūzu Falls. Among them, the Irohazaka Winding Road stands out as a mountain road with an altitude difference of about 400 meters.

The slope is a national road that is about 15.8 kilometers long, connecting Nikkō City to Lake Chūzenji (the lake inside Nikkō National Park), famous for having a total of 48 hairpin curves in both directions.

During fall, you get to enjoy vivid fall leaves at every single curve and there is no greater pleasure than hopping in a rental car, lowering the windows and enjoying the sights first-hand.

The only drawback is that the road might be difficult for people who are not accustomed to driving. That's why there are plenty of day-trip bus tours from Tokyo available via various travel agencies, allowing everyone to savor this unique way to enjoy fall colors in Japan.
8. Itsukushima in Hiroshima Prefecture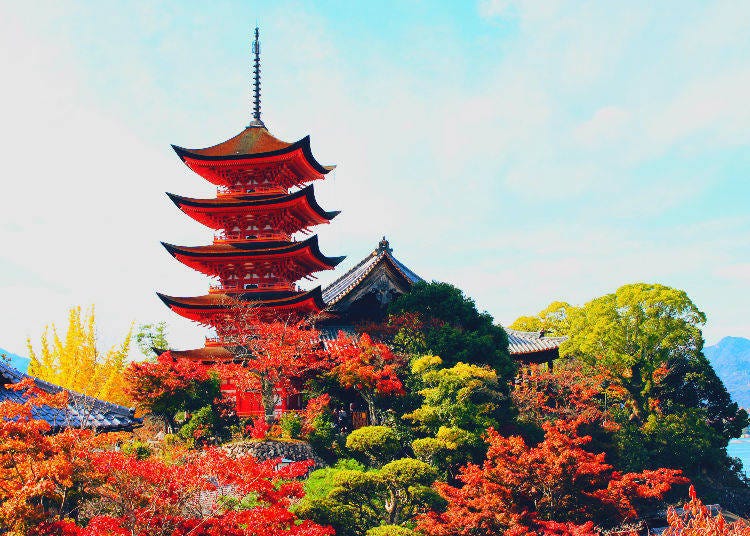 - Best time: mid-November to late November
- Access (train): from Hiroshima Station to Miyajimaguchi Station (JR San'yō Main Line, about 50 minutes), a 5-minute walk to the ferry boarding pier, then a 10-minute ferry ride to the island

Itsukushima, also known as Miyajima, is one of the Three Views of Japan, the country's most iconic sights. It is also registered as a UNESCO World Heritage Site, symbolized by the vermilion torii gate standing in the water. The island features a plethora of beautiful places for fall leaves, such as Momijidani Park, the Five-Storied Pagoda, and the Senjōkaku Shrine.

They all offer the stunning harmony of ancient Japanese culture and the vivid colors of nature. Access to the island is via ferry, but contrary to what you might fear, access is wonderfully convenient. You can even go to the island with a rental car!
*This information is from the time of this article's publication.
*Prices and options mentioned are subject to change.
*Unless stated otherwise, all prices include tax.