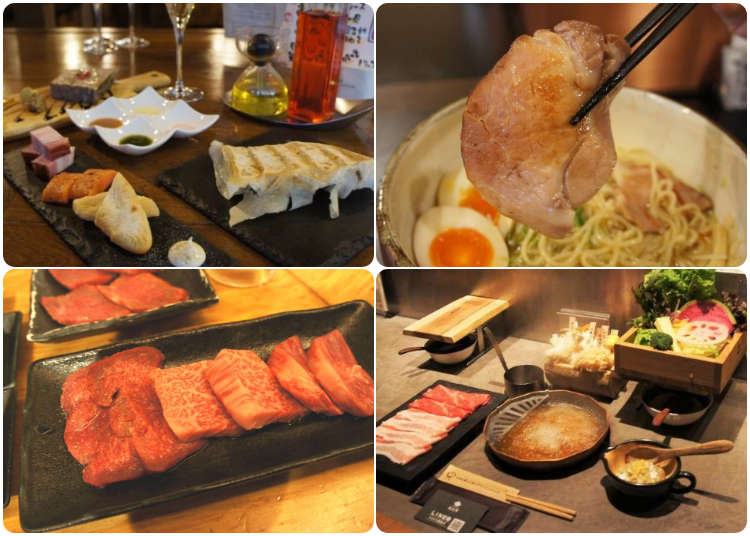 Sometimes, there's nothing better than setting off on your own for a solo travel adventure. Tokyo is a perfect choice for solo travelers, offering plenty of sightseeing spots and things to do. On top of that, the city is known as a treasure trove of amazing restaurant and gourmet hot spots, so you might spend a big portion of your time just hopping from one café to the next charming little restaurant, trying local specialties and Japanese classics! Because the choice is so huge, we're here to showcase Tokyo's top recommendations for solo travelers, from Japanese-style barbecue to hotpot and sake specialties!
Jiromaru: Taste Your Way Through Local Wagyu Cuts!
Wagyu, Japanese beef, is famous all around the world and pretty much everyone who comes to Japan wants to try it at least once. That's why our first stop is Jiromaru, a standing bar that serves high-grade, melt-in-your-mouth wagyu by the slice!

At first, Jiromaru started as a small bar in Shinjuku but became so popular so quickly that it has been featured on several TV shows and in magazines. Now, you'll find ten locations all around Tokyo and its surrounding areas. Today we're visiting the head store in Shinjuku, just a five-minute walk away from the station.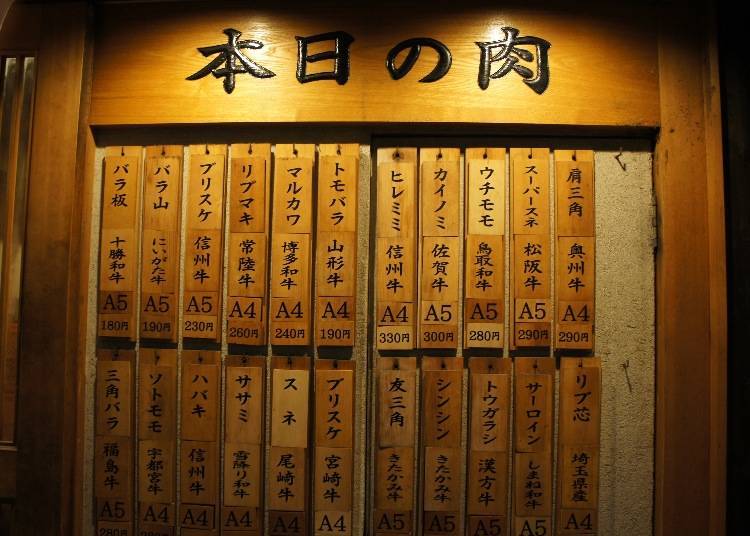 The current menu is displayed as traditional wooden tags on the outside of the shop, showcasing what cut it is exactly, where it comes from, and, of course, the quality. Naturally, this changes day by day and makes coming back to Jiromaru ever exciting.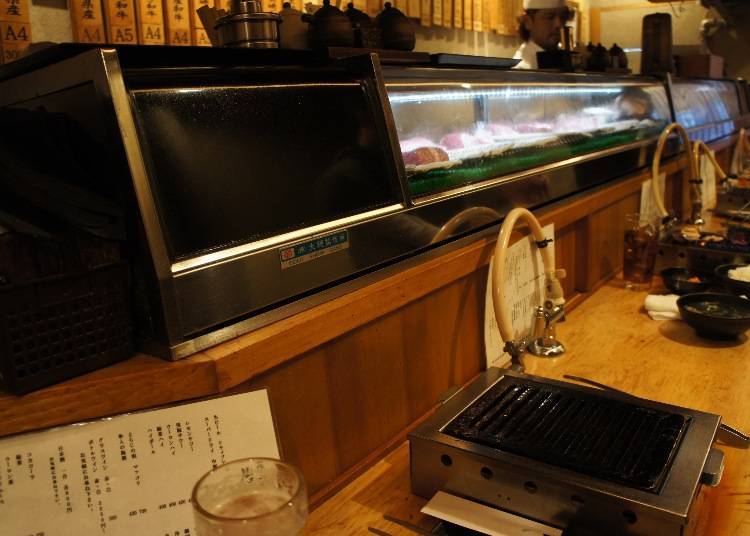 Jiromaru only has a counter with six gas-operated table grills installed on it. With a setup like this, the place is destined to be a favorite among solo diners, a lot of them coming in for a drink and a bite after work. Jiromaru's rule is at least one drink per customer, and we highly recommend trying a sake specialty along your beef. If sake is not your thing, beer is the classic choice and various soft drinks are also on the menu. Alcoholic drinks are around 400 to 700 yen, while all soft drinks cost 250 yen.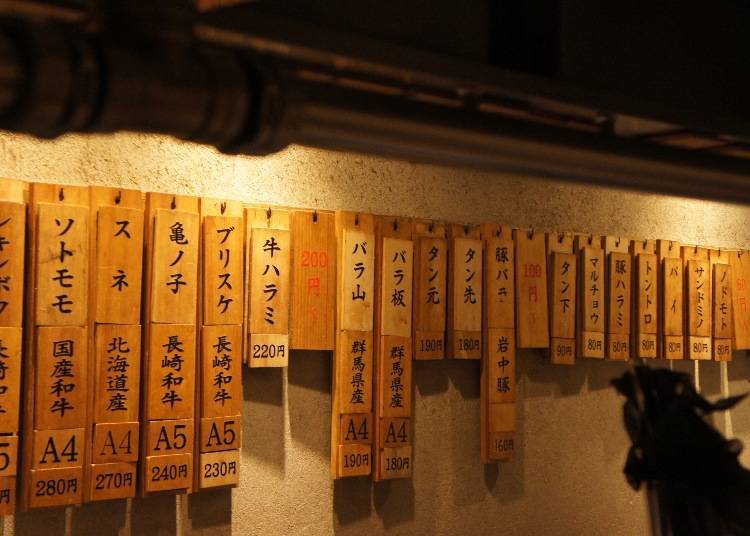 Today's menu - ask the staff!
After you're done with the drink order, take a look at the wooden tags that make up the menu of the day. Don't worry if you can't read or speak Japanese – simply ask the staff! They'll happily explain every cut to the best of their ability. If you don't quite know what to order, Jiromaru's recommends the "taste testing" selection of six different cuts. We promise that you'll be astounded at how different beef can taste!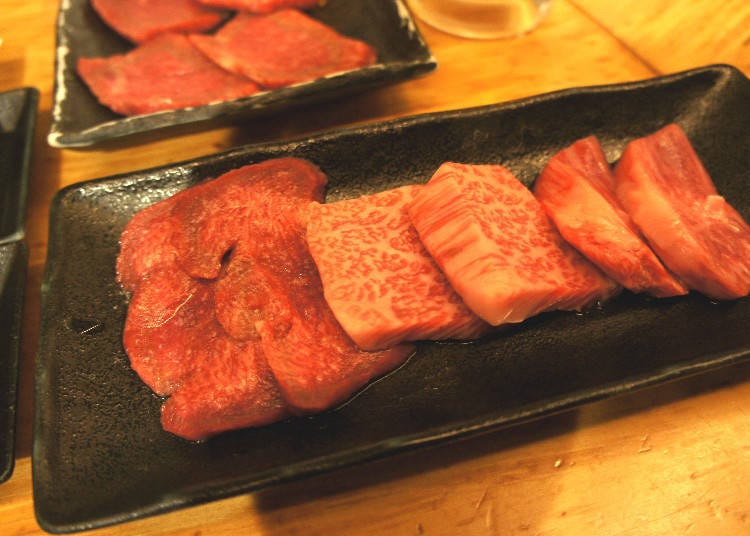 These are the six different cuts that we were served (from left to right):
Beef tongue (base), 190 yen
Top blade (Fukushima) A4, 300 yen
Sirloin (Hokkaido) A4, 300 yen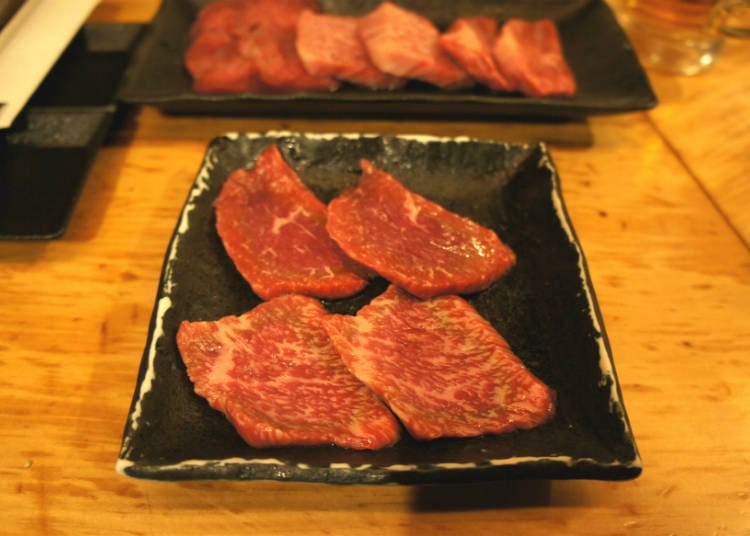 From top to bottom:
Brisket (Nagasaki Wagyu) A5, 230 yen
Shoulder clod (Nagasaki Wagyu) A5, 290 yen

The meat is beautifully marbled and glossy all over, mouthwatering even before we out it on the grill!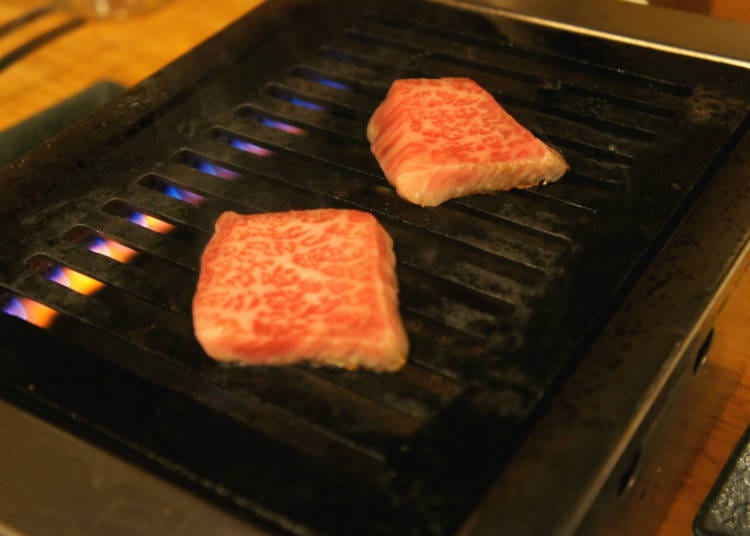 There are several sauces and condiments to enjoy your wagyu cuts with: a light sauce (for fatty cuts), a rich sauce, salt, soy sauce, and ponzu (a citrusy sauce for fatty cuts). Only offal comes marinated, so you can enjoy it as it is.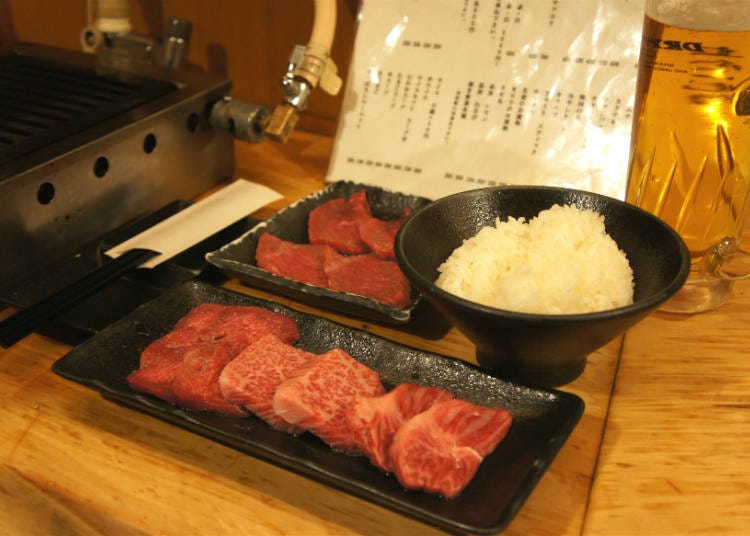 The most amazing thing about high-grade wagyu is the mouthfeel, as it melts on your tongue rich a creamy chocolate would! With plain white rice and a sip of beer, the beef unfolds its full flavor.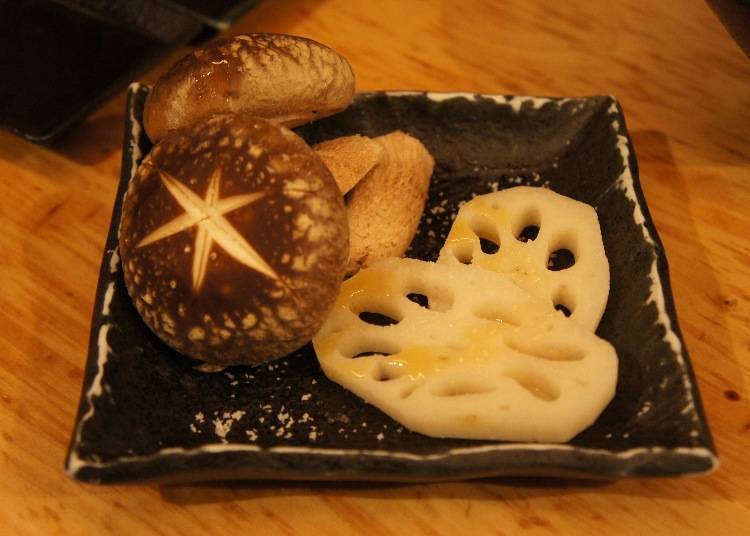 Shiitake mushrooms (left, 200 yen), lotus root (right, 200 yen)
Of course, the menu also features plenty of vegetable dishes.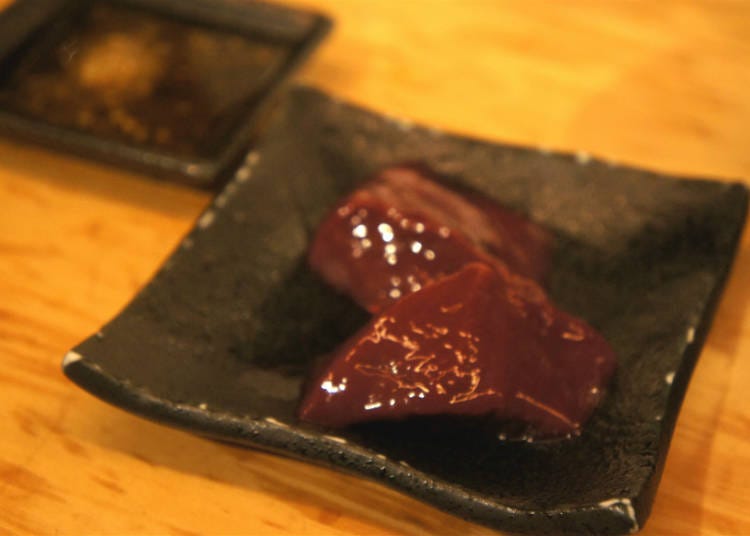 After we had cleared our plates and still savored the lingering aftertaste of excellent beef on our tongues, the shop's master suddenly had another recommendation that was not on the official menu: beef liver. It was an amazing dish, no strong aroma at all while boasting a somewhat sweet flavor with a pleasant aftertaste.

Japan's wagyu beef is famous for its marbling. Currently, Jiromaru gets its strictly controlled and carefully delivered beef from six different suppliers. The stall-like atmosphere and eating style allows these delicacies to be sold at almost ridiculously low prices, offering a one-of-a-kind gourmet experience that is very friendly to your wallet.

The dishes in the pictures are servings for two people.
立ち喰い焼肉 治郎丸 新宿本店

Address

Kabuki Bldg. 1F, 1-26-3 Kabukichō, Shinjuku-ku, Tōkyō-to 160-0021

Hours: 11:00 a.m. – 5:00 a.m.
Last entry: 4:20 a.m., 10:00 p.m. (Sundays)
Closed: always open
Awadsutsumi Champagne Mania: Bubbly Delights for a Stylish Night Out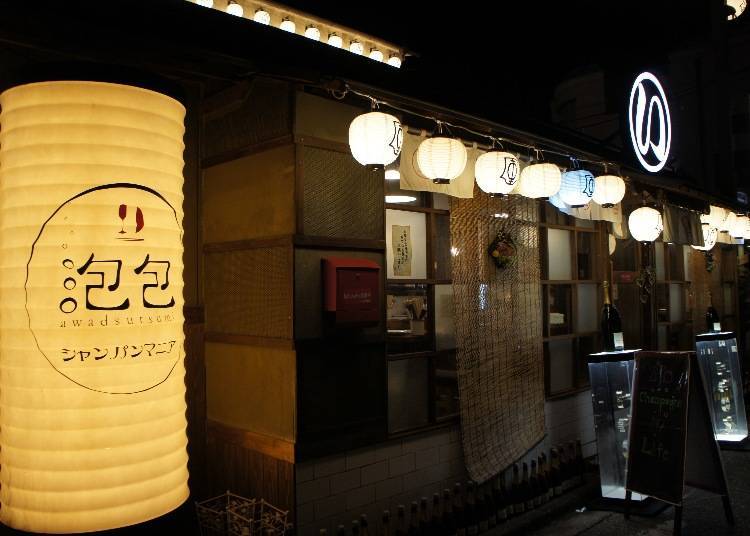 While traveling, you'll find yourself wanting to enjoy a drink or two while soaking in the nightlife atmosphere. Japanese traditional pubs called izakaya generally are the first stop for casual drinking and snacking, but they can get a bit loud and some might be put off by the often predominantly male patrons. Here's where we take your arm and lead you to Awadsutsumi Champagne Mania, an izakaya that opened in 2017 and welcomes solo guests with open arms. As its name suggests, the main beverage here is champagne, alongside a great variety of sake, as well as both creative and traditional dishes from French and Japanese cuisine. It's a great spot for various gourmet discoveries!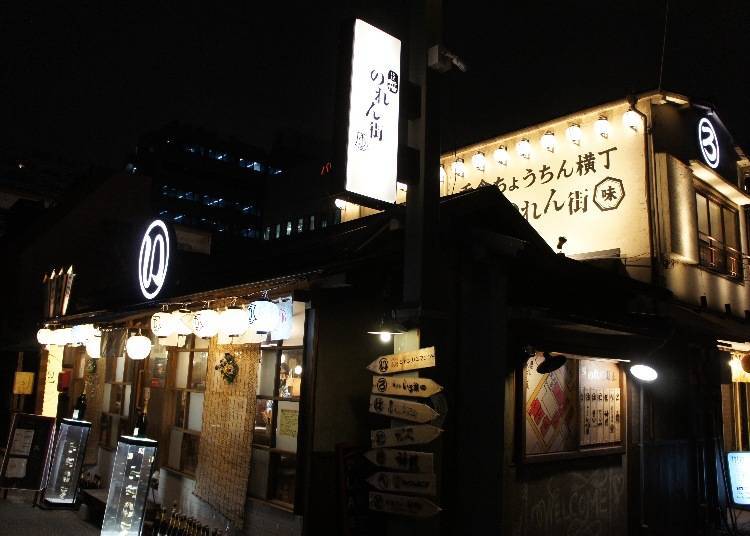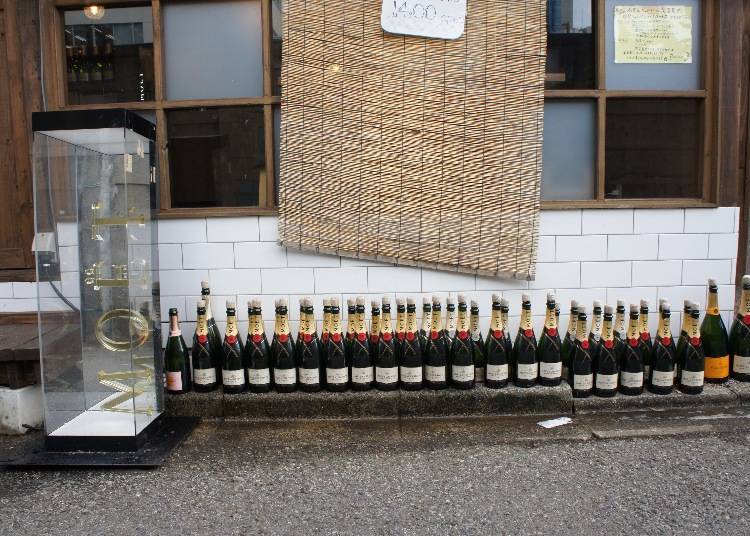 The spot is a little hidden but merely a short 2-minute walk away from Yoyogi Station. This area features a total of seven different izakaya, all with their own, unique taste and all of them located inside old renovated houses with a history of more than 50 years. As soon as the sun sets, the lanterns dip the street into a warm light and making you feel like you've stepped back in time yourself. The empty Moët & Chandon bottles lining up in front of Awadsutsumi Champagne Mania alone are an eyecatcher!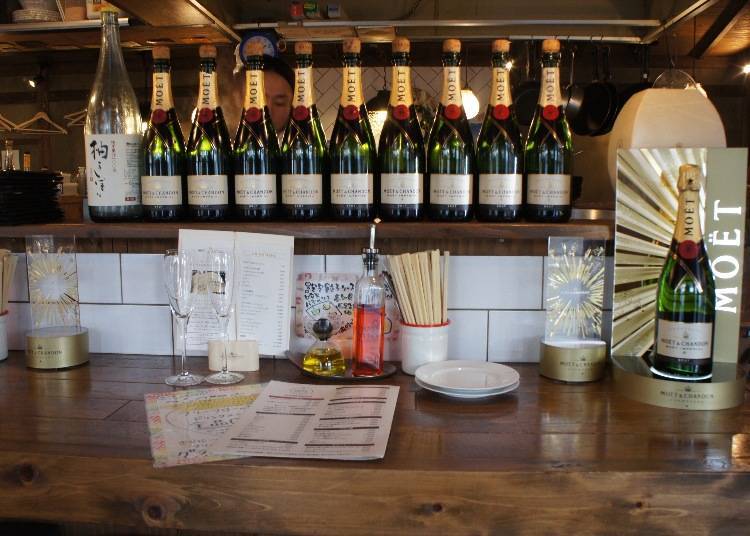 Come on in and take a seat at the open counter bar – it's a place that seats solo travelers just as easily as it seats large groups of friends. The interior features even more champagne bottles, too!

Order a drink first – and while the menu is rich, we really urge you to try a glass of champagne. It's a champagne-centric pub after all! You have the choice of over 100 kinds and we particularly recommend a glass of Moët & Chandon for 1,620 yen (tax included) that boasts a history of 270 years! If you're in a mood where one or two glasses won't be enough, why not go for the 90-minute all-you-can-drink offer for 5,400 yen (tax included)? If you ordered a la carte, that would be a mere four glasses! Of course, soft drinks such as oolong tea and juice are available for non-drinkers as well.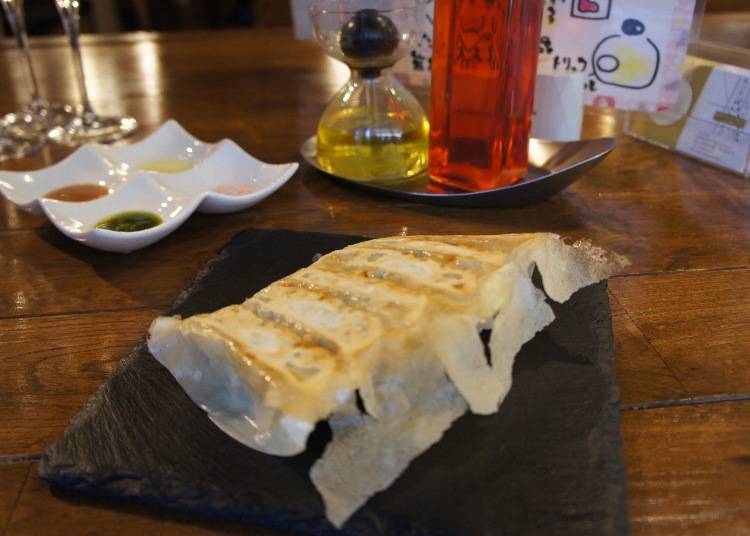 Fried dumplings, 6 for 540 yen, 12 for 972 yen (tax included)
Awadsutsumi Champagne Mania's most iconic dish on the menu is the "Awadsutsumi Gyoza," or fried dumplings. Choose six kinds of dips and sauces: truffle oil, homemade chili oil, homemade sesame miso sauce, yuzu sauce from Umajimura, homemade basil sauce, and Bolivian rock salt. You'll be surprised by how well the classic dumplings go with a glass of champagne!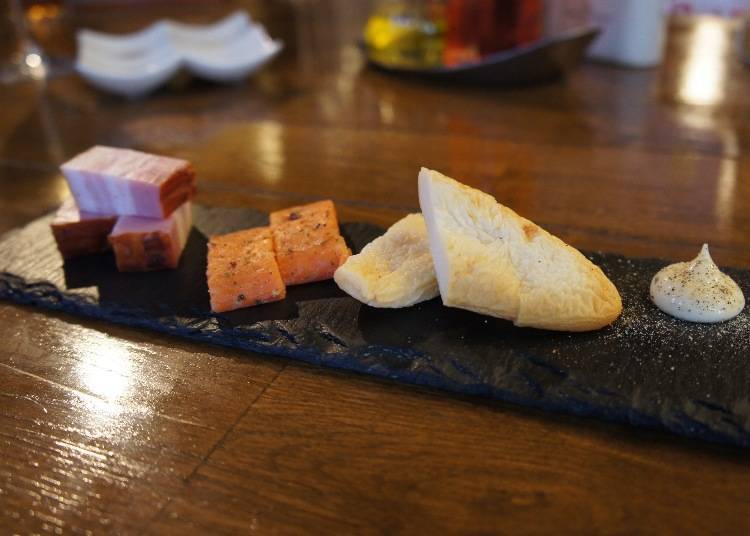 Smoked plate for 1,058 yen (tax included)
Other snacks that match a glass of bubbly extraordinarily well are smoked snacks and we recommend the assortment of smoked ingredients of the day. We got to enjoy thick bacon, Norwegian salmon, and sasakamaboko, fish cake shaped like a bamboo leaf. All of them complimented the champagne nicely.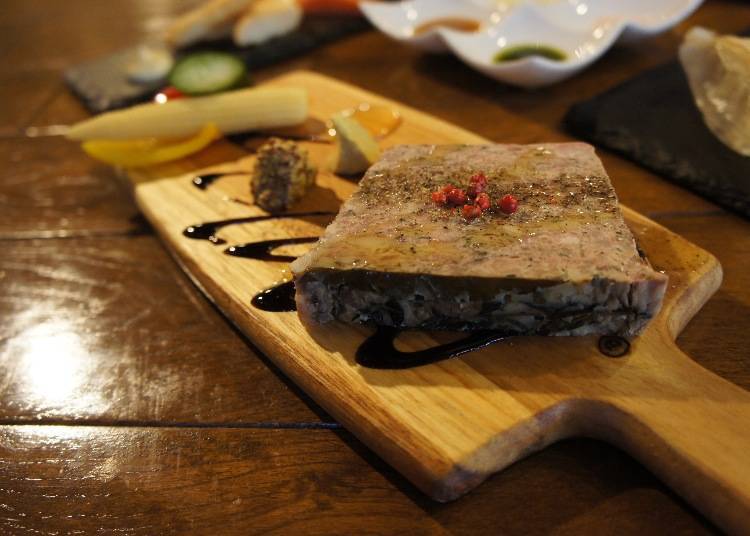 Pâté de Campagne, 900 yen
The recommendation of Awadsutsumi's master is Pâté de Campagne. It's a dish of French home cooking, carefully prepared with a lot of time and effort. It's subtly covered with honey and mustard to add an extra flavor kick to the classic dish. As soon as you take the first bite, you won't be able to stop.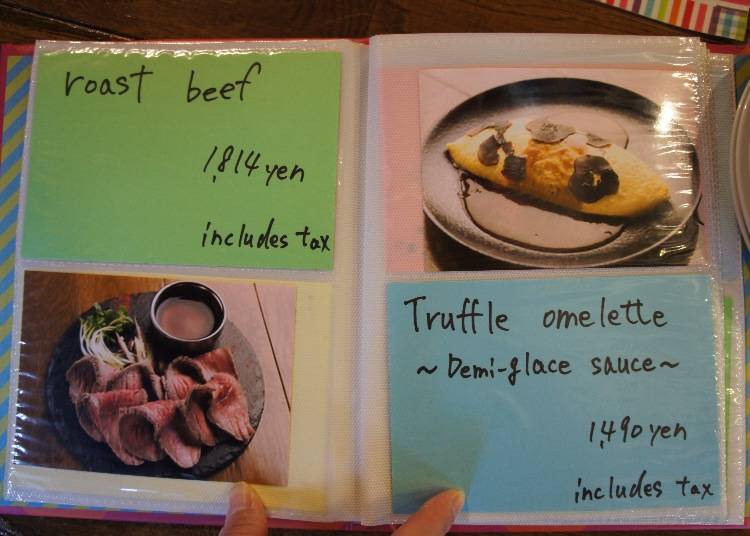 Currently, the shop does not have an English menu, but the manager made a picture book-like dish guide – it's not just helpful, it's also heartwarming.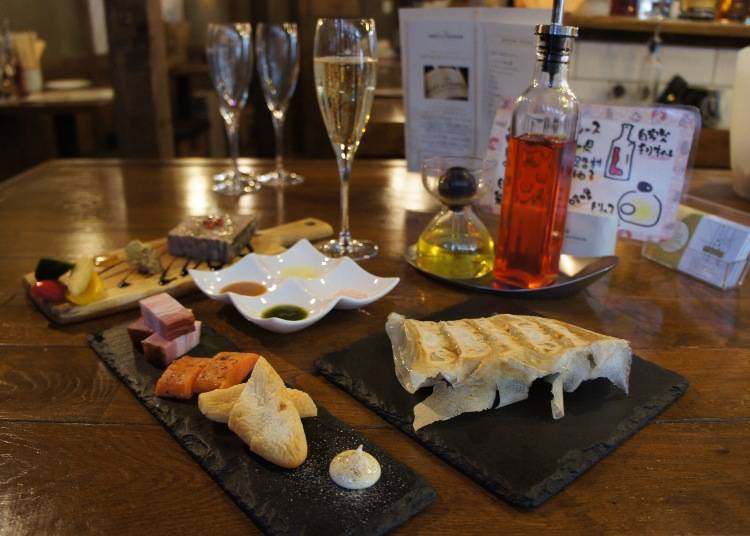 International visitors are more than welcome at Awadsutsumi Champagne Mania, so what are you waiting for? Off to your Tokyo champagne night!
Awadsutsumi Champagne Mania

シャンパンマニア 代々木店

Address

Hobo Shinjuku Norengai, 5-20-10 Sendagaya, Shibuya-ku, Tōkyō-to 151-0051

Hours: 2:00 p.m. – midnight (last order at 11:00 p.m.)
Closed: always open
Shabu Shabu Let Us: Creative Meat Fondue, Japan-Style!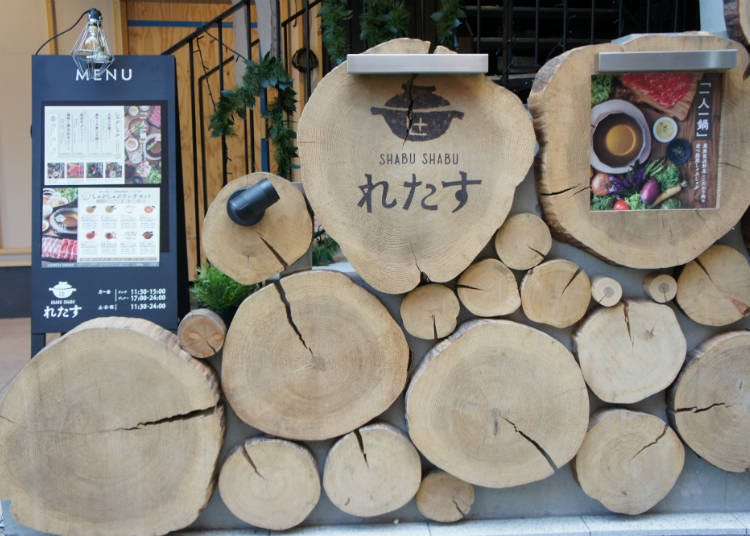 Shabu-shabu is Japan's amazingly tasty take on meat fondue and starts to gain quite a reputation in other parts of the world as well. It's a dish that you absolutely have to try if you're on a quest to explore Japanese cuisine but don't want to eat sushi or tempura again. Head over to a restaurant called Shabu Shabu Let Us near Naka-Meguro Station, a hot spot that's popular among younger Tokyoites and with a beautiful view on spring's cherry blossoms.
Traditionally, shabu-shabu is one large pot shared by several people, but Let Us turns this concept upside down and every guest gets their very own pot instead.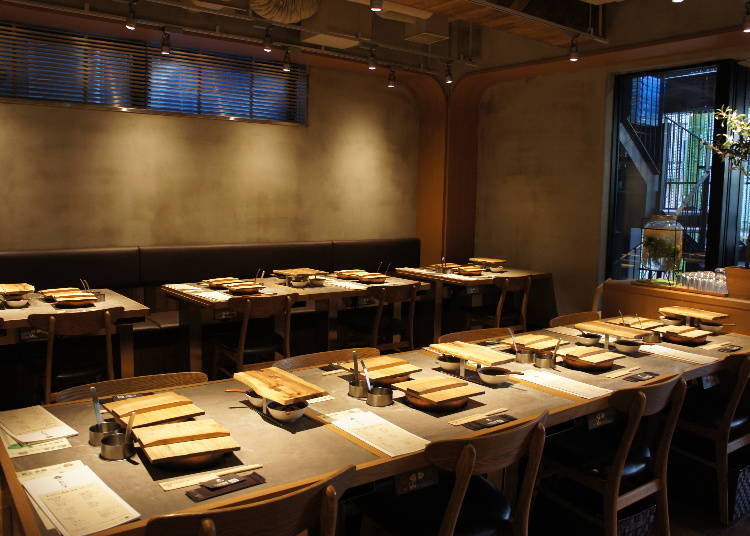 Let Us is a 3-minute walk away from Naka-Meguro Station. While it's on the second floor of a building, you won't have any trouble spotting it as the signboard on the ground level are nice eyecatchers. The spacious interior is all about natural wood, with long tables stretching along the room like logs. The counter seats are fun as well, as they offer a glimpse into the open kitchen.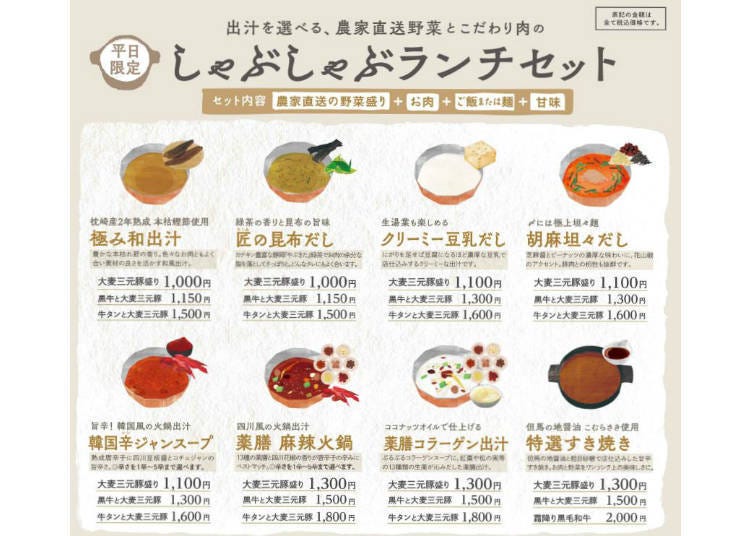 Let Us offers two different menu systems: the weekday lunch set and all-you-can-eat course during dinner and on weekends. The first step is to choose one of eight different soups. For a traditional approach, we recommend the "Ultimate Japanese Soup Stock" with 2-year old aged bonito from Makurazaki. Besides that, "Takumi's Kelp" offers the taste of green tea and kelp, while the "Special Sukiyaki" tickles your taste buds with flavorful soy sauce from the Tajima area. "Creamy Soy Milk" features fresh tofu skin and "Sesame Tantan" is a delectable Sichuan-style pot with a noodly end. A unique choice also is the "Chinese Medicinal Cuisine Hotspot" that comes in "Mala" and "Collagen."
After picking a soup, it's time to talk about meat! Here, you'll have the choice between Barley three-crossbred pig, black Angus beef from the U.S, mature beef tongue, and marbled Japanese black beef. Combine and pick as you see fit!

The weekday lunch sets cost between 1,000 yen and 2,000 yen, while the all-you-can-eat dinner courses can be enjoyed between 2,800 yen and 4,000 yen. The latter offers free meat refills and really is the best way to savor the different high-grade ingredients!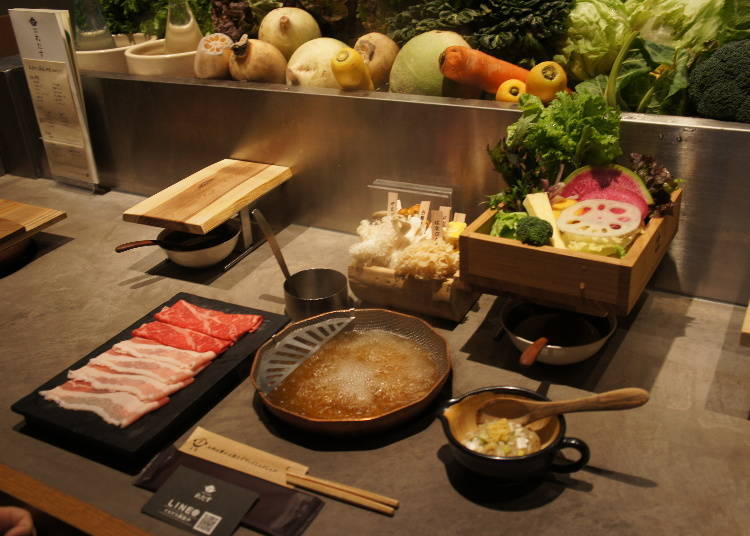 According to Let Us' staff, the "Ultimate Japanese Soup Stock" soup is the restaurant's most popular and a warm recommendation. It's a simple broth at first glance, but the aged bonito flakes really give it a one-of-a-kind taste that's incredibly delicious. The exquisite ingredients are allowed to fully develop their natural flavor, making you crave for more in no time.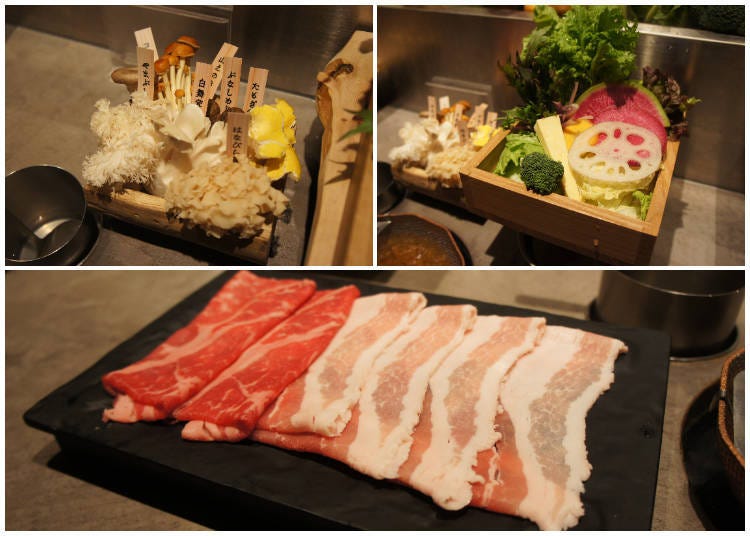 We ordered an assortment of black beef and three Barley three-crossbred pig, alongside various vegetables and mushrooms. The meat servings are very generous, and the vegetarian side boasts a wonderful variety. Beautifully presented, it's also a unique feat for the eyes!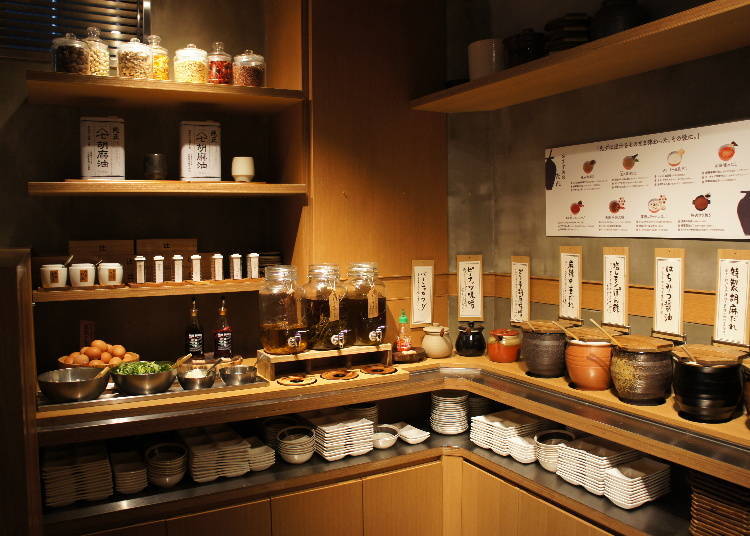 The self-service sauce corner. There's plenty of options with recommendations for every available soup.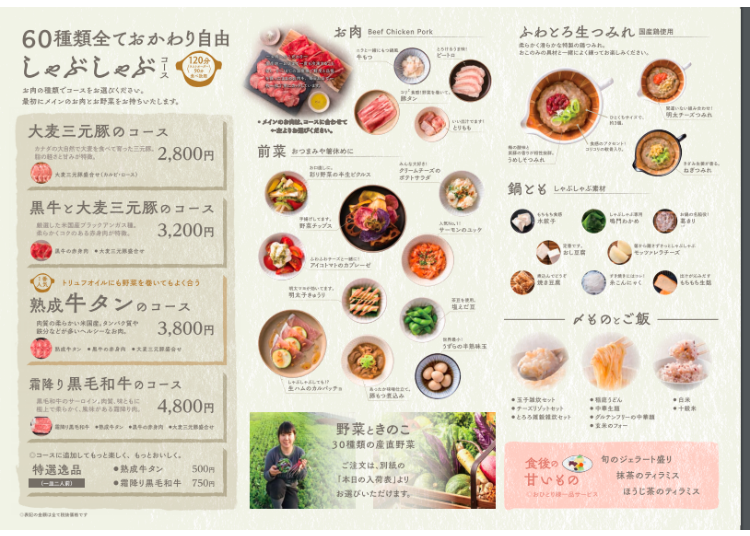 Of course, Let Us also offers a variety of extras on the "refill menu," including both meat and vegetables. By the way, all veggies served at the restaurant directly come from contract producers all around Japan. Drinks cost between 500 and 600 yen per glass, while an all-you-can-drink offer is available for 1,500 yen. Enjoy your leftover soup with extra rice or noodles and end your amazing meal with one of three delectable desserts!
しゃぶしゃぶれたす

Address

Ax Building Naka-Meguro 2F, 2-12-1 Kamimeguro, Meguro-ku, Tōkyō-to 153-0051

Hours
Weekdays lunch: 11:00 a.m. – 3:00 p.m. (last order at 2:00 p.m.)
Weekdays dinner: 5:00 p.m. – midnight (last order at 11:00 p.m.)
Saturdays, Sundays, and national holidays: 11:30 a.m. – midnight (last order at 11:00 p.m.)
Closed: New Year's holidays
Menya Sou: Enjoy a Bowl of Noodly Happiness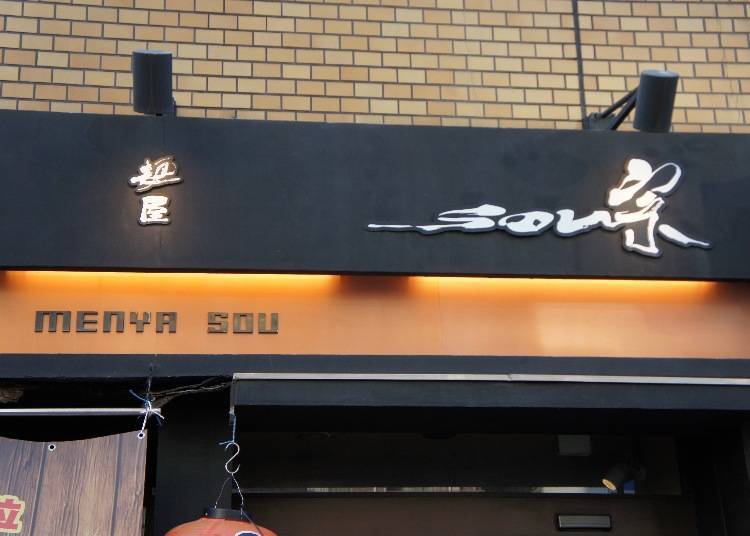 Ramen is one of Japan's most famous gourmet delights and pretty much everyone who comes to Japan seeks to savor an authentic bowl of the tasty noodle soup. Ramen shops in Japan are generally small and well accustomed to people who come in by themselves to grab a hearty bowl, so they're perfect for solo travelers! Today, we'll take you to Menya Sou, a ridiculously popular shop in Takadanobaba, one of Tokyo's fiercest ramen battlefields. This place is a ramen veteran of 10 years that enjoys constant popularity among both locals and tourists, so let's take a look.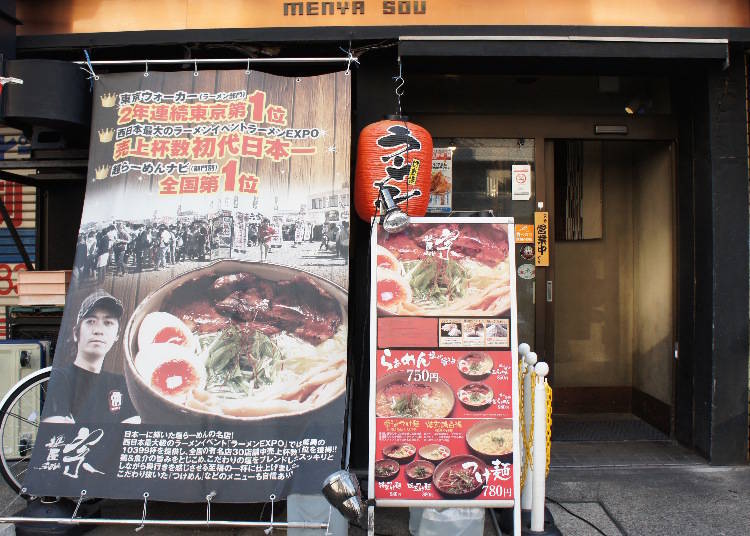 About a 3-minute walk away from Nishi-Waseda Station, you'll immediately spot a big, colorful signboard of all the recent awards that Menya Sou has won. Among them is the crown from Tokyo Walker's ramen division (the second year in a row by the way), as well as the award for the most sold bowls at the West Japan Ramen Expo. On top of that, Menya Sou is also the most searched for shop of the famous Japanese app <@Chō Ramen Navi.|ip> Looking at this impressive list of awards alone should raise your expectations about Menya Sou's ramen creations!
Numerous pictures and cards of celebrities who have visited the shop will greet you as you enter Menya Sou, further making clear just how popular this place is. The interior is wonderfully spacious and offers seats both at the counter and at several tables. If the stylish chairs catch your eye, there's a reason for that – Menya Sou's shopkeeper is related to Sori Yanagi, a famous Japanese product designer, and he's the one behind the design. The entire ramen shop is surprisingly stylish, it's not something you'd find at any spot.

You order your bowl by buying a ticket at the vending machine, but if you're a first-time customer, we urge you to try Menya Sou's famous "Special Ramen – Salt Flavor." If you're a big eater, feel free to make your serving extra large for an additional 100 yen or order a set menu. There are two different sets: A set for 150 yen extra gets you half a bowl of fried rice, while B set for 250 yen features both fried rice and boiled dumplings. During weekdays, plain rice is entirely for free, so you surely won't have to leave hungry!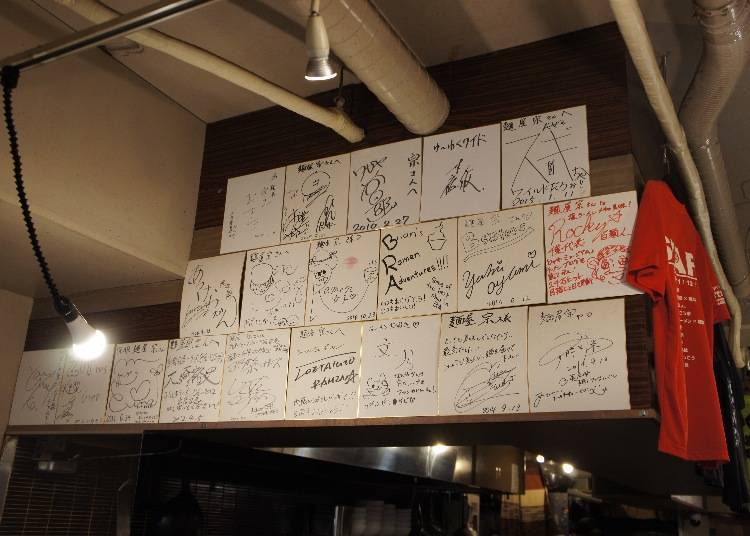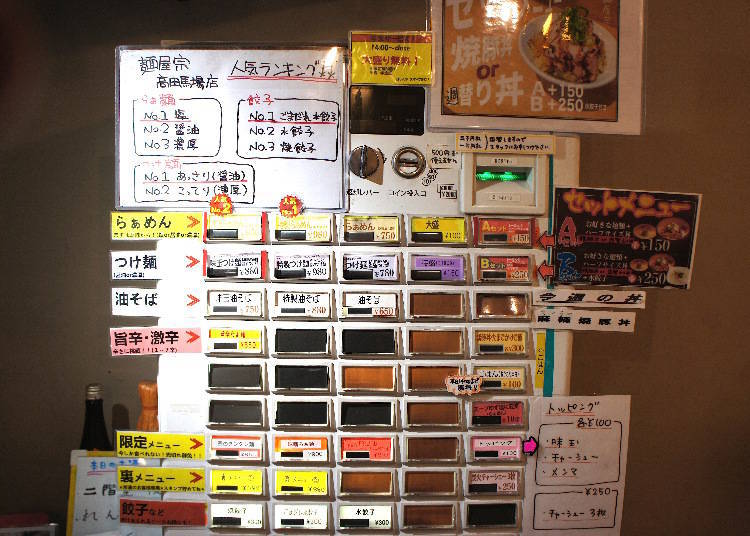 The super popular "Special Ramen – Salt Flavor" make your mouth water just by looking at the picture.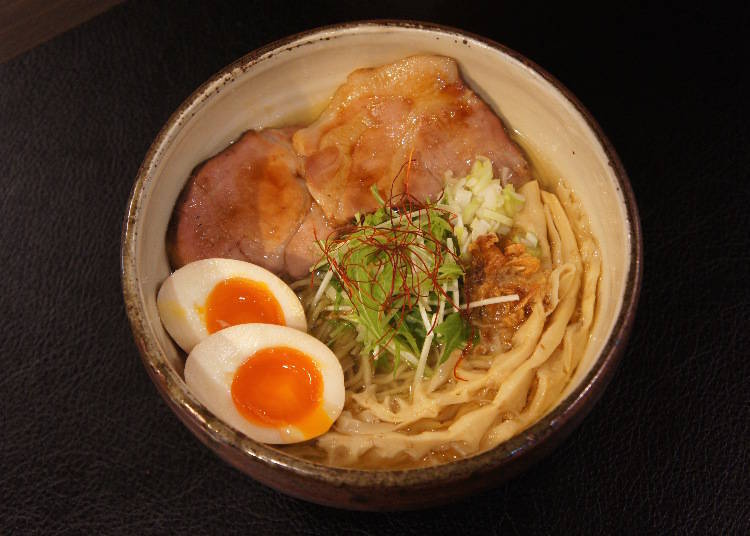 Price: 980 yen (tax included)
When it comes to ramen, the most important component is the soup. If you've ever had rich, salt-based ramen before, be prepared to have your mind blown entirely, because Menya Sou's soup is ridiculously delicious. It's surprisingly light while still rich in umami flavor! Yanagi-san, the shop's master, explains that the unique taste comes from the Himalayan rock salt that contains plenty of minerals, as well as the Hakumatsu salt from Nagasaki Prefecture's Tsushima Strait. After boiling chicken and various seafood, the soup then gets to rest for a whole night. This chicken-seafood-combination harmonizes exceedingly well with the salt and really could be enjoyed all by itself.

Furthermore, the whole-grain noodles come from a noodle specialty shop in Ohara. They boast a great elasticity and will have you hooked to the flavor from the first bite on!

Let's talk toppings – Menya Sou's iconic salt ramen bowl comes with a slice of chāshū (barbecued pork) that has been slowly roasted over a charcoal fire and has this amazing charcoal-grilled aroma, giving your bowl an extra kick of tastiness. The classic-half boiled eggs are part of the "Special Ramen – Salt Flavor" as well, of course, and make for a well-rounded ramen experience that is sure to become one of your favorites.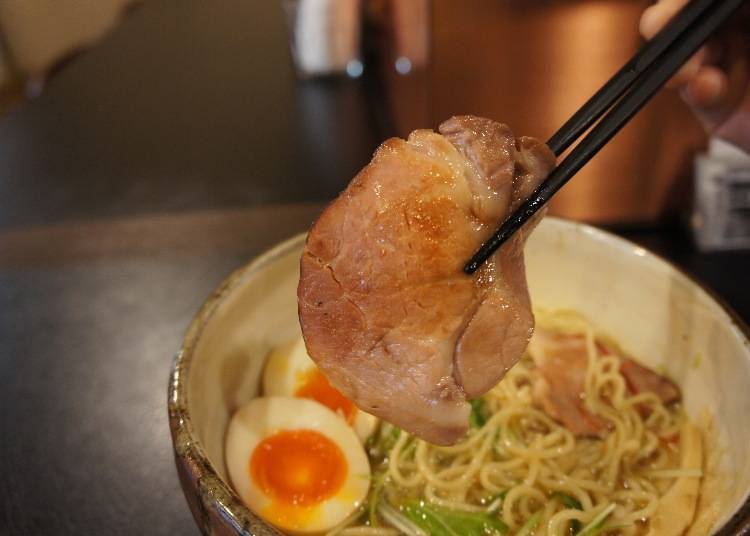 Menya Sou is located close to a college campus, so it's crowded especially during lunch time on weekdays. Nonetheless, if you have some time to spare and want to try one of Tokyo's most famous ramen bowls, Menya Sou is the place to go for every solo traveler!
麺屋 宗 高田馬場本店

Address

1-4-21 Takadanobaba, Shinjuku-ku, Tōkyō-to 169-0075

Hours: 11:30 a.m. – 10:30 p.m.
Closed: always open
Silkream: Creamy Desserts and Parfaits!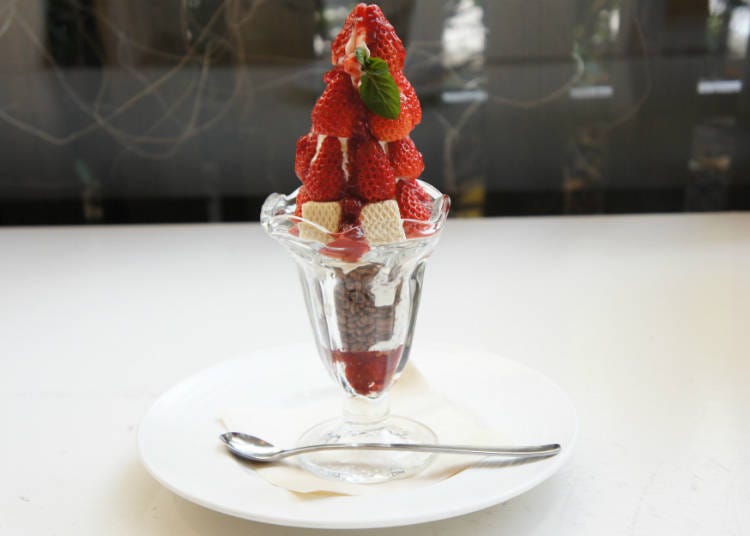 Last but not least, we have a recommendation for all dessert fanatics out there. Let's head over to Shibuya Station! After a 5-minute walk, we arrive at Silkream, one of Tokyo's cutest cafés. It's managed by a company called Nissei, a soft serve maker that boasts a history of almost 70 years.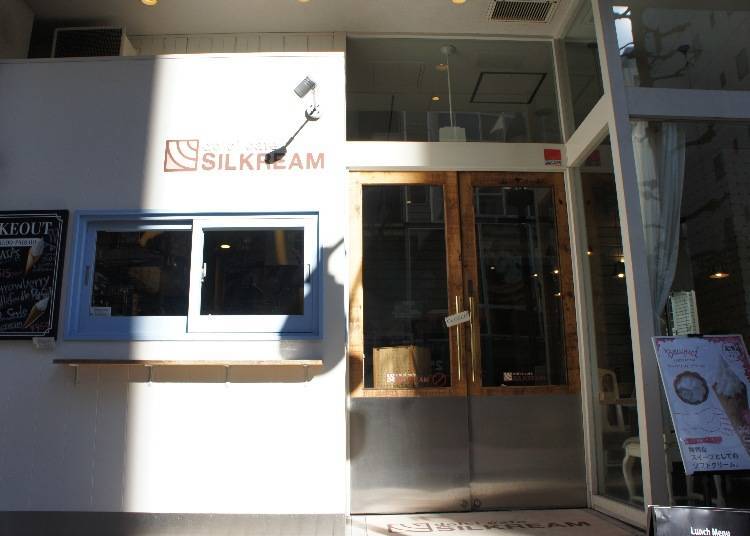 Silkream's exterior has a wonderful "at home" feeling to it that is instantly inviting and welcoming. This impression is further enhanced by the wooden interior, evoking an image of a cozy home in Nothern Europe. The staff greets you with a friendly smile and heartfelt hospitality and we recommend the seats just in front of the large window, allowing you to daydream and fully savor the delectable desserts served at Silkream.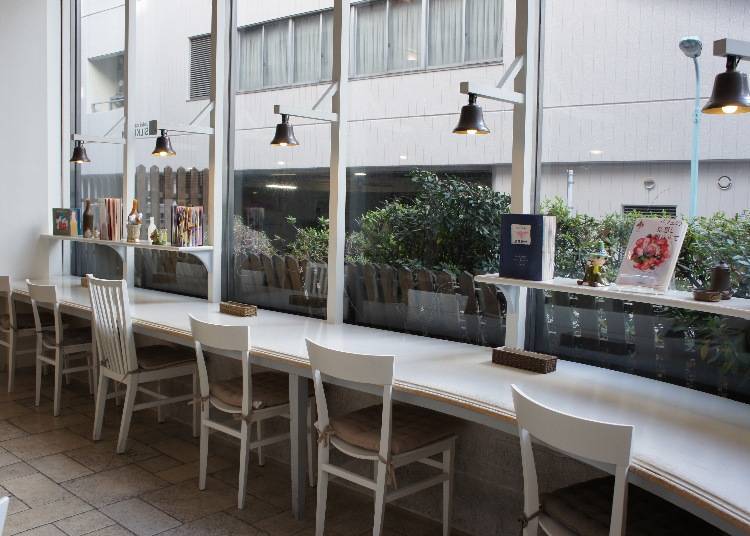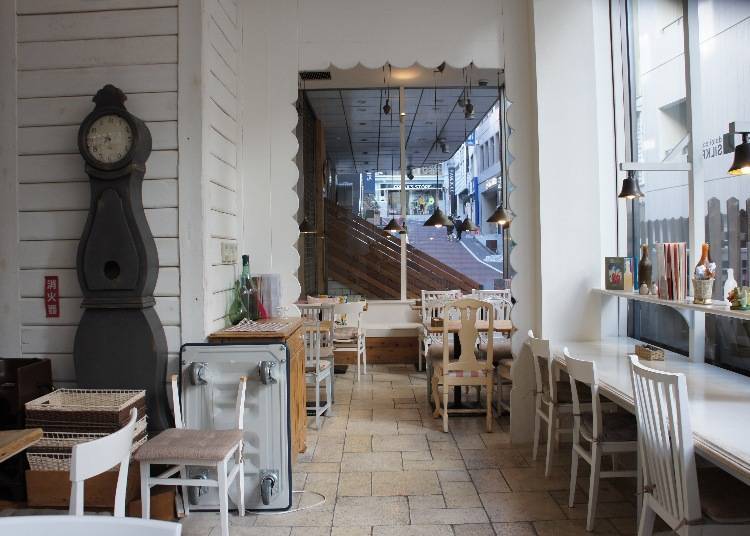 The menu is so amazing, you'll have trouble choosing what you want, so allow us to give you a warm recommendation. Try the "Milky Hokkaido Soft Serve Strawberry Parfait" that is available during the strawberry season.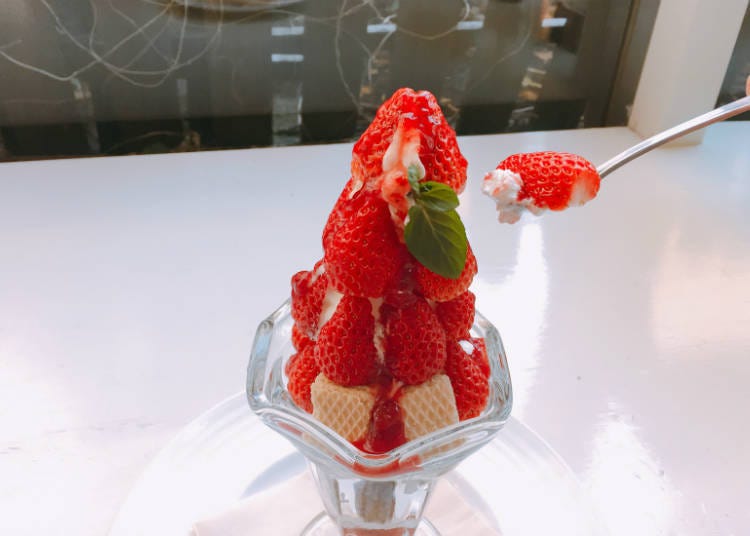 1,110 yen (tax included)
You won't have to turn your head to see that the staff brings your order – a wonderful strawberry aroma will waft your way as soon as your parfait is on its way! Indeed, this dessert is chock-full of plump, flavorful strawberries carefully raised in Shizuoka Prefecture. The sweet-and-sour fruits go exceedingly well with the creamy soft serve from Hokkaido, and the parfait's bottom layer surprises you with chocolate puffs and fresh strawberry puree.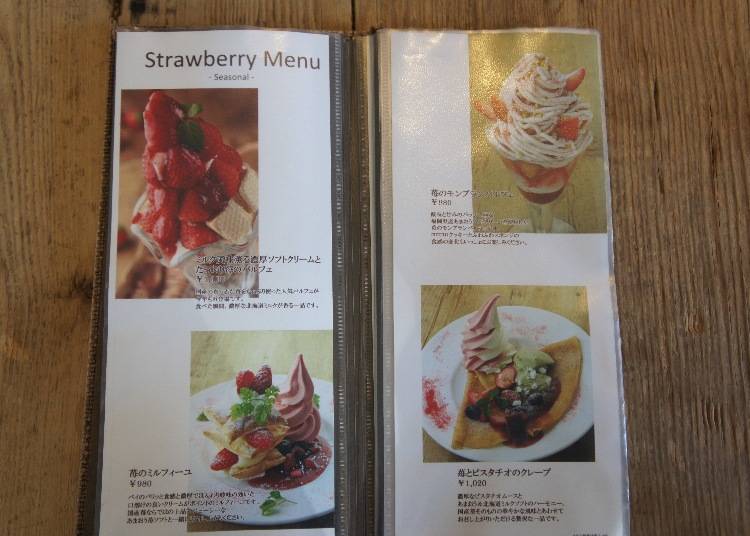 You'll be able to get your hands on this amazing parfait between December and June, while strawberry crepes are sold throughout the year. Should you miss strawberry season, fret not, as there's plenty of amazing creations on the menu. Why not try the "Hot Apple Pie & Hokkaido Soft Serve" or the "Fondant Chocolat" with Belgian chocolate? There are always seasonally limited delights available, such as the "Chestnut Mont Blanc." Should you still be hungry after your sweet order and crave for something savory, Silkream offers various pasta creations that change every once in a while. Treat yourself to some soft serve luxury!
シルクレーム

Address

1-19-3 Jinnan, Shibuya-ku, Tōkyō-to 150-0041

Hours: 11:00 a.m. – 9:00 p.m. (last order for food at 8:00 p.m., last order for drinks at 8:30 p.m.)
Closed: irregularly (closed for 5 days every year)
We hope that you've been inspired by the must-try spots we recommended above and make plans to stop by one or more that managed to get you curious! Traveling alone in Tokyo is great, especially when it comes to gourmet delights – the choice is yours to make, savor everything at your own pace and enjoy your very own food adventure!
*This information is from the time of this article's publication.
*Prices and options mentioned are subject to change.
*Unless stated otherwise, all prices include tax.
Limited time offer: 10% discount coupons available now!