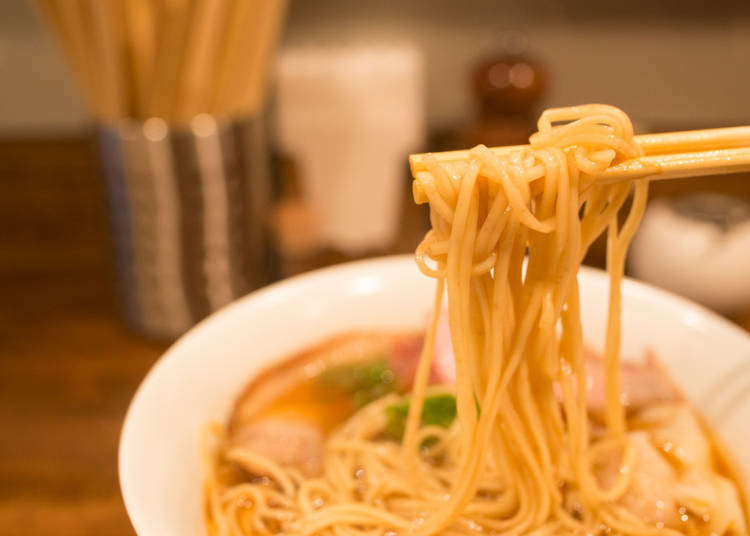 Ramen, Japan's iconic noodle soup dish, doesn't only enjoy massive popularity in its home country but all around the world. A bowl of the best ramen in Tokyo is a highlight for a lot of tourists, but the sheer abundance of shops and noodle soup varieties can make this endeavor harder than it seems.

To help you make your ramen dreams come true, we've picked up four of 2019's best ramen shops in Tokyo for a deep look. Plus we've packed in 10 additional of the best Japanese ramen noodle shops you'll want to try on your visit. Happy slurping!
1. Nakiryu: This Michelin-starred Ramen Restaurant in Tokyo Takes You to Noodle Soup Heaven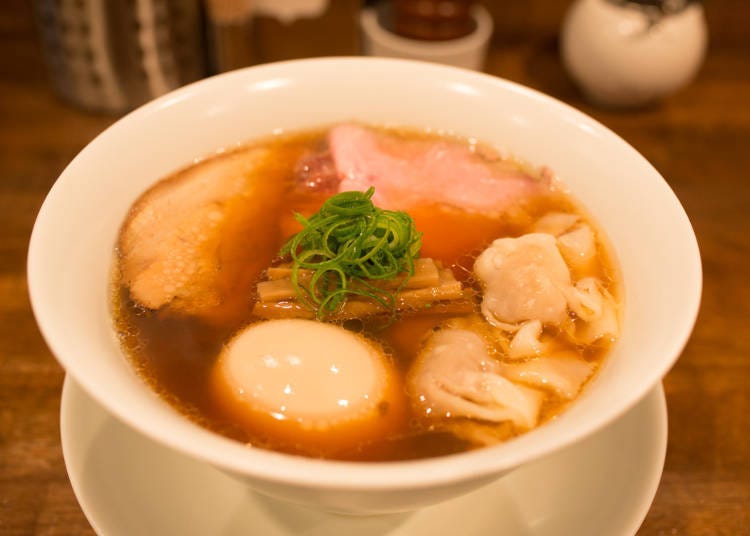 ▲ The shoyu (soy sauce) ramen for 1,100 yen (tax included)
Nakiryu has gained an incredible amount of fame after being rewarded one Michelin star, the second Japanese ramen restaurant to earn the highly sought-after award.

During lunch, you'll have to expect waiting times of about 2 hours, but you might have better luck around the afternoon and evening during weekdays. In any case, for Japan ramen fans, the food is well worth the wait, and we especially recommend Nakiryu's special shoyu ramen.
The bowl seems simple and yet looks absolutely amazing. It is generously topped with three different kinds of chashu (barbecued pork), different pork parts that are all cooked differently, as well as shrimp wonton, a half-boiled egg, homemade menma (salted bamboo shoots), and green onion.

The noodles are exquisite as well, boasting a wonderfully smooth mouthfeel and harmonizing perfectly with the rick soy sauce soup.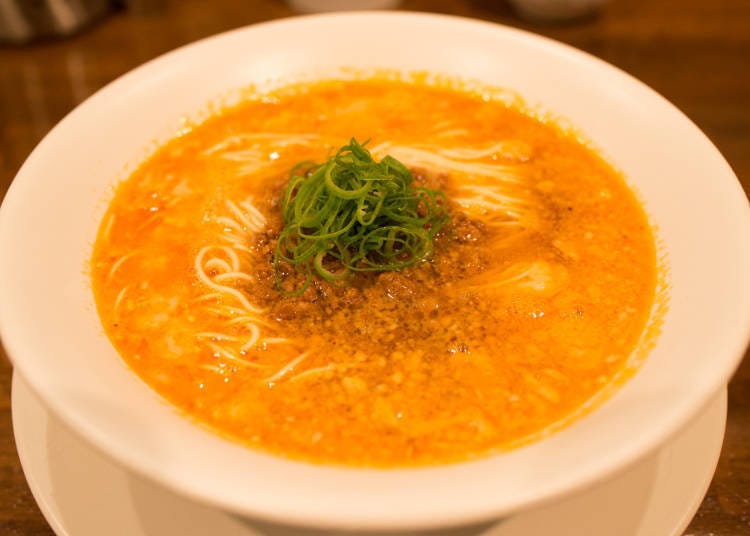 ▲ Tantanmen for 850 yen (tax included)
Although tantanmen, the Chinese version of Japan's favorite noodle soup, aren't ramen, strictly speaking, we nonetheless highly encourage you to try Nakiryu's tantanmen. The noodles are surprisingly firm to the bite and make the delightfully pungent soup all the more delicious.

Make use of the hanazansho (the flower of the Japanese pepper) readily available on the table to enhance the fragrance and flavor even further!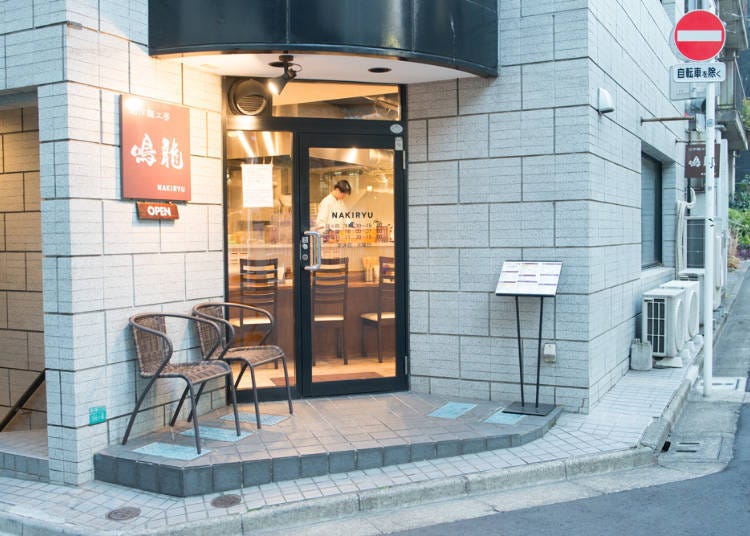 The owner of Nakiryu worked as a chef in Hong Kong's famous MIST, a ramen specialty shop that earned a Michelin star back in 2011. His own place, Nakiryu, is just a 5-minute walk away from Otsuka Station, so make sure to stop by for a ramen experience on a wholly new level!
創作麺工房 鳴龍

Address

2-34-10, Minamiohtsuka, Toshima-ku, Tokyo, 1700005, Japan

Nearest Station

JR Otsuka Station, 5 minutes on foot


Phone Number

03-6304-1811

Hours: 11:30 a.m. – 3:00 p.m., 6:00 p.m. – 9:00 p.m.
(Mondays only: 11:30 a.m. – 3:00 p.m.)
Closed: Tuesdays
Credit Card: not accepted
Reservation: not accepted
2. Haru: Soy Sauce Ramen Bowl with an Impact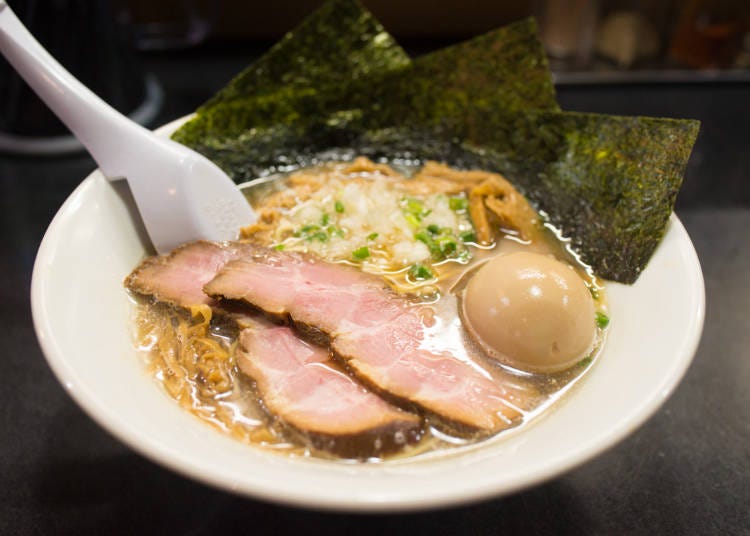 ▲ Special soba for 950 yen (tax included)
Haru is a Japanese ramen noodle restaurant that opened in 2012 and was immediately popular – first with ramen maniacs, then, as its reputation spread, with Tokyo's general gourmet scene.

The bowl that you absolutely have to order is the shop's "special soba," rich and thick soy sauce ramen topped with generous and flavorful slices of chashu pork. The juicy meat that gets better with every bite is further topped with a flavored egg, dried seaweed, green onion, and menma.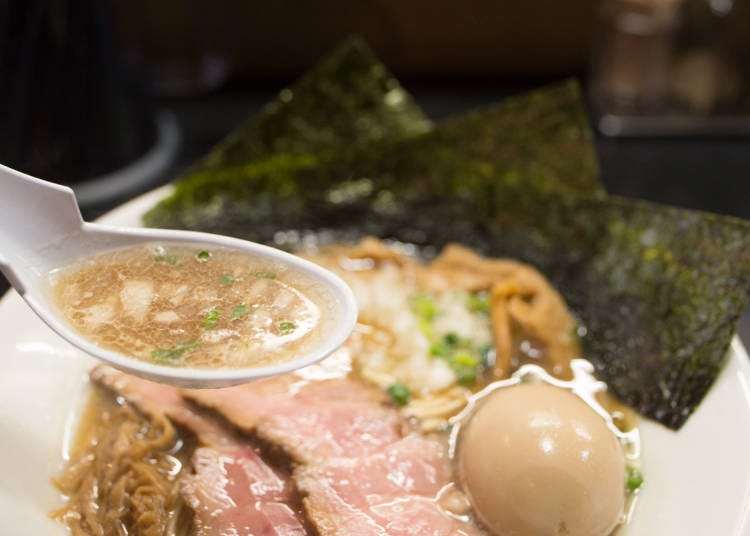 The Japanese ramen noodles are thin but nonetheless firm to the bite, a perfect match for the dashi and soy sauce soup. The chopped green onions add a bit of crunchiness and their own hint of flavor and aroma, spicing up the broth just right.

For a little extra fee, you'll get a noodle refill. We especially recommend the "ae-dama" for 200 yen when it comes to refills, which is Haru's original flavored noodles, enhanced with salt or soy sauce.

We tried ordering the soy sauce-flavored noodles with the soy sauce ramen and were blown away how amazingly well the two go together. You might think it's a bit too much, but the flavors are brought out further without being too pungent.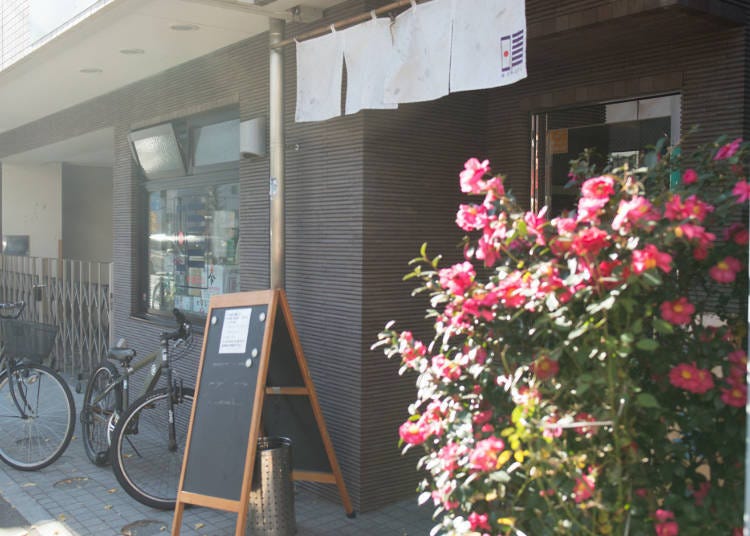 Haru is a 1-minute walk away from Iriya Station on the Tokyo Metro Hibiya Line. Although the restaurant is really popular, it is surprisingly calm right after opening and in the evening, so don't hesitate to stop by for a savory ramen brunch or dinner.
麺処 晴

Address

1-11-7, Shitaya, Taito-ku, Tokyo, 1100004. Japan

Nearest Station

Iriya Station (Hibiya Line), 1 minute on foot


Phone Number

03-3847-8553

Hours: 11:00 a.m. – 3:00 p.m., 6:00 p.m. – 9:00 p.m. (weekdays)
11:00 a.m. – 5:00 p.m. (Saturdays, Sundays, and national holidays)
Closed: irregularly
Credit Card: not accepted
Reservation: not accepted
3. Toripaitan Kageyama: Wonderful Marriage of Chicken and Ramen!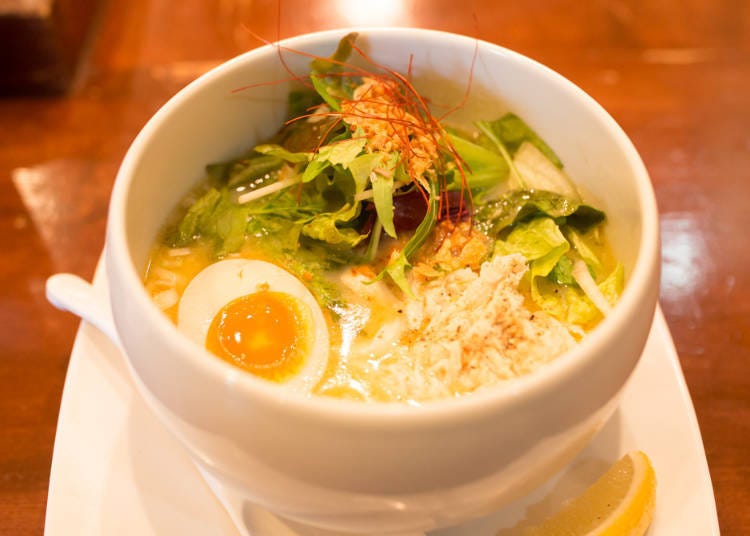 ▲ Chicken paitan soba for 880 yen
Toripaitan Kageyama is close to Takadanobaba Station, a mere 4-minute walk away. The ramen restaurant specializes in tori paitan, a white, thick soup with chicken and its savory version is immensely popular among locals and tourists alike.

We visited Toripaitan Kageyama around 3:00 p.m., just after lunchtime, and didn't have to wait to be seated.
While paitan ramen are one of the richest soups available, this one is surprisingly refreshing and boasts a nice aftertaste. The broth alone could be served as a filling and delicious and the noodles are provided by one of Tokyo's most famous noodle makers called Asakusa Kaikaro.

The pleasantly chewy noodles provide an exquisite balance with the rich soup. Steamed chicken, fried green onions, a half-boiled egg, and red-leaf lettuce make up Kageyama's chicken paitan ramen, an original bowl that'll melt right in your mouth.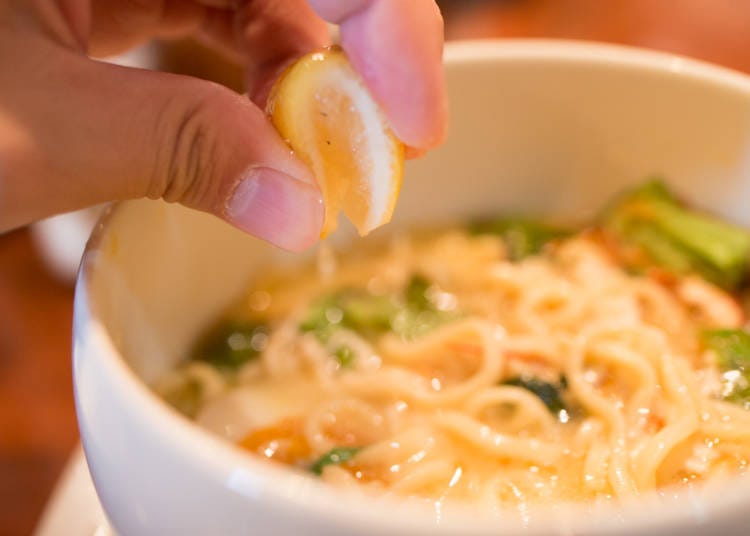 Make use of the lemon served alongside your ramen – the citrus juice will give the broth a gently sour note and adds a certain kick to the otherwise mellow soup.

We recommend eating half of the soup before adding the lemon! If you've leftover broth at the end, don't hesitate to enjoy it with the free rice. It's heavenly, really.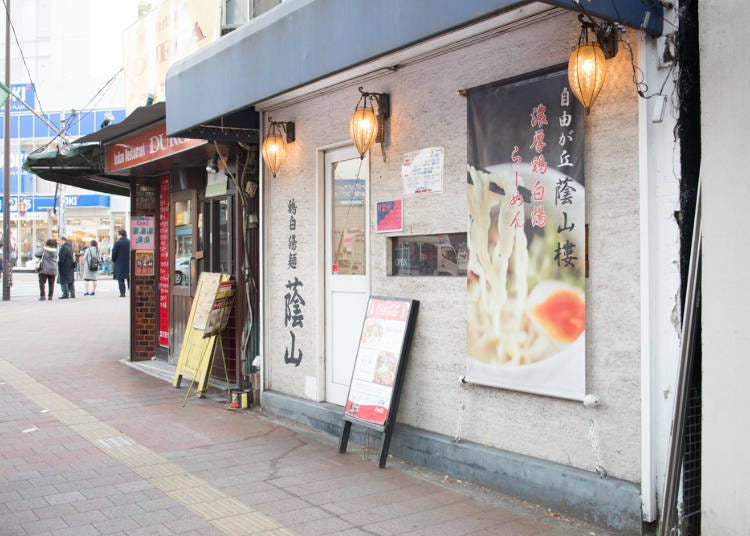 Toripaitan Kageyama is actually managed by the high-class Chinese restaurant Kageyamaro in Tokyo's Jiyugaoka. The head of the ramen restaurant worked for Kageyamaro as well, one of the reasons why the noodle soup here is so extraordinarily delicious and the shop is one of Takadanobaba's most famous.

The shop can comfortably be walked to from Takadanobaba Station on the Tokyo Metro Tozai Line and Jr's Takadanobaba Station, served by the Yamanote Line.
鶏白湯麺 蔭山

Address

1-4-18 Takadanobaba, Shinjuku-ku, Tokyo, 1690075. Japan

Nearest Station

JR Takadanobaba Station, 6 minutes on foot


Phone Number

03-6457-3160

Hours: 11:00 a.m. – 11:30 p.m. (until 10:30 p.m. on Sundays and national holidays)
Closed: irregularly
Credit Card: not accepted
Reservation: not accepted
4. Ushio: Try Next-Generation Soy Sauce Ramen, a Fusion Between Modern and Traditional
▲ Nihon-ichi shoyu soba for 870 yen (tax included)
Ushio immediately earned a spot in the heart of Tokyo's ramen maniacs right after its opening in 2012. The bowl that you have to try here is the Nihon-ichi shoyu soba ramen, a creation of excellence from the soup enhanced with high-grade kelp from Hokkaido to the noodles and the toppings.

The soup definitely is the showstopper of the bowl. It is made out of unpasteurized soy sauce left to age and making up the base, which is then further enhanced with fish. It is incredibly rich in umami flavor and boasts an aroma that'll make your mouth water with the first whiff.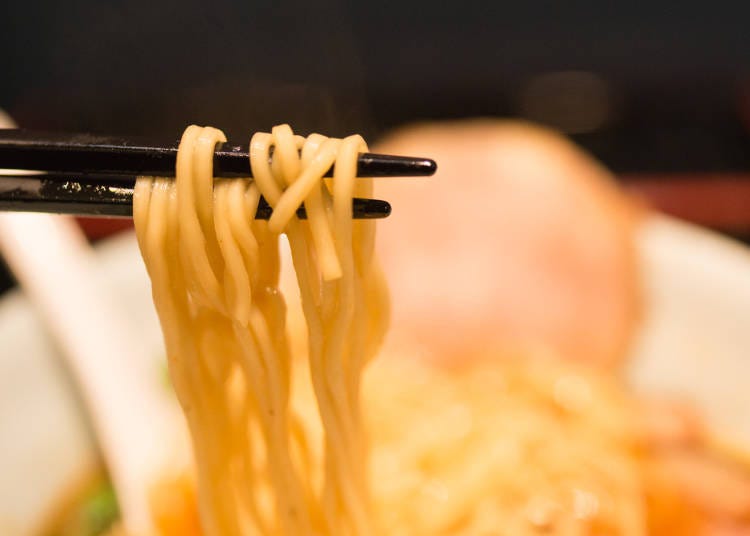 The toppings are pork shoulder chashu, flavored egg, and a wonderful abundance of different vegetables. The bowl is a beautiful harmony of all of its many contents, tickling your taste buds with a rich taste and medium-thick noodles.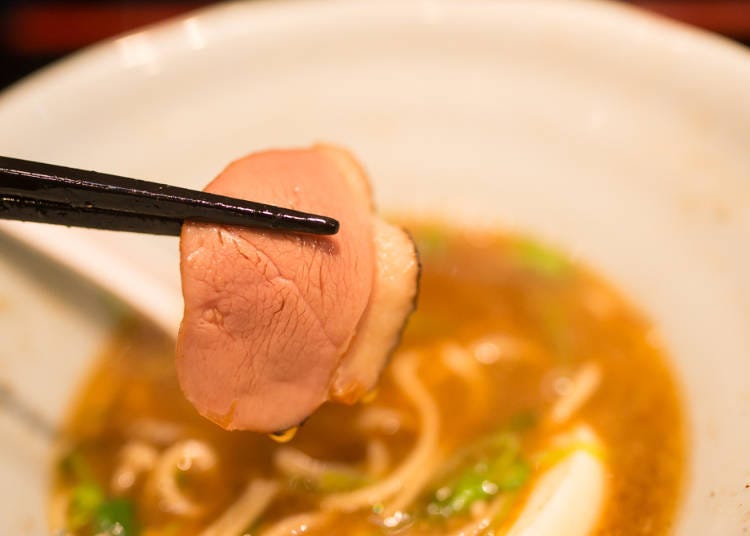 Next to the toppings described above, every bowl comes with three slices of smoked duck meat. The meat has an amazingly unique flavor that'll leave you craving for more. The gently fishy flavor of the soy sauce broth enhances the exquisite duck even more.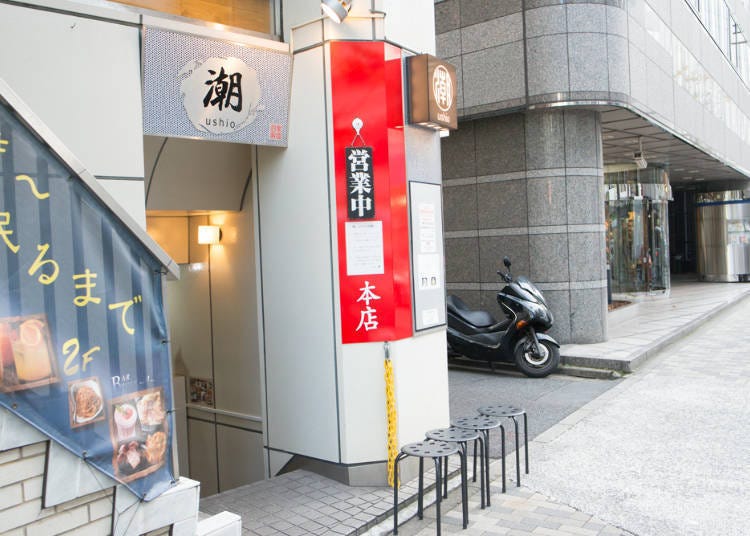 Ushio is close to Awajicho Station on the Tokyo Metro Marunouchi Line, basically right next to it. It's a stylish ramen shop offering an oasis of quiet in the big, bustling city of Tokyo, allowing you to indulge in a delicious bowl of ramen at your own pace. Lunchtime gets rather busy but apart from that, you won't have to endure long waits before being seated. The best time to go is immediately after opening.
麺巧 潮

Address

2-4-4 Kandaawaji-cho Chiyoda-ku, Tokyo 1010063, Japan

Nearest Station

Tokyo Marunouchi Line Awajicho Station, 1 minute on foot


Phone Number

03-6206-9322

Hours: 11:00 a.m. – 7:00 p.m. (closes early if out of soup)
Closed: Sundays, irregularly
Credit Card: not accepted
Reservation: not accepted
Best Ramen in Tokyo: 10 Unique Ramen Shops For Your Foodie List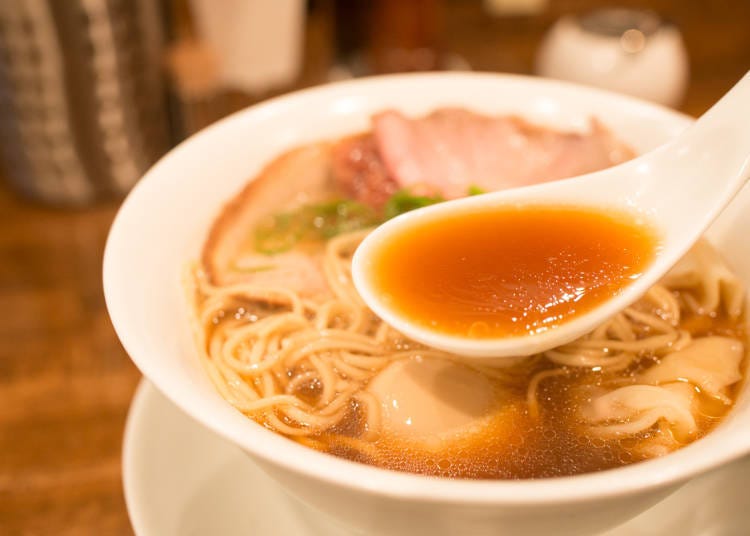 Like last year, unique and creative Japanese ramen recipes promise to be in the spotlight in 2019 as well. Ramen enthusiasts in Japan and all around the world are eagerly looking forward to seeing what Tokyo's masters and chefs come up with.

For a true foodie adventure, why not tour Japan's capital for its most unique and quirky ramen restaurants? Here are some additional tips for finding your best ramen in Tokyo!
I. Ramen in Shibuya: 3 Tasty Japanese Ramen Noodle Shops Loved by Locals
When you visit Shibuya, you might not immediately think of the area as hosting some of the best ramen in Tokyo. But here there are many popular ramen shops frequented by lovers of the famous Japanese ramen noodle dish. However, there are also places deep within Shibuya that might also have you stop and think: "Wait, are there really popular ramen shops here, too?"

If you're looking for ramen in Shibuya, you'll want to add these three shops to your list!
a. Seitokudo: Pork Broth Seafood Ramen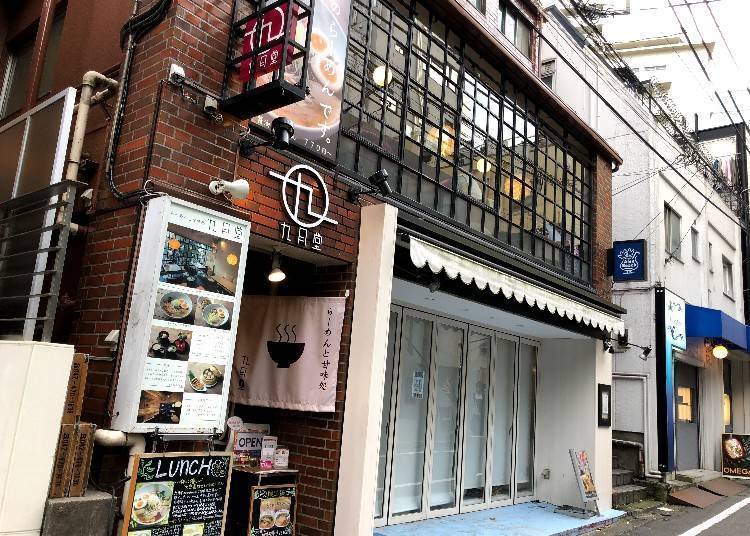 Fashionable clothing shops line the back streets of Shibuya's Koen-dori. Seitokudo is located in a slightly complicated place, on the second floor of the building. The interior themes are mostly white, providing a cafe-like atmosphere. You can even make a reservation. With an English menu also available, you will find this place very tourist friendly.

The secret of its popularity lies in the delicacy of ramen. The base is a soy sauce soup called "W [double] soup", which is made combining animal broth such as pork and chicken bones, and seafood broth. Then they add some scented vegetables and black beans, and the soup is boiled perfectly throughout the day. Black soybeans are unusual as a soup ingredient, but they add a soft sweetness when used in this recipe.
b. Tonari: Exquisite Oyster Ramen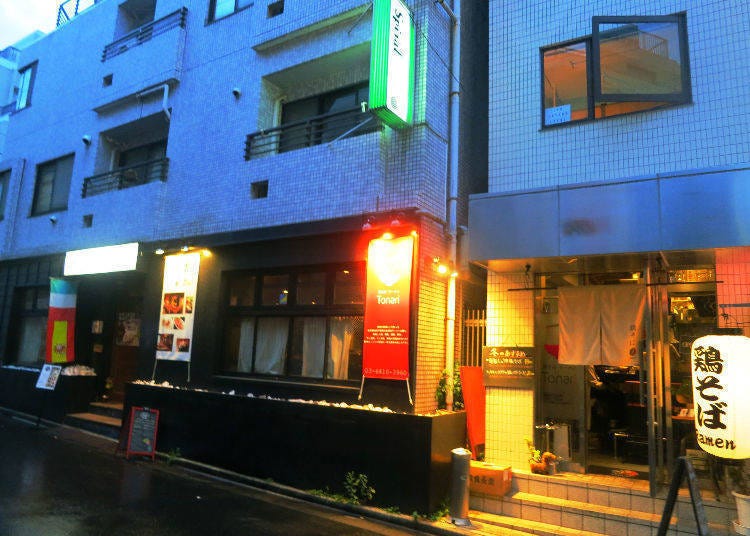 Tonari is the sister store to the neighboring oyster bar Spiral, with the oyster bar being the main business. The owner, Aoki Kozumi, comes from a background in Japanese cuisine, but is rather new to having a ramen shop. He opened his shop after walking around and trying many Japanese ramen shops.

Completed with chicken broth, it really is an original bowl. Tender oysters boiled in stock were produced in Hyogo Prefecture. Oyster wontons and chicken slices also complement the noodles, and are decorated with yuzu and mitsuba leaves. The result is definitely one of the best ramen in Tokyo!
c. Kichitora: Tori-sayu Tsukemen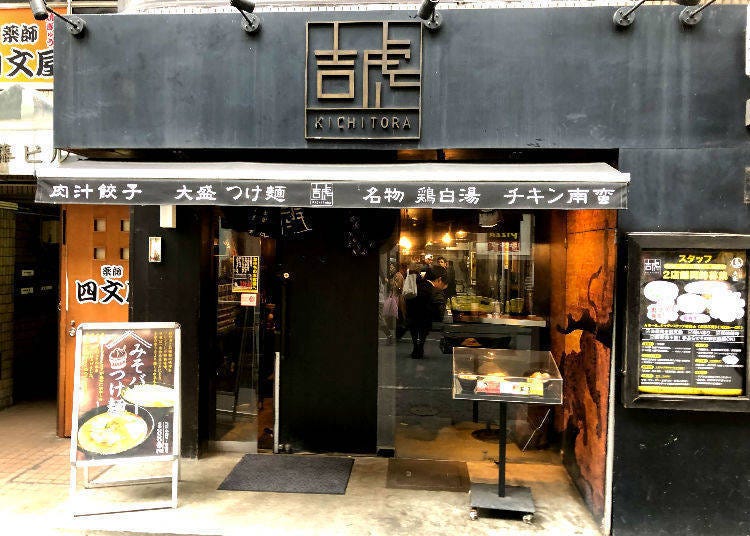 The sign's menu says "Tori-sayu Tsukemen '" (soup with whitish chicken broth), a noodle soup in which the chicken bone has been boiled for a long time. It is a very thick soup with a rich and hearty taste.

The other ingredients used in the base of the soy sauce soup are chicken bones, "momiji" or chicken feet and tasty vegetables. The Japanese ramen noodles are homemade and have a medium thickness and good elasticity, and form a key part of this rich and delicious soup.
II. Authentic Hakata Tonkotsu Ramen in Tokyo: 4 Famous Shops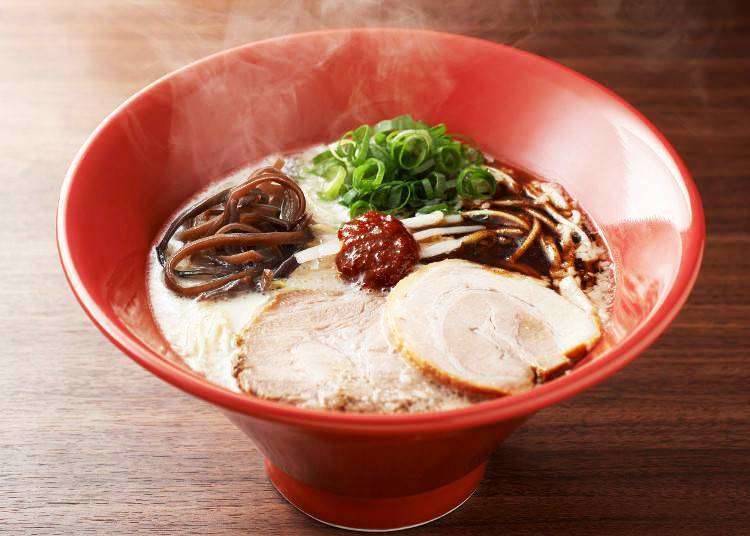 Since not everyone can go to Fukuoka during their trip to Japan, we found four of the best ramen in Tokyo that best convey the authentic taste of the prefecture. So do not hesitate and slurp your own bowl of Hakata Tonkotsu Ramen!
a. Jinanbo: Rich-Flavored Hakata Ramen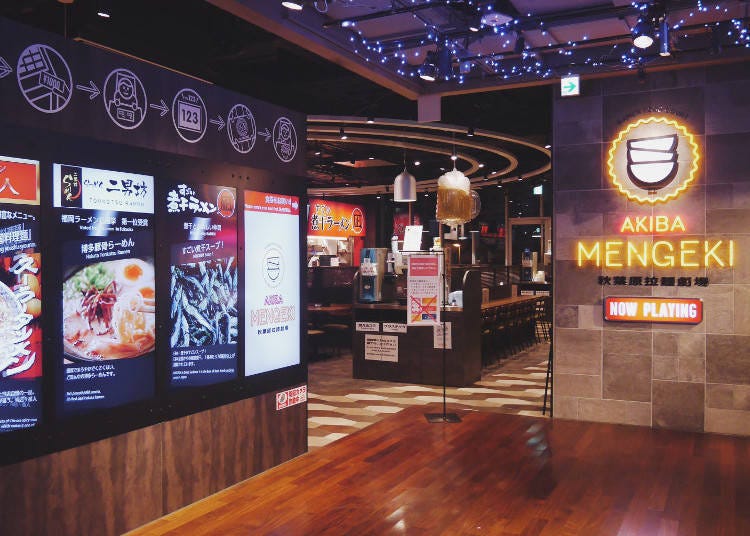 The most popular dish of Ramen Jinanbo is "Tonkotsu Ramen with Half-Boiled Egg." The rich pork bone broth gets its deep and delicious flavor from the fact that it is boiled for hours, which draws out the flavors of the ingredients!

While being rich in taste, it is by no means heavy and does not emit a strong smell; it is rather sweet and refreshing. These characteristics make Ramen Jinanbo's Hakata Tonkotsu Ramen really easy to eat and therefore it has quite a few fans. The store's recommendation is its "Tonkotsu Ramen with Half-Boiled Egg + Gyoza Set."
b. Ichiran: Amazing Hakata Experience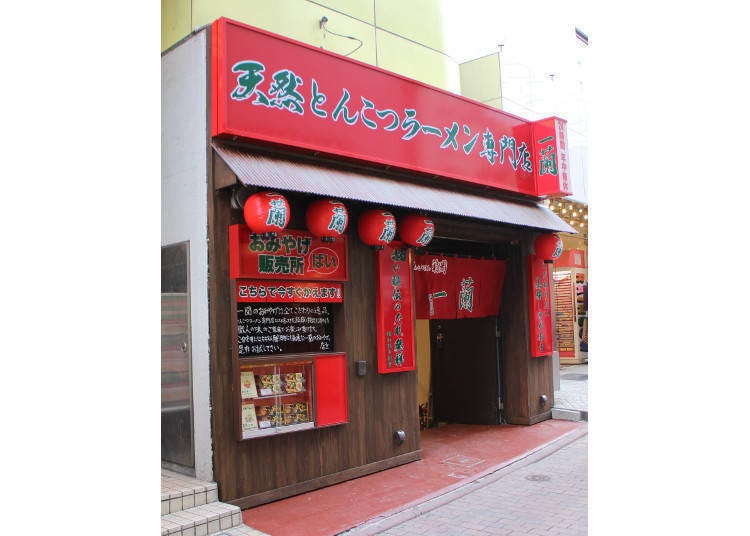 Ichiran is one of the Hakata Tonkotsu Ramen shops that has also opened shops abroad - some being located in the United States and Hong Kong. Thus, Ichiran is not only extremely popular among Japanese but among Japan ramen fans around the world.

Ichiran's pork bone broth is a unique soup that has taken many years to perfect. The red sauce added to each bowl contains over 30 different ingredients, simmered for several days. It's also the ramen shop's best kept secret. It is said that only four people in Ichiran know the exact recipe.

Just like sauce, soup and noodles are based on original recipes. Specialized chefs check both the presentation, the aroma and, of course, the taste of everything in one of Hakata Tonkotsu Ramen bowls from Ichiran before it is sent to all stores in Japan.
c. Yamachan: Hakata Tonkotsu Ramen in a Cozy Environment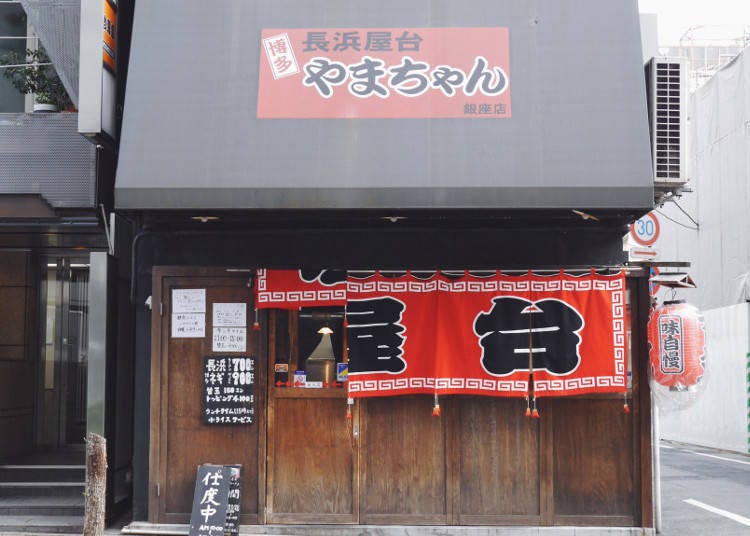 Since opening in 2002, Yamachan has the same incredibly comfortable atmosphere that makes enjoying Hakata Tonkotsu Ramen a truly wonderful experience.

To serve rakon Hakata Tonkotsu as accurately as possible, fresh ingredients such as noodles or green onions are delivered daily from Fukuoka Prefecture. To make the soup, pork bones are boiled between one and two days. While this brings out the richness of the flavors, the original broth is surprisingly odorless and refreshing.
d. Ippudo: Diving into Hakata Ramen Flavors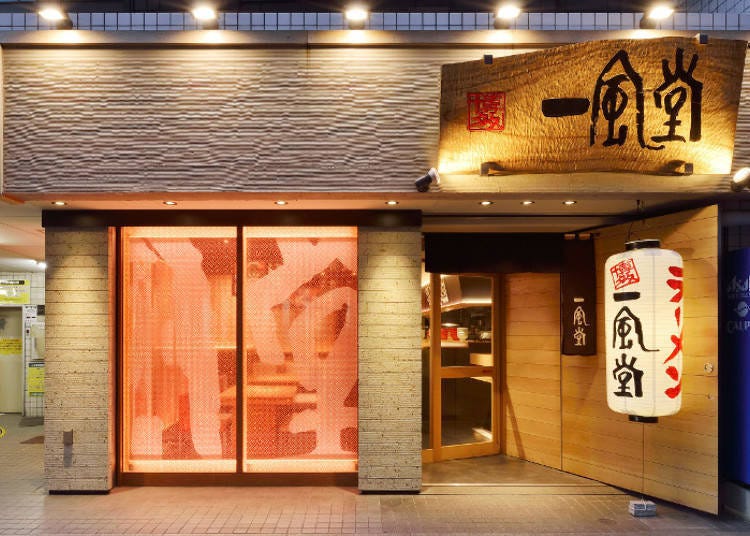 Ippudo, born in Fukuoka, has become a worldwide sensation. One of its many features is the use of thin, homemade noodles, which have a deep and delicious wheat flavor. This refreshing soup, both incredibly full-bodied and with a very refined taste, goes well with these noodles. Perfected over 30 years, Ippudo's broth is so smooth and silky that it is called Hakata Silk Tonkotsu.

To give even more depth to the many layers of flavors and aromas, the pork bones used in the soup are boiled for 18 hours in a huge pot specially designed for this purpose, then then left to simmer at low temperatures for a whole day.

The most popular dish is called "Akamaru Shinaji" and its wonderful flavor, embellished with homemade spice oil, spreads throughout the mouth from the first spoonful. It goes perfectly with the noodles and we assure you that you will not be able to stop until your bowl is empty!
III. 3 Must-Try Japanese Ramen Noodle Shops in Akihabara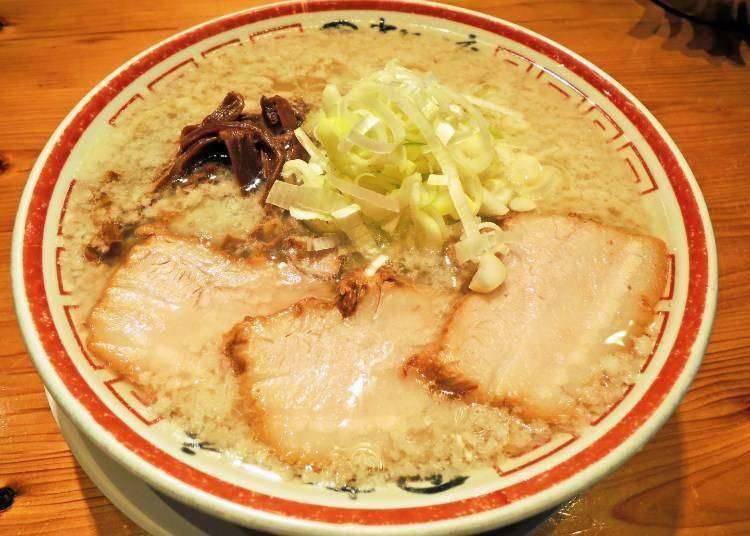 Akihabara is a paradise for every anime fan. But as soon as tourists began paying more attention to the area, ramen shops gradually spread through the area near the station, until Akiba became one of Tokyo's big ramen battlegrounds. Below are 3 of the must-try spots in this popular ramen neighborhood!
a. Motenashi Kuroki: Famous for Shio Ramen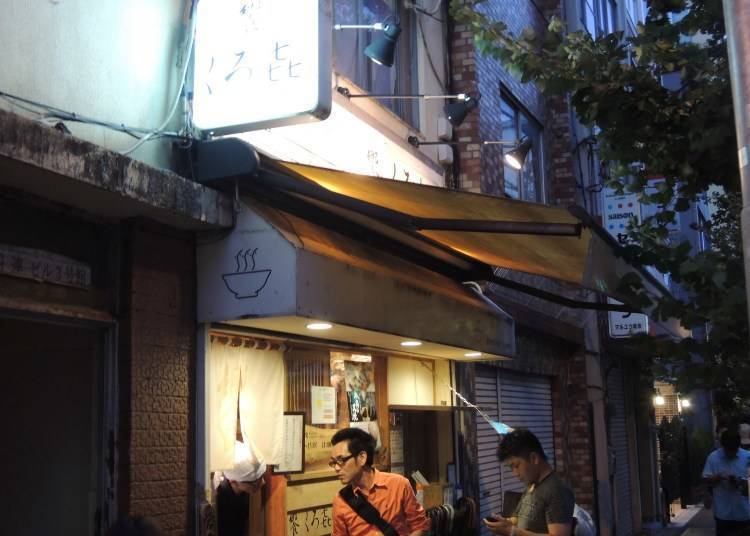 Motenashi Kuroki's menu revolves around two types of ramen: shio soba (salt-based ramen) and asari miso soba (clam and miso-based ramen).

Various seasonal dishes can also be enjoyed. The must-try Japanese ramen specialty at this famous store undoubtedly is "tokusei shio soba," or special salt-based ramen. The stock for this is made from three types of locally raised chicken, topped with an olive wrapped in chicken meat, two kinds of tender, slow-cooked roast pork, roasted tomato, and Japanese mustard spinach. It's a feast for all the senses.
b. Ramen Tenjinshita Daiki: Ramen with a Heavenly Taste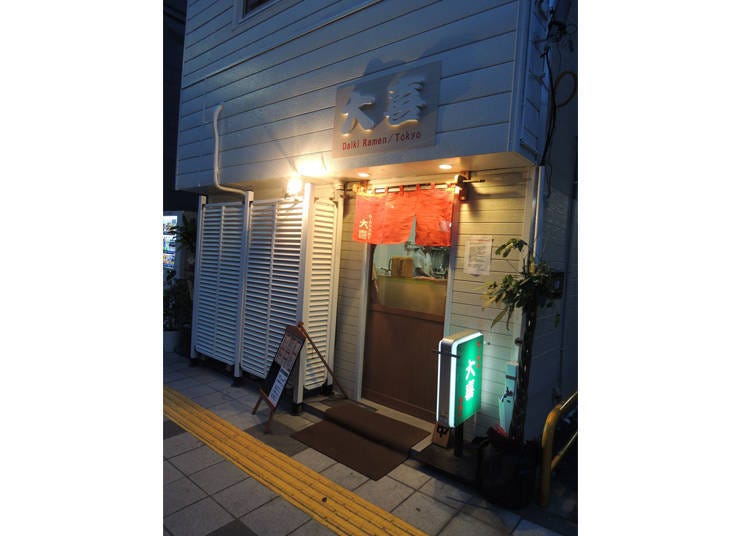 Ramen Tenjinshita Daiki originally opened in Yushima in 1999, but relocated to Akihabara. Ever since the shop's move, its popularity has skyrocketed. The shop's interior is held in a modern white, making sitting at the counter a rather relaxing experience. Daiki has a diverse menu that is mainly based on chicken soup, and it's celebrated by ramen enthusiasts from around the nation - and world.
c. Tanaka Sobaten: Savory Tonkotsu Ramen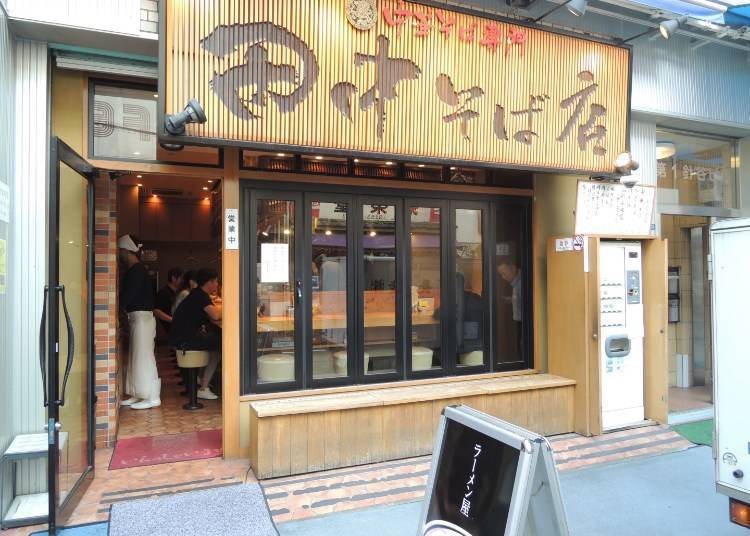 Tanaka Sobaten is a shop of the crazy popular Tanaka Shoten, a specialty ramen shop focusing on Hakata-style ramen. While the main shop serves up a rich white-colored soup, Tanaka Sobaten serves an excellent, highly flavorful clear tonkotsu (pork bone) soup. Its signature bowl is the Chinese-style Chuka ramen.
*This information is from the time of this article's publication.
*Prices and options mentioned are subject to change.
*Unless stated otherwise, all prices include tax.