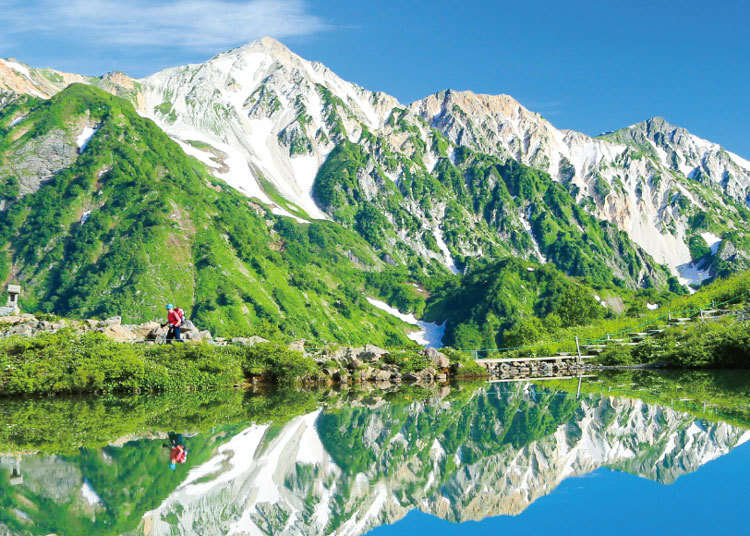 Though the 2020 ski season has been one of the warmest in recent years, the advent of winter brings with it the season for snow sports. Every year, scores of tourists come from outside Japan just for skiing and snowboarding. Though there are numerous places throughout Japan with snow and ice, Nagano prefecture, which previously hosted the Winter Olympics, is one place you can't miss.

This time, we'll be introducing Hakuba Valley, in the Northern Alps of Nagano prefecture. In this silver winter wonderland, there are numerous ski areas, and it's a place where you can enjoy winter sports to your heart's content! We'll be bringing to you an all-in-one guide to equip you with essential knowledge of Hakuba Valley.
Hakuba Valley is an area at the foot of the Northern Alps in Nagano prefecture, consisting of ten ski areas including Hakuba, Otari, and Ōmachi. After hosting the 1998 Winter Olympics, it turned into a popular mountain resort famous around the world for its offering of winter sports.

Standing at 3000 meters high, the Northern Alps is a wonder of nature, with its large and wide mountain ranges and abundance of powder snow. From ski slopes designed for beginners, to 8000m long slopes meant for long cruising, there are ten different ski areas available for people of all levels of competency, allowing anyone and everyone to enjoy skiing.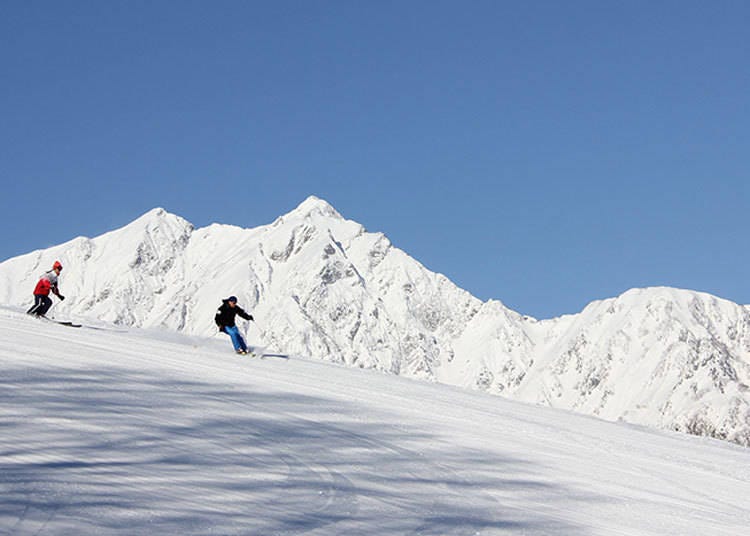 Ōmachi city is the main sightseeing area at the mountain foot of the Tateyama Kurobe Alpine Route. Hakuba Valley itself contains two ski areas, Jiigatake and Kashimayari. From beautiful natural environments for you to enjoy outdoor sports, to delicious cuisine in Ōmachi, it's a charming and attractive place through and through. With a lake nearby famous for its selection of lake sports, this is one place that is bustling with visitors regardless of the time of the year.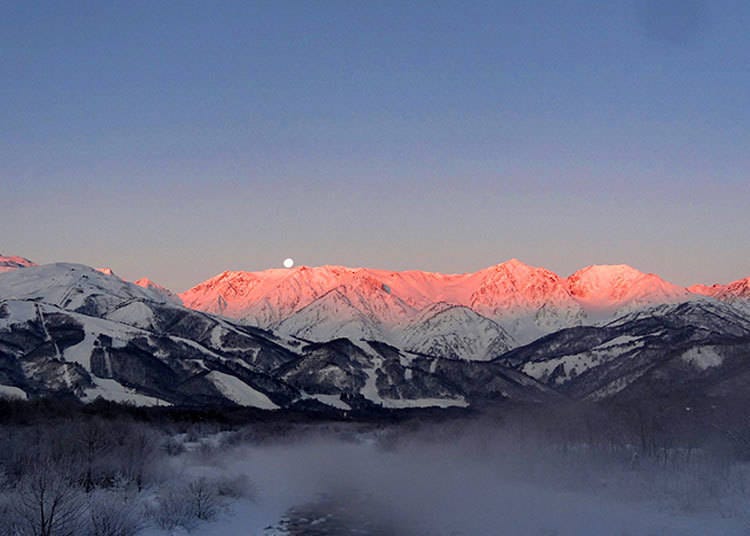 Hakuba Village is at the heart of the Hakuba Valley area. Needless to say, it contains one of the largest concentrations of ski resorts in Japan, including Hakuba47, Hakuba Iwatake, and Hakuba Sanosaka, with a total of five skiing areas. Its large scale has gained worldwide acclaim as well, and is a place frequented by foreign visitors. During the green season, it also serves as the starting base for climbing the Alps.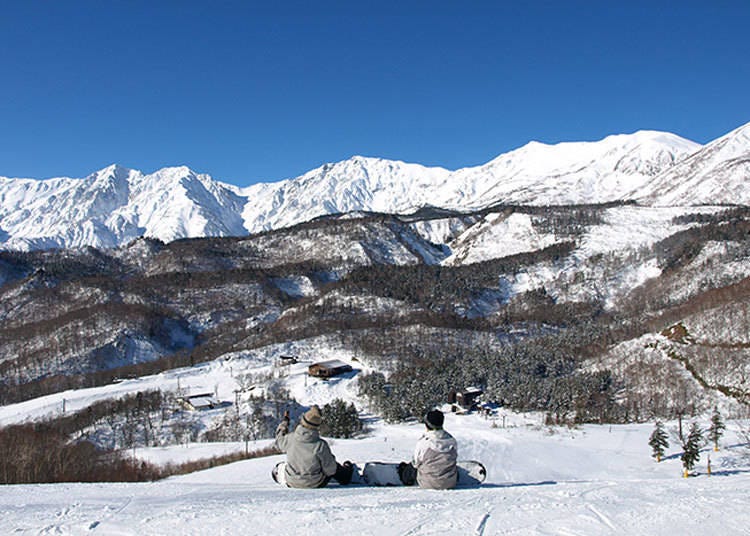 Otari village is a village that sprang up along the "Shio-no-Michi", or salt trail, which follows the Himekawa river that runs from Kotaniyama mountain to the Sea of Japan. Having preserved their way of living in the mountains from times long gone, this knowledge has been protected and handed down to this day, birthing important tangible and intangible cultural assets. With three ski resorts in the area, including Tsugaike Kōgen Ski, Hakuba Norikura Onsen, and Hakuba Cortina, it boasts some of the highest amounts of snowfall in Japan as well.
How to get to Hakuba Valley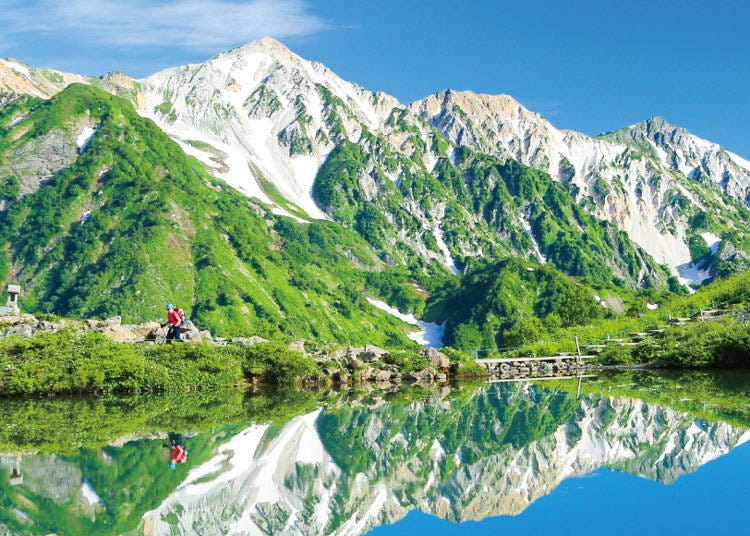 To access Hakuba Valley, you can either use the Shinkansen bullet train and bus, or take the highway bus.

If you're using the shinkansen and bus, you can take the Hokuriku Shinkansen from Tokyo and transfer to an express bus, and it can take as little as two hours and forty minutes. After taking the shinkansen from Tokyo station to Nagano station, change onto a highway bus, which will take you to Hakuba Valley in an hour,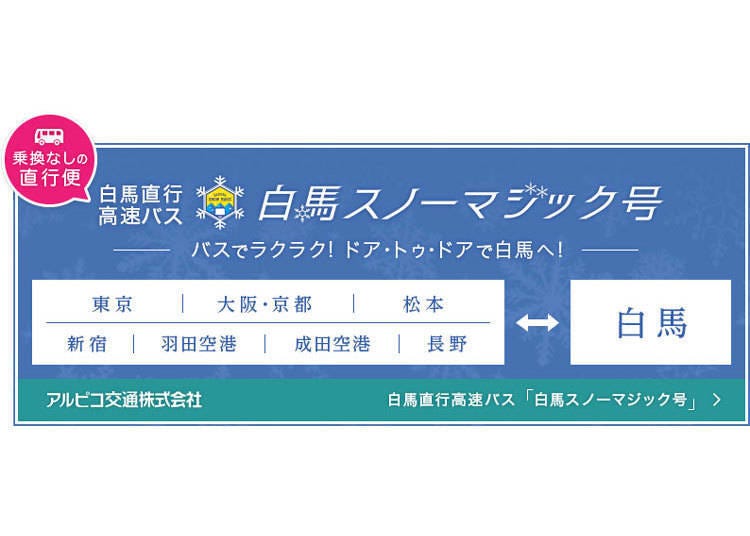 Besides that, you can also take the highway bus, the "Hakuba Snow Magic", which departs from Shinjuku station, Haneda Airport, and Narita Airport directly for Hakuba. For example, if you were to board from Shinjuku, it costs between 2,700 yen and 6,600 yen one-way towards Azumino, Ōmachi, and Hakuba.

The ski areas in Hakuba Valley run their own shuttle bus services too, allowing you to visit other areas with just one as your starting point. If you make full use of the shuttle services in Hakuba Valley well, you can even plan an itinerary, such as doing a beginner's course today or an Olympic course tomorrow.
Dressing for Hakuba's weather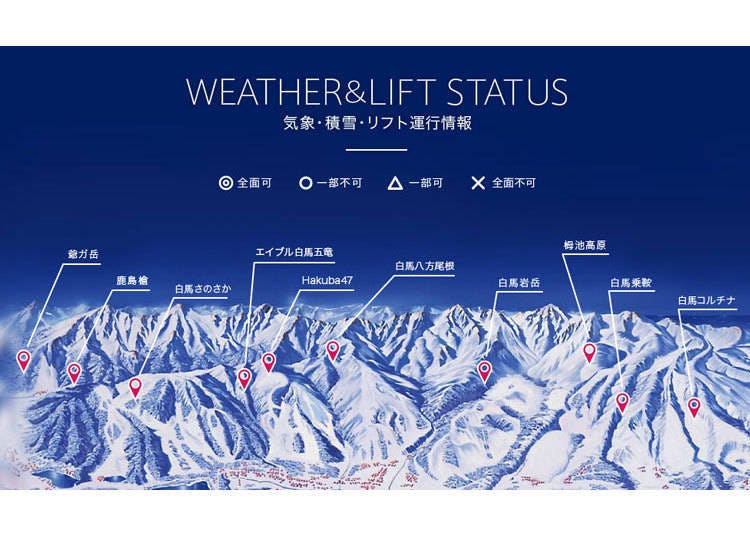 Hakuba is coldest from January to March, and at its coldest, it dips below freezing. For those who are in Hakuba for winter sports, it goes without saying that wrapping up warmly and protecting against the cold are of top priority, so it's important to bring thick coats and other cold wear.

From April to May, it gets a little warmer as spring marches in, though it's not uncommon for snow to continue falling until April, so it's advised to bring at least a light coat or warm sweater. The summer from June to August can see temperatures climb past 30 degrees Celsius for days at a time, though temperatures are more bearable up in the mountains. In late summer, temperatures drop considerably after sundown, resulting in considerably cooler evenings, so it'll be good to bring a light jacket or cardigan.

In September and October, the highest temperature is between 15 to 25 degrees Celsius. The temperature drops sharply between sunset and sunrise, so it's important to bring cold wear. From November to December, the average temperature is below 5 degrees Celsius, which the average winter temperature there. Coats, mufflers, gloves, and other winter wear are an absolute must.

For more information on weather, you can check out the official website for Hakuba Valley for real-time weather updates.
Other points of note when visiting Hakuba Valley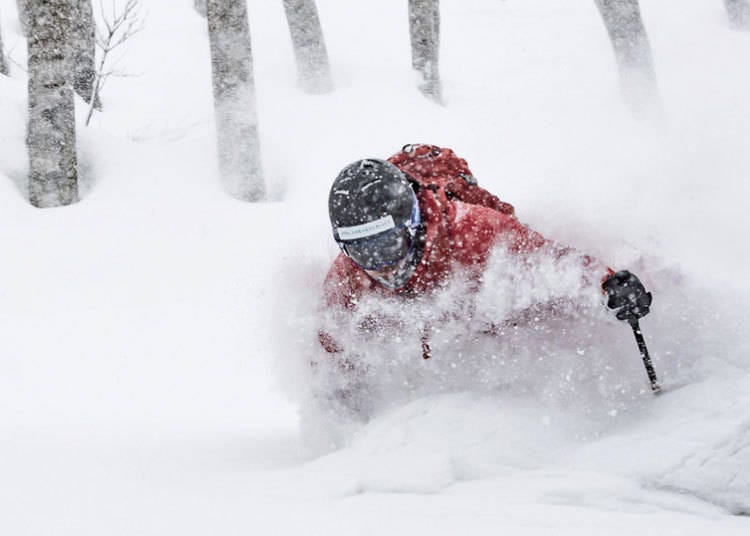 Photo Hiroya Nakata
When visiting Hakuba Valley, there are several rules and regulations that you must respect and follow, called the "Hakuba Rules". These are rules to ensure the safety of all the people in Hakuba Valley, so that everyone may enjoy winter sports there, and are the official rules of the region.
1) When entering a restricted area, there is a risk of causing avalanches on the ski slopes and other major accidents. Do not enter the restricted areas for any reason whatsoever. For those who flout the rules, lift tickets will be confiscated, and offenders will be expelled from the premises.
*The restricted areas are only skied on for safety checks by staff.

2) Do not enter any locked courses or restricted areas, and follow all instructions from signs and staff.

3) Forested regions outside the ski areas are national parks, and are neither maintained nor managed by the ski areas.

4) In the event of any rescue operation for an accident that occurs outside the ski areas, the affected parties will be liable for any costs incurred.

5) Regardless of inside or outside the ski areas, by the Hakuba Rules, all users of the ski areas must follow the instructions of patrol staff and other resort personnel.

6) The Hakuba Rules are put in place to ensure the safety of all skiers, so please follow them.

By following the six rules above, you can have a safe and enjoyable winter sports holiday!

Hakuba Valley is a winter wonderland where you can enjoy everything from winter sports to mountain climbing during the green season, and is popular amongst visitors all year round for its sprawling greenery and beautiful natural landscapes. Do be sure to make a trip down for an unforgettable holiday!
Hakuba Ski/Snowboard Video Service: HAKUBA-Labo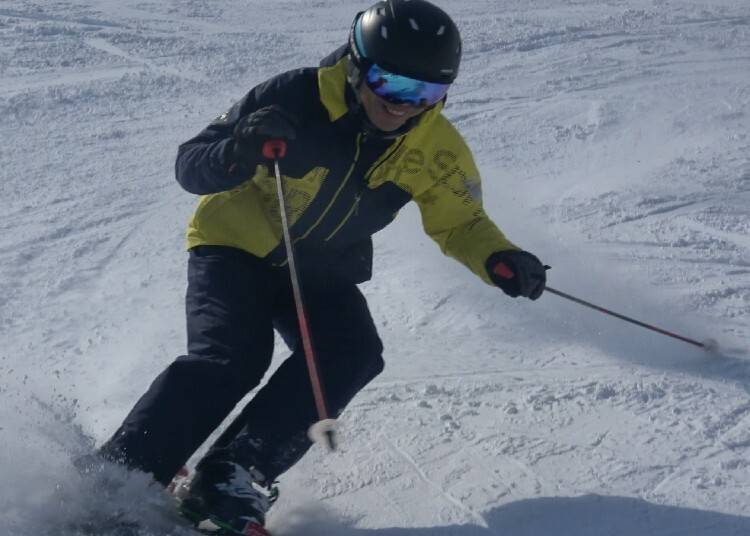 Want footage of your time? Book a professional ski and snowboard photographer in Hakuba!
You will be accompanied by a local professional photographer/videographer who's thoroughly familiar with the slopes. They will take quality 4K footage of you and your group enjoying Hakuba's powder snow.
・Pro videographer will meet you on the slope
・Shoot 4K video of your runs
・Quality service on a budget (30 minutes from 3,000 yen)
・Quick delivery of footage data (online or DVD)
・Taken at Hakuba Happo-One Ski Resort (Others can be consulted)
・Bonus: Slope guide service in English is included

* This Hakuba ski photography/videography service is operated by HAKUBA-Labo. For details, inquiries, and reservations, tap the link below.
*This information is from the time of this article's publication.
*Prices and options mentioned are subject to change.
*Unless stated otherwise, all prices include tax.