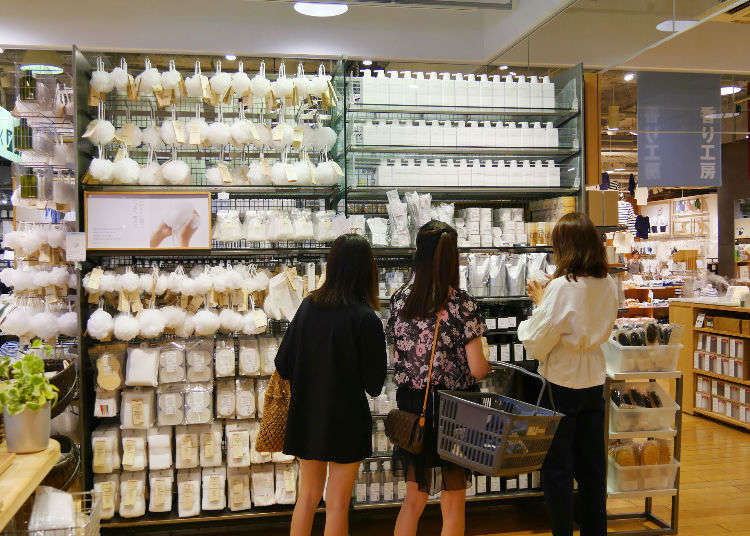 Japanese retailer and lifestyle brand MUJI is known worldwide for its minimalist packaging and product design which reflect a Zen-like Japanese aesthetic that treasures beauty in simplicity.
All MUJI skin care items and cosmetics come in sleek, frill-free packaging that put an emphasis on each product's contents and ingredients. Here a few of our top recommended choices for you to pick up on your next trip to MUJI.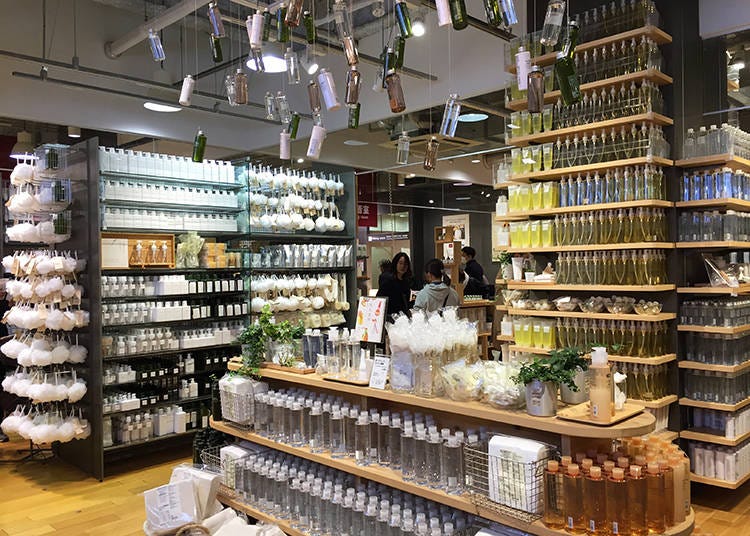 If skin care and cosmetics do not immediately come to mind when you think of "MUJI," then you are missing out on Japan's best-kept beauty secret. The MUJI multi-product skin care lineup covers a variety of skin types and is made in Japan from water sourced in the Tohoku region.
MUJI cosmetics are fragrance-free and do not contain mineral oil. As a bonus, they also contain moisturising agents like peach leaf extract, chamomile flower extract, and olive squalane. Its eyeshadow and blush palettes feature neutral, subdued tones suit a variety of skin tones and are perfect for recreating the coveted "no makeup" look.
High Moisture Light Toning Water and Moisturizing Milk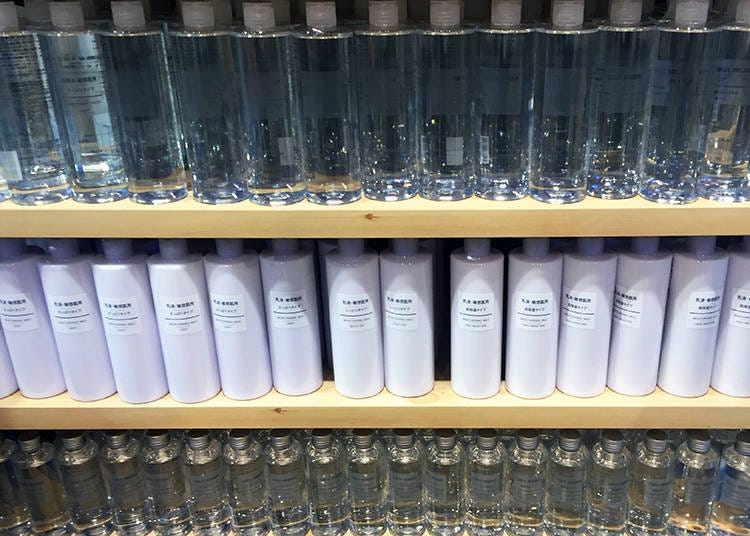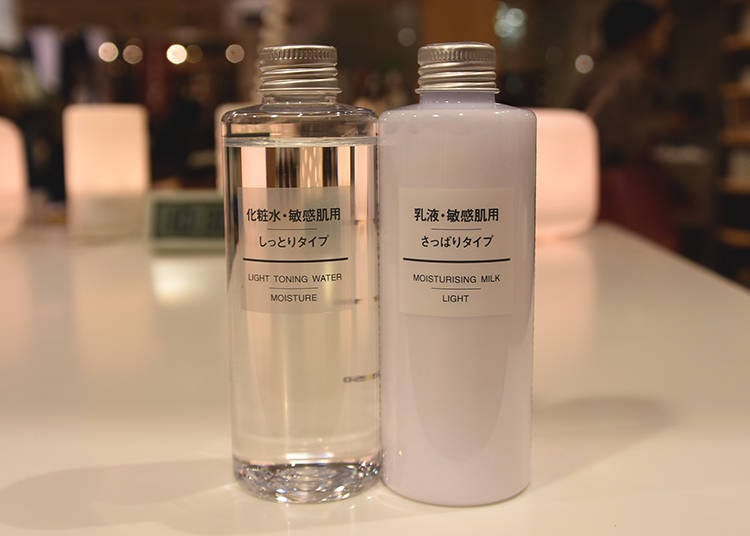 ▲High Moisture Light Toning Water/ 化粧水 敏感肌用・しっとりイプ 700yen (200ml), Moisturizing Milk/乳液 敏感肌用・さっぱりタイプ 780yen (200ml)
For skin that is prone to irritation and breakouts, MUJI's range of skin care items for sensitive skin are a must-try. Moisturising ingredients like grapefruit seed extract may help you combat daily damage from the sun's harmful UV rays and airborne particles. Free from parabens, mineral oils, fragrances, alcohol, and dyes, these products are made from spring water obtained from a cave in Iwate Prefecture. Pair the High Moisture Light Toning Water with Moisturizing Milk the skin lotion for added benefits to enhance your skin tone and quality.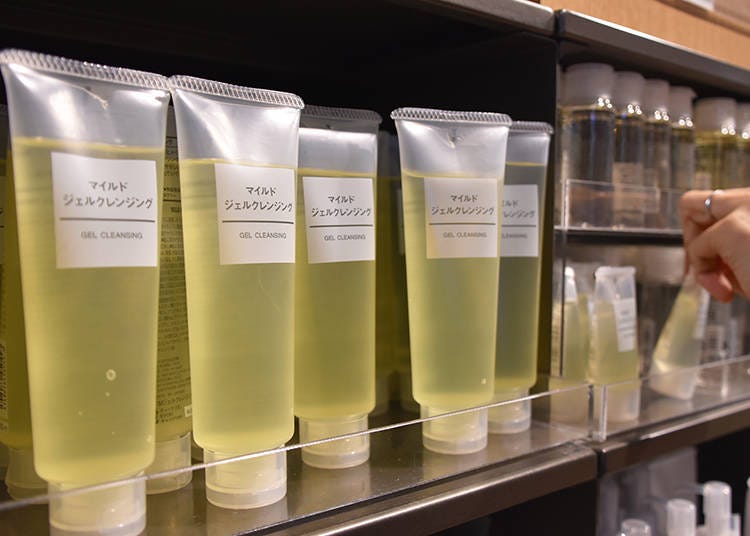 ▲Mild Gel Cleanser/マイルドジェルクレンジング 300yen(30g)、 600yen(120g)、 780yen(200g)
This lightweight cleansing gently rids your face of impurities and makeup (including mascara) for a long-lasting, refreshing feeling. It also contains apricot juice and peach leaf extract to help your skin retain moisture. Use in the bath to enhance its cleansing properties. Available in a variety of sizes, including a convenient travel size that fits nicely in your carry-on.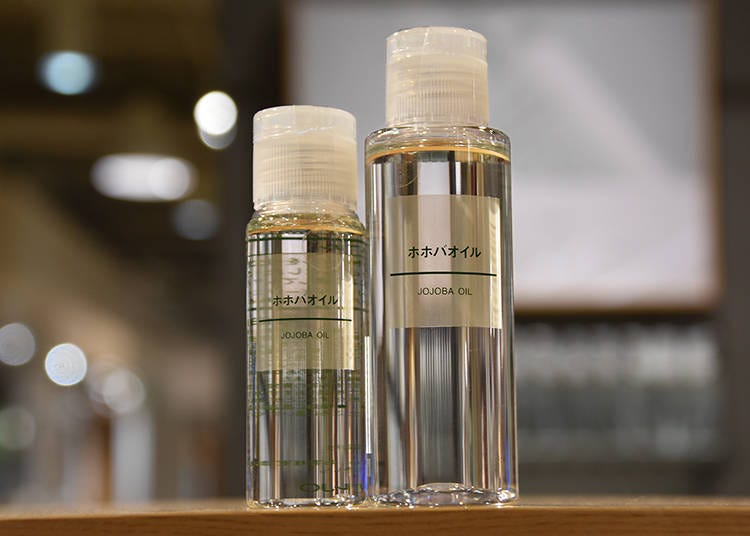 ▲Jojoba Oil/ホホバオイル 900yen(50ml)、1600yen(100ml)、2500yen (200ml)
Nourish dry, flaky skin to life with this jojoba oil made from pesticide-free jojoba seeds cultivated in South America. Jojoba oil contains properties that mimic the natural sebum produced by human skin, allowing it to penetrate deep into your skin and making it suitable for all skin types. Apply all over your body or hair for a smooth, silky touch that does not leave any unpleasant residue.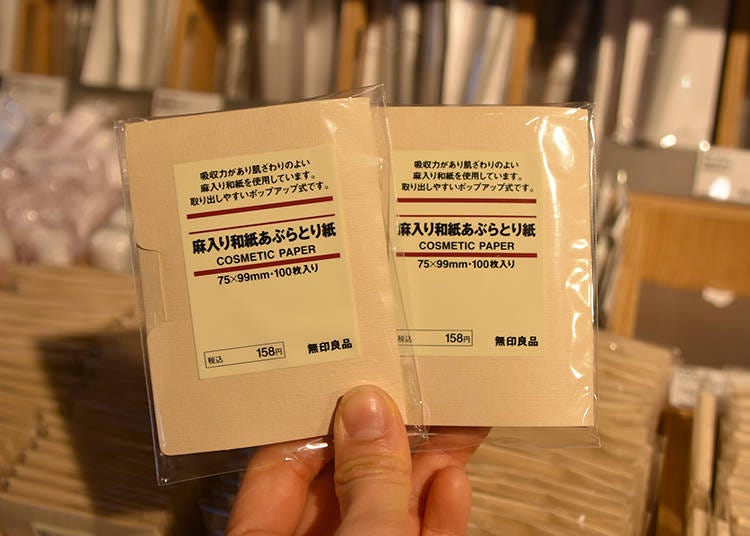 ▲Oil Blotting Sheets/麻入り和紙あぶらとり紙 158yen
The discreet, minimalist design of this package of oil blotting papers is MUJI at its best. These oil blotting sheets are made from pulp and hemp and effectively absorb excess oil and reduce shine.. A must have for any makeup bag and for those who have oily or combination skin. 158 yen.
▲Citrus Herb Sunscreen/日焼け止めローション・シトラスハーブの香り 750yen(30ml)
Protecting skin from UV rays is important but sometimes the smell of sunscreen can be off-putting, especially when applied to the face. This citrus herb scented sunscreen creates a calming effect as well as provides a layer of protection under makeup. While this sunscreen has a high water content, it dries quickly without leaving behind residue.
Facial Cleansing Foaming Net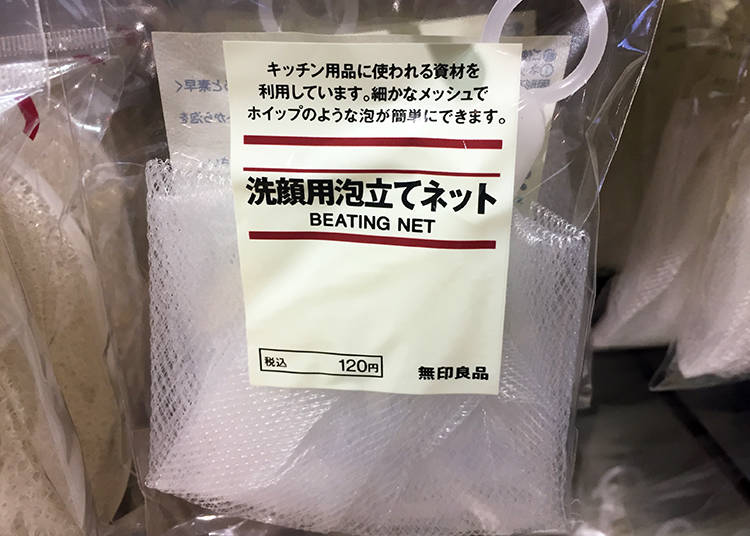 ▲Facial Cleansing Foaming Net/洗顔用泡立てネット 120yen
A staple among users of Asian beauty products, this facial cleansing foaming net is not to be missed. This net gently exfoliates the delicate skin on your face without any damage. It's almost as if you can feel your regular facial cleanser penetrating your pores. Pair with a foaming face wash to leave your skin feeling clean and refreshed. 120 yen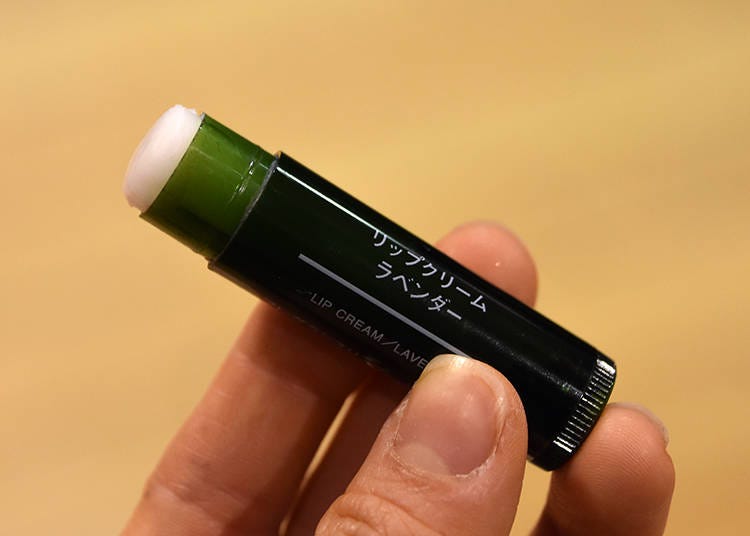 ▲Lip Balm (Lavender)/リップクリーム(ラベンダー) 400yen
Say good-bye to chapped lips thanks to this lip balm. The natural lavender extract provides nourishing aromatic properties while the rich cream keeps the sensitive skin of your lips thoroughly moisturized and flake-free.
Pressed Powder Shimmer Mosaic Lucent Powder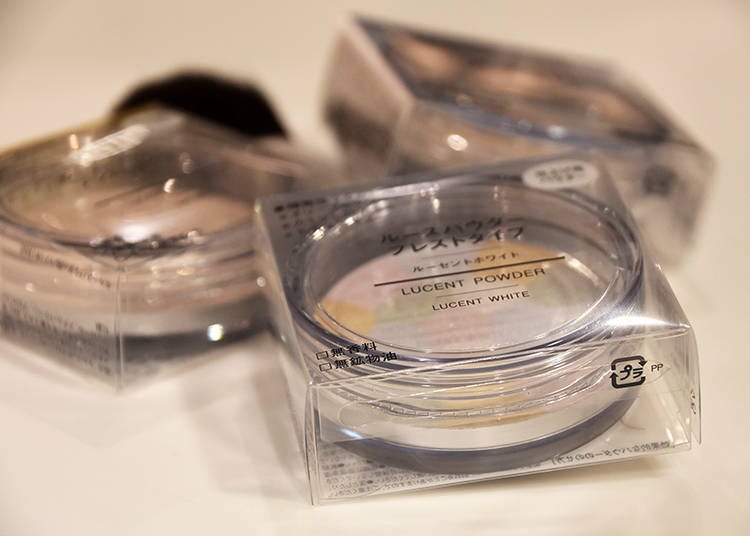 ▲Pressed Powder Shimmer Mosaic Lucent Powder (Honey Beige, Lucent White, Natural, and Pearl Natural.)/ルースパウダー プレストタイプ(ハニーベージュ、ルーセントホワイト、ナチュラル、パールナチュラル) 900 -1,050 yen.
Get the look of a loose powder without the mess. This powder acts as a finishing powder to gives your skin a flawless, natural look. The Pastel and Bronze shades contain opalescent pearls that give just the right amount of shimmer without going overboard. Apply with a brush or a puff sponge. Use as a highlighter, for warming your complexion or on your T-zone and décolletage.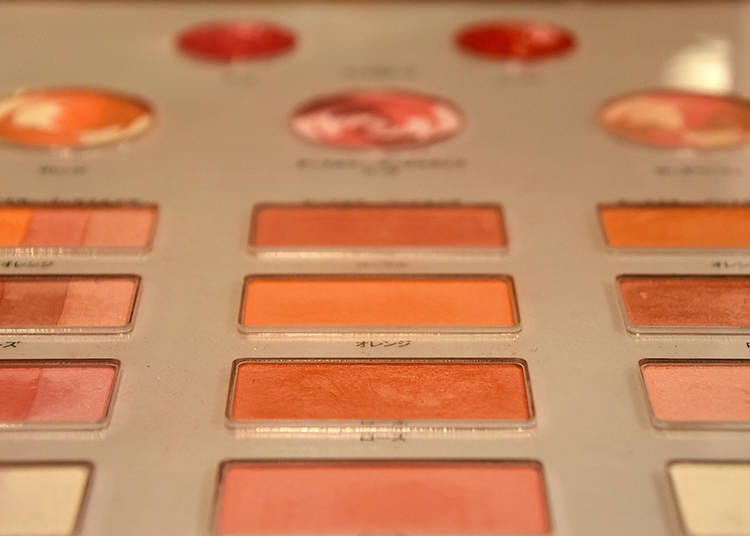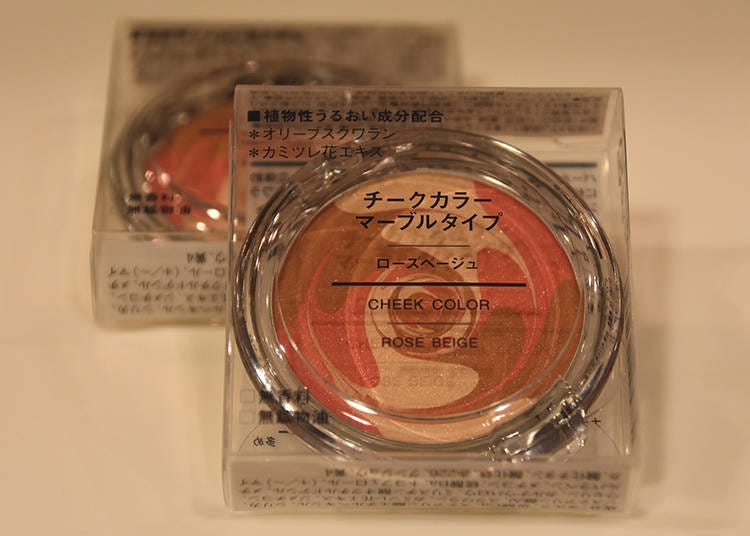 ▲Marble Blusher(Orange, Rose, and Rose Beige)/チークカラー(オレンジ、ローズ、ローズベージュ)840yen
More than just a pretty product, this beautifully pigmented blusher comes in three shades that compliments all skin tones and adds just the right amount of color. The tri-color blusher has a luminescent quality thanks to shiny pearlescent particles that create a fresh, youthful glow. Although this is a powder, the blusher also contains moisturizing components such as olive squalane and chamomile extract.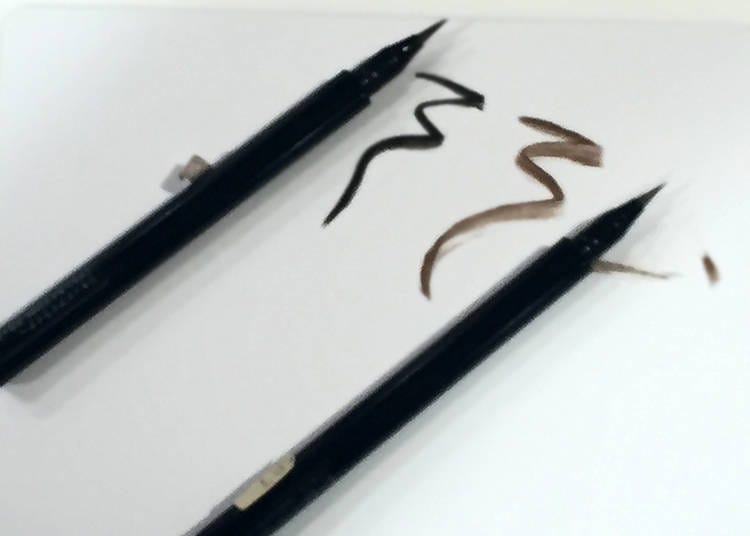 ▲Liquid Eyeliner(Black, Brown)/リキッドアイライナー(ブラック・ブラウン)800yen
A good eyeliner is hard to find. A great eyeliner is the stuff of urban legends. Enter MUJI's liquid eyeliner. The tapered tip is reminiscent of a calligraphy brush and will help you get as close to the lash line as possible. Smudge proof and long lasting, you can line your eyes in one swift fluid stroke and get the perfect winged eyeliner look.
Note: Product availability and pricing accurate at time of writing (January 5th, 2017)
Written by: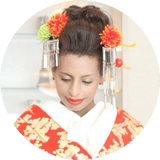 *This information is from the time of this article's publication.
*Prices and options mentioned are subject to change.
*Unless stated otherwise, all prices include tax.
Search for International flights