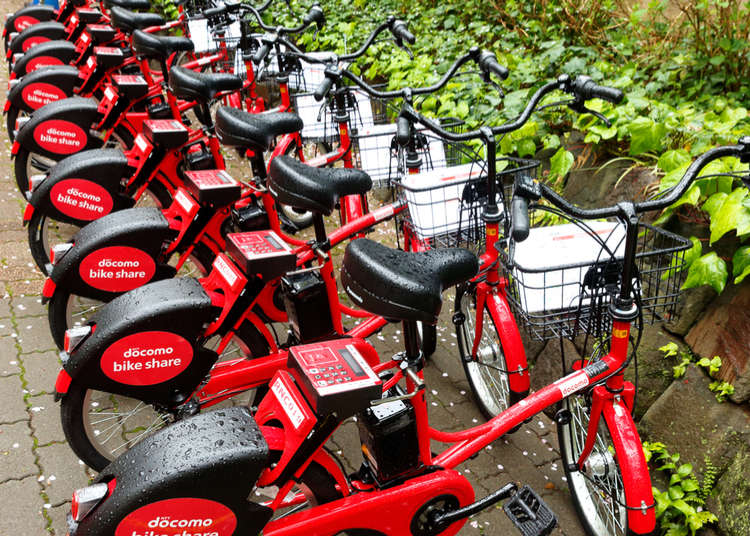 There is something unique about seeing a city via bicycle that just can't be replicated on a bus or walking tour. With the breeze on your face and the sun shining, you can experience Tokyo at your own pace, seeing the sights in a leisurely way, away from the confines of potentially crowded buses or trains. Bike sharing in Japan has become even easier recently thanks to a Bike Share program created by Tokyo municipalities and operated by DOCOMO BIKESHARE, INC. (a subsidiary of Japanese mobile phone company, NTT DOCOMO, Inc.). I took one for a ride to see for myself! (2/15/2017-2/28/2017)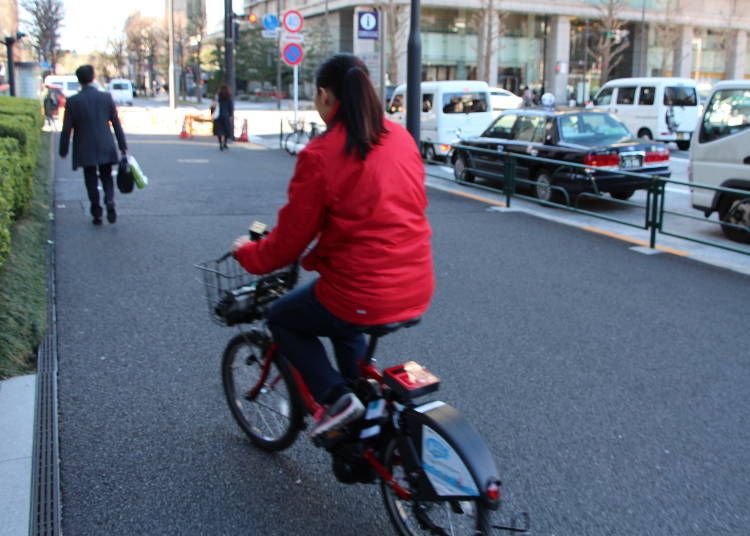 Bike share, also known as "Community Cycle" is a bicycle rental system operating out of various locations in Japan – not only Tokyo, but Yokohama, Kobe, Sendai, Hiroshima, Koshu, Gifu, Tohoku, Onomichi, Okinawa, etc. Being in Tokyo, I looked most closely at the options nearby; this includes a multitude of stations in Chiyoda-ku, Chuo-ku, Minato-ku, Shinjuku-ku, Bunkyo-ku, and Koto-ku. This means you can easily explore sights such as Tokyo Tower, the Imperial Palace, and Rainbow Bridge in the open air!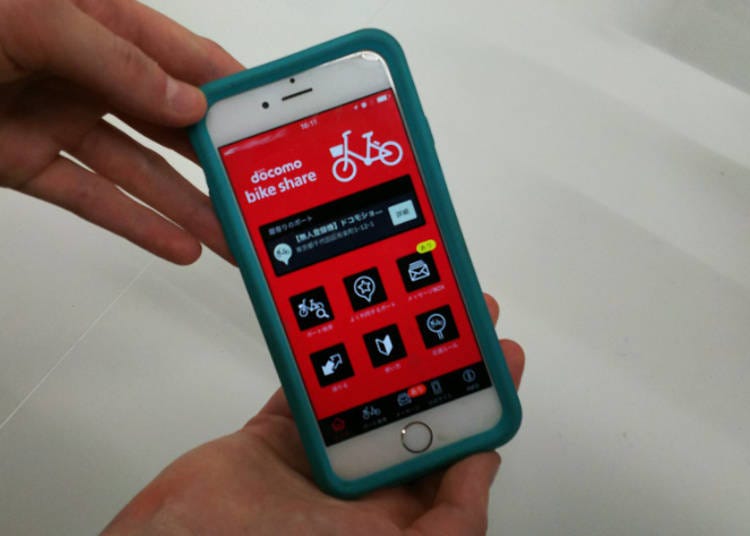 The system is surprisingly easy and very affordable. It's a great option for tourists, but I also saw the bikes being used by many Japanese locals. In order to rent one of the bikes, you'll have to first register for membership. This can be done online 24 hours a day, seven days a week. It is also worth downloading the Bike Share mobile app, to get the most out of the service. Once you have registered, you can rent a bicycle from any of their locations using a passcode, or by a registered IC card. Finding said stations is very easy with the accompanying app. The amazing thing about Bike Share service is that it is available at any time, 24 hours a day!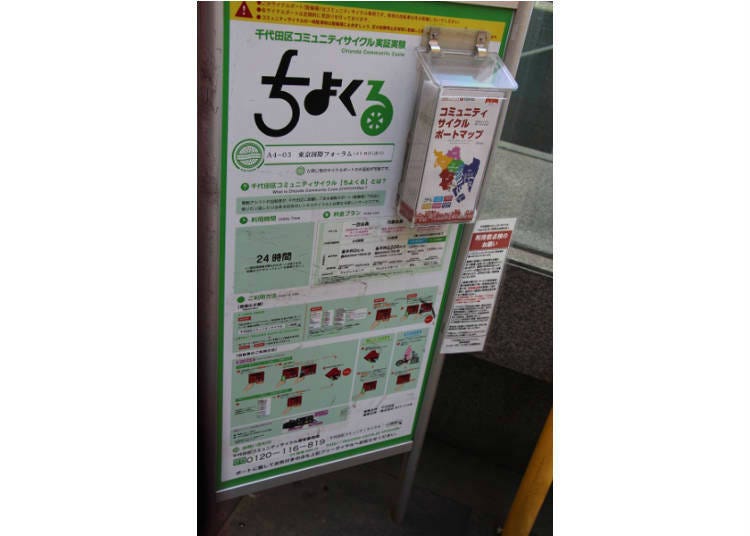 There are a variety of rate plans available, from 1-day passes for short trips, to monthly memberships suitable for long-term visitors. The official website explains all of the rate plans in detail in Japanese and English, making it easy to understand the system, as well as to explore the locations available. After a few minutes on the website, I could easily get the hang of the bike share service, even though I had never used one before.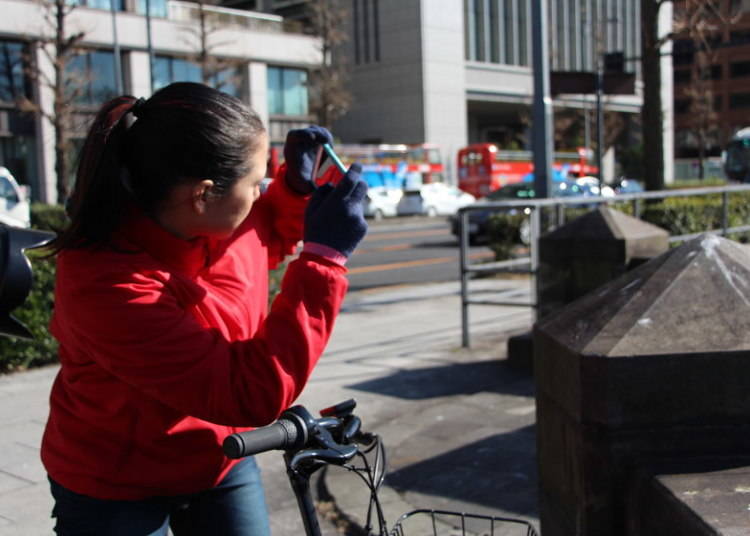 In Japan, there is a so-called, "Japanese-made English" (wasei-eigo) expression called "my pace." It means to do things at your own pace and your own way. In Japan, a country that places a high value on group cohesiveness, this term can have a somewhat negative connotation. However there are plenty of people that take the "my pace" approach to life in various ways–and I have to admit, I probably fall under that category! It's this "my pace" philosophy that made sightseeing via cycling so appealing. More often than not, I take a freeform approach to traveling. Rather than plan out a detailed, "minute by minute" schedule, I tend to visit a place I'm curious about and let the day unfold naturally. While I can certainly understand the popularity of group tours, wandering about a new destination, exploring and discovering surprises, is my preferred way of sightseeing. By renting a bicycle, I had all the freedom of "my pace" traveling, with even more ease!
A City Ride, Peppered with Nature - Cycling Around Tokyo Station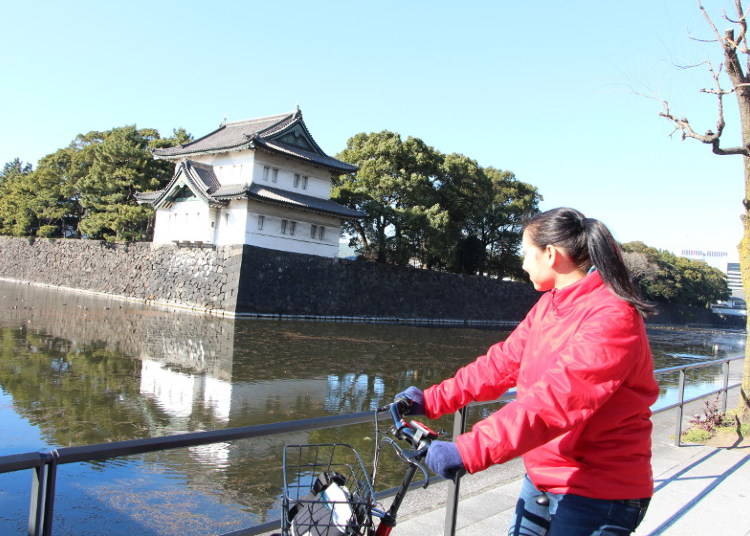 I began my destination just outside of Yurakucho Station. Using the Bike Share app, I was easily able to locate the nearby bike station. With my card in hand I chose one of the signature red bicycles and was on my way! I headed toward Hibiya Park, not far from Japan's Imperial Palace. With a river on one side of me, and a busy road on the other, I was able to experience that Tokyo atmosphere of modern urbanity melting with peaceful atmosphere. While I did not ride within the park itself, I traveled along its edge, taking in the sounds of the birds and fragrance of the flowers I passed along the way. While I mainly used my own power to ride the bike, I did try out the electric power options. They are probably not needed if you're in a crowded area, but if you have some space to ride, it's a nice option to have.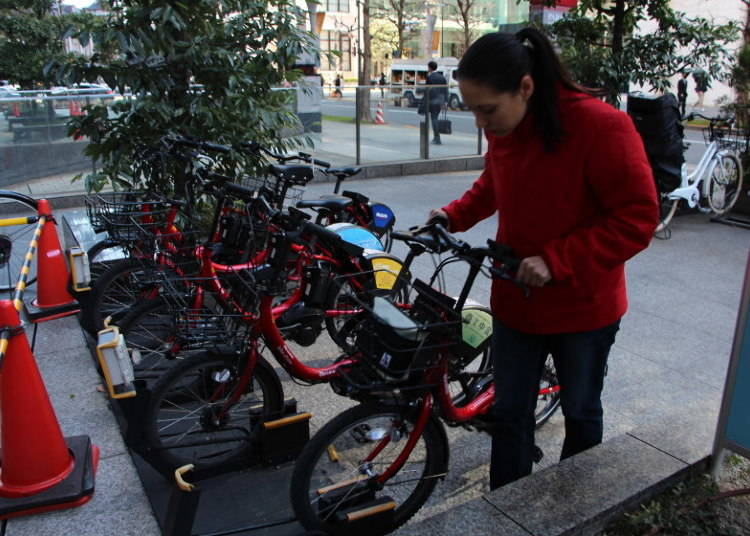 After riding around, I started to get peckish and headed toward one of the large shopping centers closeby Tokyo Station to find a restaurant. Without much searching, I found a bicycle parking spot (make sure not to put your bicycle just anywhere or you may be subject to a ticket) and locked it safely until I had finished eating and was ready to go again. It's not a problem to leave your bicycle parked until you're ready to use it, as once you've rented a bike, other riders will be unable to use it until you've returned the bicycle at the designated docking port, locked it, and pushed the "ENTER" button on the bicycle device.

After lunch, I rode around the park to Chidorigafuchi, a famous cherry blossom viewing spot in Tokyo. While it was just a bit too soon to see sakura, I was still treated to a lovely view nonetheless. On my way, I also passed by the Science Museum located inside the Imperial Palace Gardens, and even caught a glimpse of the British Embassy. After that I headed south for a nice long ride to see the famous Tokyo Tower! It's a view I've seen countless times before, but never had I seen it by bike. As evening approached, it was time to head to Ginza for a little shopping and a stop at a cafe. Once the sun set, I could experience the Tokyo night sky. Finally, I said goodbye to my bicycle and returned it to the original docking station.
A Spring Bicycle Tour around Omotesando, Shibuya and Harajuku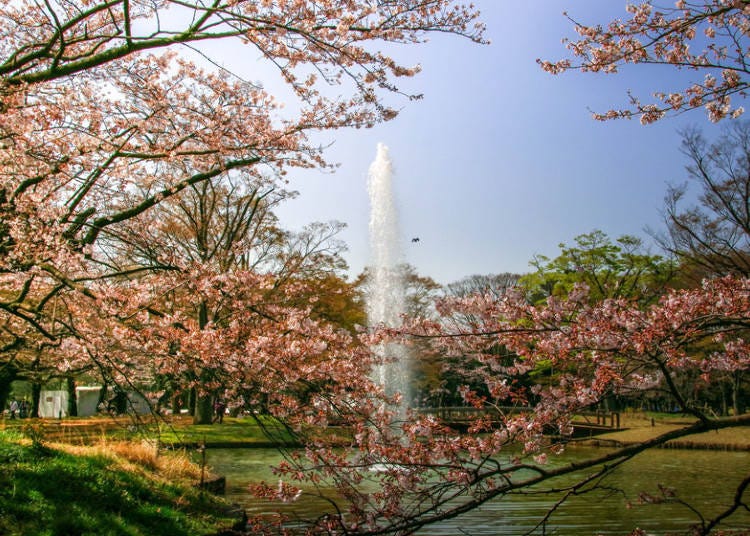 Now that you understand the Bike Share system, you no doubt want to try a bicycle tour of Tokyo! Here's a recommended plan of a day trip you could easily take if you are in the Shibuya area:

1. Start at the Omotesando bike park to choose a bicycle and ride along Omotesando Hills. Feel free to stop at any of the many shops in this well-known shopping district.

2. Keep riding east into Shibuya for more shopping and lunch at the restaurant of your choice.

3. Next, head north, into Yoyogi Park for relaxing, playing, and cherry blossom viewing. You can also stop by Meiji Jingu, well-known shrine in the the north area of the park.

4. After some time getting in touch with Mother Nature, exit from Yoyogi Park's east side and you'll find yourself in Harajuku, where you can visit a cafe, eat one if the neighborhood's famous street crepes, and of course, shop!

5. Travel east for a bit for a short visit to the Watari Museum of Contemporary Art in Jingumae.

6. Finally head back to your starting place and return the bicycle, or continue on your own journey for nighttime sightseeing!
Take a Leisurely Ride during your Tokyo Visit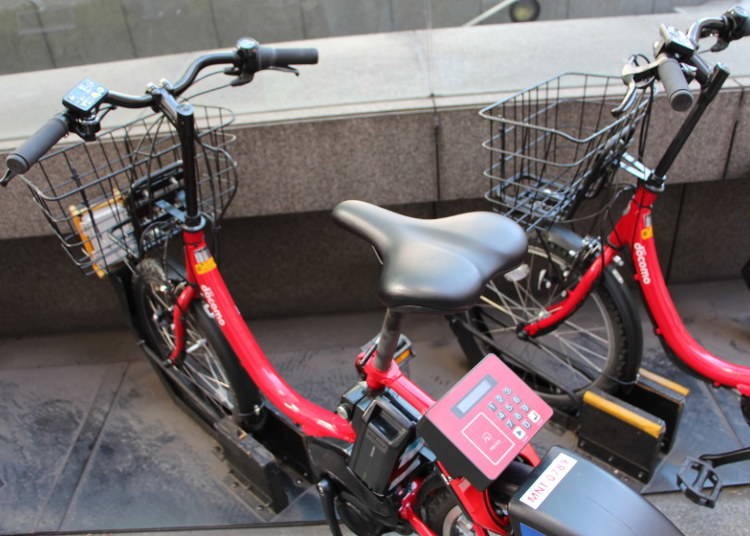 If experiencing the sights of Tokyo with the wind at your face sounds like your idea of a holiday, you really should take one of these bikes for a spin! Whether you're traveling alone, or with others, there may be no better way of experiencing a city firsthand on a bicycle, so try it for yourself!

Written by: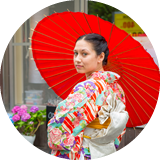 *This information is from the time of this article's publication.
*Prices and options mentioned are subject to change.
*Unless stated otherwise, all prices include tax.
Limited time offer: 10% discount coupons available now!