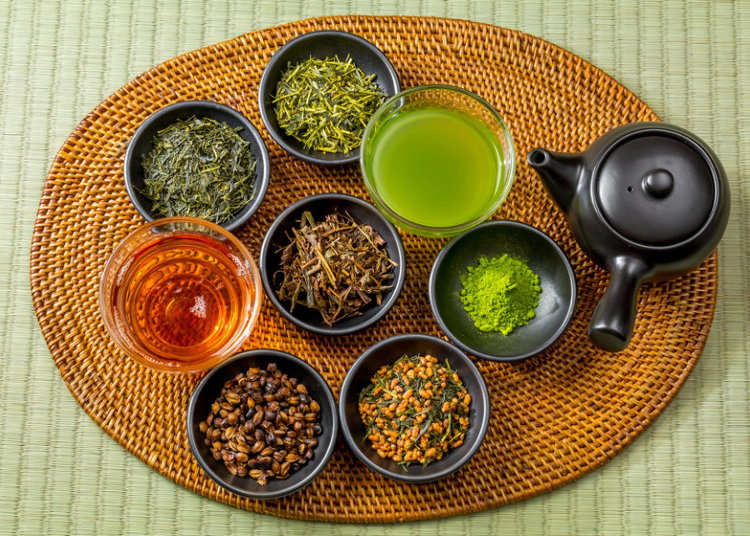 The act of drinking tea is an integral part of many cultures throughout the world. This is especially true in Japan, where tea is served in the home and in business situations as a welcoming gesture, as well as during the traditional tea ceremony called 'sado.' When Japanese tea is mentioned, the most typical image that comes to mind is undoubtedly, green tea. However, it is certainly not the only tea consumed in Japan; the Japanese enjoy a large varieties of tea, both hot and chilled. Regardless of the type, it is safe to say that tea is one of the most widely drunk beverages in Japan.

The choices are so plentiful that they may even be a bit overwhelming to international visitors. How to choose which tea to drink? With a little knowledge of the types of tea available in Japan, you can find the perfect tea to complement your breakfast or afternoon break.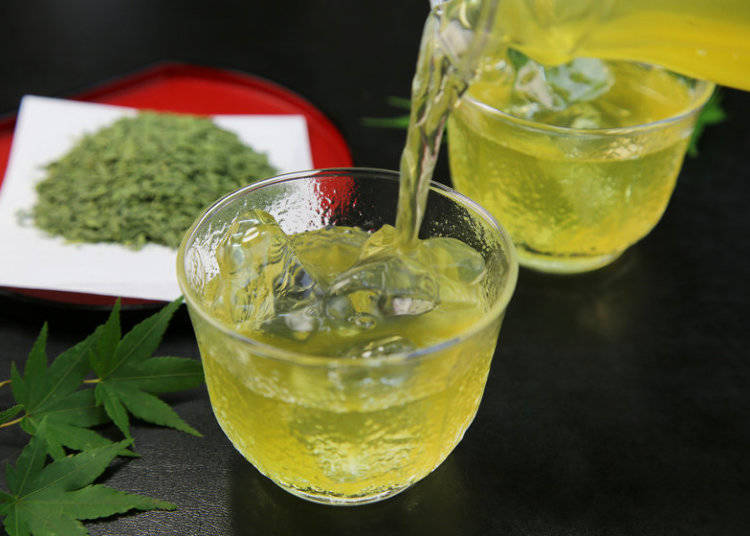 Tea in Japan can be enjoyed in a number of ways. Of course, there is sado, the traditional tea ceremony, during which the tea is prepared and drunk in a ritual method. However, drinking tea isn't limited to formal occasions. In fact, tea is a part of Japanese daily life. It is often served in restaurants free of charge, accompanying, or sometimes in lieu of water.

Tea of various kinds can be found in just about any vending machine, convenience store, or supermarket. High quality loose leaf teas, as well as the traditional Japanese teapots called kyusu, can be found at tea specialty shops throughout Japan. For a convenient cup of tea, teabags can also be purchased in many places. While Japanese tea, is typically drunk straight, English style tea is often enjoyed with milk, sugar, honey, or lemon.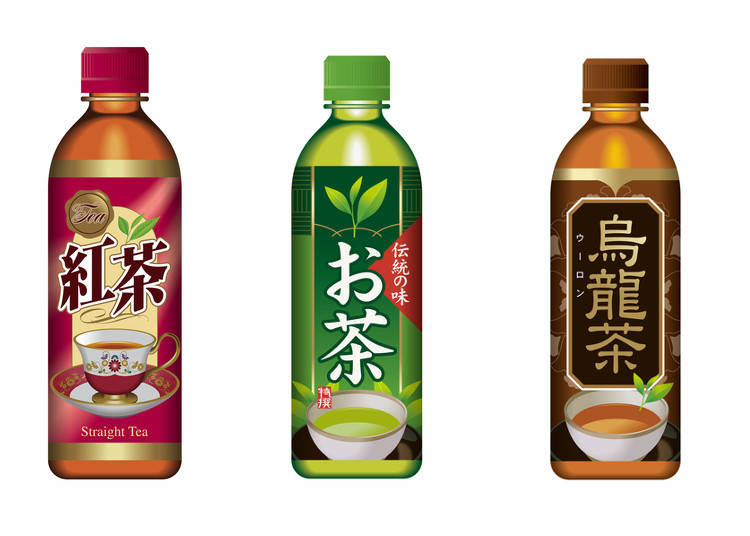 In Japan, the plastic bottles containing tea and other beverages are called "PET Bottles" (petto bottoru). With the country's commitment to recycling, it is important to always dispose of any empty PET bottles in the proper recycling bin. Also note that it is often requested that the cap be removed and placed separately. You may often find PET bottles come with a small free present attached, called 'omake'. Some popular omake include cell-phone strap charms, magnets, or PET bottle covers.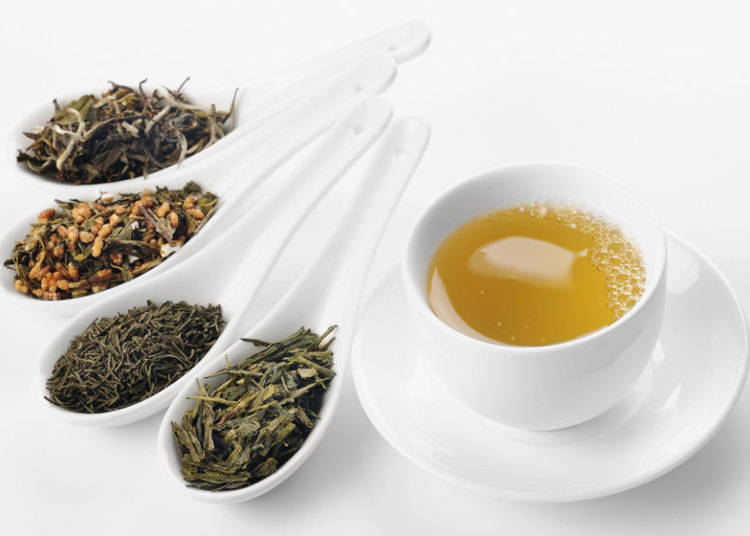 There are so many varieties of tea in Japan that it can be difficult choose! While 'nihon-cha,' meaning 'Japanese tea' (this includes green teas, mugi-cha, and genmai-cha), is an ever-popular choice, foreign-born teas, such as Jasmine and English, are also enjoyed by many people as well.
Green Tea: お茶 (ocha)・緑茶 (ryoku-cha)・日本茶 (nihon-cha)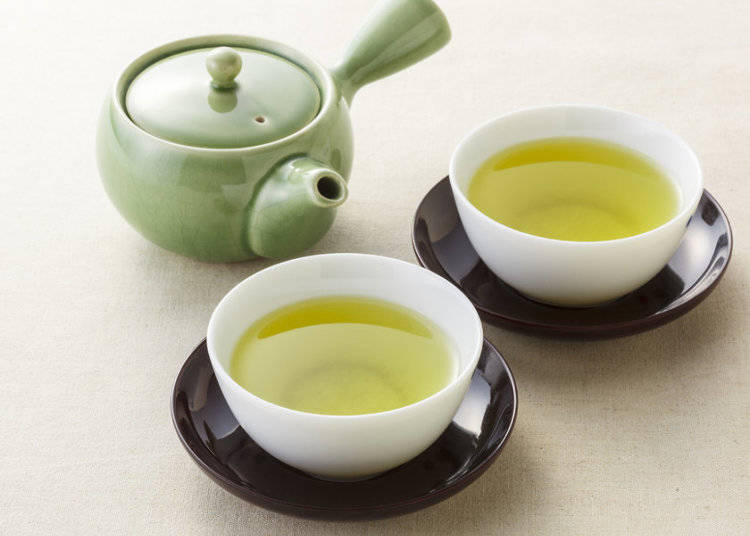 Green in color, this is the classic tea made from Japanese tea leaves. Although 'o-cha,' meaning simply 'tea,' can generally refer to any tea, in Japan, it is most often used to describe green tea. Green tea can also be called ryoku-cha (緑茶), which literally means 'green tea.' This tea contains some caffeine, although not nearly as much as coffee. Green tea can also range from mild to strong, with darker colored teas signifying a slightly bitter, deep flavor.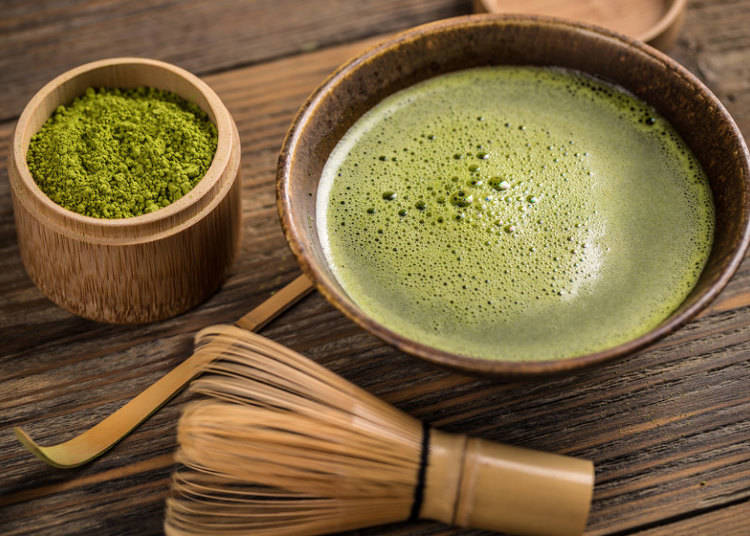 Simply speaking, matcha is powdered green tea, and most famous for its use in traditional Japanese tea ceremonies. It is grown from the same plants as the green tea brewed from leaves, however the growing and harvesting process is somewhat different. The tea plants used for matcha are shade-grown in the weeks leading up to harvest, which causes it to have more caffeine and theanine than standard green tea.

Instead of steeping leaves in water, to make matcha, the powder is dissolved in liquid. Tea using hot water is the most traditional way to consume matcha, but recently matcha lattes made with milk and sometimes a bit of sugar have become a very popular way of consuming matcha. You may also find matcha added to bottled, loose-leaf, and tea bag style ocha for an enhanced flavor.
Genmaicha (Roasted Brown Rice Tea): 玄米茶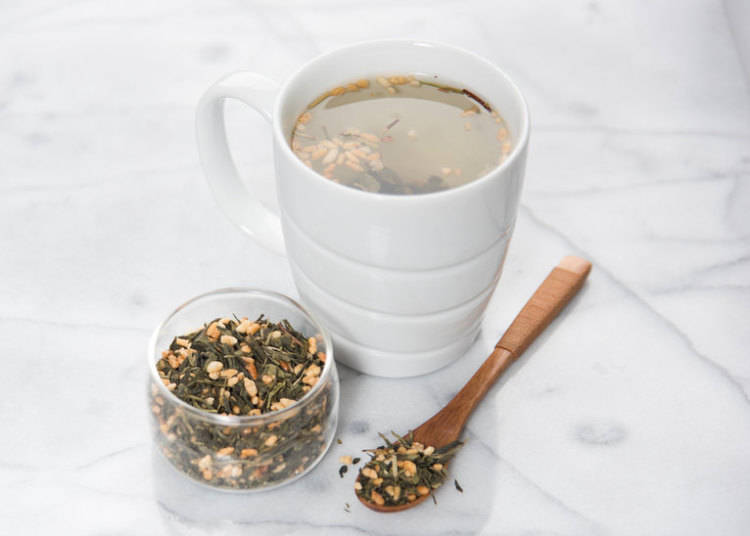 If you happen to hear a crackling sound as hot water is being poured over your tea leaves, there is a good chance you are drinking genmaicha. Made from green tea leaves and roasted brown rice, this tea is colloquially known as 'popcorn tea' because of the popping sound the brown rice makes during brewing. It has a lower caffeine content than the standard green tea, and a subtle roasted rice flavor that differentiates it from standard green tea.
Houjicha (Roasted Green Tea): ほうじ茶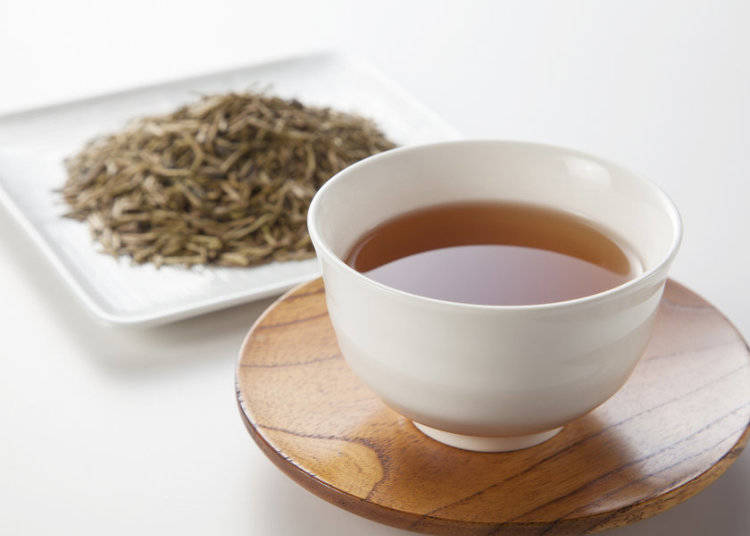 This Kyoto-born tea owes its toasty taste, low-caffeine content, and reddish-brown color to the roasting process that the green tea leaves undergo. Rather than simply being being steamed like standard green teas, the tea leaves used in hojicha are roasted over charcoal, giving the tea a distinct flavor that is bold, but mellow.
Mugicha (Barley Tea) : 麦茶・むぎ茶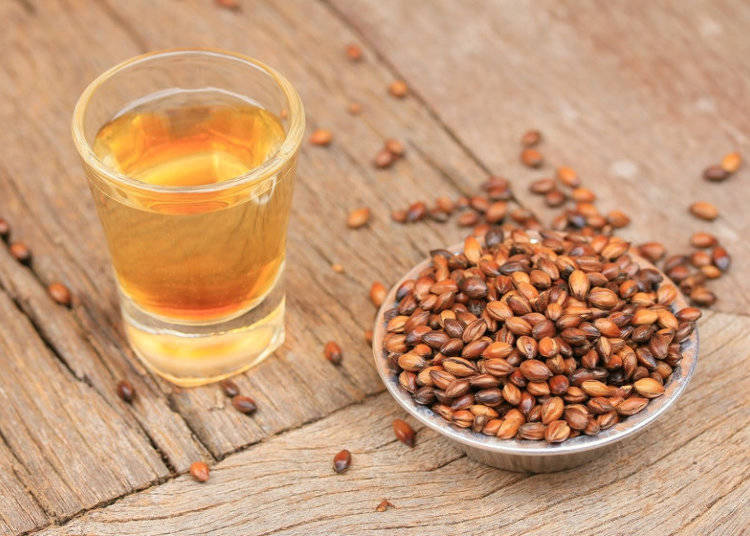 You may be wondering how a tea made with roasted barley, rather than actual tea leaves makes the list, but in fact, mugicha is one of the most popular teas in Japan! This caffeine-free drink is enjoyed by children and adults alike for its health benefits, as well as its rich, nutty flavor.
Ūron-cha (Oolong Tea): 烏龍茶・ウーロン茶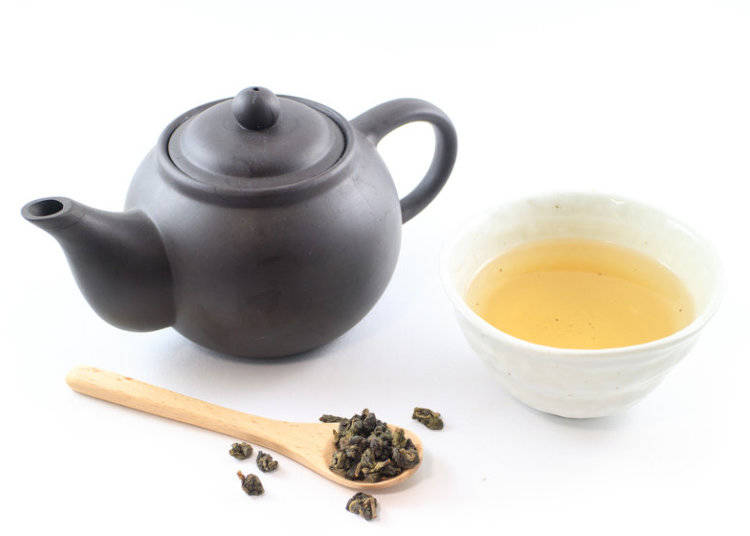 Although Oolong is known as being a Chinese variety, this deliciously smooth tea is very popular in Japan as well. It has more caffeine than green tea, but still less than coffee. It is also the featured ingredient in a Japanese cocktail called oolong-hai, in which it is mixed with a traditional Japanese hard liquor called shochu.
Jasumin-cha (Jasmine Tea): ジャスミン茶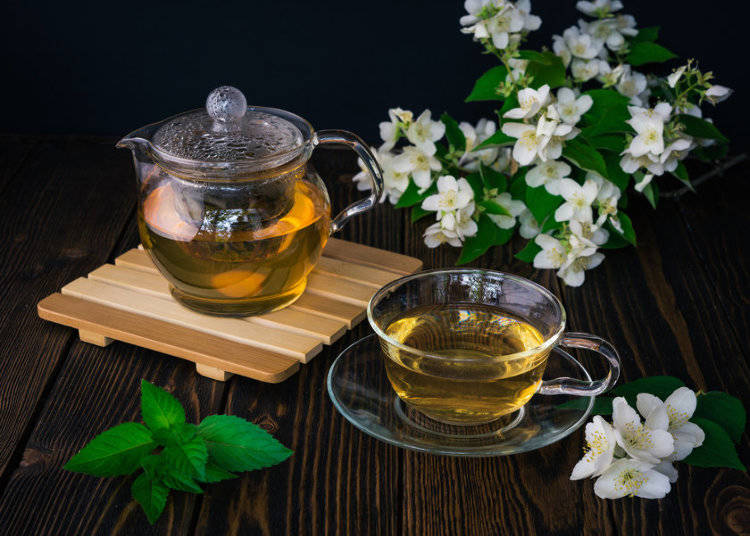 Another tea originating from China, Jasmine tea has the distinct flavor and aroma of Jasmine blossoms. It is often made using green tea leaves, but typically speaking, contains much less caffeine (if any) than regular green tea.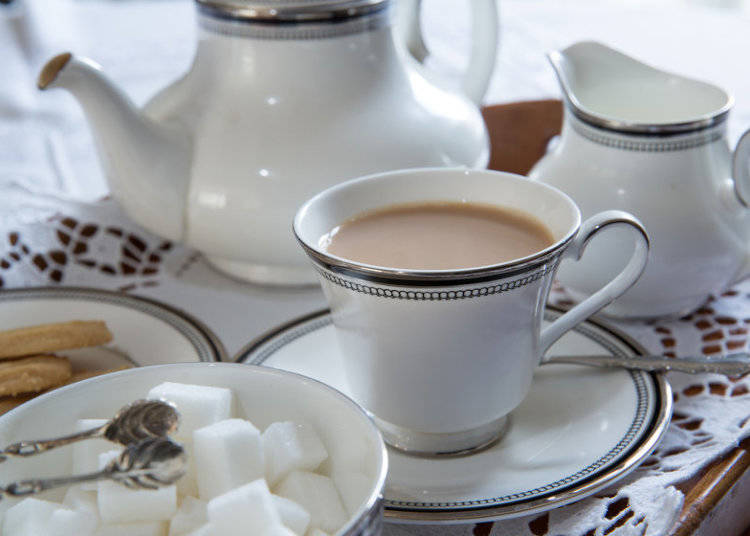 In addition to Asian teas, British-style tea is also available in Japan. Be warned though: asking a Japanese person for 'black tea,' will lead to an entirely different drink from what you were expecting! This is because in Japan, English tea is called koucha, the direct translation of which is actually 'red tea.' (What the Japanese call black tea, or 'kuro-cha,' is actually a kind of fermented Chinese tea.) Koucha includes sweetened, unsweetened, milky, and fruit teas, to suit anyone's taste. Although traditionally black tea contains the highest caffeine amount of any tea, some Japanese brands are specifically made with a low-caffeine content.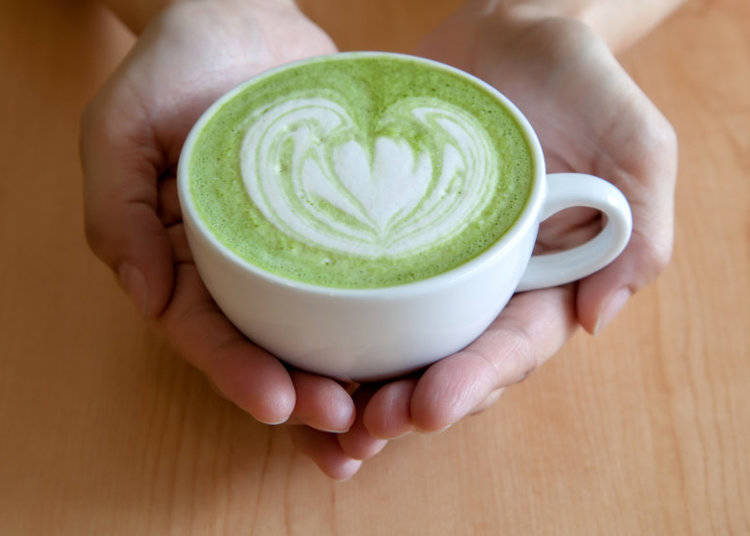 With so many varieties available, one may say that Japan is the country of tea! Whether you are interested in traditional green tea, or one of the newest flavored bottled teas, there is surely a tea for everyone. Try them all during your visit to Japan!
*This information is from the time of this article's publication.