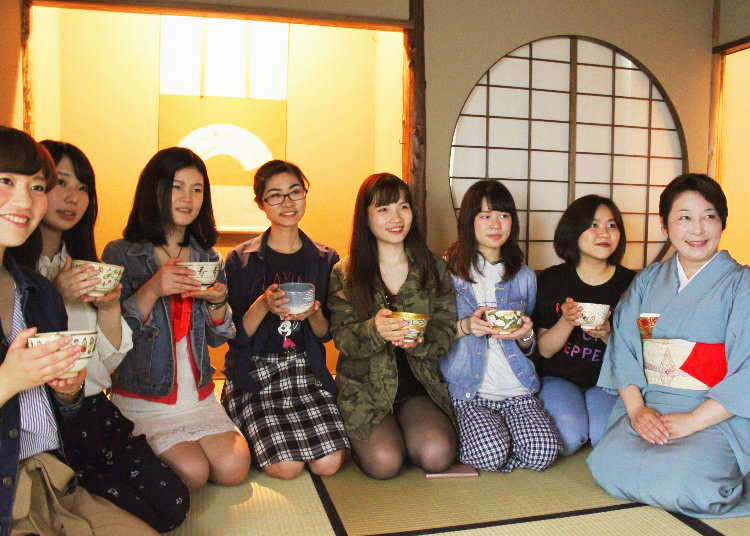 In the heart of glitzy Ginza and right next to the famous theater Kabuki-za lies Chazen, an almost enigmatically harmonic place that lets you experience the Japanese tea ceremony in all its authenticity. Behind the doors of the 5th floor of a modern, metropolitan building lies a full-fledged Japanese tea room, so quiet and traditional, it almost seems like another world. This is the realm of Rie Takeda, who started doing the tea ceremony from her earliest childhood and now boasts over 30 years of experience. After working for IBM Japan, she started teaching the Japanese tea ceremony, while also instructing flower arrangement and being a Japanese culture mentor. This time, she welcomes college students from Hong Kong, China, Myanmar, Vietnam, and Japan to experience Japanese tea ceremony. LIVE JAPAN joined the students.
Learning the History and Procedures of the Japanese Tea Ceremony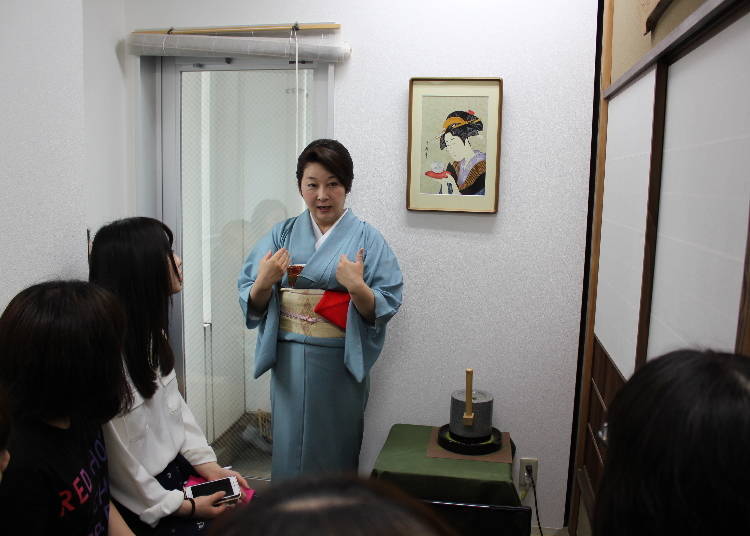 Ms. Takeda explains. The tool on her right is used to grind tea leaves.
The experience starts with a video that explains the history of the tea ceremony in Japan. One of the most important teaching so the tea ceremony goes as follows: "Treasure every encounter, for it will never recur," simply spoken "ichi-go ichi-e." In the tea room, everyone is equal, no matter where you are from, how old you are, or which gender you are. The video also informs about matcha, the powdered green tea used in the ceremony, and tea leaves. After showing the students some real leaves and having them grind them up, it is time to move on to the tea room.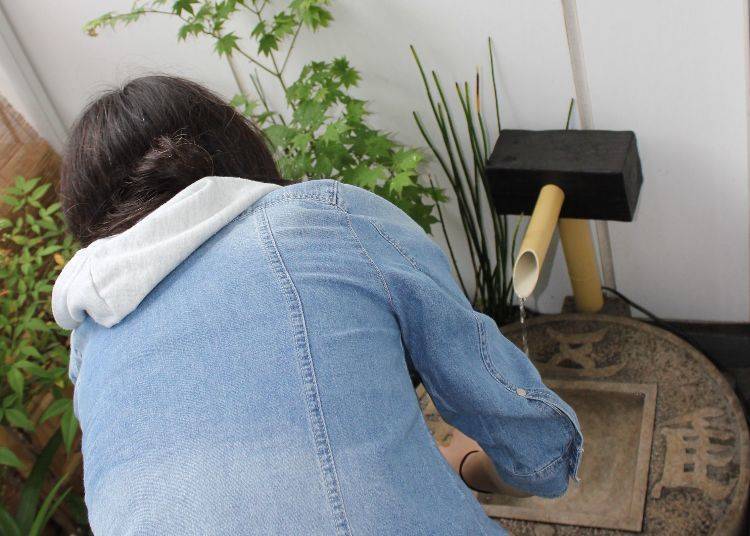 Washing hands at the basin called "tsukubai" on the balcony.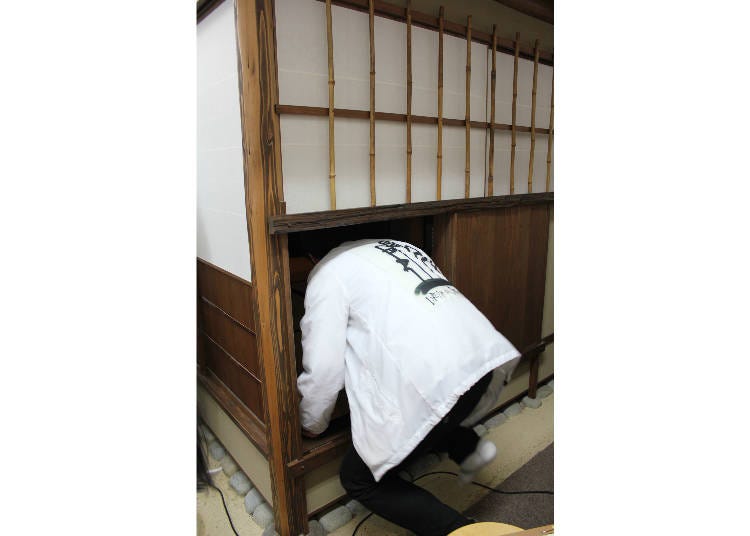 The entrance to the tea room is called "nijiriguchi." Even the samurai of old are said to have left their blade outside that usually was always at their side.
After cleansing both hands and heart at the "tsukubai" basin, the students enter the dimly lit tea room via the 60cm x 60cm small entrance called nijiriguchi. The typical alcove called "tokonoma" is decorated with a flower arrangement and a hanging scroll. Everyone sat in a proper seiza, even though people tend to say that you have to be willing to break your legs for that. Then, Ms. Takeda appeared and served Japanese sweets on little plates – and for a moment, their beautiful appearance was the only topic of discussion.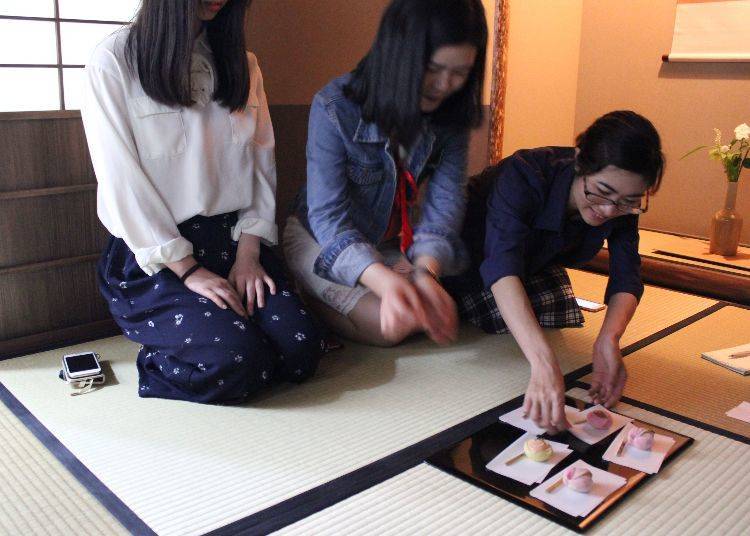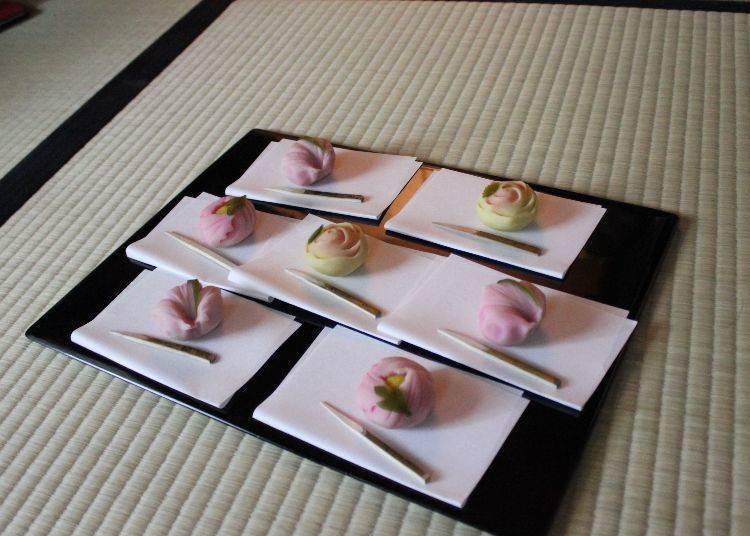 The Japanese confectionery was shaped after seasonal flowers, such as the tsubaki (camellia japonica), the iris, and the rose.
"Wow! Which one should I eat?"

Everyone watched Ms. Takeda's tea ceremony demonstration as they ate the sweets. While cutting the beautiful candy with a small, special toothpick, each student followed the movements of the tea ceremony teacher closely. Once the tea is done, bowls with different, unique patterns are placed in front of everyone and it's time to learn how to drink the served tea properly.
Trying the Teacher's Tea First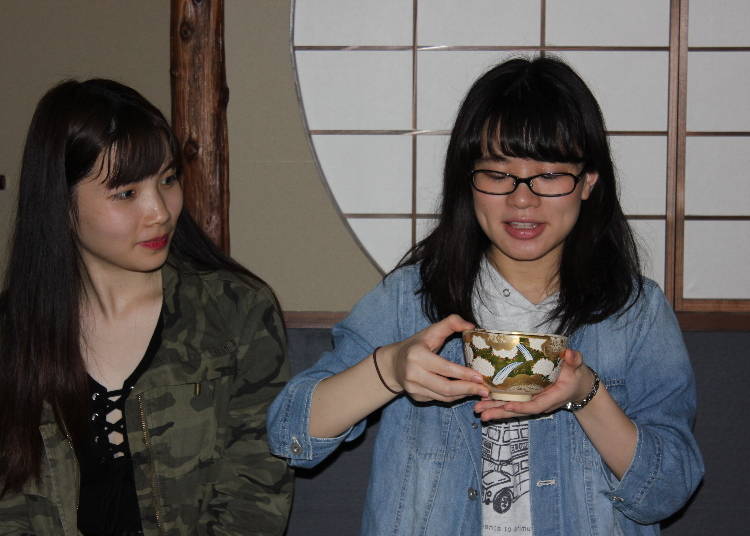 How does matcha taste?
"Mmm, delicious."
"The aroma is really nice. And just the right taste after eating something sweet."

Some people find matcha bitter and hard to drink. Ms. Takeda explains that she chooses a matcha that is just slightly bitter and has a certain sweetness to it, and everyone seems to enjoy that. Next, however, is the experience of making one's own tea.
"It tastes different" Ms. Takeda's was better..."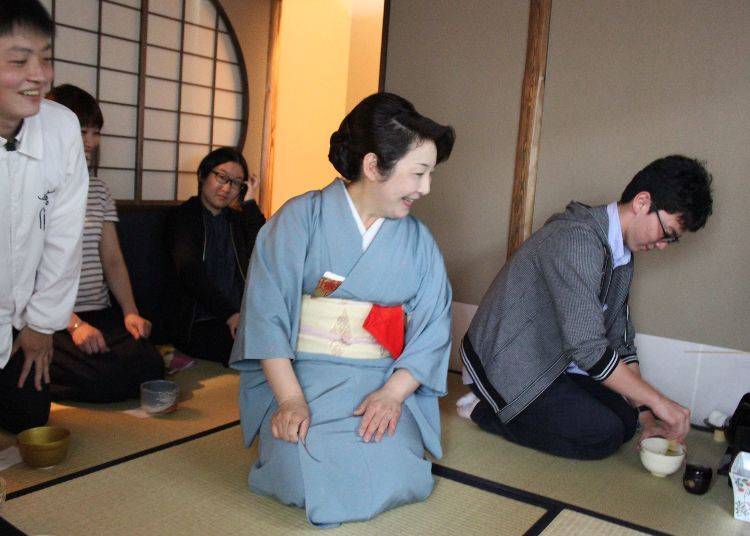 Preparing matcha like the teacher did.
Put two teaspoons of matcha powder in a tea bowl and fill it with hot water. Then, mix it in a vertical movement without turning the chasen (tea whisk). "Well done, you have beautiful bubbles on your tea", is the praise that some people get from Ms. Takeda – but how does the self-made tea taste?

"It tastes different" Ms. Takeda's was better..."

Everyone's sense of taste seems to get a lot sharper, but still, every student gives their best and enjoys their very own hand-whisked matcha tea.
After the Tea, It's Time to Ask Questions About the Tea Ceremony
Matcha in a big tea bowl.
"Why is the matcha tea served in such a big bowl?"

"Japanese tea and Chinese tea comes in small bowls and people drink many servings. But the reason why the tea bowls of the tea ceremony are so big is that the hospitality and attentiveness towards the guest are concentrated in one single bowl."

The Japanese tea ceremony is not just about drinking tea, it is something that is enjoyed using all five senses. The tokonoma is for the eyes, the sounds of boiling water and whisking tea are for the ears, texture and shape of the tea bowls are for the feeling in your hands, and so on. Tea ceremony hosts want their guests to feel all of this. Furthermore, it is said that things like a Japanese garden or the clothes are all part of Japanese hospitality and that the Japanese tea ceremony encompasses all that is Japanese culture. It is said that when you concentrate on drinking tea, you can calm your mind, refocus on yourself, and raise your spirit. A lot of the students we followed had done the Japanese tea ceremony for the first time in their lives, so what are their impressions?

"I've seen it in anime and dramas, but I wasn't really interested in it. Experiencing and feeling the tea leaves and the procedure of the tea ceremony, as well as preparing the tea, that was really interesting, though! I've always enjoyed drinking tea, but I think that I enjoy it even more after this." (Nationality: China / Hong Kong)

"Learning the tea ceremony feels like I can also make my daily life just a little bit happier and richer. And I think I might be able to control myself a bit better." (Nationality: Vietnam)

"I realized that even Japanese people don't really know the tea ceremony. It felt like stepping from Ginza into an entirely different world." (Nationality: Japan)

"When I told my friends and family at home about the tea ceremony experience, they all said that they wanted to try it as well." (Nationality: Vietnam)

"I was surprised that the tea the teacher prepared and the one that I made myself tasted so different. Next time, I'd also like to wear a kimono and make good tea like the teacher." (Nationality: Myanmar)

"Drinking tea since ancient times is an inherent part of Asian culture. In countries like China, Korea, or Vietnam, there's the custom of making tea for your guest. But Japan's tea culture is unique and different from other cultures in Asia. It's something that can be enjoyed only in Japan, and I believe it's a method to cleanse the mind." (Nationality: Vietnam)

In today's Japan, the tea ceremony has become a beloved hobby of enthusiasts, so without places like Chazen, it can be hard to get the opportunity to enjoy a genuine tea ceremony. If you happen to have friends in Japan, we highly encourage you to ask them to join you for your very own tea ceremony experience! It's a "new old experience" for everybody.
茶禅

Address

Ginza Ishikawa Building 5F, 4-12-17 Ginza, Chuo-ku, Tokyo-to 104-0061
■ Tea Ceremony Experience (reservation required, available in Japanese, English, and Chinese)
3,500 yen (tax included) 4,500 yen for a private session
■ Tea Ceremony Experience in a Kimono
・ Casual kimono & tea ceremony: 6,800 yen (tax included)
・ Regular kimono & tea ceremony: 8,500 yen (tax included)
※all prices are per person.

Contact & Reservation
TEL: 03-6264-0690
FAX: 03-6264-0691 
Email: info@chazen-co.jp
Homepage: http://www.chazen-co.jp/
http://www.chazen-us.com/
*This information is from the time of this article's publication.
*Prices and options mentioned are subject to change.
*Unless stated otherwise, all prices include tax.