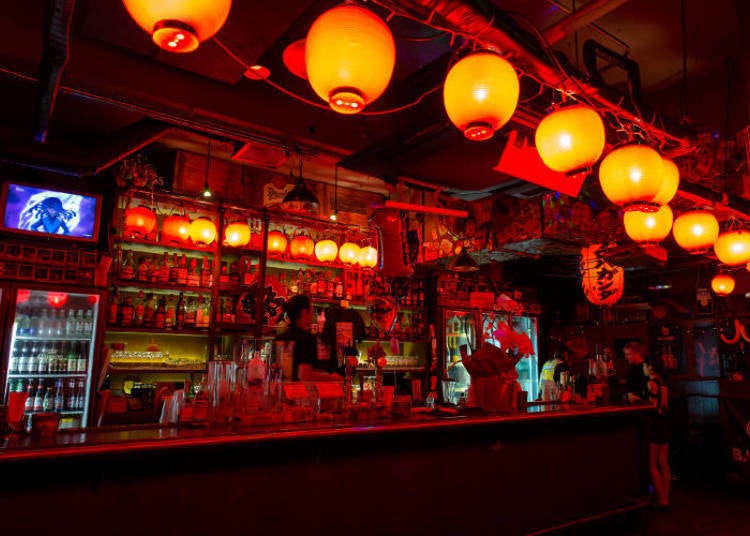 When visiting Tokyo, Japan, you may have limited time to check out all the sites and scenes, but why not visit some of the best Tokyo bars! There's a bar for every taste, scene, and mood to choose from, so sit back and let's get the party started!
1. Shot bar PROPAGANDA: Party until the sun comes up!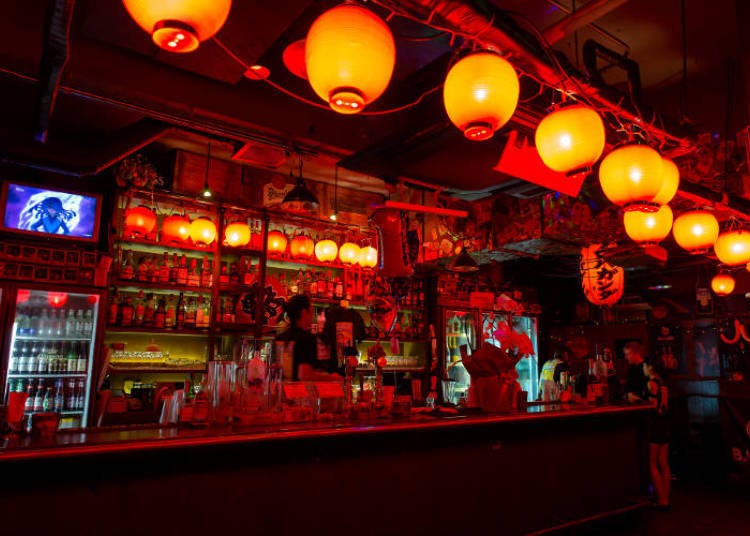 Clubs and bars regularly come and go in Roppongi, but Shot bar PROPAGANDA has been a mainstay in the area since 1997. From Roppongi Crossing, Propaganda can be reached by walking towards Tokyo Tower and is located on the left-hand side of the street.

Come before happy hour, which ends at 9:00 p.m. to enjoy half-priced drinks that start at 500 yen. The bar allows casual attire and plays a different variety of music genres including Top 40s. This is one of the most popular spots for Tokyo ex-pats and the staff is very friendly and can speak English. Shot bar PROPAGANDA usually hold events as well on popular holidays such as Halloween and New Year's Eve, so make sure to stop by if you want to have a great night out!
Shot bar PROPAGANDA

Address

〒106-0032 Tōkyō-to, Minato-ku, Roppongi, 3 Chome 14-9

Phone Number

03-3423-0988
2. Shibuya Oiran Warm-Up Bar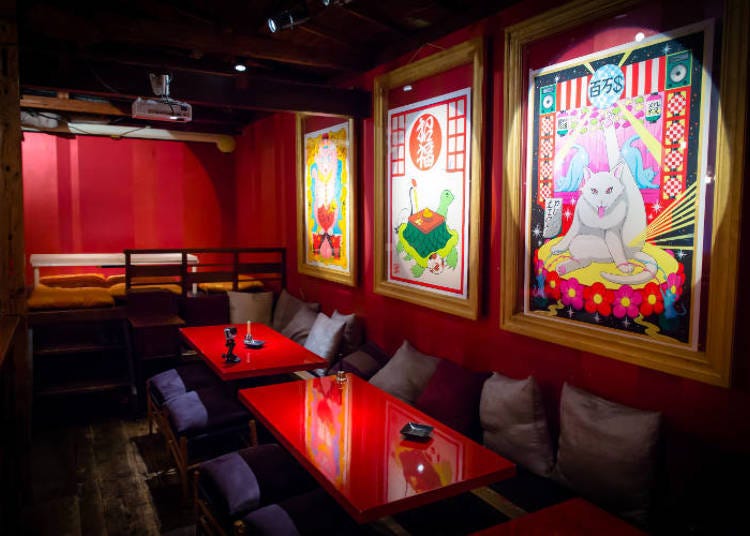 Shibuya Oiran Warm-up Bar is nestled in the side streets of Dogenzaka in Shibuya, only minutes away from the station. The term "Oiran" refers to elite courtesans from the Edo period. They were highly skilled in traditional arts and could play a variety of musical instruments. Resembling its adorned name, Shibuya Oiran embraces the Oiran theme with a colorful red and pink interior. The first floor offers a standing bar with a few tables where you can mingle with locals and the second floor resembles a restaurant that can accommodate groups in a casual environment with bench seats with a clear view of the DJ booth.

During winter season, some Kotatsu tables are set in the second floor. The spot is known as a perfect place to warm-up before heading out for a night of excitement and is visited by many musicians and producers. Swing on down, when you get the chance and chill with some of Tokyo's finest.
Shibuya OIRAN Warm-Up Bar

しぶや花魁

Address

2-22-6 Dogenzaka, Shibuya, Tokyo 150-0043

Phone Number

03-5456-8782
3. Rock no Cocoro: Rock is where the Heart is!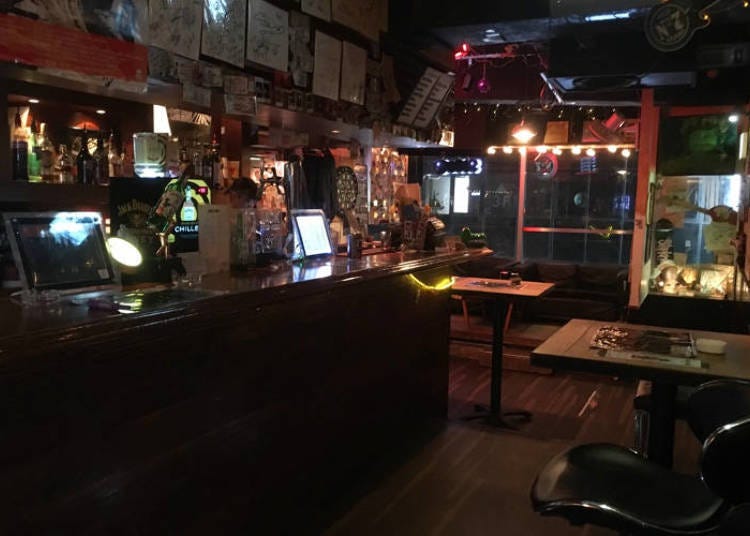 Rock no Cocoro literally translates to "Heart of Rock." True to its name, the bar is a hangout spot for many rock music enthusiasts and sometimes even the artists themselves. The venue is located in Udagawacho in Shibuya, one of Japan's busiest retail districts, making it the perfect place to grab a drink after a long day of shopping.

The bar offers food and drinks at a reasonable price with cocktails starting at 700 yen. If you get hungry, Rock No Cocoro has you covered with hearty food options such as fried chicken, croquettes, and even french toast. The bar is also open until sunrise, so put on your favorite band t-shirt and get ready to rock'n'roll all night long!
ロックのこころ

Address

〒150-0042 Tōkyō-to, Shibuya-ku, Udagawachō, 10-1 3F

Phone Number

03-5459-5326
4. Two Dogs Taproom: Great Selection of Beer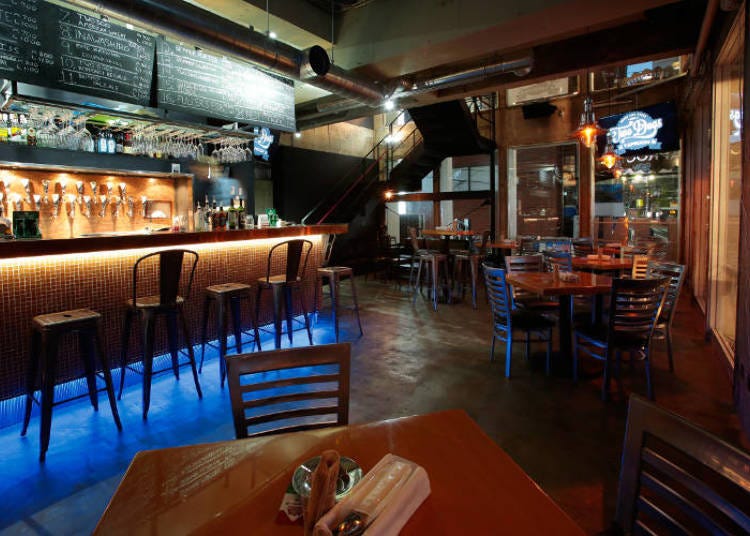 Located along the main strip of Roppongi, Two Dogs Taproom is located three minutes from Roppongi Station. Two Dogs is an industrial-themed restaurant and bar that boasts an impressive craft beer menu that includes brews from Japan and abroad.

To perfectly compliment their great craft beer, they have their signature homemade Californian-style pizza that uses fresh dough, tomato sauce made from Campo Grande Pomodorini-Perati Hall tomatoes, and mozzarella cheese imported from Italy. The freshly made pizzas are then fired in the venue's specially built wood-fired oven.
Two Dogs Taproom

Address

〒106-0032 Tōkyō-to, Minato-ku, Roppongi, 3 Chome−3−15−24

Phone Number

03-5413-0333
5. 8 bit cafe: Retro Gaming and Drinks with S-T-Y-L-E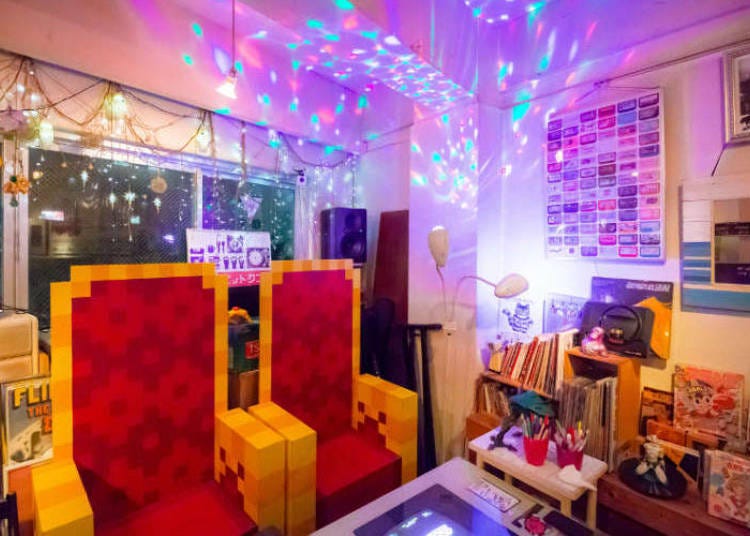 Ten minutes from Shinjuku Station's East Exit, 8 bit cafe is a concept bar where you can play your favorite retro video games while sipping on custom-made cocktails named after various video games and characters. Their most popular, the Dr. Mario, features vodka, gin, Coke, and Dr. Pepper served in a beaker with two sugar pills in a test tube on the side.

While you're thankfully allowed to take photos within the venue, no video or flash is allowed. In addition, you are required to order one drink every 90 minutes and be willing to share your table if the bar gets too crowded.
エイトビットカフェ

Address

〒160-0022 Tōkyō-to, Shinjuku-ku, Shinjuku, 3 Chome−8-9 ShinjukuQ Building 5F

Phone Number

03-3358-0407
6. Shot Bar Star Club: Here we go!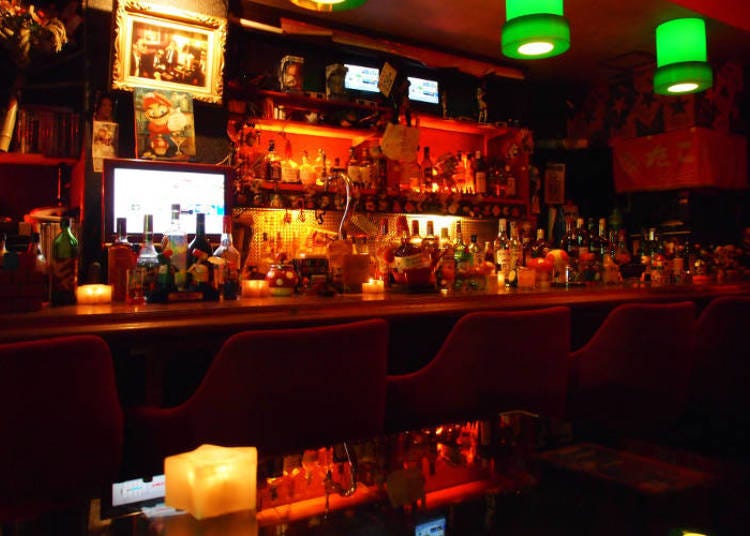 Another one of Tokyo's many themed bars, Shot Bar Star Club is inspired by Nintendo's Super Mario Bros., with mini mushrooms on the table and green pipe lights suspended from the ceiling. The bar is small and can only sit around 15 people so be sure to arrive early so that you can grab a seat.

In addition, the bar has a 500 yen seating charge but drinks start from 700 yen. It's worth trying the bar's themed cocktails such as the Cute Peach named after the cute princess in Super Mario Bros.
スタア☆倶楽部

Address

〒160-0022 Tōkyō-to, Shinjuku-ku, Shinjuku, 3 Chome−11−1, 高須ビル 2F

Phone Number

03-3354-2139
7. Brewdog Roppongi: Great IPAs and more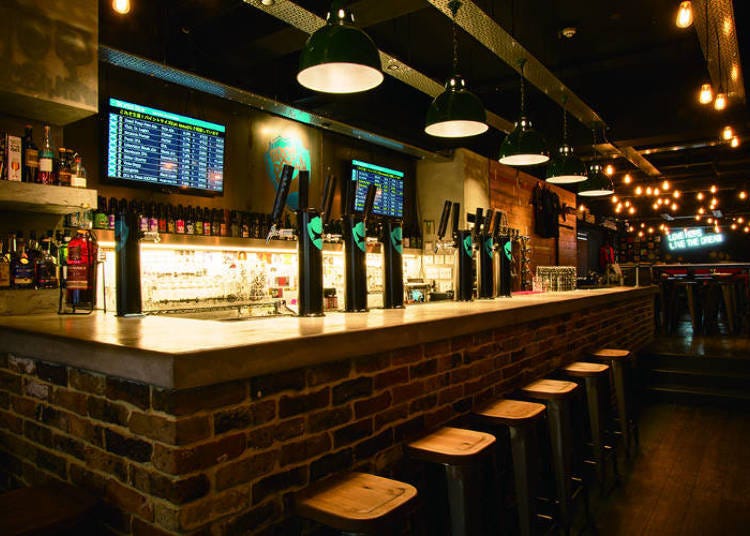 Scotland's largest independent brewery, Brewdog made its foray into Japan with a pub located just a three-minute walk from Roppongi Station. Their beers should come with a warning label, considering their high alcohol content, with Hardcore IPA, a bitter brew with plenty of hops, boasting a 9.2 percent alcohol content.

The brand is known not only for its delicious brews but also for its crazy stunts, which include brewing beer at the bottom of the ocean and more. With a good selection of beers and food to choose from, it's no wonder it's a popular spot for locals
Brewdog Roppongi

Address

Saito Bldg. 1F, Roppongi 5-3-2, Minato-ku, Tokyo. 106-0032

Phone Number

03-6447-4160
8. DevilCraft Beer Pub & Pizzeria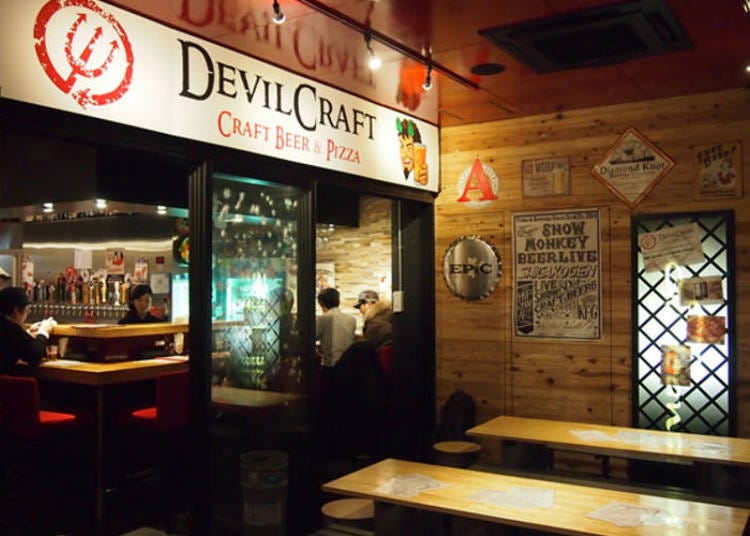 With locations in Kanda, Hamamatsucho, and most recently, Gotanda, DevilCraft Beer Pub & Pizzeria is a pub and restaurant that brews and serves their own craft beers. In addition, they offer craft beers from Japan and abroad on tap. However, the pub is best known for its deep-dish Chicago-style pizzas, which you have to be prepared to wait for as they take a bit of time to prepare. Definitely worth the wait though!

Due to the popularity of the restaurant, it is highly recommended to make reservations in advance. In addition, DevilCraft Beer Pub & Pizzeria has a two-hour and twenty minute time limit at the venue, which is usually enforced in order to accommodate all patrons. Reservations are accepted 24 hours a day through the website, so make sure to reserve soon!
デビルクラフト神田

Address

Ishikawa Bldg 4-2-3 Nihonbashi-muromachi, Chuo-ku, Tokyo 103-0022

Phone Number

03-6265-1779
9. Music Bar Rockaholic: Hard Rock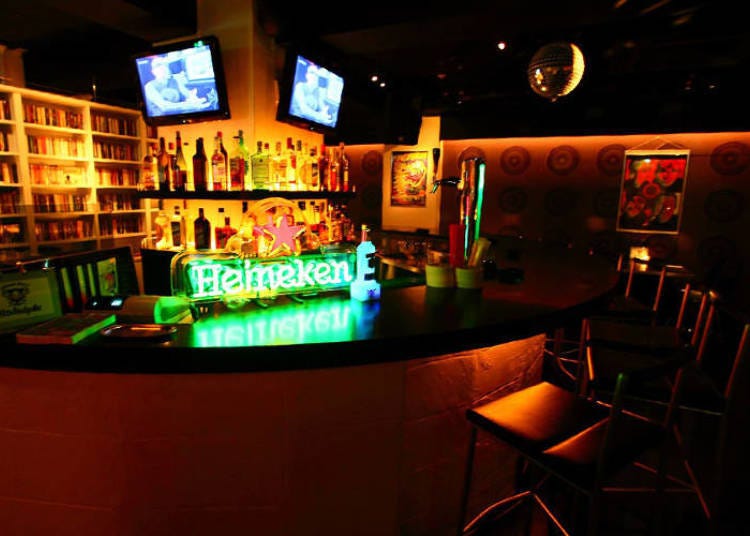 If you want to head to a place where you can go all out and have a great time, then Music Bar Rockaholic is where it's at. Since the summer of 2010, this hard rock bar located in the Udagawacho area of Shibuya has become a staple of the rock scene in Tokyo.

The bar itself has a VIP room with sofas, and ample seating to fit a great crowd. The DJ Booth is front and center and they take requests so you can rock out to your favorite tunes!
Music Bar ROCKAHOLIC

Address

〒150-0042 Tokyo, Shibuya, Udagawacho, 11−1 B1

Phone Number

03-6416-9469
Cheers! To a Great Night Out!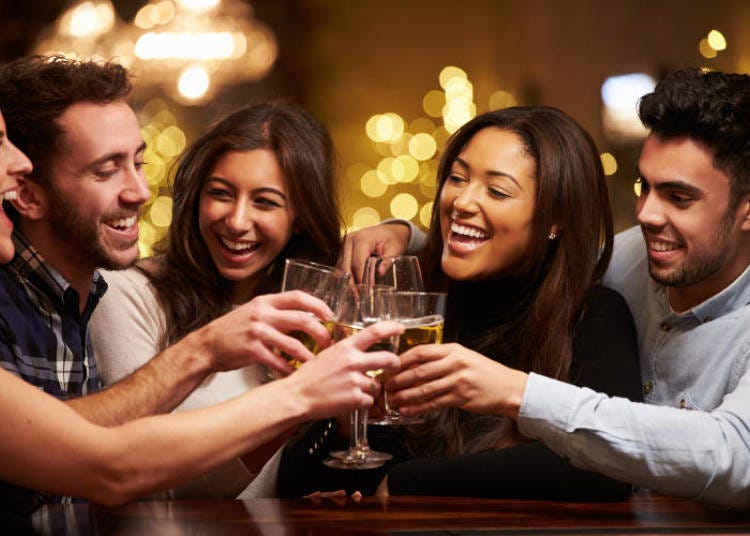 As you can see, there are many different bars in Tokyo to choose from, whether it's a rock bar, a themed bar where you can play video games, or a place to satisfy your Belgian beer itch.

Which bar would you like to visit most? Have any recommendations or feedback? Make sure to let us know via Twitter @LiveJapanGuide or on our Facebook page!

Cheers!
*This information is from the time of this article's publication.
*Prices and options mentioned are subject to change.
*Unless stated otherwise, all prices include tax.