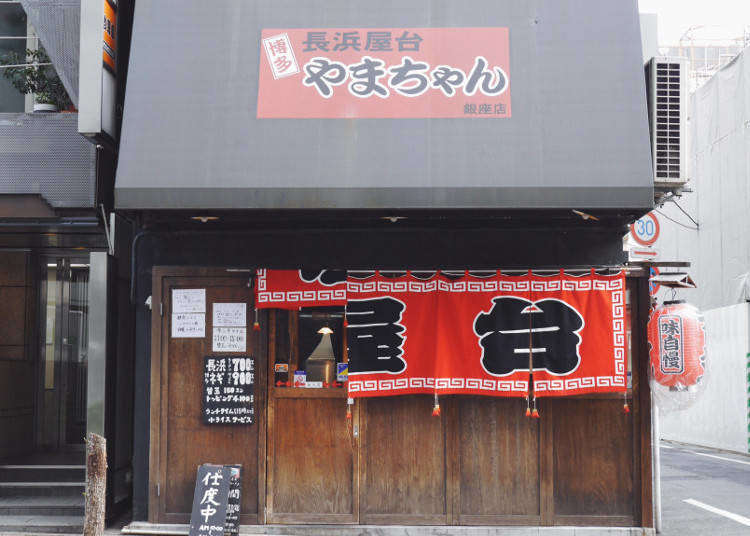 When coming to Japan, the signature noodle soup dish called ramen is on the top of the must-try list for many a gourmet-savvy tourist! One particular ramen creation is particularly popular among visitors from all over the world: Hakata Tonkotsu Ramen, pork-bone broth ramen from Hakata, a city in Fukuoka Prefecture.

The thin noodles that are so characteristic of Hakata Tonkotsu Ramen can easily be prepared to be firm to the bite or pleasantly soft, whichever preference you have! Another big plus for these types of noodles is that in many a store, you'll be able to order an extra portion of noodles instead of simply being forced to order a larger portion entirely. Big eaters, Hakata Tonkotsu Ramen are especially recommended for you!

Since not everyone can make their way to Fukuoka when traveling in Japan, we've found four stores in Tokyo that convey the prefecture's authentic taste in the best way possible, so don't hesitate and grab your own bowl of original Hakata Tonkotsu Ramen!
Jinanbo: Discovering the Rich Flavor of Hakata Ramen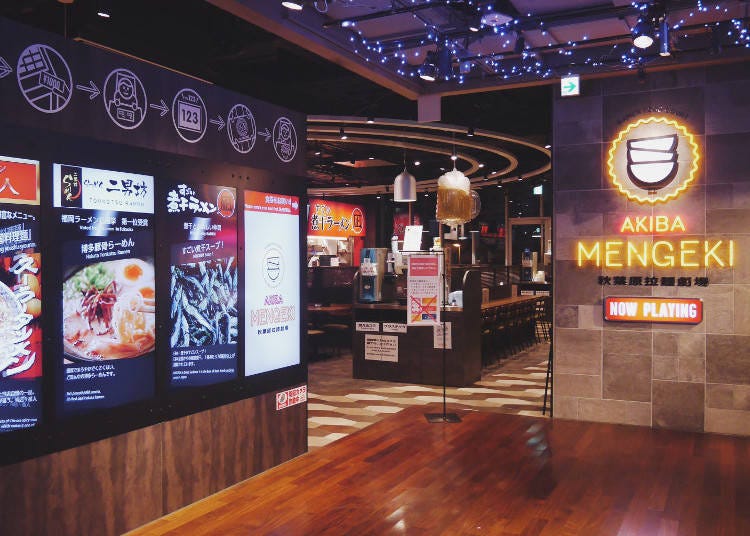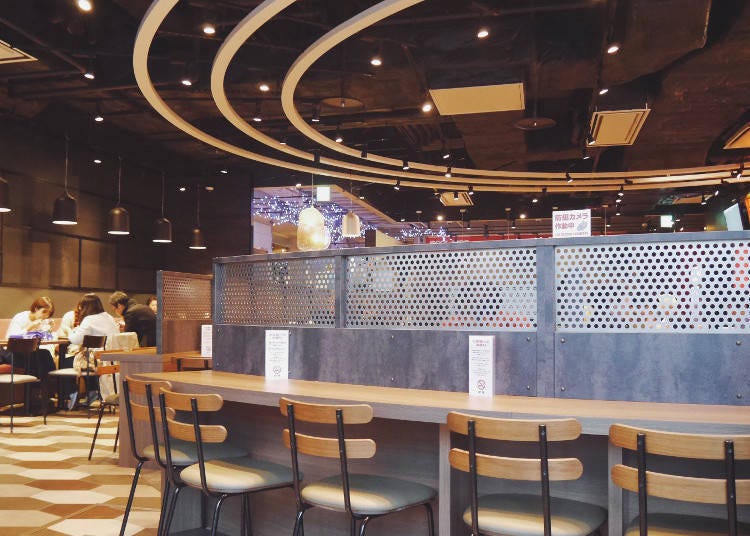 Located on the second floor of Akihabara UDX, right outside the busy Akihabara Station, you will find the Akihabara Ramen Theater, a must-visit for every fan of Japan's characteristic noodle soup! You'll find not one but three distinctive ramen shops there, inviting people to try, compare, and find their favorite bowl. This time, we'll focus on Ramen Jinanbo which has scored the first place of the Hakata Ramen Elections of 2009! The Akihabara location is the only branch store of the original Ramen Jinanbo which is, of course, located in Fukuoka's Hakata itself, offering a unique chance to try the one and only original. Since the Akihabara Ramen Theater is a food court, ordering is done via a ticket vending machine. Once you've chosen your bowl, find a seat and wait for your number to show up on the screen in front of the store – as easy and convenient as it gets! The only thing left to do then is to enjoy your authentic Hakata Tonkotsu Ramen.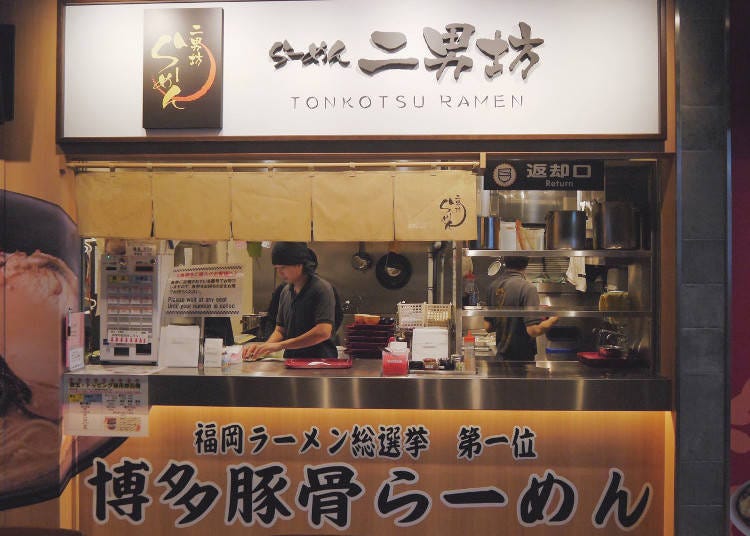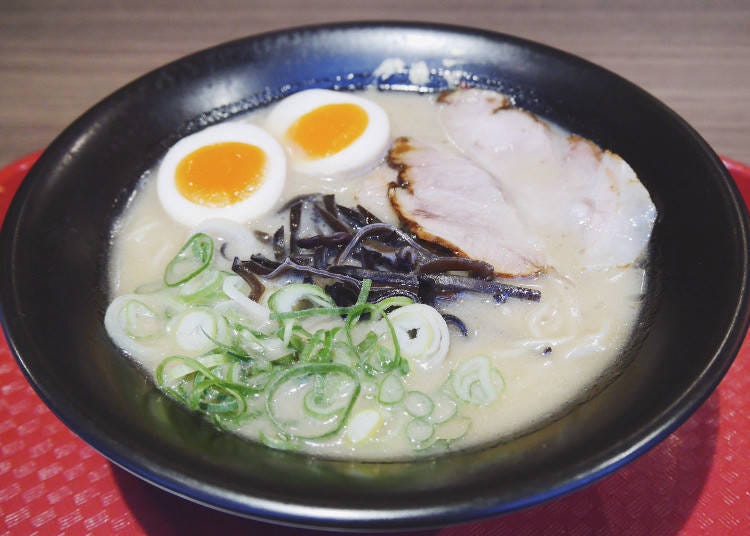 Ramen Jinanbo's most popular dish is the "Tonkotsu Ramen with Half-Boiled Egg" for 790 yen, tax included. The rich pork bone broth earns its deep and delicious flavor to the fact that it is boiled for hours, drawing the flavors thoroughly out of the ingredients! While being rich in taste, it is by no means heavy, and doesn't have a strong smell – instead, it is mild and refreshing. These characteristics make Ramen Jinanbo's Hakata Tonkotsu Ramen really easy to eat and thus it has a rather big following. The store's own recommendation is the "Tonkotsu Ramen with Half-Boiled Egg + Gyoza Set" for 980 yen, tax included. Gyoza are dumplings, and snacking one in between sips and bites of enjoying the noodle soup, you'll find that the ramen itself will have a slightly different taste! When Ramen Jinanbo's staff comes to eat at their store on their days off, they always choose this combination of soup and gyoza.
※The ticket vending machine supports the following languages: Japanese, English, and Chinese.

Hours: 11:00 a.m. – 11:00 p.m. (last order: 10:30 p.m.)
Holidays: in accordance with Akihabara UDX
らーめん二男坊 秋葉原店

Address

2F, Akihabara UDX, 4-14-1, Sotokanda, Chiyoda-ku, Tokyo 1010021 Japan
Ichiran: An Amazing Hakata Experience, from the Taste to the Atmosphere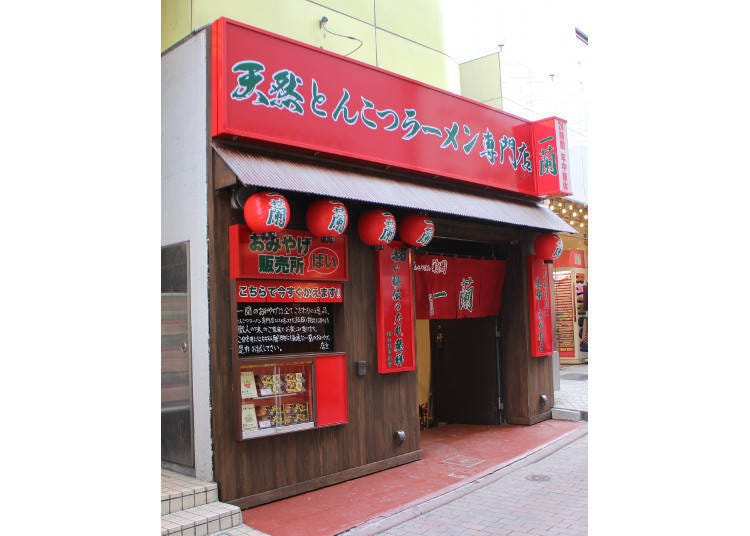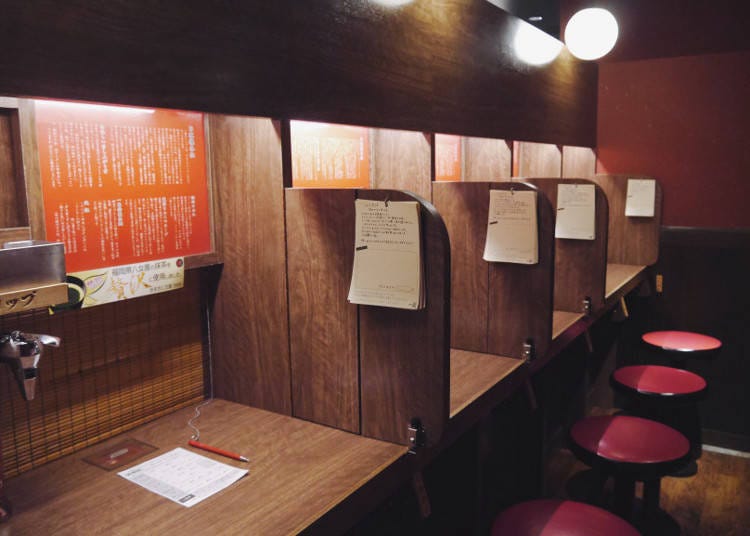 Ichiran is one of the Hakata Tonkotsu Ramen shops that have made their way out of Japan as branch shops of the ramen restaurant can be found both in the United States and in Hong Kong. Thus, Ichiran isn't just extremely popular among Japanese people but among ramen fans all over the world. Designed in a way to let everyone savor ramen at their own pace, Ichiran has a very relaxing atmosphere that is very inviting even for people who come to dine alone. This is supported by the uncomplicated ordering system: buy a ticket of your desired bowl at the vending machine, then sit down and fill out all the specifics of your ramen, such as the hardness of the noodles. Once done, press a button to call the staff who will collect your ticket. That's all – wait for your Hakata Tonkotsu Ramen and take your time enjoying it once it has arrived!

This is made particularly relaxing and easy by the individually partitioned seats, allowing you to focus on nothing but the steaming bowl of ramen in front of you, and yourself. This is furthermore enhanced by the dimmed lighting, creating just the right, calm atmosphere that is needed to let yourself fully commit to savoring Ichiran's Hakata Tonkotsu Ramen. For these reasons, Ichiran is often called the "Heart of Hospitality," creating this particular and unique atmosphere that makes every ramen experience a perfect one. Ichiran has two stores in each Shibuya and Shinjuku, easily accessible: Shinjuku Central East Exit and Shinjuku Kabukicho; as well as Shibuya and Shibuya Spain Slope.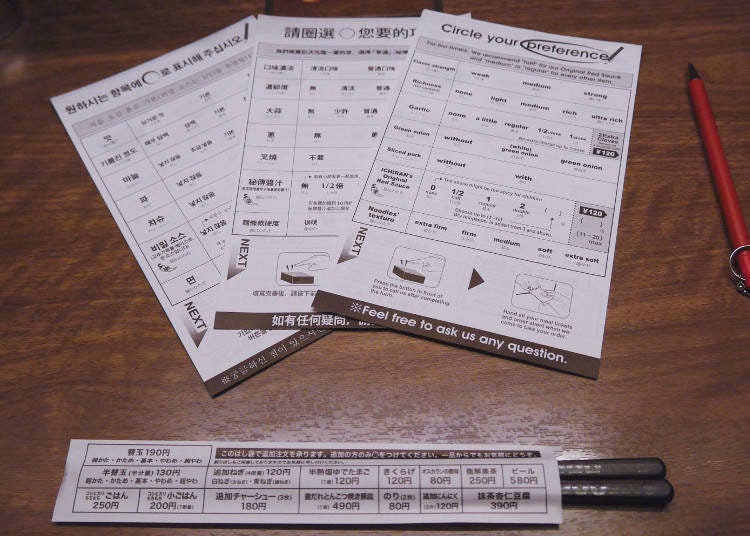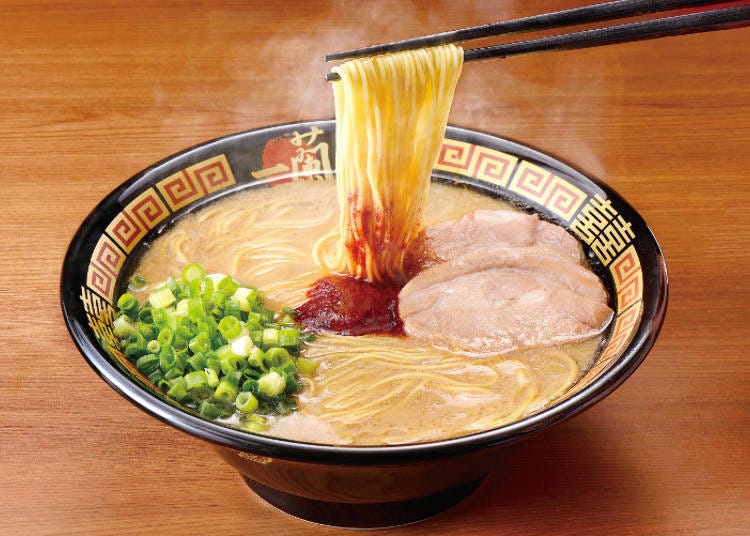 Ichiran's pork bone broth is a very unique soup that took many years and dozens of ramen specialists to perfect. The red sauce added to each bowl is made with over 30 different ingredients, simmered for several days, and is the company's most well-guarded secret. It is said that only four people at Ichiran know the exact recipe. Just like the sauce, the soup and noodles are based on original recipes as well. Specialized chefs check both the appearance, fragrance, and of course the taste of everything that goes into one of Ichiran's Hakata Tonkotsu Ramen bowls before it is sent to every shop in Japan. By the way, Ichiran's staff recommends ordering a half-boiled egg for 120 yen (tax included) to eat first, which will refresh the insides of your mouth in regards to taste, to enjoy the unique ramen taste in the best possible way. As Ichiran is very popular, brace yourself for a queue but if you come in the morning, or between 3 and 5 p.m., the waiting time is relatively short.

Hours: 24h
Holidays: always open
Ichiran Shibuya Spain Slope

一蘭 渋谷スペイン坂店

Address

B1F, Koyasuwan, 13-7, Udagawacho, Shibuya-ku, Tokyo 1500042 Japan
Yamachan: Savoring Hakata Tonkotsu Ramen in a Cozy Environment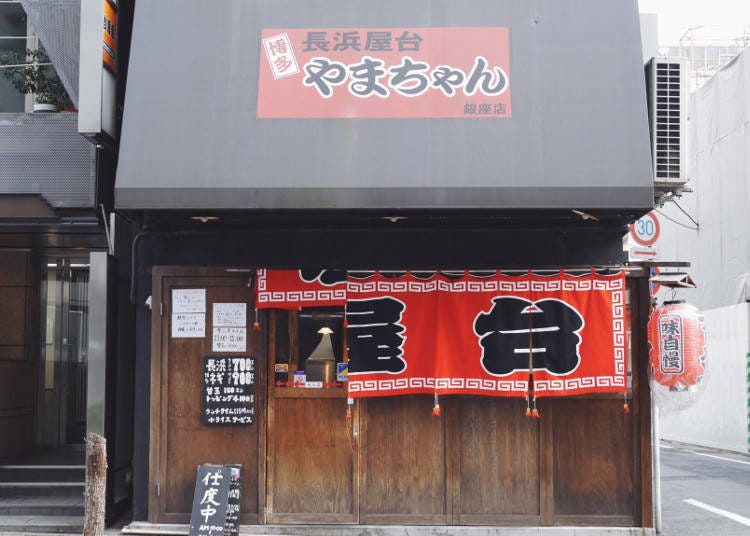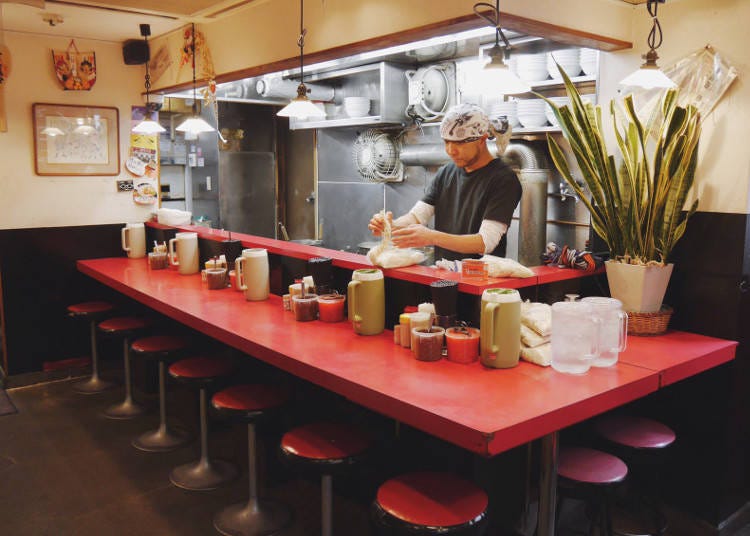 Close to Higashi-Ginza Station lies Yamachan, the only branch restaurant of the original shop outside of Fukuoka Prefecture. Ever since its opening in 2002, Yamachan has the same amazingly cozy atmosphere that makes savoring Hakata Tonkotsu Ramen a thoroughly wonderful experience. Even tourists tend to say that coming to Yamachan feels a bit like coming home. In order to serve the Hakata Tonkotsu Ramen as authentic as possible, fresh ingredients such as noodles or green onions are delivered every single day directly from Fukuoka Prefecture. To make the soup, pork bones are boiled between one and two days, and while this brings out the richness of the flavors, the original broth is odorless and refreshing.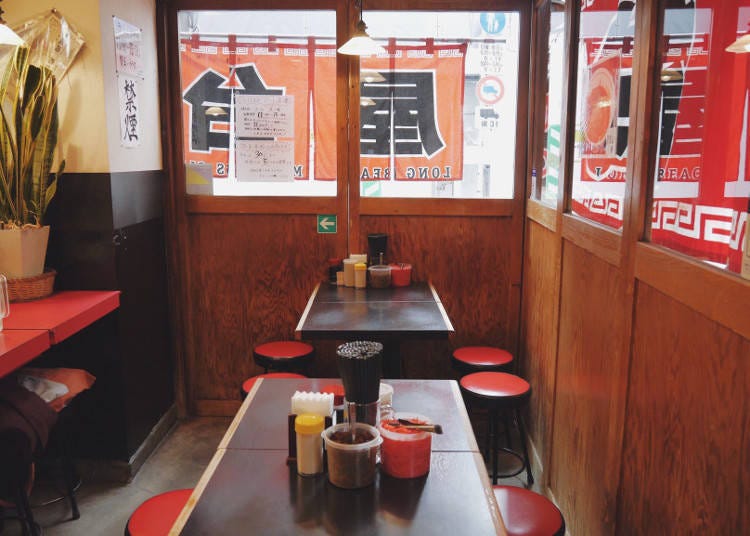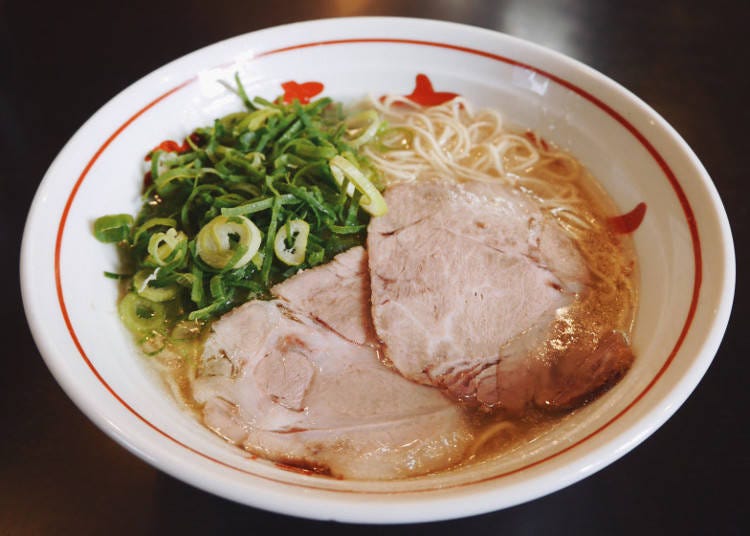 Yamachan's most popular dish is the Nagahama Ramen for 700 yen, tax included. Its rich soup is especially loved by Tokyoites from Fukuoka who seek out Yamachan to get an authentic taste of home. On weekdays between 11 a.m. and 3 p.m., the store even offers a free second serving of noodles or rice (only rice on weekends). So after you're done with your shopping spree in and around Ginza, why not stop by at the nostalgic Yamachan to recharge your energy with a wonderfully delicious bowl of authentic Hakata Tonkotsu Ramen?
※The ticket vending machine supports the following languages: Japanese, Korean, English, and Chinese.
やまちゃん 銀座店

Address

3-11-10 Hasimoto Bld. 1F, Ginza, Chuo-ku, Tokyo 1040061 Japan
Ippudo: Diving into the Depths of Hakata Ramen Flavors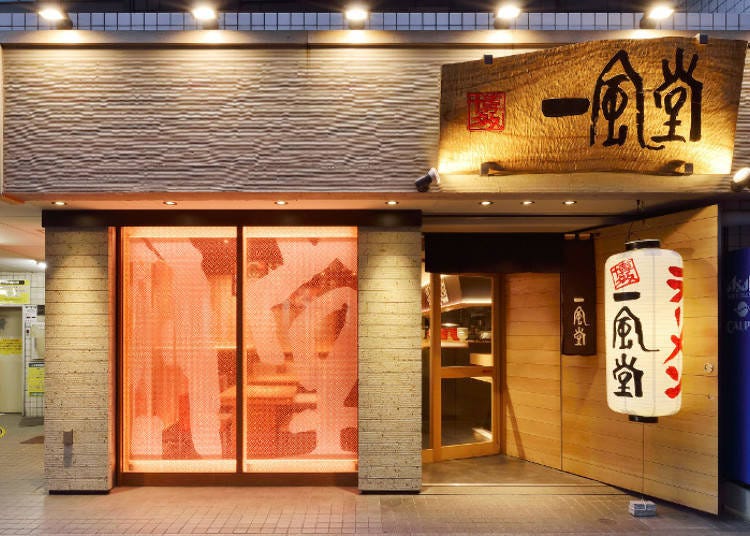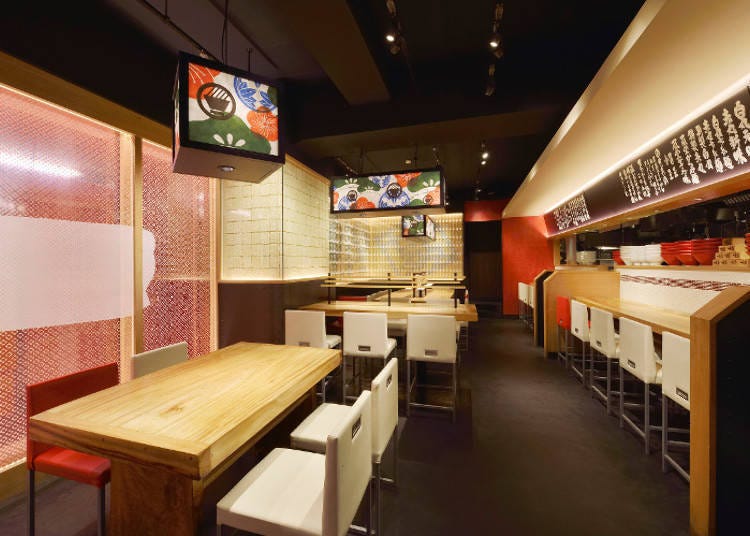 Ippudo, born in Fukuoka, has become a global success, opening stores all around the world. One of its many characteristics is the use of thin, home-made noodles that have a deep and delicious wheat flavor. Matching these noodles just perfectly is the refreshing and odorless soup which is at the same time incredibly full-bodied and has a very refined taste. Perfected over the course of 30 years, Ippudo's broth is so smooth and silky, it is called the Hakata Silk Tonkotsu.

In order to give even more depth to the many layers of tastes and aromas, the shop utilizes the so-called "Deep Layering Method." The pig bones used in the soup are boiled for 18 hours in a huge, specially made soup kettle, and then further left to simmer on low temperatures for an entire day. Both noodles and broth are thoroughly checked for their quality by specialized chefs before being sent out to all stores freshly every single day – some stores even make the soup themselves at their respective locations. The most popular dish is called "Akamaru Shinaji" for 850 yen (tax included), and its wonderfully flavor, enhanced with home-made spice oil, spreads throughout your entire mouth from the first spoonful. It goes just perfect with the noodles and we assure you, you won7t be able to stop until your bowl is empty! However, we highly recommend to try another signature dish as well: "Shiromaru Motoaji" for 790 yen (tax included). Both are the masterpieces of many years of studying and researching Hakata Tonkotsu Ramen so these are absolute must-tries for every ramen gourmet!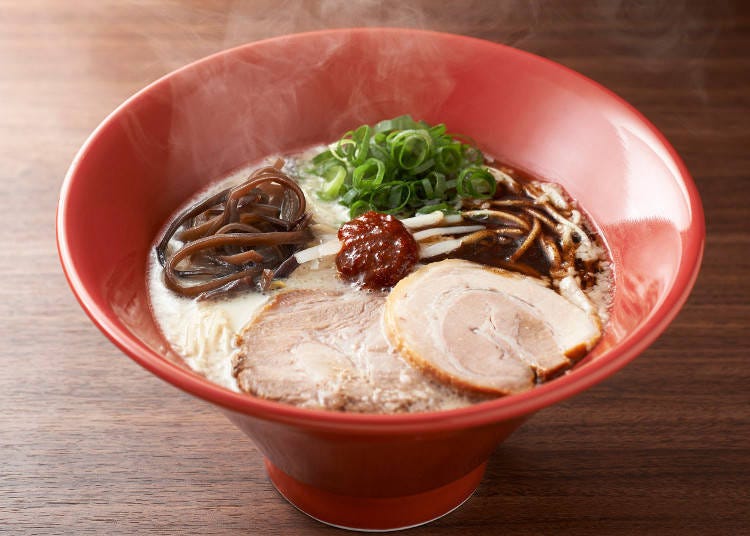 The staff's recommendation is to eat half of your ramen bowl just as it is, and then spice up the second half with spicy bean sprouts, red ginger, or leaf mustard, seasonings that are freely available at each table. The aforementioned spicy bean sprouts are particularly popular among Ippudo's guests and are born from the desire to give people something to snack on while waiting for their ramen. Seasoned with red pepper, sesame oil, garlic, and more, the little sprouts have a surprisingly rich and complex flavor that lingers on your tongue very pleasantly. Following the big desire of customers to be able to savor the spicy sprouts even at home, Ippudo now sells a "Spicy Moyashi Sauce" pack of four servings for 1,680 yen (tax included) to recreate the tasty snack at home. International visitors tend to buy large stocks of that sauce to feast on it until their next trip and the sauce is generally so popular, Ippudo is often out of stock. When a ramen fan comes to Japan, Ippudo is a definite must-visit on their list!

Hours: 11:00 a.m. – 2:00 a.m.
Until 3:00 a.m. on Fridays, Saturdays, and the days before national holidays.
Until 1:00 a.m. on Sundays and national holidays.
Holidays: always open
博多一風堂 銀座店

Address

Sentoraru Bld. 1F, 4-10-3 Ginza, Chuo-ku, Tokyo 1040061 Japan
*This information is from the time of this article's publication.
*Prices and options mentioned are subject to change.
*Unless stated otherwise, all prices include tax.