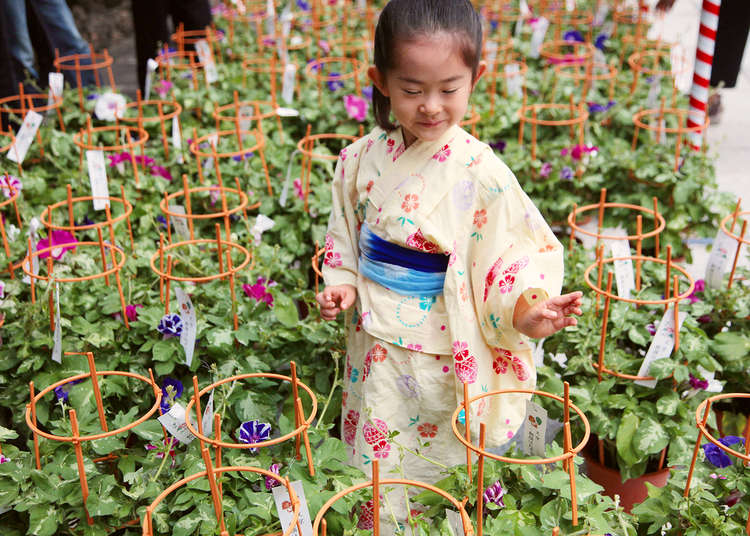 Asagao, the morning-glory, and hozuki, the Chinese lantern plant, both blossom beautifully in the hot Japanese summer. You can buy these colorful summer flowers at various asagao and hozuki markets, seasonal events that are popular among Tokyoites ever since the Edo period. Being held in various places all across the metropolis, these markets have become a flowery summer tradition in Tokyo!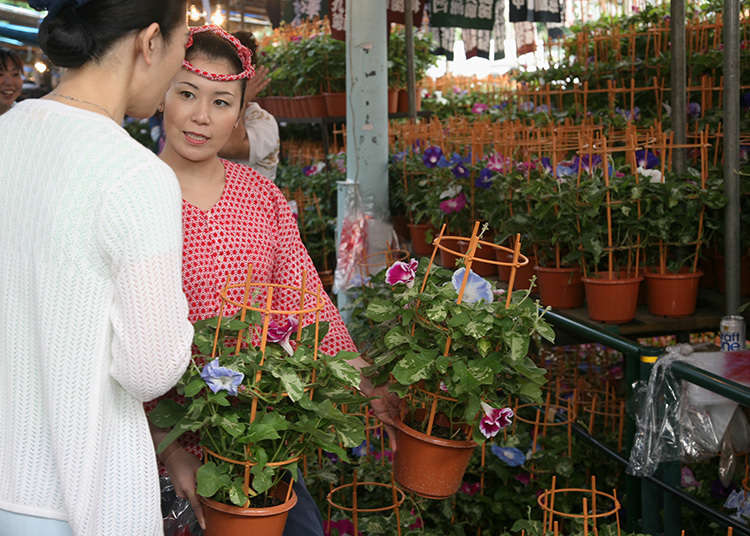 When: July 5, 6, 7

This festival is held in Taito-ku's district of Shitaya, in the neighborhood of the Iriya Kishimojin, the temple of the same-named Buddha of children, their parents, and childbirth. Around 120 asagao merchants and another 100 stalls crowd the area, attracting almost 400,000 visitors every year. Iriya's asagao fair was a traditional event ever since the Meiji era but declined in popularity later on. In 1948, however, the festival was revived and has recently celebrated its 70th anniversary.
入谷鬼子母神

Address

1-12-16 Shitaya, Taito-ku, Tokyo-to 110-0004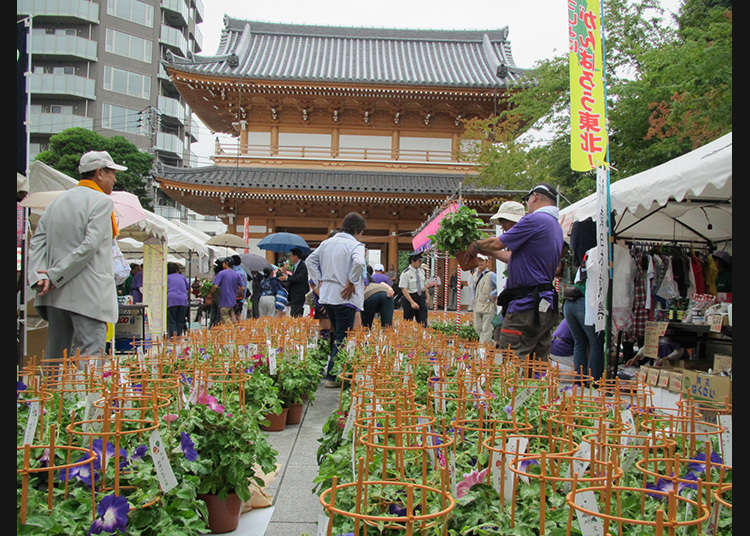 Image courtesy of Bunkyo-ku
When: July 20 - 21

Colorfully blossoming asagao flowers occupy neatly arranged flower pots, all for sale at the Bunkyo Asagao Market. This event takes place place at Zenokji temple, which is only a one-minute walk away from the famous Denzu Temple.

Look forward to various events all around the neighborhood during the festival, such as an exhibition of exceptionally beautiful flowers that don't look at all like your regular Morning Glory flowers. The Denzu Temple, at which the market is being held, is connected to the Tokugawa family who were once the Shoguns of Japan. Tokugawa Ieyasu's mother Odai-no-kata as well as the second Shogun Tokugawa Hidetaka's daughter Senhime are buried at the temple.
伝通院

Address

3-14-6 Koishikawa, Bunkyo-ku, Tokyo-to 112-0002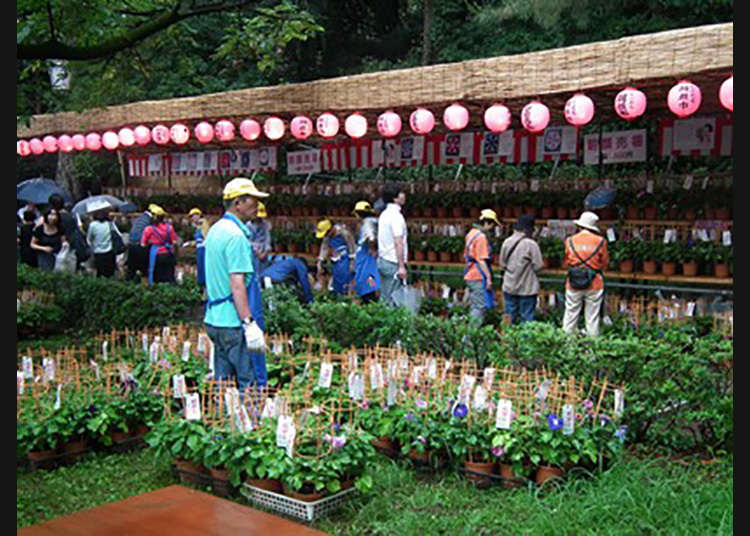 When: July 6 - 7

In the suburbs of Tokyo lies the city of Kunitachi, home to the Hitotsubashi University. The Kunitachi Asagao Market is held at the university's southern main gate and the green belt of the university street. Around 2,000 different potted morning-glories can be found and purchased at this bustling market – all plants that are on sale were grown in the "Asagao Village of Kunitachi".

The beautiful flowers aren't the only wonders to be found here, however. Various traditional crafts and products, such as glass wind chimes or the produce of local farmers, are on display as well. The wind chimes jingle whenever a breeze is caught in them and they can often be seen hanging from the eaves of Japanese houses during the summer months.
一橋大学

Address

2-1 Naka, Kunitachi-shi, Tokyo-to 186-8601
Hozuki Market at Senso-ji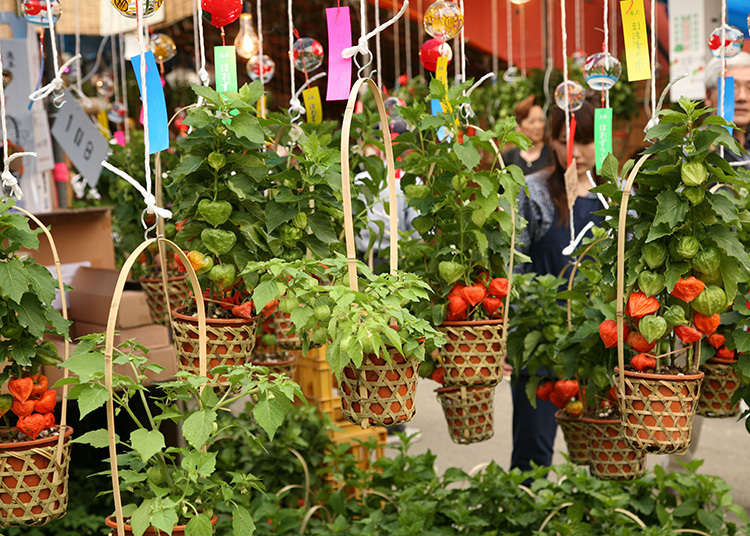 When: July 9 - 10>

This hozuki market is being held at Tokyo's oldest shrine, Senso-ji, which was constructed in the year of 628. Also called the "Kannon-sama of Asakusa", the temple is one of Tokyo's most popular tourist destinations. During the market, around 120 different shops line the temple grounds to present and offer their Chinese lantern plant varieties.

A lot of people enjoy this summer festival dressed in colorful yukata and it is said that if you visit Senso-ji on the 9th and 10th of July, divine favor equal to 46,000 temple visits will be bestowed upon you. Furthermore, kaminarijo, protection charms against thunder and bad weather in general, are sold only during these two days.
Address

2-3-1, Asakusa, Taitou-ku, Tokyo, 111-0032
View Map

Nearest Station

Asakusa Station (Tokyo Metro Ginza Line / Toei Asakusa Line / Tobu Isesaki Line (Tobu Sky Tree Line) / Tsukuba Express)
5 minutes on foot


Phone Number

03-3842-0181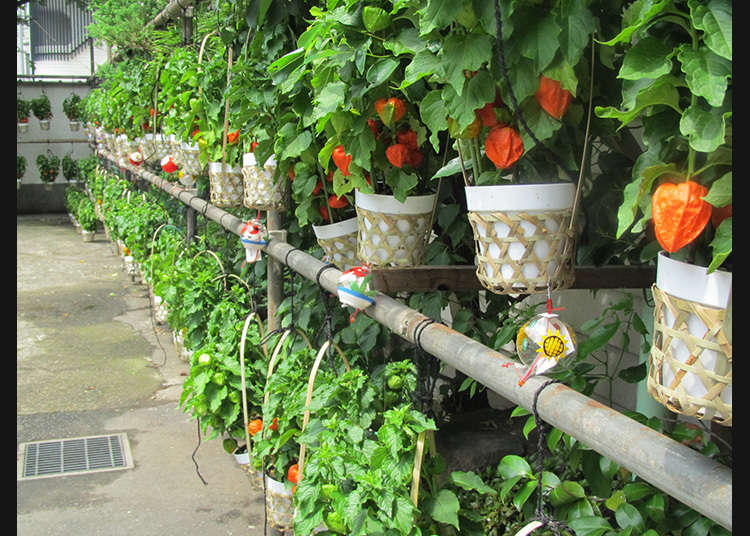 Image courtesy of Bunkyo-ku
<July 22nd (Sat) - 23rd (Sun)>

Beautiful vermilion-colored, potted hozuki are up for sale at the market taking place on the grounds of Genkaku-ji in Bunkyo District's Koishikawa neighborhood. Genkaku Temple also goes by the name of Konnyaku Enma and has been believed to cure eye ailments since ancient times. Many people offer konnyaku, yam cakes made out of the konjac plant, to the statue of Enma on the temple grounds – Enma is the Buddhist lord of the underworld realm. Several events such as a stamp rally taeplace during the two days of the market, and look forward to snack on a variety of konnyaku snacks!
源覚寺

Address

2-23-14 Koishikawa, Bunkyo-ku, Tokyo-to 112-0002
The Hozuki Market at Asahi Shrine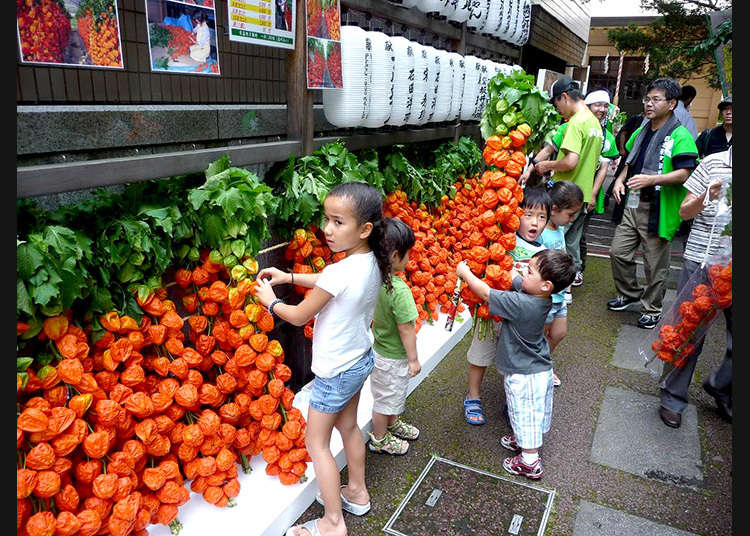 <When: July 5 - 6|b@>

Minato-ku's Roppongi also has its very own hozuki market, taking place at Asahi-jinja. Sponsored by the town of Hinokage in Miyazaki Prefecture, this market sells the famous hozuki products of this very area. The entire road leading up to the shrine is lined with Chinese lantern plants bearing fruit, often more than ten growing on one stem and the entire grounds seem to be dipped in a bright vermilion red color.

One characteristic of the Hinokage Hozuki is their size – the fruits are often bigger than 10 centimeters in diameter! Apart from these magnificent plants, Hinokage bamboo ware and other regional specialties are also exhibited – some things are even for sale. The Hinokage Kagura performances, a traditional and theatrical Shinto dance, are an especially interesting event that takes place during the market.
朝日神社

Address

6-7-14 Roppongi, Minato-ku, Tokyo-to 106-0032
*This information is from the time of this article's publication.
*Prices and options mentioned are subject to change.
*Unless stated otherwise, all prices include tax.
Recommended places for first-time visitors to Tokyo