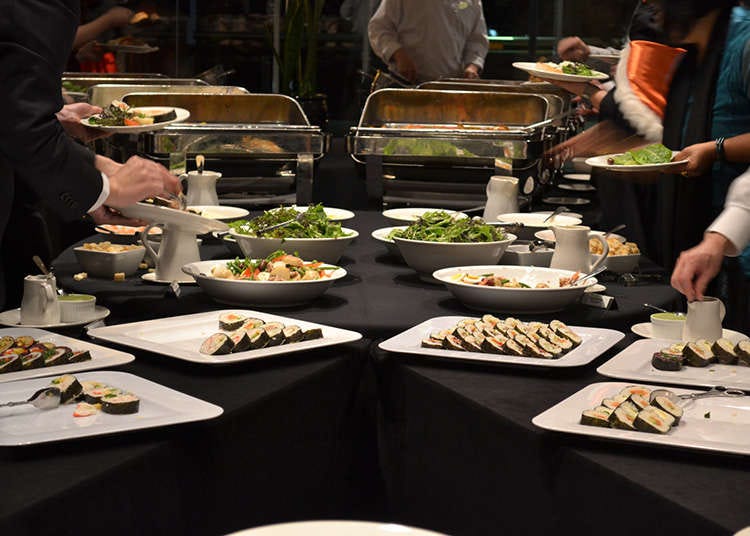 We strongly recommend that you try an all-you-can-eat buffet-style restaurant while visiting Japan. These are perfect for times when you would like to try several different kinds of foods or when people in your group want to eat very different things. We also encourage you to try a buffet-style restaurant if you are unsure about how to order food: in this type of restaurant (called "Viking" or "Buffet" in Japanese) you simply choose your food from a selection on a buffet table so you don't need to order individual dishes. You will find "Viking" meals and specialized "Viking" restaurants all over Japan.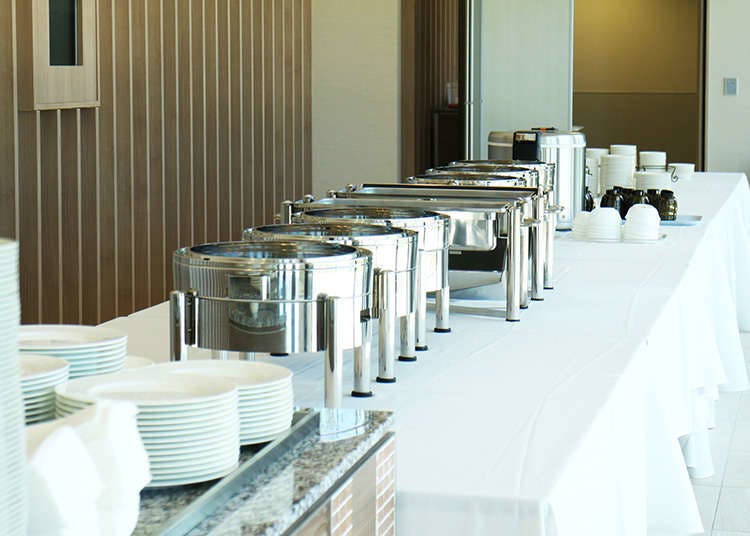 At the buffet restaurant you can have as much food as you want for one fixed price. In most buffet-style restaurants, you will choose your own food and bring it to your table. But there are some places where the main dishes are served by waiters and waitresses and you only choose the side dishes and desserts from a buffet counter. Many buffet restaurants set a time limit for your meal, usually between 1-3 hours, and some places say you can take as much food as you want, but you cannot leave anything on your plate when you are finished.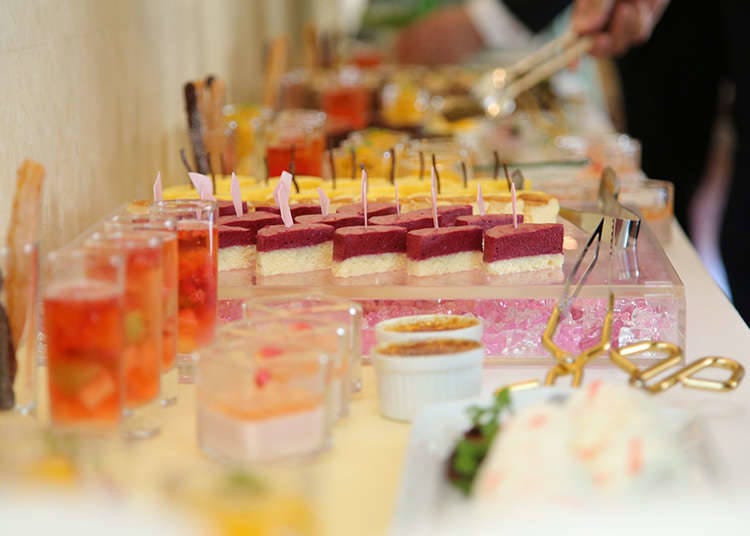 At many high-end hotels, they have all-you-can-eat service morning, noon and evening. You may see many different types of food, such as Washoku (Japanese), Western food or Chinese, and a line-up of dozens of items from appetizers to desserts. Some restaurants feature chefs preparing certain dishes right in front of you, what is sometimes called "live kitchen" in Japan. cooking just in front of you on live, shows you specialty. Expect to pay anywhere from 3000-6000 yen for lunch. Of course, you can enjoy these meals at hotel restaurants whether or not you are a guest at the hotel. The only thing to be careful of is that buffet lunches on weekends are particularly popular, and you may arrive at the restaurant only to discover that every seat is already reserved. So, go early or ask someone to make a reservation for you.
All-you-can-eat Courses at Specialized Restaurants
There are different types of all-you-can-eat meals, depending on the genre, including all-you-can-eat sushi, tempura or shabu-shabu (boiled pork and beef). In addition, there is an all-you-can-eat dessert course in some places, which is very popular with teenage girls. Many inexpensive family restaurant chains have a "Salad bar" where you can take as many plates of salad or light foods as you like. These are not real all-you-can-eat restaurants, but the salad bar operates on the same all-you-can-eat principle. Enjoy!
*This information is from the time of this article's publication.
*Prices and options mentioned are subject to change.
*Unless stated otherwise, all prices include tax.