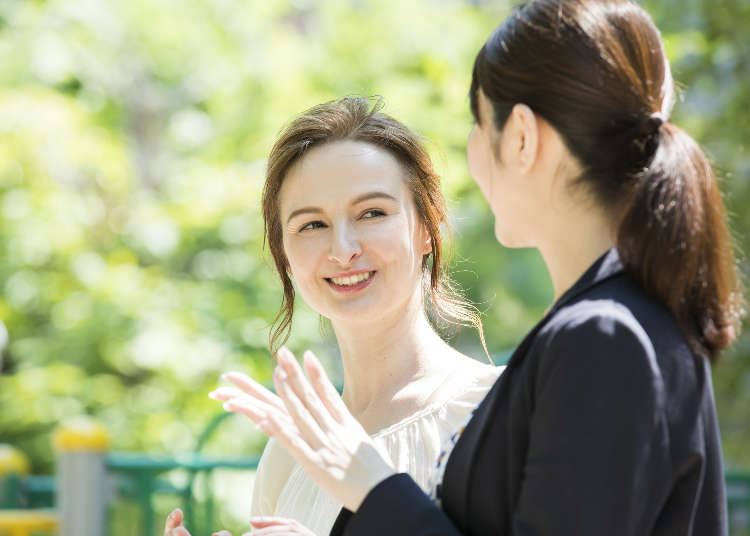 Here are some basic phrases for daily conversations. For those who already have learned Japanese before visiting Japan, please use them as a review.

$photo:PIXTA$
Excuse me. (When getting someone's attention)
すみません。
(su-mi-ma-sen.)
いくらですか?
(i-ku-ra des ka?)
これをください。
(ko-re o ku-da-sa-i.)
わかりました。
(wa-ka-ri ma-shi-ta.)
わかりません。
(wa-ka-ri ma-sen.)
ありがとうございました。
(a-ri-ga-tō go-za-i ma-shi-ta.)
おはようございます。
(o-ha-yō go-za-i mas.)
こんにちは。
(kon-ni-chi-wa.)
こんばんは。
(kon-ban-wa.)
おやすみなさい。
(o-ya-su-mi na-sa-i.)
どういたしまして。
(do-u i-ta-shi ma-shi-te.)
はじめまして。
(ha-ji-me ma-shi-te.)
ごめんなさい。
(go-men na-sa-i.)
さようなら。
(sa-yō na-ra.)
Could you speak a little slower?
もう少しゆっくり話してください。
(mo-u su-ko-shi yuk-ku-ri ha-na-shi-te ku-da-sa-i.)
○○したいのですが。
(…shi-ta-i no des-ga.)
example of…
do shopping

買い物(ka-i-mo-no)
do sightseeing

観光(kan-kou)
visit a specific place to learn something

見学(ken-ga-ku)
Do you accept credit cards?
クレジットカードを利用できますか?
(ku-re-jit-to-kā-do o ri-yo-u de-ki mas ka?)
*This information is from the time of this article's publication.
*Prices and options mentioned are subject to change.
*Unless stated otherwise, all prices include tax.
Limited time offer: 10% discount coupons available now!