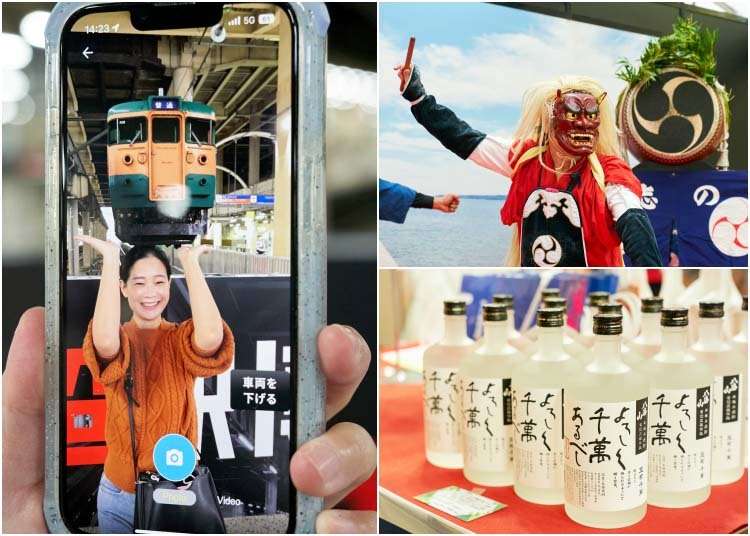 In celebration of 150 years of the Japanese rail industry, from October 14 to 30, 2022, the Beyond Station Expo UENO event was held at JR Ueno Station. It featured some unique exhibits, like an AR(Augmented Reality) train display and automatic ramen machines. Here's what LIVE JAPAN's editors encountered!
A "flying train" at Ueno Station!
We first visited the special exhibit near the 15 and 16 platforms, "Culture / History Zone - Travel Back 150 Years." The exhibit featured the Class EF64 electric locomotive, which connected Ueno to the Joestu and Hokuriku regions, plus the 115 series electric train, which serviced the Niigata area. These trains made the pick because Ueno is known for its many express trains that head to Hokuriku and Shinetsu.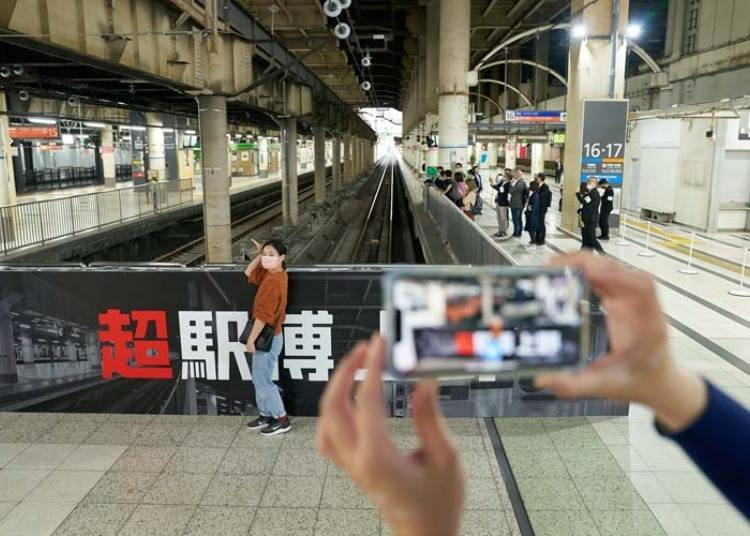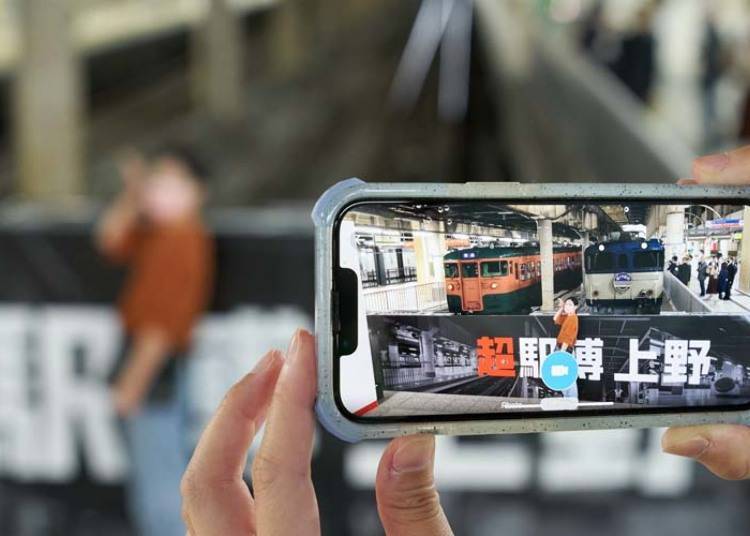 Notably, the exhibit didn't feature physical trains, but rather displays using AR technology. A specially made smartphone application allowed users to see the trains on empty rails!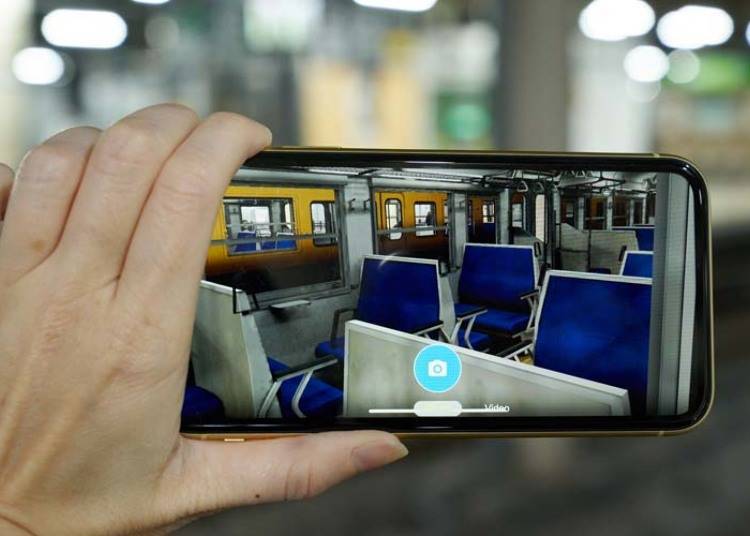 When we approached the train from the platform, the app gave us a look at the internals. This was no mere 3D model - it was created through photogrammetry, a process by which hundreds of photographs are used to create a true-to-life representation. You could see its seasoned seats and worn-down walls, and take pictures from any angle you liked.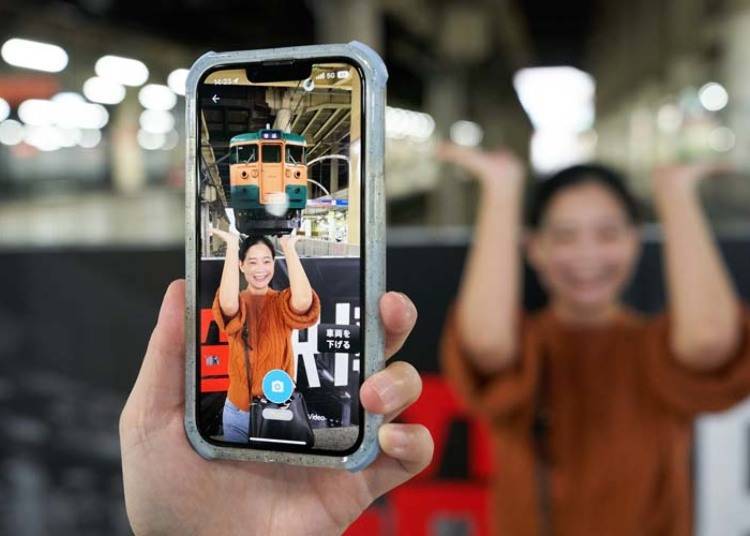 The application also allowed you to raise the virtual train into the air. This gave us a look at the usually hidden undercarriage and allowed for fun photo-ops where people appear to hold the train up. We got plenty of unique snapshots.

"I'm sure kids would love this project. The AR train is so detailed, you can see every single scratch and dent – it's really amazing to see such a real model." (American editor, Timothy)

"Taiwanese people like myself love chances for photos, and this has me itching to take a lot! It's fun how you can take more kinds of photos than you could with a regular train." (Taiwanese editor)

Our editors were just as astounded by this exhibit and the Japanese tech felt therein.
Spotlight on east Japan: Niigata and Sado experiences for all the senses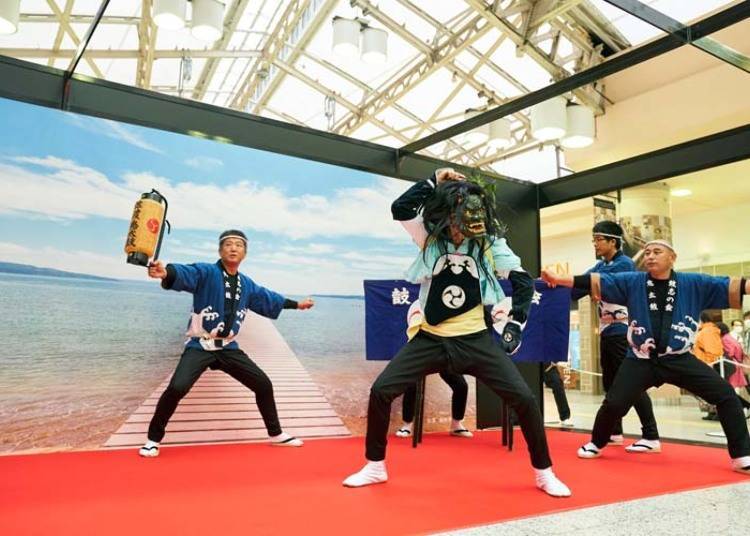 The "Local Life Zone" near the central ticket gate Grand Concourse had two events for the first and second halves of the vent. First, Sado was featured, then Niigata.
The big draw for the first half was the traditional performance, "Ondeko." Ondeko is a tradition in the Sado region, said to have been performed to pray for bountiful grain harvests and fish hauls. The sounds of taiko drum create its fierce rhythm, and the sight of its Oni dancers is exhilarating. Indeed, the entire editorial team was utterly overwhelmed by their first Onideko performance.

"Many of these events are held in local areas, so people visiting Japan get just a few chances to experience this kind of local culture. It's great that visitors could see this at a station here in Tokyo. These dances have a strong connection with Japanese culture, it's fascinating." (American editor, Timothy)

"The sounds of taiko and the dancing are amazing, entrancing even. People around the world often want to know more about Japan, so these kinds of events are probably popular." (Taiwanese editor)

"It's a neat idea, being able to experience foreign culture at a station. Korea also has taiko dances, but none with oni masks, so this was a novel thing for me. And time sure flew by, I wished it had lasted longer!" (Korean editor)

During the first period, there were performances of Sado folk songs like "Sado Okesa," "Aikawa Ondo," and "Ryotsu Jinku." There was also a presentation from students about their experience making local sake, titled "Sake from Sado's Gakko-Gura (Brewery School by Obata Shuzo) Made by Twenty-Year-Olds. "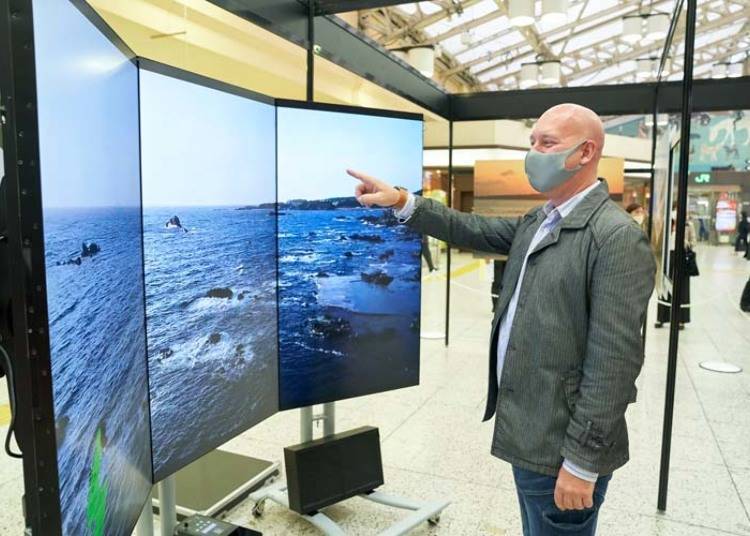 The "Local Life Zone" also featured a massive 55-inch three-panel display with videos about Niigata and Sado. Approaching the display, one would be bathed not only in the beautiful scenery of Niigata, but also in sound from directional speakers and Niigata scents from special diffusers. The sounds of the sea and forest from the high-fidelity speakers and natural scents made it feel like you really had left Tokyo far behind.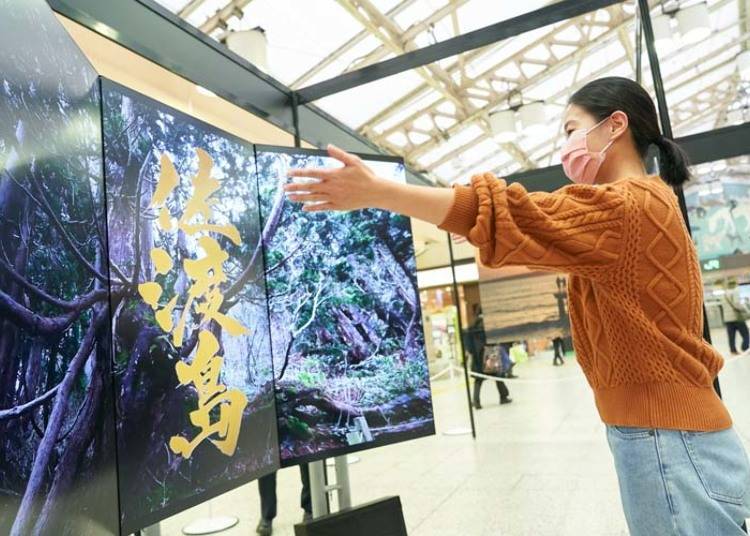 "The forest scents were very relaxing, I wish I could bottle it up and bring it home with me." (New Zealand editor)

To have that massive video display together with the scents was a striking new experience, I felt like I had really entered the world of Niigata." (Taiwanese editor)

"Those speakers made it feel like I was surrounded by forest. The pleasant natural scents were like cypress, or rice... I'd like to go and figure out what it really was." (Korean editor)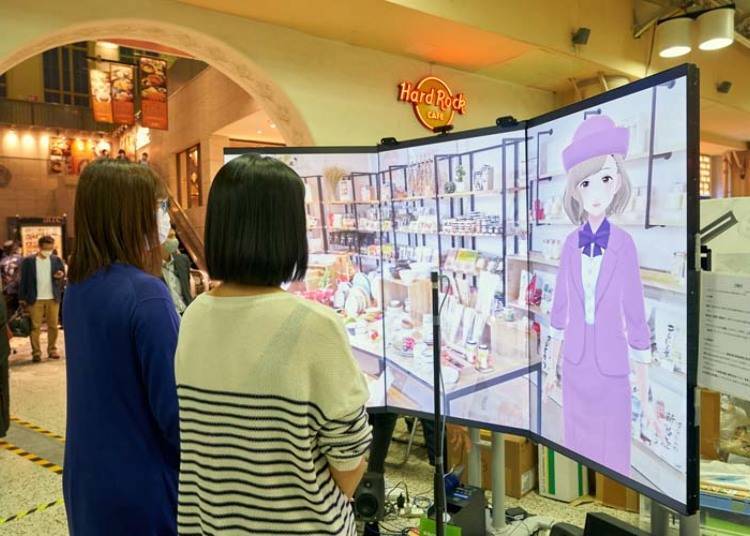 On October 29, a life-sized version of the digital avatar Aya Koishigawa was installed to introduce Niigata. Visitors could choose from talks about the sake-themed train "Koshino Shu*Kura" or walking routes in Nagaoka, famous for its fermented foods.

teracted with users during this time, sometimes asking, "And where are you from?" peppering her Niigata talks with conversation.

"The avatar's responses changed depending on where you're from, and each reaction was fun! The Niigata scenery was really pretty, and I barely noticed how much time was passing." (New Zealand editor)

"Tourism trains are a popular choice for tourists coming to Japan, and it was nice to find out what the buzz is about." (Taiwanese editor)
A Niigata produce market with sake and food from Japan's rice-growing heart
For the latter event, between October 25 and 30, a "Five Sense Experience - Niigata Produce Market" was held, featuring products from Niigata and Sado.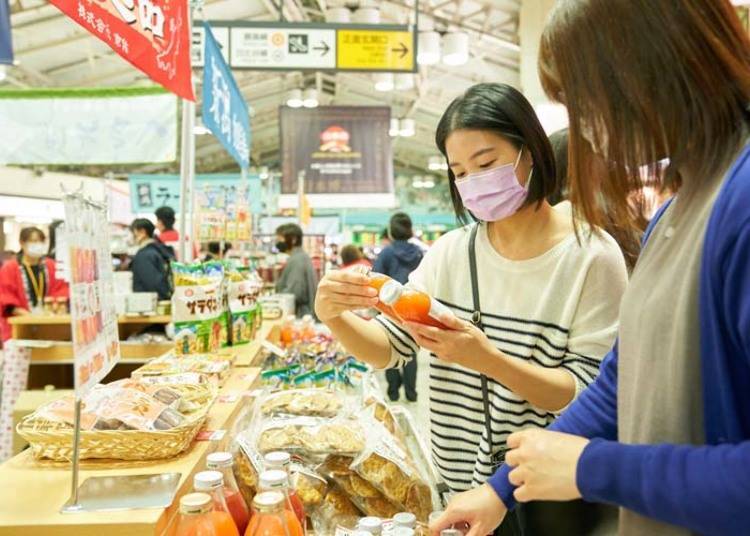 Some 400 products were on sale: rice, pickled foods, Niigata's famous "Hegisoba," the "Kaki no Tane" rice snack, and crowds of people were there to make purchases. As part of the "five senses" tagline, the diffusers showed up again, dispensing the scents of Niigata's famous rice crackers. The aromas of soy sauce and rice no doubt made the products seem that much more appealing to buyers.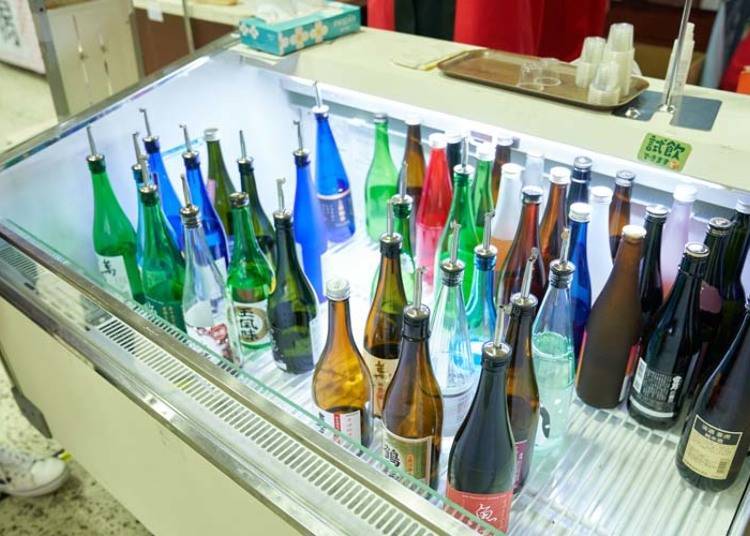 The sake booth was particularly popular. At this booth, one could taste-test over tens of varieties of sake made in Niigata, and you could get recommendations from the sellers. Niigata has both locally grown rice and excellent water, so its sake is known for its crisp and clean taste. A selection of sake was prepared for beginners to rice wine.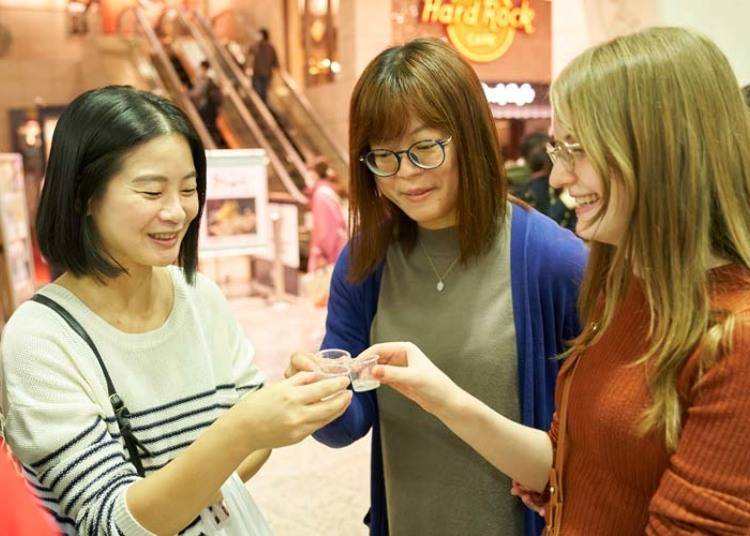 "I've only ever known Niigata for making loads of rice, so it was fun to walk around and see what else there was. The 'sasa dango,' dumplings wrapped in bamboo leaves, caught my eye. It looked amazing, so I wonder what it tastes like!" (New Zealand editor)

"When it comes to Niigata, rice and sake come to mind. People from Taiwan enjoy Japan's liquors, and often buy some to bring home, so it's nice to have such a great selection in Tokyo." (Taiwanese editor)
Piping-hot ramen in just 90 seconds! Ramen STAND makes it happen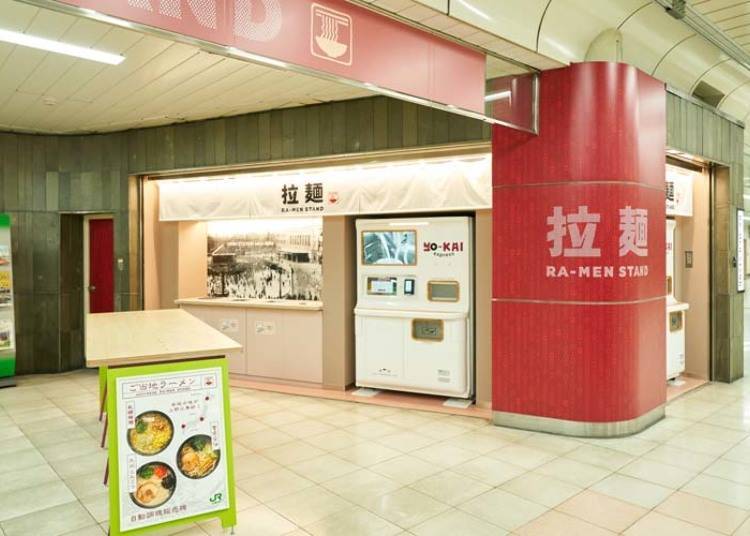 "Beyond Station Expo UENO" also featured vending machines for one of Japan's most famous cuisines, ramen. It was located at the B3 Shinkansen Concourse. Two Ramen STAND machines were available, and they could vend ramen in styles from all over Japan. The first line-up had a specialty of Niigata's Tsubame-Sanjo area: "séabura (back fat) ramen", and ramen in Tokyo, Sapporo, and Fukuoka styles.
One simply had to select a ramen they wanted to try on its touch panel, and the vending began. Our editors tried the séabura ramen.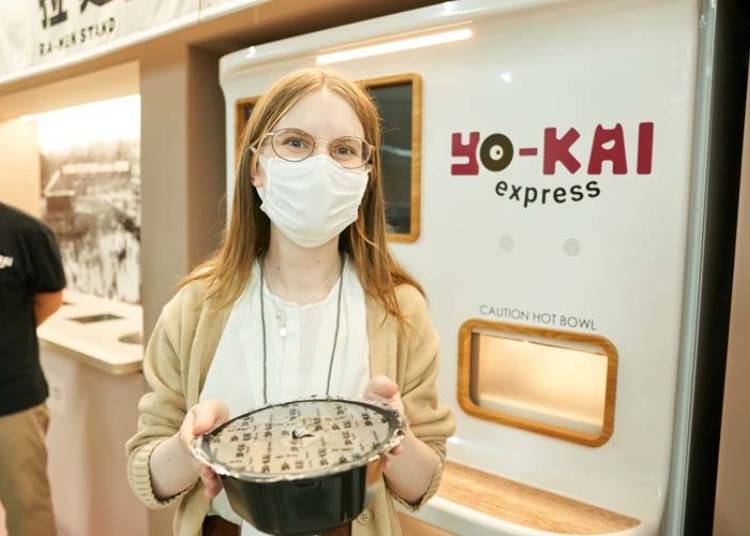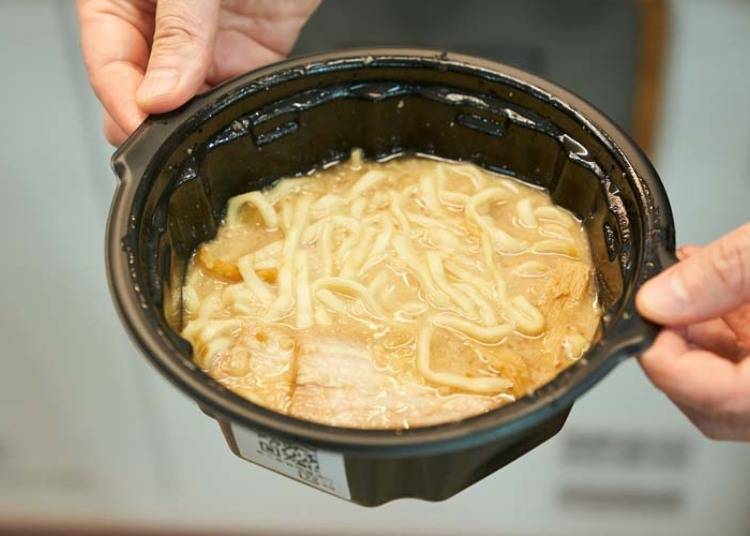 In the time it took to prepare the ramen, you could quickly catch the delicious scent of the soup being prepared. And in ninety seconds, the ramen was done! Careful, those bowls are hot.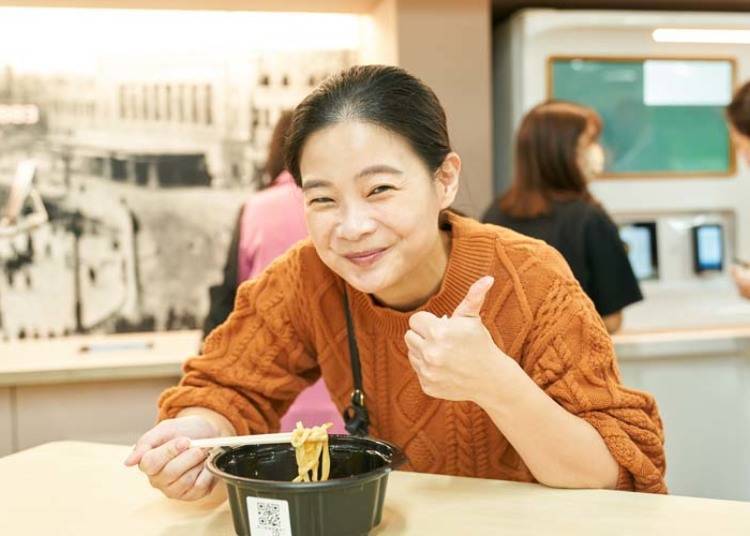 Séabura ramen is special for its fatty slices of pork and extra-thick ramen noodles. The pork fat dissolves into the soup, coating the ramen noodles in rich flavor! Between the hot soup and the firm noodles, it was hard to believe such a high-quality ramen could be made by a machine.

"Everyone knows about Japan's omnipresent vending machines, but it was unique to see that culture paired with ramen. I'd love to try the other flavors." (American editor, Timothy)

"It was fun getting to use the vending machines! Even the time you spend waiting is fun, so I'm sure many people couldn't help but give it a go." (Taiwanese editor)

"The flavors were authentic, and the creamy soup and springy noodles were delicious. I'd recommend it to anyone who likes Japan-style ramen." (Korean editor)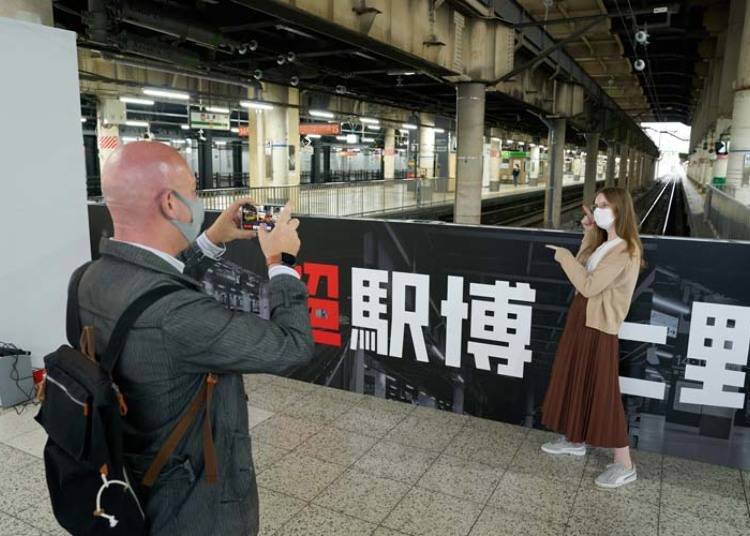 With its AR train exhibits, five-sense tourism experiences enabled by diffusers and directional speakers, and even ramen vending machines dispensing genuine flavors, Beyond Station Expo UENO was awash with the latest technology.

Experiencing this event celebrating the 150th anniversary of Japanese rail made one look even more forward to what Japan's railways and stations have in store for the future. When traveling in Japan, remember to check out more than just the destinations: remember that the stations and rails can be just as fun!
*This information is from the time of this article's publication.
*Prices and options mentioned are subject to change.
*Unless stated otherwise, all prices include tax.