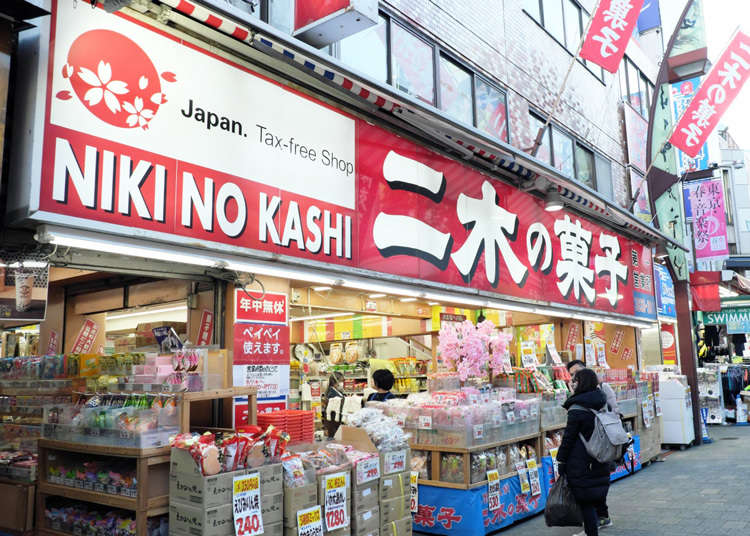 Looking for uniquely Japanese souvenirs to bring home? How about some variety packs from Niki no Kashi, a tidbit specialist store that sells snacks sourced from all over Japan?

Each bag contains a substantial amount of individually packed snacks, making them suitable for bulk buying as souvenirs to bring home for friends and family. And the prices are all extremely reasonable for the amount you'll be getting, too!

We've asked the shopkeeper of Niki no Kashi for his opinion, and here are his top 5 snack pack picks in a handy list!
Come to Ameyoko, a popular tourist destination!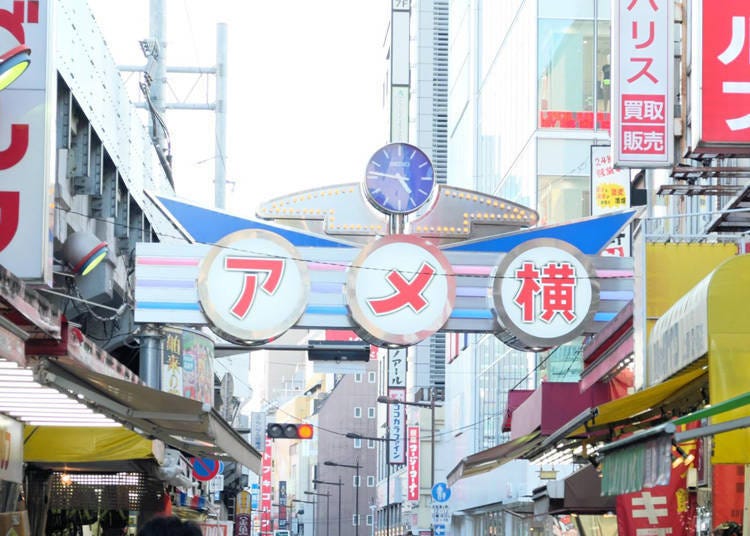 Rendering us assistance this time is Niki no Kashi's first branch, located in Ueno Ameyoko Shopping Street (commonly known as just Ameyoko), which is tightly packed with plenty of restaurants and general stores. The shopping street is only a 1-minute walk from Okachimachi Station on the JR Lines, or 8-minutes walk from Ueno Station.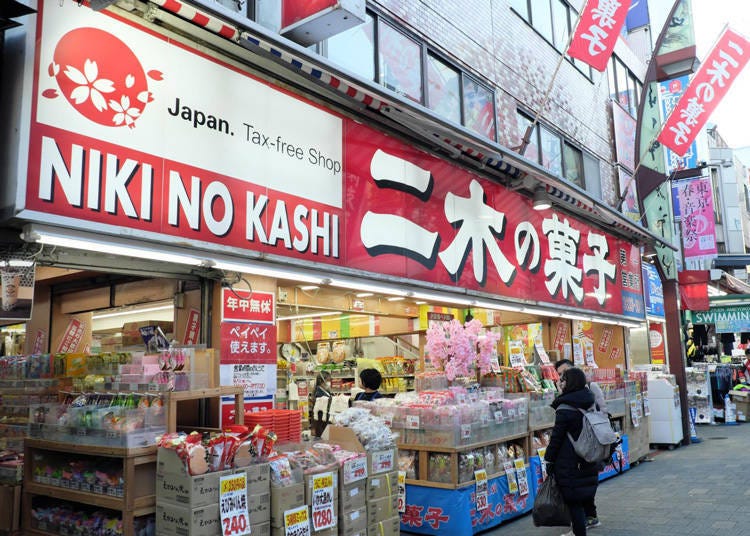 Ameyoko First Branch (tax-free shop)
The shop has a large and prominent signboard with its name, Niki no Kashi printed in bold, white text, making it hard to miss! With more than 70 years of history serving satisfied customers, some 1,000 to 1,500 visitors drop by the shop every day to browse through its selection of over 5,000 snacks and tidbits.

There are two floors in the shop where tasty treats such as chocolates, rice crackers, hard candy, soft candy, and sweets of all sorts are stacked ceiling-high for visitors to peruse. Snack fans make it a point to visit Niki no Kashi whenever they're in Tokyo because of the huge variety on offer, so why not check out the store to see if it lives up to the hype?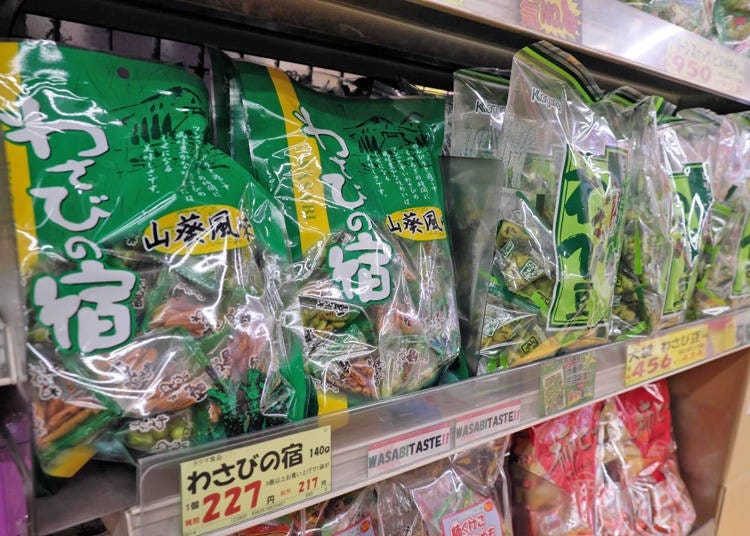 Stinging wasabi flavors, as you would expect from a Japanese snack!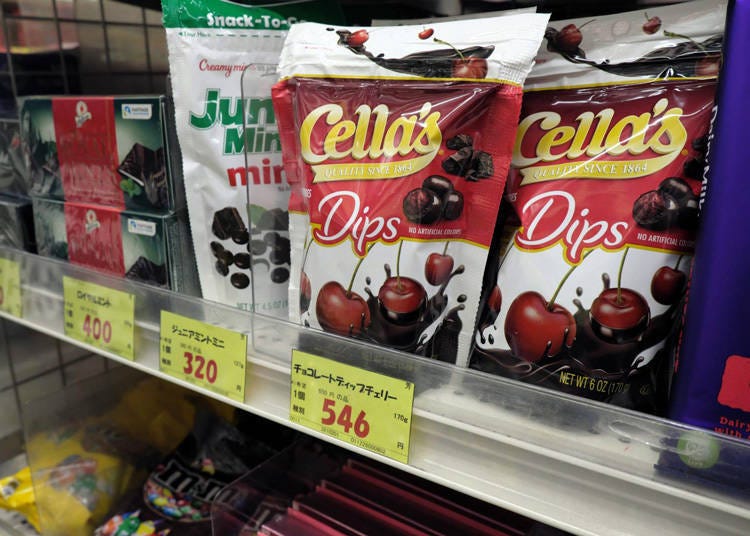 Plenty of snacks from other countries too!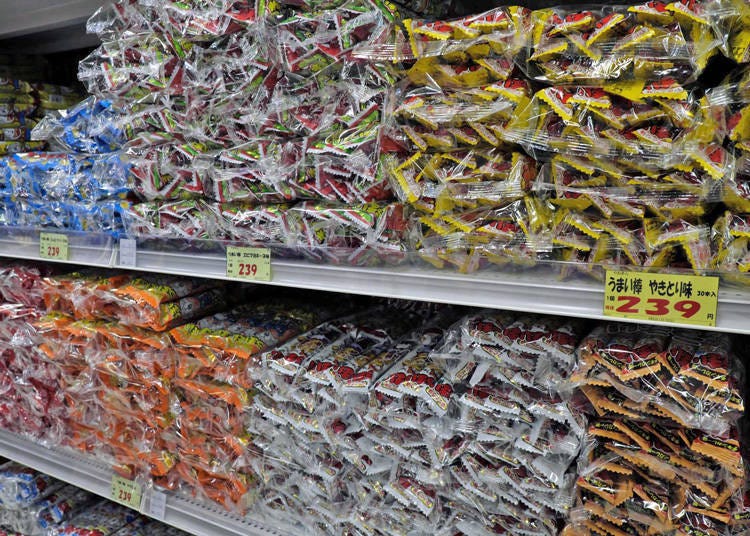 Umaibo are being sold in large packs here! These puffy corn sticks have been a perennial favorite among locals for years. Each bag contains a hefty 30 individually wrapped pieces and only costs 239 yen! Since each umaibo cost 10 yen per stick usually, buying them in bulk like this is clearly the most economical choice.

The wide range of snacks available in Niki no Kashi is simply mind-boggling - from snacks that can commonly be found in regular Japanese households to rare treats that aren't being carried by supermarkets or convenience stores. The main appeal of the store is that customers get a really sweet deal when they buy their snacks in bulk packs. In any case, this shop is a must-visit place of interest for tourists who happen to find themselves in Ameyoko!

Unsure of what exactly to get as souvenirs? Here are some recommended variety packs for your reference!
Top 5 Snack Pack Selections for the Clueless Souvenir-Hunter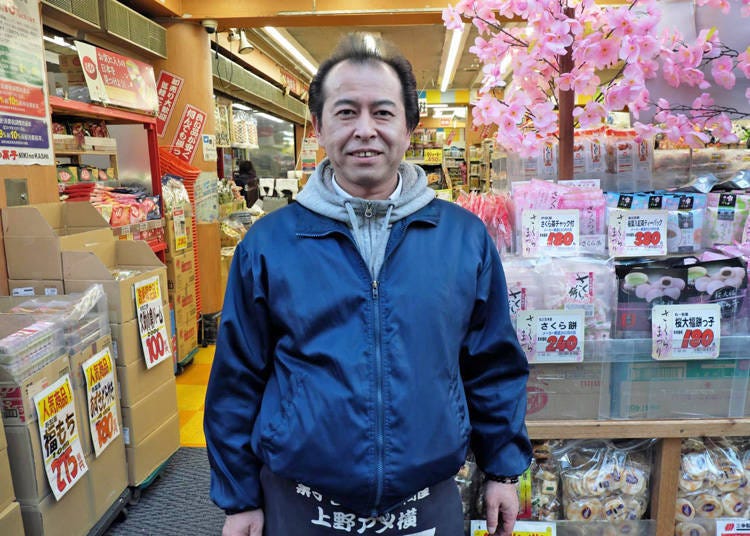 The shopkeeper of the first branch, Mr. Yasunori Nakagawa is at our service. Having seen countless snacks throughout his long career, he exercises his professional insight to pick out five variety packs that will make great souvenirs for anyone!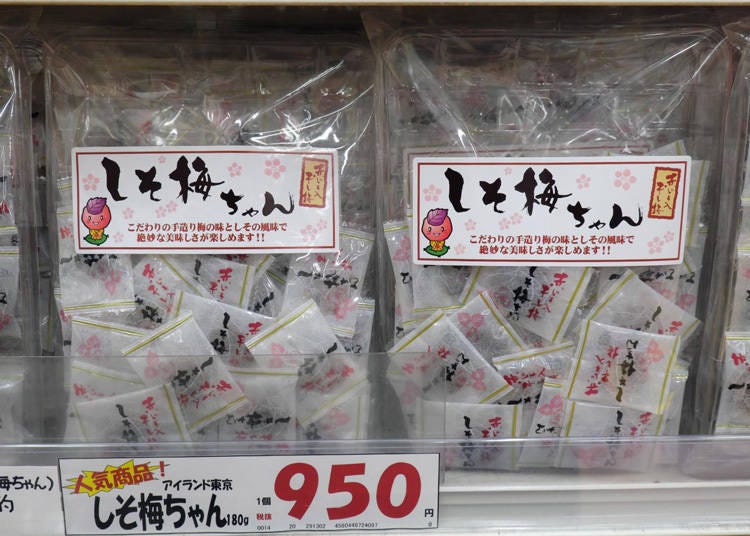 First on the list is "Shiso Umechan (950 yen)", an easy-to-eat dried pitted plum snack. Shiso, or perilla leaves were involved in the dehydration process, and this gives the dried plums a slightly milder taste. Shiso Umechan is popular for being "that plum snack even people who don't like its usual salty taste can enjoy". The dried plums go well with green tea and they are often offered as tea snacks in traditional Japanese-style inns.

Mr. Nakagawa was able to give his input when the product was in preproduction, too. No wonder it comes highly recommended by him!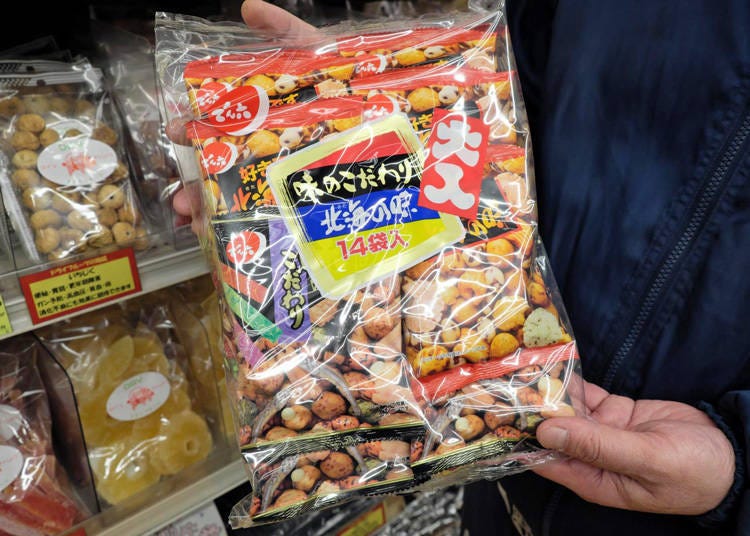 The next item to keep an eye out for is the "Large Pair Pack - 14 Bags (475 yen)". This pack contains a selection of different kinds of rice crackers and dried minnow and is highly recommended for customers looking to try out a wide range of tastes. The dried minnow enhance the overall flavor and may cause you to finish eating everything before you even realize it!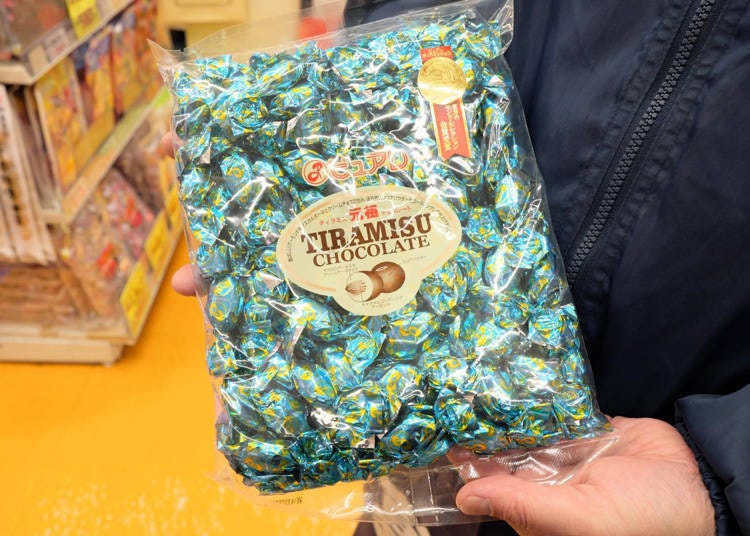 "Tiramisu Chocolate 500g (1,580 yen)" is the one product that Mr. Nakagawa recommends the most. Each individually wrapped candy contains a fragrant almond center surrounded by mascarpone and cream chocolate, and each sweet is finished with a coat of cocoa powder for that irresistible tiramisu taste.

This product is so highly regarded, in fact, that it won the Monde Selection Gold Award and is internationally recognized as quality chocolate. There are many other products with a similar concept, but Purelait's Tiramisu Chocolate is the recommendation here and you'll find it being displayed right in front of the shop. Look for the words "Ganso" in Japanese, a brand that marks the product as the original.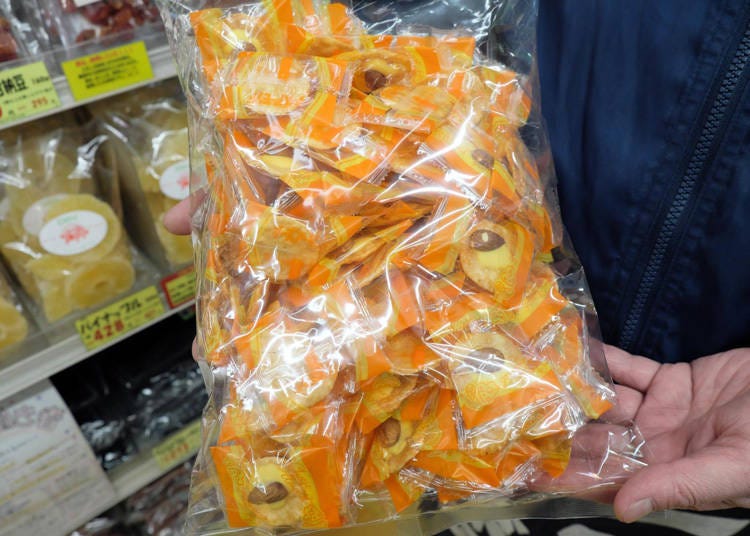 Next on the list is "Cheese Almond 280g (840 yen)". These light and crispy thin-baked rice crackers combine cheese cream and almonds - both ingredients widely used in Japanese and Western cuisine into a snack that delights the taste buds of people from all nations. Ever since its release in 1985, it has become a standard snack in most Japanese households and are eaten as tea snacks or given to children as treats.

The usual "Cheese Almond" pack contains 16 individually wrapped snacks, but the pack that can be bought here contains double that amount! If you like cheese, rice crackers, or almonds even just a little bit, this is something you absolutely have to try out!
The last recommendation is "Almond Fish (515 yen)". As the name indicates, this is a snack made of fragrantly roasted almonds mixed with dried minnow - the perfect finger food to go along with an alcoholic beverage! Because the snack is rich in calcium and nutrients, it's also served in school lunches. Buy some back as souvenirs for friends with families to show that you care!
Niki no Kashi has a whole lot more to offer!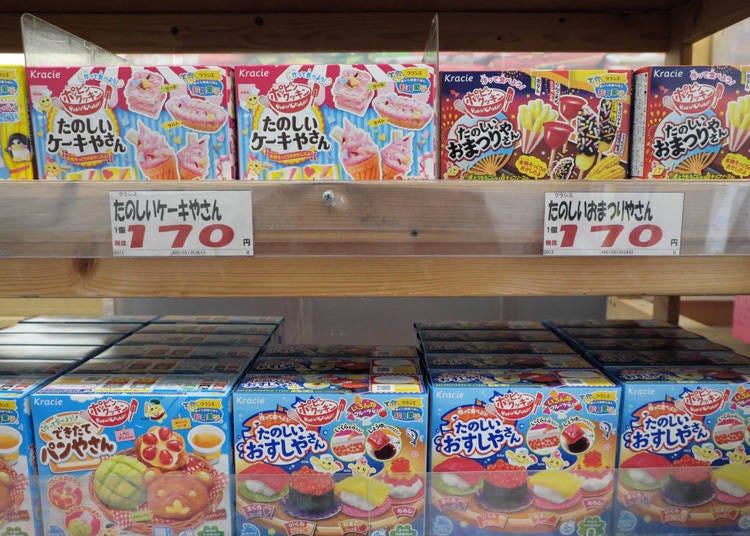 Besides the five items listed in this article, Niki no Kashi is fully stocked with other kinds of other snack packs as well. Some of them even come with free figurines or cards! You'll also find novelty snacks designed to walk you through the process of making sushi or bread so that you can have some fun with your food. Other snacks are specifically wrapped or boxed as souvenirs to save you that extra step. Whatever it is you're hoping to find, you're very likely to find it in Niki no Kashi.

Besides buying the snack packs here as souvenirs, you can also consider getting some to chew on throughout the rest of your trip in Japan.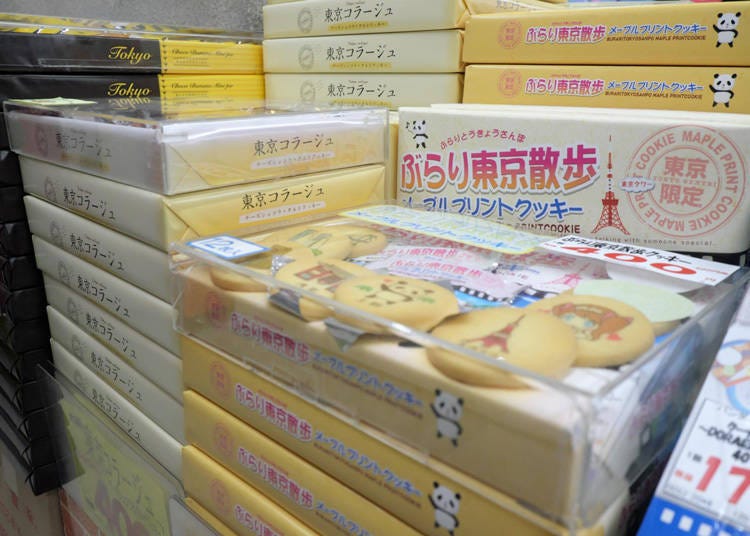 Niki no Kashi is an ideal shop to visit if you're stuck on ideas about what souvenirs to get for your loved ones back home!

*All prices in the article exclude tax.
*Information accurate as at March 2020.
*This information is from the time of this article's publication.
*Prices and options mentioned are subject to change.
*Unless stated otherwise, all prices include tax.