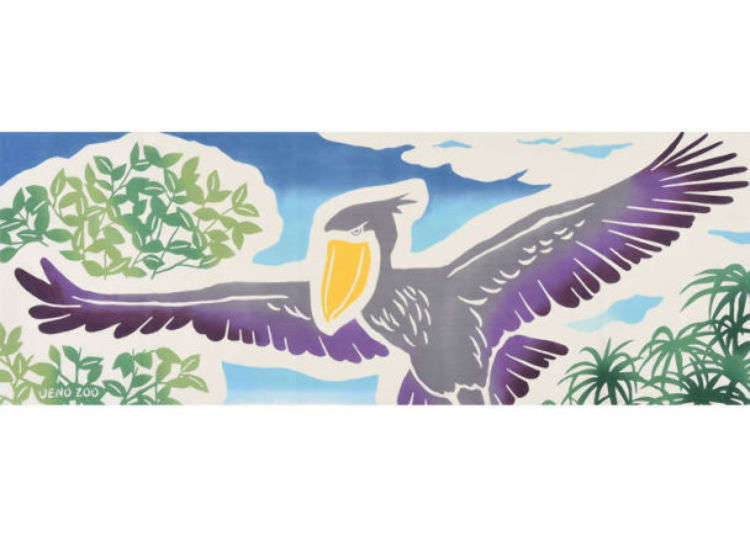 The popular Ueno Zoo gift shop is a go-to place for cute animal-themed souvenirs. Inside the zoo, visitors can look forward to admiring and coming into contact with all kinds of animals, from the majestic to the adorable. Some 350 species of animals are being kept in 2,500 spots here, including well-known faces like the giant panda, Asian elephant, and polar bears.

Here, we'll be showing off some fairly unique souvenirs from the Ueno Zoo gift shop, as recommended by experienced shop staff themselves! The list will be presented in ranking-style in order of ascending popularity.

(*As of April 13, 2020, Ueno Zoo has been temporarily closed to prevent spread of the novel coronavirus. Please check Ueno Zoo's official homepage for more information.)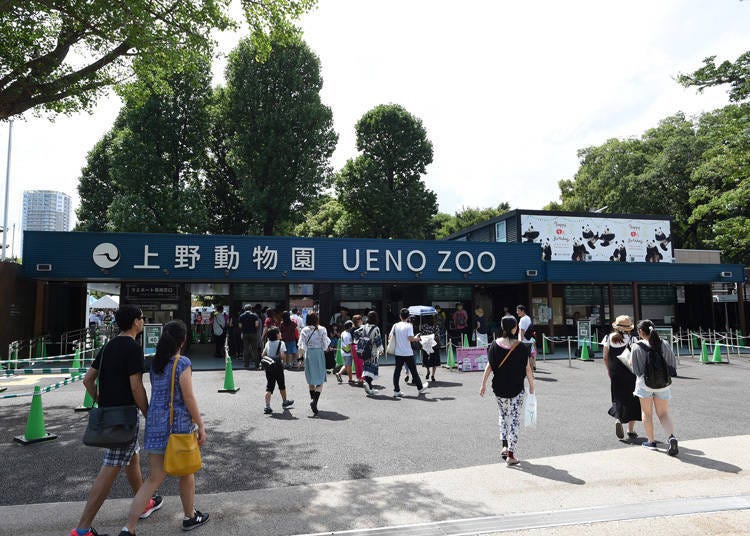 Picture credit: Tokyo Zoological Park Society
Ueno Zoo is split into two sections - the East Garden located near Ueno Station on the JR Lines, and West Garden that faces Shinobazu Pond.

The Ueno Zoo gift shop serving East Garden is called Little Trunk, whereas Petit Chameleon is the gift shop in West Garden.

For this article, we've collaborated with Little Trunk by asking shop staff for five of the most unique gifts they would recommend visitors to take home as souvenirs!

(*Information is accurate as of March 2020. Product lineup may have changed since then.)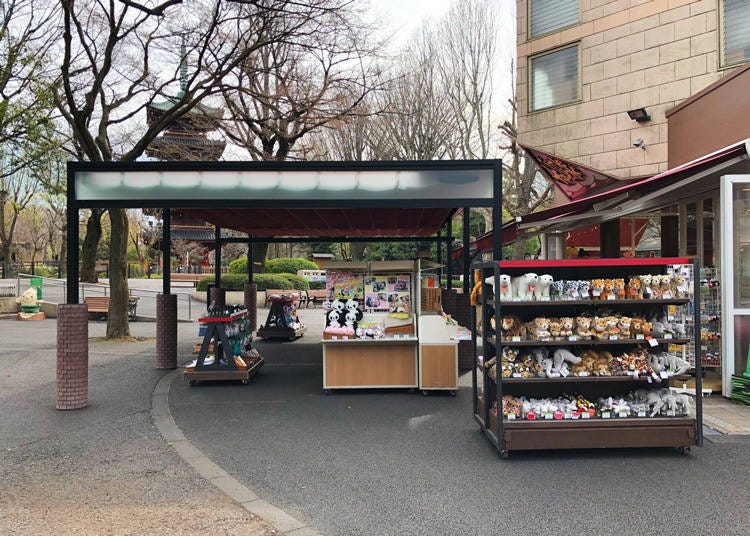 About Little Trunk
A gift shop operating in Ueno Zoo's East Garden that sells a variety of popular goods based on the animals on exhibition in the park, like the famous giant panda!

The shop also keeps abreast of the times, implementing eco-friendly measures such as only providing bags when a customer asks for them, with the purpose of contributing to environment conservation.
(5th Place) Masking Tape: Covered with pictures of popular animals!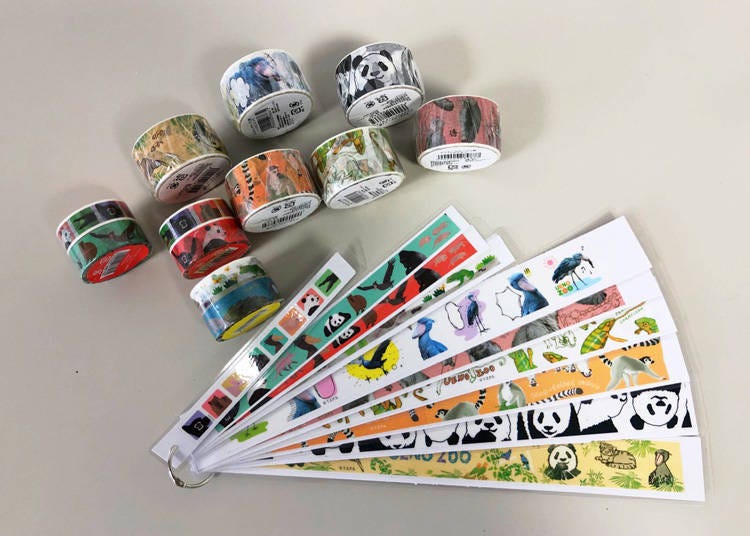 "Masking Tape (528 yen, tax included)", "Masking Tape Set (715 yen, tax included)"
These colorful masking tapes come printed with pictures of the zoo's popular animals, from giant panda to shoebill storks and Pallas' cats.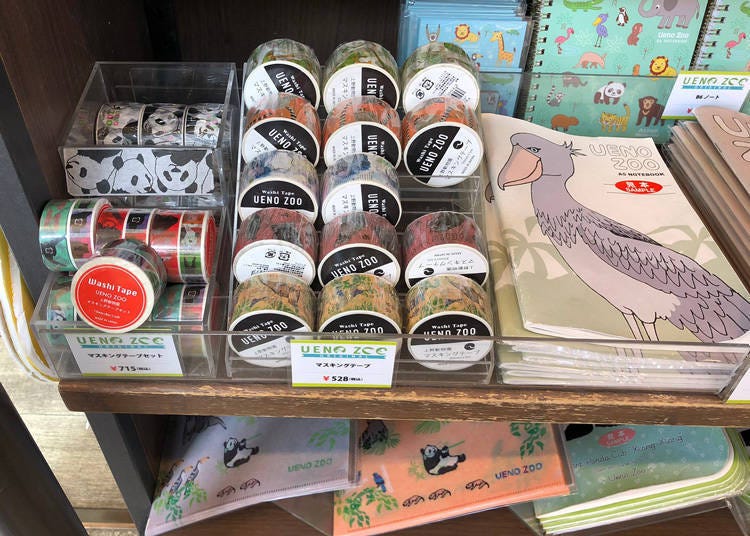 There is a total of nine different sizes for you to pick from to suit your needs as well! Japanese paper is the material used to make the tape, and special work has gone into making them palatable as souvenirs for overseas visitors.

Currently, there's even a tape that was designed as part of a collaboration with the special Hungerology exhibition being held at the vivarium section of the zoo. Definitely something to keep a lookout for!
(4th Place) Cube Puzzle: Nurture your child's intelligence with a fun animal puzzle!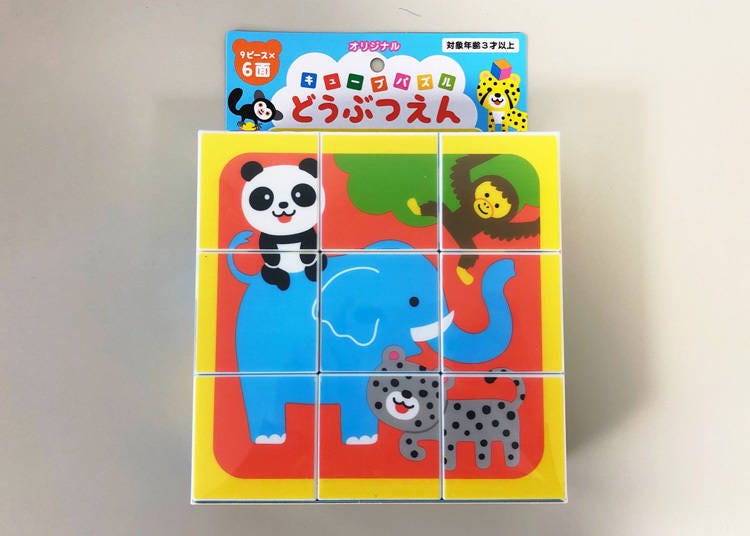 The "Cube Puzzle (1,650 yen, tax included)" is an intellectual toy for children ages 3 and up. It is made up of nine cubes - each cube sporting illustrations of animals on their six faces.

By putting them together in the right way, the child can potentially form six different pictures from this one puzzle. The ability to grow a child's intelligence in a fun and dynamic manner has great appeal among parents, and this product is unsurprisingly very popular among families with small children.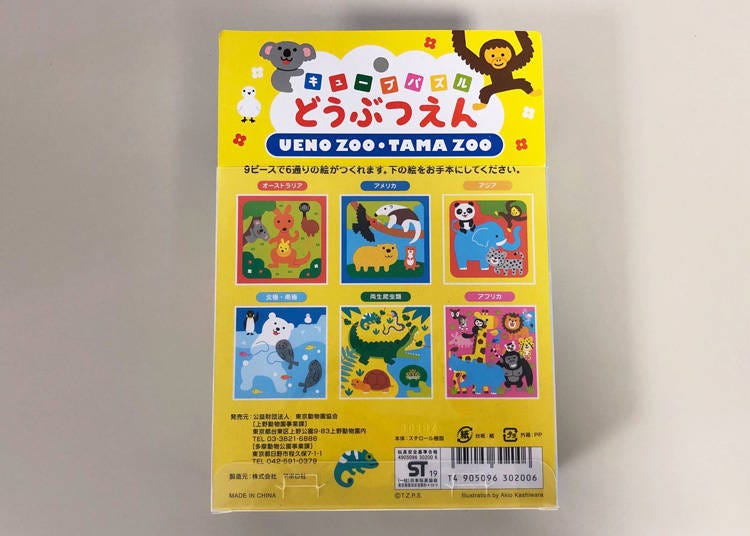 No need to worry about language barriers with this toy too, since it only speaks in a series of bright and cheerful images!

The Ueno Zoo gift shop has set up a play section in the shopfront where visitors can try out this cube puzzle along with a few other toys being sold in the shop, so that parents can gauge their children's reaction to the toys being offered and get the one that they're most interested in.
(3rd Place) Shoebill Tenugui (Hand Towels): Made with a traditional Japanese technique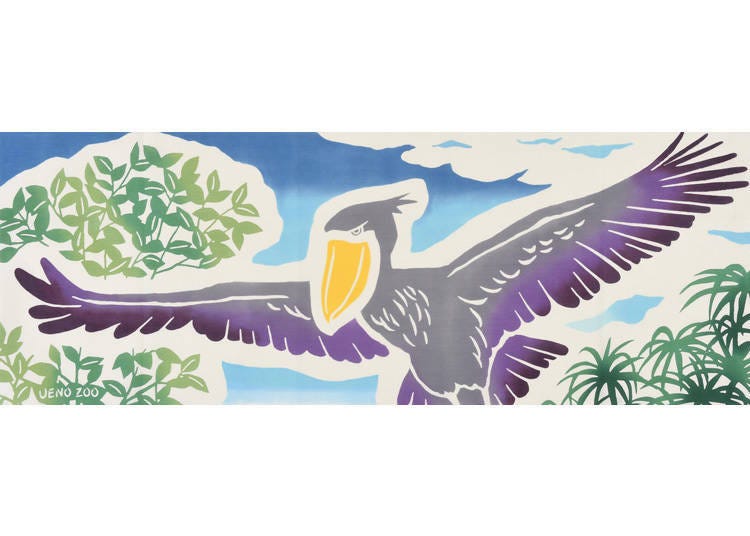 "Shoebill Tenugui for Picture Framing (1,430 yen, tax included)" Picture credit: Tokyo Zoological Park Society
These products were jointly developed with Kamawanu Co., Ltd, a company headquartered in Tokyo that sells branded tenugui, or hand towels. They feature the shoebill stork, the second most popular animal in Ueno Zoo after the giant panda.

There are two types of shoebill tenugui available. The one pictured above has been designed to be suitable for framing up as a picture display. The images on both were created with the traditional Japanese chusen dyeing technique, where the dye is applied by hand multiple times to ensure vibrant hues. This results in beautiful colors that has turned heads and captured hearts.
Next to the hand towel space on the shelf is a little stand that contains leaflets explaining more about Japan's tenugui to visitors from overseas who may not be familiar with them.

The leaflet also talks about how to use these interesting hand towels and provides a few illustrated example scenarios with English captions to make the pictures even easier to understand. As the hand towels are proudly made in Japan, there is a sticker on their packaging indicating as much.
(2nd Place) Muffler Towel: Versatile and useful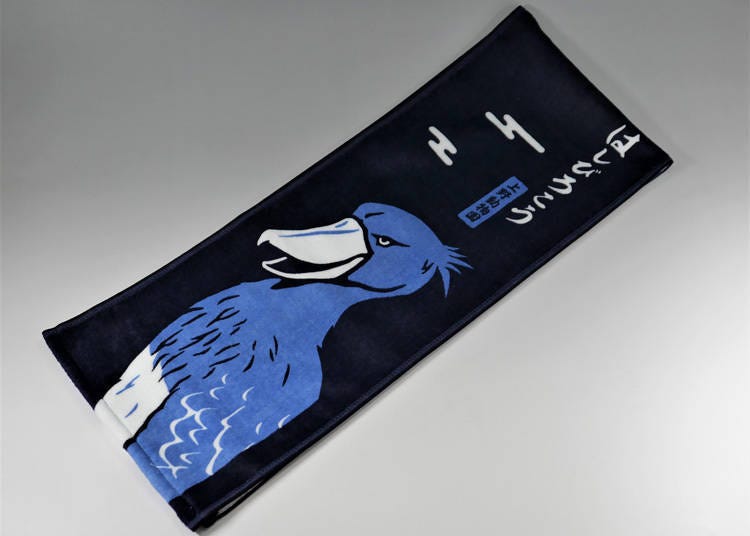 Another practical souvenir to look out for is the "Muffler Towel (1,265 yen, tax included)" with images of the shoebill stork on it. These images change once ever year, so many tourists buy at least one every time they visit the zoo for keepsake.

The design for 2020 has elements of Japanese culture in different places and that aspect of the towel is making it grow in popularity among international tourists as well!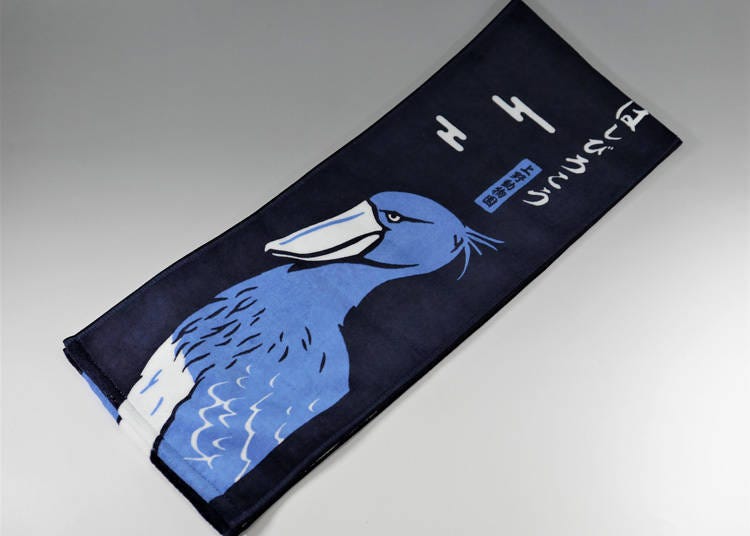 The shoebill stork even sports different expressions on different sides!
Designed to be the perfect length to drape over the neck as a towel during summer outdoor events or used as a muffler to protect against the cold in winter, it's no wonder this versatile item sees brisk sales year after year.

If you come to Ueno Park during summer, you may even see some visitors walking around with this very towel around their necks, using it to wipe off all that pesky perspiration!
(1st Place) Shoebill T-Shirt: A different look every year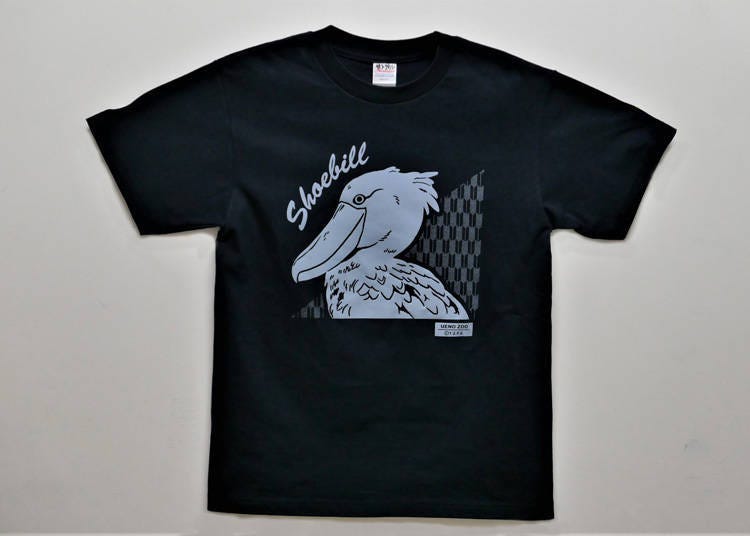 Picture credit: Tokyo Zoological Park Society
The "Shoebill T-Shirt (2,750 yen, tax included)" comes with a logo that spells out its name in English, and the iconic shoebill image is enhanced with a background patterned after feather fletching.

As you can see, the design is a bold mix of modern Western design and conventional Japanese taste, which means you won't feel out of place no matter which country you choose to wear it in! Like the muffler in second place on this list, the design of this T-shirt changes every year.

There are a few sizes to choose from, ranging from S to XL. However, note that the cutting for the T-shirt is unisex, so ladies might need to check the measurements carefully before selecting a size. Nevertheless, the T-shirt is sure to come in handy as casual wear or even room wear, depending on how you wish to use it.
Ueno Zoo welcomes visitors from overseas
In January 2020, the zoo opened an information center next to the general information center in East Garden called Tokyo Zoo Welcome Center, and it specifically caters to visitors from overseas.

This info kiosk is staffed with employees who can speak English and Mandarin Chinese, and their job is to provide information about places of interest in the vicinity, as well as English and Chinese guided tours twice a day.

The center is only slated to operate for a one-year period, so feel free to make full use of its services if you happen to see it during your visit!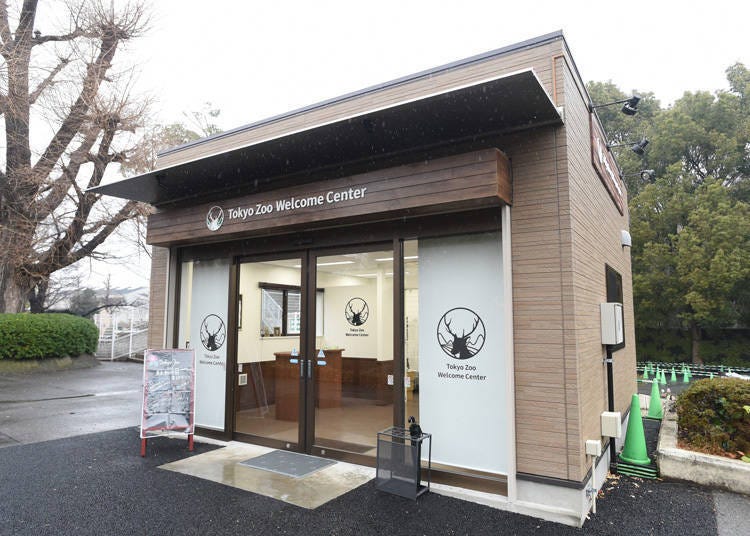 Picture credit: Tokyo Zoological Park Society
Near the entrance gates of the zoo, you'll find stands filled with guide maps that are marked in English, Mandarin Chinese, and Korean as well. Yet another thoughtful gesture by the park that you should make full use of!

All employees are equipped with a book with lines in English, Mandarin Chinese, and Korean that can be pointed at, for the purpose of carrying out a conversation during emergencies, so there's no need to worry about not knowing what to do during the unlikely event of a disaster or incident while you're visiting.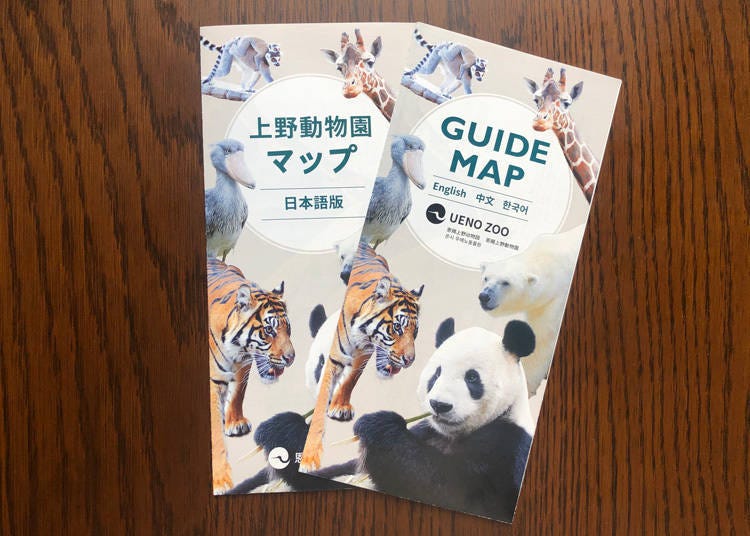 You've probably noticed that souvenirs designed after the shoebill stork occupies three spots in this top five list. This amusingly stoic-looking bird is truly the animal ace of the West Garden!

When you visit the West Garden to catch sight of this interesting animal, be sure to also check out other places of interest like the vivarium, small animal building, the area where rare animals are on exhibition, and other spots that set the section apart from the East Garden.

The souvenirs we've featured this time can only be gotten from Ueno Zoo, so don't hesitate to head down for a visit to check them out if there's something you like!
Address

9-83, Uenokouen, Taitou-ku, Tokyo, 110-8711
View Map

Nearest Station

Ueno Station (Hokkaido Shinkansen Line / Tohoku Shinkansen Line / Akita Shinkansen Line / Yamagata Shinkansen Line / Joetsu Shinkansen Line / Hokuriku Shinkansen Line / JR Keihin-Tohoku Line / JR Yamanote Line / JR Tohoku Main Line / JR Utsunomiya Line / JR Takasaki Line / JR Joban Line / JR Ueno Tokyo Line / Tokyo Metro Ginza Line / Tokyo Metro Hibiya Line)
5 minutes on foot


Phone Number

03-3828-5171
Written by Mae Kakizaki. English translation by Huimin Pan.
*This information is from the time of this article's publication.
*Prices and options mentioned are subject to change.
*Unless stated otherwise, all prices include tax.