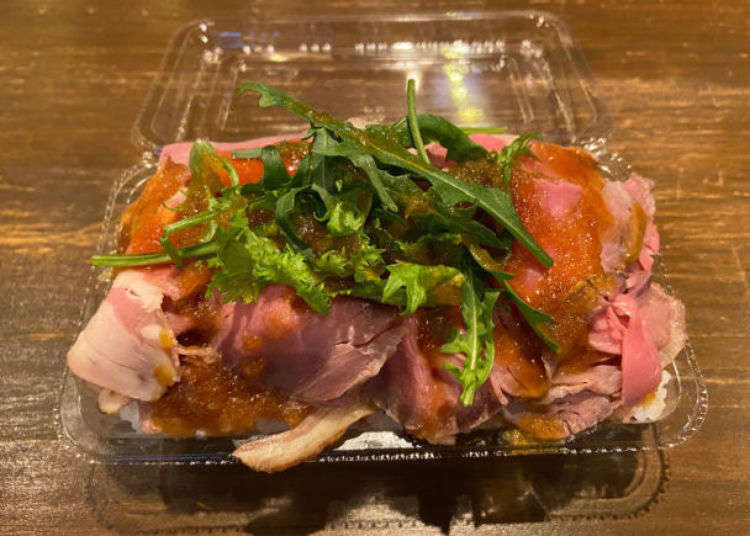 Ueno is an area frequented by tourists visiting Tokyo and is home to Ueno Park, a variety of cultural facilities, historical buildings and shopping spots. Highly accessible through the shinkansen, JR train lines and metro lines, Ueno also connects to many other locations within the city. But that is not all – Ueno boasts famous restaurants that even offer take-out options.

In this article, we will introduce three of our Ueno food recommendations where you can order take-out.
1. Kaisen Sushitsune Atre Ueno-ten: Enjoy Sushi At A Reasonable Price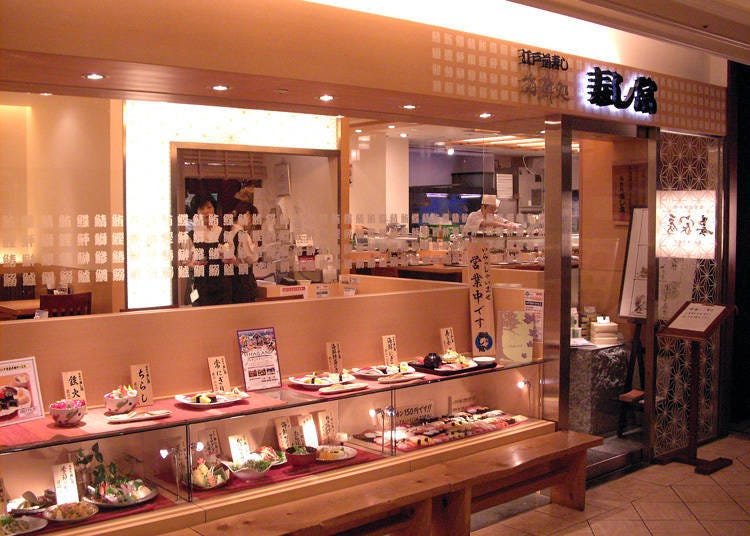 At "Kaisen Sushitsune Atre Ueno-ten," you can enjoy sushi made by professional sushi chefs for a reasonable price. Order sushi with your favorite toppings and watch the chef prepare them right before you at the counter!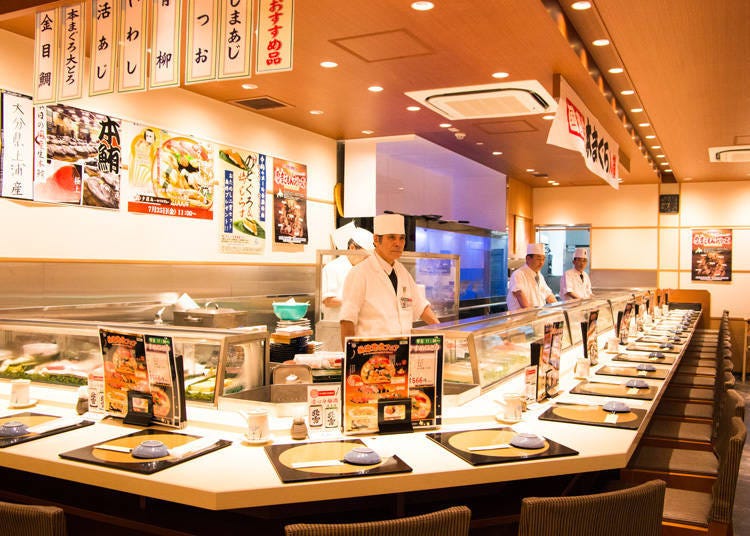 How is it that the restaurant can price their sushi so reasonably? The secret lies in the distribution channel developed by the shop itself in order to purchase fish at a low cost. The shop breeds fish at its own marine farms, which are located in various parts of Japan, to be brought to and kept in the fish tanks at the shop. Moreover, the shop also procures fish from ports nearby to be prepared on the day itself. Because Kaisen Sushitsune Atre Ueno-ten is able to ensure the freshness through the procurement of live fish, the customers can get to enjoy delicious sushi.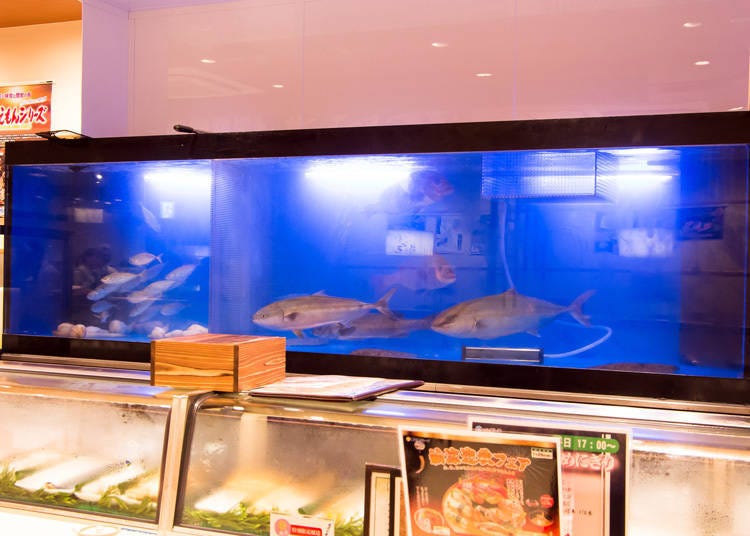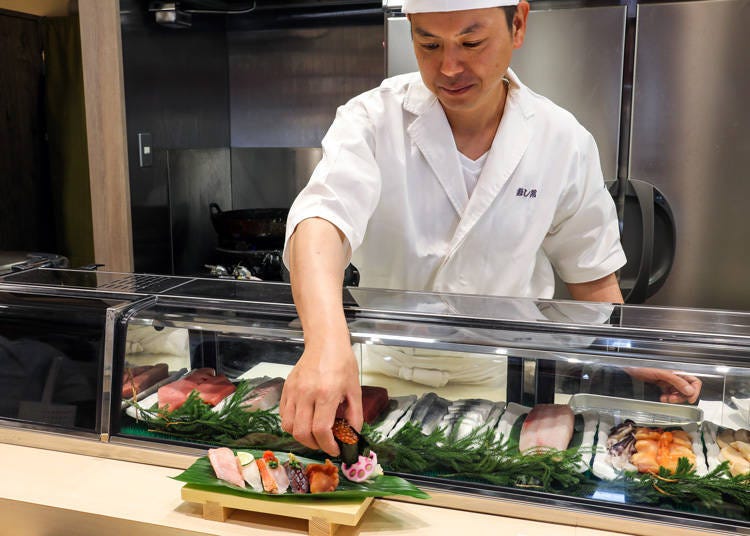 Sitting at the counter will grant you a more intimate experience where you can chat with the chefs while you place your orders. If you are worried about the costs, fret not, as the menu provided at your table will show you the prices clearly. The most expensive sushi at this restaurant is the "Ue Uni-no-Nigiri." Made with the best quality sea urchin, it costs 430 yen (tax-exclusive) per piece.

As for take-out, the shop has prepared a menu with options for various assortments of popular sushi toppings, so take your pick based on the number of people sharing the box, your preferences and budget!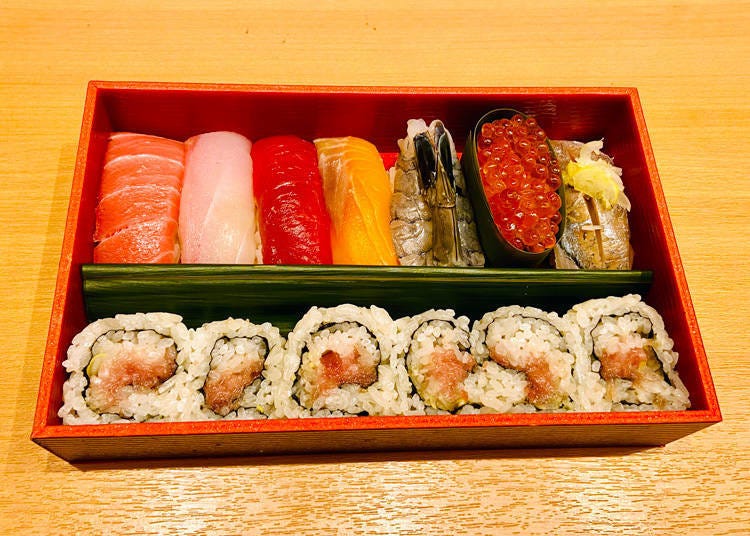 One of the options available is known as "Zaō" (1,780 yen). The toppings featured in the upper row are, from the left, medium fatty tuna, yellowtail, lean tuna, raw salmon, tenshi no ebi (obsiblue blue prawn), salmon roe, horse mackerel, whereas the lower row is filled with minced tuna rolls. Besides nigiri, there are other take-out options like the tuna rice bowl (2,080 yen), the special chirashi (2,200 yen), which is a rice bowl topped with an assortment of ingredients, tamagoyaki (rolled omelette), tempura and more. *All prices listed are exclusive of tax.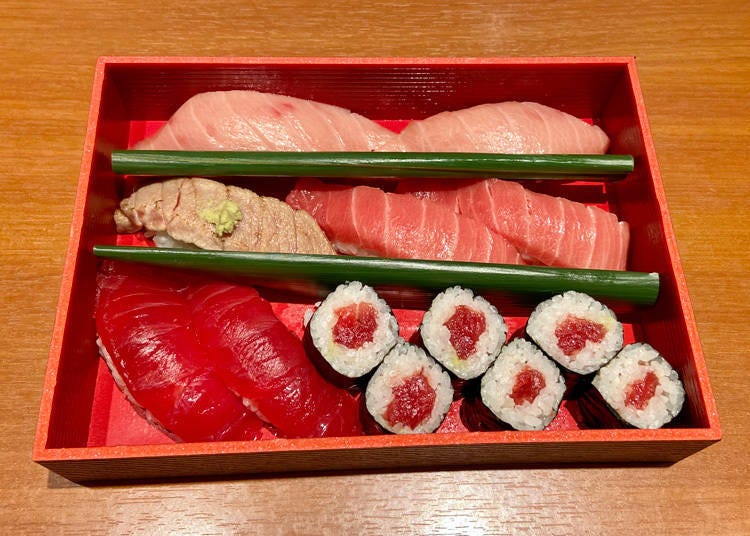 There are other options that are customized to suit customers' preferences for specific sushi toppings. Pictured here is the "Maguro Tsukushi" (1,980 yen; tax-exclusive), a popular choice among Japanese and a perfect choice for tuna lovers. In the top row is fatty tuna sushi, followed by seared tuna and medium fatty tuna in the middle, and lean tuna and raw tuna rolls in the bottom row.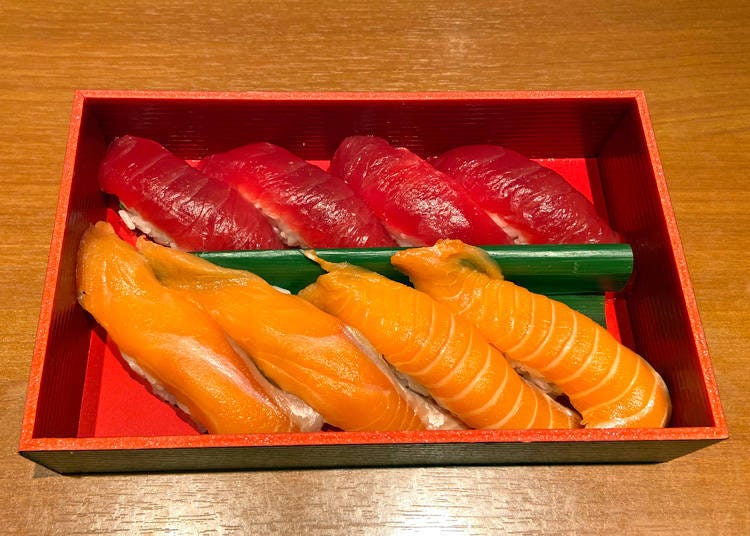 Meanwhile, this assortment of salmon and tuna (1,360 yen; tax-exclusive) is popular among foreign tourists. It seems that there are many salmon lovers among foreign tourists, which explains why this is a popular option for take-out. Alternatively, you can leave it up to the chefs to prepare an assortment for you based on your budget and preferences.

It is possible to make reservations through the Internet or the phone. If you make a reservation by the day before, you will be eligible for a 5% discount, so do take note of that!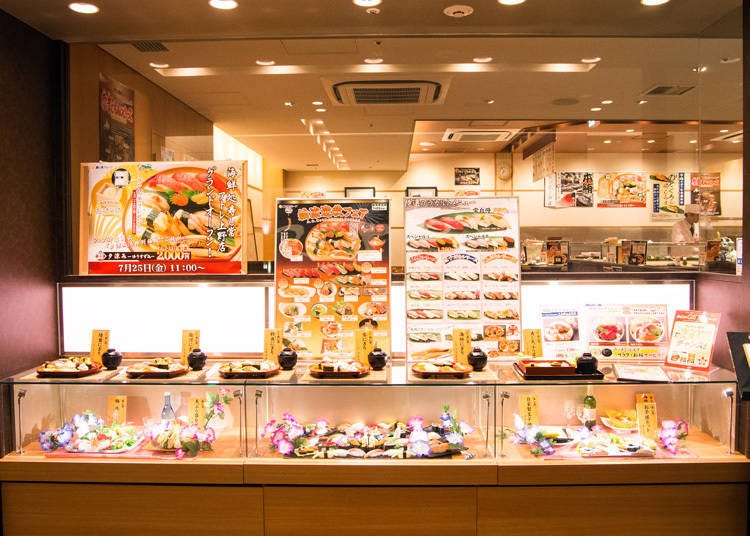 The flight of stairs on your left, immediately after exiting Ueno Station from the central gate, will take you to the shop. Because of its popularity, you can expect lines out in front during lunchtime and dinner time.
Kaisen Sushitsune Atre Ueno-ten

海鮮処寿し常 アトレ上野店

Address

Atre Ueno EAST, 2F, 7-1-1, Ueno, Taitō-ku, Tōkyō-to 110-0005

Nearest Station

Right outside Central Gate of JR Ueno Station


Phone Number

03-5826-5830

Opening Hours: 11:00 a.m. – 11:00 p.m.
Closed: None
2. Gensen Yōshoku SAKURAI: A Line Up of Impressive Western Dishes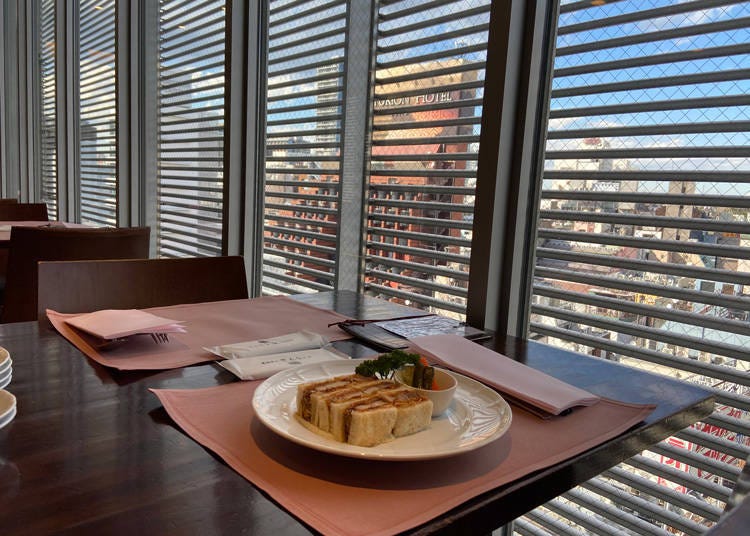 Located within walking distance from JR "Ueno" station and a 1-minute walk from Tokyo Metro "Ueno-Hirokoji" station is "Gensen Yōshoku SAKURAI." Situated on the seventh floor of a building along Kasuga Street, the interior is well-illuminated due to the large window, creating a bright and open atmosphere within.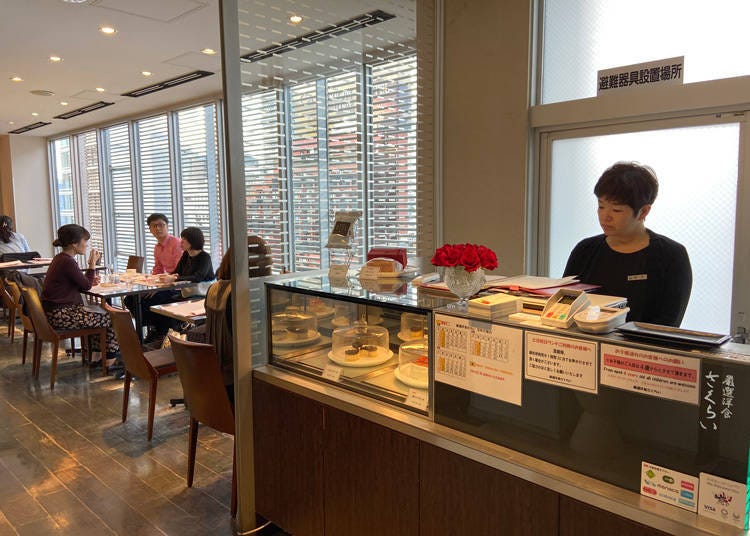 SAKURAI is best known for its Japanese-style Western dishes which were adopted and developed in Japan to suit local tastes. Here, you can enjoy meticulously prepared Western dishes within a comfortable open space accompanied by a good view. The shop's appeal lies in the wide variety of dishes available and the effort that goes into the making of those dishes. Since there are so many dishes to choose from, you won't feel bored of going to SAKURAI often. Moreover, the sauces for many dishes are homemade, reflecting the high level of attention paid to details in the food they serve.

For instance, the ketchup in the store's omurice (1,400 yen; tax-exclusive), which is an egg omelette topped on rice, is specially made to complement the dish. With how visually appealing the fluffy egg omelette is, it is no surprise the omurice is popular with customers of all ages!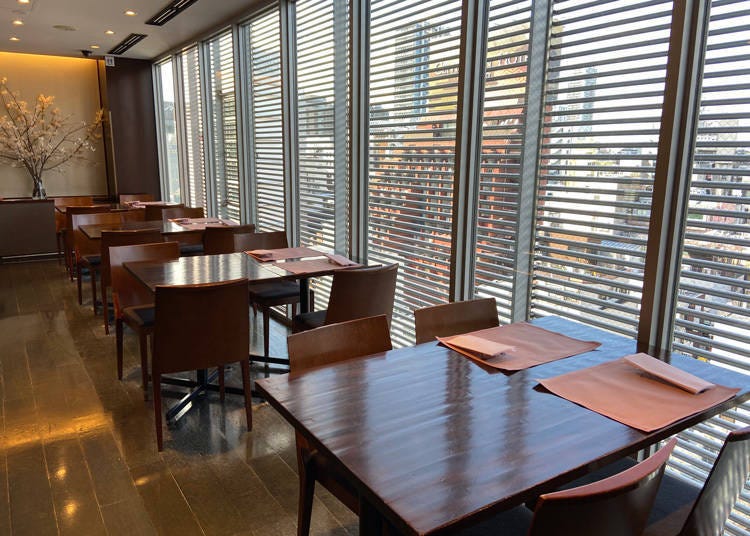 The store also has a wide range of alcohol to go with your meal. It offers a recommended wine of the month as well as a variety of Japanese sake. Because of that, there are many customers who visit with the main aim of enjoying some alcohol. Smaller servings are available here at SAKURAI, so you can have a taste of different kinds of alcohol!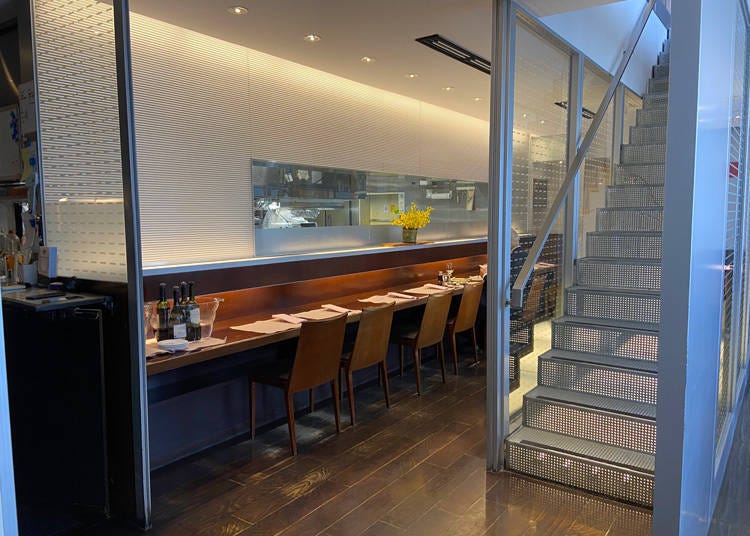 The store's user-friendliness is also part of its appeal. Counter seats are available for customers dining alone, whereas families and friends can dine together at tables. There are even private rooms available for customers who wish to dine in a more intimate setting.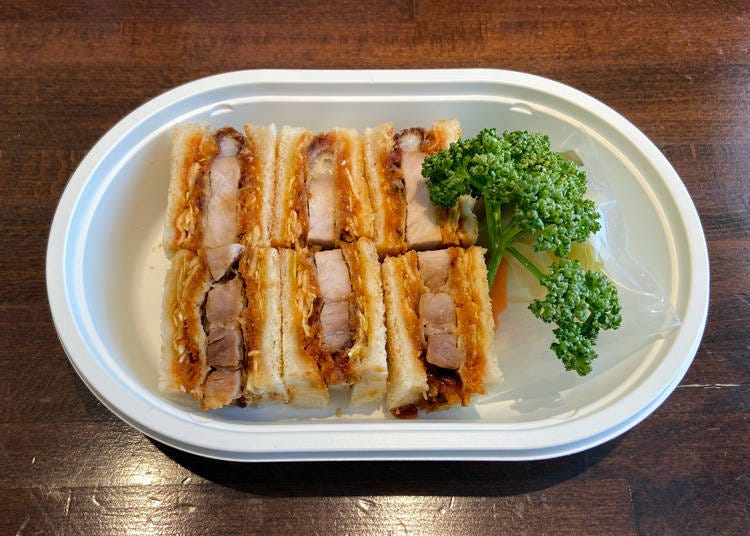 Most of the items on the menu are available for take-out, but the most popular would be the "Katsu-sando" (1,750 yen; tax-exclusive), or katsu sandwich. Just like all the other dishes here, much attention has been paid to the preparation of this dish!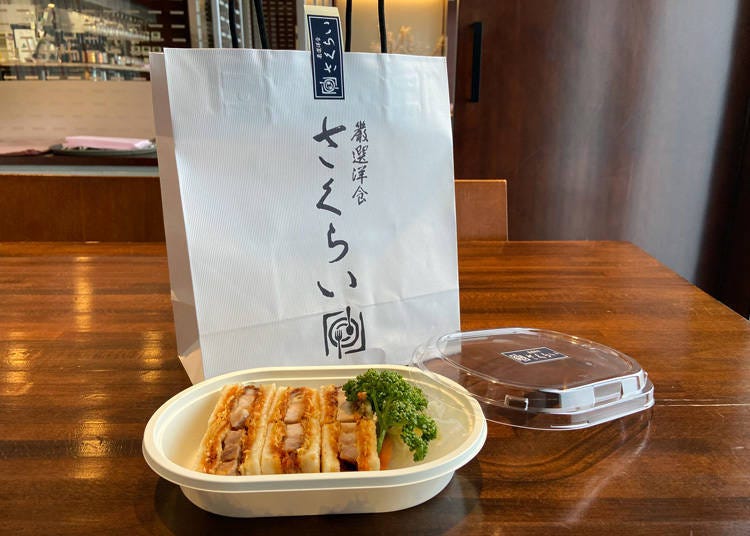 The pork cutlets, otherwise known as katsu, come from the kurobuta (black pig) reared in Kagoshima Prefecture, which were bred from the Berkshire breed of pigs. The pork is coated with honey, wrapped up and left for two weeks, during which the honey coating is reapplied twice. This process releases the excess moisture in the pork and causes the umami to be more concentrated. Thus, this results in the firm yet crunchy texture of the katsu. Made from various greens, the special sauce that is drizzled on the katsu boasts a slight sweetness that brings out the flavor of the cutlets.

What surprised me most was the fact that the sandwiches tasted delicious even though they were cold. Even as take-out, the "Katsu-sando" remains absolutely delightful, maintaining its light mouthfeel and burst of umami.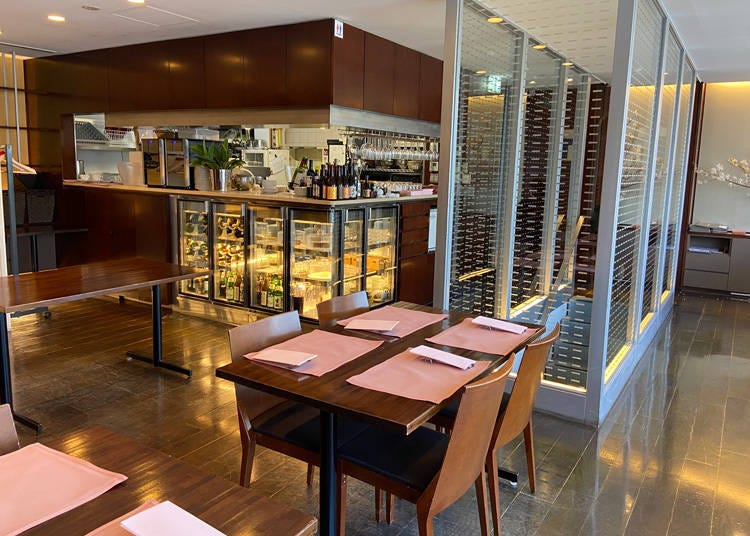 厳選洋食さくらい

Address

7F, 3-40-7, Yushima, Bunkyō-ku, Tōkyō-to, 113-0034

Nearest Station

3-minute walk from JR Okachimachi Station; 1-minute walk from Exit A4 of Tokyo Metro Ginza Line Ueno-Hirokoji Station; 1-minute from Exit A4 of Toei Ōedo Line Ueno-Okachimachi Station


Phone Number

03-3836-9357

Opening Hours: Tuesday to Friday 11:30 a.m. – 3:00 p.m. and 5:30 p.m. – 9:30 p.m. (last orders at 2:30 p.m. and 9:00 p.m. respectively)
Weekends and Public Holiday 11:30 a.m. – 9:45 p.m. (11:30 a.m. – 2:30 p.m./4:30 p.m. – 9:45 p.m.) (last order at 9:00 p.m.)
* Opening hours may vary without prior notice.
Closed: Mondays (*The shop will operate on public holidays and close on the following day)
3. for bal meat: Popular Assortments of Hors d'oeuvres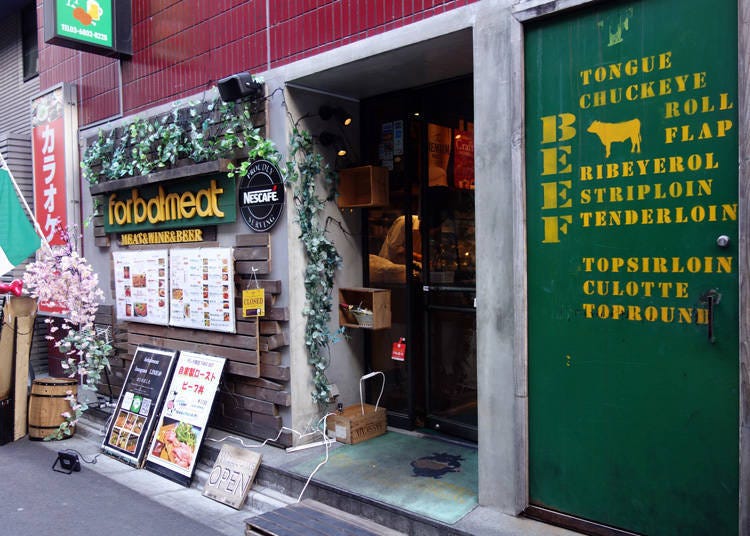 The shop "for bal meat" specializes in meat dishes, in particular Italian, but also features other meat dishes in their main courses.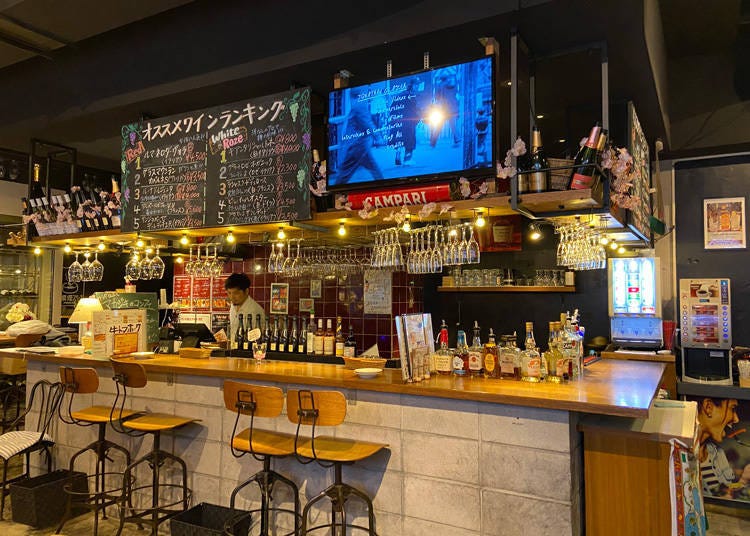 Besides the standard steak, the shop serves an assortment of various cuts of meat, as well as T-bone steak for large groups of customers. The best part is that the chefs know everything about the different types of meat. This means that they will prepare the meat accordingly in the way that best accentuates the taste, so you can get to appreciate each and every cut of meat.

Of course, it's not Italian cuisine if there's no pasta. Here at for bal meat, the types of pasta available are aplenty. If you would like to switch up your meal a little, let the chef know and the pasta or al ajillo can be prepared to your preference.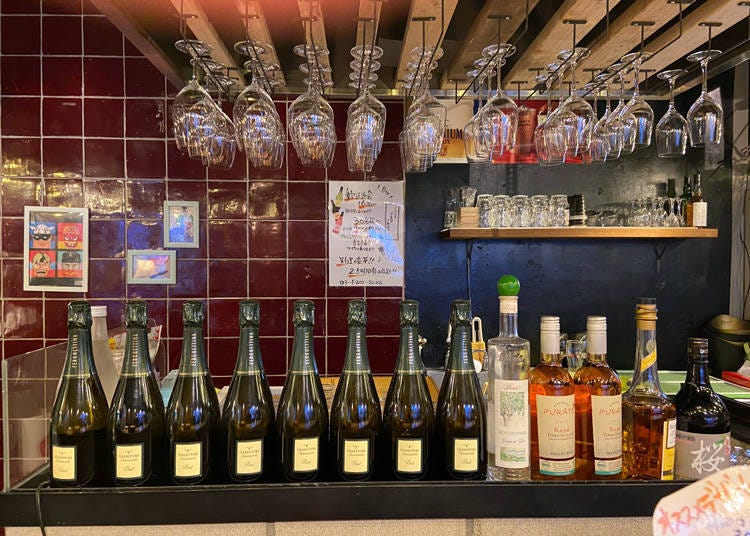 The store offers a wide range of wine as well. There are around five different kinds available each time and the roster of available wine is changed on a weekly basis.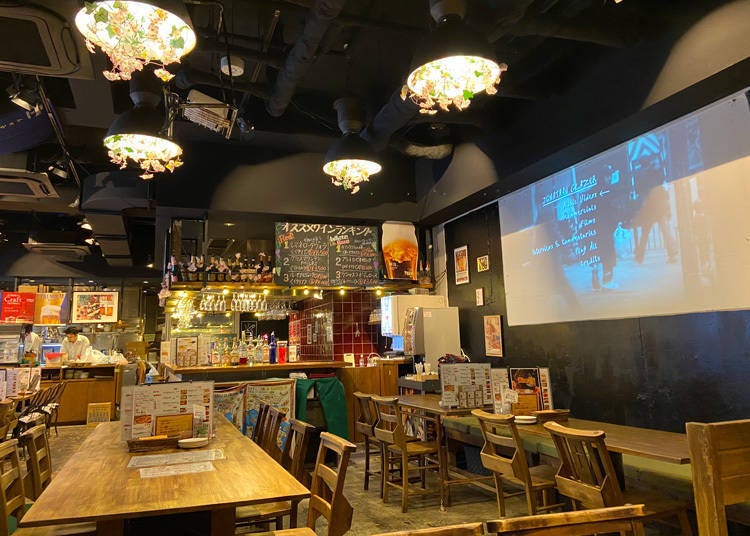 The store is furnished with a large screen so matches can be broadcasted one after another when sport seasons come around. Customers can join in on the fun and enjoy the matches with their friends here while having Italian dishes and wine.
There are two take-out options here. One is the homemade roast beef rice bowl (1,100 yen; tax-inclusive) that is only available for take-out during lunch time. The roast beef is available all day in-store and is a popular dish at for bal meat. It had apparently been made available as a take-out option in response to customers' requests. This roast beef dish comes with a special homemade sauce that brings out the flavor of the meat.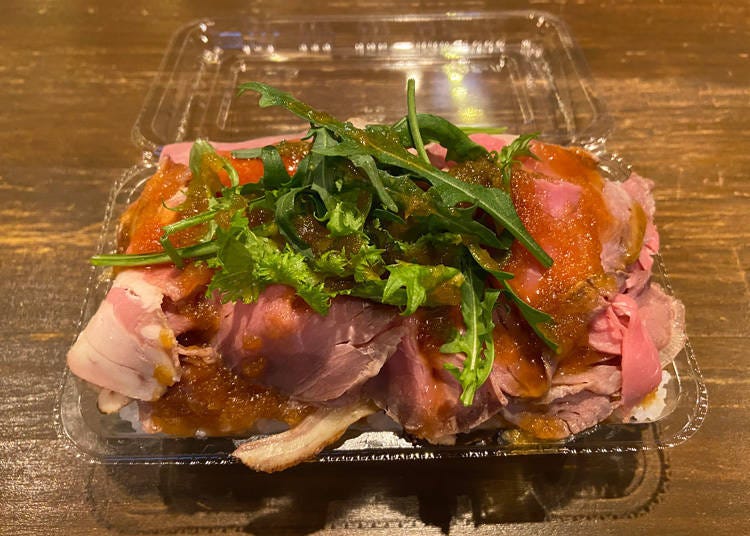 The other take-out option is a hors d'oeuvre that is also popular with the ladies.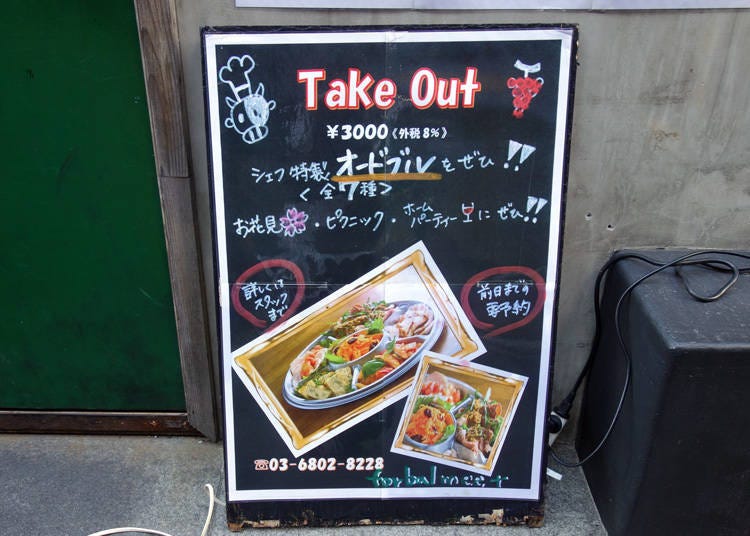 The menu here is subject to change depending on the season and available stock of meat, but the store generally serves about ten different hors d'oeuvres at any given time. Out of the ten, seven can be selected to create a special take-out option, an assortment of hors d'oeuvres specially prepared by the chef (3,000 yen; tax-exclusive).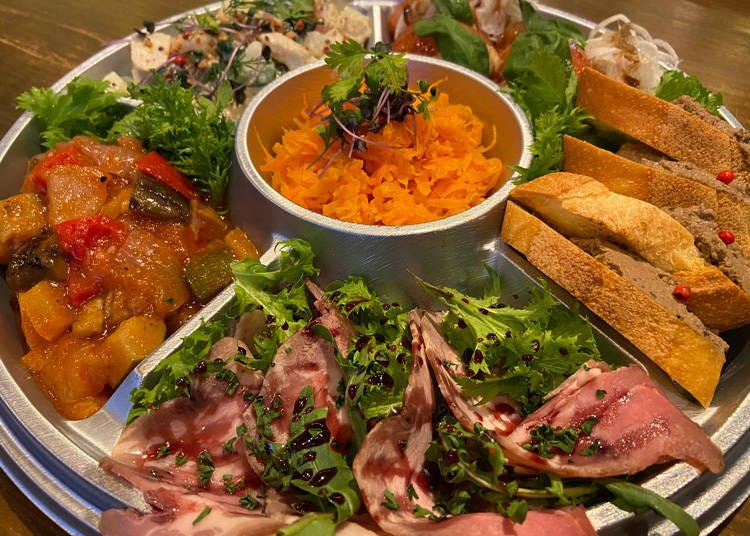 In general, it will be up to the chef to make a selection and prepare the assortment but feel free to make requests.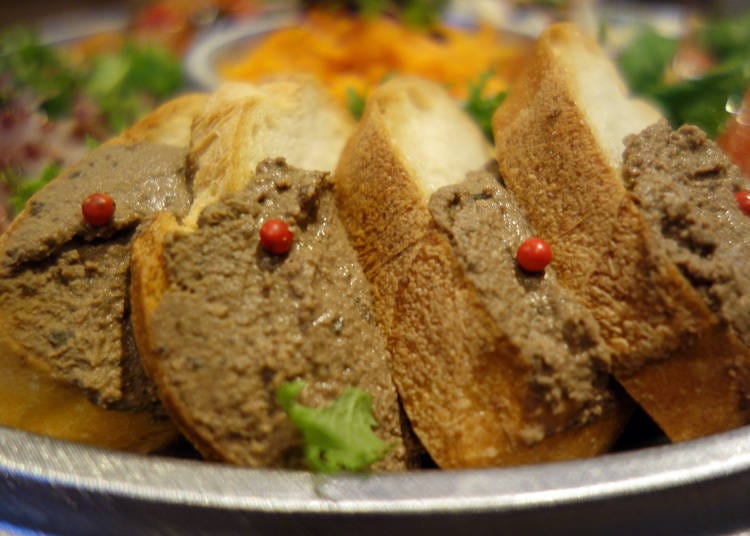 Homemade liver pâté. Meticulously prepared by chefs who are solely dedicated to the pursuit of perfect taste.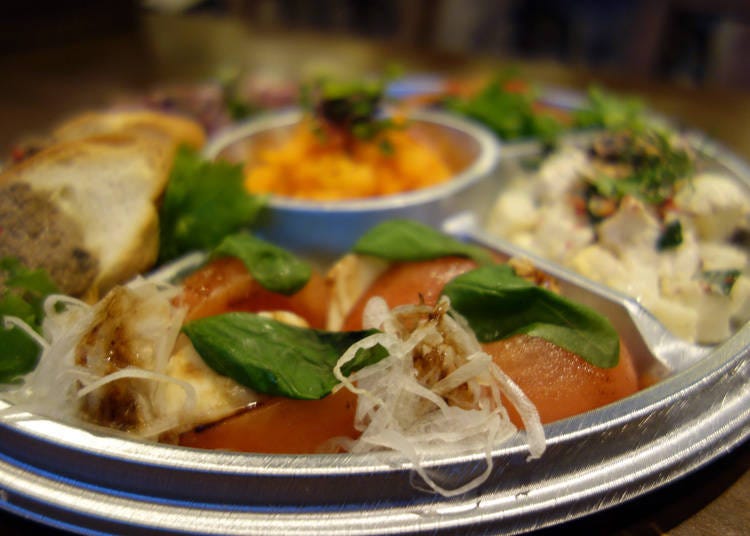 Caprese salad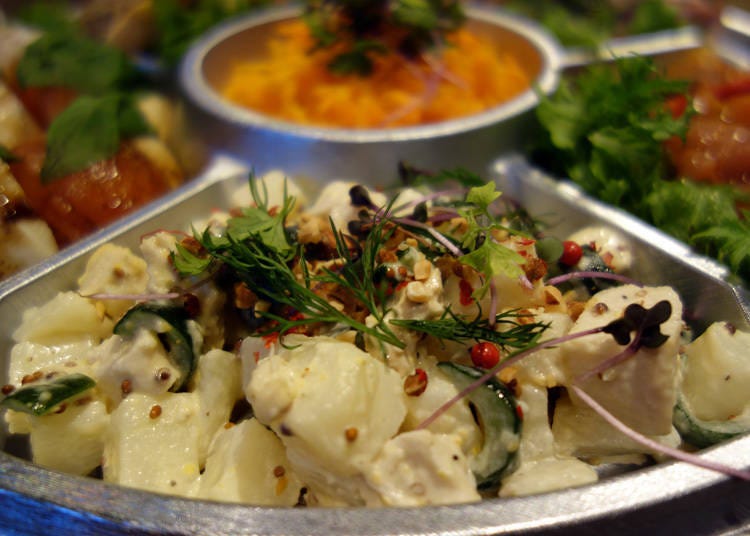 Potato salad with smoked chicken prepared in-store
Ratatouille prepared using colorful vegetables
Pork ham with handmade cassis sauce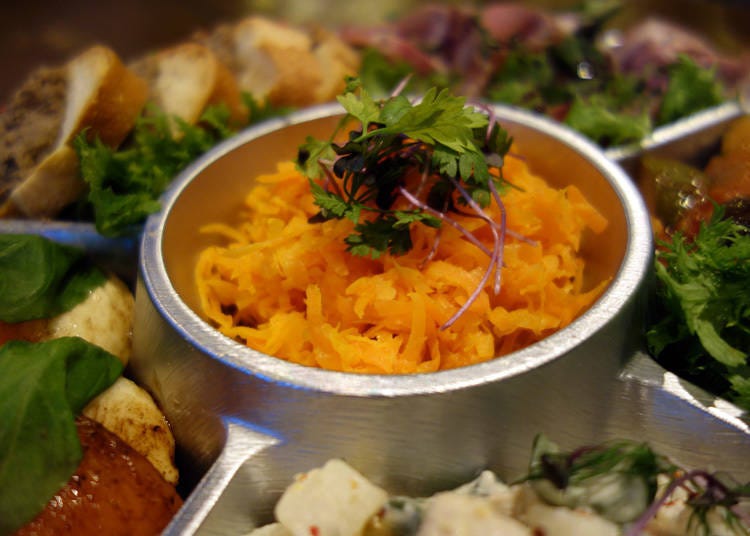 Carottes râpée
Hors d'oeuvres provide a good balance of meat and vegetables while looking equally tantalizing, so why not give it a try at for bal meat? Consider the take-out options if you are planning on having a drink in your hotel room as they go well with alcohol!
for bal meat

Address

7-2-16, Ueno, Taitō-ku, Tōkyō-to, 110-0005

Nearest Station

1-minute walk from Iriya Gate or Asakusa Gate of JR Ueno Station


Phone Number

03-6802-8228

Opening Hours: Monday to Friday 11:30 a.m. – 2:00 p.m. and 5:00 p.m. – 11:00 p.m. (last order for food at 10:00 p.m. and drinks at 10:30 p.m.)
Saturday 5:00 p.m. – 11:00 p.m. (last order for food at 10:00 p.m. and drinks at 10:30 p.m.)
Closed: Sundays and Public Holidays
With take-out options, you can now bring the wonderful flavors of a restaurant with you outdoors or back to your room. Not only are these options convenient, they add some color to and brighten up the atmosphere. Choose some for the occasion and enjoy your meal!

Written by: Konishi Naomi, Dali Corporation
Other Recommended Restaurants in the Ueno Area
In addition to the shops introduced this time, there are many attractive shops around Ueno Station! Here are some of the other Ueno restaurants recommended by Live Japan's editors.
*This information is from the time of this article's publication.
*Prices and options mentioned are subject to change.
*Unless stated otherwise, all prices include tax.