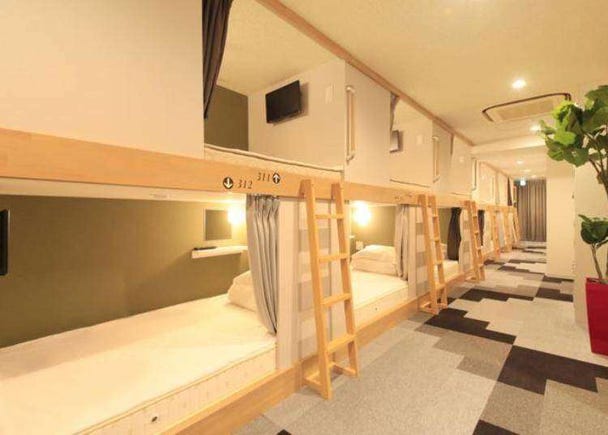 Here we're sharing four of our top picks for Ueno hotels, all sorted out for you by traveler category. So you'll see Tokyo family hotels suitable for groups on sightseeing tours or solo travelers on business trips. Best part? These are all lodgings that come highly recommended and are widely used by many other international tourists too!
(Tokyo Hotels for Families/Groups) Mimaru Tokyo Ueno East: Plenty of services that cater to children and international visitors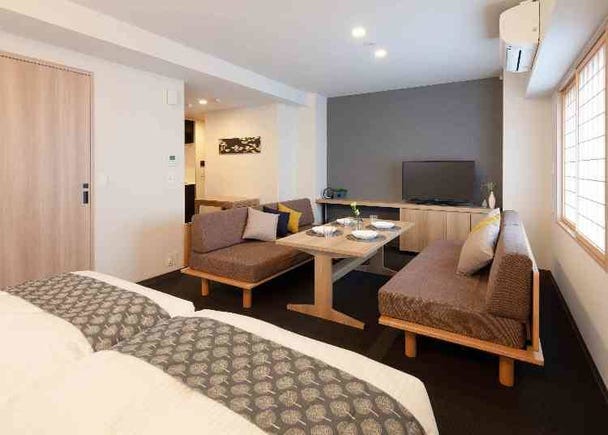 If you're traveling with your family or in a group, and want to relax in a place that's just like home, you can do no better than Mimaru Tokyo Ueno East. Guestrooms are all larger than 40m2 (about 430 square feet) and their main offerings are rooms that can take up to four people.

This Ueno hotel also offers connecting rooms that allow for larger groups - up to eight! - as well as baby beds and child-sized slippers. Standard amenities like toothbrushes are also available, so their rooms are highly regarded among large family and family/friend groups.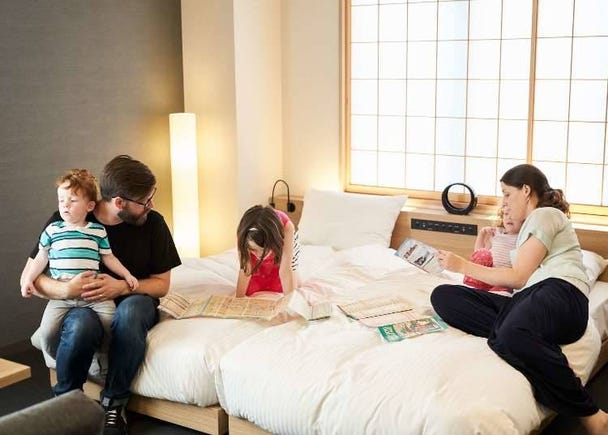 As of April 2019, they've become the number one hotel for the "Child-friendly Hotels for Travelers" segment in a Miki House's research about lodging facilities that give foreign families with children who are visiting Japan the most peace of mind.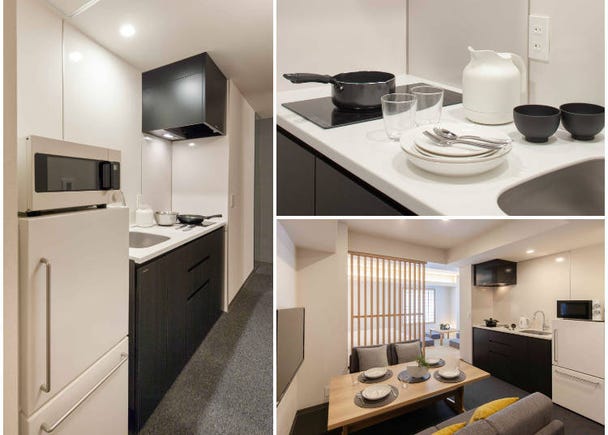 The interior design is distinctly Japanese, and each room comes with a fully furnished kitchen and dining space as well. Services provided by the hotel include the rental of Japanese home appliances as well as paid laundry in the common area on the first floor.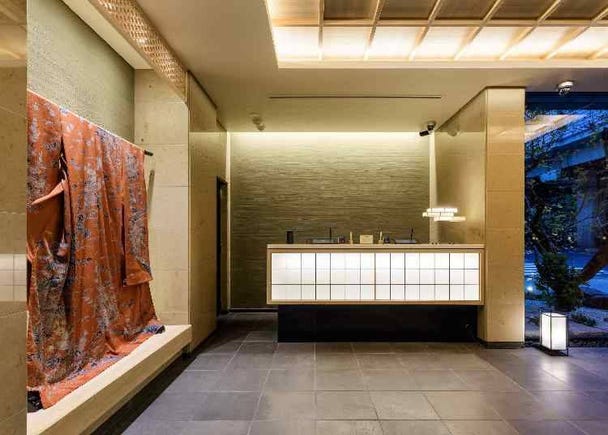 Staff can speak English, and essential information about maps, hospitals, and transportation are available in a few other languages as well. The front desk changes its design according to the season. The hotel is also known for giving out small gifts that are uniquely Japanese to guests, giving them a little taste of that well-known Japanese hospitality.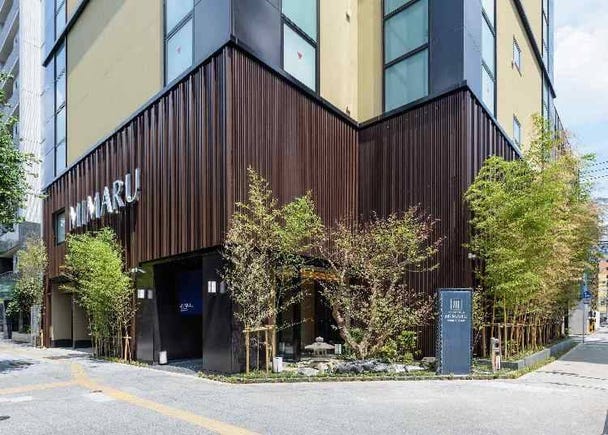 Location wise, the Ueno hotel is situated just a three-minutes walk away from Ueno Station on the JR Line, and popular tourist hot spots, restaurants, and shopping areas nearby are within walking distance as well. The mindful services and excellent facilities it provides for foreign families are certainly the hotel's most attractive points. Don't just take our word for it, of course. Try and see for yourself!

URL:
https://mimaruhotels.com/en-us/ueno-east/?utm_source=livejapan&utm_medium=referral&utm_campaign=ueno-east
MIMARU東京 上野EAST

Address

4-26-3 Higashi Ueno, Taito-ku, Tokyo-to, 110-0015

Nearest Station

3 minute walk from JR Ueno Station


Phone Number

03-5811-1677

Rooms: 55
Types: Twin beds, bunk beds, Japanese (futon), sofa beds, etc.
Hours: Check-in time 3:00 p.m. / Check-out time 11:00 a.m. / Frontdesk reception 7:00 a.m. — 10:00 p.m.
*If you will arrive late, inform the hotel beforehand (checking in or out of your room outside of operating hours will incur an extra charge)
Prices: 24,000 to 36,000 yen per room per night (*subject to change depending on date of booking, municipal accommodation tax excluded, up to two six-year-old children may stay for free)
(Tokyo Hotel Value Seekers) Staytohotel: Reasonable prices for uncompromising facilities
If you're looking for a Ueno hotel that is reasonable on cost yet uncompromising in facilities, you're in luck! Staytohotel is the hotel that will fulfill your dreams and desires, like it already has for countless other travelers from around the world.
All rooms are equipped with an auto-lock and ensuite bathroom and come with standard amenities such as toothbrushes. Each room is also furnished with fixtures such as a refrigerator, hair-dryer, and kettle. You can watch TV and connect to the free wifi too, of course! And all for the surprisingly reasonable price of 3,980 yen for one night in a single room or 6,500 yen for a twin room (based on lowest price, subject to change depending on date of booking). The rooms are cleaned every day.
The Ueno hotel opened its doors about 15 years ago and is a pioneer in the field of catering to international visitors - despite there being much fewer of them back in the days. Nowadays, 90% of the guests here are from overseas (of which 40% are Asians and 60% Caucasians). As such, English signage and instructions can be found everywhere in the building, and there's always an English-speaking staff stationed at the front desk to assist hotel guests.
At the lounge, there are coin-operated washing machines and dryers. The stoves, microwaves, toasters, detergent, and seasonings here are provided free of charge for guests, and they're also free to use the PCs here or the lockers to secure their valuables. These little conveniences show the hotel's meticulous consideration towards making every single guest feel at home during their stay.
"Since the time we started receiving guests, our mantra has always been that everyone is welcome, even LGBT couples, and that's what we became recognized for. We haven't changed and our doors are still open to everyone!" reassures Hosoi from the management company and supervisor Tadokoro. With a homey feel and excellent opportunities for international exchange, the hotel attracts people of all demographics, including couples, families, and the elderly.

There are also quite a substantial number of long-term and repeat guests! The nearest station is Inaricho Station on the Tokyo Metro Ginza Line, but the hotel is also within walking distance from Ueno and Asakusa, so it's an excellent place to consider for business trips as well.

Website:
http://www.stayto.jp/ja/
STAYTOHOTEL

Address

東京都台東区東上野6-1-2

Nearest Station

10 minute walk from JR Ueno Station


Phone Number

03-5828-0551

Rooms: 71
Types: Single, semi-double, double, twin, Japanese, etc.
Prices: Single rooms from 3,980 yen per room / Double rooms from 5,500 yen per room / Twin rooms from 6,500 yen per room

Vacancy search, reservation

Please enquire directly about rates.

Check with our partner site as the latest rates, rate details, and guest room requirements may vary.
(Tokyo Hotels for Solo Women Travelers) Centurion Ladies Hostel Ueno Park: Female-only hostel with very satisfying prices and even more satisfying facilities
Perfectly situated right in front of Ueno Park and chock-full of quality facilities is the female-only hostel Centurion Ladies Hostel Ueno Park. Hostels in the Ueno area often cater only to male visitors, but this hostel has decided to go against the grain. Not only does it only house female guests, all staff members are women as well, so women travelers on a solo trip can lodge here with absolute peace of mind!
The Ueno hostel offers 134 cabin rooms (starting from 2,700 yen) and 5 family rooms (starting from 10,000 yen). The beds are comfortable and all amenities are originals from Centurion Hostels. The hostel also sells face masks that can be worn on the ears and extends all the way down to the neck to treat the skin there as well. This is definitely something you'll only expect to see in female-only accommodations!
The scenery from the window is breathtaking, too!
In the lobby on the first floor, there is a massage chair and shelves of manga (Japanese comics) for guests wanting to just rest and relax. The community lounge and kitchen on the seventh floor are fully furnished with common household appliances shared among all guests like stoves, microwaves, toasters, electric kettles, and refrigerators - a feature that will surely appeal to those looking for a long-term stay!
The reasonable price is almost a steal considering how well-equipped and well-maintained this sparkling clean hostel is. The beautiful view of Ueno Park from the hostel's window is part of the reason for its popularity as well. So don't hold back! Book a stay at this hostel and marvel at the full array of caring services being provided for the female crowd.

Website:
http://www.centurion-cabin.com/ueno_park/
Centurion Ladies Hostel Ueno Park

センチュリオンレディースホステル上野公園

Address

2-11-13, Ueno, Taito-ku, Tokyo-to, 110-0005

Nearest Station

7 minute walk from JR Ueno Station


Phone Number

03-6803-0711

Rooms: 139
Types: 134 cabins (standard cabin / superior cabin), 5 family rooms (starting from 10,000 yen)
Prices: Cabins from 2,700 yen per night per person / Family rooms from 10,000 yen for up to five guests

Vacancy search, reservation

Please enquire directly about rates.

Check with our partner site as the latest rates, rate details, and guest room requirements may vary.
(Tokyo Capsule Hotel Fans) MyCUBE by MYSTAYS Asakusa Kuramae: The next evolution of capsule hotels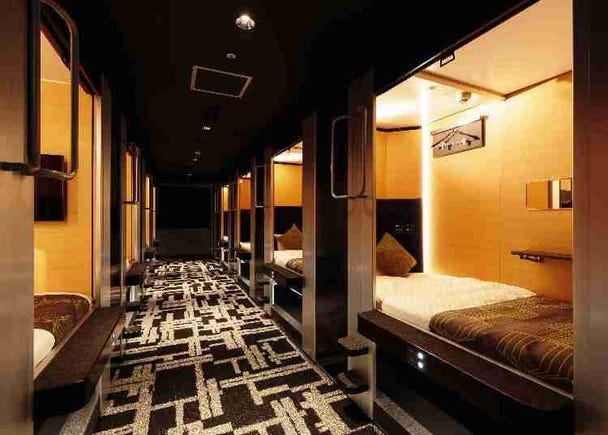 This isn't your standard capsule or regular hotel by the MYSTAYS Hotel Group. It is a completely new type of lodging facility known as the "Cube Room". The focus is on sleep comfort, and the rooms were designed with privacy in mind. The hotel is popular for its ease of use for all guests, including women and those who have never stepped foot into a capsule hotel before.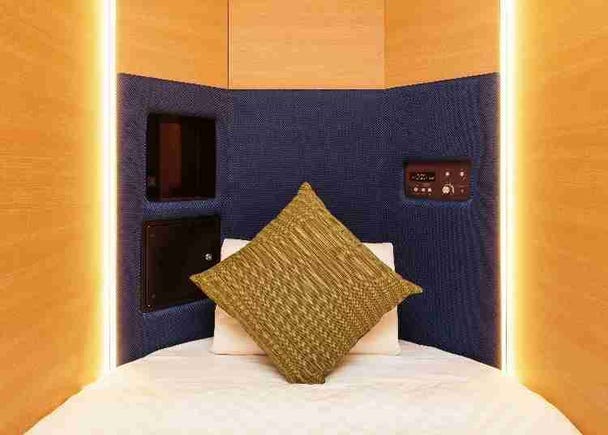 The building is protected by a system that allows only those with issued keys to use the elevators to reach the rooms. Each floor is either male or female-only and careful planning ensured that room doors do not overlap directly with the one on the opposite side.

For the safety-conscious, there are safeboxes available for use, and a locked storage space under the bed big enough for large suitcases. Each cube is furnished with a TV, power outlet, USB charging port, and foldable table. The room itself is pleasantly spacious.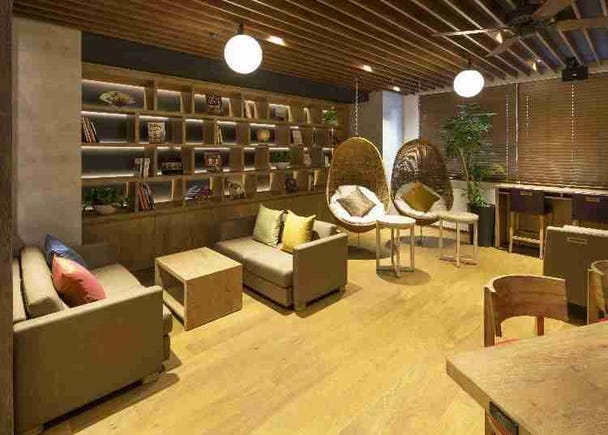 Next to the front desk is a large bar-lounge for guests to relax in. This space also gives guests a chance to chat with fellow cubers while enjoying an alcoholic beverage or two. The free wifi can be accessed from all corners of the hotel.
From the front desk to cube rooms and wet areas like the kitchen and shower spaces, the hotel is kept very clean and comfortable while maintaining everyone's privacy. Breakfast (only for guests who booked a room that includes this meal) has the theme of "food that is soothing to the body and soul" and different fresh fruits are on offer every day. Whether you're a capsule hotel regular or someone who's never stayed in a capsule-type hotel before, this place will make you rethink your expectations about them for sure!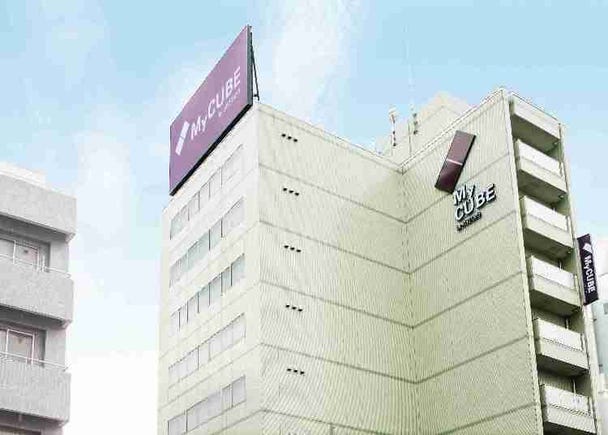 The official website is available in five languages - Japanese, English, Korean, Traditional Chinese, and Simplified Chinese. Online reservations can be made in the languages mentioned above around the clock through online chat, email, or telephone. Rest assured too, that staff at the front desk will be able to speak a few languages as well.

Website:
https://www.mystays.com/hotel-mycube-by-mystays-asakusa-kuramae-tokyo/
MyCUBE by MYSTAYS Asakusa Kuramae

MyCUBE by MYSTAYS浅草蔵前

Address

2-6-7, Kuramae, Taito-ku, Tokyo-to, 111-0051

Nearest Station

1 minute walk from Kuramae Station on the Toei Asakusa Line


Phone Number

03-5835-3181

Rooms: 161
Prices: 3,900 yen onwards (lowest price, subject to change depending on date of booking)
Discover the perfect Tokyo hotel for you to make your stay a warm and cozy one!
So, what do you think? Hotels in Ueno and Asakusa may be located a stone's throw away from the metropolitan area, but are equally convenient for tourists and business people alike. We're confident you can find an accommodation here that will appeal to you and enhance your stay in Tokyo.
Explore Japan at Your Pace - Rent an RV!
RV rentals are a great way to see a new side of Japan from the open road! Use LIVE JAPAN's promo code below to get 5% OFF your rental now.
・Promo code: LiveJapan_coupon_01
・On the "Request for a Quote" page, enter the promo code to get your discount.

*This information is from the time of this article's publication.
*Prices and options mentioned are subject to change.
*Unless stated otherwise, all prices include tax.