Formerly home to the world-famous Tsukiji Fish Market, Tsukiji is still an incredible place to explore! Tsukiji's original narrow and lively streets filled with variety of vendors functions proudly, despite being over 80 years old. With the area's name and reputation, visitors may assume that all cuisine found here are limited to seafood, but this is where the secret is revealed. Tsukiji's Outer Market consists of fresh fruit vendors, kitchen tools, and most exciting of all, lots of street food that is unique and limited to this market. Here are the top picks for famous Tsukiji street food, all but one not consisting of fish!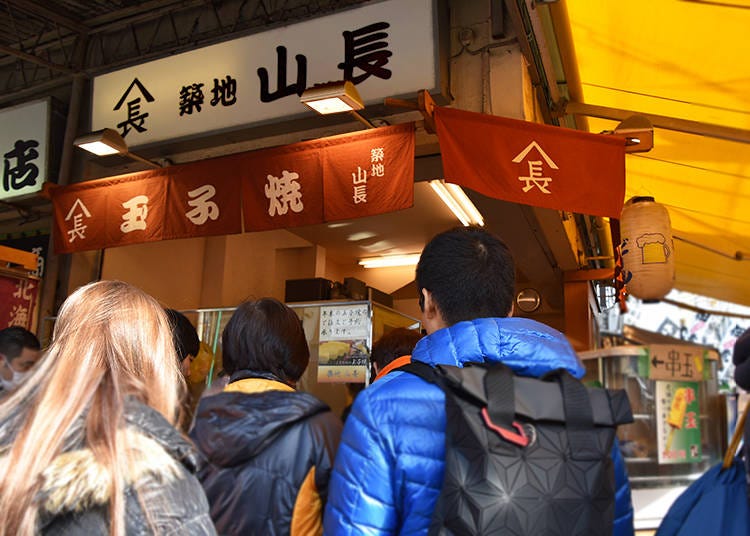 The front of Yamachou tamagoyaki stand.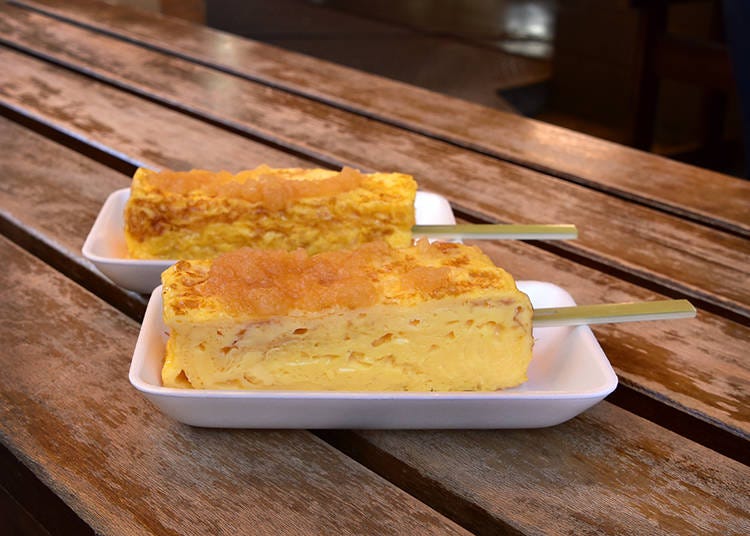 The sweet and less-sweet tamagoyaki
This sweet egg omelette dish called Tamago-yaki is commonly found in bentos and as sushi toppings. The ones at Yamachou (山長) come piping hot on a stick with a side of ground radish called oroshi daikon. You can choose between regular sweetness and less-sweet but to tell you the truth, both are still sweet compared to the average egg omelette.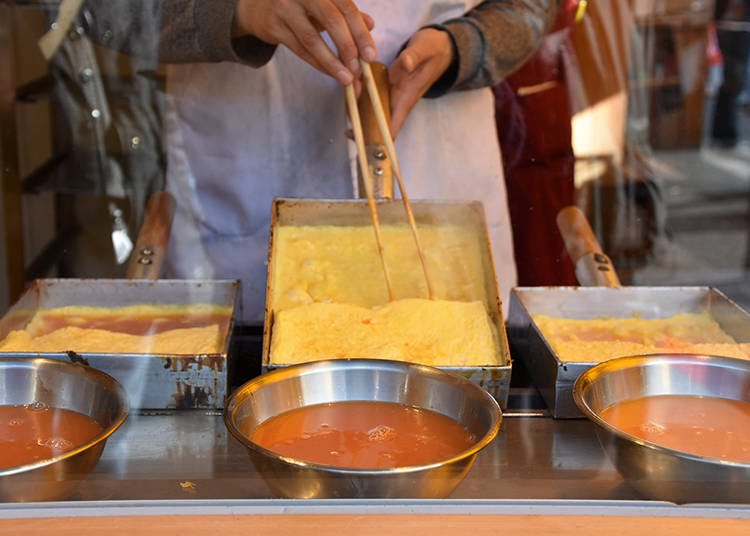 Swing by Yamachou to watch tamagoyaki being made.
Yamachou, which stands on a wide corner of the market, has the tamago-yaki making process visible for passersby. The chef works three square pans at once, pouring in and tilting the egg yolk to create one layer after another. If you're not keen on sweet egg, at least swing by to watch the fascinating process.

Tamago-yaki: 100 yen for one
山長

Address

4-10-10, Tsukiji, Chuo-ku, Tokyo, Japan

Phone Number

03-3248-6002

Open hours: 6:00a.m - 3:30p.m
Closed: none
Stand by the food stall's provided table to eat your snack.
Pork dumplings aren't hard to find in Asia. Many countries and regions have their own take on this dish with Chinese origins. I, for one, didn't think the ones at Tsukiji would be much different than others I've tried, but I was completely wrong.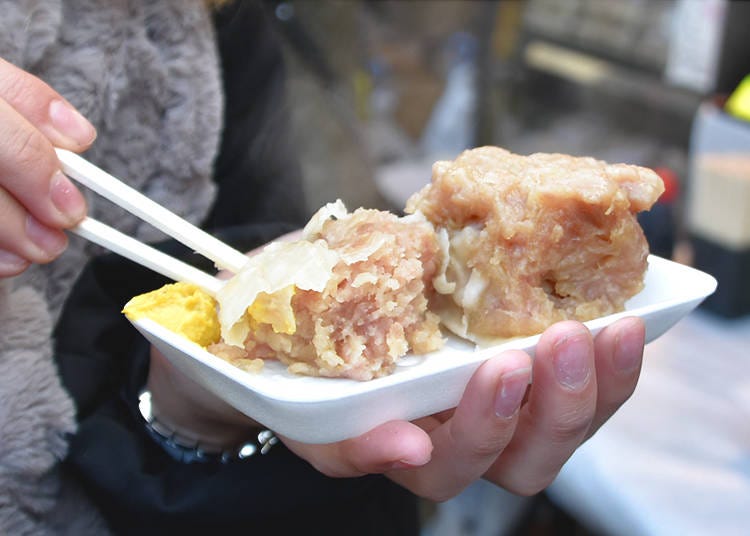 Try the juicy shumai with different condiments.
First of all, the size of one shumai at Saiwaiken (幸軒) is three times as big as ones I've eaten before. The outer wonton skin is not as thick and chewy as normal shumai, but instead melts right into the juicy meat. The minced meat itself is mixed with sauteed onions which brings out the natural sweet flavor of the vegetable, so much so that you'd think the shumai has some sweet additives (don't worry, it doesn't!). Customize each bite with different condiments from sweet sauce to Japanese mustard (karashi). Just be sure to go easy on the mustard, as it tends to carry the similar stinging sensation as wasabi. Be sure to compare all tastes - including plain, my personal favorite.

Shumai: 150 yen for one
幸軒

Address

4-10-8, Tsukiji, Chuo-ku, Tokyo

Phone Number

03-3545-5602

Open hours: 5:00a.m - 1:00p.m, 10:00a.m - 2:00p.m on Sundays
Closed: none
3. Menchi-katsu and Croquette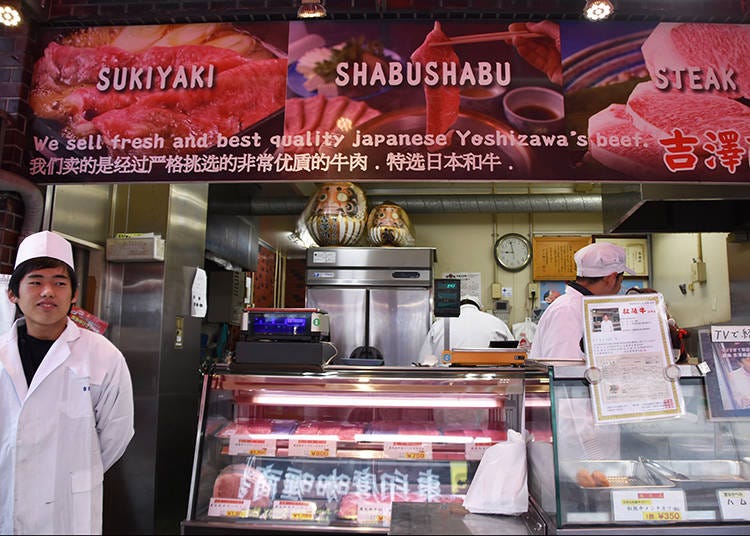 A wide array of domestic beef and other meat products are sold here.
Yoshizawa-Shoten (吉澤商店) is famous for domestically grown, fresh beef. This butcher has ready-to-go plate packs of thinly sliced meat for traditional Japanese cuisine such as shabu shabu and yakiniku. However, Yoshizawa-Shoten is also famous for mouth-watering fried snacks, which were even introduced by a celebrity on a Japanese TV show. The number one seller is the House Special menchi-katsu: fried minced meat cake dipped in and fried with panko batter. Its appeal is the use of the domestic high-quality Matsuzaka beef. The taste is truly a meat-lover's delight.
The number one hit menchi-katsu.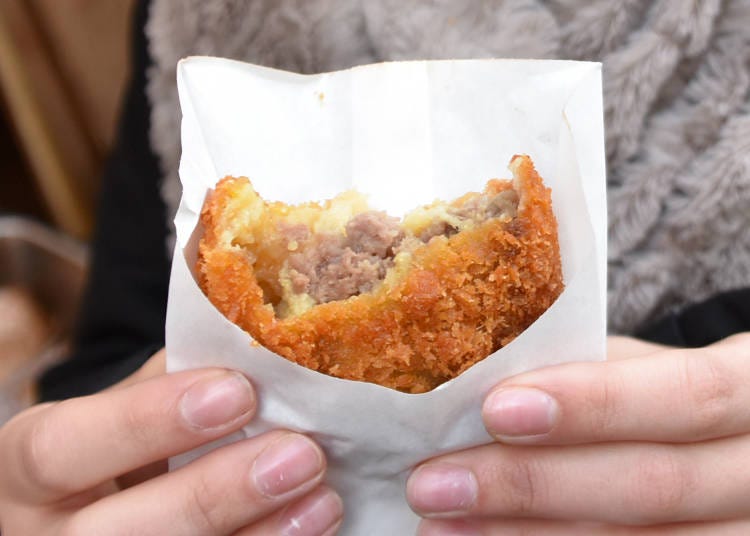 Be careful when you take your first bite, these come fresh and hot!
If you're intrigued by freshly fried foods but hesitant about the overpowering taste of the menchi-katsu, I recommend the classic croquette stuffed with creamy mashed potato and mixed minced pork and beef. Yoshizawa-Shoten also takes pride in their homemade katsu-sauce (sweet brown sauce commonly used on fried foods in Japan) which goes well on all four types of their fried snacks.

House special Matsuzaka beef Menchi-katsu: 350 yen for one
Croquette: 120 yen for one
吉澤商店

Address

4-13-5, Tsukiji, Chuo-ku, Tokyo

Phone Number

03-3541-4656

Open hours: 7:00a.m - 1:30p.m
Closed: Sunday
Make sure to grab a freshly made one to ensure best taste.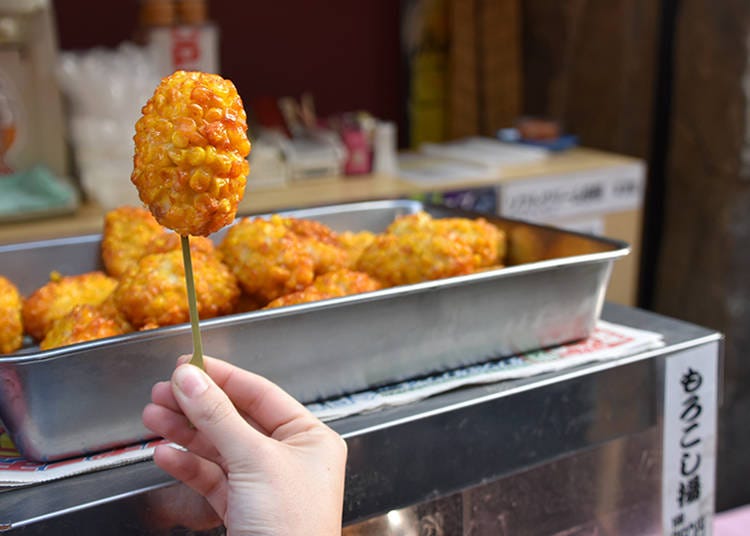 Buy one for the stroll, but consider buying a pack of three to share with others.
This is the only street food item on our list that consists of fish. But even with that warning, if you don't have dietary restrictions against fish, you would never even know this dish consisted of fish! Morokoshi-agé served in Aji-no-Hamato (味の浜藤), is made from grilled sweet corn, as the name morokoshi is derived from the food name itself, tomorokoshi. The fish paste is balled into oval shapes and then rolled into the sweet corn, then lightly fried. And when I say sweet corn, I'm not kidding around here! This dish brings out the sweetest nature of the vegetable and serves as a unique punch of flavor in your day full of street food sampling.

Aji-no-Hamato also carries many other unique grilled and fried goodies, such as shiso and cheese fry up , and a seasonal tempura (Kabocha, or pumpkin for December).

Morokoshi-agé: 350 yen for one
味の浜藤

Address

4-11-4, Tsukiji, Chuo-ku, Tokyo

Phone Number

03-3542-2273

Open hours: 8:00a.m - 3:00p.m
Closed: none
There is always a long line in front of this stall.
Speaking of sweet foods, Tsukiji's Outer Market also offers real dessert treats, too. The fruit vendors at Tsukiji present their products as if they are colorful paintings at a gallery; color coordinated, artistically placed to catch our eyes, making all passersby intrigued by the strawberries and grapes on skewers and mountains of seasonal harvest. Among these, a strawberry vendor by the name of Soratsuki (そらつき) specializes in combining the fruit with Japan's much-loved mochi dango. Ichigo-daifuku isn't an invention by this vendor, but it has taken the traditional Japanese dessert and put a modern take on it.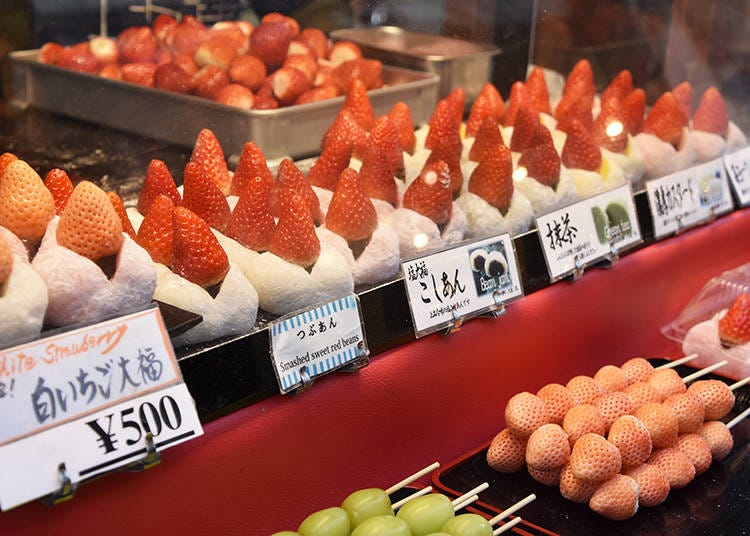 Try all the flavors of ichigo-daifuku, or the famous Japanese white strawberries on a stick.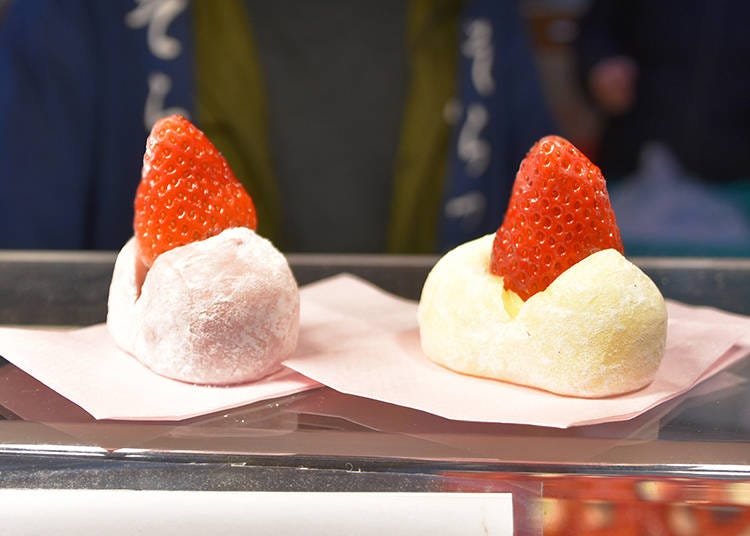 The classic red bean paste ichigo-daifuku to the left, and custard to the right.
Original ichigo-daifuku consists of sweet red bean paste, anko, wrapped in gooey mochi, and topped with a strawberry (sometimes the strawberry is wrapped inside the mochi ball). While Soratsuki has this delicious original flavor, as I got to try, there are a handful of ichigo-daifuku with unique fillings to try as well. The custard cream was my personal favorite because of the perfect melodic mix of creamy handmade custard and mochi. Some other filing flavors include chocolate, matcha, and strawberry yogurt so find your favorites!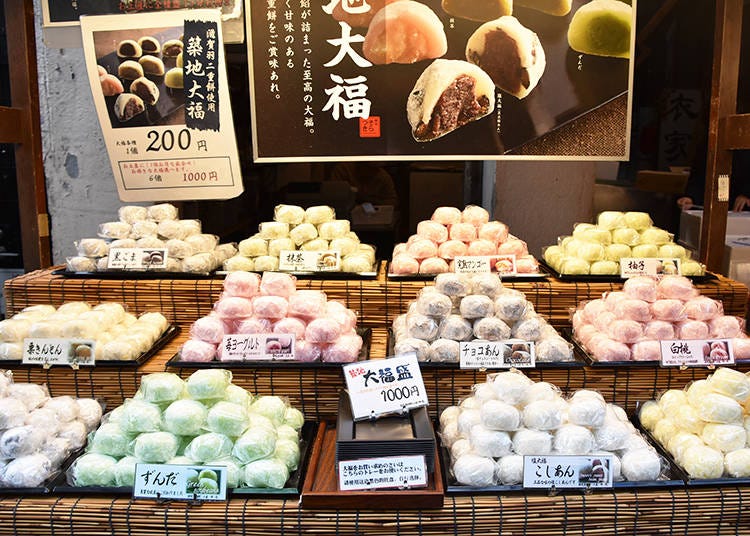 Daifuku in a variety of unique flavors, each wrapped to take back with you.
The vendor also carries simple daifuku sans large strawberry topping. These are pre-wrapped and make perfect snacks to save for later or to make as gifts (please pay close attention to the expiry date). The simple daifuku have flavors additional filling flavors, such as peach, mango, and yuzu (Japanese citrus).

Ichigo-daifuku: 300 yen for one
Daifuku: 200 yen for one
そらつき

Address

4-11-10, Tsukiji, Chuo-ku, Tokyo

Phone Number

03-6264-1763

Open hours: 8:00a.m - 3:00p.m
Closed: none
6. Maguro-yaki: Fish-Shaped Cake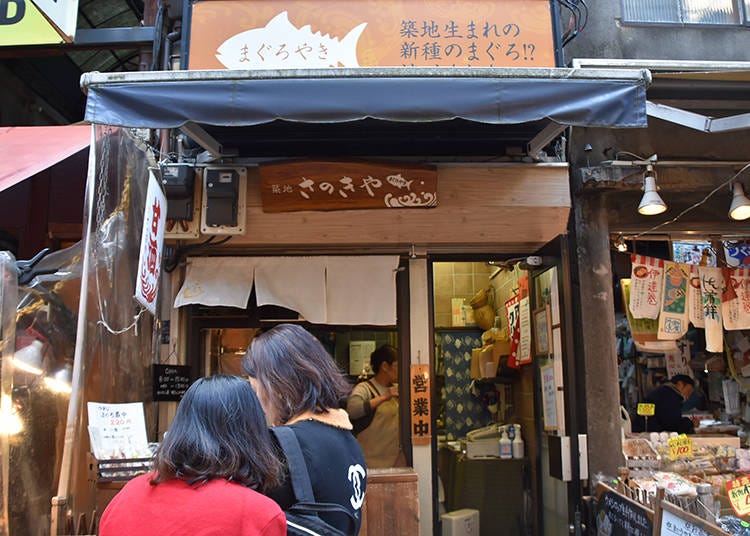 Find this little tiny shop!
Maguro-yaki is a Tsukiji twist on another long-established Japanese sweet snack. It's made just like taiyaki, a fish-shaped cake with red bean paste or custard filling. Instead of sea bream shaped mold, the pancake-like batter is cooked in tuna shaped molds, thus the name maguro-yaki. Tuna is the symbol of Tsukiji because of the market's formerly famous tuna auction.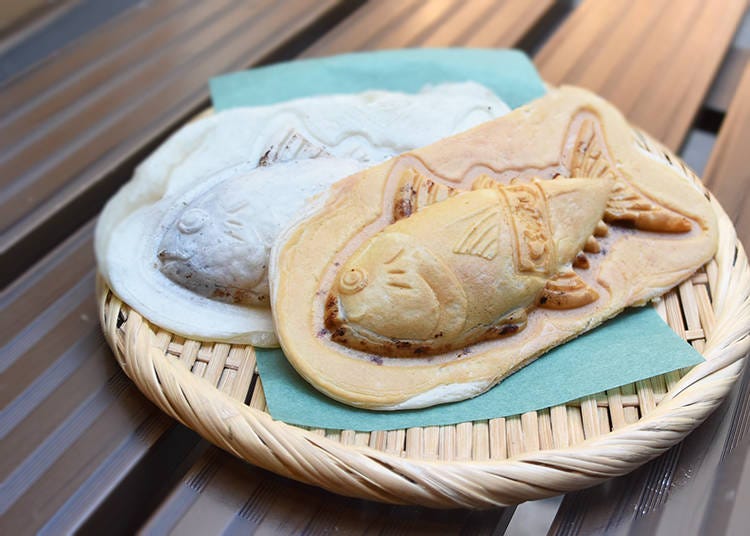 Gooey chu-toro in the back, crisp and fluffy maguro-yaki in the front.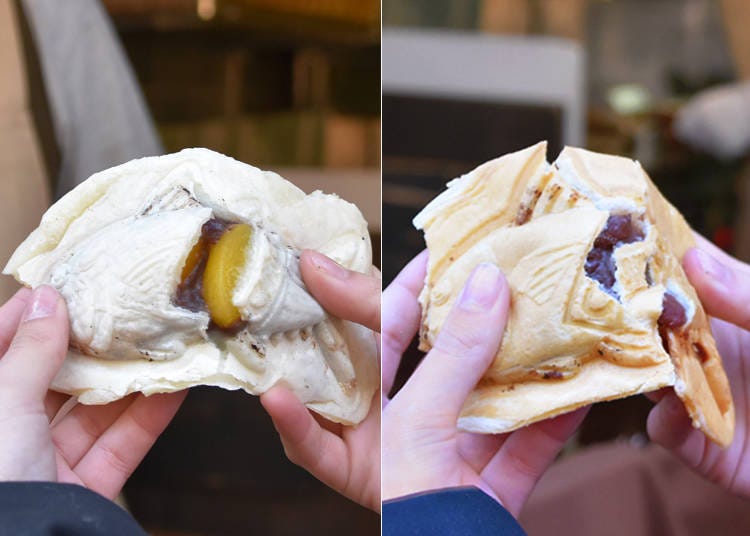 Find the surprise flavors inside!
At Sanokiya (さのきや), the snack comes in two types of texture; crunchier outer layer with red bean paste filling, or a gooey, mochi-like texture for the outer layer with red bean paste and apricot inside. The second, softer type is called chu-toro at Sanokiya, which is somewhat of a wordplay since chu-toro usually refers to fatty tuna sushi. The filling is not as hefty as some taiyaki joints, and at the same time, the batter layer is not too fluffy and thick like cake.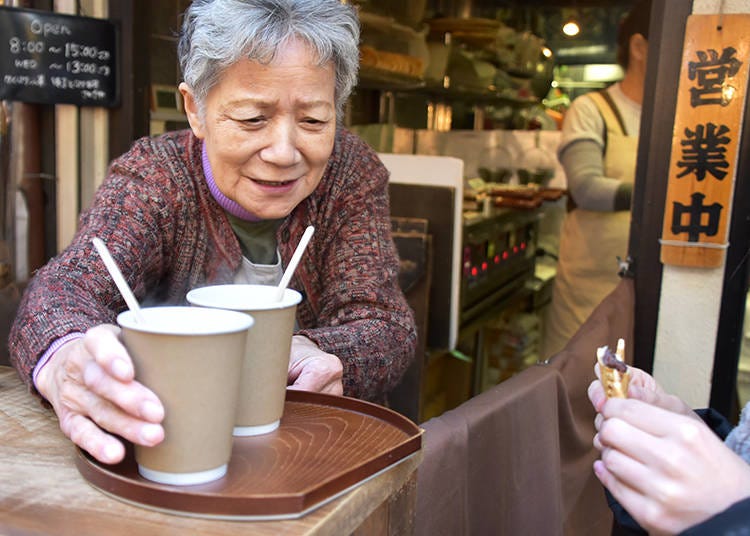 Try the warm and healthy amazake, freshly made by the staff.
The batter-to-filling and texture ratios are the secret key to making the original maguro-yaki, and there's no one better to make them than the veteran power ladies of the small joint. Sanokiya also served warm and cold drinks, including homemade hot amazake, a hit craze right now for its health benefits. Contrary to its name, it's nonalcoholic, and it pairs well with the maguro-yaki! Enjoy the snacks and drinks while sitting on the tiny benches by the vendor.

Maguro-yaki
Hon-Maguro (normal type): 200 yen for one
Chu-toro: 220 yen for one
Amazake: 300 yen
さのきや

Address

4-11-9, Tsukiji, Chuo-ku, Tokyo

Phone Number

03-3543-3331

Open hours: 7:00a.m - 3:00p.m
Closed: Sunday
Street Food Etiquette in Japan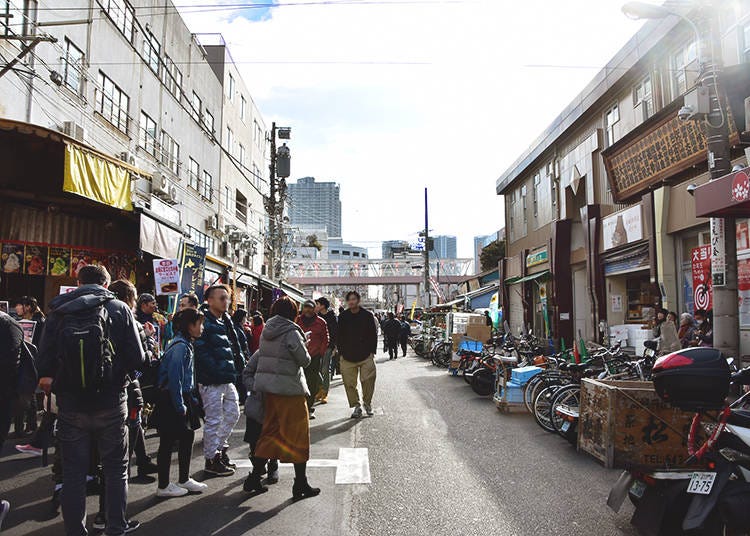 The Japanese culture typically frowns upons eating while standing or walking in public, but street food vendors are still common at matsuris and markets like Tsukiji. The proper etiquette is to eat the food at the designated area by the specific food vendor. Many stalls have tables with napkins and condiments you can stand around, benches, or a marked areas where the vendors will ask customers to stay in to eat their food. This is to make surrounding vendors are respected and to keep the streets clean.
Useful Tips For When You Visit Tsukiji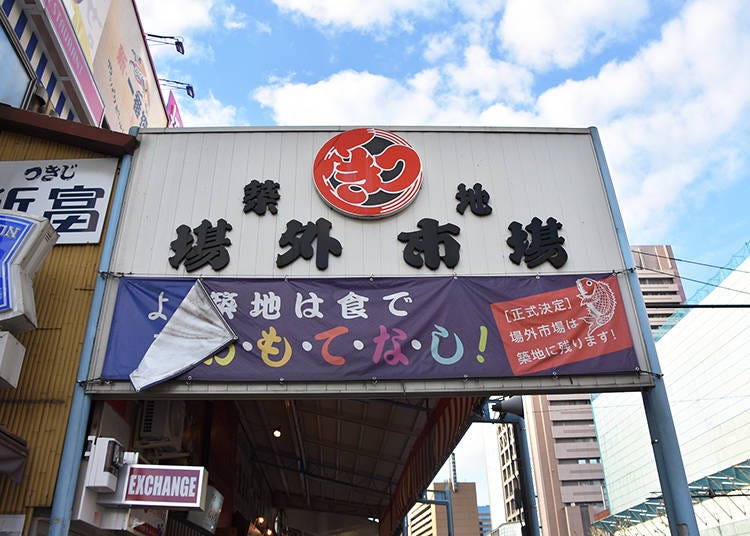 1. Go early: Tsukiji gets crowded with tour groups by 10AM. For the best and relaxing experience, go early to ensure that food isn't sold out or the shop isn't already closed.

2. Everything closes early: Another reason to go early in the morning (between 6AM and 10AM) is because many sushi restaurants and food stalls close by early afternoon. It's an early-morning world. If you head out by the time you're hungry for lunch, it might be too late!

3. Check the calendar: The market is closed on certain days, so be sure to check its holidays before heading there.

4. Relocation: The main part of Tsukiji Fish Market will officially move to its Toyosu location in Fall of 2018. However, the Outer Market showcased in this article will remain in the Tsukiji location.

Written by: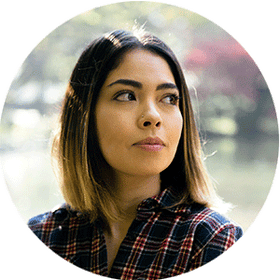 *This information is from the time of this article's publication.
*Prices and options mentioned are subject to change.
*Unless stated otherwise, all prices include tax.