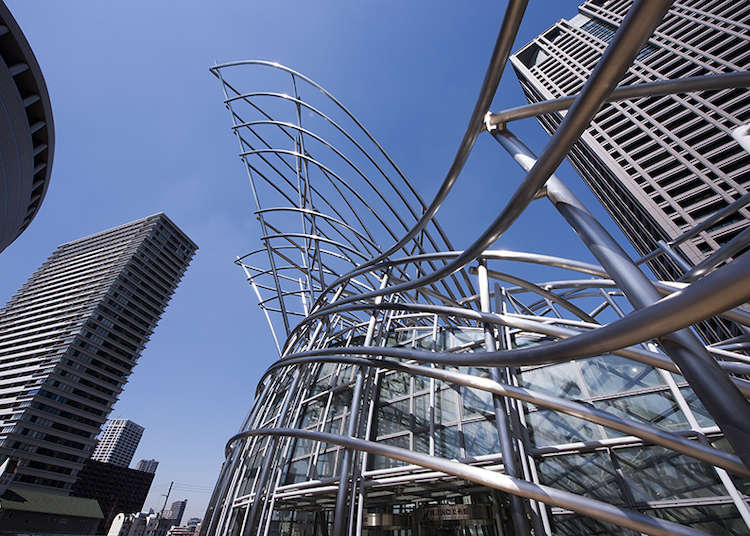 Adding an art gallery visit to your itinerary is a terrific way to dip your toes into Japan's culture, helping you learn what makes the country—and its people—tick. Especially as part of a day of sightseeing, it really unlocks the creativity behind the culture. Whether a museum specializes in Japanese or Western art, regional or international, fine art or kogei (artisanal crafts), a visit adds another rich layer to your Japan experience. And that's before considering the historic locations!

From the buildings themselves—often fabulous examples of architecture designed by world-renowned architects—to the stunning natural scenery and myriad other must-visit attractions in the immediate vicinity, a day with art at its center easily morphs into a wide-ranging adventure.

The seven museums introduced here are among Japan's absolute finest. Whether you visit only one or make it to all, you'll get more than just glimpses of masterpieces; you will be rewarded with stunning scenery, exciting activities, and some of your best memories of Japan.
Museum hours and exhibition periods are subject to change.
Please check the latest information directly with the museum's official website.
The National Museum of Modern Art, Tokyo (MOMAT): Marvel at Modern and Contemporary Art from Japan and Abroad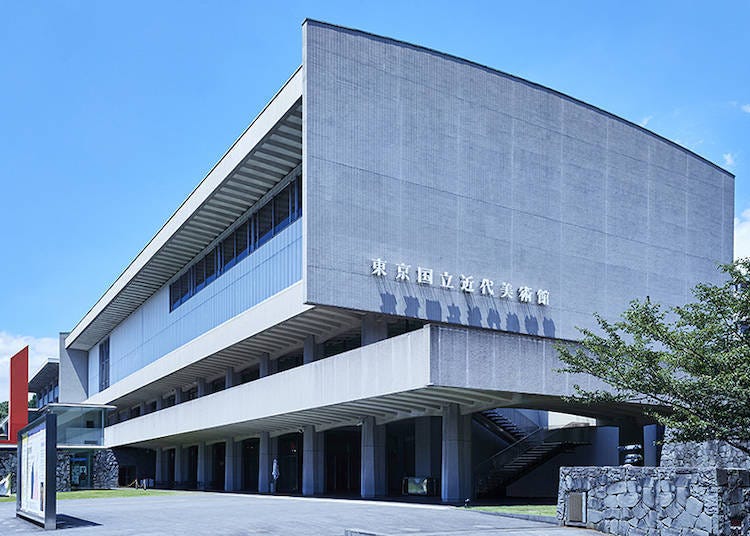 Opened in 1952, MOMAT has the distinction of being Japan's first national art gallery. Within its walls, it displays diverse works of various genres from the 20th century onwards, including paintings, woodblock prints, drawings, sculptures, photographs, and films.

Its collection of domestic art—the largest in the country—encompasses over 13,000 pieces, of which a selection is chosen for display as part of the MOMAT Collection. In Japan, it is only here that art admirers can see over 100 years of Japanese art history in one place.

Located next to the Imperial Palace in Kitanomaru Park—and nearby Chidorigafuchi Park, a popular spot for cherry-blossom viewing—a trip to MOMAT provides an opportunity to enjoy the pleasures of each season as well as incredible art.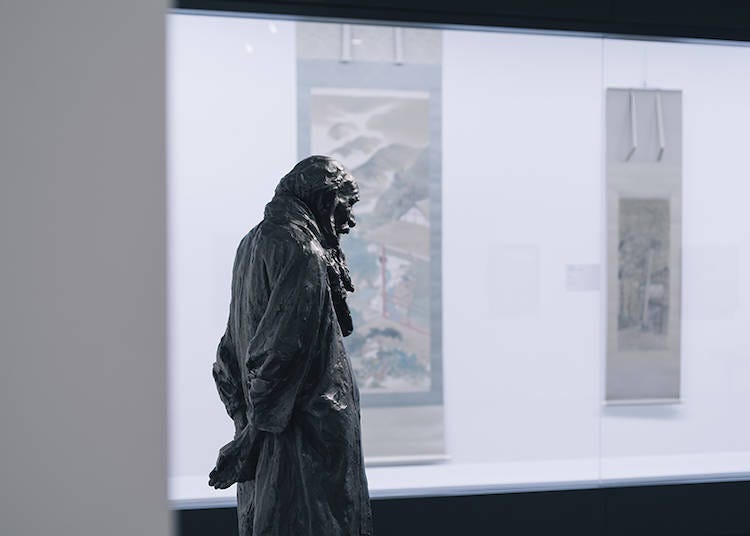 Immerse yourself in Japanese modern art by taking part in the museum's weekly Let's Talk Art! program. The first English-language art appreciation program in Japan, Let's Talk Art! is an interactive English-language art discussion that sees a small group of international museumgoers discuss works from the museum's collection with a facilitator. Read more about that here.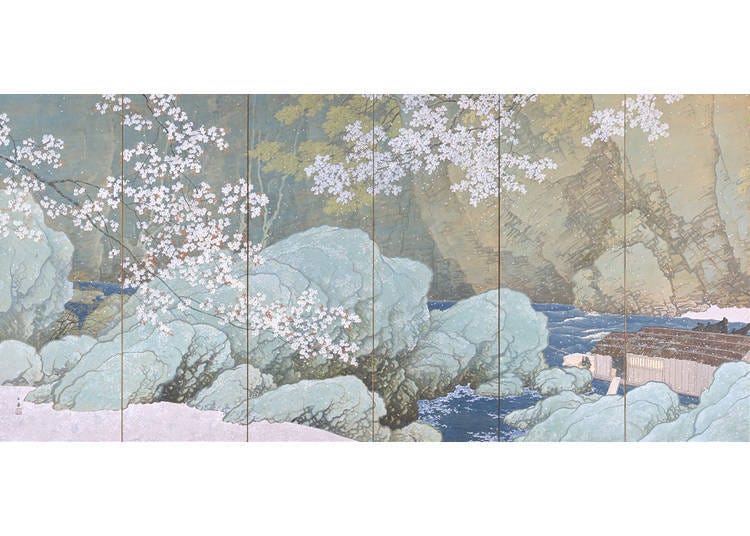 Kawai Gyokudo, Parting Spring (detail), 1916, Important Cultural Property
In spring, complementing the ephemeral blooms in the park outside, works of art featuring cherry blossoms and other flowers take center stage at the museum's annual Spring Festival. For the duration of the festival, MOMAT's front garden is transformed into a rest area where museumgoers can enjoy the beauty of spring. Make a day of it by admiring the bountiful blossoms bordering the Imperial Palace's Chidorigafuchi Moat before checking out the festival's offerings.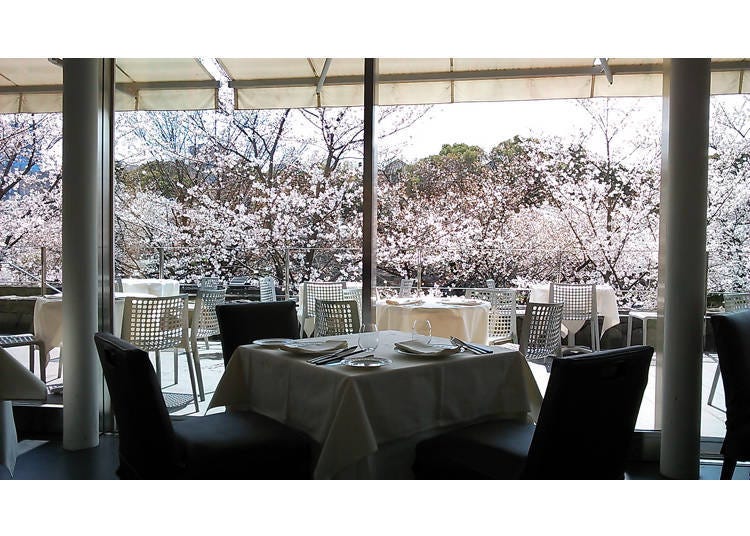 The National Museum of Modern Art, Tokyo

東京国立近代美術館(MOMAT)

Address

3-1 Kitanomaru-koen, Chiyoda-ku, Tokyo 102-8322

Tel: 047-316-2772 (Hello dial)
Hours: Tuesday to Thursday, Sunday 10:00-17:00; Friday and Saturday 10:00-20:00; admission ends 30 minutes before closing
Holidays: Mondays (open holiday Mondays, closed the day after), during installations and over the New Year holidays
The National Museum of Western Art: Delight in the European Masters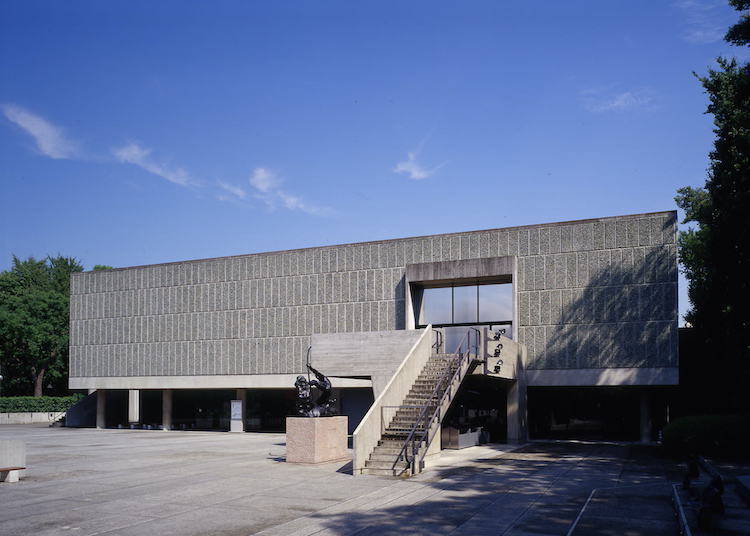 Wander among masterpieces of the Western world while traveling in the Far East at this museum specializing in art from the 14th to early 20th centuries. Admire works from Renoir, Manet, and van Gogh, among others. Devotees of classics like Rodin and Monet will be particularly pleased, as the museum houses 89 Rodin works, including many statues which can be found amidst the greenery of the museum's grounds; and 16 works by Monet, including Water Lilies and a recently restored painting.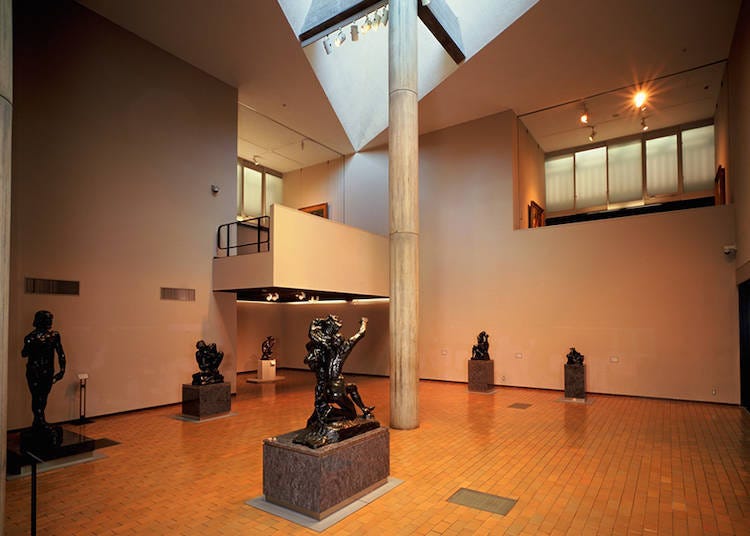 The museum, originally created to preserve and showcase European art collected by Japanese businessman Matsukata Kojiro, boasts the best collection of Western art in Asia, and does so in a building designed by the renowned Swiss-born French architect, Le Corbusier, and built in collaboration with Le Corbusier's apprentices, Sakakura Junzo, Maekawa Kunio and Yoshizaka Takamasa.

Completed in 1959, the museum's main building is both an Important Cultural Property and a World Heritage Site. Two newer wings complete the museum, the New Wing, built under the supervision of esteemed Japanese architect and former Le Corbusier apprentice Maekawa Kunio, and the Special Exhibition Wing, built under the supervision of Maekawa Kunio's firm, Maekawa Kunio Associates, Architects & Engineers.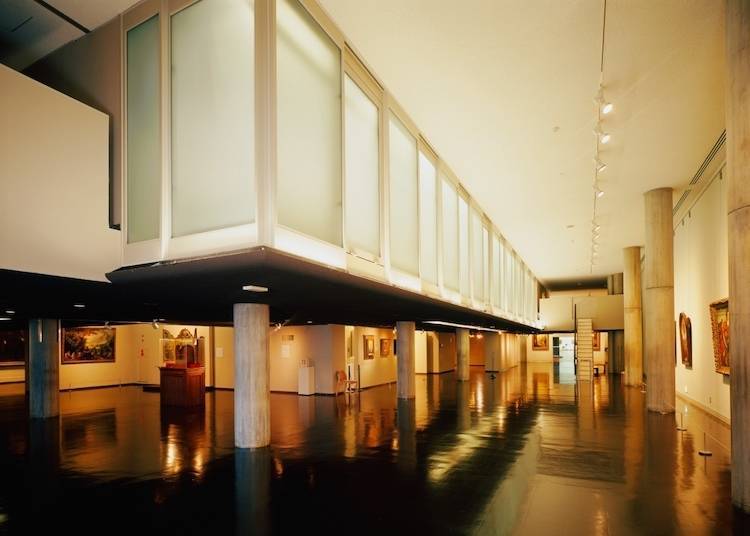 The National Museum of Western Art is surrounded by verdant parkland despite being located in central Tokyo. Ueno Park, famous for its cherry trees and temples, is also home to a zoo and a handful of other museums, including the Tokyo National Museum, making it the perfect jumping-off point for a day of art appreciation combined with nature veneration. Indeed, the National Museum of Western Art is merely the tip of Ueno's cultural iceberg.
The National Museum of Western Art, Tokyo

国立西洋美術館

Address

7-7 Ueno-koen, Taito-ku, Tokyo 110-0007

Tel: 047-316-2772 (Hello dial)
Hours (Permanent Collection): Tuesday-Thursday, Sunday 9:30-17:30; Friday and Saturday 9:30-20:00; extended hours 9:30-21:00 (see website for details); admission ends 30 minutes before closing
Holidays: Mondays (open holiday Mondays, closed the day after), December 28th-January 1st; special closings (see website for details)
Entire museum closed: October 19th, 2020–spring 2022 (tentative)
The National Art Center, Tokyo: Discover Ever-changing Art, Architecture, Gourmet and more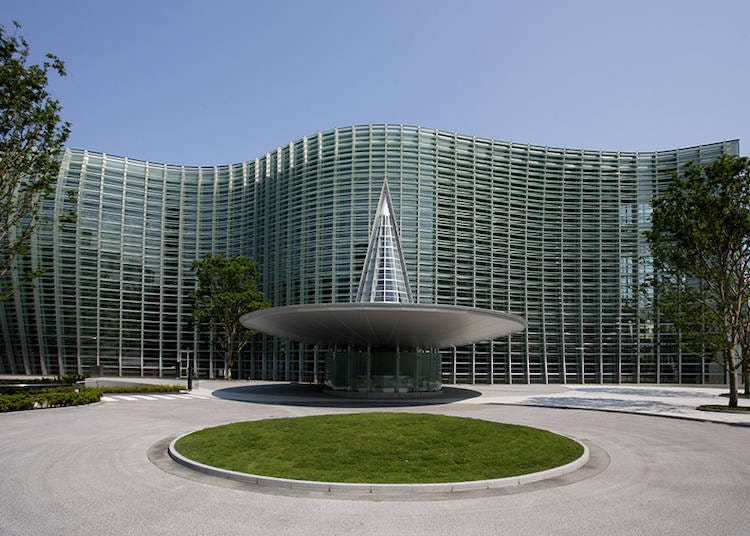 Unlike the other museums introduced in this article, the National Art Center, Tokyo (NACT), does not maintain a permanent collection. Rather, the NACT functions as a massive venue—one of Japan's largest—for art exhibitions. Throughout the year, it hosts various exhibitions, from international modern and contemporary art to manga, architecture, and fashion, in its photogenic, multiple award-winning building.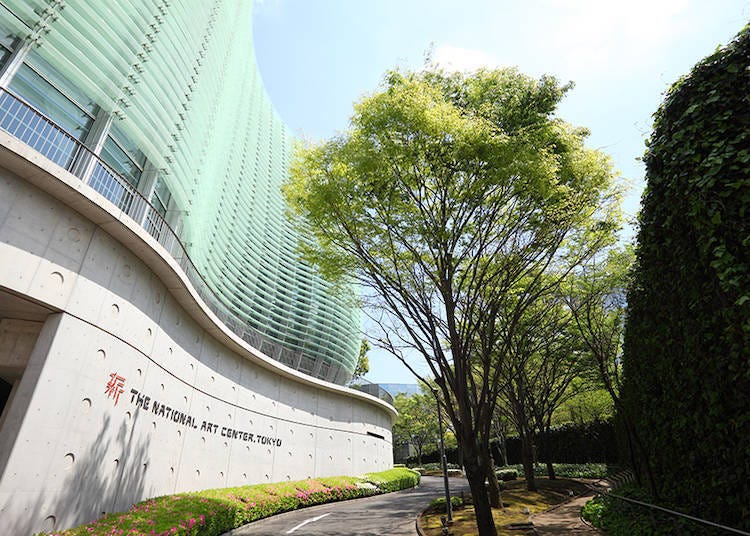 It does have something in common with MOMAT and the National Museum of Western Art, however. Despite being located in Tokyo's bustling central districts—Roppongi in this case—it, too, is close to nature, and verdant greenery is visible from inside the stunning Kurokawa Kisho-designed building, beyond the undulating glass façade and conical entrance.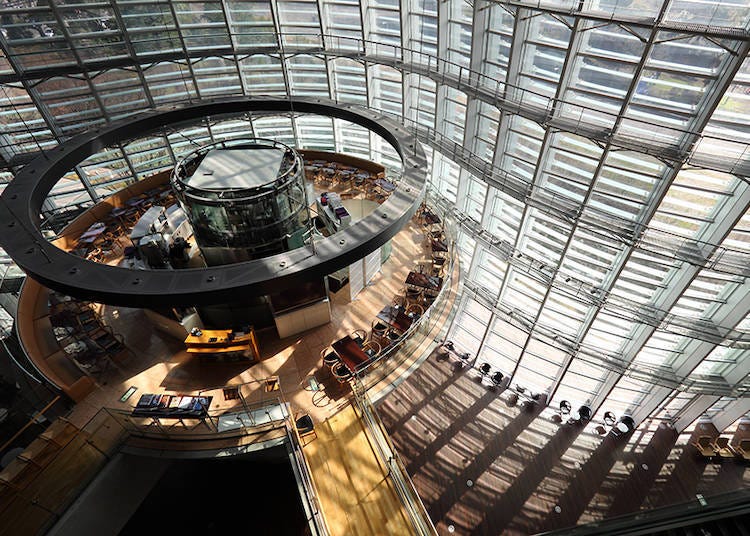 In addition to its exhibitions—and being a stunning work of art in its own right—the NACT is also home to an art library and a comprehensive collection of exhibition catalogs. Meanwhile, the Roppongi area boasts multiple cultural and entertainment centers to round out the day, including the Mori Art Museum and the Suntory Museum of Art, which together with the NACT make up Art Triangle Roppongi. Art aficionados who want to check out this polygon of artistry will be happy to hear that the three museums come complete with a discount admission system called ATRo Saving.

To learn more about the National Art Center, Tokyo's facilities and fascinating architecture, read Live Japan's report here.
The National Art Center, Tokyo

国立新美術館

Address

7-22-2 Roppongi Minato-ku Tokyo 106-8558

Tel: 047-316-2772 (Hello dial)
Hours: Sunday, Monday, Wednesday, Thursday 10:00-18:00; Friday, Saturday 10:00-20:00 (open until 21:00 August-September.); admission ends 30 minutes before closing.
Holidays: Tuesdays (open on Tuesdays that fall on national holidays, closed the next weekday); December 22nd, 2020-January 5th, 2021
National Film Archive of Japan, Tokyo: Peek into the Past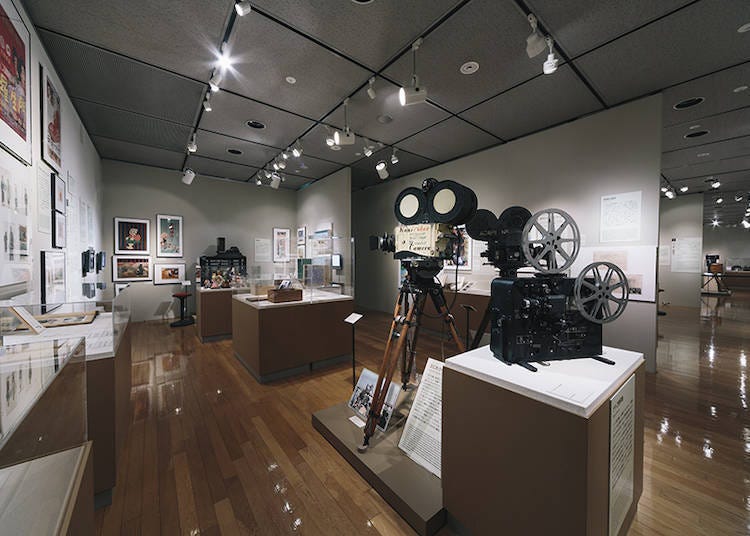 Film buffs won't want to miss a visit to the National Film Archive of Japan (NFAJ), where several screenings focusing on films in the archive's collections are held in the Nagase Memorial Theatre OZU on 2F and in the B1 Theater. Visitors will also have the chance to explore the history of Japanese cinema at NFAJ's permanent exhibition, "Nihon Eiga: The History of Japanese Film from the NFAJ Non-film Collection". The exhibition features scripts, still photographs, posters, and equipment, among other items, and allows visitors to get up close with incredible film-related technology.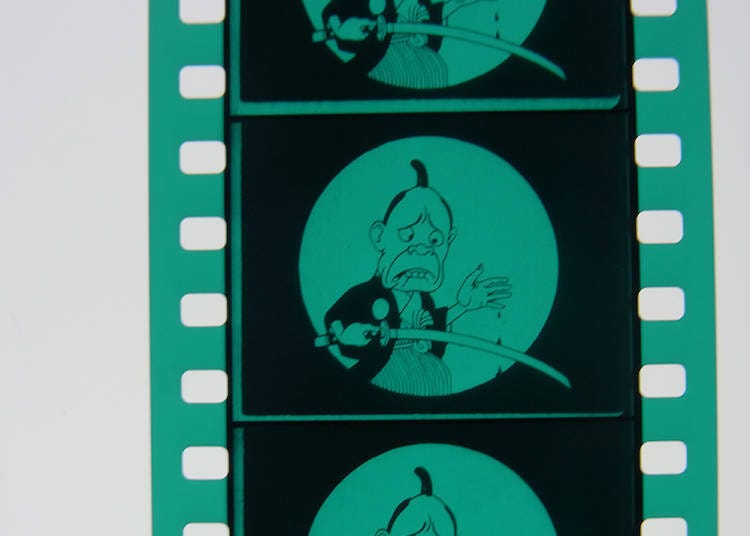 Kouchi Jun'ichi: Namakura gatana (The Dull Sword) (1917)
NFAJ started in 1952 as the film library section of the National Museum of Modern Art (later The National Museum of Modern Art, Tokyo—MOMAT). The section was expanded in 1970 to become the National Film Center (NFC), and became independent of MOMAT in 2018, becoming NFAJ.

The only national institution for film in Japan, NFAJ promotes motion picture culture through collection, preservation, restoration, research, screenings and exhibitions of domestic and overseas films and related materials.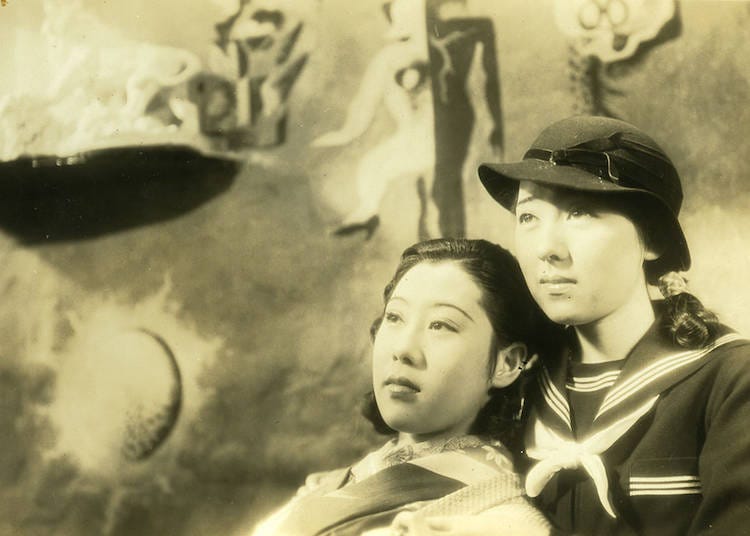 Mizoguchi Kenji: Naniwa erejii (Osaka Elegy) (1936)
The main building, designed by architect Ashihara Yoshinobu and completed in 1995, is located in Kyobashi, a Tokyo neighborhood near Ginza's shopping streets and Tokyo Station, and also within walking distance of Hibiya Park and the Imperial Palace. With the tremendous location, not only cinephiles but all visitors can easily experience Japanese movie culture while enjoying some of Tokyo's other top-notch sightseeing spots.
The National Film Archive of Japan, Tokyo

国立映画アーカイブ

Address

3-7-6 Kyobashi, Chuo-ku, Tokyo 104-0031

Tel: 047-316-2772(Hello dial)
Hours (Gallery): 11:00-18:30; last Friday of the month 11:00-20:00; admission ends 30 minutes before closing
Holidays: Mondays; during screening preparation; between exhibitions; April 1st-May 28th, 2020, December 28th, 2020-January 4th, 2021
The National Museum of Art, Osaka: Go Below Ground to Find Art that Reaches New Heights!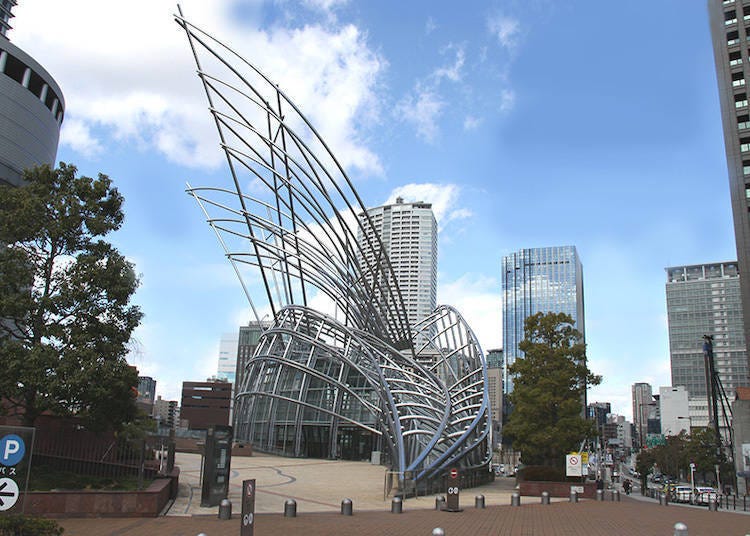 The exterior of the National Museum of Art, Osaka, is a sight to behold—what's visible of it, at least! Above ground, it consists only of a glass-paneled lobby, while the rest of the art museum is located below ground. The above-ground entrance is enveloped by silver-colored beams inspired by the vigor of bamboo and the growth of contemporary art. The beams reach skyward in a graceful arch, and turn the entryway into a work of art.
The museum opened in 1977 in the renovated building that housed the Expo Museum of Fine Arts at the Japan World Exposition 1970. In 2004, it moved to Nakanoshima Island and into its current building, designed by César Pelli & Associates Japan.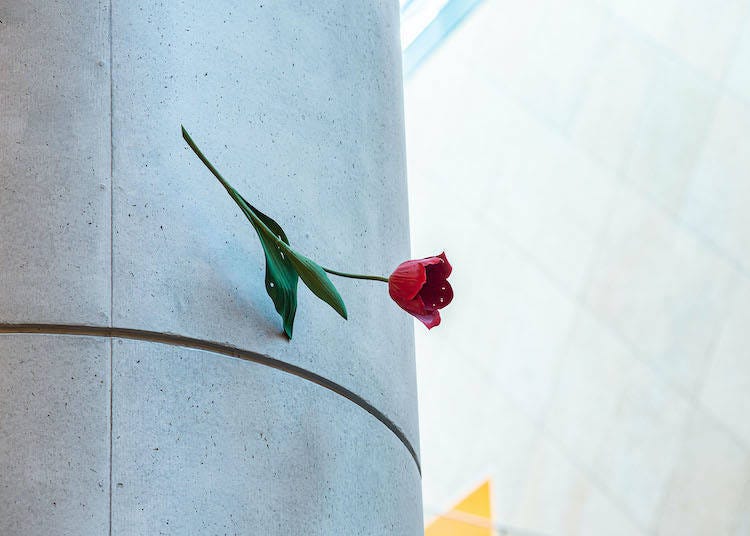 SUDA Yoshihiro, Tulip, 2006
The museum houses contemporary art mostly from the post-war period, including prints, graphic design, watercolors, sketches, paintings, photographs and sculptures as well as film and performance art from both Japanese and Western artists such as Suda Yoshihiro and Joan Miró. The museum even boasts a few industrial design works, including furniture and lighting.

Walkable from the major entertainment and shopping district of Umeda, the National Museum of Art, Osaka, can be easily visited as part of a full day of exploring some of the city's other gems, like the neighborhood's iconic HEP 5 Ferris wheel. Reaching a height of 106 meters above ground, a ride into the sky above Osaka provides a delightful contrast to an afternoon spent appreciating art below the city's surface.
The National Museum of Art, Osaka

国立国際美術館

Address

4-2-55 Nakanoshima, Kita-ku, Osaka 530-0005

Tel: 06-6447-4680
Hours: Tuesday-Thursday, Sunday 10:00-17:00; Friday, Saturday 10:00-20:00 (July-September 10:00-21:00); admission ends 30 minutes before closing; hours are subject to change
Holidays: Mondays (open holiday Mondays, closed the day after); during installations
The National Museum of Modern Art, Kyoto (MoMAK): Explore Modern Art in an Ancient Capital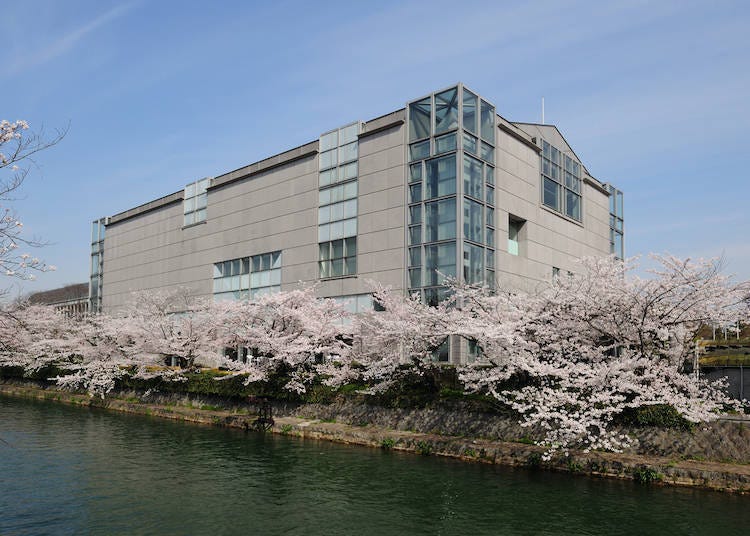 Photo by Shikata Kunihiro
The National Museum of Modern Art, Kyoto (MoMAK) opened its doors in 1963. Facing Heian-jingu's sando and the Lake Biwa Canal from its location in the lush and beautiful Okazaki Park, MoMAK boasts a diverse collection of approximately 13,000 works which ranges from paintings, woodblock prints, sculptures, crafts and design to photographs and films. For the public to have a chance to admire the entire collection, the museum changes its exhibited works roughly five times per year to match the seasons and special exhibitions.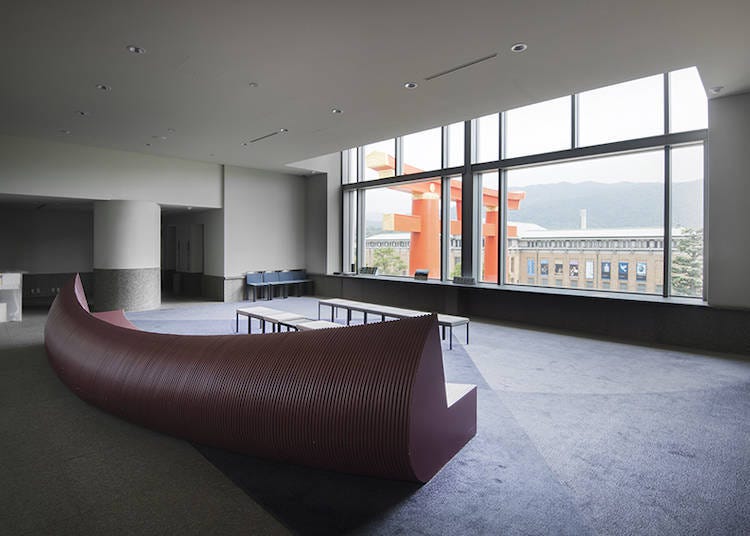 Photo by Kawata Norimasa
Okazaki Park is located close to Kyoto's Higashiyama Station, and not far from the entrance, a towering vermillion torii gate soars high into the sky. This torii belongs to Heian-jingu Shrine. Blending into this landscape of historic buildings and cultural landmarks is MoMAK's smart, modern museum building, designed by multiple award-winning architect Maki Fumihiko.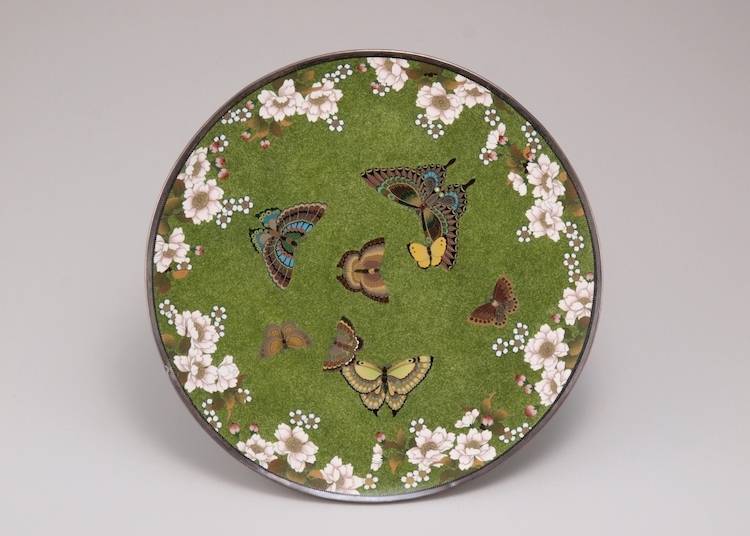 NAMIKAWA Yasuyuki, Plate with butterflies and cherry blossoms, Meiji Period
Notably, the museum places emphasis on artists active in Kyoto and western Japan and the artistic movements associated with them. Many pieces of its collection were produced by artists such as the multi-talented Kitaōji Rosanjin and renowned cloisonné artist and Imperial Household Artist Namikawa Yasuyuki, as well as modern artists involved in Kyoto's circle of painters like Takeuchi Seiho and Uemura Shoen and related artists. Through these works, it is possible to feel the very essence of the former capital and its inhabitants.

Combine your visit with a stroll along the nearby Philosopher's Walk (Tetsugaku-no-michi), a two-kilometer-long canal-side path running from the Silver Pavilion of Ginkakuji to Nyakuoji Bridge. Along the way, soak in the stillness of quieter temples to complete a day of cultural immersion, but take note that during cherry blossom season, the tree-lined canal bustles with blossom seekers.
The National Museum of Modern Art, Kyoto

京都国立近代美術館

Address

26-1 Okazaki Enshoji-cho, Sakyo-ku, Kyoto, 606-8344

Tel: 075-761-4111
Hours: Tuesday-Thursday, Sunday 9:30–17:00; Friday, Saturday 9:30-20:00; admission ends 30 minutes before closing
Holidays: Mondays (open holiday Mondays, closed the day after); New Year holidays; during installations
The National Crafts Museum Kanazawa: Feast Your Eyes on Japan's Artisanal Crafts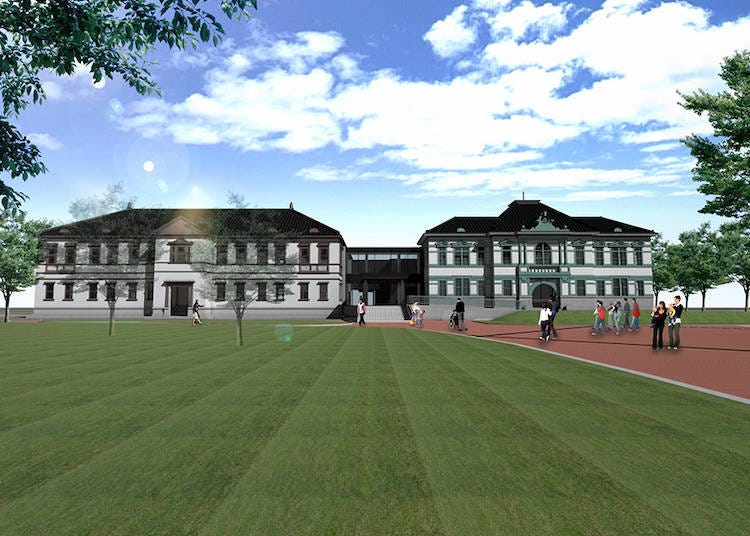 Artist's rendition of the completed museum
Many skilled artisans live in Kanazawa, an ancient city on the Sea of Japan side of the main island of Honshu and the birthplace of countless traditional crafts. Fittingly, the city is set to be the new home of the National Museum of Modern Art, Tokyo's Crafts Gallery, which has plans to open in time for 2020's biggest sporting event.

Housed in the dismantled, relocated, and rebuilt Old 9th Infantry Division Command Headquarters and Old Army Generals Club, the museum—renamed the National Crafts Museum—is the only museum in Japan that specializes in crafts, and provides a unique look at Japan's rich world of industrial arts. Items on display cover everything from ceramics, glass, lacquer, bamboo work, woodwork, dyeing and weaving, metalwork and dolls to industrial and graphic design.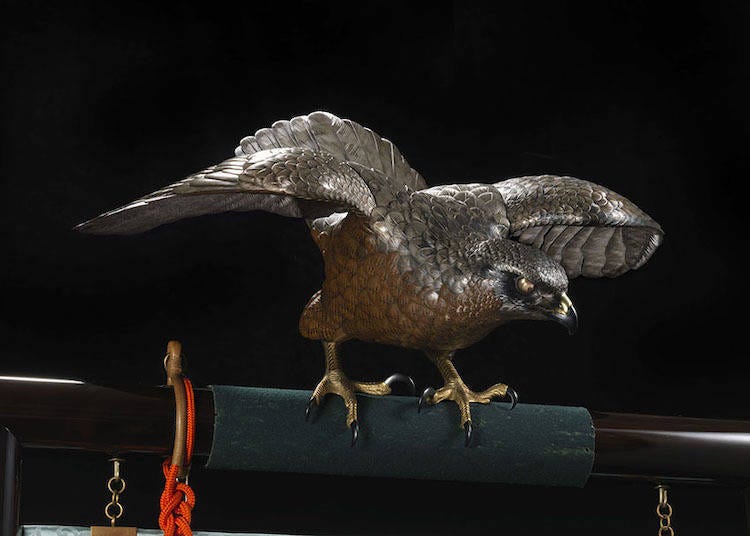 SUZUKI Chokichi, Twelve Hawks (a part of the work), 1893
Located in the Kenrokuen Cultural Zone that surrounds Kenrokuen Garden—considered one of Japan's three most beautiful gardens—the National Crafts Museum, like the other museums introduced in this article, sits in good company alongside a number of important cultural properties, including the D.T. Suzuki Museum, dedicated to the prominent Buddhist scholar.
The National Crafts Museum

国立工芸館

Address

3-2 Dewamachi, Kanazawa, Ishikawa 920-0963
A visit to any of these museums becomes a gateway to a wider world of nature, culture, and adventure. Dive deeper into Japan's rich layers by adding at least one of its exceptional museums to your itinerary.
・Read more about Japan's National Galleries on Live Japan
*This information is from the time of this article's publication.
*Prices and options mentioned are subject to change.
*Unless stated otherwise, all prices include tax.