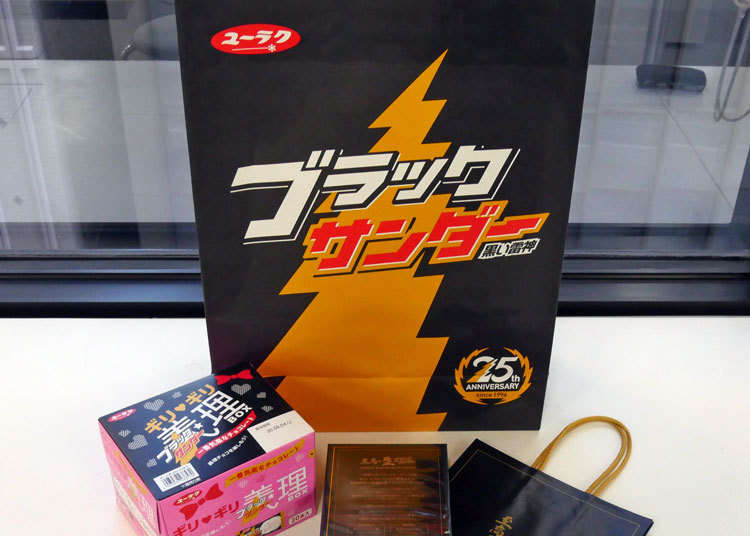 "Happy Valentine's Day!" Live Japan's office was filled with excitement and the aroma of deep, rich cocoa as people exchanged and opened their "giri-choco" - obligatory chocolate.

For fun, our English editors Cassie and Timothy tried two versions of Black Thunder, a popular chocolate bar made and sold in Japan by Yuraku Confectionery Company: the regular style and the "Supreme Ganache Black Thunder."

Indulgent? Excessive? What did they think of this 3,000 yen (~$30) chunk of chocolate? We had to know.
Enter the Ultimate Giri Choco: "Supreme Ganache Black Thunder"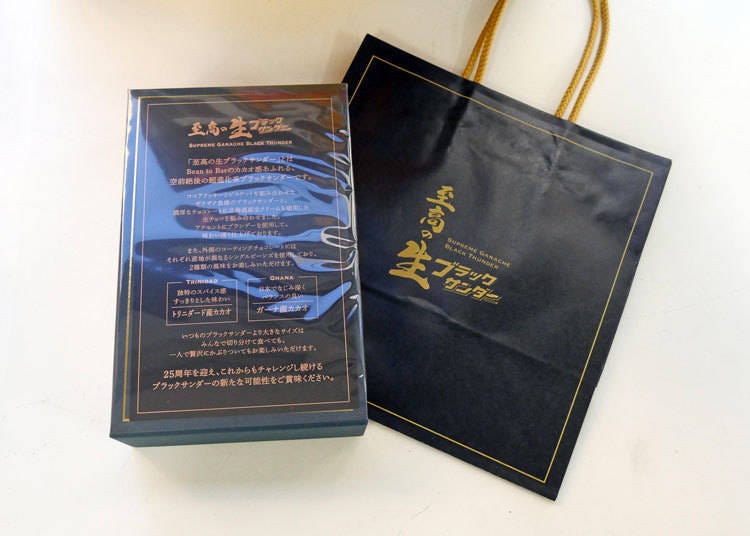 Black Thunder is a bite-sized chocolate bar with cocoa-flavored cookie chunks mixed with rice puffs, all dipped in rich, dark milk chocolate.

Crafted to commemorate Black Thunder's 25th anniversary, "Supreme Ganache Black Thunder" is something taken from beyond the next level. It is a bean-to-bar concept that sees carefully selected cacao beans from Ghana or Trinidad and Tobago made into the crunchy base and smothered with supreme ganache, then accented with a kiss of brandy. It's what chocoholics dream of on Valentine's Day.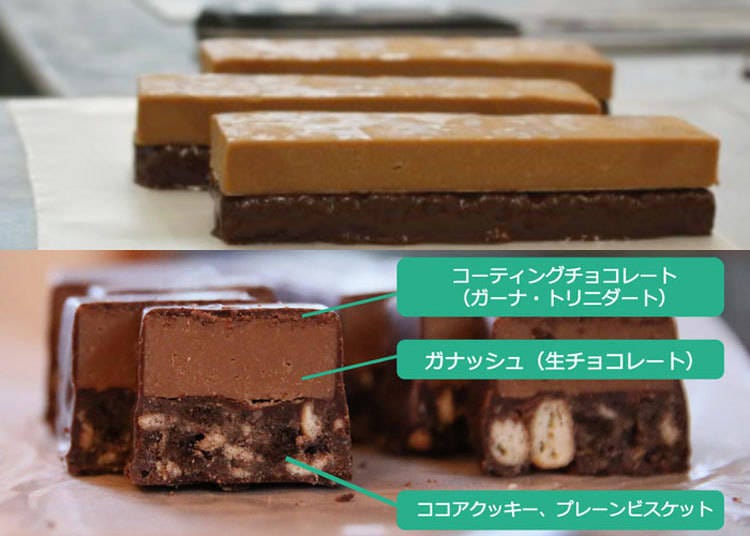 Supreme Ganache Black Thunder Cross-section. From top, down: Chocolate coating (Ghana/Trinidad and Tobago); Ganache (fresh "nama" chocolate); Cocoa cookie crunch with pieces of plain biscuit
Supreme Ganache Black Thunder was launched in November 2019, after seeing success in a crowdfunding campaign. It was so popular that 500 packs were sold out within 4 hours after sales started - despite the price being around 100 times that of the standard Black Thunder. An additional 100 packages that were put up for sale soon after were then sold out in 3 minutes.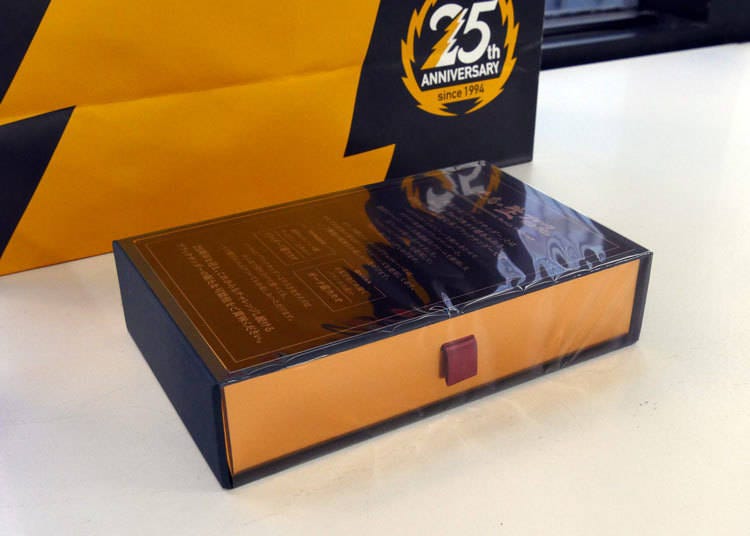 Packaging for Supreme Ganache Black Thunder - luxurious!
From January 31 to February 17, a "Black Thunder Giri Choco Shop" appeared near Tokyo Character Street in the basement level of Tokyo Station. As this pop-up store has limited quantities of chocolates available (including Supreme Ganache Black Thunder), we had to stand in line and wait for our chance to bag a bit of sweet crunchy bliss.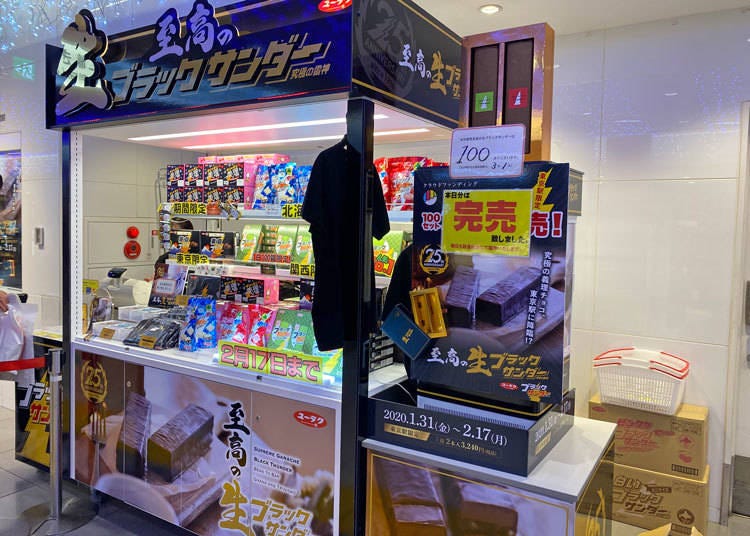 Black Thunder Giri Choco Shop. If you go after noon, it's very likely that the Supreme Ganache Black Thunder will be sold out. If you're keen to get a bar of your own, be sure to arrive around the 10am opening!
What's the Deal With Giri Choco?
As introduced in a previous article, Valentine's Day is celebrated rather differently in Japan. For example, in the United States and the United Kingdom, men giving gifts to women is fairly normal. In Australia, it is common for men to give flowers to women and invite them to dinner. The custom of women giving men chocolate is a unique Japanese culture.

But in Japan, the line isn't drawn at love! Giri Choco - obligation chocolate - are the inexpensive sweets Japanese women give their male coworkers and platonic acquaintances on Valentine's Day. This modern tradition has seen a variety of sweets being given around the office, ranging all the way from penny candy to homemade sweets to exquisite, luxurious artisan chocolates being given.

And one month later, on March 14, it is expected that men who receive these chocolates reciprocate during another tradition called "White Day."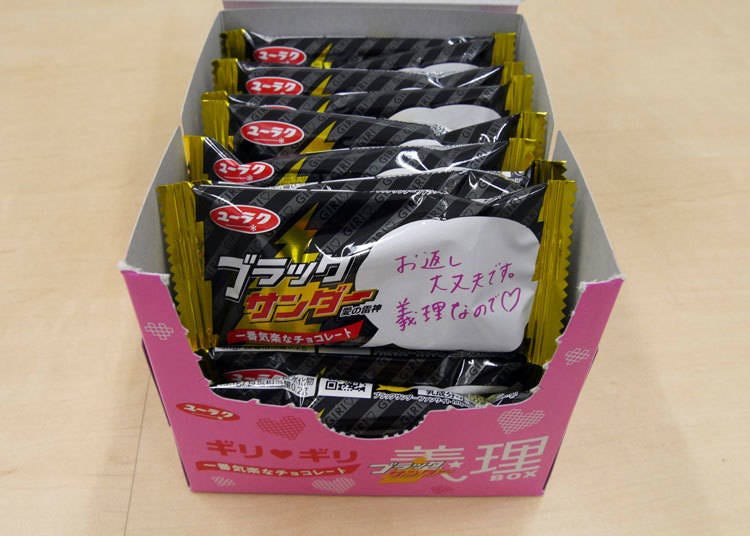 We also sampled the Black Thunder Giri Choco Box this time!
So what do our English editors, Cassie and Timothy, think about Supreme Ganache Black Thunder?
Cassie (UK) and Timothy (US) are often game to try new sweets, gadgets, restaurants and more that appear in our articles. As one of the Japanese editors, I'm very grateful to have them along for this piece as well! I set down the Black Thunder packages to see what they thought.

"What, what?" (Timothy)

"Ooo, it's a very stylish package, isn't it!" (Cassie)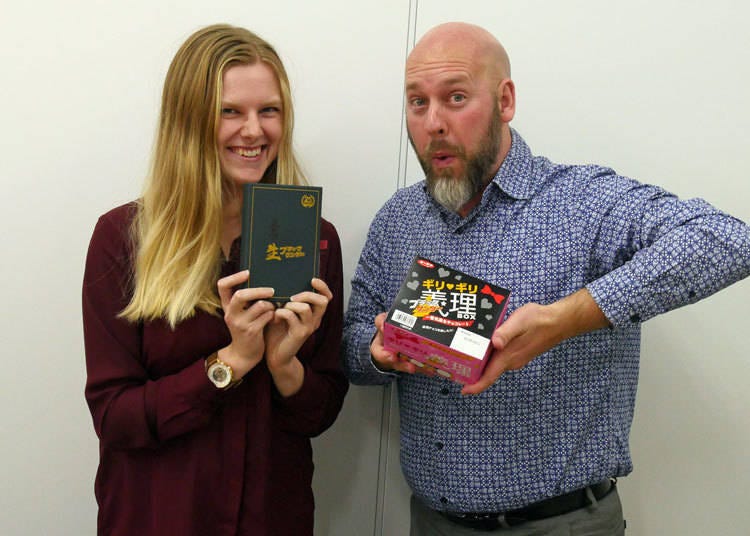 Cassie from the UK (left), Timothy from the US (right)
Cassie, who has had Black Thunder before, was surprised when I told her about the 3,000 yen price of Supreme Ganache Black Thunder. It seems that Timothy has never tried Black Thunder before, but he seems to be very interested in how it tastes.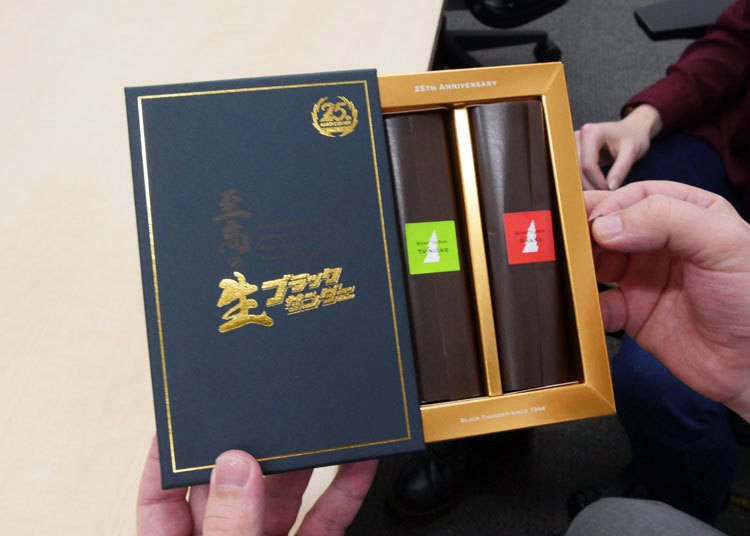 Breaking the seal
"Ooh~"

Two types of chocolate come in the Supreme Ganache Black Thunder box. One uses cocoa beans from Ghana and has a well-balanced taste that is familiar in Japan.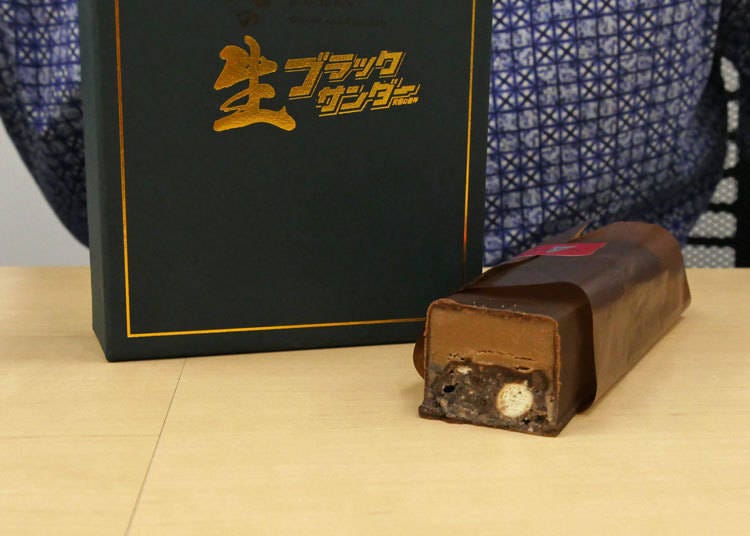 The other uses cocoa beans from Trinidad and Tobago and has a distinctive, full flavor that's punctuated with spice.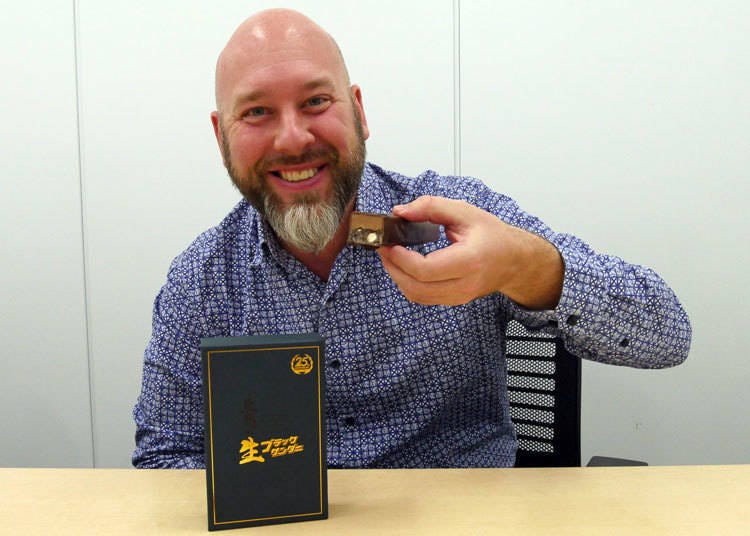 What did our editors think about it?

"Okay, so I'm in love with the ganache. It melts in the mouth and kind of spreads out in a rich, velvety way. Both are pretty good, but the Trinidad one seems to have a bit of spice that lingers, and a pleasant bitterness." (Timothy)

"This is so much better than your typical Black Thunder! The whole experience is a lot more luxurious, including the package itself. I feel like the Ghana chocolate is a bit sweeter. But the ganache is a bit more bitter and thicker than typical Japanese chocolate. I know it's 'Giri-choco' but I feel like it's so fancy I'd prefer to give it to my boyfriend!" (Cassie)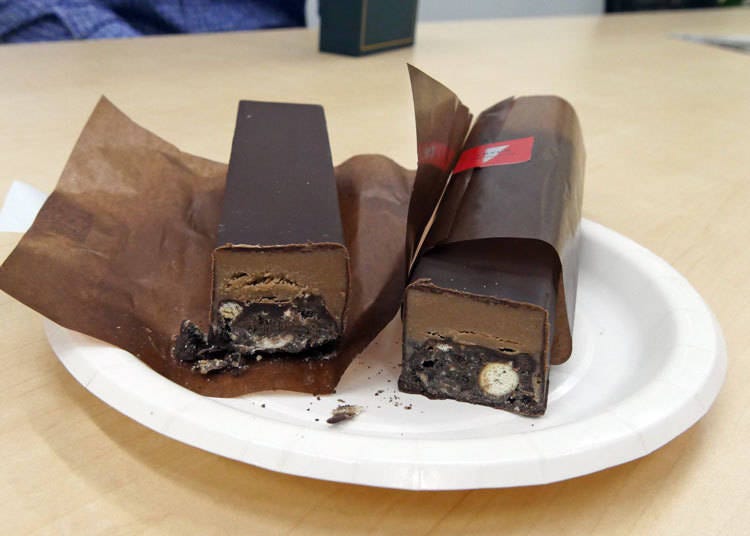 "Japanese Giri-Choco Culture is Frankly a Bit Strange!"
As a Japanese, I was curious to know what our English editors thought about Japan's "giri choco culture." After a pause they both said: "Yeah, it's a bit weird."

When Timothy, who has been in Japan for over 16 years, first heard about giri choco, he was quite surprised at how pervasive it is in the workplace - especially by how women give chocolates to their male seniors. "Yeah, I feel it's a bit odd really. At times it seems Japan really is a male-centric society. Why is it that women give chocolates to men - why not the other way round? I wish Japan would instead consider something like Administrative Professionals Day, where managers would treat their staff to lunch and show their appreciation. I know things are changing in Japan, but it seems a bit odd that it's unilateral, from women to men."

During her time in the UK, Cassie worked part-time at a shop specializing in Japanese imports. Now in her third year in Japan, this is what she felt: "In Japan, there seems to be an emphasis on the group, or even on obligation. In the UK, if people celebrate it, it's more about celebrating the time together as a couple. We'll give each other presents or go out on a special date, but I wouldn't just give out random chocolates to people at work. All in all, 'giri choco' is a bit of a weird concept, but it is nice that people give it out as a token of gratitude - I really felt like you were saying 'thank you for your hard work' to me!"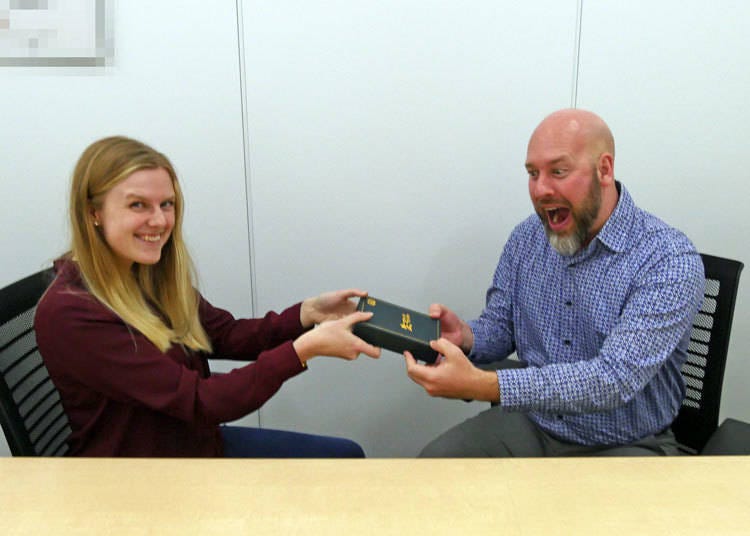 "Do you guys have any final words on giri choco?"

"It's kind of weird, but seeing as I get to eat chocolate this fancy, I can't complain!" (Cassie)

"This stuff is great, but if I'm going to receive a lot at the office I hope they create a diet version...!" (Tim)

"Would you do it again?"

"I'd eat the chocolate again, but I don't think I'll be giving it out this year!" (Cassie)
Written by Shoko Kamiguchi
*This information is from the time of this article's publication.
*Prices and options mentioned are subject to change.
*Unless stated otherwise, all prices include tax.