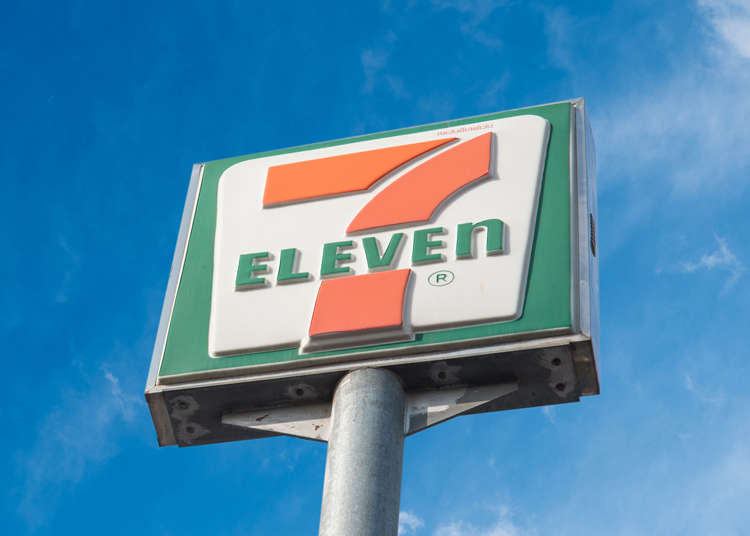 Convenience stores are amazing! From food and drinks you can't get back home, to things you didn't realize you needed on your travels, they have so much, and we can't get enough. It's got to a point that you could even say convenience stores are a tourist spot in themselves. But you might have noticed there are a few different convenience stores around – so which one is the most popular, and what food do tourists love the most?

To find out, we looked at a survey taken from the Japan-loving community site "FUN! JAPAN", alongside our own Live Japan interviews. Let's see what they had to say!
How much do people know about Japanese convenience stores?
According to a survey* conducted by Fun Japan Communications, which operates FUN! JAPAN, which included Taiwan, Hong Kong, Thailand, Malaysia, Indonesia, Vietnam, and India, the knowledge of convenience stores was as follows:
*Survey period: November 22-December 23, 2019, number of samples: 2453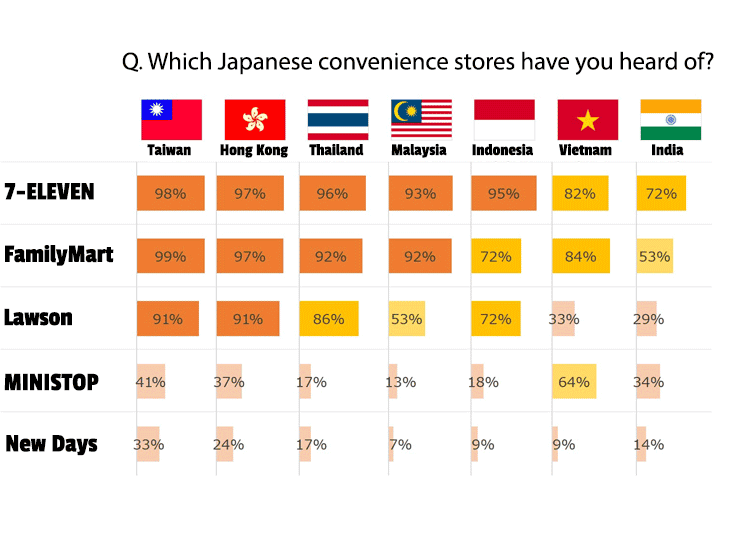 Japan receives a particularly high number of visitors from Taiwan and Hong Kong, and in those countries, outside of the big players of 7-Eleven, FamilyMart and Lawson, they were more aware of Ministop and NewDays than other countries. 7-Eleven and FamilyMart are continuing to expand overseas, so their recognition is understandably quite high, whereas Lawson varies from country to country. Interestingly, the knowledge of Ministop was quite high in Vietnam, where it ranked 3rd after 7-Eleven and FamilyMart.

7-Eleven has spread far and wide, including to a number of the places listed above, so it makes sense that its recognition would be the highest.
Which convenience stores have you been to in Japan?
When asked which convenience stores they had been to in Japan, the trends were incredibly similar to the results of the previous question.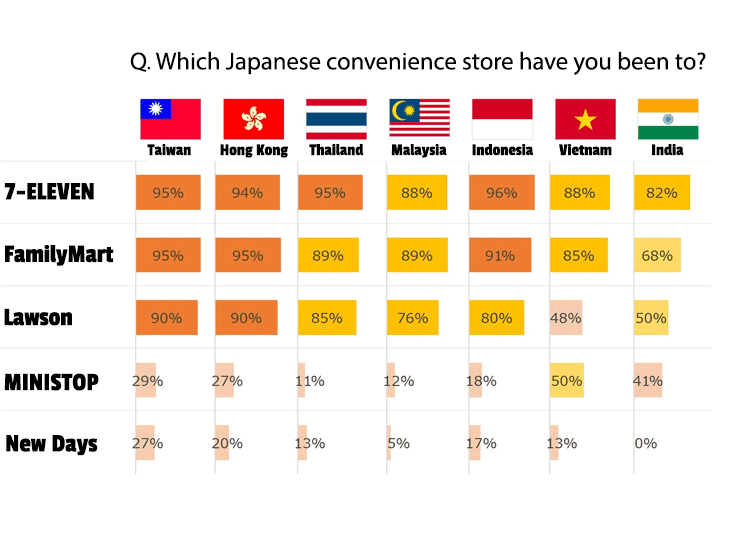 Here, Taiwan and Hong Kong participants had been to all of the convenience stores more than those of other countries. And once again, 7-Eleven and FamilyMart came up on top, with Lawson varying depending on the country.
Why do people go to convenience stores?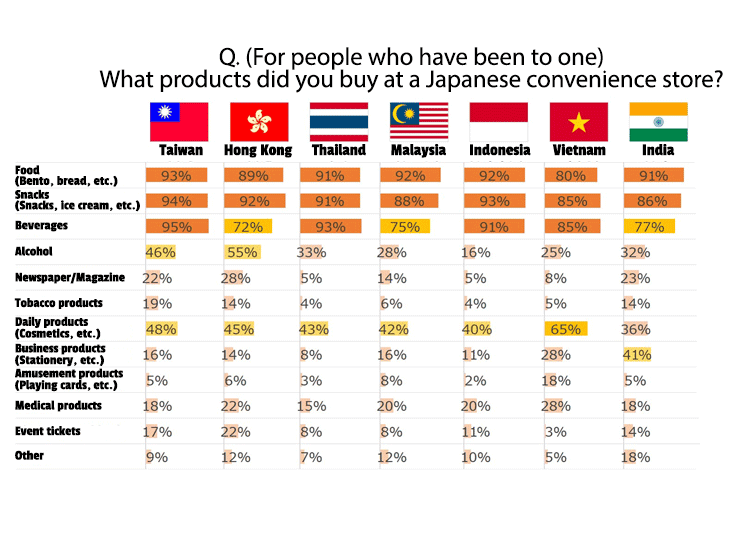 When asked "what did you buy?" the top most popular answers were for food, snacks and drinks. After that were lifestyle goods such as cosmetics, which might come as a surprise to some!

What's interesting about this is that most of these purchases were not made for items they needed at the time, but rather as souvenirs to take home. One of the great things about Japanese convenience stores is that there's an abundance of Japanese exclusive sweets and special packaging, alongside Japan-made cosmetics and characters. Getting it at a convenience store means that even with the high quality of Japanese brands, the price is pretty low, so it's the perfect place to stop by!

One interesting point about this survey is that "business products" (office supplies) were particularly popular among travelers from India, suggesting their visit is usually of a more formal nature, perhaps.
What's your favorite convenience store? Why?
Here the participants were asked to select their favorite convenience store out of all the ones they had visited, and the results were pretty interesting.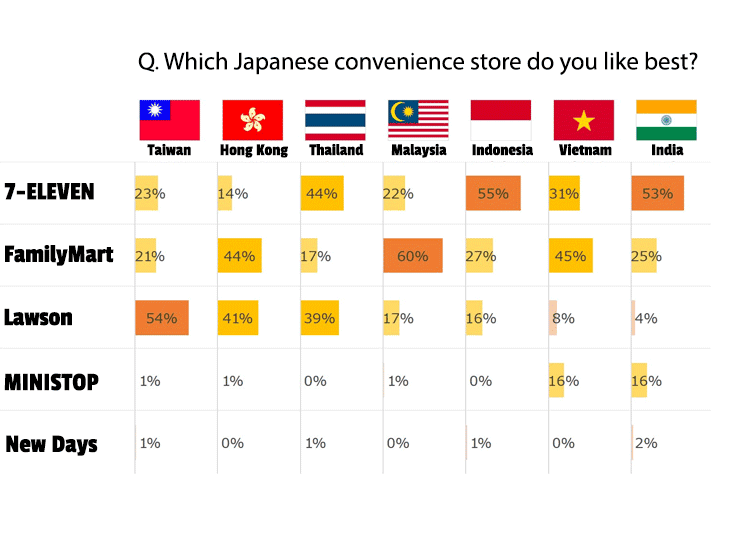 ・ Family Mart is the most popular in Hong Kong
Although FamilyMart does not have a store in Hong Kong, it also has stores in popular destinations such as Taiwan, Korea and Thailand, which is perhaps what makes it a convenience store familiar to Hong Kong citizens. "Fami Chiki" is a particularly popular item – which is a crispy fried chicken, served hot at the counter – and although there are other convenience stores also serve fried chicken, among Japanese convenience store food "Fami Chiki" seems to come out on top.

・ Seven-Eleven is the most popular in Thailand
Out of all the Japanese convenience stores, 7-Eleven has the most stores in Thailand, which means a good number of people know the name. In particular, it seems that the idea that "7-Eleven Premium sweets are delicious" has become a hot topic among Thai travelers who love Japan. On top of that, Seven Bank's ATM not only accepts cash cards and credit cards issued in Thailand, but also supports Thai language, so it's an easy option and seems safe to use.

・ Family mart is the most popular in Malaysia
In Malaysia, FamilyMart is the symbol of Japanese convenience stores. The quality of service and food seems to have left a better impression than other convenience stores have. A lot of people said in particular that "The bento boxes are delicious", "They are the oden and onigiri pioneers (as other convenience stores have also started to imitate FamilyMart)" and they were known as being at the "Forefront of new trends".

・ Seven-Eleven is the most popular in Indonesia
7-Eleven once used to be in Indonesia. It withdrew from the area in 2017, so perhaps when tourists have found 7-Eleven stores while traveling in Japan, it stirs some kind of nostalgia. Also, on a completely different topic, ATMs have no extra charge! But, although they may not be the top favorite right now, Lawson and FamilyMart are expanding in Indonesia, so who knows what their answer will be in the future!

・ Family mart is the most popular in Vietnam
Because FamilyMart was the first Japanese convenience store to make its way to Vietnam, it has achieved a high level of recognition. Some of the reasons it seems to be popular with younger Vietnamese is because of its collaboration with popular characters like Doraemon, and even just from the sheer fact that it is a very "Japanese" convenience store. Although Ministop didn't make the top favorite, the reason for its comparatively high recognition is the fact that it is affiliated with AEON, a Japanese business that has expanded quite successfully throughout Vietnam.
Live Japan: Which convenience store do YOU like?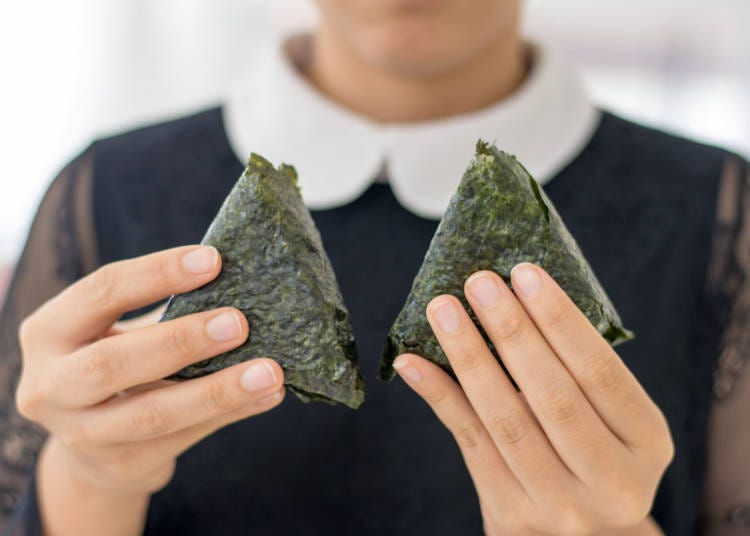 Here at Live Japan we've also done a few of our own interviews of a similar topic. Among our smaller interviews we found that the number one favorite food was onigiri (rice balls), because they are filling and cheap when you get hungry on the go!

In second place was "hot snacks", like the above-mentioned "Fami Chiki". It's pretty awesome being able to get hot, fresh snacks pretty much anywhere you go!
Live Japan: What convenience store hot snacks do you like and hate the most?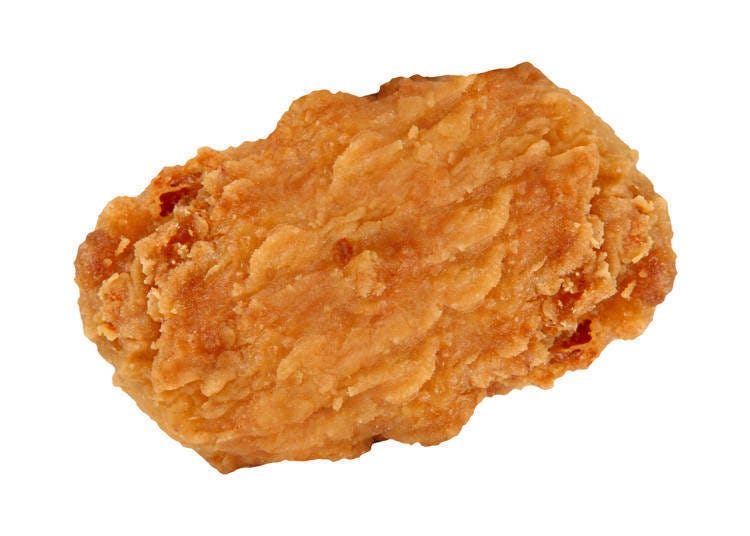 The hot snacks available at the counter in Japanese convenience stores is often a pleasant surprise for tourists who may be more used to the refrigerated, ready-made type of snacks available back home. Again, fried chicken came up, and seems to be quite the hit with overseas visitors. But participants also loved the fact that there were a whole load of exclusive and regional items available wherever they went!
*This information is from the time of this article's publication.
*Prices and options mentioned are subject to change.
*Unless stated otherwise, all prices include tax.