It's Christmas season in Japan and you need to pick up gifts for friends, family and coworkers. However, despite all the extravagant Christmas decorations splashed across the city and shopping areas, very few places actually sell Christmas related goods that could be given for stocking stuffers or holiday gifts.

Most department stores sell high ticket items that may be over your budget and may lack originality as many shops sell the same items that are available all seasons. But, if you look hard enough and think outside the box, you might find some interesting, creative and much appreciated Christmas presents for your loved ones back home.

We asked 10 international travelers and residents where they enjoy shopping in Japan during the Christmas season. These are some of their recommendations.
1. Don Quijote (Mainly Shinjuku and Akihabara): From Crazy Good to Crazy Cheap (Niles/Italy)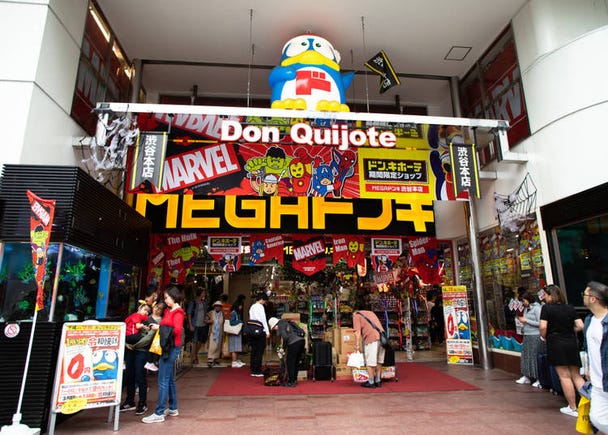 Probably the most random, eccentric and colorful store you will find in Japan, Don Quijote is brimming with a variety of food, clothing, houseware, toys and electronics. Cramped and narrow aisles make it hard to maneuver through the store packed full of products but that is half the fun of visiting this shop. Don Quijote has over 160 locations across Japan and is easily noticeable from the giant blue and white penguin mascot and the brightly lit sign displaying the store name.

Here you can find grocery type items, alcohol of every sort, candy, snacks, party goods, clothing, accessories and even adult goods. There is a section which sells high-end brands like Coach, Rolex and Louis Vuitton as well as a cosplay and souvenir section with very reasonable pricing.

Niles specifically likes the Shinjuku and Akihabara shops because of the special items these branches offer. The Akihabara branch of Don Quijote for example, offers a variety of anime and manga related toys, souvenirs and snacks that aren't available at other locations. And both Akihabara and Shinjuku branches have shirts, hats and other paraphernalia that features the Akihabara and Shinjuku name or logo.

"I think I could spend the entire day in that shop," says Niles. "There is so much kooky stuff in there that would be great for my friends back home. They definitely have items at Don Quijote that are not available at any other shop."
2. Ueno's Ameyoko Market: Bargain Priced, Unique Market (Aldo/Texas)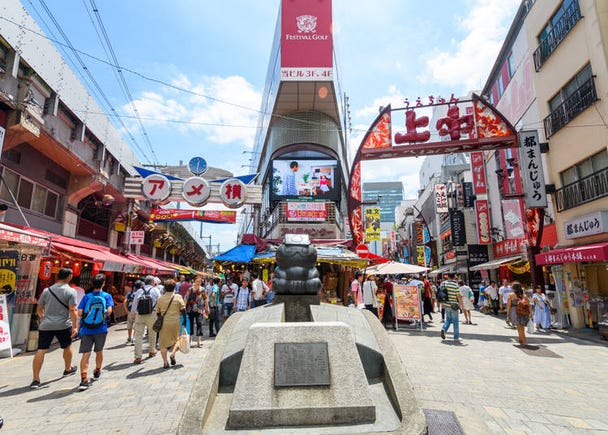 Aldo enjoys shopping for his family and friends in the Ueno area, specifically the Ameyoko street market area which is always bustling with locals and tourists in search of fresh seafood, dried foods, vintage clothing, fashion, toys, snacks and much more. Ameyoko, which started as a black market for surplus American army goods after World War II has transformed into an open air market that sells products at bargain basement prices and has a unique vibe unlike other shopping areas of Tokyo.

"The market is packed with people and the atmosphere is so fun and lively. Vendors are yelling out bargain sales and all the staff are welcoming and smiling. While I was there, I was able to haggle with the shops and get a pretty good discount on the snacks." Ameyoko is filled with shop vendors and stalls that are competing to sell similar items and often have time sales and giant discounts to reel you in. And though there might not be many Christmas themed items, there are definitely shops selling goods that are rare and hard to find in Japan.

There are also many unique shops that sell custom items personalized for customers. For example, many shops sell t-shirts or Japanese leather goods that can be customized with names in Kanji or Japanese designs that would make perfect gifts for friends and family abroad. The snacks and candy in Ameyoko are also great little giveaways for kids during the holiday season.
3. Skytree Solamachi: A Mix of Modern and Tradition (Miki/Vietnam)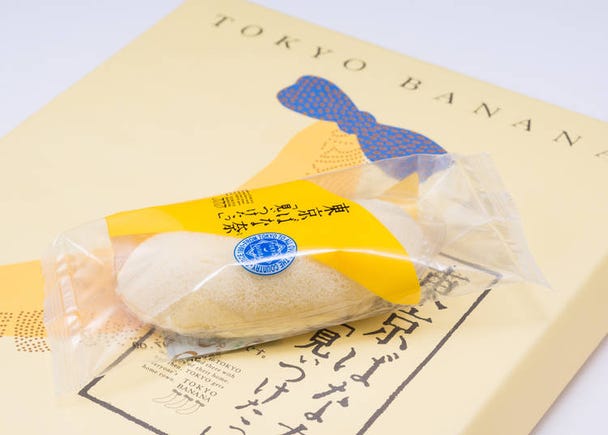 Miki ,rather than recommending a particular shop, thinks the best place to shop for anyone is Tokyo Solamachi at the base of Skytree Tower in Tokyo. Tokyo Solamachi is a shopping, dining and entertainment complex that according to their website has over 300 shops, restaurants, an aquarium, planetarium and museum. This area is definitely a one-stop-shopping experience for those who have a long list of items to get for a variety of different types of tastes. And many shops in Tokyo Solamachi are catered to tourists looking for Japanese-themed goods. There are shops that sell Mt.Fuji and Japanese scenery type items, shops that sell traditional Japanese folding fans, charms and specialty kimono patterned products shops.

Solamachi also has Japanese character and anime shops like Hello Kitty, Rilakkuma and JUMP shop. At the same time there are also many shops that sell Western style fashion and goods like Zara, Disney Store and Samantha Thavasa. You can find high end brands or casual brands like Uniqlo, both for men and women making it a great place if you are looking for presents and don't have much time to shop.

Miki admits, "I always go there before I go back to Vietnam so I can get some nice gifts for my family. And they even have lots of delicious snacks and cakes that are very reasonably priced. My sister loves Tokyo Banana so I always bring some back for her when I go home." Although Tokyo Solamachi is attached to a big tourist attraction, the prices are very reasonable and the items are high quality and trendy making it a great place to Christmas shop.
4. M's Pop Life Department in Akihabara: For Something Cheeky... (Cody/California)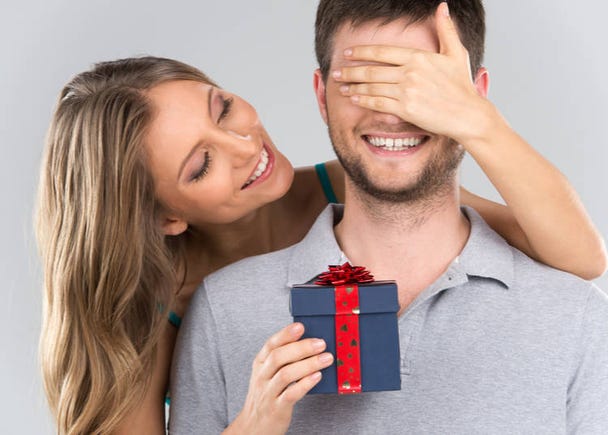 Most people have most likely not heard of this shop as it is probably a little too risque for many. This "department store" is a giant seven floor complex near Akihabara station that houses a towering amount of adult movies, toys, goods and cosplay. Each floor filled with narrow aisle after narrow aisle of adult and anime goods used to pleasure or add spice to the bedroom. There is definitely something in this shop you have never come across outside Japan.

A lot of these goods would make perfect gifts for stag parties, gag gifts for friends, couples, newlyweds or as a personal gift for you or your partner. And not just for adult goods, Cody mentioned he likes this shop because it's "fun to shop for shock value gifts and big surprises as well as little trinkets for key chains and candies in all shapes."

This shop is definitely not for everyone and one must be over 18 to enter... But if you are looking for an unforgettable shopping experience and gift for that friend or relative, this might be your best bet!
5. Nitori - Budget Japanese Home Goods (Kat/Canada)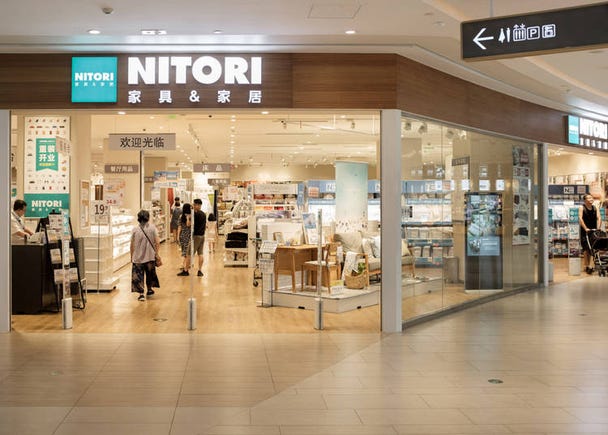 Kat, a newly married expat from Canada recommends Nitori, a Japanese furniture shop because of its simple designs and looks. "I would compare it to Ikea of Sweden. They have furniture and home goods that are reasonably priced but still look fancy," she explained. Adding "I also really like the small item sections where they have so many handy items that help save space or organize your home. I especially liked the clothing hanging contraptions." In Japan, most households only have a washer and dry their clothes by hanging them outside on the balcony. Homes in Japan are also smaller and narrower with less shelving than homes in other countries so saving space and organizing your home is an important issue.

Nitori, which is a chain furniture and home goods shop carries everything from furniture items like beds and sofas to smaller items like kitchen utensils and home decorations. And during the Christmas season, they have a lot of cute, unique and delightful Christmas themed decorations. They sell everything from trees, wreaths, lighths, ornaments to Christmas themed toys, pillows and candles.
6. Chiba - Yodobashi Camera: Less Crowded than Crazy Central Tokyo (Daniel/UK)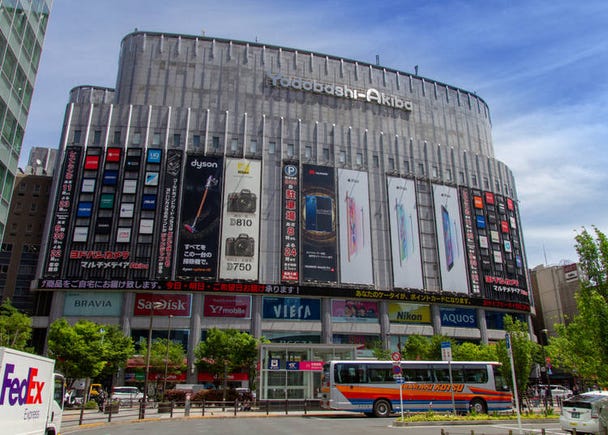 If you don't mind heading a little out of Tokyo, Daniel recommends Chiba for your Christmas goodies. Daniel lives in Chiba city itself and often feels shopping in Tokyo is tough, especially on the weekends and holidays. "I like Yodobashi Camera in Chiba so I don't have to deal with Tokyo level crowds. And they basically sell the same stuff so it's a lot easier to shop for items."

Yodobashi Camera is a chain electronic shop specializing in electronics, computers and as the name suggests, cameras. First opened in 1960, there are over 20 locations across Japan. A huge complex that houses all the latest computers, cameras, electronics and modern living goods.

You can find the newest and most popular items that any tech geek would love like bluetooth headphones, drones, video games, 4K televisions, smartphone accessories and more. As well as electronics, Yodobashi Camera also has a variety of items that would make great presents for friends and family. They have a huge toy section, collectibles, watches, brand name fashion accessories and clothing as well as Christmas themed goods like holiday LED candles, decorations and wine glasses for Christmas dinner.
7. Daiso: Surprising Quality for Only 100 Yen (Shireen/Iran)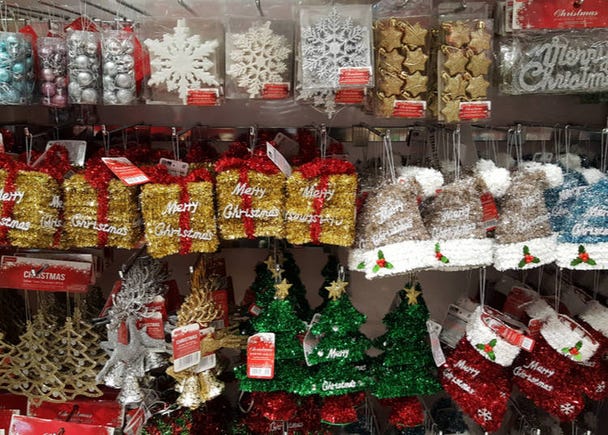 You wouldn't think a 100 yen shop or the equivalent of a dollar store in North America would be a top choice on anyone's list for Christmas presents, but the Daiso in Japan definitely stands apart. Daiso 100 Yen Shops have over 100,000 different items and are surprisingly high quality. Ranging from everyday goods like hygiene products, stationery and batteries to kitchenware, cosmetics, household items and toys, Daiso has become popular not only in Japan but worldwide. There are over 3000 shops in Japan and 1900 overseas.

The best part about Daiso products besides the low price are that they would be perfect as stocking stuffers. Many products are small but high quality and well designed for a variety of tastes and interests. For food lovers and cooks there are a variety of Japanese style bento DIY products. A wide range of arts and crafts, electronics and kitchenware are also unique and have a Japanese style to the design. Also, those interested in Japanese culture will have many traditional Japanese gifts options like origami paper, foldable fans, wooden Japanese toys and beautifully crafted chopsticks, chopstick holders, tea cups and bowls. It is hard to believe that these items are only 100 yen or about 1 US dollar.
8. Nihonbashi's Mitsukoshi Department Store: For Something Fancy (Simon/Belgium)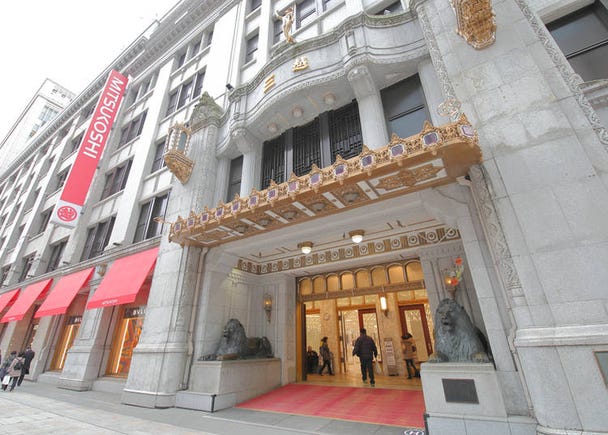 Known as Japan's first department store, the branch in Nihonbashi is the main store that opened in 1904. The main building itself was beautifully constructed in 1914 and had a famous stone lion at the entrance as well as Japan's first escalator. Unfortunately, the building burned down during the Great Kanto Earthquake in 1923. But just two years later it was rebuilt and reopened. Now the Renaissance-style building still stands to this day along with the welcoming lions.

As well as shopping though, the elaborate architecture and design with the traditional Japanese artwork and kimonos displayed inside are a sight to see. Simon admits that goods from the department store are quite pricey adding "you'll need a mortgage though." But if you can afford it, Mitsukoshi is definitely an amazing place to pick up Christmas related goods as it also has a special Christmas campaign offering high-end Christmas toys, decorations and jewelry.

The Mitsukoshi food floor will also definitely impress with holiday foods like fancy Christmas chicken, sushi platters, fruit and dessert trays as well as decadent Christmas cakes.
9. Ginza and the Apple Store: Cheaper Than Europe (Reid/Ireland)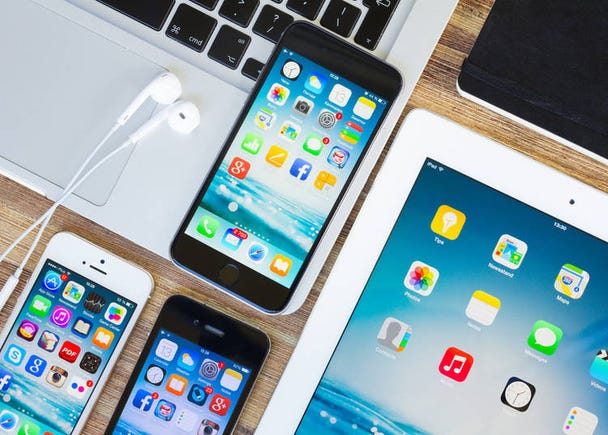 Home of the luxury goods store, Ginza area is one of the most popular shopping districts in Tokyo and is filled with Western and European brands and shops like Chanel, Gucci, Louis Vuitton and Reid's recommendation, the Apple Store. Shopping is so popular in this area that the main street is closed every weekend from noon to 5 pm specifically for pedestrians.

Along with bustling crowds of shoppers, the Christmas lights and elegance of the shops, cafes and restaurants serving premium foods and drinks, Ginza is definitely a place to do some window shopping while in Tokyo during the holiday season.

Reid in particular enjoys the upscale atmosphere as he strolls down the traffic-free street. As a self-proclaimed techie he loves checking out Apple stores around the world. "Although many of the Apple items are similar to what I can get back home, because the Euro is stronger, I can save a little money on presents for me and my son." Taking advantage of currency exchange is another benefit about shopping in Japan depending on your country's currency rate.
10. Shibuya - Tokyu Hands and Loft: Huge Variety at These Cool Department Stores (Sarah/New Zealand)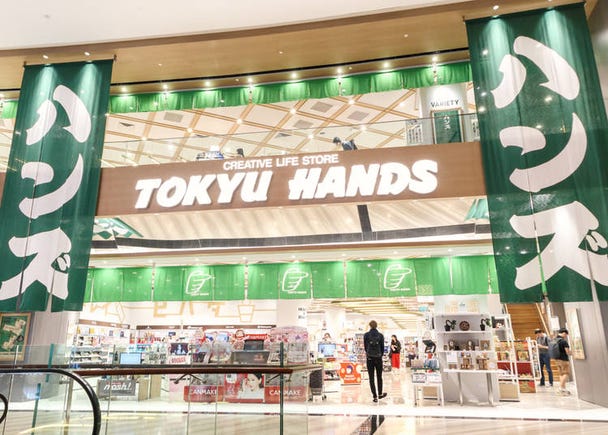 Sarah highly recommends both Tokyu Hands and Loft Department stores which are both modern living department stores that are popular among younger Japanese people looking for trendy, unique and stylish products. Both Loft and Tokyu Hands house floors of savvy, interesting and creative designer household goods. Each floor is filled with a wide range of products that are uniquely designed and fit the modern lifestyle of young Japanese people. You can find jewelry, cosmetics and accessories for young women as well as furniture, travel goods, health and beauty products, massage chairs and home decorations.

Sarah's favorite spot is the art section. "There are a lot of beautifully crafted paintings and home decorations that I can't stop purchasing. Also, there is an arts and crafts supplies area which is perfect for any artist. I can pick up so many different types of art supplies which are hard to find elsewhere."

Loft and Tokyu Hands also both have great gift and holiday sections that house a variety of calendars, gift cards, wrapping and unique options for celebrating any holiday including Christmas.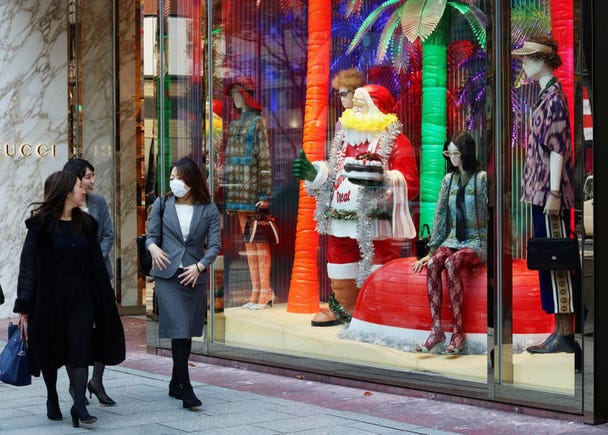 When looking for small ticket items to bring back as souvenirs for your family or to add as stocking stuffers at family gatherings, many of these shops mentioned have great gift ideas that you probably can't find in your home country. And if you are looking for expensive, high quality goods then Japan is definitely a place to meet your needs as well. Japan prides itself on the finest and highest quality production and presentation of goods and products so giving anyone a gift from Japan will be cherished and welcome.

Along with the stores that were recommended, you are bound to come across many shops and department stores on your journey across Japan that house beautiful, fascinating and precious items that will make a great souvenir and memory for you as well as a wonderful holiday present for a loved one. Merry Christmas and Happy Shopping!
*This information is from the time of this article's publication.
*Prices and options mentioned are subject to change.
*Unless stated otherwise, all prices include tax.