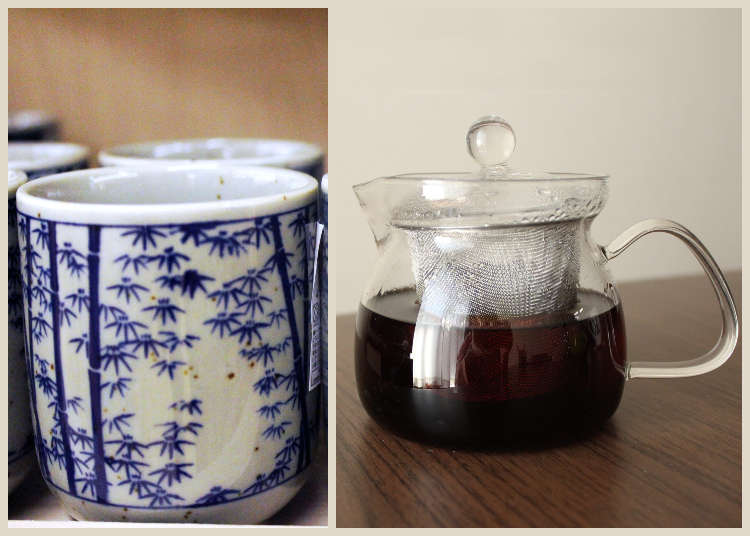 Whether it's for souvenirs or gifts, you'll definitely be going shopping in Japan. However, you might be worried about overspending, but still want to get some really nice things. That's where Daiso comes in.

Daiso is one of Japan's most successful and popular hundred-yen stores – the equivalent of a dollar store, but better! Founded in 1977, the company has since grown to 3,376 stores nationwide, as well as a number of branches around the world, bringing the total to 5,542 worldwide. Now, although 100-yen items take the spotlight, Daiso has increased its product line to include a range of products at slightly increased prices in multiples of one hundred.

Daiso is incredibly popular among tourists, thanks in part to their attractive prices and large variety of products, which includes kitchenware, snacks, calligraphy sets, and more. It's almost too easy to swing by and grab a bunch of fantastic souvenirs and gifts for just a few coins, making it one of the best places to do cheap shopping in Japan. What might surprise you, however, is that they offer a large number of elegant, quality items that nobody would guess only cost a hundred or so yen.

We went hunting for the fanciest items, and were surprised by what we found! We've started at the usual 100 yen, but to get really fancy you'll have to loosen the purse strings a little and part ways with as much as 500 yen (gasp!)
1. Edgy yet Elegant Terrarium Ornament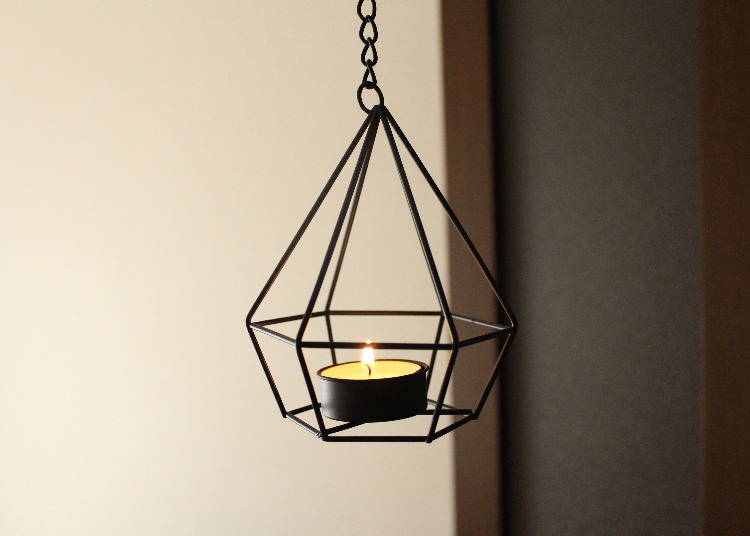 Hanging terrarium ornament: 100 yen
On-trend for a reason, this series of ornaments is edgy and cool, yet simple enough that it would work with any interior design style. Although these are generally designed to be used with palm-sized aerial plants, there are a few different options: a tea light candle base, a wooden base, and a diamond-shape with no base. Black is the standard color, but the one with a wooden base is also available in gold, and the diamond-shaped one is available in metallic bronze or gold. They're affordable and small enough to hold in one hand, making these decorations great, easy-to-pack presents. Get your hands on a couple for yourself and more for friends and family back home.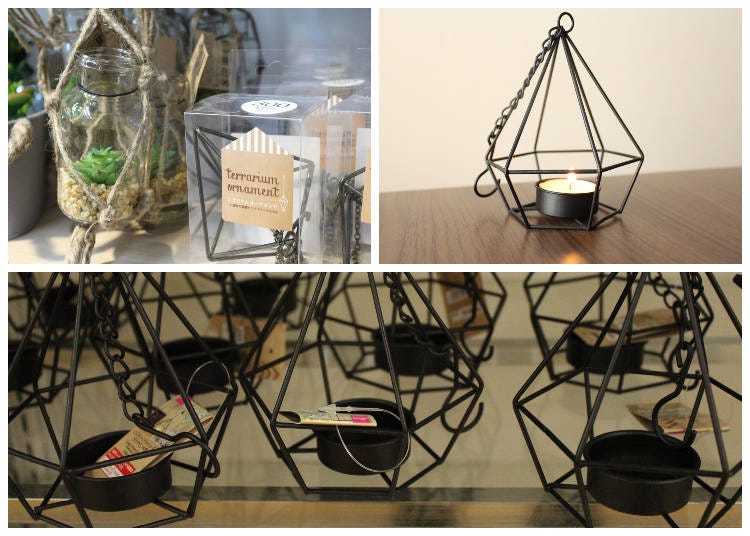 Whichever one you choose, you can hang up this simple yet striking piece to spice up your home with a plant, tea light candle, or decoration of your choosing. Take your plant collection to the next level, or create a chill, candle-lit nook to spend time in. Wherever you put your ornament, it'll be the finishing touch to make your space picture perfect. Of course, if you go with the tea light ornament, do be careful of having lit candles literally hanging around. Also, the metal becomes very hot, so don't touch it for a while after use.
2. Whimsical Wire Light (in a Bottle): photogenic perfection for your coziest nook.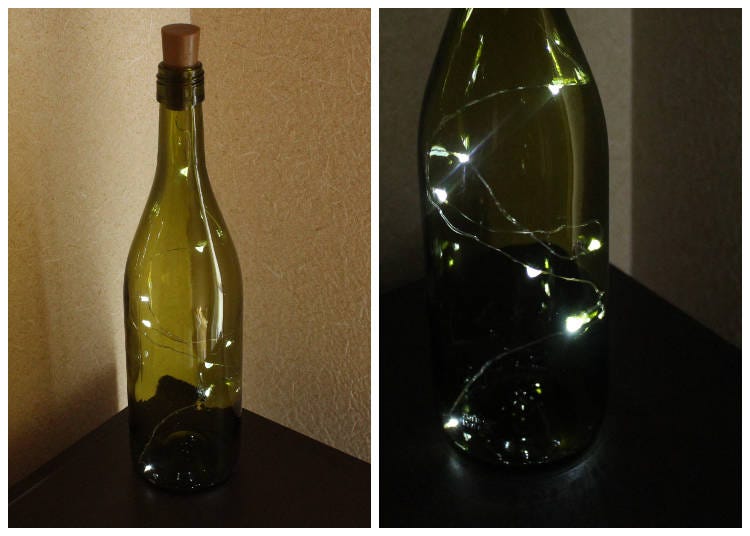 Wire light: 100 yen
Create the Pinterest bedroom of your dreams with this whimsical, charming set of 8 LED lights specifically designed to be used in a bottle, with the battery pack made to look like a cork. Recycle an old bottle for the job and boom! A perfect mix of DIY charm and Insta-worthy elegance, all at an affordable price. The bottle is not included, so you get to choose whatever shape or color you want. Make your bedroom cozier or mellow out an office; this adorable decoration adds a level of wonder and calm to any room. The cork-shaped battery pack also avoids any unsightly cords trailing across the room to an outlet.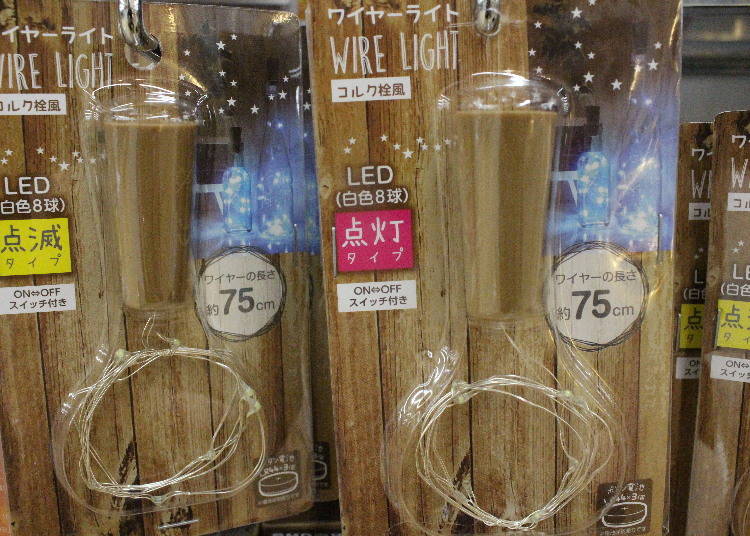 There are two types: non-blinking lights and blinking lights. The pink 点灯label indicates non-blinking lights, and the yellow点滅 label indicates that the lights will twinkle. Equally cute, but you get to choose your level of pizzazz. The twinkling lights would also be perfect for the festive season! The price means you could also buy more than one, and have a cute collection of bottle lights of different shapes and sizes. The wire is 75cm long, meaning it's the perfect length to fit in a wide range of containers.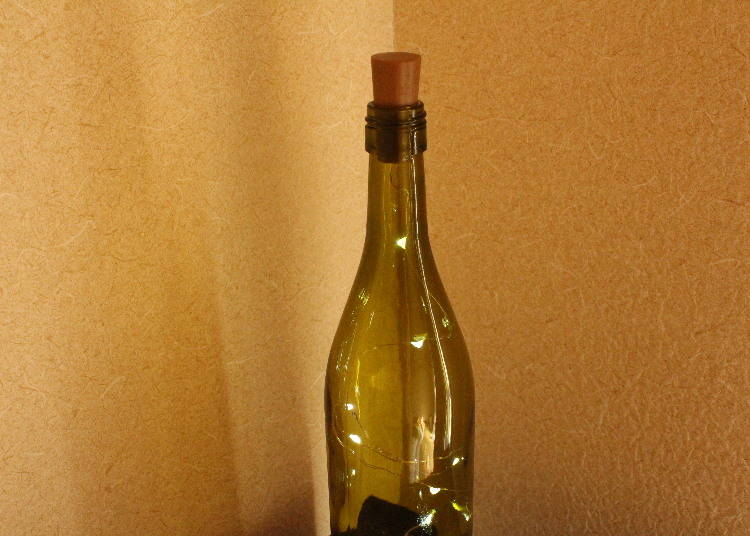 There aren't English instructions on the back, but never fear; it's fairly simple to use. To add batteries, you do need to use a screwdriver to remove the screw on the cork. You'll need three LR44 batteries, sold separately. Then, there's a power switch clearly labelled in English. Once you're set up, be sure not to stare directly at the lights and not to touch them too soon after use, as the LED lights can retain heat. Also, avoid mixing old and new batteries, and remove the batteries if you won't be using it for a long time. Keep your sparkling new decoration away from high heat and humidity, and out of reach of children.
3. Earrings Galore for the Frugal Fashionista!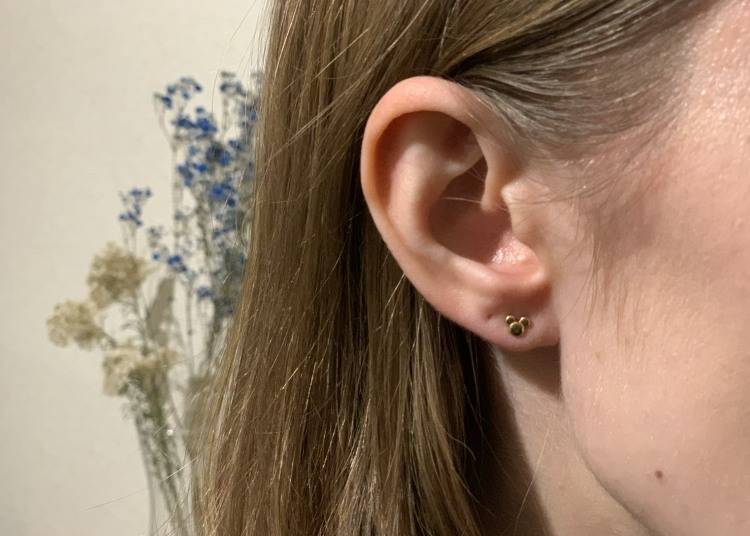 Disney Earrings: 100 yen
Dollar store clothes and accessories tend to get a bad rap, but here you'll get the same quality as you'll get from high street stores, but much at more affordable prices and with plenty to choose from! There are earrings for a variety of tastes, from simple and classic to glitzy and glam. There are silver, gold, and rose gold options, with as much or as little sparkle as you like.

Disney fans just have to get their hands on these! These adorable Mickey Mouse earrings come in different colors and styles, and for just 100 yen, how could you resist? Disney Land and Disney Sea are unsurprisingly insanely popular destinations even among locals, so there's a good chance you're already planning your day out! Choose from a selection of colors and designs: gold, rose gold, or Mickey's shorts or gloves, and let everyone know that you're a die-hard fan in style. Also, don't let the word 'pierce' throw you off; the word is just Japanese for earrings used in pierced ears, as opposed to clip-on earrings.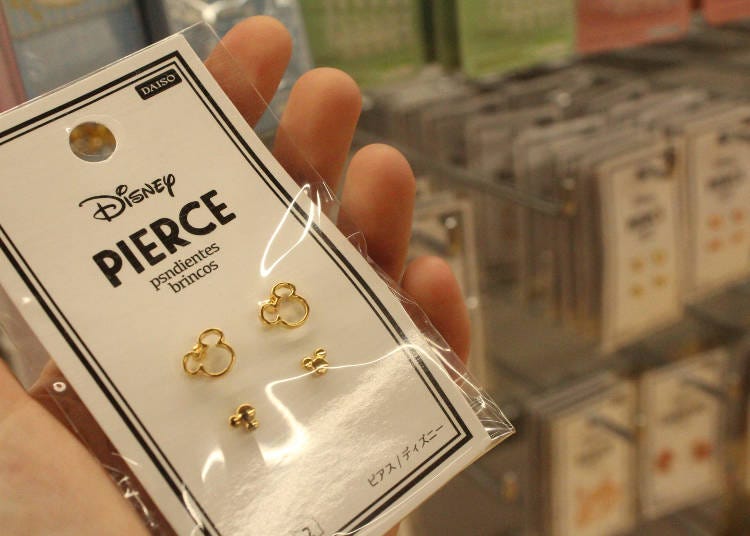 The cubic zirconia range is a little pricier at 300 yen, but there are also plenty of other earrings for 100 yen each. This slightly more expensive range deserves a feature, though, because it's just as cute as the options you'll find in department stores, but for a fraction of the price!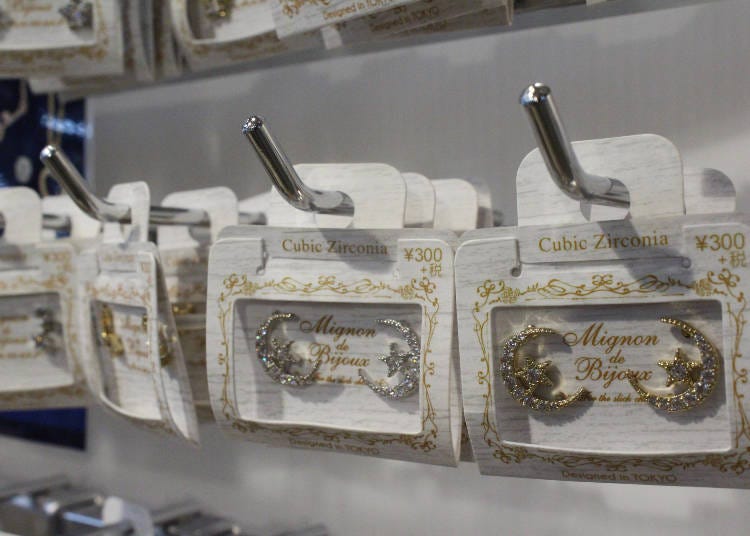 Of course, there are plenty other accessories available too, but the humongous range of earrings is particularly noteworthy. Come and check them all out for yourself!
4. Fancy kitchenware: spruce up your home on a budget!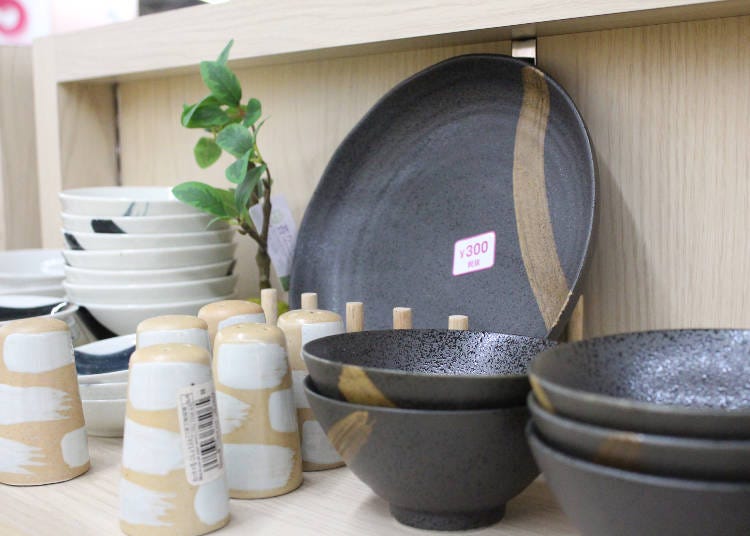 Chic kitchenware, 100-300 yen.
There are shelves and shelves of different ceramic plates, bowls, cups, and more at Daiso. With so many of these pieces being at the famous price of 100 yen, you could conceivably restock your whole kitchen with fantastic Japanese-style dishes, and still have money to spare. Grab some chopsticks to match and you're good to go!

The colors tend to be on the neutral side or in various shades of blue, but plenty more are available. The designs range from simple and elegant to floral and intricate. There's something for everyone, whether you're more of a minimalist or enjoy elaborate styles. Of course, other than their chic range, there are also plenty of silly and cute designs available, so you can hand your interior decorating over to your inner child and have fun with it.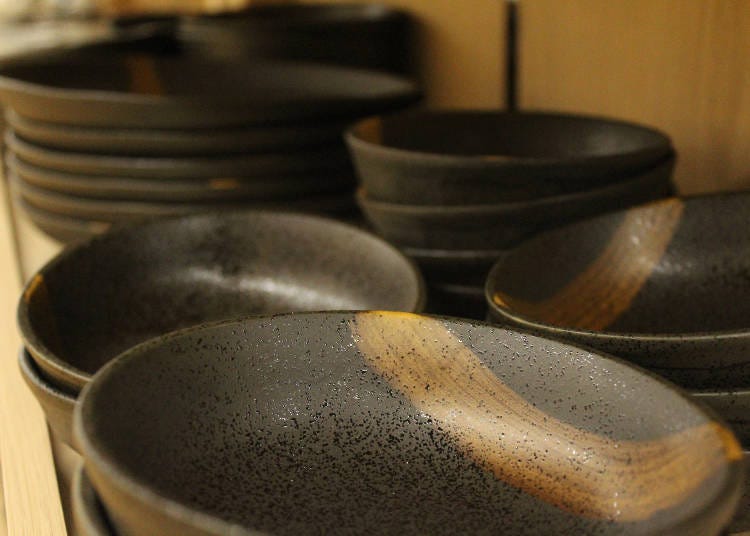 These dark gray plates and bowls are a must-have, if not as kitchenware then as a decoration. The simple, bold design captures the spirit of a lot of traditional Japanese art, and they have a very slight roughness that brings to mind artisanal crafts. Of course, the warm, neutral colors and uncomplicated design mean that they blend seamlessly into any home.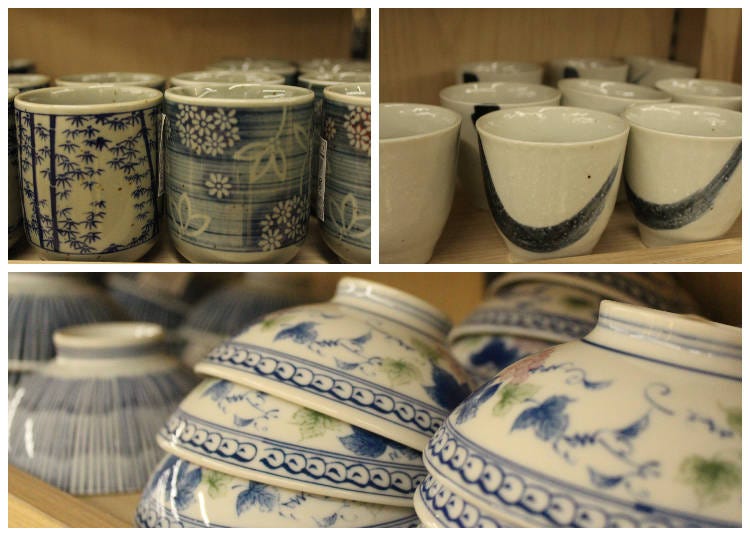 As these cups and bowls are usually 100 yen each, for just a few hundred yen you can put together a classy matching set or mix and match your favorite designs to create a unique, quirky collection. Being sold separately also means that you can buy exactly as many as you need; no more despairing at prepackaged sets having a spare or two, or being just one short. Buying cool Japanese-style ceramics like these back home would definitely cost a heck of a lot more, so grab them while you can!
5. Quaint LED Candle Light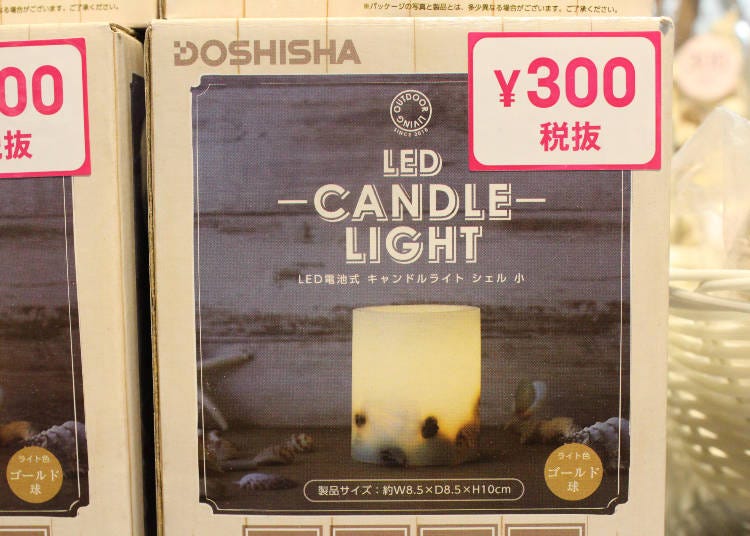 LED Candle Light: 300 yen
If you want the classic, warm look of a candle without the fire hazard, look no further. Although at 300 yen it's a little pricier than some of the other items available, this unique decorative light is well worth it.

The fake candle is actually blue when switched off, but turn it on and it glows with a golden light that fades to a light blue at the top. This, combined with the shells inside the base, call to mind a quiet evening by the sea, giving it a unique vibe. Its soft, warm light makes any room feel cozy and snug.

There isn't any English on the box, but it's not difficult to use. You'll need two AA batteries, sold separately. These go into the base of the candle, and the power switch is labelled in English. Switch it on and place it somewhere that needs some brightening up and you're done!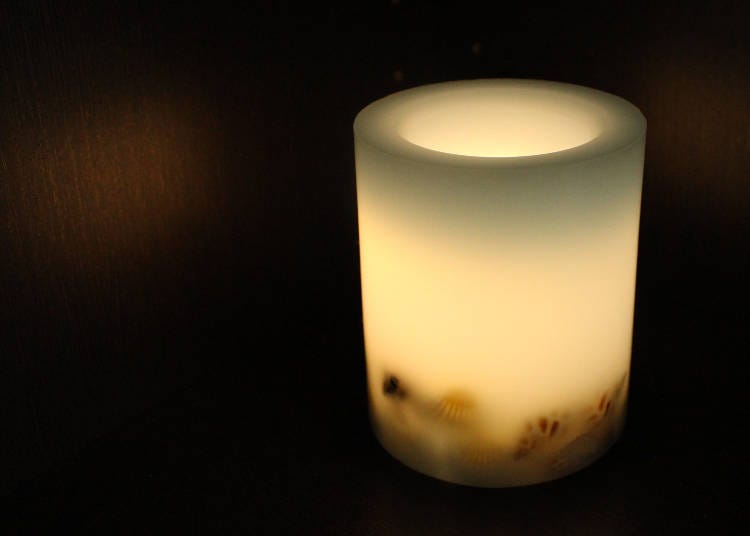 It's wrapped in bubble wrap inside the box, so it should be OK on the journey back home. The plastic bag the candle itself is in is tied with twine, further adding to the rustic charm and the themes of nature and the ocean.
6. Earthy Chic Wooden bowls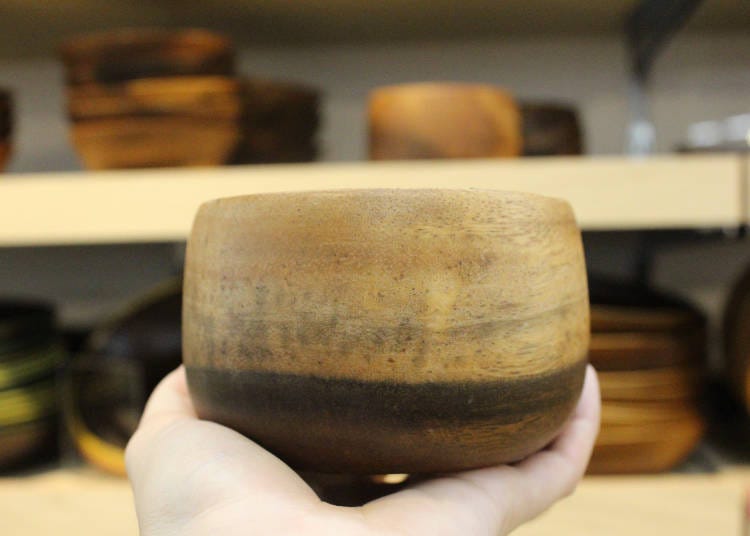 Natural Wood Bowls: 300 – 500 yen
Natural materials like wood add warmth and an effortless stylishness to a space. While these gorgeous wooden bowls and plates are on the higher end of Daiso's price range at 300-500 yen each, where else would you find such elegant tableware for a single coin!? Made from acacia wood, these lacquered pieces are a particularly popular item.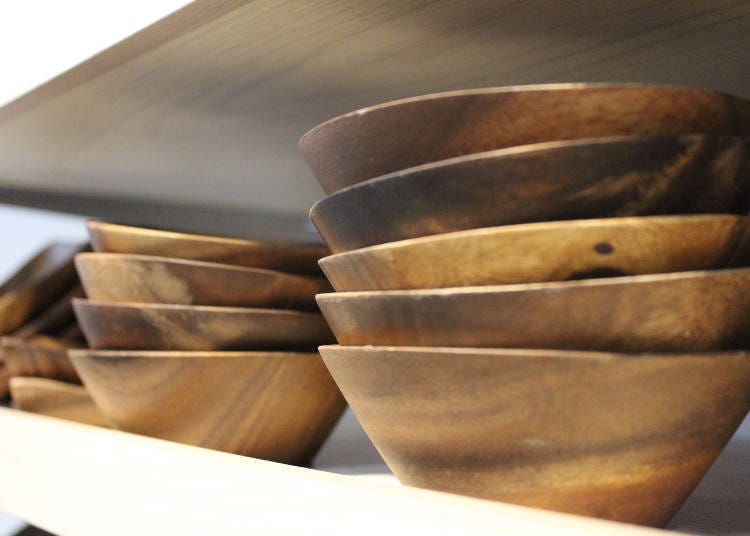 There are a variety of different bowls and plates, all of various sizes and shapes. Being made from wood, there is some natural variation in the grain of each piece, making every single one totally unique. Of course, you don't have to just use them as standard plates, bowls, and cups. Their chic, earthy design lets you get creative; keep your keys in them, store jewelry, decorate a shelf, add a plant or some fruit; you name it! They look perfectly at home just about anywhere.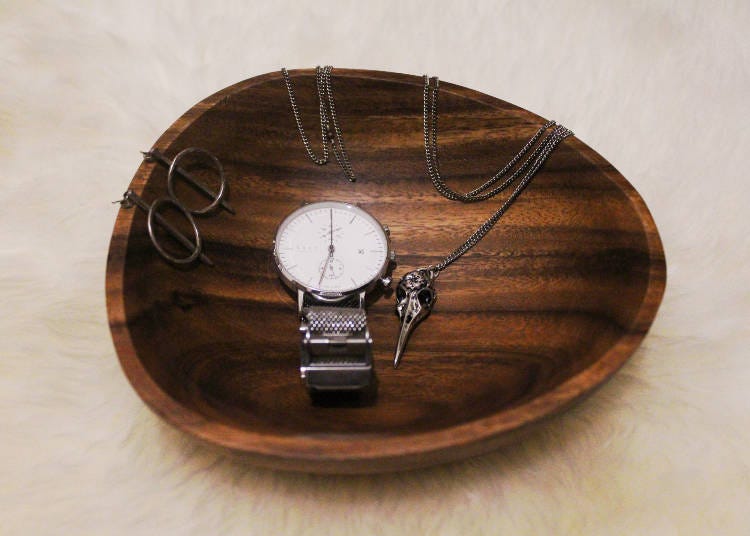 Again, as each is sold separately, you can mix and match to your heart's content and buy exactly the right number for your needs. Perfect for natural, eco kitchens as well as chic, minimalist ones. Your next meal to be featured on Instagram now has the perfect backdrop get it looking as delicious as it tastes.

As they are made of a natural material, avoid using them in the oven, dishwasher, or microwave, and make sure to give your new bowl or plate a wash before use. Wash and dry soon after use, and don't leave food or water in them for an extended period of time.
7. Elegant Glass Teapot for the Tea Aficionado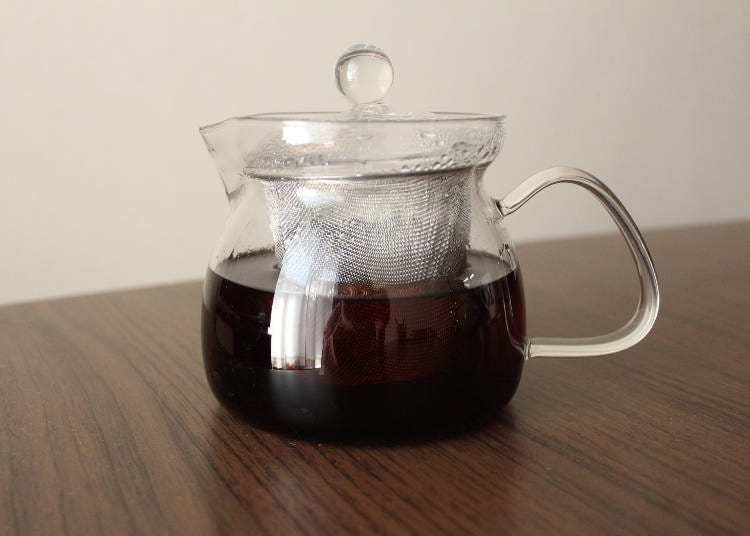 You've probably seen photos of gorgeous blooming teas – tea made by steeping flowers that "bloom" when you add boiling water – floating around the internet. Sadly, most of us probably don't have heat-resistant glassware or transparent mugs that would let us watch the flowers in action. While the tea itself is generally fragrant and delightfully light, watching the flower bloom right before your eyes is a big part of the fun! Here's a teapot that will let you experience this spectacular tea as intended (as long as you take out the strainer first). It can take a temperature difference of up to 248°F.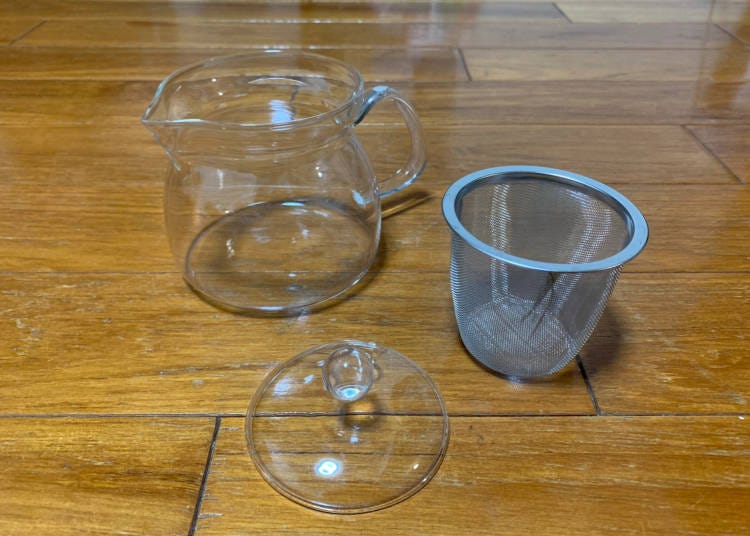 Of course, you can also use this teapot for any kind of tea, so you get to enjoy a variety of colors as well as flavors. The large mesh strainer of course means that you can indulge in loose leaf teas without any pesky little leaves spoiling your drink. The all-in-one design keeps things simple, and there aren't any awkward shapes that make washing up a chore. In fact, apart from the strainer, it's dishwasher safe. The pot is also designed to be easily used by both right and left-handed people. Use and washing instructions are clearly written in English on the box.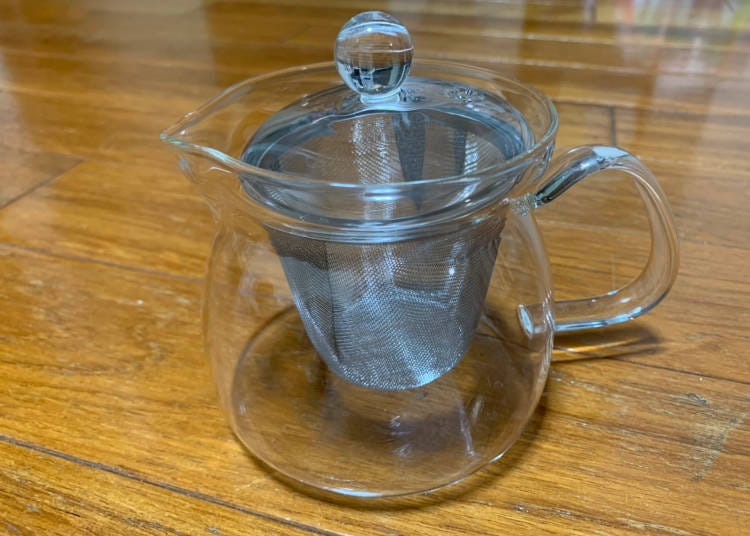 At the reasonable price of 500 yen, it's hard to argue that you shouldn't nab this perfect opportunity to enjoy a visually stunning cup of tea in style, and leave people assuming you spent much more on such an elegant little teapot. It also makes a perfect gift for the tea lover in your life. Come on; if it isn't you, you definitely know someone who's super into tea. Plus, Japan is famous for tea! Why not grab some loose leaf green tea and make it a set? As it has a capacity of around 450ml, it's the perfect size to have a nice, large mug all to yourself, or to share at your own fancy little private tea party.

It's packaged so that the lid is kept away from the rest of the teapot, so it shouldn't be damaged on your way home as long as you take care when packing it.
Everybody knows you can get things at low prices at dollar stores. The reason Daiso stands out as a gem for bargain hunters is the quality. The designs rival those available at other stores, but at a fraction of the price. The range of price points available also means that you can save on things with a finite amount of use like stationery, and spend a little more (but still only a couple hundred yen or so) and get quality decorations and kitchenware. Now anyone can customize and decorate a space as much as they want, but without spending loads of money.

You'll want to grab as many souvenirs, cool gadgets, and gifts as you can while shopping in Japan, but still have money left over for travel and food. Easily the best cheap shopping in Tokyo, Daiso will let you have it all and then some!
*This information is from the time of this article's publication.
*Prices and options mentioned are subject to change.
*Unless stated otherwise, all prices include tax.