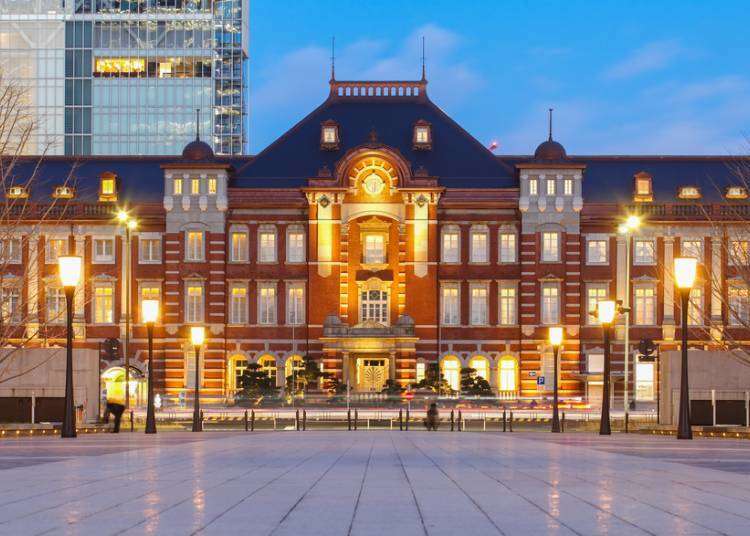 The Tokyo Station Marunouchi Area is known as one of Japan's leading business centers, lined with large offices and corporate buildings. But behind the face of business lies a more glamorous side to the city, where the latest gourmet and shopping spots line the streets. There are even places that tell the history of the area, including the red brick walls of the over 100-year-old Tokyo Station, and the symbolic Imperial Palace.

The Marunouchi Area continues to undergo new changes and developments in preparation for the 2020 Tokyo Olympics. As a spot known for birthing new commercial landmarks one after another, here are five spots newly-established in the Marunouchi Area between 2018~2019.
Nijubashi Square: A Space for Like-Minded Adults
Nijubashi Square is a commercial facility recently opened in November 2018, characterized by massive buildings well-suited to the Marunouchi Area. There are 25 unique shops, each with a different concept, spanning the basement 1st floor to the 2nd floor.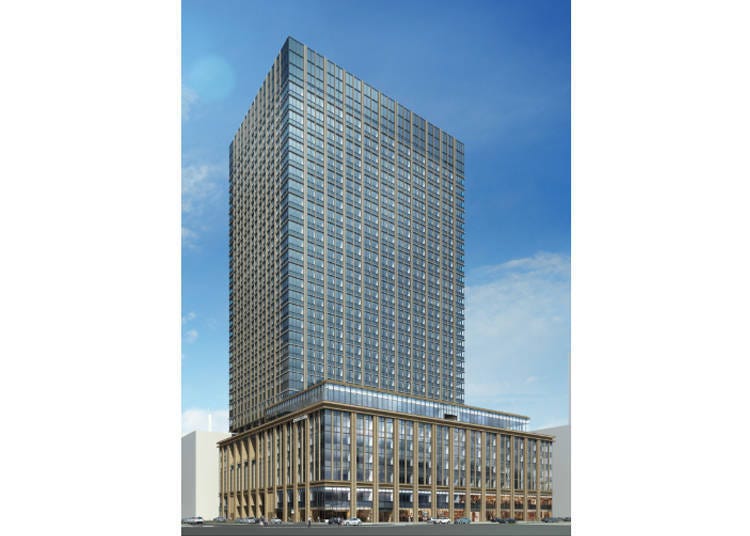 Outside View (Courtesy of Press Release)
The concept of the first basement floor is "Downtown Marunouchi - creating a new Marunouchi food culture." There are a variety of popular shops, famous for unique and varied areas such as okonomiyaki, yakitori, and sashimi. The first floor is lined with internationally recognized high-fashion shops, and the second has a gorgeous space with terrace seating that boasts the quality of a high-class resort.

All the first-floor shops face outwards towards the stone-paved Marunouchi Main Street, Marunouchi Nakadori, making it perfect for window shopping as well.
二重橋スクエア

Address

3-2-3 Marunouchi, Chiyoda-ku, Tokyo

Business Hours:
Shops: 11:00AM~10:00PM
Services: 10:30AM~7:00PM
Restaurants: 11:00AM~7:00PM (Weekdays/Saturdays); 11:00AM~10:00PM (Sundays/Holidays)
Ginza Sony Park: A Healing Park in the Center of the City
Ginza Sony Park opened in 2018 in the center of Ginza City, a hot-spot for high-end brands and commercial facilities. It is a multi-story park that spans from the 1st floor to the 4th basement floor, each with its own restaurants and concept shops. Both the above and below ground spaces are integrated to create a state-of-the art park, creating a rare healing space unlikely to be found in any other city. All eateries in the park are take-out spots. Because the idea is to to buy food and enjoy eating it around the park, they are not constructed like typical restaurants.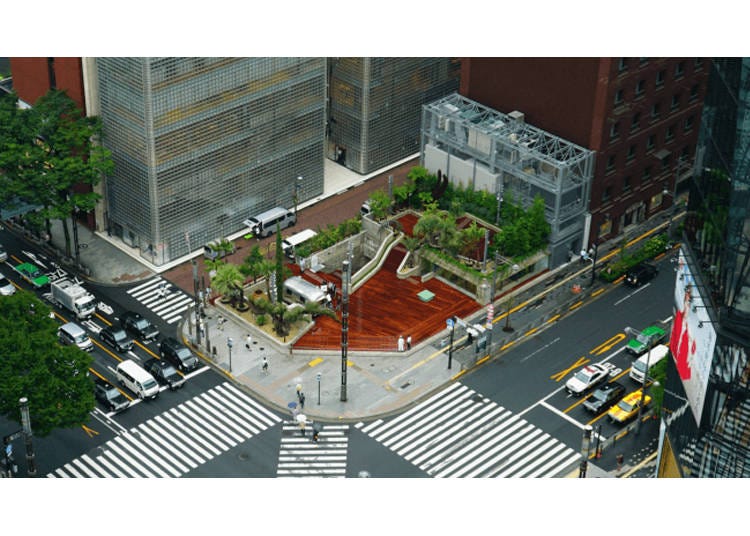 Image (Courtesy of Press Release)
Various experience events and live performances are held throughout the park according to the theme, "ever-changing park." "THE CONVENI" is a concept shop on the basement 1st floor produced by fashion designer and musician, Hiroshi Fujiwara. It looks like a regular convenience store, with unique items on display such as towels in the shape of rice balls and bandanas that look like sandwiches.

There are a limited number of parks in the metropolitan area of Ginza where you can easily take a break during sightseeing or shopping, so a spot like this is a complete treasure. There are also 10 restrooms on the premises. The park is set to be opened until fall of 2020, just in time to remain for the Tokyo Olympics.
Ginza Sony Park

Address

5-3-1 Ginza, Chuo-ku, Tokyo
ASICS RUN TOKYO MARUNOUCHI: New Base for Imperial Palace Run
The vicinity around the Imperial Palace is known as the holy land for runners, many of whom participate in an event held around the perimeter called the Imperial Run. ASICS Run Tokyo Marunouchi is a comprehensive running center, recently opened in July 2018, and is one of the top bases for the Imperial Run. Conveniently located only a 3-minute walk away from Tokyo Station, you can easily get to the Imperial Palace after a change. Not only is there a spacious changing room available, there is also a ladies' powder room to retouch your makeup after a shower.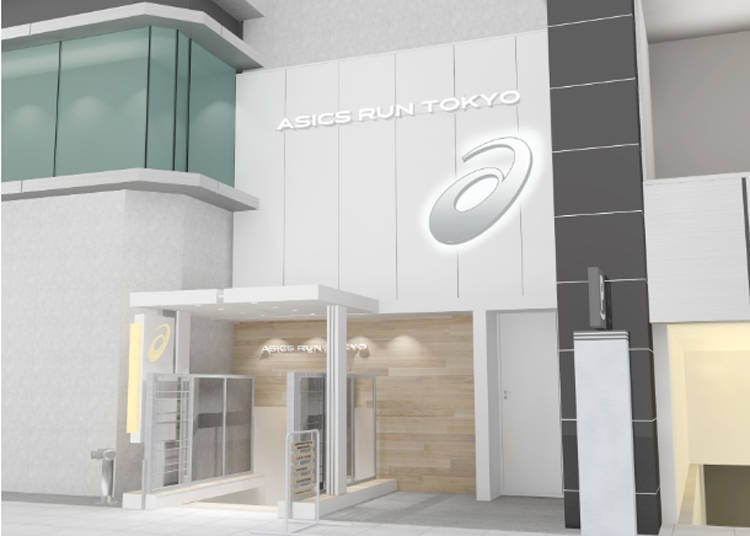 Outside View (Courtesy of Press Release)
In this comprehensive running station, it is no exaggeration to say that you can find just about everything related to running here. There is even a full line up of running shoes, clothing, and goods. You can select even the best running shoe for you by using their available foot measuring device.

There is even a service available to analyze your running form using AI technology called the Asics Running Analyzer, recently introduced for the first time at their directly managed locations. You can even have a training plan designed for you to help improve your running form. With advanced reservations, you can participate in free weekday running events. As you can see, this spot is a place where runners of all levels can gather and enjoy.
ASICS RUN TOKYO MARUNOUCHI

ASICS RUN TOKYO MARUNOUCHI

Address

5-2 Marunouchi, Chiyoda-ku, Tokyo, Mitsubishi Building B1F

Phone Number

03-6259-1601

Business Hours: Weekdays: 6:30AM~10:00PM; Weekends/Holidays: 7:30AM~8:00PM
KONICA MINOLTA PLANETARIA TOKYO: State-of-the-Art Planetarium Facility
KONICA MINOLTA PLANETARIA TOKYO is a facility in Yurakucho, an art town known for having plenty of museums and theaters, in December 2018. It is a planetarium that employs only the latest equipment. There are two permanent domes in this complex planetarium facility, designed with the concept "precious things and space." Not only can you see the dynamic starry sky, but there are also video productions and high-resolution live music video performances made in collaboration with some of Japan's leading artists, such as DREAMS COME TRUE and Joe Hisaishi.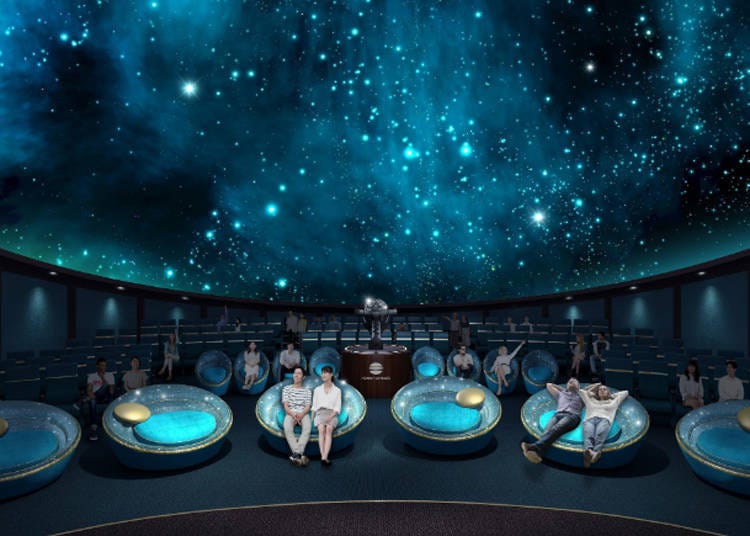 Image (Courtesy of Press Release)
You may also be surprised by not only the videos, but the quality sound reproduction of the latest 3-D sound system. Why not take a break and relax in space in the comfy "galaxy seats?"

One more notable attraction is the VR space, an unforgettable experience spanning a 360 degree view that can accommodate up to 24 guests at a time. You can even take a break at the cafe and enjoy some delicious planet-inspired cocktails and finger foods.
KONICA MINOLTA PLANETARIA TOKYO

コニカミノルタプラネタリア TOKYO

Address

2-5-1 Yurakucho, Chiyoda-ku, Tokyo, Yurakucho Marion Bldg., 9F

Phone Number

03-6269-9952

Regular Holidays: None
Business Hours: 10:30AM~10:00PM (last entry 9:00PM)
*Screening times may vary by season
Apple Marunouchi: Japan's Largest Apple Retail Store
Recently opened in September 2019 right across from Tokyo Station is Apple Marunouchi, the largest directly managed Apple Store in Japan. Located on the first and second floors of the Mitsubishi Building, it incorporates the distinctive glass show windows in the original Vitrine Style that was used in the world's very first Apple Store. The interior of the first and second floors, surrounded by the dynamic glass, is of a modern design consisting of Japanese materials such as bamboo in the displays.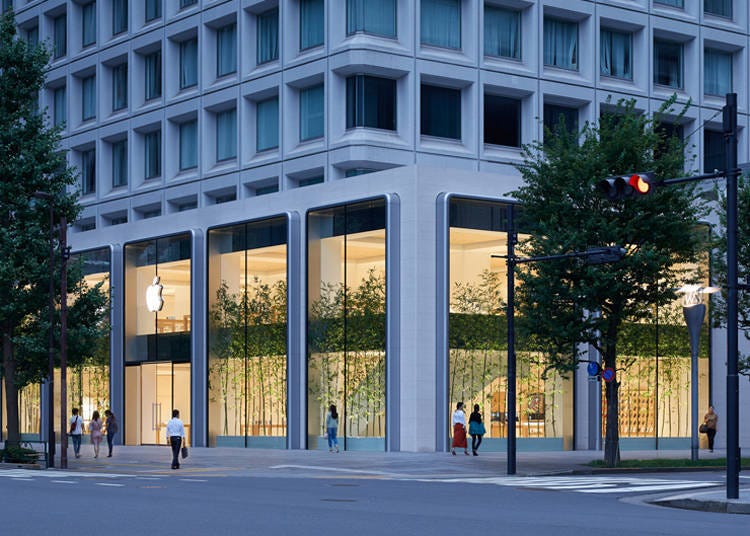 Outside View (Courtesy of Press Release)
The center of the first floor has a space where free "Today at Apple" sessions are held, based in the themes of photography, programming, music, and art. Here you can experience using Apple products while receiving top advice from world-class creators. Of course, included in these products you can try are iPhones, Macs, and Apple Watches. There are also accessories such as cases and earphones lining the walls, which is fun just to look at. The second floor specializes in repairs and technical support.

Over half of Apple Marunouchi's staff have relocated from other Apple Stores in Japan, and can support approximately 15 different foreign languages. Because of this ease and convenience for foreign guests, this location is quite popular.
Apple 丸の内

Address

2-5-2 Marunouchi, Chiyoda-ku, Tokyo

Phone Number

03-4213-0500

Business Hours: 10:00AM~9:00PM
As you can see, Marunouchi is a hot-spot for birthing brand new shops one after the other that eventually reach all throughout Tokyo. And this development of the Marunouchi Area shows no signs of slowing down yet. In 2020, a large-scale development called the "OH-1 Plan" is set to be completed, which will see the opening of new facilities such as luxury hotels, green open spaces, and other complex facilities on the 31st and 40th floors. Be sure to stop by and experience the attractions of this ever-expanding Marunouchi Area for yourself!
*This information is from the time of this article's publication.
*Prices and options mentioned are subject to change.
*Unless stated otherwise, all prices include tax.