In many parts of the world, the familiar sight of instant ramen on grocery store shelves never fails to invoke memories of bare-bone budget feasts in college dorm rooms. Despite its international reputation as a cheap meal replacement in a pinch, in its homeland of Japan, Cup Noodle plays a much larger role in people's daily lives. In fact, it was voted by citizens as the most important Japanese invention of the 20th century. Originally created in 1958 by Momofuku Ando; the founder of Nissin Foods, it has since grown to become a national institution in Japan. Today, it is a staple food for everyone from busy office workers with little to no lunch break, to those who simply dislike cooking.

Though its near-ubiquitous presence in stores around the globe has made Cup Noodle (or Cup Noodles as it is better known in western countries) a household name, we wanted to find out how these international offerings differ from their Japanese counterparts. As any westerner who has lived in Japan can attest, Japanese stores typically carry a much wider variety of flavors and styles of the famous instant meal. Curious to discover what other differences may exist, we asked several Japanese locals about their instant ramen experiences while living abroad.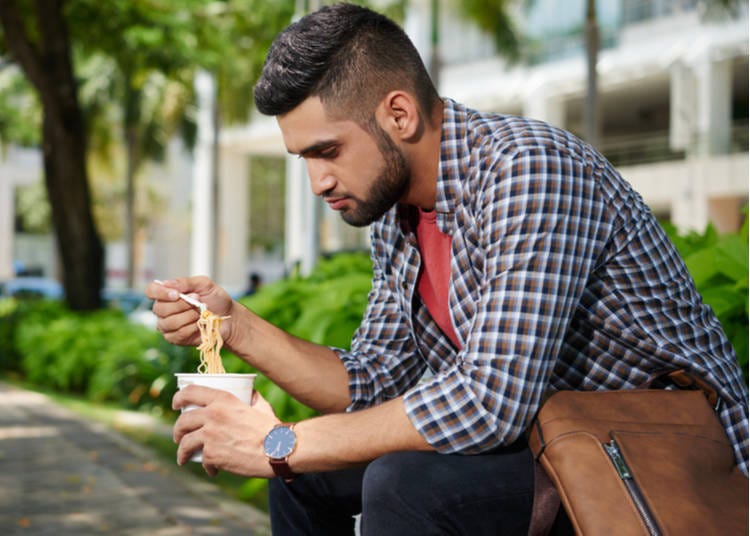 Jumping right in to perhaps the most important factor when choosing what to eat, we asked our interviewees to compare the taste of Cup Noodles in other countries to the versions they are familiar with in Japan.

Daisuke, Age 30, Lived in The United States
I felt like the soup was somehow saltier but less flavorful at the same time. Also, it seemed like there were less toppings inside (shrimp, vegetables, etc.), and they were kind of mushy and flavorless.

Erina, Age 24, Lived in Mexico
It's tough to compare! The flavors were so different in Mexico. There were many more spicy options than we have in Japan. I like spicy food though, so I enjoyed them. Overall, I thought the flavors and amount of choices were great.

Ikumi, Age 35, Lived in Canada
I couldn't find many of the flavors I like in Japan, but I tried a couple different types while there. I don't think they would be popular with Japanese people, but they weren't bad! They were just different from what I was used to.

Based on the responses, unsurprisingly, taste is a largely subjective experience. Overall, most of the people we interviewed seemed to take a "not bad, but different" stance when answering. It seems as though the biggest factor is where in the world you are, as the varieties are largely catered to the local palate. If your taste preferences happen to align with that region, you may be in luck.
Cup Noodles are a notoriously inexpensive eat. At around ¥200 (about $1.80 USD) for a regular-sized cup, it's a meal that can fit comfortably into just about anyone's budget. Are Nissin Foods' foreign lineups just as easy on the wallet?

Masa, Age 29, Lived in The United States
I couldn't believe how cheap Cup Noodle was in the United States. You could buy a single cup for about 75 cents. I saw some stores were even selling packs of four or five for just a couple dollars. I didn't think the quality is as good as in Japan, but for that price, you get what you pay for. The soup itself was sort of thin and salty, like salt water, and I don't think they added as many other ingredients like vegetables and egg.

Ayumi, Age 39, Lived in The United Kingdom
It was a little more expensive than in Japan, but not by too much. I think it was about £2 (about ¥300) per cup. I wasn't too surprised though, because I lived in London, and it's a very expensive city.

With the exception of The United Kingdom, most of the responses agreed that Cup Noodles tended to be cheaper in western countries. The issue of quality came up a few times in the interviews, but as mentioned above, when it comes to making an already inexpensive item even cheaper, a noticeable dip in quality is to be expected, as cheaper ingredients must be used.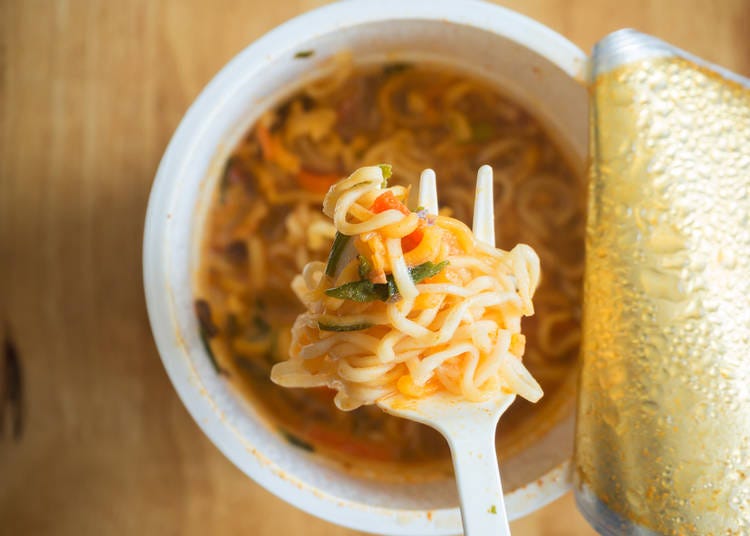 In Japan, it's not uncommon to see entire aisles in grocery or convenience stores dedicated to Cup Noodle. These shelves cover a spectrum of flavors spanning from standard pork ramen, to seemingly more adventurous options such as creamy seafood or spicy curry. While Cup Noodle can be found in over 80 countries worldwide, we wanted to know whether the same amount of variety carries over to other parts of the world, and how the local flavors differ from those in Japan.

Ruri, Age 31, Lived in The United States
There weren't many options from what I saw! There were quite a few different types of chicken or beef flavors, but only a couple kinds with shrimp. Fish is a big part of the Japanese diet, so we have many seafood flavors in Japan that I couldn't find in America. I think those flavors are not as popular there.

Erina, Age 24, Lived in Mexico
I was surprised to see how many different spicy flavors they had in Mexico. We have some spicy ones in Japan, but not nearly as many as I saw in Mexico. One of my favorites, habanero and lime, even came with a packet of hot sauce that you could add.

One thing Nissin knows how to do very well is how to appeal to their audience on a localized level. All of the people we interviewed shared the common experience of not being able to find some of the more popular Japanese styles abroad, but many different varieties more in-line with local preferences and flavor trends.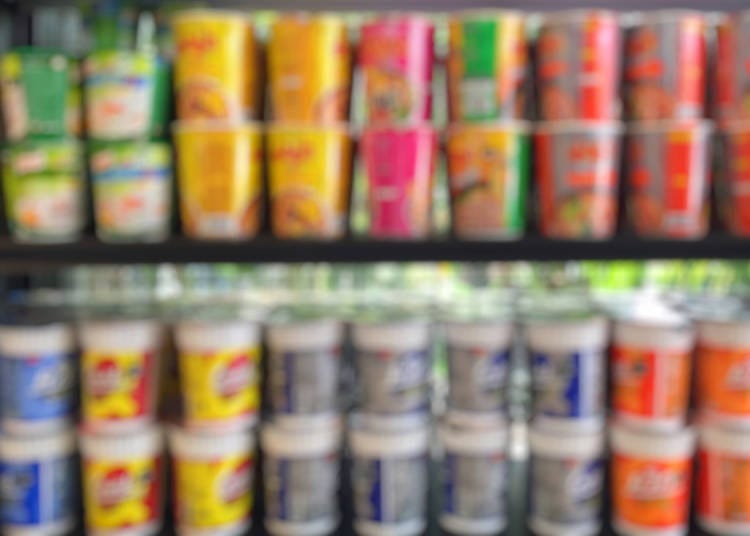 In Japan, one could walk into any store that sells food and undoubtedly find at least a few shelves stocked full of various Cup Noodle varieties. While it exists in over 80 different countries around the world, just how easy is it to find in stores?

Ayumi, Age 39, Lived in The United Kingdom
It was pretty common to find some type of instant ramen (there are a lot of different brands), but I didn't see much of the actual Cup Noodle brand. One of the big grocery store chains would usually have it, but it was only ever a few different flavors to choose from.

Daisuke, Age 30, Lived in The United States
I think most grocery stores had Cup Noodle available. There wasn't a big selection, and I think there were more of the kind you need to make in a pot, but I could still find them pretty much everywhere. There was one Asian grocery store that had a lot of imported foods though, and I found a lot more Cup Noodle there than at a regular store.

Ikumi, Age 35, Lived in Canada
There was only one store I found that had actual Cup Noodle! A lot of stores had different Canadian brands, but not the Nissin ones.

While it's certainly possible to find Cup Noodle in many places around the world, it seems as though it may not be as convenient to locate as in Japan. As one interviewee above mentioned however, if you are fortunate enough to live near a store that deals with imported foods, you just may find a better selection and less common varieties.

Whether you're already a Cup Noodle convert or simply a curious shopper, with its widespread availability, you're never far from noodly goodness. The offerings may vary from place to place, but with over 100 varieties to choose from worldwide, you're bound to find a go-to instant meal favorite.
Written by: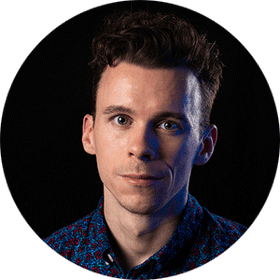 *This information is from the time of this article's publication.
*Prices and options mentioned are subject to change.
*Unless stated otherwise, all prices include tax.