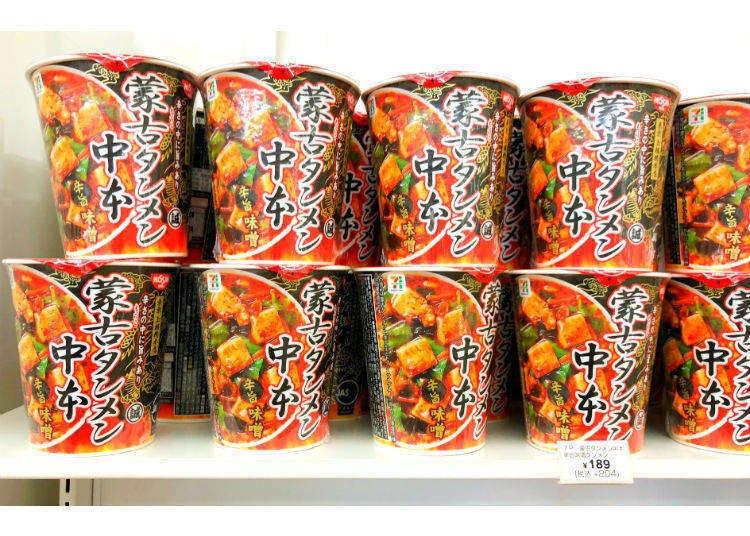 For daily life in Japan, the convenience store is indispensable, offering a rich assortment of goods and all sorts of convenient services. In May 2018, 7-Eleven Japan announced a popularity ranking of items of its own "Seven Premium" brand.

That ranking happened in several categories but the most noteworthy one definitely is cup noodles! The public got to choose their top 3 cup noodle favorites of over 30 unique products. All of them have been developed in collaboration with famous ramen shops throughout Japan and they're popular for their authentic "ramen shop taste" that can be enjoyed on the go or at home. Let's take a deep look at the three cup noodle winners of 7-Eleven Premium's popularity ranking!
#1. Mōkotanmen Nakamoto Futochoku-men Shiage - A Cup Full of Spicy Umami Flavor!
Mōko-tanmen Nakamoto (Futochoku-men Shiage), best-seller cup noodles that'll make you fall in love with their spiciness! (204 Yen)
First place takes Mōkotanmen Nakamoto Futochoku-men Shiage, officially the king of 7-Eleven's cup noodles! It's a collaboration with a popular noodle shop that is all about spiciness. First launched in June 2016, it has been a popular best-seller ever since. Generally speaking, tanmen is a generic expression for Chinese noodles with vegetables and salt seasoning." The soup of this cup, however, is based on miso, a Japanese seasoning since ancient times. It comes extraordinarily close to the real ramen bowl, boasting a nice spiciness and rich flavor at the same time.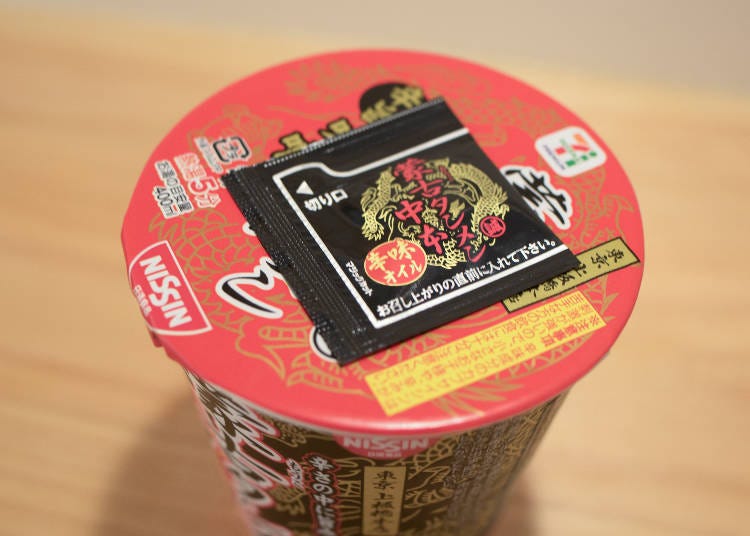 The seasoning oil, used to further bring out the pungency, is glued to the lid. The spiciness of the cup can be easily adjusted by how much of this oil you use. If you enjoy your food hot, by all means, use everything. For a gentler taste, a few drops should do. Of course, not using it at all won't make the cup noodles any less delicious, so don't worry about that!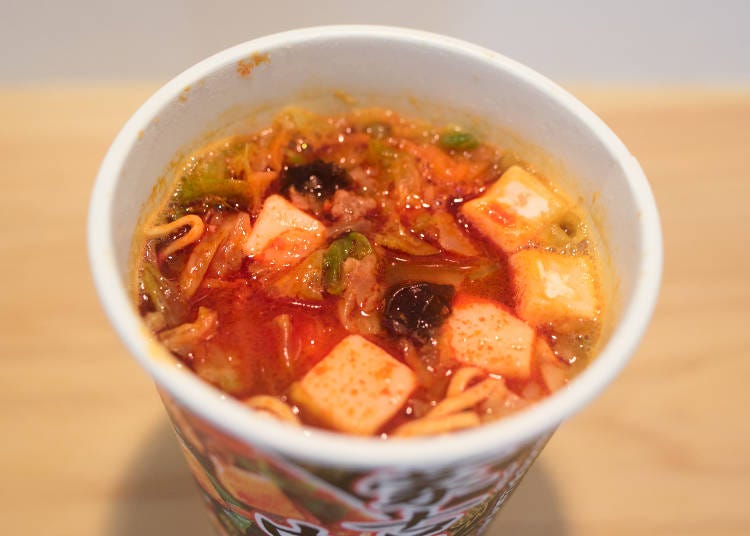 Next to cabbage and carrot, this flavorful cup of noodles also features tofu, the characteristic ingredient of Mōkotanmen Nakamoto. For our taste test, we used the entire pack of seasoning oil, but it is so hot that the spiciness stings in the eyes as we raise the spoon! Unless you can handle this kind of spiciness, we recommend going easy with the oil and seasoning it slurp by slurp.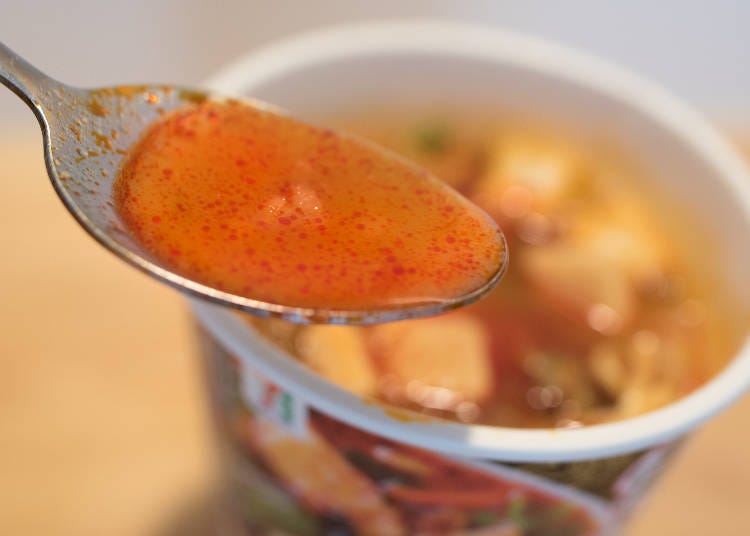 The taste of the soup is exquisite. As soon as you put a spoonful in your mouth, a strong miso and umami flavor unfolds. The pungency follows just a moment later, without being overwhelmingly strong. With the flavor of the vegetables and the richness of an animal-based broth, the umami is more dominant than the spiciness. After a single sip, you'll immediately crave another – it's positively addicting!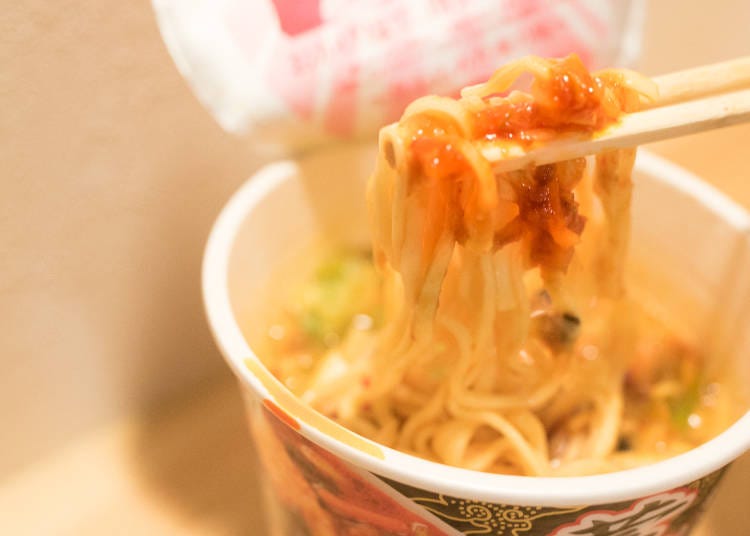 This is just our opinion, but this wonderfully addictive combination of umami and spiciness is the secret to these cup noodles' popularity. Even if it is so hot it almost hurts, we guarantee that you will crave another cup after a while. We can't be the only ones who feel that way, so that's probably why the Mōkotanmen Nakamoto Futochoku-men Shiage have been crowned the cup noodle king.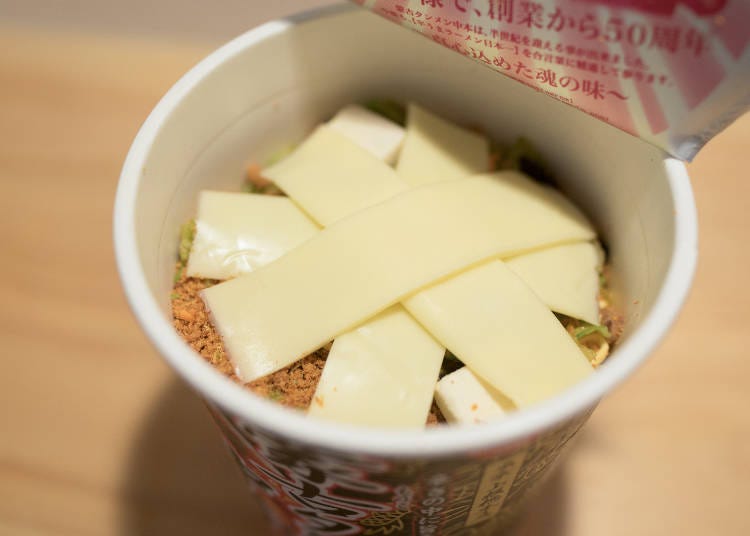 Just the cup by itself is a fascinating gourmet experience, but we also want to show you an alternative way of savoring this cup. All you need is some sliced cheese. Open the lid, top it with some cheese, pour in the hot water, and wait for five minutes. That way, the cheese melts deliciously right on top!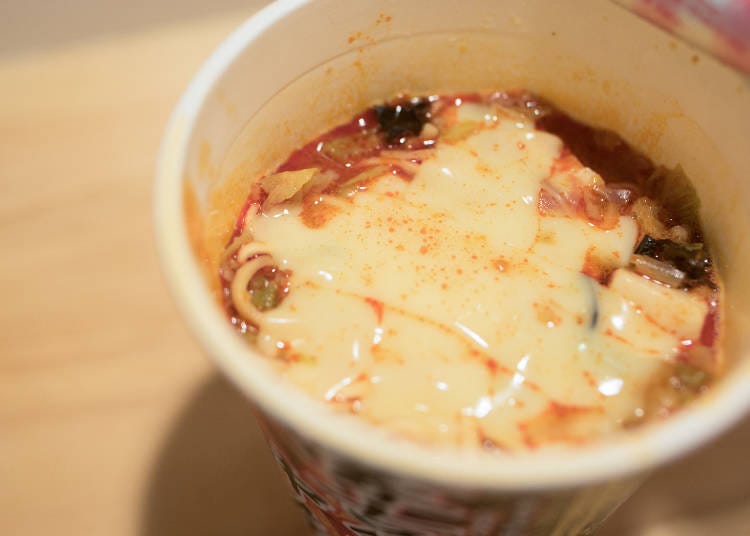 The cheese also keeps the spiciness at bay, making the cup a bit milder. Both miso and cheese are fermented foods, so there's no questioning that they go together just perfectly. It's an easy way to change the flavor of the cup with a single ingredient, so people who don't like their food too spicy might want to opt for the cheese version first.
#2. Sumire Sapporo Nōkō Miso - Authentic and Flavorful Cup Ramen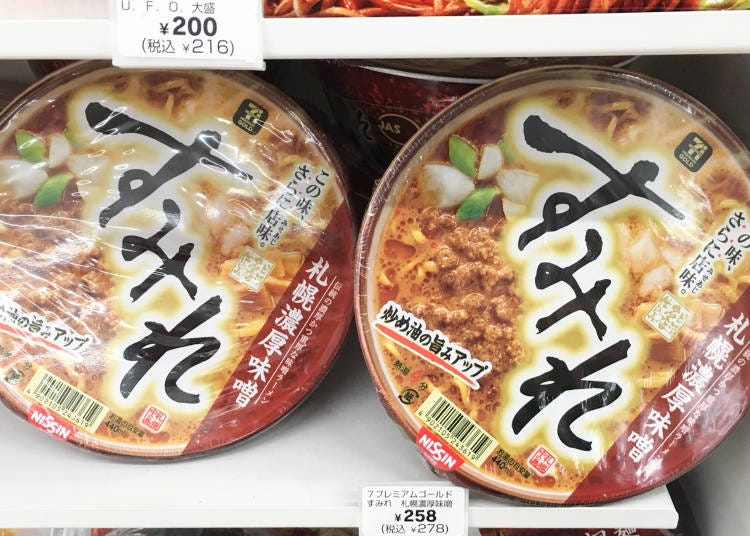 Sumire Sapporo Nōkō Miso, a cup noodle variety especially loved by the people of Sapporo. (278 Yen)
The second place of the cup noodle ranking goes to Sumire Sapporo Nōkō Miso. The store who developed these cup noodles is Sumire in Sapporo and is so popular, it's immediately full as soon as it opens for the day. It's no exaggeration to call it a ramen shop that's Hokkaido's number one representative. These cup noodles were launched in November 2012 under "Seven Gold," 7-Eleven's top premium private brand. Regular cup noodles can be had for around 100 to 150 yen, but this one costs a full 278 yen instead! For an instant food, that may seem quite expensive, but the first taste of this product will immediately make clear that we're not dealing with a regular cup of instant noodles here.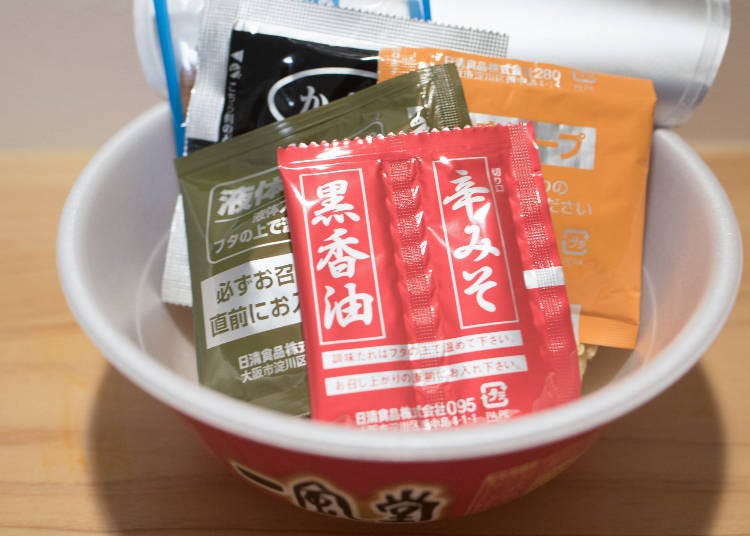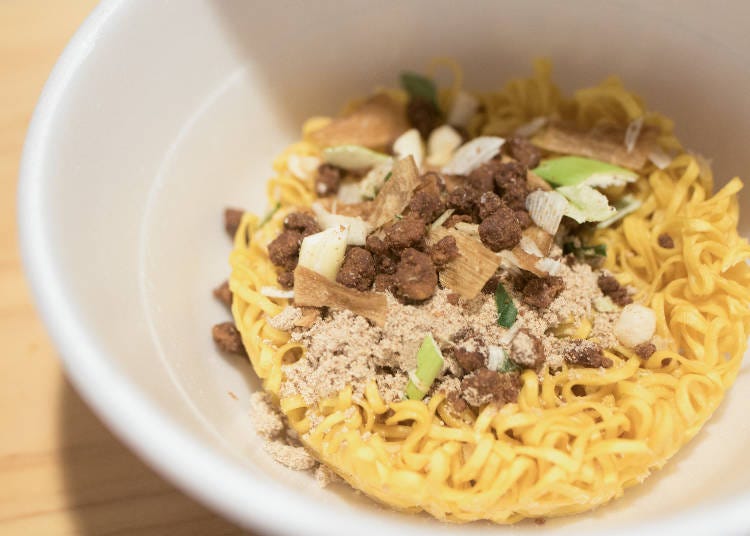 Opening the lid reveals the dried ingredients, as well as a powdered and a liquid soup pack. The general ingredients are meat cubes, roasted onion, rounds of leek, and menma (bamboo shoots that have been fermented and dried). The noodles are non-fried, thick, and curly, matching the rich soup perfectly. While the ingredients are slightly different from the bowl at the original Sumire, the noodles are very similar to the real deal!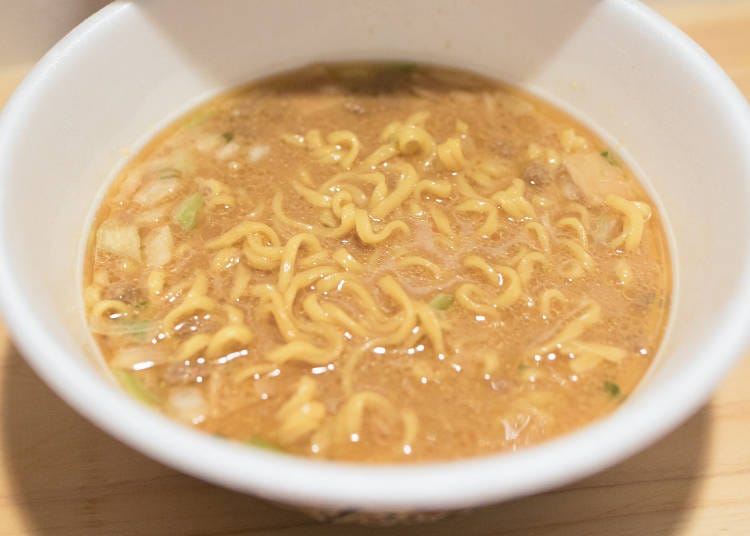 Among the top three cup noodles of the popularity ranking, this one may be the one with the simplest look. Especially noteworthy is that the soup is based on miso. The globules of fat floating on top surely are the same as the original, promising a flavorful broth! Indeed, the taste is close to Sumire in Sapporo, wonderfully rich and full of taste! You'll almost forget that this is instant noodles you're slurping right now. A sip of the soup spreads a deep miso flavor throughout your mouth, but there's also a pleasant hint of pepper. Despite being so rich, the aftertaste is surprisingly refreshing!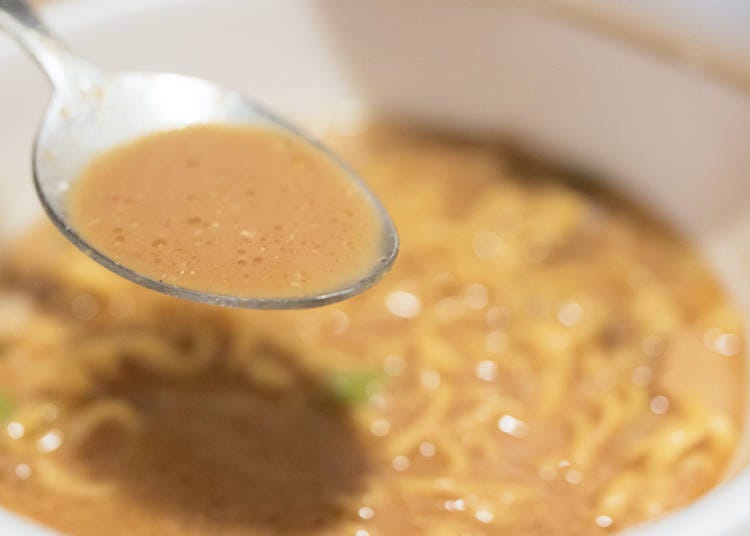 But what makes Sumire Sapporo Nōkō Miso so popular in the first place? It must be the fact that these cup noodles let you savor the authentic taste of a famous ramen shop at your own home. The tick, non-fried noodles are extremely close to the original and so is the soup... remember what we said about understanding the price? It's easy to forget that this is instant food. There's probably no other cup noodle product that has the same high quality.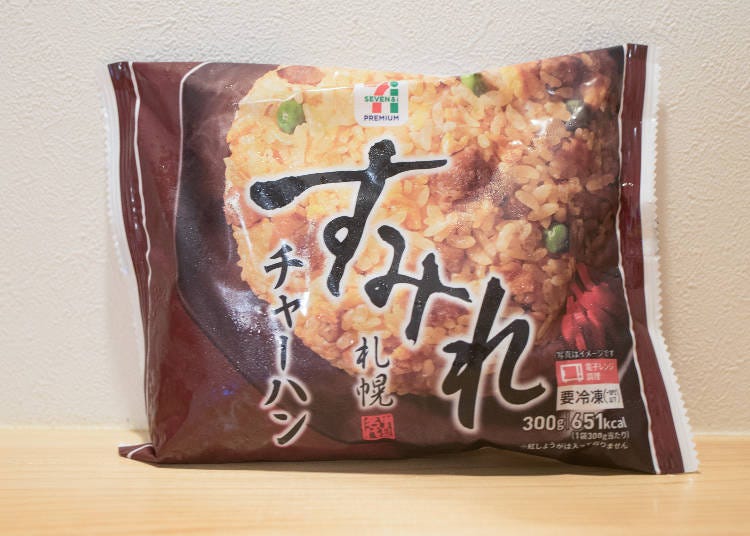 The shop's famous Sumire Chahan (fried rice) is on sale as well.
We'd also like to show you Sumire Chahan, fried rice that's also sold at 7-Eleven. Released just in March 2018, it's a relatively new product and pretty much immediately became a hot topic on Japanese social media because people couldn't believe that this is frozen food.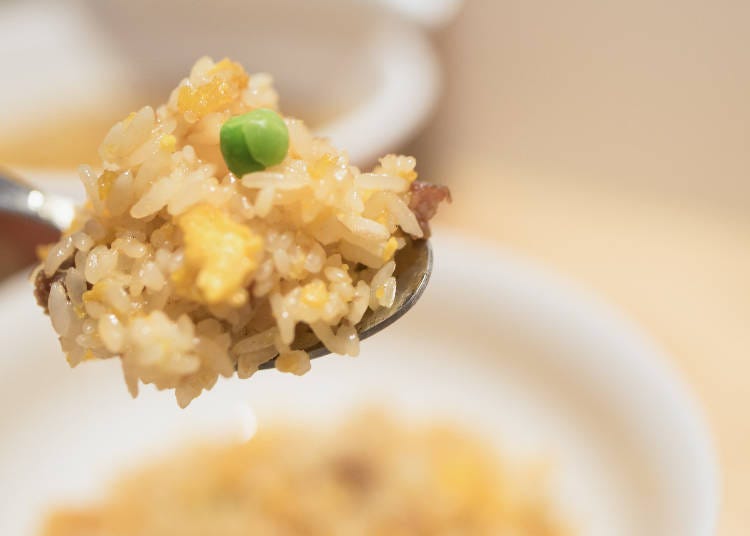 The gentle taste is rich in egg flavor and just the fried rice makes for a satisfying meal. However, we recommend combining it with the Sumire cup noodles mentioned above. Ramen and fried rice is a staple set at ramen shops all around Japan, so why not reproduce this gourmet experience at home?
#3. Ippudo Akamaru Shinaji Hakata Tonkotsu - A Creamy Pork Bone Broth Experience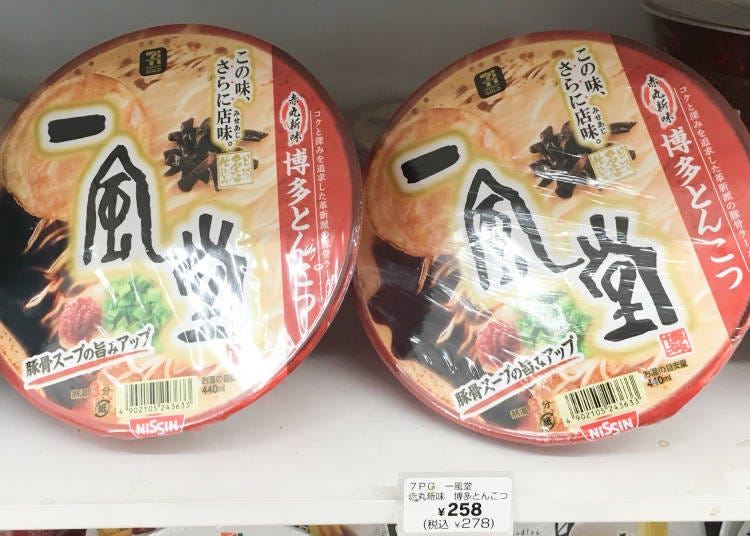 Ippudo Akamaru Shinaji Hakata Tonkotsu is a ramen bowl that is famous throughout the world. (258 yen)
The tonkotsu (pork bone broth) ramen specialty shop Ippudo has gained worldwide fame after opening a branch in New York in 2008. It's a ramen shop in the city of Hakata in Fukuoka, which is also called the sacred place of tonkotsu soup, and everyone in Japan knows the name Ippudo. Right now (as of March 2018), Ippudo owns 224 stores in 13 countries. The third place isn't taken by miso but by Ippudo's tonkotsu ramen!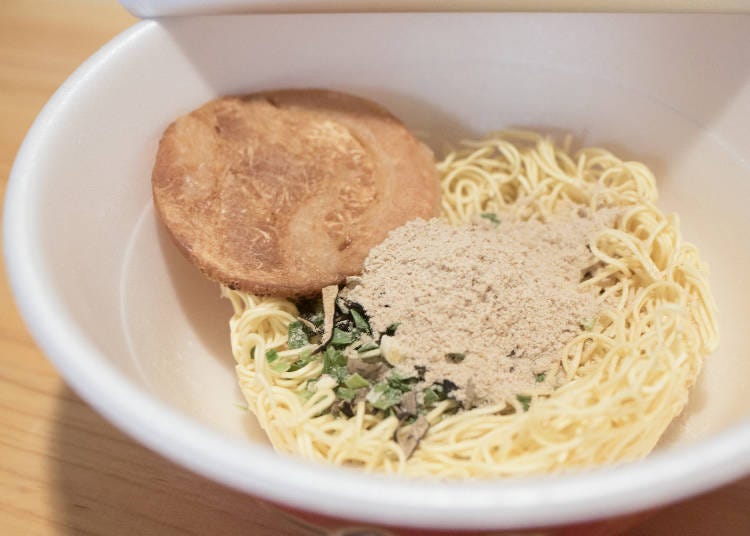 A big piece of barbecued pork, wood ear mushrooms, and scallions. Put in the powdered soup first, then add hot water and wait for about three minutes.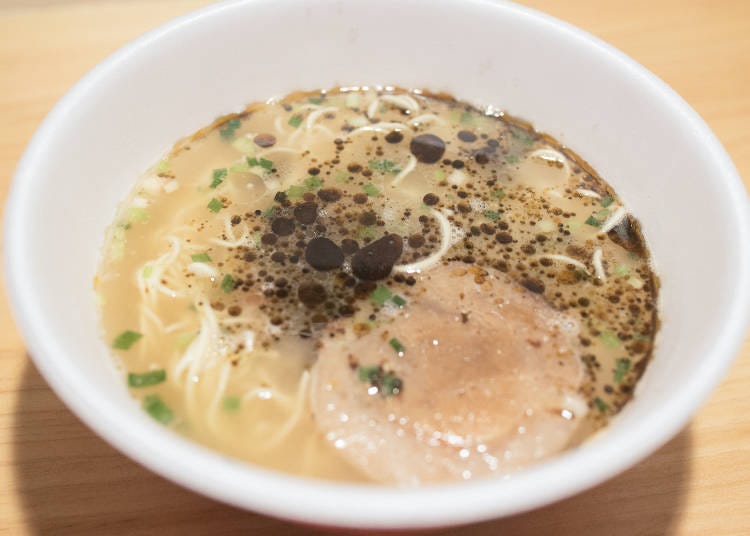 Finish the dish with the spicy miso and black garlic oil that comes with the cup. The first thing we noticed is that there was no strong odor despite the soup being a standard tonkotsu soup. Some people don't like the smell of pork bone broth, so this might be a good choice for everyone who's usually bothered by it. The thick and creamy broth is nicely rounded with the slightly bittersweet oil and spicy miso. Even though it's an instant dish, it's very close to Ippudo's authentic bowl. It's not too heavy either and thus a very satisfying cup noodle choice.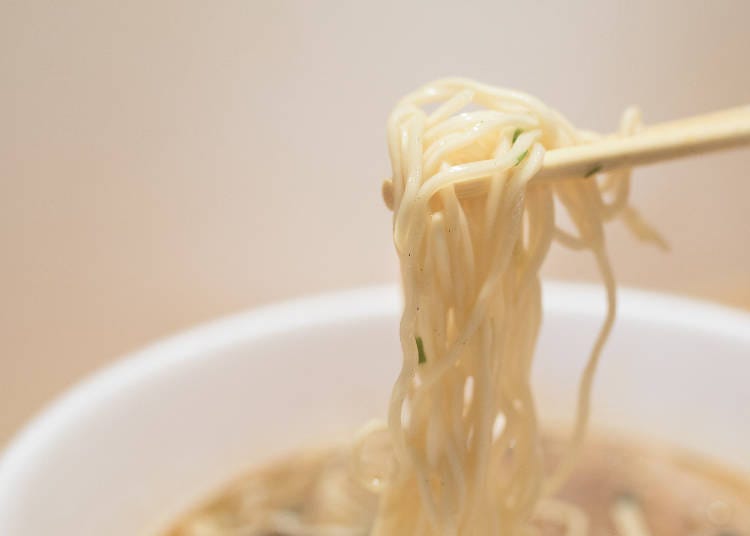 The noodles are thin and non-fried, as well as moderately firm to the bite. Even the powderiness of the typical tonkotsu noodles with low water content is reproduced! These cup noodles are easy to eat and will quickly become a habit. Maybe that's why they managed to climb to the third place – because it's a product for pretty much everyone, no matter what you like!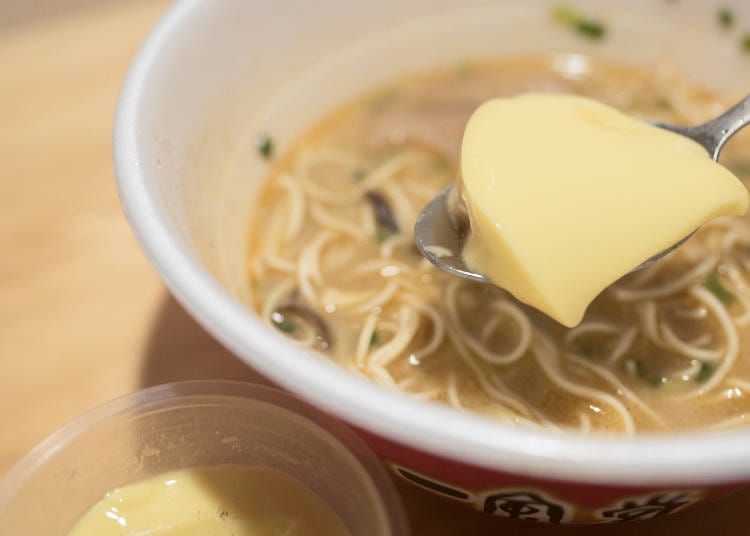 Here's a unique way of fancying the regular cup noodles up a notch: the soup of Ippudo Akamaru Shinaji Hakata Tonkotsu goes outstandingly well with pudding! That may sound weird, but the pudding melts right into the soup and gives it a wonderfully creamy flavor. That doesn't make the soup any sweeter but merely increases the richness and umami flavor of it. Don't believe us? Be brave and try it at least once!
7-Eleven's Best-Seller Cup Noodle Rivalry!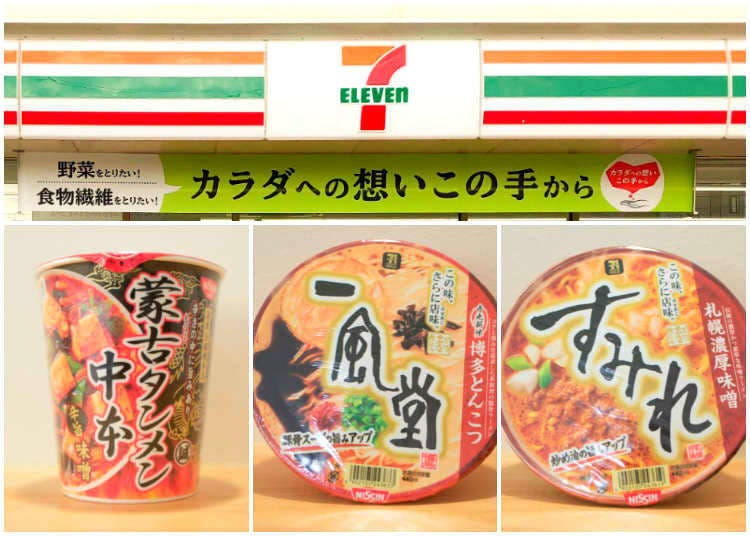 All cup noodles we talked about today have all been released for several years. The Mōkotanmen Nakamoto Futochoku-men Shiage, for example, exist since a full 10 years already! It's surprising to hear that it has continuously been so popular, even with new and exciting products being released every week. Of course, there are best-seller products such as Sumire and Mōkotanmen Nakamoto, but Seven Premium unites all sorts of cup noodles from famous shops under its brand and there's a rather fierce competition going on! We're excited to see how the ranking will look like next time!

*This information is from the time of this article's publication.
*Prices and options mentioned are subject to change.
*Unless stated otherwise, all prices include tax.