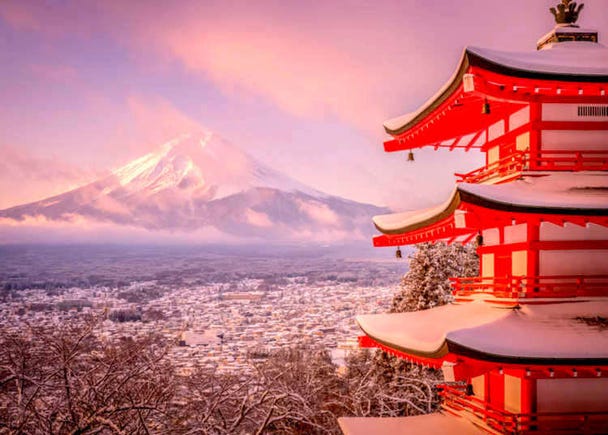 Apart from the odd couple of days in January or February Tokyo remains pretty snow-free throughout the winter, which can be a bit disappointing if you are looking forward to a white Christmas during your trip! However, never fear as snow is never far away and it is completely doable to have a fantastic day trip out in the snow.

So whether you have a hankering for making some snow angels, getting into a snowball fight with your kids, or just fancy a lazy day of skiing, areas close to Tokyo have everything you need, and you will still be able to get back to your hotel in the evening for a nice hot drink.
1. Yuzawa – A Skier's Paradise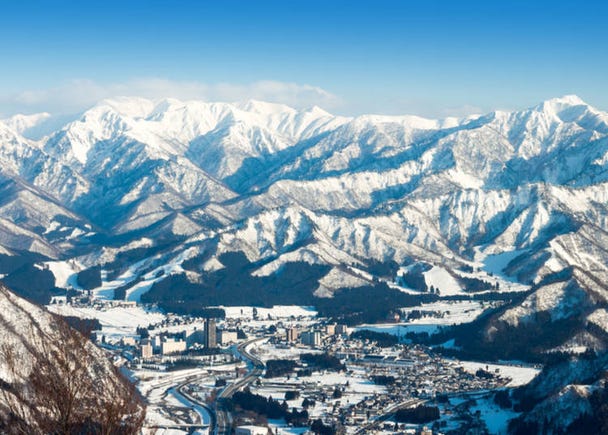 The main reason Tokyoites head to the Yuzawa area is for a spot of skiing or snowboarding, the season starts from mid-December and finishes around early May. You can rent a ski or snowboarding set (skis, ski boots and ski poles for the ski set, and a snowboard and snowboard boots for the snowboard set) for just ¥5,000 for a day (¥3,000 for children aged 0-12) and pretty soon you will be hitting the slopes! Gala Yuzawa is not just about snow though, you can go on a snowmobile sleigh tour for ¥500, experience a guide tour wearing traditional Japanese snow shoes for ¥2,000, or go on a snow trekking adventure for ¥3,000.

For families there is a great Snow Enjoyment Park which is absolutely brilliant for kids to play in the snow, to get here you need to ride a gondola up the mountain and this costs ¥1,800 for an adult and ¥900 for a child.

A great midday activity, which is more for adults, is to visit the Shirataki Sake Brewery which is just a 5 minute walk from Gala Yuzawa train station. If you want to go on a tour then you need to make a reservation in advance, but if you just want to drop in for a taste of sake then their showroom is open 10am to 12pm and 1pm to 3pm. There is no charge for entry, but please keep in mind that you have to be over 20 to drink alcohol.

Gala Yuzawa is actually just one out of about 20 ski resorts in this area, and most of them even have onsen hot springs! After a day in the snow followed by a relaxing, soothing bath in an onsen you will find yourself nodding off on the train trip back to Tokyo.

It is a 90 minute train journey from Tokyo Station to Echigo Yuzawa Station and it can be reached by using the Joetsu Shinkansen which costs ¥6,500 one way. If you have a JR Rail Pass or Tokyo Wide Pass then you can ride this Shinkansen – the Tokyo Wide Pass offers a lot of value for money as it is valid for three days and only costs ¥10,000. It is also possible to get here via a highway bus from Ikebukuro Station to Yuzawa, this costs ¥3000 one way but takes three hours.
2. Mt. Fuji Area – The Iconic Snow-Covered Mountain of Japan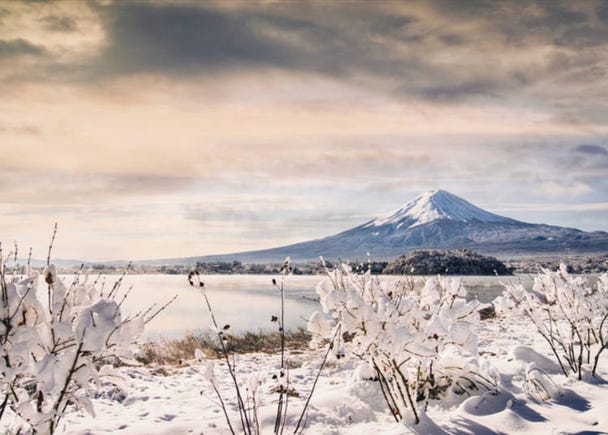 When most people think of Japan and snow probably the first image that will come to mind is that of Mt. Fuji! A trip to Lake Kawaguchiko - the area of Mt. Fuji - allows tourists to combine two great experiences into one, not only can you marvel at this very dignified mountain, you can also enjoy the very scenic view of a snow covered landscape. If you have to you can dive into the snow and make a snow angel too.

Although the mountain itself is off-limits to the public during the winter, around the area of the five lakes you can experience ice skating and even ice fishing, while the Saiko Winter Festival takes place in the Wild Bird Forest Park. From Kawaguchiko Station take a bus bound for Saiko or Aokigahara, and get off at Saikoyachounomori Park.

On the southern slope of Mt. Fuji from early October you may come across a yeti – not an actual yeti mind you! The Snow Resort Yeti is a small ski slope that is open until early spring. During the regular season a day ticket costs ¥4,000 (¥3,000 for children) and there are separate fees for renting different items like skis and clothing. Throughout the season it is also possible to go night skiing! You can get here by bus from JR Gotemba Station, this costs ¥1,170 one way, but buses are infrequent.

A JR Limited Express train to Otsuki (Azusa or Kaji) takes about 90 minutes from Shinjuku (From Tokyo Station you can get to Shinjuku Station in 15 minutes by using the Chuo Line – this costs ¥200) and costs ¥1,320 one way, or a JR Chuo express train can do the same journey in an hour and costs ¥2,570.

From Otsuki you will need to take a Fujikyuko Line train to Kawaguchiko Station, this takes another 55 minutes and costs ¥1,140. If you are travelling with a JR Rail Pass then you can get to Otsuki with the pass but will have to pay for the Fujikyuko train, however if you are travelling with a Tokyo Wide Pass then the whole journey is free.

By bus you can get to Kawaguchiko Station from Tokyo Station for ¥1,800 one way and the journey takes about two hours. If travelling onward to Fuji Subaru 5th Station (the base of Mt.Fuji) you will need to take a local bus which will get you there in about 50 minutes for ¥1,500 one way.
3. Hakone – The Land of Onsen!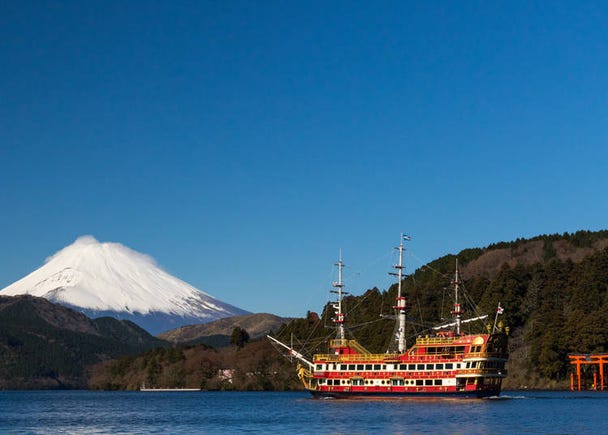 There are other options for enjoying snow and Mt. Fuji, along with a nice relaxing onsen. Hakone-Yumoto is the gateway to Hakone, and with good reason! From this lovely little town you can get to anywhere in Hakone, and many areas also provide a view of Mt. Fuji – on clear days – as well as plenty of snow covered landscapes.

However, if you are just looking for a day of snow and onsens then Hakone-Yumoto is your best bet, it is a really scenic town with hills and a river, so you can go for a stroll in the snow and when you are ready then look out for one of the 40 onsens located near the station. The water in this area is known for its high quality, so you can really enjoy a great bath.

If you are more in the mood for beautiful snowy scenery, but from the comfort of a warm seat, then take the Hakone Tozan train from Hakone-Yumoto to Gora (37-minute ride ¥400 one way) and enjoy the beauty of the surrounding area as it gradually ascends Mt. Hakone – it is gorgeous when covered in snow, but you can also enjoy the cherry blossoms in spring and the multicolored fall leaves in autumn.

From Gora you can take a cable car which steeply ascends to Sounzan Station, it takes 9 minutes and costs ¥420 one way (¥210 for children). At Sounzan you can step into some really deep snow as well as take some amazing panoramic photos! If you aren't satisfied enough with what you have seen so far (impossible!) you can take another cable car, the Hakone Ropeway, which descends back down to Lake Ashi. This cable car not only offers beautiful views of Mt.Fuji and the lake, but also passes by Owakudani, a hot steaming volcano. It costs ¥900 one way (¥450 for children) and takes 30 minutes.

To get to Hakone-Yumoto from Tokyo by taking the Shinkansen to Odawara Station (¥3,220 - 35 minutes), and then the Hakone Tozan Railway line to Hakone-Yumoto (¥310 – 15 minutes). Alternatively you can take the Tokaido Line to Odawara Station and then the Hakone Tozan Line, this takes an hour and 47 minutes and costs ¥1,800 one way.
4. Nikko – Traditional Japanese Temples and Shrines Amongst Snowy Mountains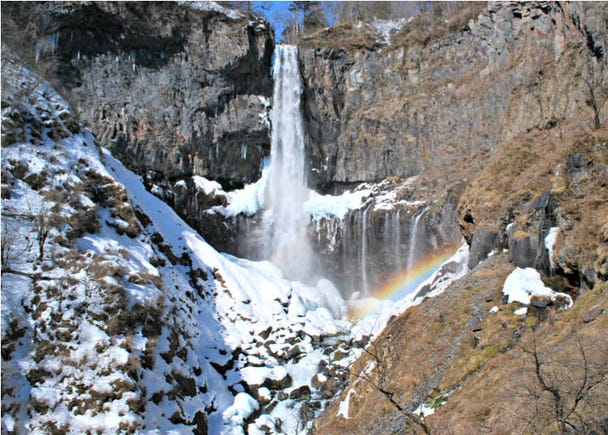 Nikko is a sleepy town popular with tourists because of its many temples and shrines, and because it is up amongst the mountains in the winter it becomes a dreamy snow covered town with landscapes akin to scenes from the anime Mushi-Shi.

Japanese temples and shrines are lovely to look at any time, but when they are covered in snow one can feel an enhanced effect – as if the cold weather and snow somehow make them that much more peaceful. As you visit each temple or shrine you are left with a deep impression of silence only broken by the sound of your footsteps sinking into the deep snow.

The Shinkyo Bridge is a UNESCO World Heritage site and the red color of the bridge really stands out against the surrounding white of the snow. If you have any free time then try taking a bus from Tobu Nikko Station to Chuzenjiko Onsen, it takes about 50 minutes and costs ¥1,150 one way. From this onsen you can see Lake Chuzenji, which is an absolutely stunning sight in the winter, not only because it is surrounded by imposing snow covered mountains, but also because strong winds blow the lake's water onto nearby trees and creates a kind of ice art! Nearby here is also the famous Kegon Falls, which in winter becomes a stunning sight, draped in ice.

The easiest way to get to Nikko from Tokyo Station is to take the Shinkansen to Utsunomiya Station, and then the Nikko Line to Nikko Station (49 minutes - ¥5,580). If you can, try some gyoza in Utsunomiya – it is really famous for it! Alternatively take a Takasaki Line train to Ueno and then change to the Ginza Line and get off at Asakusa (15 minutes - ¥330) and then you can take a Nikko-Kinugawa train to Tobu-Nikko Station, this takes an hour and 55 minutes and costs ¥2,700 one way).

~
(Prices and information are based on 2018 data)
~
*This information is from the time of this article's publication.
*Prices and options mentioned are subject to change.
*Unless stated otherwise, all prices include tax.