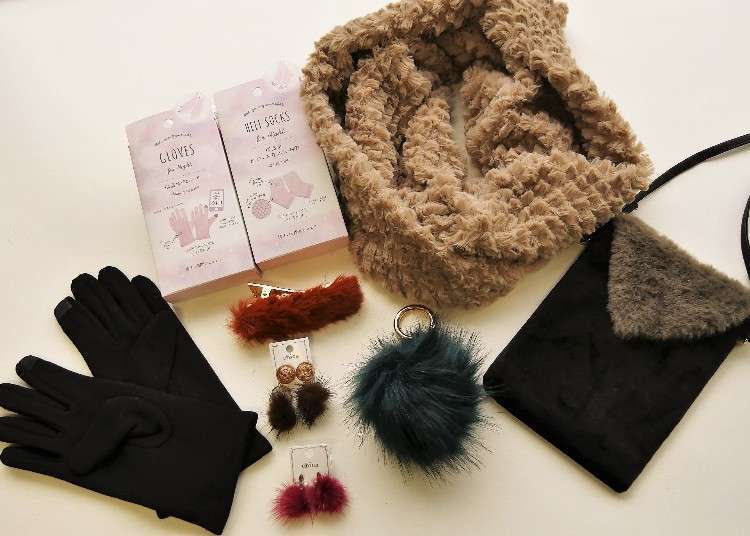 This year, Mount Fuji is crowned by snow earlier than usual. Nothing helps better to fight off this early onset of winter, its chilly temperatures, and the common cold than fluffy clothes and accessories. But you don't just want to be snug and warm, you also want to look stylish, don't you?

Come with us to 3COINS, a shop that has made major waves on Instagram for fashion that is warm, cute, and available for little money! We asked the staff for this season's winter must-haves to make your Tokyo trip an awesome one!
Stay Warm and Fluffy, Both at Home and Outside!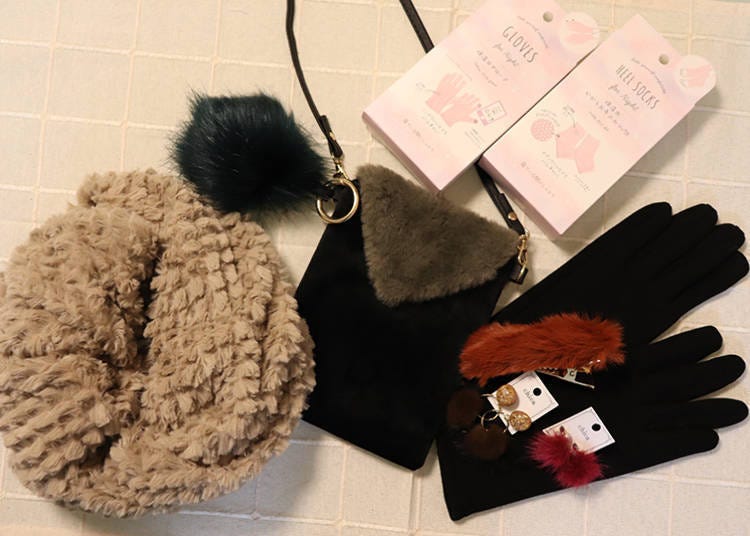 This time, we got nine items for our haul, including stylish mufflers and gloves that you don't want to miss when venturing out into the cold! Fur bags and accessories complement your cozy-but-cute look!

Especially the fur things seem to warm you up right to the core just by looking at them! On top of that, we tried "moisturizing gloves" and "moisturizing heel care socks" to use at home. Winter in Japan can be incredibly dry, but 3COINS and its moisturizing series are gaining a lot of attention on Instagram.
Stylish Items to Keep You Warm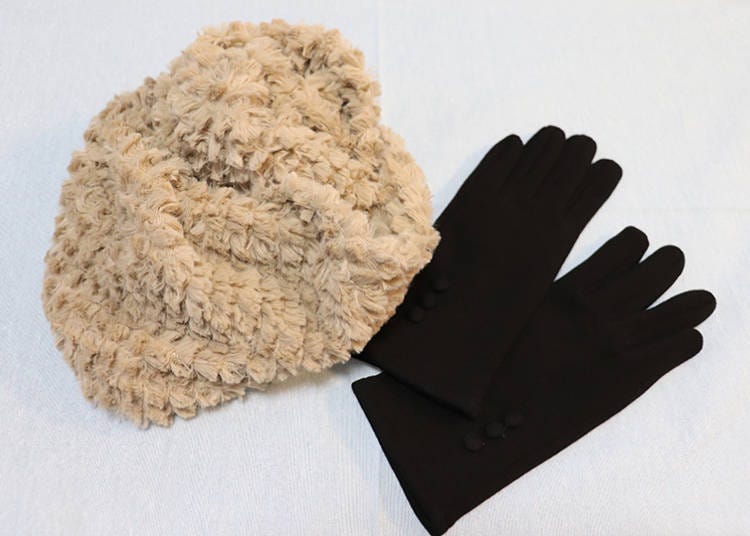 Waffle Infinity Scarf Nude (left) / Smartphone Gloves (right), 300 yen each + tax
The first item we want to show you is the fluffy "Waffle Infinity Scarf Nude." You don't have to worry about how to keep it snugly around your neck, the wind can't mess it up, and you'll be warm and cozy all the time while looking stylish. Because it is nice and voluminous around the neck, this scarf can easily pass as a luxurious brand accessory.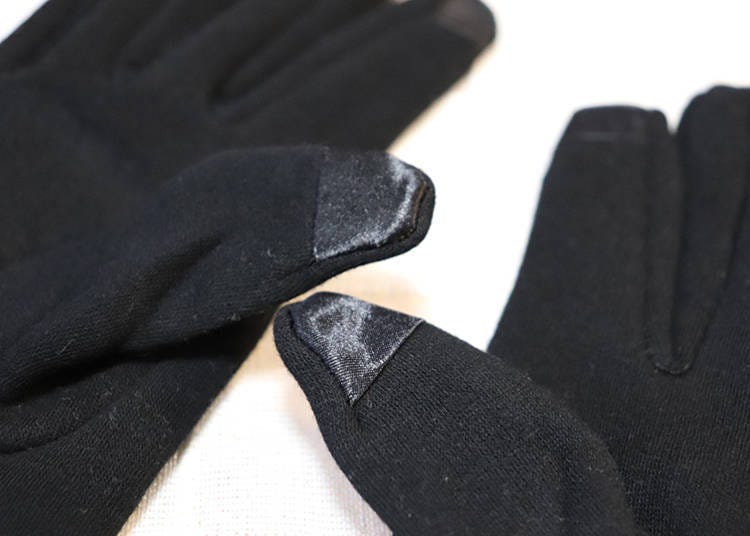 "These are items that many customers buy as a set," says the staff as they show us the smartphone gloves next. They're incredibly convenient, keeping your hands warm while still letting you use your phone. The tips of the thumbs and index fingers of both hands aren't fabric but a different material that works with touchscreens.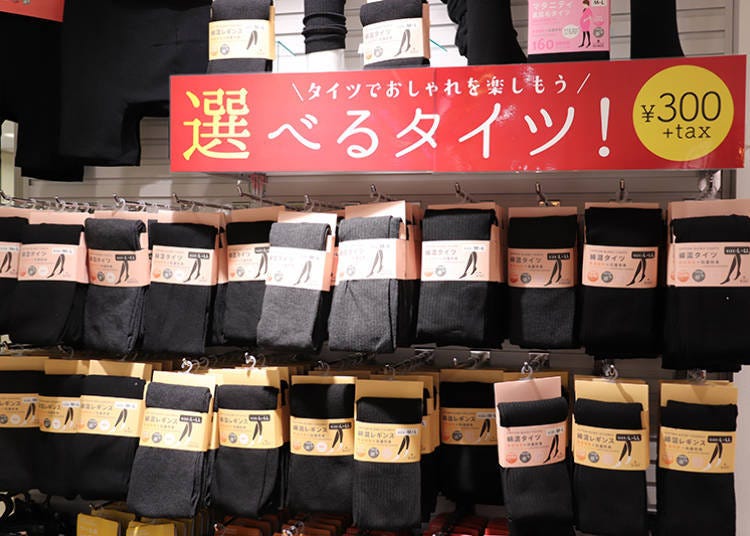 Next to mufflers and gloves, the "Eraberu Tights" ("tights you can choose") are another hot seller of the season. They keep you warm and your legs moisturized while also boasting an antimicrobial deodorant finishing. Next to full legs, they come as leggings and long leg panties, so combine them freely with your different winter outfits!
Stylish Fur Bags and Accessories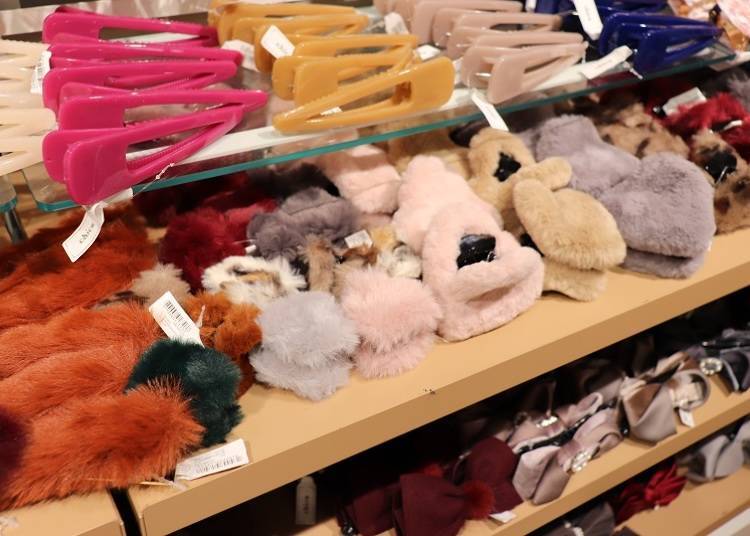 Everything looks better with a hint of (fake) fur. 3COINS has a particularly colorful lineup of fur-centric accessories, ready to fancy up your outfit in all kinds of different ways. You'll be surprised at the effect a single accessory can have!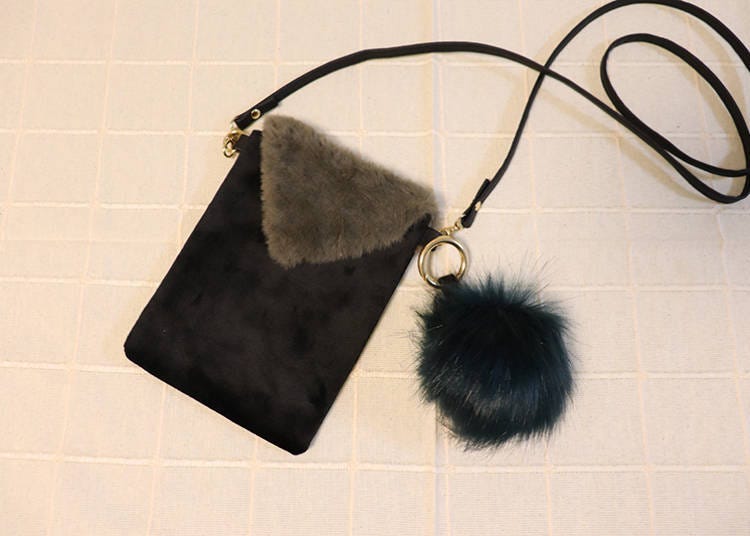 Velour Fur Mini Shoulder Bag (left) / F Fur Deep Color Charm (right), 300 yen each + tax
The helpful staff points us to the trendiest fur bag out of the astoundingly rich selection: the Velour Fur Mini Shoulder Bag. The letter shape is a popular design that fits everything you need while being small and convenient. The fur cover is just the right amount of fluffy accent! Adding an extra fur charm will make you extra glamorous.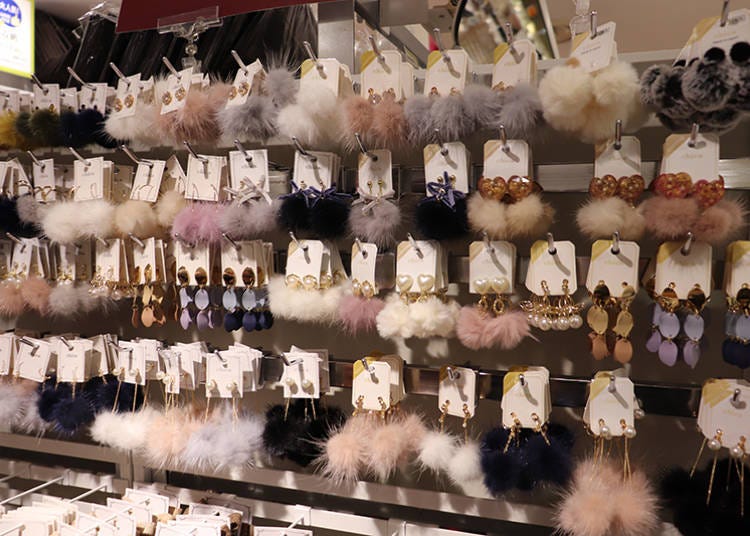 There are even earrings and piercings made of fur! 3COINS is known for its fast-changing selection of accessories, so the timing of your visit is also important! If you see something you like, don't hesitate to pick it up at once!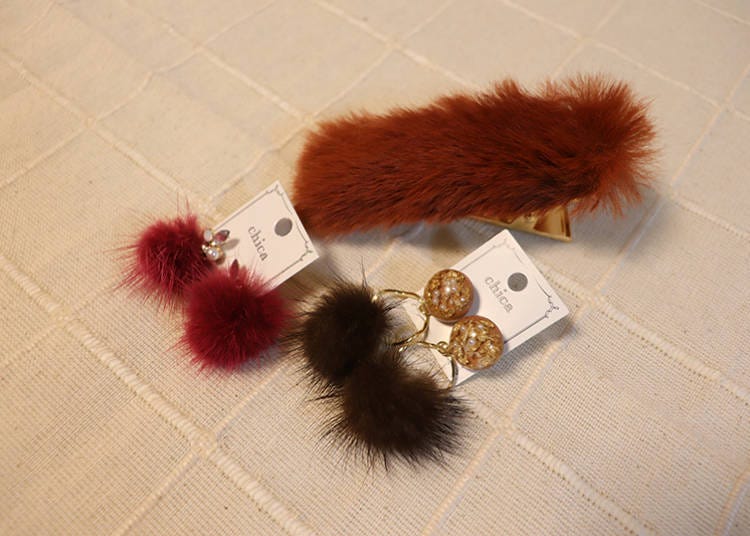 Because we went for dark gloves and a dark bag, we wanted warm colors as an accent. These go great with the nude-colored fur!

Because the price is quite small with merely 300 yen per piece, it's perfectly okay to get two things or more if you cannot decide what matches best – that's the main characteristic of 3COINS.
Warm, Fluffy, and Cozy at Home!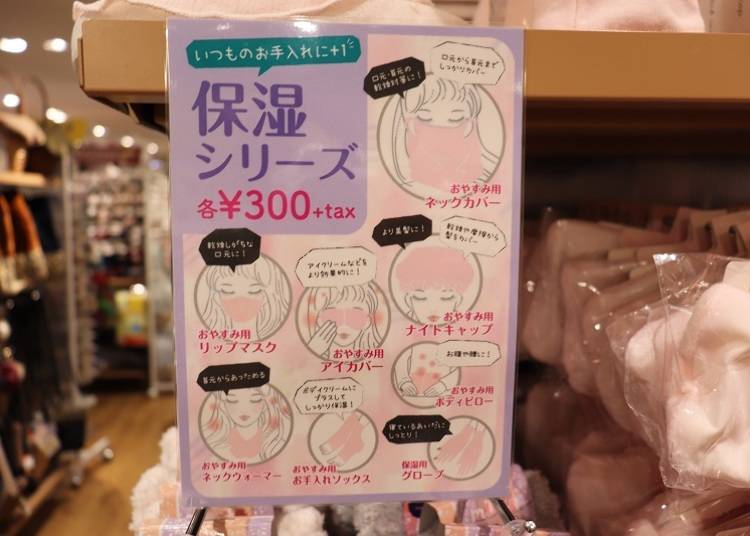 3COIN's "moisturizing series" wasn't only showcased on TV, it is also a major topic on Japanese Instagram and other social media. There are nightcaps, eye covers, masks, body pillows, and socks – all designed to prevent you from drying out in the chilly winter air.

We went for the "moisturizing gloves" and "moisturizing heel care socks" that appear particularly often on our Instagram feed.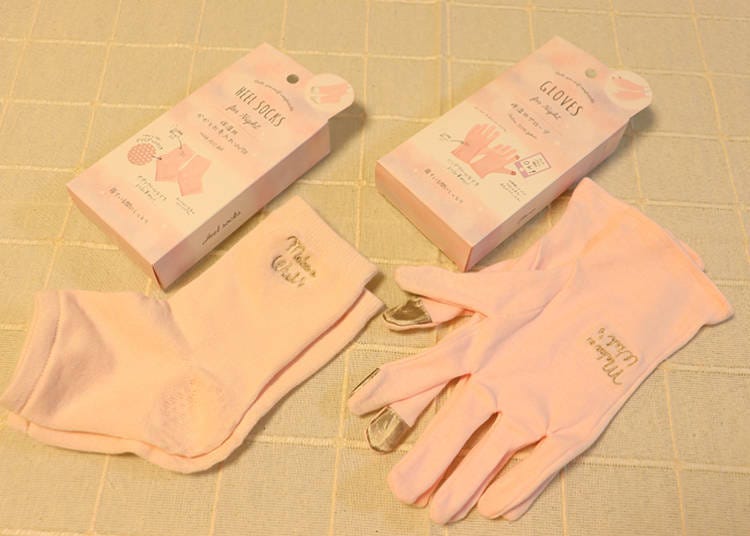 Moisturizing Heel Care Socks (left) / Moisturizing Gloves (right), 300 yen each + tax
These goodies should be worn after applying your choice of moisturizing cream. They're light yet fluffy, not getting in the way at all while keeping you warm and cozy. The cute pale pink color is especially sought-after.

The moisturizing gloves leave your thumbs and index fingers free to not block you from using touch screens, so simply wear them while relaxing in front of your phone. We especially recommend wearing the moisturizing series before bed or right after a bath!
For people who are worried that their feet will get cold when only wearing the heel care socks, try combining them with these heavenly fluffy room socks!

3COINS has an astounding lineup of warm winter goods that look stylish while protecting you from the cold, both at home and outside. Available for very little money, find some new favorites and enjoy Tokyo's magical winter!

The shop we visited
3COINS 八重洲地下街店

Address

Yaesu Chikagai South No. 1, 2-1 Yaesu, Chūō-ku, Tōkyō-to 103-0028

Nearest Station

Tokyo Station


Phone Number

03-3548-3503

Hours: 10:00 a.m. - 9:00 p.m.
Closed: irregularly (same as Yaesu Chikagai)
*This information is from the time of this article's publication.
*Prices and options mentioned are subject to change.
*Unless stated otherwise, all prices include tax.