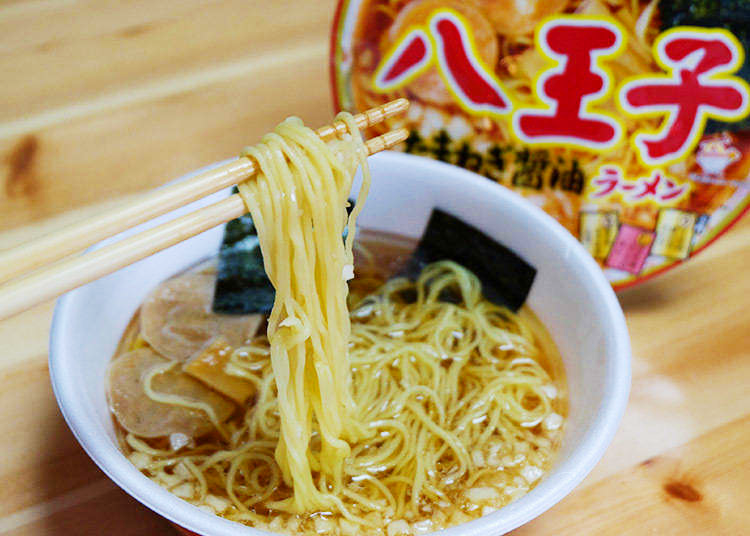 After every trip back from Japan, I always realize I forgot some Japanese snacks. Then I see articles that showcase new products and I want to rush right back.

Japan's snacks, instant noodles, cookies are really amazing. If you haven't tried any yet, you really should. But everyone has their favorite, so LIVE JAPAN went deep into the supermarket chain Keio to find the best of the best 10 products that you must buy when visiting Japan!
1. Cookies, chocolate, snacks
Lotte's Lactic Acid Bacteria Chocolate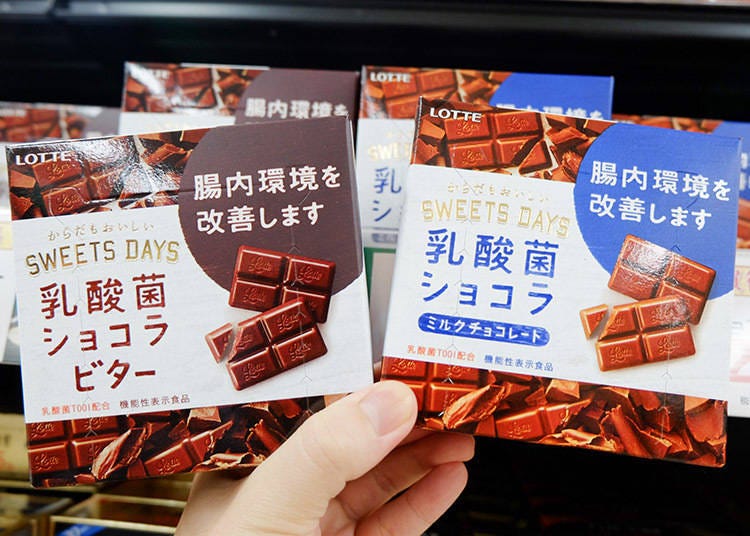 Lotte's Lactobacillus chocolate (56g), 301 yen (tax included)
Lotte's Lactobacillus chocolate (56g), 301 yen (tax included) is both a healthy and tasty snack. This lactic acid chocolate is meant to help you staying healthy by regulating your stomach and digestive environment. The central component of this chocolate is the bacteria extracted from plants. Through an exclusive patented process, the bacteria is then added to the chocolate. This chocolate tastes delicious and it will help you stay healthy.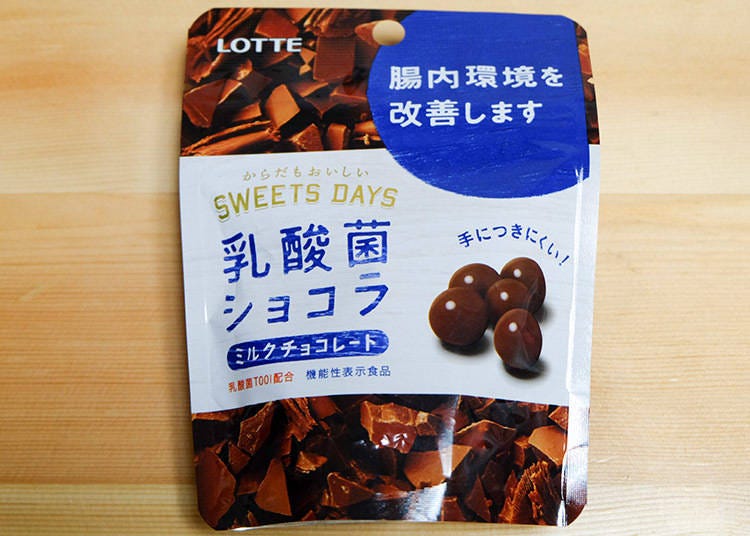 Lotte Lactobacillus Chocolate (26g x 10pcs, 145 yen (tax included)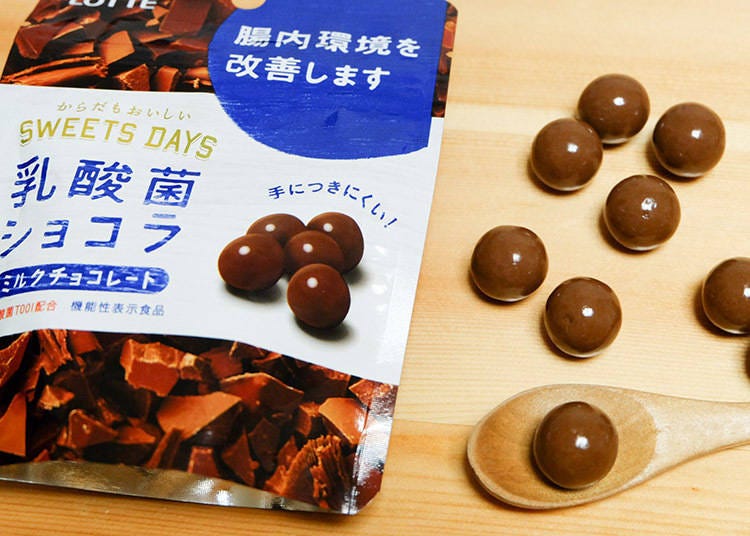 Lotte's Lactic Acid Chocolate comes in a variety of flavors, such as milk chocolate, or almond dark chocolate, as well as in small, normal, or large packages (25, 56, 86g), all equipped with a re-sealable bag for safe preservation.

The pack is easy to carry anywhere and it contains 10 chocolate pieces for a total of 141 kcal.

The milk-chocolate flavor is the more classic-tasting and, despite carrying the word "acid" in its name, it doesn't have any sour taste. It's very smooth but not too sweet. This chocolate has been very popular since it was launched in 2015, and it often ranks very high among the best-selling items. If you love chocolate you finally have a guilt-free pleasure without worries of high calories. Feel free to give in to the taste of chocolate!
Morinaga's confectionery chocolate chip cookie (森永製菓チョコチップクッキー)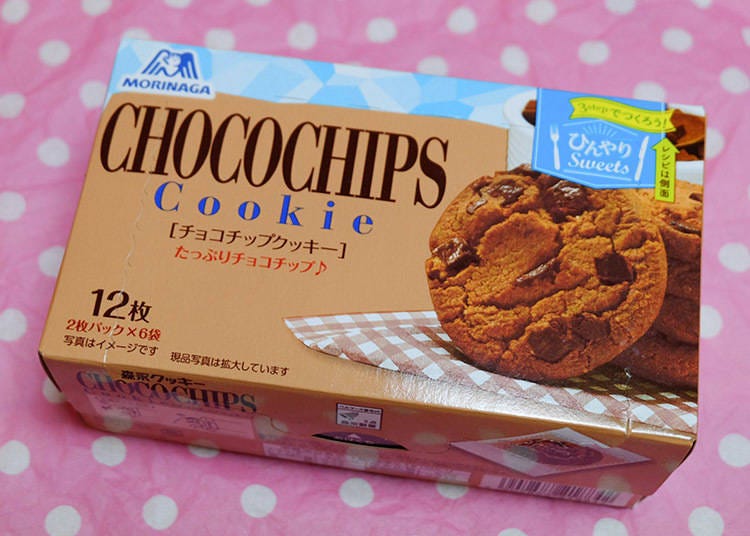 Morinaga's confectionery chocolate chip cookies, 12 pcs, 215 yen (tax included)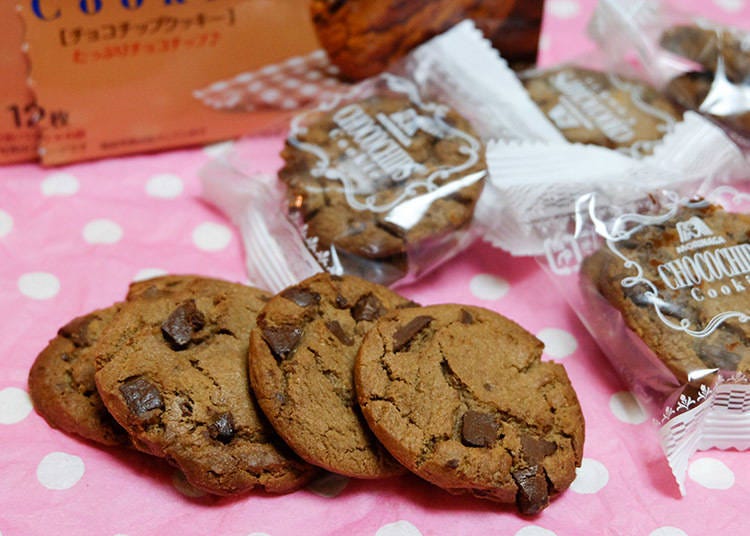 The Japanese cookie maker Morinaga is well known for introducing several amazing snacks, and the one we recommend today is its classic and very popular chocolate chip cookie. The cookies have a wonderful chocolate scent and are enriched by bits of chocolate. Their crispiness will enchant you from the first bite! The texture given by the cookie and the chocolate bits, makes for a snack that both children and adults will surely love. These cookies are especially suitable when enjoying black tea or other similar drinks. They are great to share with family and friends at a tea party!
Maruka food's lemon flavored squid tempura (イカ天瀬戸内れもん味)
Lemon flavored squid tempura, 85gr, 300 yen (tax included).
Squid tempura snacks have been in Japanese tradition for a long time, but after a few bites I always felt a little overwhelmed by the greasy texture. That was until I found this snack. The lemon flavor added to the snack makes for an amazing combination. The design on the bag is fun and bright, so this snack will be very easy to find on supermarket shelves. It's not uncommon to see staff add more to the shelf after they have been emptied of it. The lemon mitigates the greasiness of the original snack, making it more appetizing, and surely a people's favorite!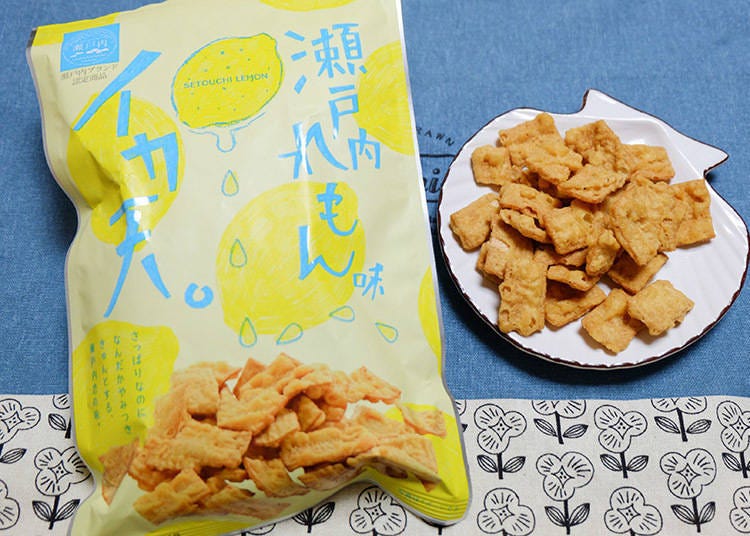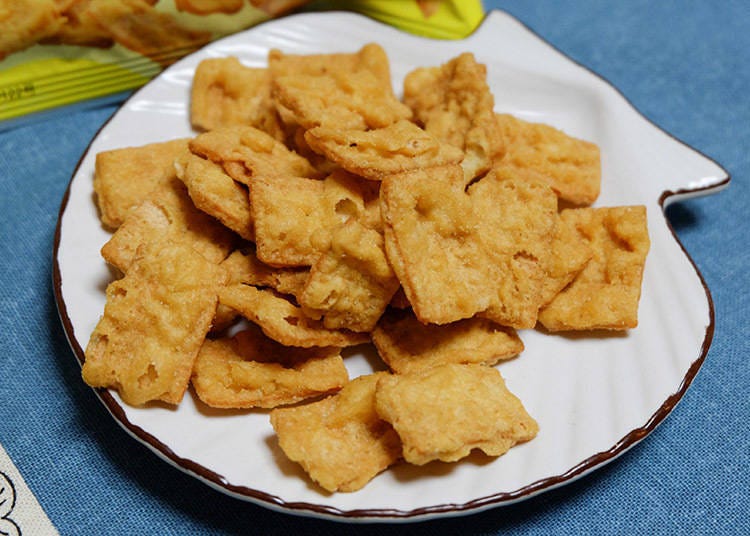 As soon as you open the bag, you can smell the strong lemon fragrance. At the first bite you will be welcomed by the crispy texture and flavor of the crunchy squid snack, and then by the rich sour taste. The snack is crispy, refreshing, and delicious. The size of the bites has also been reduced to a smaller one, which makes it better especially for women or children. In addition the package has a thoughtful zip lock design to preserve the snacks. That being said you're probably not going to need to worry about preserving the snacks, since once you start eating them, you probably won't be able to stop.

The price of this snack is relatively high, compared to others, but it's really delicious. If you know someone who like sour flavors, make sure you bring it back as a gift. It will definitely be appreciated!
Koikeya's PRIDE POTATO light flavor (湖池屋PRIDE POTATOうすしお味)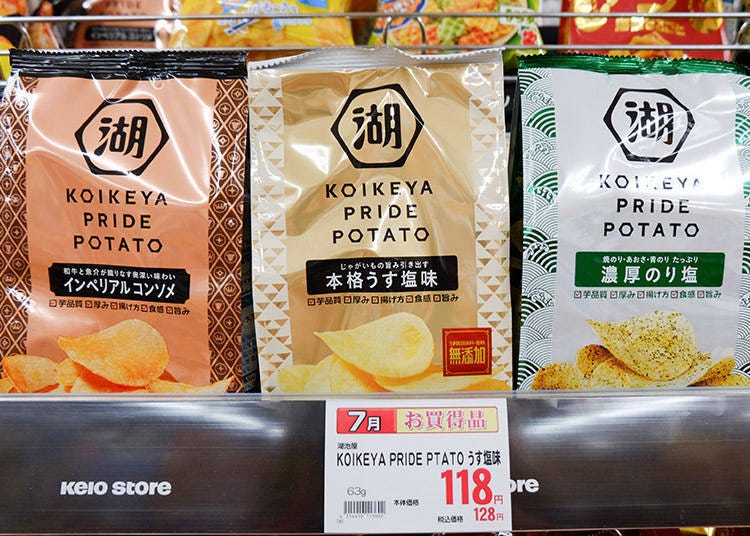 Koikeya Pride Potato chips soup flavor/light salt flavor/seaweed salt flavor, 63gr, 128 yen (tax included)
The Koikeya brand may not be known to many people. In 2017 with the new PRIDE POTATO trademark, the company launched a different series of flavors and products. They select only 100% non-genetically modified potatoes, and take great care also in the preparation, from peeling and slicing, to thickness, frying oil, and many other quality-control procedures. While there are many flavors, they may not be too easy to find because it seems like the demand is much higher than the supply, for now.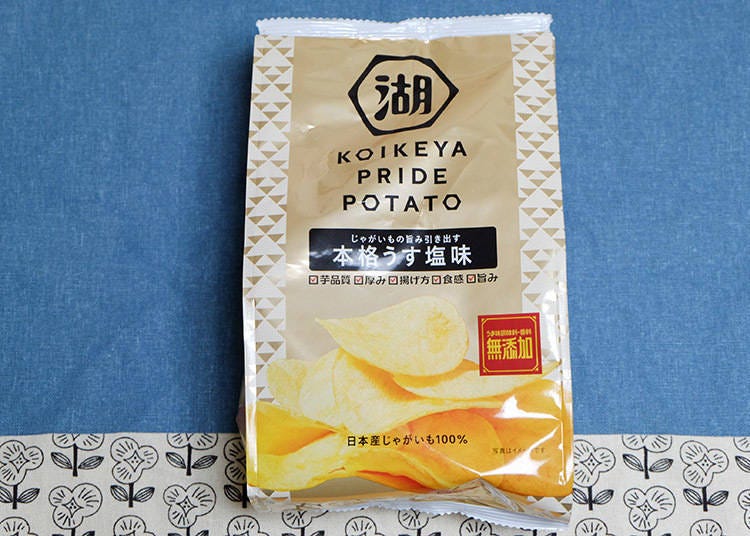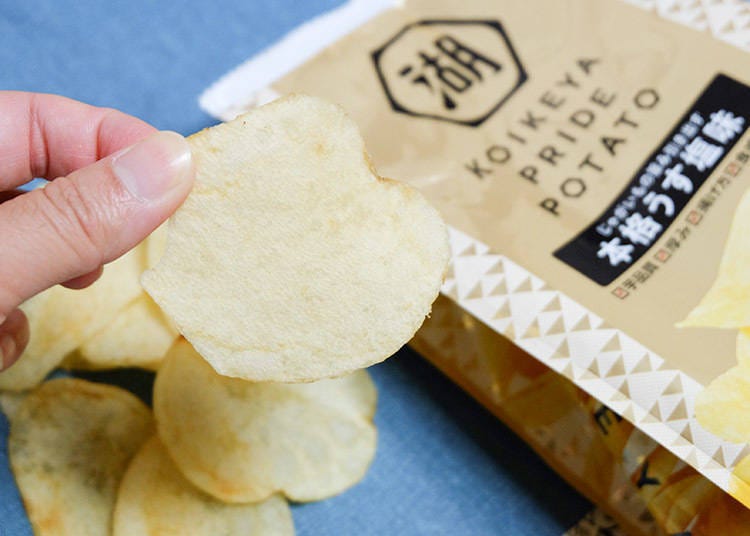 The mild flavor of the thin-salt variety of these chips, is advertised to be obtained without the use of any artificial seasonings, or spices, but only through three kinds of salt, and, of course, selected potatoes.

The saltiness is not strong, and the chips are crispier than others that I've tried before. The chips felt natural and didn't even feel like fried food. The snack was delicious and it's a perfect option to share with others, although I finished a whole pack and I was left wanting for more. I recommend you try these chips.
Sanko's rice crackers (三幸製菓新潟仕込みこだわりの焦がし醤油)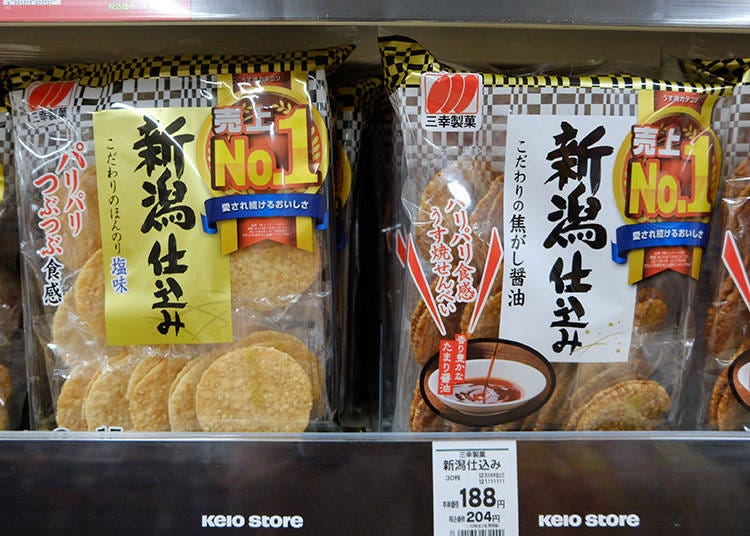 Sanko Seika Niigata's selection nori seaweed/spicy persimmon oil rice crackers (15 packets, 30 pcs, 204 yen (tax included))
This rice cracker series launched by Sanko, has been a staple of Japanese snacks for a long time, and an ever-present product in the top-selling item list. The classic flavor is soy sauce. The crackers are made with 100% Japanese rice and the snakes are baked with local soy sauces.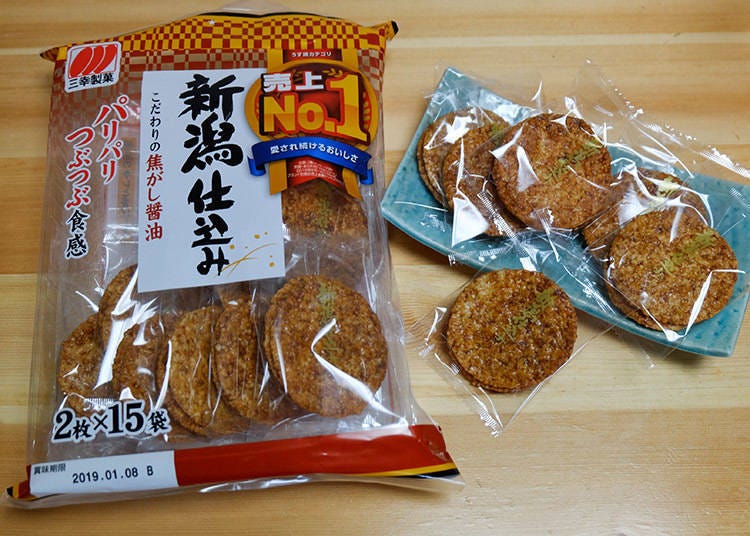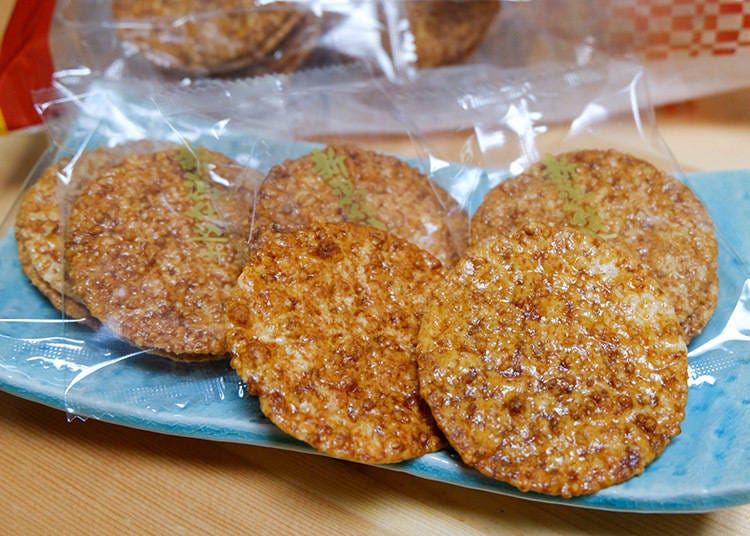 Each packet contains two rice crackers, and the soy sauce scent invites you as soon as you open the package. The outer crust of the cracker is backed into a thin layer of soy sauce, the shiny color of which highlights the delicious taste. The rough surface of the snack also somehow makes for a better snack when compared to its smoother counterparts. The texture is grainy and the flavor of the soy sauce mixes well with that of the roasted rice. If you like Japanese rice crackers, don't miss these!
Nitto Royal Milk Tea (日東紅茶ロイヤルミルクティー)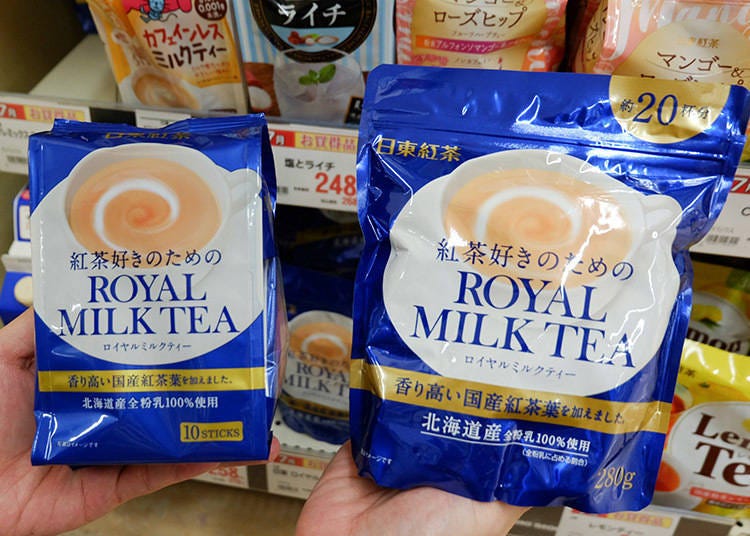 Nitto Royal Milk Tea (left), brewing bag, 10 pcs, 301 yen (tax included). Family pack (right), 280gr, 495 yen (tax included).
Nitto Black Tea, well known in Japan and abroad, is a tea brand with a nearly 100-year history, and the products the company introduced are loved by Japanese people. Among them, we can find Nitto Royal Milk Tea, a carefully selected domestic tea.

The tea is grinded into a fine powder and blended to Hokkaido whole milk powder. The result is a full-bodied tea but with a soft flavor. The quality of this tea is remarkable. For this reason, this long-lasting milk tea has been at the top of the best-selling drinks in supermarkets in Japan for many years.

Its popularity is growing abroad as well, with many tourists bring it back to their country from their visits to Japan. You can choose a small or large pack for you to enjoy a fragrant cup of milk tea anytime you want to.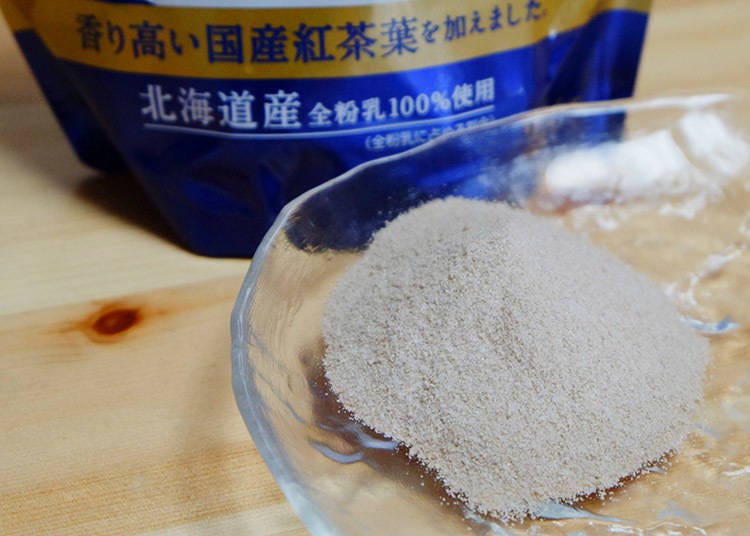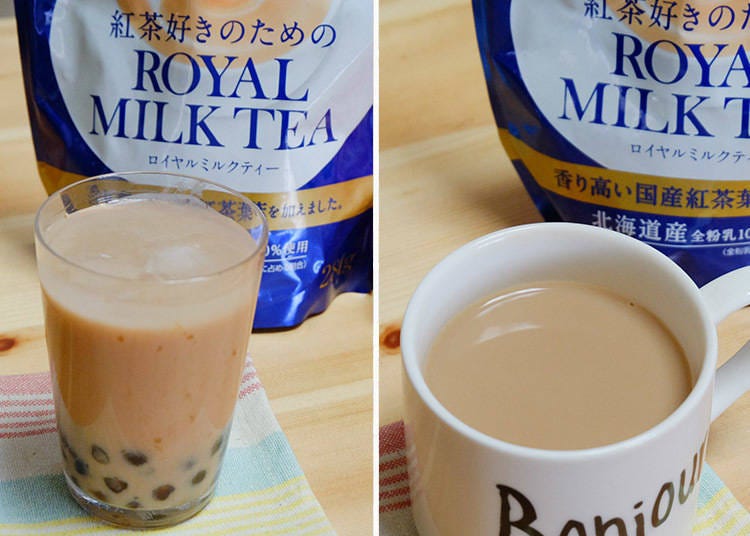 The powder of the tea is very fine and easy to stir evenly. The fragrance of the milk tea is soothing and the drink is pleasant whether you enjoy it cold or hot. The tea is silky and flavorful, but not too sweet. You can also add some tapioca to enjoy this tea "Taiwan style". This purchase is definitely an unmissable one to bring back home.
ITO EN premium Tea (Hojicha) (伊藤園プレミアムティーバッグ (ほうじ茶)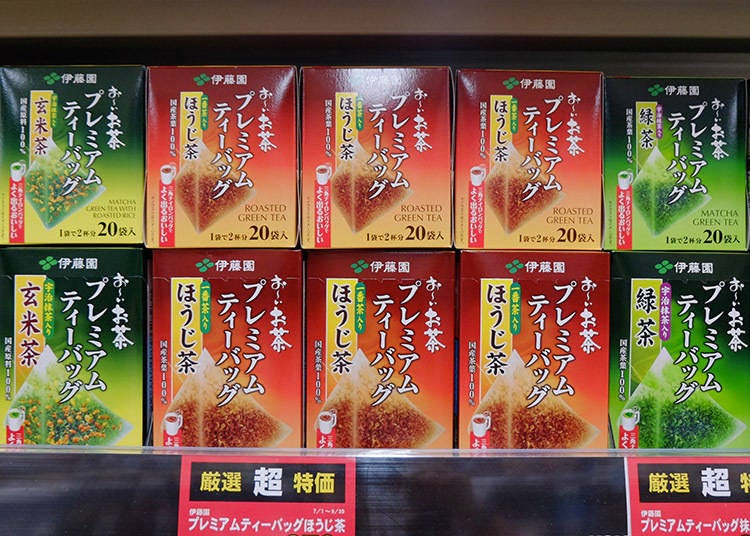 ITO EN's roasted tea, triangular bag, 20pcs box, 340 yen (tax included).
The last item in our list of drinks, is a tea produced by the well-known beverage-producing company ITO EN. The most popular of ITO EN's beverages, is probably its green tea, but in recent years his roasted tea has also grown in popularity. ITO EN offers a wide variety of roasted tea drinks, as well as other kinds of tea.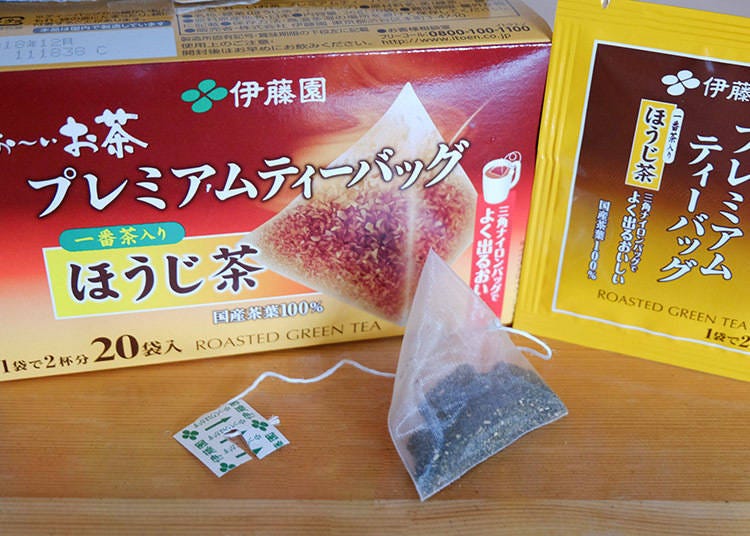 The so-called "roasted tea" refers to how it's prepared. After picking the tea leaves, these are roasted at high temperatures. ITO EN uses only Japanese tea and selects only young buds, meaning that fresh tea is produced every year. The teas gain a very distinctive flavor and their caffeine content is not too high, thanks to the process of roasting the leaves, making for a rich tea that is also light and refreshing at the same time.
The shape of the bags in which the tea comes (pyramid shape) allows the leaves to expand during the brewing process, so to release all the flavor of the tea into the cup. Unlike other teas, the flavor produced by only one bag may be too light for some, so there are packages that have the amount of 2 bags in one.

This tea can be enjoyed hot or cold, and it has a pleasant, non-bitter texture. This tea can be perfectly paired with Japanese sweets. In Tokyo, the tea is enjoyed with an addition of milk, making it into a "tea au lait", with a warm and silky feel to it. You should definitely try this way of drinking this roasted tea!
Maruka Food's Peyoung yakisoba (ペヤングソース焼きそば)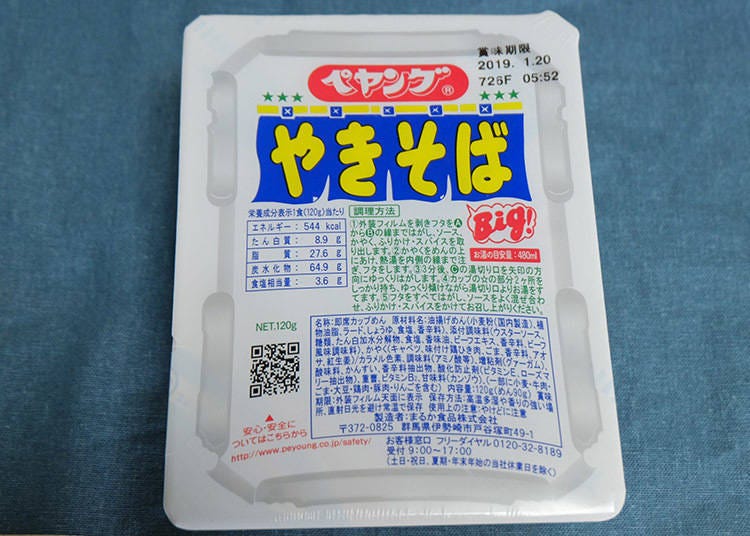 Peyoung Japanese-style fried noodles, 120gr, 148 yen (tax included).
Still thinking about the flavor of Japanese noodle snacks? Then next time make sure to bring back with you a few boxes of Japanese-style fried noodles, especially this Peyoung Japanese-style yakisoba, launched more than 40 years ago in Eastern Japan.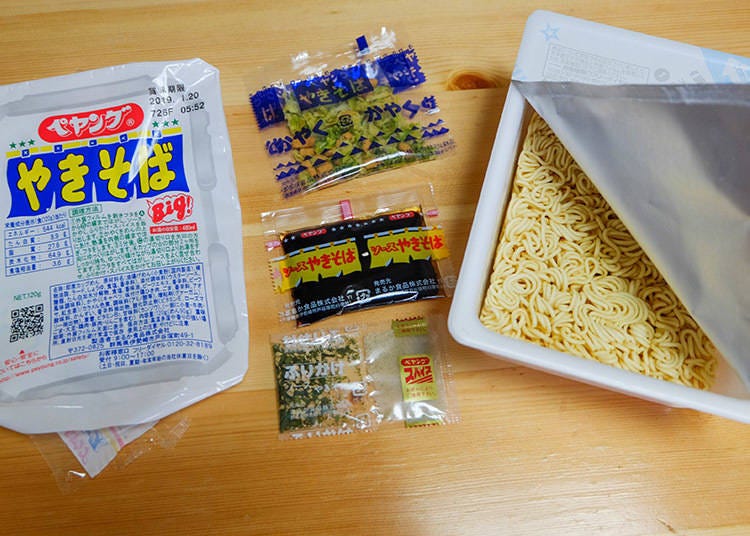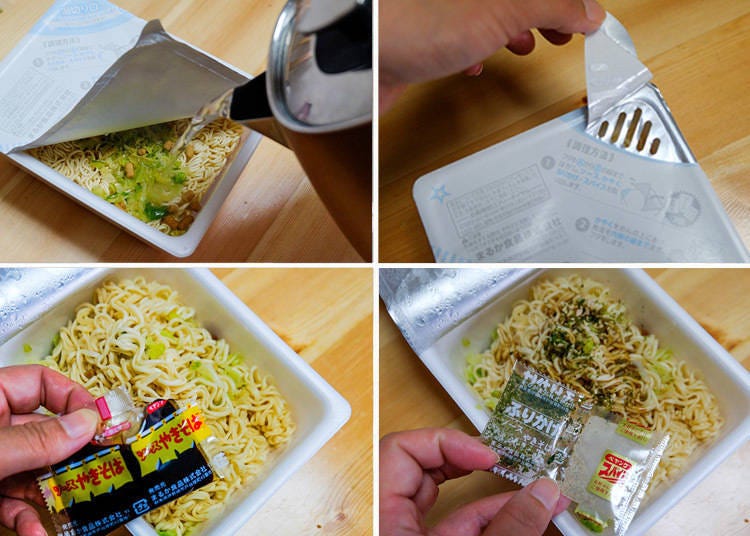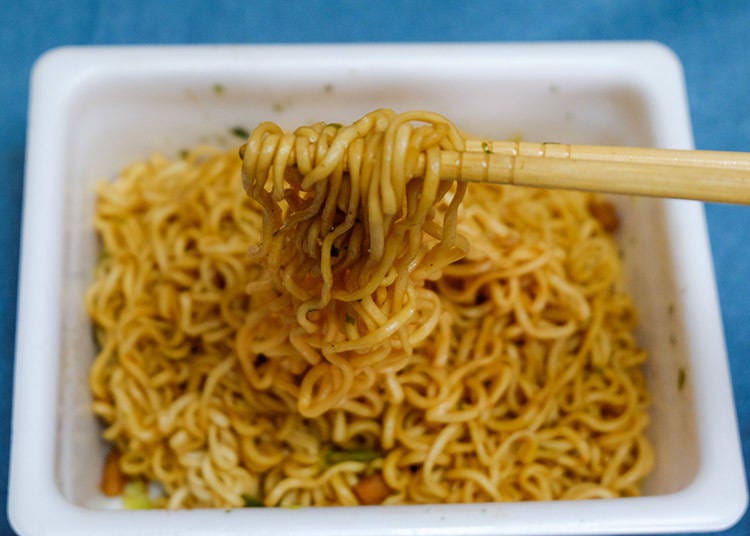 The box also includes for packets of seasonings and sauces: dried cabbage, dried minced meat, fried noodle sauce, seaweed, sesame powder, and white pepper.

Finally, the simple noodle box has a well-thought design to make preparation easy. Follow the instructions on the box: tear the paper-cover open half way, pour hot water, and wait for 3 minutes. The box presents a water filter hole on one corner for an easy pour. Stir well with the seasonings and re-live those stir-fried noodles you had on your trip in Japan.

The main sauce of the dish is flavorful and it espouses well with the other ingredients. The complete experience of Japanese-style home-made yakisoba!
NISSIN, Nissin Foods Hachioji Ramen (日清食品八王子ラーメン)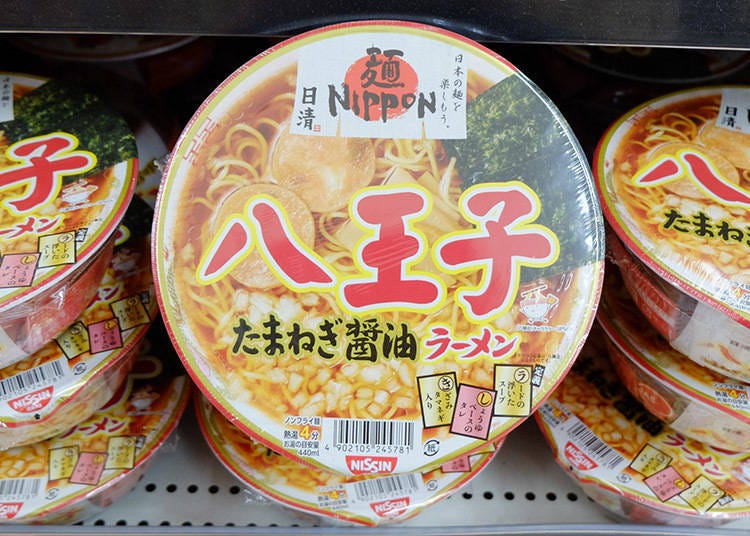 Nissin Hachioji Ramen, 204 yen (tax included)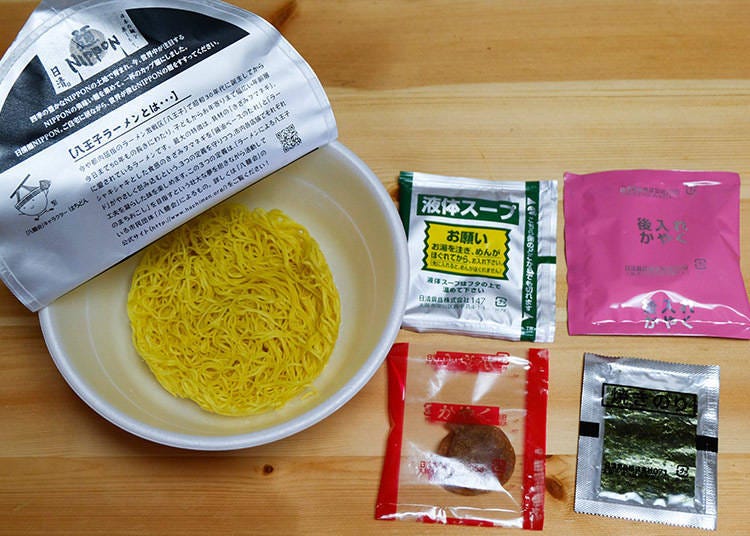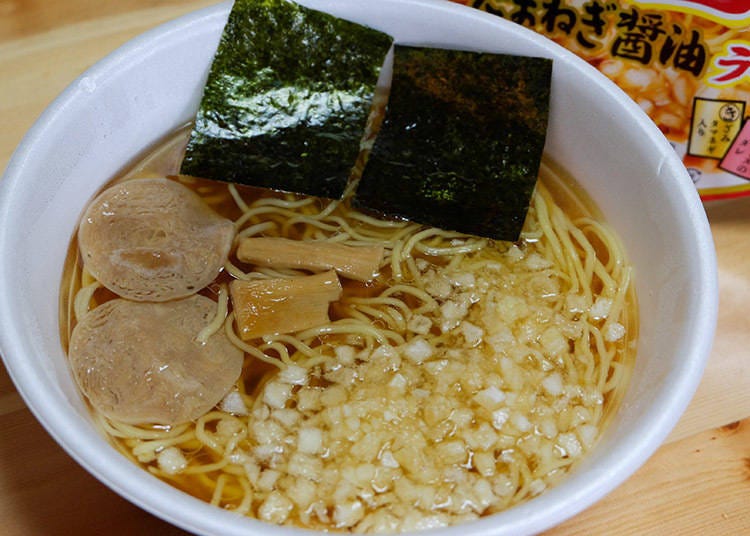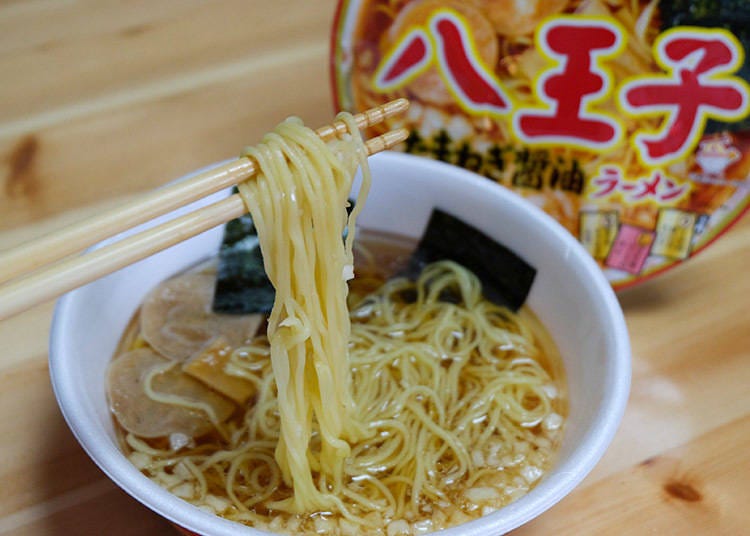 Nissin is a well-known food producer and its hot instant noodles are made from special local ramen noodles of Hachioji, nearby Tokyo. With a base of chicken-bone broth, the soup is enriched by soy sauce, a little lard, and minced onion, creating a rich and flavorful broth. The noodles are thin and with a nice texture and bite, a perfect match for this soup. The ingredients include Japanese-style pork, dried bamboo shoots, and seaweed slices. This ramen bowl is actually quite impressive and impossible to stop eating once you start.
Keio Supermarket KEIO STORE Sakuragaoka Store

京王ストア KEIO STORE 桜ヶ丘店

Address

1-11-1 Sekido, Tama City, Tokyo 206-0011

Nearest Station

Keio Line St. Sakuragaoka Station 1 minute


Hours: 10:00~23:30(2F10:00~21:00)
*This information is from the time of this article's publication.
*Prices and options mentioned are subject to change.
*Unless stated otherwise, all prices include tax.