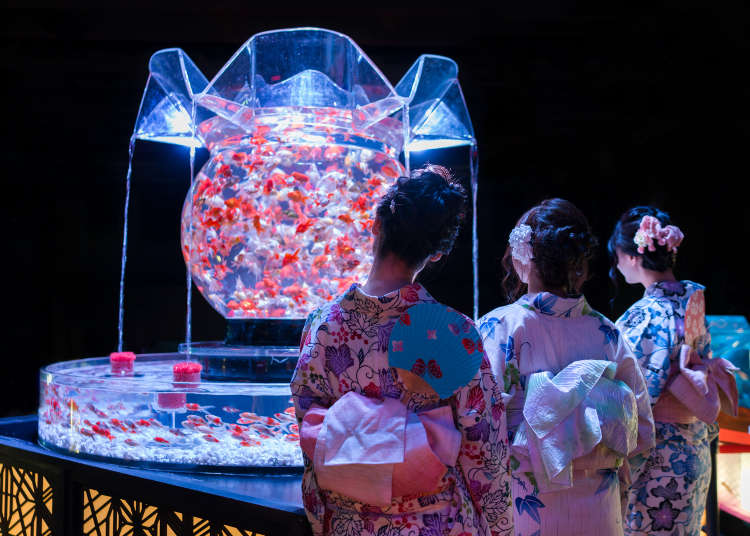 Few places in the world balance their storied past and advancing future quite as well as Japan. Explore the streets of cities such as Tokyo or Kyoto and you will soon find yourself travelling through time; passing by ancient temples one moment and a sea of neon lights the next. Modern Japan has managed to expertly walk the line between adhering to their history with great reverence and consistently advancing the world of information and technology. These dual ideals come together perfectly in Art Aquarium, a unique art exhibit by Hidetomo Kimura, currently on display in Nihonbashi, Tokyo.
"Earth Aquarium Japonism"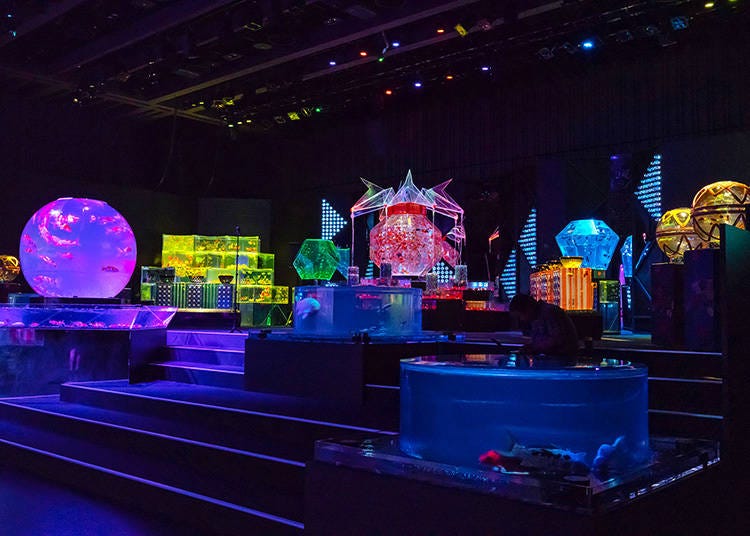 Now in its eighth year in Nihonbashi, Art Aquarium is an annual installment that seamlessly blends Japanese culture and history with modern digital art. What truly separates this exhibit from other similar works is the use of a living element: over 8,000 Japanese goldfish, known as kingyo. These peculiar looking fish are a staple in Japanese culture, dating back to the Edo period when they were first collected by wealthy merchants before becoming a popular pastime for the common people as well.
The artist: Hidetomo Kimura
During the often unbearably hot Japanese summers, people would stay cool by sitting near ponds and watching these ornate fish swim about. Hidetomo Kimura has brought this tradition to the modern era through his artwork, as yukata-clad guests can mingle amongst the exhibits while escaping the heat.
We were fortunate enough to be able to speak with Kimura before the public opening of the Art Aquarium exhibit. When asked why he chose the kingyo to be the centerpiece of his artwork, he told us: "Goldfish and nishikigoi [colored varieties of common koi carp] are ornamental fish. People outside of Japan might not realize this, but goldfish and koi do not exist naturally in the sea. Instead they are things that human beings have made - not in order to use or exhibit, but in order to appreciate. In that sense, I wish to display these ornamental fish on bright, attractive stages. The fish play the leading role. The fish are the stars. I wish to create a place like that."

With their bulbous features and seemingly hand-painted designs, the kingyo easily steal the show as intended.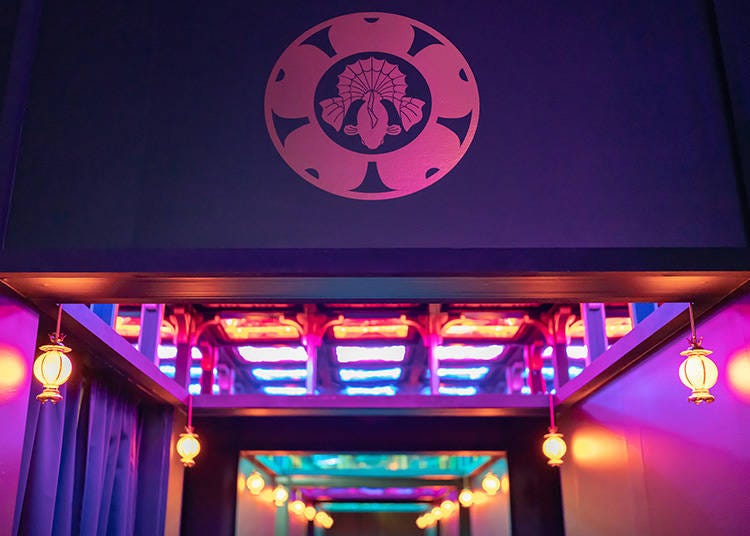 "Kingyo in the Sky": Above the colorful entranceway, goldfish greet you!
From the moment you enter the room, it becomes instantly apparent that this is unlike any aquarium you are likely to have visited. Guests first make their way through a neon-lit hallway of rhythmically changing colors. Glass tanks embedded in the ceiling house hundreds of fish swimming overhead, setting the surreal mood for what lies ahead.

In the main hall beyond, Kimura has redefined the idea of what we commonly think of as a fish tank. Ornate dishes, hexagonal diamonds, and overflowing spheres are all home to these photogenic fish. The centerpiece, titled "Super Oiran" is a beautifully complex work which contains over 3,000 kingyo.
"Super Oiran"
One of the most eye-catching pieces in the exhibit is a tank designed to look like a byobu, or traditional Japanese folding screen. Pictures depicting Japan's art history are projected onto the screen while fish swim about inside; their shadows joining the images floating across the frame. The colored lights from the display are reflected onto open-topped fish tanks below, creating a stunning scene.
"Taisei Hokan Kingyo Large Byobu": Folding screen motif within which goldfish swim elegantly
Perhaps most interestingly during our interview, Kimura explained to us that despite its appearance on the surface, the high-tech landscape he has created is meant to serve only as a canvas for the true art on display: the fish. "I'm not looking to bring digital art to the front of things. It's used just as a supportive role to help represent real living things. So although it can be used as a means to express a living form, digital art isn't really the main focus."
"Kaleidorium 3D"
Whether or not it intends to, what Art Aquarium does truly well is to blur the lines between old and new to the point where they are one in the same. By wrapping classical Japanese culture in a shiny new wrapper, the end result is something that can appeal to everyone; fans of both traditional and modern art alike. Something of that nature is rare to come across, and deserves to be experienced.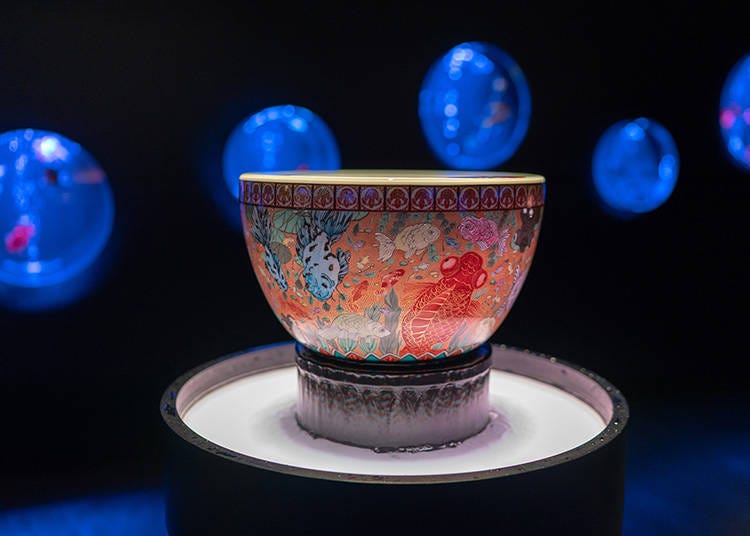 Kutani Kingyo exhibiton: goldfish swim within these porcelain works
When the sun sets: Night Aquarium
Dassai: the official sake vendor for the exhibit
After 7 P.M., the exhibit transforms into Night Aquarium, an ultra-modern lounge where you can peruse the artwork with drinks in hand. A full series of events is planned throughout the summer, including geisha dance performances and guest DJs every weekend. For those wanting to indulge their other senses, Art Aquarium has teamed up with Dassai as the official sake vendor of the exhibit. Every night, guests can visit the Dassai Bar to order a glass of the world famous sake. Plus, every Thursday evening, guests are in for a treat: during "Dassai Night" at the Dassai Bar, while sipping a refreshing sake they can hear intriguing details about the celebrated beverage straight from brewery representatives themselves.
A Taste of the Edo Experience
Items can be found at the following shops: 1: The Mandarin Oriental Gourmet Shop; 2: Bankoden COREDO Nihonbashi; 3: KITAYA ROKUNIN-SHU
Of course no fancy lounge experience is complete without fancy food. Not content to let the artwork steal all of the visual appeal, Art Aquarium has put together a beautiful kingyo inspired menu that's offered at restaurants in the vicinity.

Start by whetting your appetite with these almost too cute to eat "Kingyo Gyoza" (#2 above, 600 yen) or perhaps a lighter "Aquarium" or "Mandarin Oriental Tokyo Yokan" jelly (#1 above, 756 yen). The "Akai Obebe" (#3; 324 yen) even has 'goldfish' floating in a dome motif!
Items can be found at the following shops: 1: Patisserie ISOZAKI; 2: XEX Nihonbashi / Salvatore Cuomo Bros., The BAR; 3: BOUL'MICH
For desserts, your options are as varied as the kingyo themselves. For those who prefer a lighter, fruity finish, try the Luxury goldfish parfait with grapes (#2, 1,300 yen).

For something a bit more rich, opt for the "Kingyo Jelly" or "Aki Kingyo" (#1, both 648 yen); both topped with an edible and adorably large-eyed goldfish.

Lastly, those seeking a more traditional dessert will enjoy these kingyo emblazoned Vanilla Macaroons (#3, 216 yen).
Kingyo Souvenirs: Perfect for Gifts, Too!
Items can be found at the following shops: #1: Nihonbashi Hashicho; #2, CLASKA Gallery & Shop "DO"; #3, Todaya Shoten; #4, at IBASEN
It's often said that goldfish have terribly short memories. Rather than experience the same fate, be sure to stop by the gift shop on your way out to memorialize your visit with a kingyo souvenir.

Kingyo-shaped chopstick holders (#1, 540-756 yen) are sure to land nicely on your tabletop and go pleasantly well with the Kingyo Glass (#2, 1,026 yen).

When you're trying to beat the summer heat and look fashionable at the same time, why pair an original Japanese tenugui hand towel (#3; yarn pattern: 1,296 yen; goldfish pattern: 1,080 yen) with a kingyo paper fan (#4, 1,620-1,944 yen)? Functional, stylish, and culturally relevant - what's not to love?
Art Aquarium is running now through September 24th. Tickets can be purchased online or in-person and cost ¥1,000 for adults and ¥600 for children 12 and younger. Priority admission tickets for special events can also be purchased online.
日本橋三井ホール

Address

東京都中央区日本橋室町2-2-1 コレド室町1 5F[エントランス4F] / 5F, COREDO Muromachi 1 [Entrance is on 4F], 2-2-1 Nihonbashi Muromachi, Chuo-ku, Tokyo

Nearest Station

Tokyo Metro Mitsukoshimae Station (Ginza Line / Hanzomon Line)


Phone Number

03-5200-3210

Exhibition Dates: July 6 – September 24, 2018
Price: Adults: 1,000 yen (13+ years old); Children: 600 yen (4-12 years old); under the age of 3: free. (* Tax included)
Hours: Sunday - Friday: 11:00 a.m. - 10:30 p.m. (Last entrance 10:00 p.m.)
Saturdays & days prior to a public holiday: 11:00 a.m. - 11:30 p.m. (Last entrance 11:00 p.m.)
Art Aquarium: 10:00 a.m. - 7:00 p.m.; Night Aquarium: from 7:00 PM

Website (Tickets): http://artaquarium.jp/en/nihonbashi2018/#ticket

All prices include tax.
Mandarin Oriental Gourmet Shop

ザ マンダリン オリエンタル グルメショップ

Address

〒103-8328 Tokyo, Chūō, Nihonbashimuromachi, 2-1-1

Located on the first floor of Nihonbashi Mitsui Tower
Bankoden COREDO Nihonbashi

盤古殿 コレド日本橋店

Address

1 Chome-4-1 Nihonbashi, Chūō-ku, Tōkyō-to 103-0027

Located inside COREDO Nihonbashi on the fourth floor
KITAYA ROKUNIN-SHU (Inside MITSUKOSHI Nihombashi Main Store)

KITAYA 六人衆 (日本橋三越本店なか)

Address

1 Chome-4-1 Nihonbashimuromachi, Chūō, Tokyo 103-0022

Located inside Nihombashi Mitsukoshi Honten on the B1 floor
パティスリーISOZAKI

Address

3 Chome-3-1 Nihonbashihamachō, Chūō-ku, Tōkyō-to 103-0007
XEX Nihonbashi / Salvatore Cuomo Bros., The BAR

XEX日本橋 Salvatore Cuomo Bros./The BAR

Address

〒103-0022 Tokyo, Chūō, Nihonbashimuromachi, 2-4-3

Located in YUITO on the 4th floor
ブールミッシュ日本橋高島屋店

Address

〒103-0027 Tokyo, Chūō-ku, Nihonbashi 2-4-1

Located inside Nihombashi Takashimaya on the B1 floor
日本橋 箸長

Address

1 Chome-5-5 Nihonbashimuromachi, Chūō-ku, Tōkyō-to 103-0022

Located inside COREDO Muromachi 3 on the B1 floor
CLASKA Gallery & Shop "DO"

CLASKA Gallery & Shop "DO"

Address

1 Chome-5-5 Nihonbashimuromachi, Chūō-ku, Tōkyō-to 103-0022

Located inside COREDO Muromachi 3 on the second floor
梨園染 戸田屋商店

Address

〒103-0022 東京都中央区日本橋室町2丁目2−1 / 2 Chome-2-1 Nihonbashimuromachi, Chūō, Tokyo 103-0022

Located inside Nihonbashi Information Center, COREDO Muromachi 1 on the B1 floor
*This information is from the time of this article's publication.
*Prices and options mentioned are subject to change.
*Unless stated otherwise, all prices include tax.
Recommended places for first-time visitors to Tokyo