Convenience stores aren't just a staple of Japanese locals but also the unsung saviors of many a tourist to Tokyo and Japan. Who doesn't like to stop by a so-called "konbini" and grab a drink or two after a long day of sightseeing, to leisurely enjoy at the hotel room? Japanese convenience stores offer a great selection of alcoholic beverages, such as beer and wine, and also a Japanese favorite called chuhai (or chu-hi). This uniquely Japanese drink is made with shochu, a white liquor, and a variety of sodas or flavored carbonated waters. Nowadays, chuhai are also often made with vodka instead of shochu.

In Taiwan, South Korea, and Hong Kong, a canned chuhai series called Hiroyoi has become incredibly popular recently, also boosting sales in Japan as a lot of tourists take them back home as gifts to their families and friends.
What kind of drinks do expats enjoy, actually? We teamed up with the famous alcoholic beverage maker Suntory and conducted a tasting test, featuring some of their canned chuhai that are commonly sold at every convenience store.

Our testers are expats from Germany, Taiwan, the United States, France, and Korea. Let's take a look what kind of chuhai takes the crown as the expat's favorite!
The Chuhai Tasting Lineup
From the right:
[Long-Seller] Horoyoi – White Sour
[New from 3/7] Sukkiri Horoyoi – Green Apple
[New from 3/7] Sukkiri Horoyoi – Lemon
[Popular with Women] Kokushibori Premium – Plump Peach
[New Product] Kokushibori Premium – Luxurious Lemon
[Staple Drink] -196℃ Strong Zero – Double Lemon
[Popular with Men] -196℃ Strong Zero – DRY
The Five Chuhai Taste Testers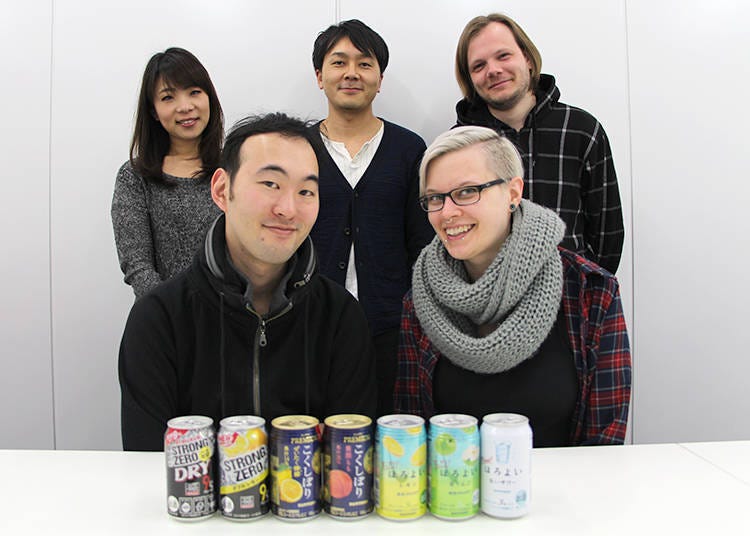 Pamela (bottom right): From Germany. Since drinking beer is legal from the age of 16 in Germany, she has been drinking since high school.

Lin (top left): From Taiwan. She goes out to drink two or three times per month. At home, she mainly enjoys wine and chuhai, but she says she cannot hold her liquor very well.

Alex (bottom left): From the United States. He likes chuhai and beer and enjoys a daily drink in the evening. He is alright with sweet liquors but doesn't like citrus-flavored drinks.

Quentin (top left): As a Frenchman, he can drink a lot of beer and wine, the most popular beverages in his home country. After coming to Japan, he also enjoys a good Japanese sake, but he cannot stand whisky.

Kim (top middle): from Korea, where people tend to be able to really hold their liquor well! He, however, says that he is a lightweight and gets drunk immediately. Nonetheless, he does enjoy his daily evening beer and likes a sweet liquor just as much.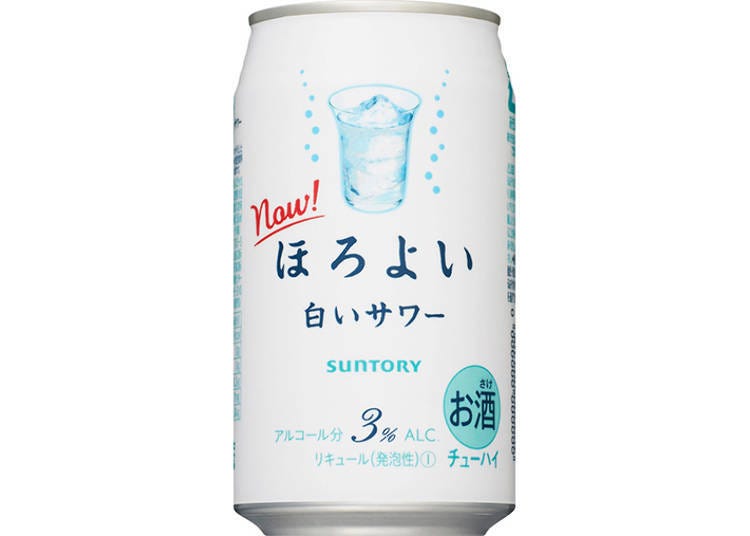 After showcasing both the drinks and the testers, let's get right to it! We're starting with the Horoyoi – White Sour, which is one of the most standard, classic drinks when it comes to convenience store drinks. It has a milky taste and can easily be described as refreshing. As it is easy to drink, it is popular among all kinds of ages and sexes! Go ahead, take a sip.

Pamela: "What's that? It tastes like candy; this is much too sweet! What's the alcohol content of this?"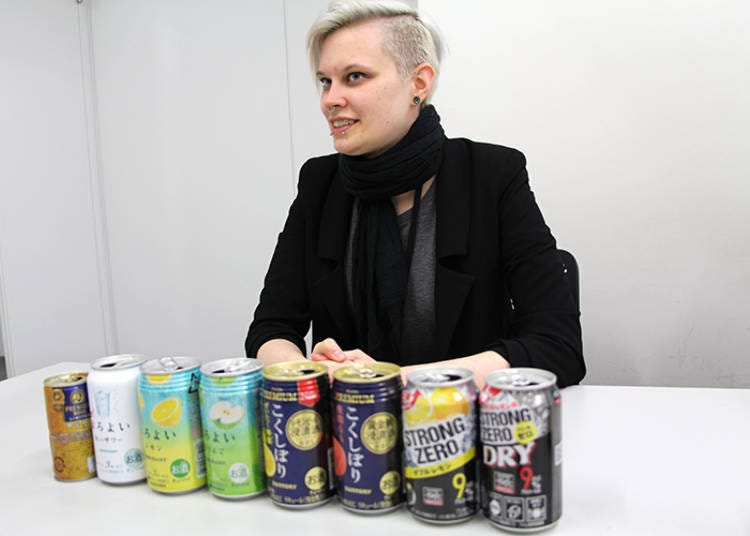 Pamela: "Three percent?! Well, if you're going out to have a drink, this seems a bit pointless, doesn't it. In Germany, light drinks like this chuhai are mainly enjoyed as refreshments."

Right, for Germans who prefer a stronger liquor, this chuhai might not be the best choice. Disagreeing with this opinion is Lin, who is from Taiwan, where the Horoyoi chuhai series has created a massive boom:

Lin: "Oh, I love this! It's probably not a drink for those who like stronger liquor, but I think it's perfect particularly for women who prefer light drinks."

Let's hear from the men!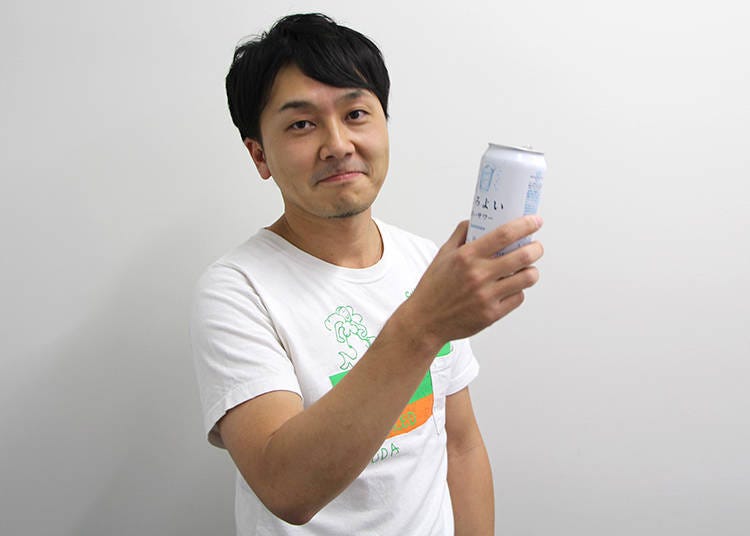 Kim: "This is delicious! I'm used to Korean drinks so this doesn't really feel like I am drinking alcohol, but I am sure that a lot of people prefer this."

Alex: "Yeah, it's refreshing and tasty, and not as sweet as it seems. It seems perfect for a casual setting, like after a bath or in a park."

Oh, so there actually are people who like the Horoyoi White Sour chuhai! It seems to be particularly popular with people who don't like strong drinks.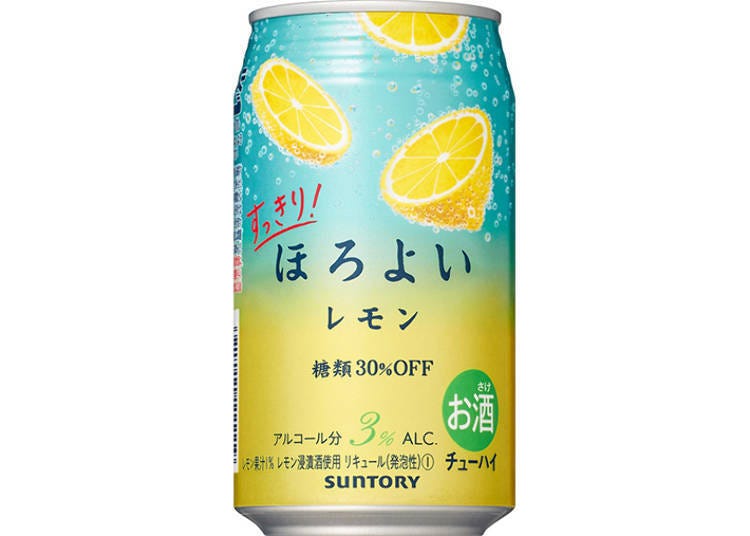 Well then, let's move on to the next drink – I can feel the skeptical gaze from Pamela... The Sukkiri Horoyoi Lemon chuhai is a new product from the same series, released on March 7. As it has 30% fewer carbohydrates, it's gaining popularity as a great choice for nutrition- and weight-conscious folks. Ah, why did Suntory have to release a diet-friendly drink...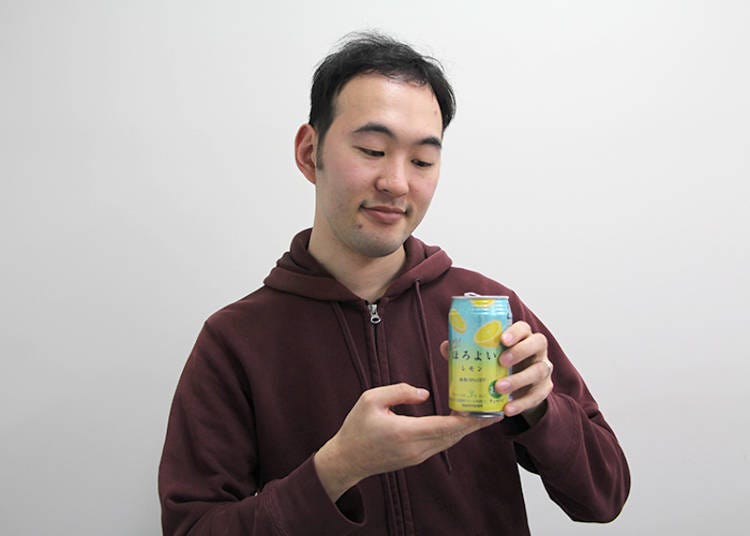 Alex: "Oh, this is super refreshing. I usually don't like lemon but this drink doesn't have a strong aftertaste, so even I can enjoy it. It seems like a flavor that'll be popular among women."

Lin: "It's tasty, with a very refreshing aftertaste. It also has a pleasant lemon aroma and I really like it."

I see, I see... as expected, the drink is well received! Quentin, however, has a different opinion.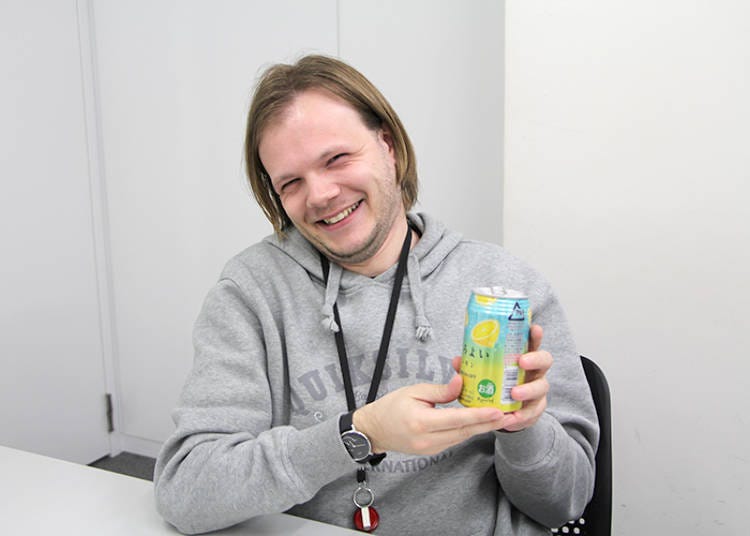 Quentin: "It's good, but it doesn't taste much of lemon, compared to the lemon liquors that are enjoyed in France."

Indeed, the French resort town of Menton is also known as the city of lemons. There's even a lemon festival being held every year. Regarding this, Quentin from France naturally has high standards for lemon taste.
Sukkiri Horoyoi – Green Apple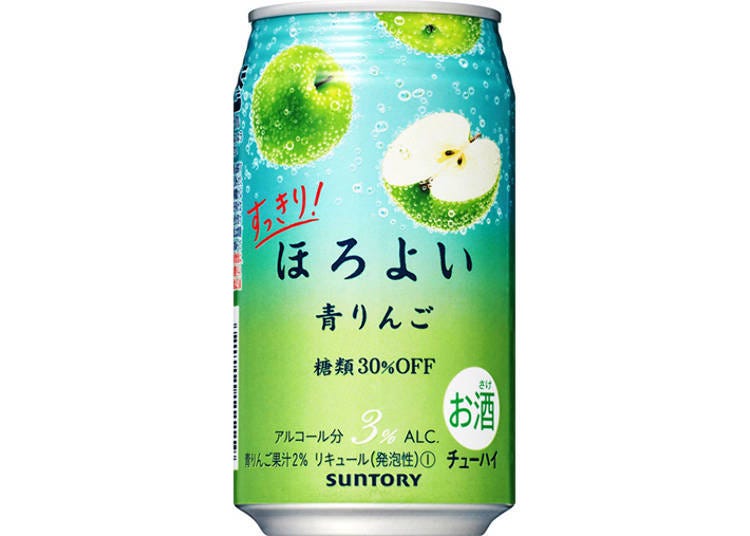 Let's move on to another newly released drink: the Horoyoi Green Apple. Compared to the lemon version, it's not as sour and has a characteristic sweetness to it, making the chuhai easy to drink. The flavorful green apple taste makes this drink a wonderful choice even outside the fruit's season.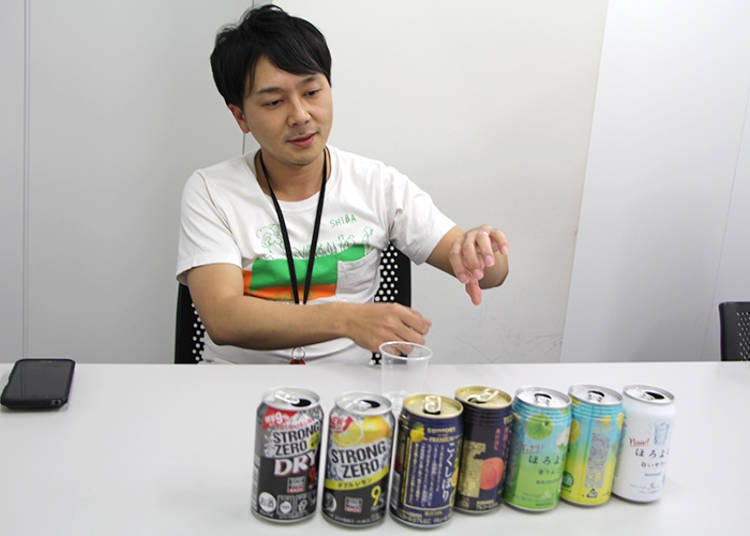 Kim: "It really does taste of green apples. Since I love green apples per se, I think this might be my favorite chuhai!"

Lin: "It has a good aroma and a good taste! I've only encountered such a taste in Japan, and I think I will be a big fan of this drink."

Right? It's refreshing, easy to drink, and has a wonderful aroma! What do you say, Pamela?

Pamela: "Well... You know the sweetened, apple-flavored mineral water sold at convenience stores, right? It tastes just like that."

Yikes! Pamela sure is strict. As expected, that drink didn't suit you either, huh... It's a great choice for those who prefer a light drink over a strong one, and due to its refreshing taste, it seems perfect for the hot summer months.
Kokushibori Premium – Plump Peach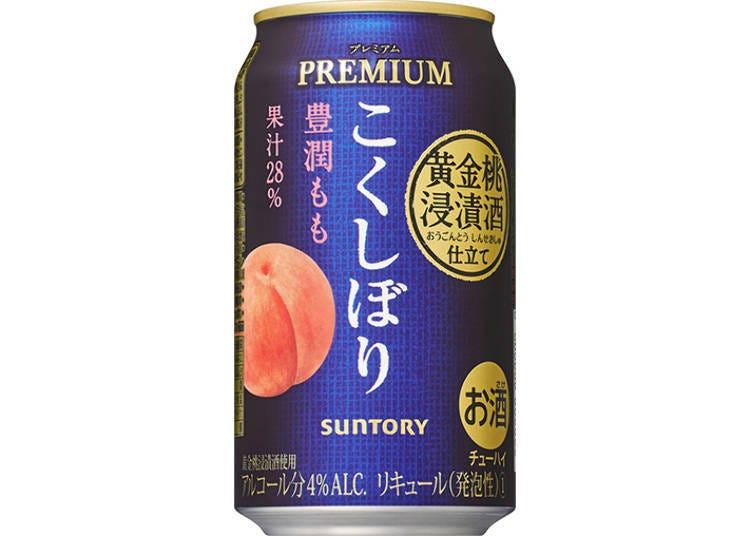 The next chuhai to be taste-tested has a rather luxurious air to it: Plump Peach from the Kokushibori Premium series that is all about choice fruits and choice alcohol. Made from "golden peaches" grown only at select plantations, the drink is soaked in these luxurious, full-bodied fruits, making for a particularly deep and rich flavor. Well then, go ahead!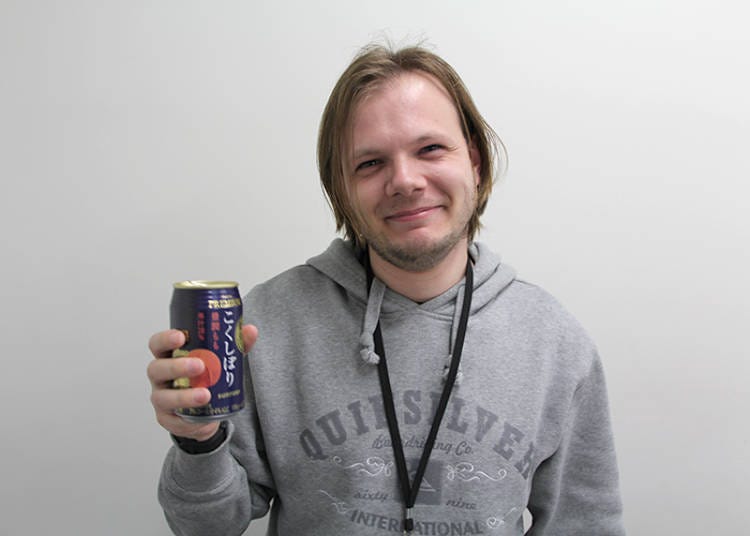 Quentin: "Oh wow, this is great! I love this drink. In France, peach flavor is only used for very strong liquors, so I enjoy this chuhai a lot. I will definitely drink more of it."

Alex: "I actually had this chuhai before. It's very fruity and tastes kind of expensive, doesn't it?"

Kim: "The peach aroma is amazing, but it's also surprisingly sweet and very easy to drink."

So even the guys appreciate a good peach drink! It seems like there's peach liquor outside of Japan but not a light, fruity drink like the Plump Peach chuhai. Lin liked the taste more than anyone else.
Lin: "What a rich peach taste! So delicious! It's fruity and easy to drink!"

As everyone else seemed to be a fan of the Plump Peach, only Pamela wasn't too impressed. Let's move on.
Kokushibori Premium – Luxurious Lemon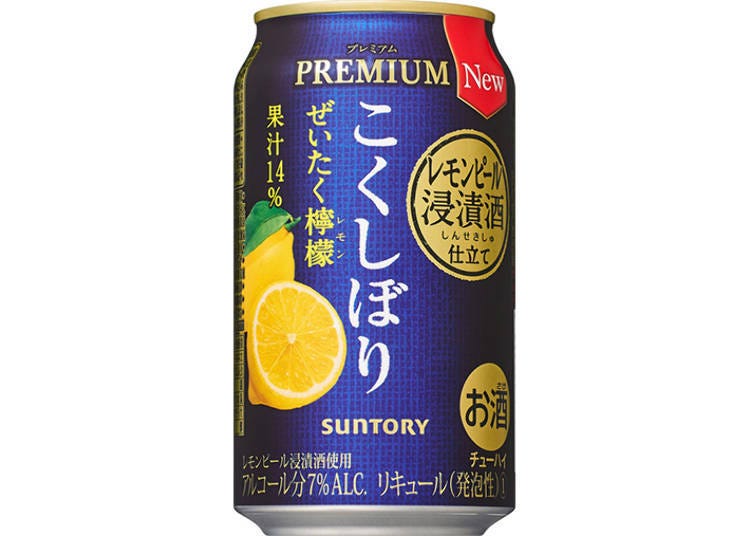 Another favorite from the Kokushibori Premium series is the Luxurious Lemon, released on January 31. Next to using lemon juice and lemon peel, this drink is a wonderful blend of authentically brewed shochu and lemon liquor, offering a very rich and fruity taste. We do have a surprising reaction...
Pamela: "This drink has a rich taste, and seems more like an actual drink than the Horoyoi series. I like the fruitiness."

Pamela, this is the first drink of this chuhai taste testing that made you smile! With 7% alcohol content, the drink seems to be satisfying. Hooray!

Alex, on the other hand, doesn't like citrus fruits and as such, isn't quite as pleased.
Alex: "Trying it once is alright I guess, but for people who don't like sour drinks, this isn't the right choice...

I see, I see. Is it a good thing or a bad thing to try and recreate the authentic taste of lemon as best as possible? Opinions are divided.
-196℃ Strong Zero – Double Lemon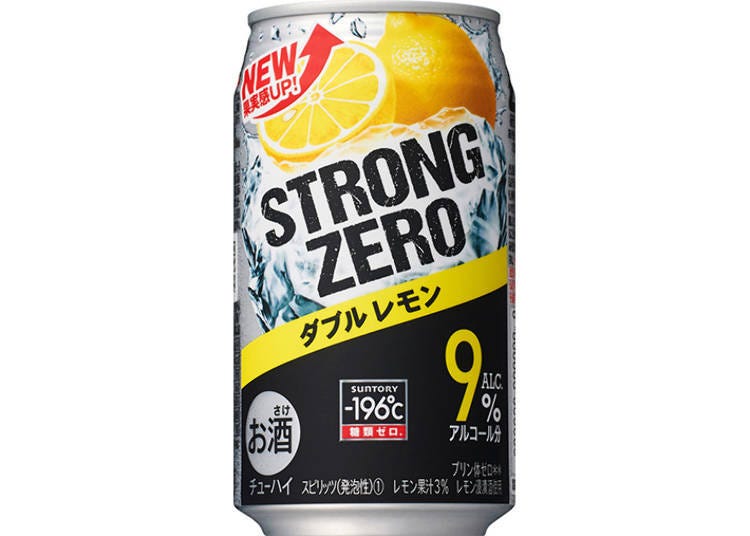 The next drink that is undergoing the taste test is called Double Lemon from the -196℃ Strong Zero series and was just re-released with a renewed flavor. It's the same series that includes the Sugar Zero, by the way. Since it is made to not alter the taste of food, it is an excellent drink to enjoy during dinner. Pamela was the first to go.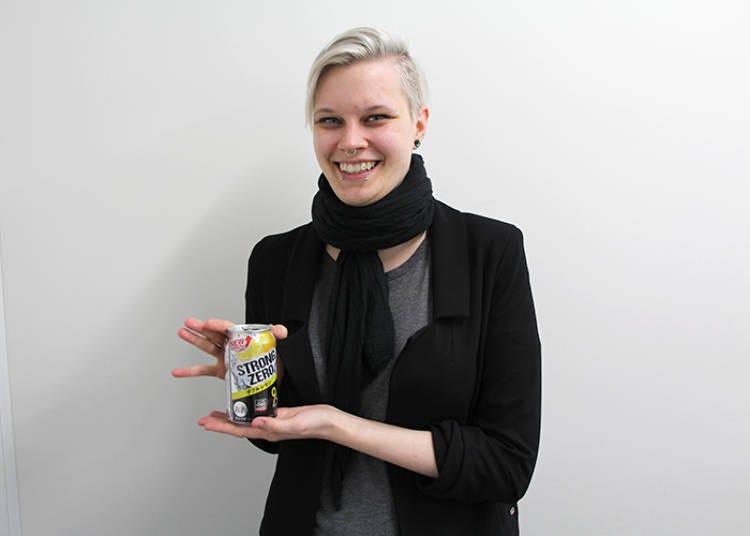 Pamela: "Oh, I like this one! As far as fruity drinks go, this one is the best. I think it's a perfect summer drink."

With an alcohol content of 9%, it seems to fit Pamela's tastes the most! The people who enjoyed a less dominant alcohol taste also enjoy it, however.

Kim: "Huh, it's strong. The lemon taste is somewhat overpowered by the alcohol and the carbonation, so it might be a bit hard to drink for people who don't like the taste of alcohol."

Quentin: "I do like the lemon taste but I don't need more than one cup of it."

So, it seems like a series made for those who like a drink with a bit of a punch. Our testers do recommend people who are weaker towards alcohol to enjoy it with care, though.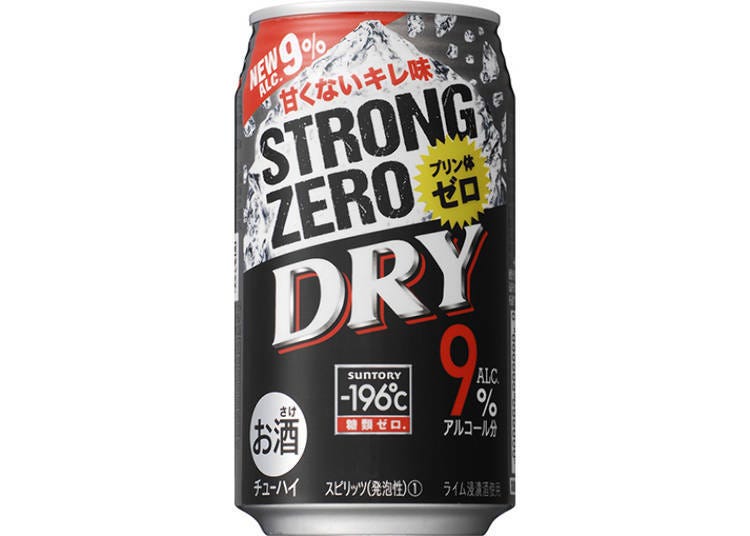 The last drink that is going to be tested is simply called DRY. There's barely any sweetness to this drink, and any citrusy aroma is reduced to a minimum. It seems to be the perfect choice for those who want to enjoy the pure taste of alcohol. How is it?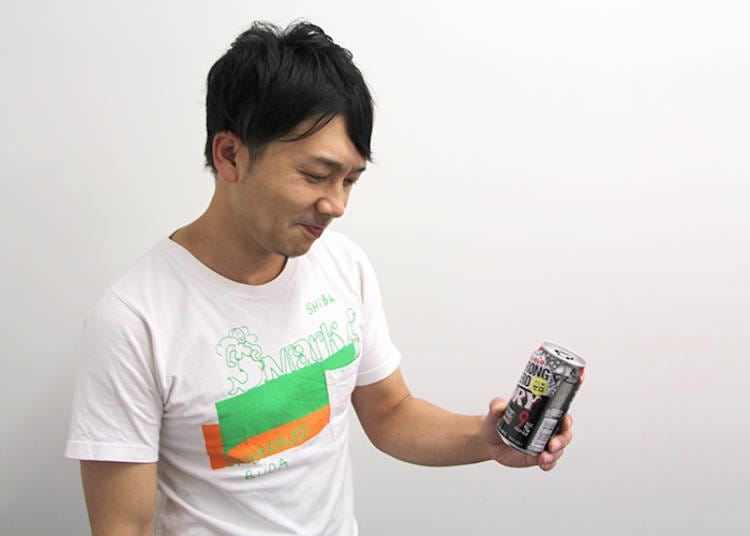 Kim: "Oh, wow... yeah, dry indeed."

Alex: "It's not as strong as I expected it to be but yes, I definitely thought 'oh, alcohol!' as I tried it."

Oh? The testers respond to the prevalent taste of alcohol of the drink – what do you say, Pamela?

Pamela: "Yes, this drink does have a strong taste of alcohol. But 9% alcoholic content still isn't that much, really, so the fruity versions are definitely tastier."

Lin: "I agree! It's best when mixed with juice as a cocktail, isn't it?"

The DRY drink does seem to be a good choice when wanting to combine flavors, indeed. In any way, we did learn something!
Which One is the Expats' Favorite Chuhai?
After our extensive taste test, we did of course want to know the favorite of everyone. Here's how they chose:

Pamela: 96℃ Strong Zero – Double Lemon
Alex: Sukkiri Horoyoi – Lemon
Quentin: Kokushibori Premium – Plump Peach
Lin: Kokushibori Premium – Plump Peach
Kim: Horoyoi – White Sour

And the winner is ... Kokushibori Premium – Plump Peach!

Interesting! The Kokushibori Premium – Plump Peach chuhai got two votes but the opinions were rather different from one another. Whether the preferences of the expats relate to how well their nation is perceived to hold its liquor is up for debate.

No matter what conclusion you'd like to draw from this taste test, one thing is for sure: even if you can't speak someone else's language, the distance between two people having a great time (maybe over a couple of drinks!) is sure to shrink!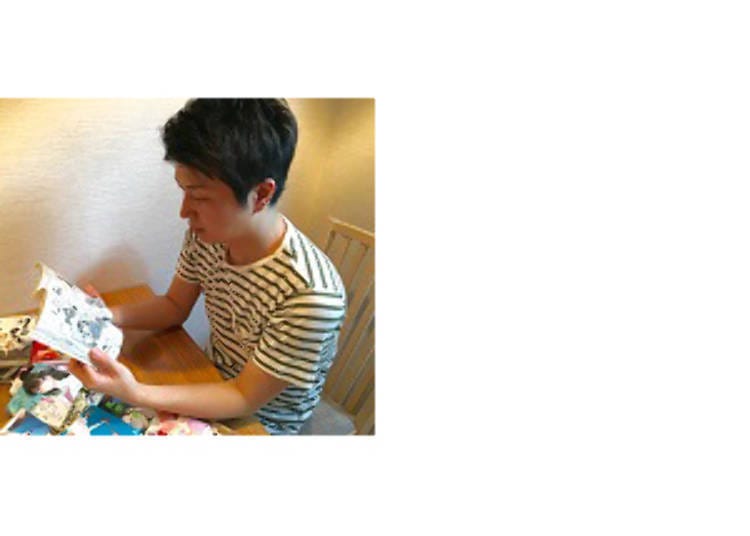 Dai Igarashi
I am a freelance writer and editor born in '83. My hobby is to loaf around while reading manga. From survival and death game to adorable shojo, I enjoy all kinds of genres.
*This information is from the time of this article's publication.
*Prices and options mentioned are subject to change.
*Unless stated otherwise, all prices include tax.