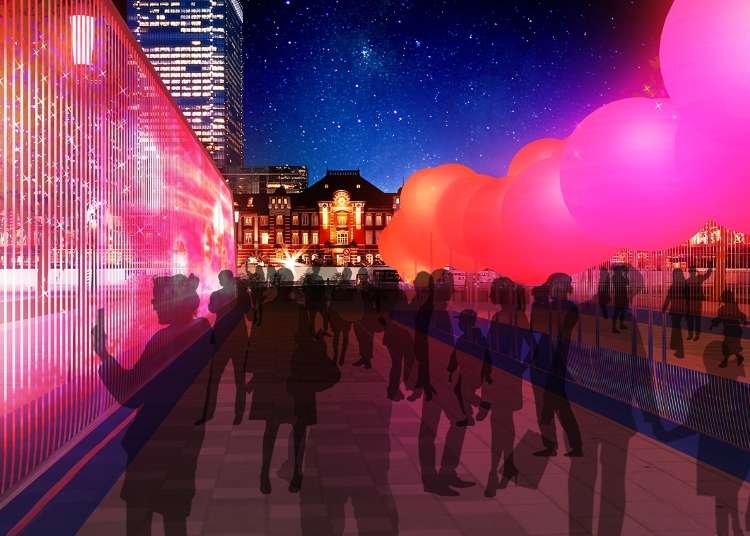 2016's winter is an incredibly vivid one as numerous places all over Tokyo turn into a colorful wonderland with shimmering illuminations, drawing in thousands of enchanted visitors. Next to classic lights, projection mapping and shooting star events create a magical atmosphere that'll make you forget the winter cold!
Between December 16th and 28th, Tokyo's Marunouchi area will be home to a fantastic illumination event called Tokyo Michiterasu 2016, brought to us by the talented ultra-technologist Team Lab.
(C) Tokyo Michiterasu 2016
Right outside Tokyo Station's Marunouchi Exit lies Gyoko Street, a broad and beautiful boulevard that will be adorned with glowing balloons, each of them with a diameter of two meters. Next to those wondrous giants, the many trees lining the street will be clad in light just as much. Along with atmospheric sounds, Gyoko Street turns into one of Tokyo Michiterasu's highlights, the "Harmonious Hikari Avenue." Hikari means "light" and does of course refer to the beautiful illuminations that'll show you a Marunouchi like you've never seen before.
The rest of the Marunouchi area, along with Yurakucho and Otemachi, is also part of Tokyo Michiterasu 2016. There, the collaboration with Makoto Shinkai's incredibly successful anime movie "Your Name" is taking place, offering an entirely different illumination experience: the "Message Tree" features augmented reality that can be enjoyed by using a special app via smartphone or tablet. Installed in five different places, four of these Message Trees stand in front of actual trees, and when you hold your smartphone in front of it, 3D dialogue lines right out of the movie Your Name will float in front of you, along with 2D images of the characters themselves.
Reading those dialogue lines isn't all, however. With the help of the app, visitors are also able to send their "Message for a Special Someone" right towards such a Message Tree – and have float around it like a magical branch made of letters and light, right along with the messages left by others. As such, these Message Trees turn into the real "Your Name Trees." Special tip for fans: you can download special images from the movie by snapping all five trees via the app!
Along with the massive success of Your Name, this event, hold for a limited time only, is sure to become a favorite winter memory of both tourists and Tokyoites, so do make sure not to miss out on it!

■ Harmonious Hikari Avenue
Date: December 24th (Sat) – December 28th (Wed) 2016
Time: 5:00 p.m. – 9:00 p.m. (as scheduled)
Location: Gyoko-dori (2 Marunouchi, Chiyoda-ku, Tokyo-to 100-0005)

■ Your Name Collaboration – Hikari Message Trees
Date: December 16th (Fri) – December 28th (Wed) 2016
Time: 5:00 p.m. – 9:00 p.m. (as scheduled)
Location: Tokyo International Forum, Shin-Tokyo Building, Marunouchi Brick Square, Marunouchi Oazo, Tokyo Sankei Building
*This information is from the time of this article's publication.
*Prices and options mentioned are subject to change.
*Unless stated otherwise, all prices include tax.