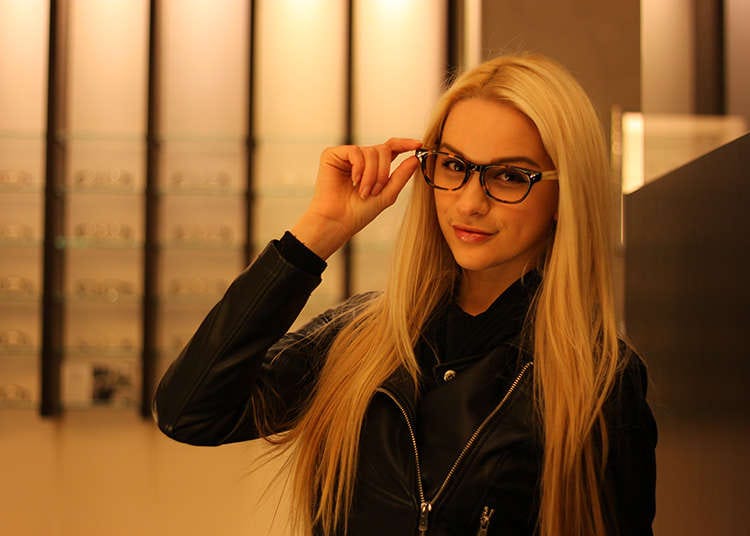 While Marunouchi, an area near Tokyo Station, is a leading business district in Japan, it is also a refined shopping area. Japanese company employees enjoy shopping here on their way home from work. This time we visited three stores in Marunouchi which sell Japanese fashion items.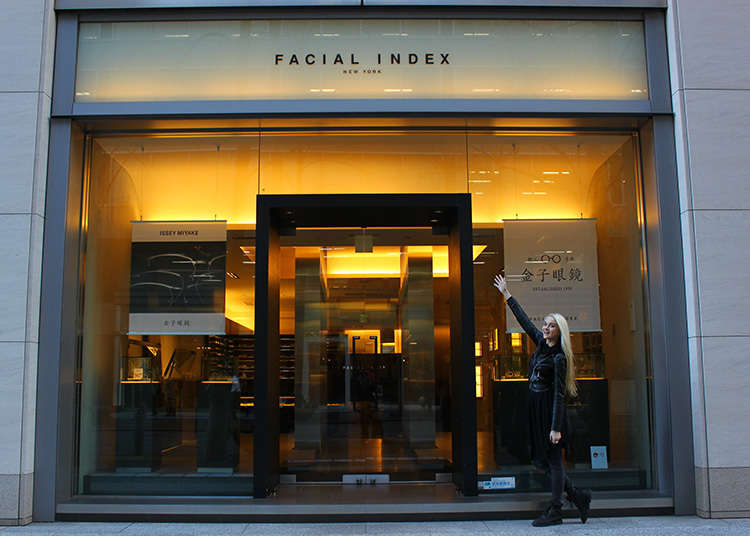 First we want to introduce glasses which were made with Japanese state-of-the-art technology. This is the Facial Index New York Tokyo store. This store, hidden at a corner in Marunouchi's Nakadori street, aims to spread Japan's technology to the world by producing authentic yet luxurious glasses.
Eyewear made with leading technology and craftsmanship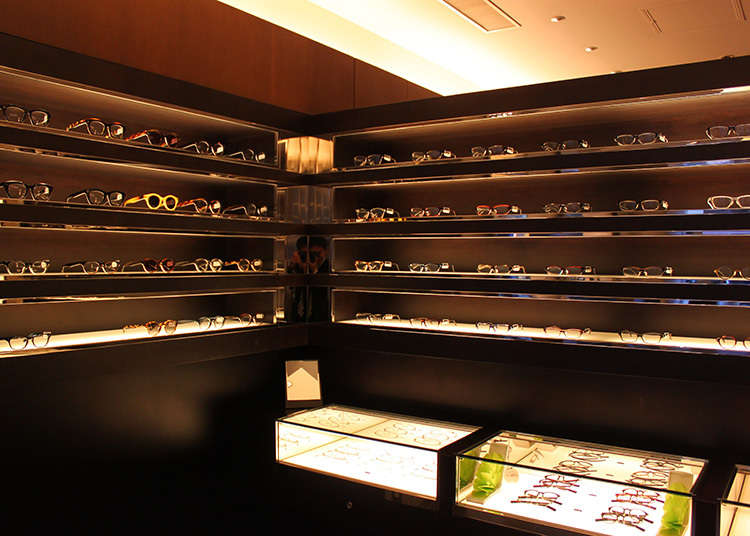 The quality of Japanese glasses is not inferior compared to that of the West. The degree of perfection and durability of the frame is extremely high and these glasses are best known for hardly breaking. In contrast to mass production, they use a traditional manufacturing process and set a high value on the craftsmanship of the diligent craftsmen.
Skillful usage of technology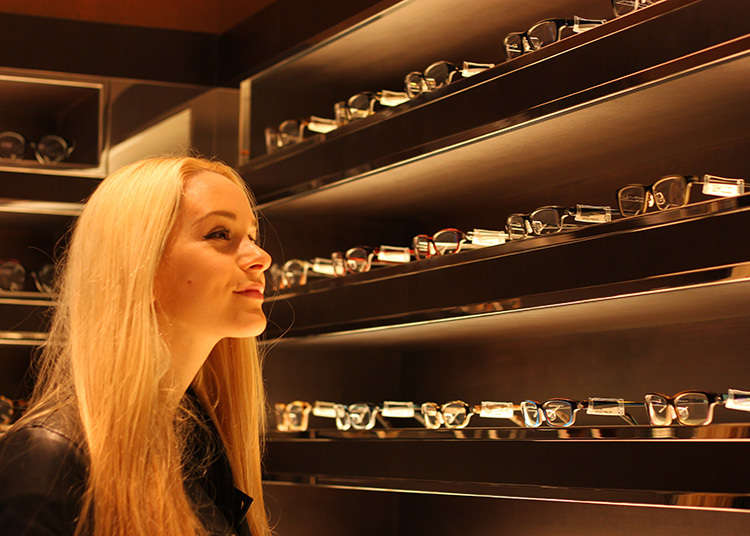 On the other hand, the manufacturing process of the lens uses leading technology for its measurement. Through the combination of leading technology and the traditional manufacturing process, this eyewear has been endowed with the highest quality.
Eyewear even popular among foreigners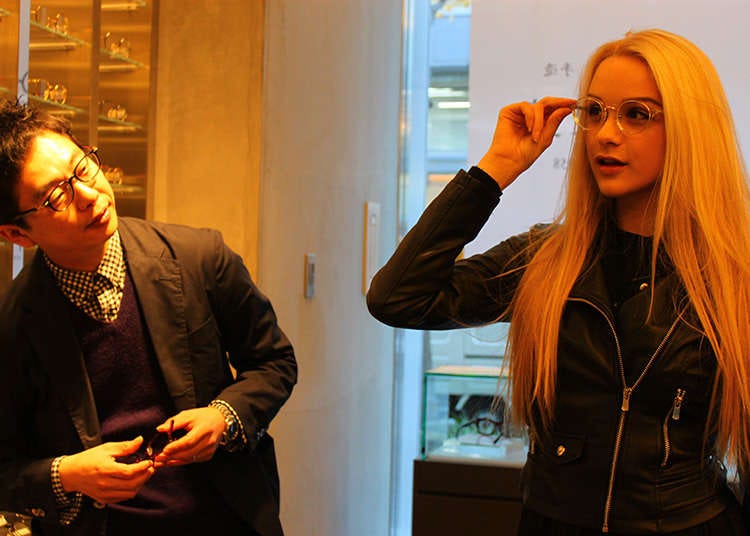 These handmade glasses are very popular among foreign people familiar with Japan. People from Asia as well as people from America and Europe come to this store due to the quality glasses. In addition to the high quality of the glasses, it goes without saying that the staff politely explains about the glasses to the customers, but they also keep a record of the customers including foreign customers, to whom they pay extra attention by enclosing an english explanation with the product. They also ship overseas, which is why a lot of people keep coming back here.
Facial Index New York Tokyo store

フェイシャル・インデックス・ニューヨーク東京店

Address

2-2-3, Marunochi , Chiyoda-ku, Tokyo, 100-0005, Japan
Let's go to the Japan-made diamond store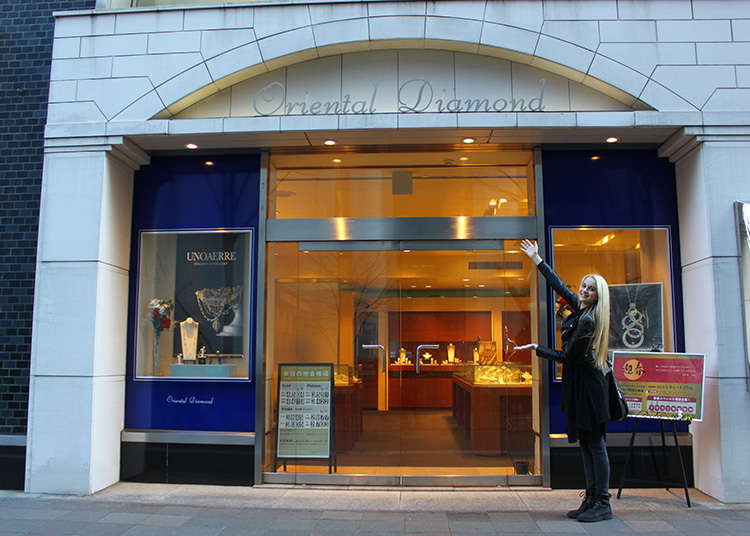 Next we will introduce accessories. Oriental Diamond is a store in Marunouchi which conveys Japan's sensitivity in jewelry. This store is located near the southern end of Marunouchi. They mainly produce conservative jewelry. Their jewelry mainly consists of diamonds and ores. They are very particular of the production quality and the expression of Japan's sensitivity.
They are also particular about the unseen parts in their jewelry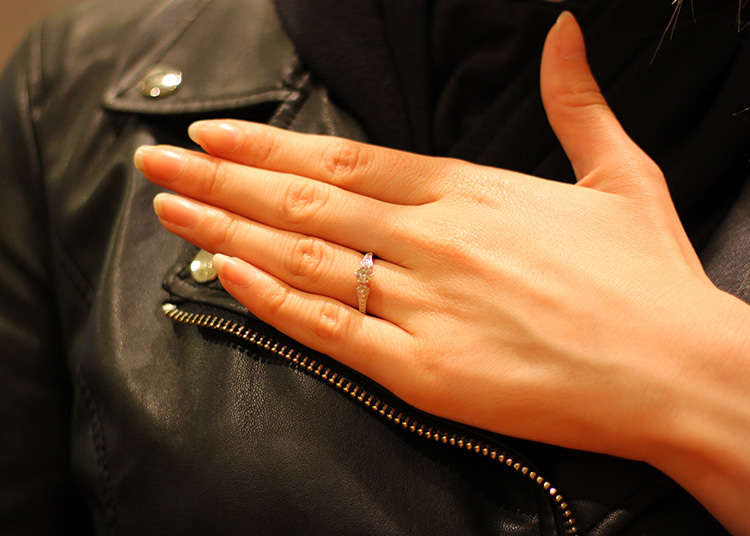 It goes without saying that the jewelry's appearance is important. However, in this store, they are particular even with the parts one cannot see. The stone fitting is a part that cannot be seen, but this part is also thoroughly polished and completed. They have an inspection standard inside the store and if the product is not cleared, then it cannot be sold which makes their demand for quality very high. There are not many brands who are so particular about the production of their products that they even pay so much attention to stone fittings.
A Japanese brand which takes pride in its curvilinear beauty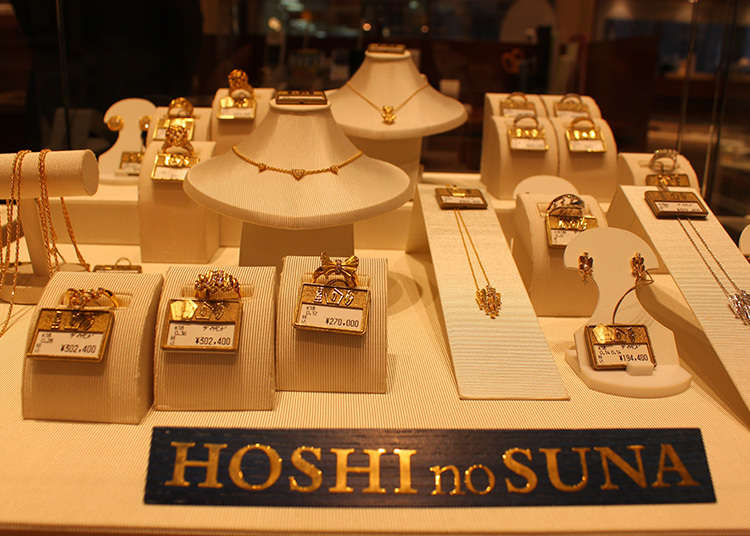 A Japanese designer takes care of the jewelry's design. The jewelry is best known for its curvilinear beauty which most Western brands do not posses. With this technique, even the sparkle of stars or the ocean can be expressed. An example of which is the Hoshi no Suna (lit: sand of the stars). As its name suggests, the brilliance of stars twinkling in the night sky is expressed using platinum and fine diamond melee. Not only do they use materials of good quality, they are also particular about the design.
An engagement ring with a flexible feeling to it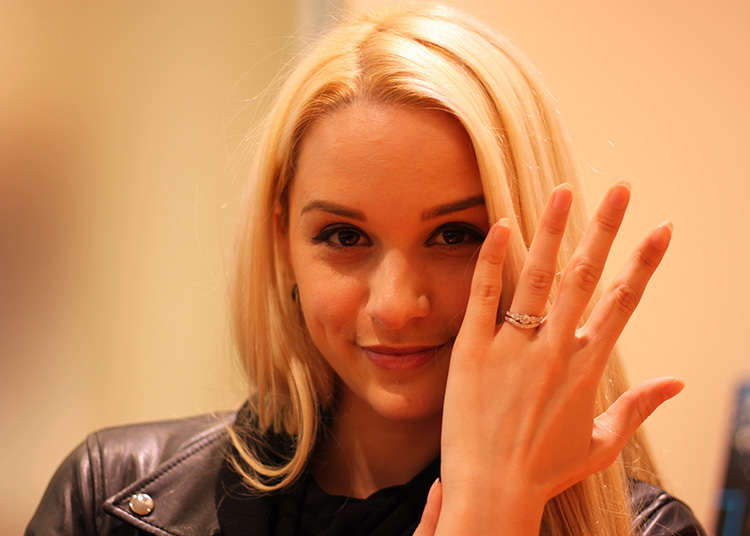 The next product we will introduce is an engagement ring. This ring used a 194 cut diamond. Its merit is in its uniqueness due to the flowing lines which give it a three-dimensional feeling. This series, which expresses its charm with its flexible presense, is popular both in and outside Japan. If you are travelling to Japan with your lover to whom you plan to marry, and you let your ring be made here, it will give you a lifetime of memories.
The 35th Anniversary Necklace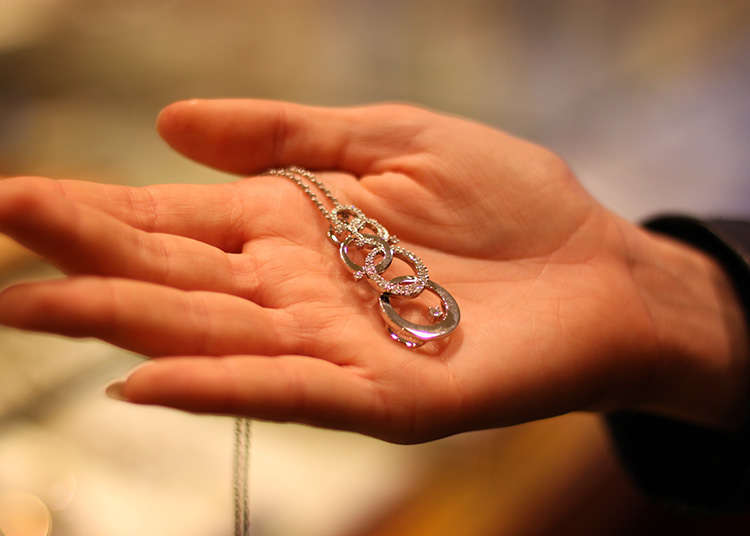 In 2016 the Oriental Diamond Marunouchi store celebrated its 35 anniversary. This necklace was created to commemorate this event. The 5 rings that make up this necklace are mounted with diamonds, which release a remarkably beautiful light. With this design, due to the way the rings are connected to the chain, you can have fun with styling the necklace by changing the position of the rings vertically or horizontally into a stylish design which will match that day's fashion.
Typical polite Japanese service attentive to detail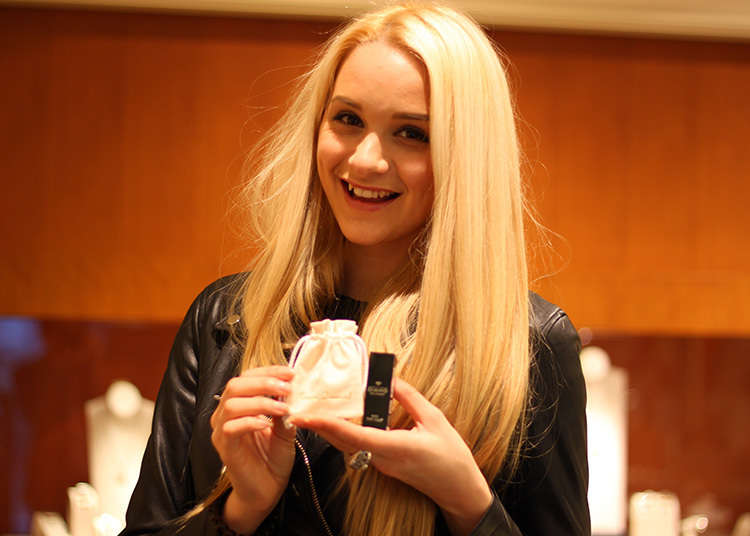 The customers who visit this store come from many different places like China, Taiwan, the Americas and European countries. They are known for their calm atmosphere which is perfect for shopping adults. Buying customers even receive a Diamond Cosmetic product as an extra present. Maybe the friendly service is one of the reasons why this store is so popular with foreigners.
dan genten Marunouchi store
The last store we are going to introduce is dan genten which is offers a collection of splendid glasses and jewelry. dan genten is a men's brand which has sprung from the ladies' brand genten. dan refers to the "dan" in the Japanese word dansei (man). This store sells men's clothes, shoes, bags and accessories.
Feel the natural leather which has been aged over several years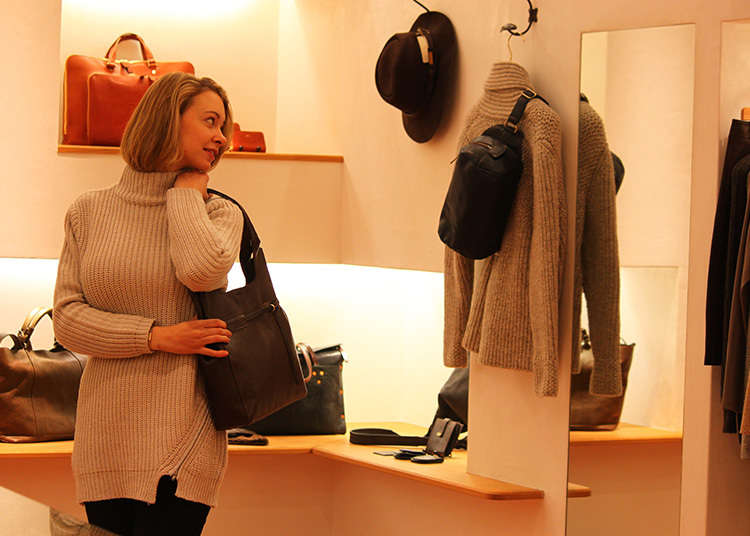 This store is known for selling several items which consist of natural leather, whose uniqueness starts to show the more you use it. In addition, in consideration for the environment chemicals were not used as they take the concept of product durability very serious. The all-leather backpack is popular among everyone regardless of nationality and gender. Many of their items are made from goat leather, and are easy to use due to them being light and soft. These products receive warm support by people who are looking for genuine products.
Sticking to Japan-made products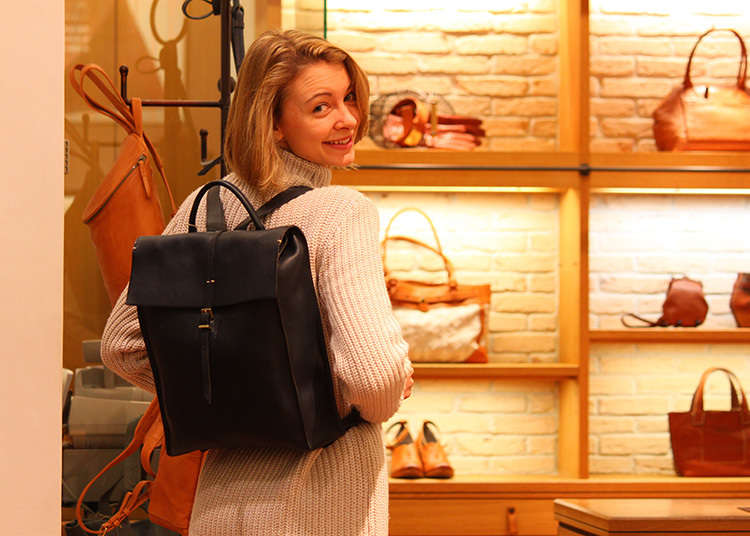 The design is typically Japanese, it sports several pockets and is very easy to use. Aside from using Japanese leather, many of their items are also completely produced in Japan which naturally make it "made in Japan" products.
Natural materials combined with craftsmanship make top-class products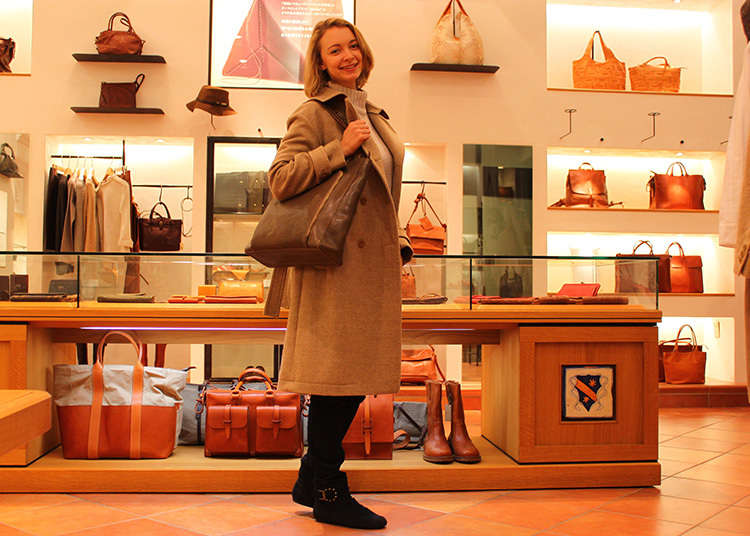 The beautiful natural materials taken directly from nature have been transformed into a unique item by making use of the texture of various materials through the hands of skilled craftsmen. Once you try to pick it up, you can sense the magnificent craftsmanship of the craftsmen on any part of the item, which makes it a fine creation. The natural materials combined with the craftsmen's craftsmanship, makes each item one of a kind.
dan genten Marunouchi store

dan genten丸の内店

Address

1-5-1, Marunochi , Chiyoda-ku, Tokyo, 100-0005, Japan
Marunouchi is located in the center of the big city A place full of many beautiful brands feeling strongly about genuity and thus having there products produced by craftsmen with craftsmanship unique to Japan. Why don't you pay a visit to Marunouchi to experience the quality and the genuity which Japan boasts by yourself?
*This information is from the time of this article's publication.
*Prices and options mentioned are subject to change.
*Unless stated otherwise, all prices include tax.