The Philippine Festival is Japan's biggest Filipino event, held on Saturday and Sunday (September 8 and 9) in Tokyo's Hibiya Park. The Philippines and Japan boast a friendship of 60 years of diplomatic relations and currently, about 50,000 Filipino people live in various parts of Japan (according to 2015 statistics of the Ministry of Justice, Filipinos are the 3rd largest group of foreign nationals living in Japan).
Look forward to traditional dances, music performances by various guest artists, a lively and colorful parade, plus an amazing variety of Filipino food! It's an authentic display of the rich culture of the Philippines, so don't miss out on this fun festival!
What is the Philippine Festival?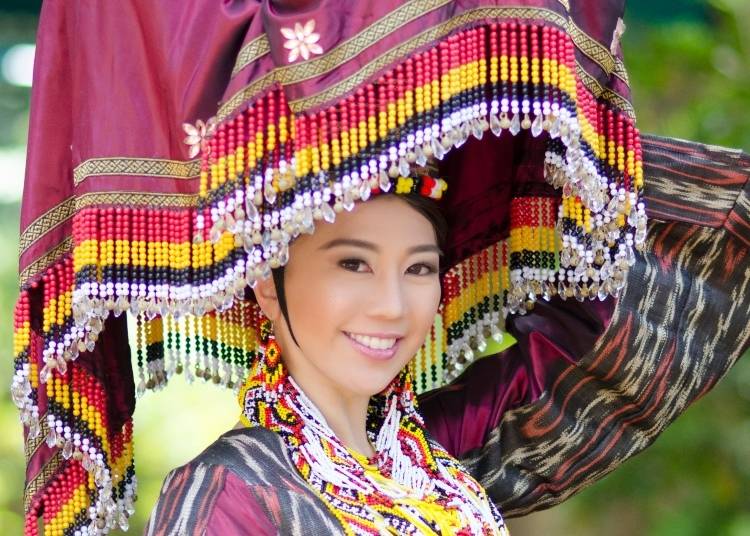 Miss Honami, the Queen of 2017's Philippine Festival
The Philippine Festival is a lively event that seeks to introduce the Filipino community both outside and inside of Japan to the locals and to promote the friendship between the two countries. It was first held in 2006 under the name Barrio Fiesta until the name was changed to Philippine Festival in 2014. It also serves as a sort of alumni meeting for the Filipino community in Japan, with more than 150,000 visitors on the two festival days recorded last year. Close to 500 people from Filipino organizations active in Japan, various Filipino volunteers also attended to give the festivities a proper boost.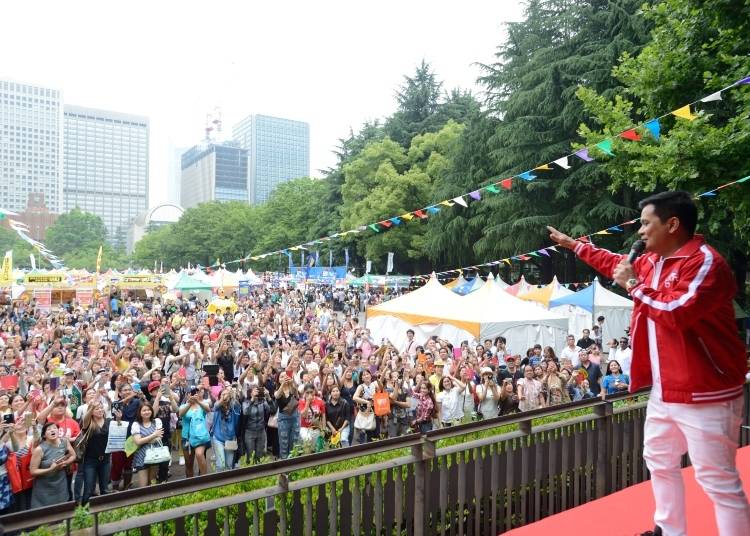 The festival is crowded with people gathered in front of the stage or checking out the booths
This year's theme is "wonderful" and the festival's declared mission is to show visitors just how wonderful Filipino traditions and culture are. On top of that, the festival also wants to remind the people of the Filipino community about the wonders of their home country.

"Come and visit us at the Philippine Festival to get an authentic experience of the atmosphere of the Philippines!" says Jason of the festival's executive committee.
Filipino People Love to Sing and Dance! What are the Performance Highlights?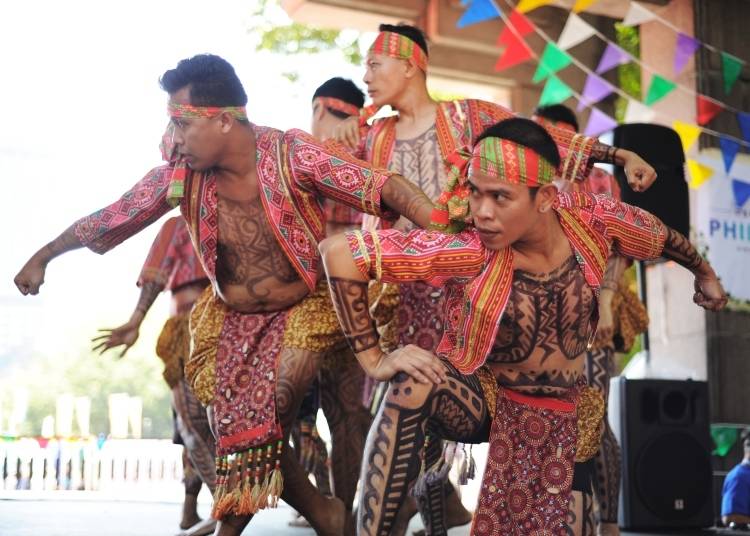 A powerful dance by body-painted performers
One of this year's performance highlights is a traditional dance called Lapay Bantigue from Masbate Island in the heart of the Philippines. It's a unique performance that imitates the graceful movements of the seagulls dancing in the sky as well as expressing daily life on Masbate Island – fishermen, women waiting for the return of the fishing boats, seagulls on the hunt for fish, and so on.

Filipino people also love to sing and there is plenty of performances that one usually doesn't get to see so easily. Popular Filipino artists such as Mark Mabasa and Kris Angelica will take the stage alongside Japanese bands that are popular in the Philippines. For details, check the festival's Facebook page at the link below.
A Competition of Character and Beauty: Crowning the King and Queen of the Philippine Festival!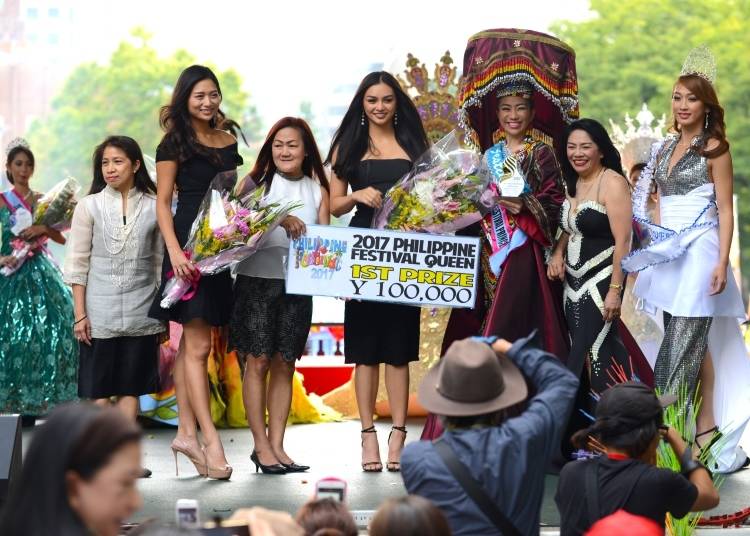 A fest of beauty: who's going to win the Philippine Festival Queen Contest this year?
The Philippine Festival King & Queen Contest is another major highlight of the event. The King Contest started in 2016 alongside the well-established Queen Contest and people are genuinely excited about it! Especially amazing are the gorgeous traditional Filipino clothes worn by the contestants and the participants of the Grand Parade. Eight women and eight men, all boasting Filipino roots, compete for the crown in front of three judges. There's a total of 100 points to be earned in the categories if appearance, manner and demeanor, and outfit and the winners are crowned King and Queen (the application period for this year has ended). The King Contest takes place on Saturday the 8th while the Queen will be chosen on Sunday the 9th.
The Stage Performances: Everyone can Join!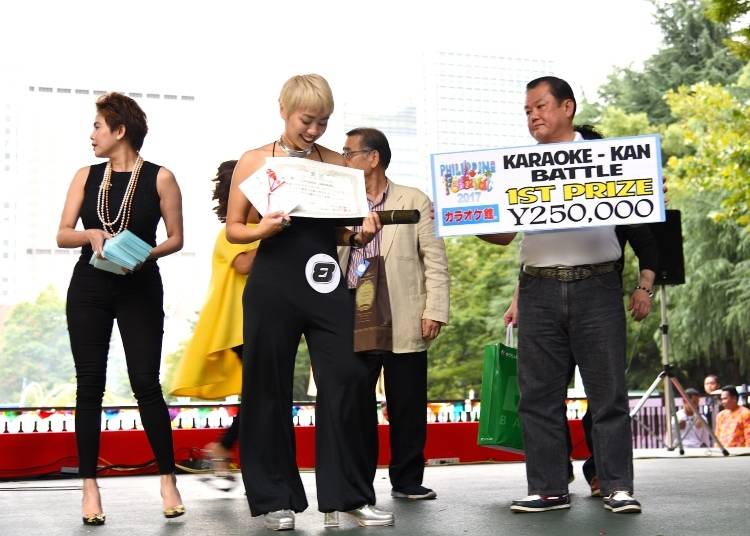 Win a big cash prize at the exciting Karaoke Battle!
With prior application, you can join stage events even if you're not a guest artist! Especially noteworthy is the karaoke contest sponsored by Karaoke-kan, a famous karaoke parlor chain in and around the greater Tokyo area. Singing is a favorite pastime of many Filipino people and karaoke machines are a staple in homes all around the Philippines.

The dance contest is also a popular event. Hip-hop dance is particularly popular in the Philippines, to the point where the world took note of the extremely high skill of the Filipino street dance team who won the World Hip Hop Dance Championship in 2014. At the Philippine Festival, dancers can show off their own skills and compete against each other for victory while the crowd goes wild! There's also music band contests, traditional dance contests, and various other exciting events to keep you entertained.
Savor Local Food: 3 Must-Try Dishes from the Philippines!
Just like in Japan, rice is a staple food in the Philippines, but the food culture is entirely different! Filipino cuisine uses plenty of fruits such as mangoes and bananas while dishes often have a refreshing blend of sour, sweet, and salty while few things are spicy. If you don't know where to start exploring the Philippines' gourmet culture, here are our three must-try dishes!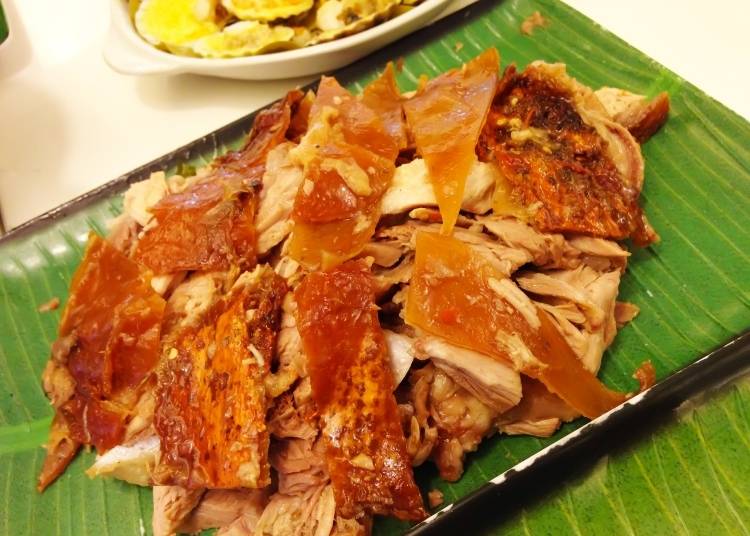 Lechon is a classic dish enjoyed for special occasions and you absolutely have to try it!
1. Lechon
One of the most representative dishes of Filipino cuisine is Lechon, a whole spit-roasted pig. There are numerous restaurants specializing on this delicacy in the Philippines and you'll often see a pig being spit-roasted in shop fronts. The pig is grilled slowly and carefully, making for a crispy skin and wonderfully juicy pork with a rich flavor. Lechon is an indispensable dish for occasions such as Christmas and New Year's and is a favorite dish of many Filipino people. The authentic way of enjoying it is by coating it with a pork liver-based sauce.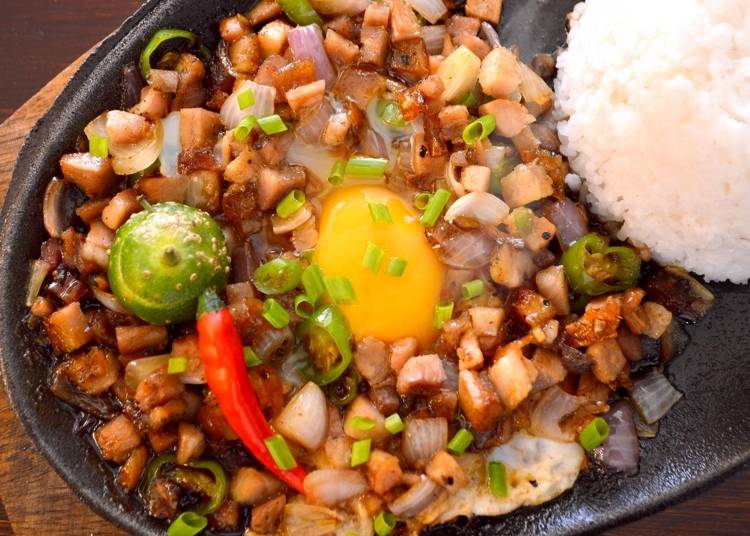 Enjoy this traditional dish with egg and rice!
2. Sisig
Pig ears, pork cheek, pork skin, and offal make up this wonderfully hearty Filipino dish, finely chopped and mixed with onion before being topped with an egg. The different parts of the pig create a unique texture and mouthfeel, enhanced by the spiciness of just a hint of red pepper – once you've tried this classic dish, you won't be able to get enough of it. Add an extra layer of flavor and try it with mayonnaise or lemon! The hearty flavor and the mellow egg are an outstandingly delicious match and will make you thirsty for a cold glass of beer.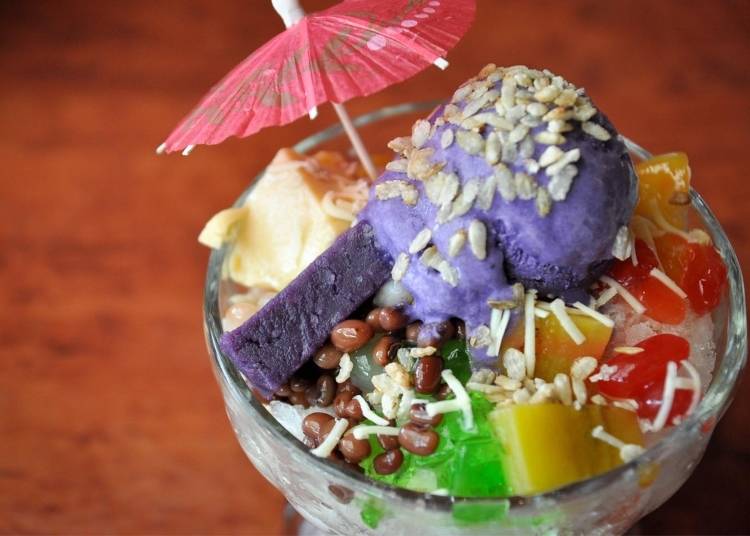 An Insta-worthy dessert! Try the colorful halo-halo, the Philippines' delicious version of shaved ice!
3. Halo-Halo
Ube (purple yam) ice cream, fruits, tapioca, nata de coco, pudding, shaved ice...there are many colorful ingredients in Halo-Halo, one of the Philippines' most beloved and traditional sweets! Its name means "being mixed" in Tagalog and this delicious shaved ice dessert is sure to cool you down on a hot summer day.
Spit-roasting a whole pig at home or getting all the ingredients for Sisig is a proper struggle for the Filipino community living in Japan, so everyone is looking forward to Tokyo's Philippine Festival every year! Be sure not to arrive too late, as the authentic dishes are highly sought-after not only by the Filipino locals but also by curious gourmets from all around the world!

Enjoy the atmosphere and savor the spirit of the Philippines, right here in Tokyo!
Philippine Festival 2018: When & Where
Event period: September 8 (Saturday) and 9 (Sunday)
Where: Hibiya Park
Admission: free
Hours: 9:00 a.m. – 5:00 p.m.
Facebook Page: https://www.facebook.com/philippinefestivaljapan/
Official App: Philippine Festival Japan (iOS, Android)
Address

1-6, Hibiyakouen, Chiyoda-ku, Tokyo, 100-0012
View Map

Nearest Station

Hibiya Station (Tokyo Metro Hibiya Line / Tokyo Metro Chiyoda Line / Toei Mita Line)
3 minutes on foot


Phone Number

03-3501-6428
*This information is from the time of this article's publication.
*Prices and options mentioned are subject to change.
*Unless stated otherwise, all prices include tax.