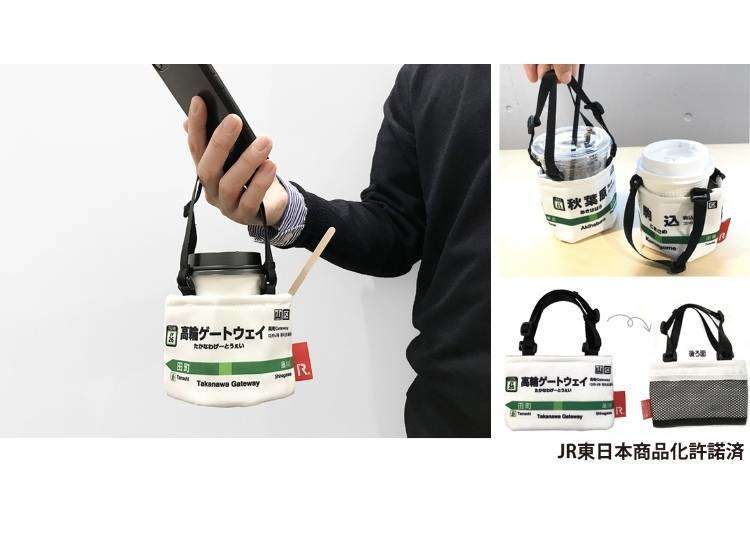 Are you a true tetchan? Tetchan is a nickname for train fans, made by combining the words tetsudo (railway) and -chan, a title often used for the names of children and close friends. Tetchan are a common sight at train stations in Japan, taking photos and videos of trains, and of course, riding them!

Japan is home to a great variety of trains, including many that are unique and have interesting histories behind them, making it a paradise for train fans. If you love Japanese trains as much as we do, check out these 5 items that will show everyone how much of a tetchan you are!
1. Hokuriku Shinkansen Shooting Star T-Shirt
For the 5th Anniversary of the opening of the Hokuriku Shinkansen line, the line that connects Tokyo with Kanazawa along the Sea of Japan, T-shirt brand Ojico has released a commemorative T-shirt featuring the Hokuriku Shinkansen E7-type Kagayaki (Shine) train. The design is made with luminous ink that glows in the dark, and wraps around the body from front to back. Stand next to a friend wearing the same shirt to see Kagayaki take off into the stars!

Product Information
Price: Children's sizes (75-155 cm) 3,600 yen, Adult sizes (Women's M, L / Men's M, L, LL) 5,000 yen
*Prices do not include tax.
Available at: Ojico retail shops, pop-up shops held around the country, Ojico official website, and some corner shops (e.g. Doushin at Haneda Terminal 1, Tokyo's Tokyo at Haneda Terminal 2, Trainiart at the Omiya Railway Museum, etc.)
2. Choose Your Favorite Shinkansen Lunchbox Set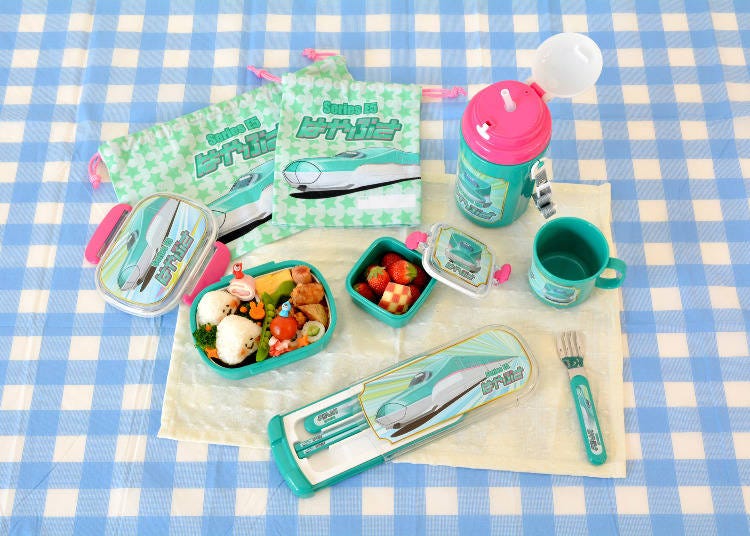 These colorful lunchboxes and other items feature some of the most popular Shinkansen trains that are sure to delight any bullet train fan. The set pictured above features the famous green Hayabusa Shinkansen that travels between Tokyo and Hokkaido on the Tohoku Shinkansen line.

Other trains in the series include the Kagayaki Shinkansen on the Hokuriku line, and Doctor Yellow, the yellow Shinkansen train that is used for testing the lines. A great way to show your love for trains at school or at the office!

Product Information
Item price and capacity:
1. Lunch box 1,400 yen Capacity: 360 ml, insert boxes (includes 2): 145 ml
2. Silverware set 1,400 yen Set includes chopsticks, spoon, and fork
3. Plastic cup 500 yen Capacity: 200 ml
4. Water bottle with straw 2,000 yen Capacity: 450 ml, insulated to keep drinks cool
5. Dessert case 650 yen Capacity: 150 ml
6. Bento bag (drawstring) 1,000 yen Holds lunch box, dessert case, and silverware set
7. Cup bag (drawstring) 500 yen
*All prices do not include tax.
Available at: General merchandise stores, home appliance stores, GMS, hardware stores, train-related stores, and train facilities nationwide, as well as through catalog and online shopping outlets (Amazon, Rakuten, Yahoo! Shopping)
3. 700 Series Shinkansen Chopsticks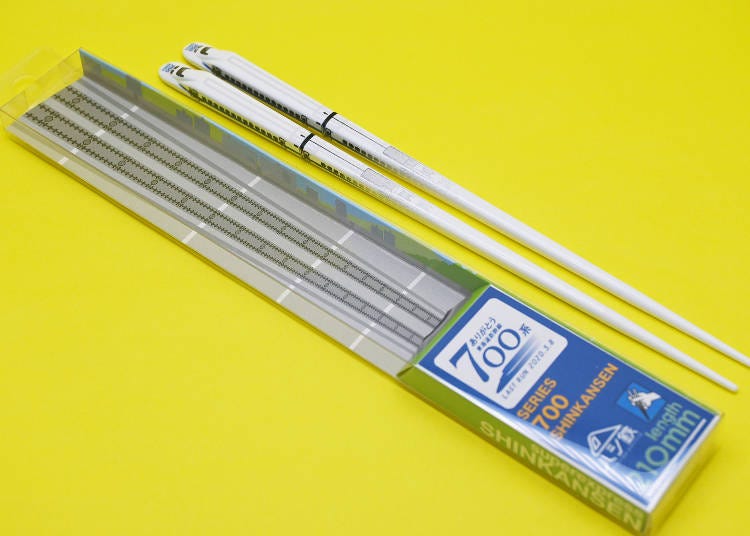 For the last run of the 700 Series Shinkansen that will be retired this March, these commemorative chopsticks feature the well known 700 Series trains. Built in the late 90s to early 2000s, the sleek white design of the 700 Series is what most of us picture when we think of the Shinkansen. The level of detail makes these chopsticks truly unique, and a must-have for Shinkansen fans!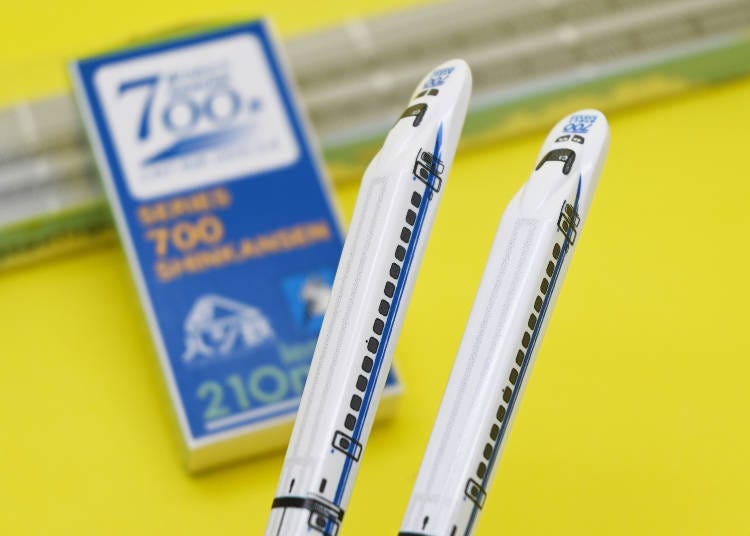 Could there be a more Japanese souvenir?!

Product Information
Product name: Hashitetsu 700 Series Shinkansen Chopsticks
Price: 700 yen (not including tax)
Length: 210 mm
Material: AS resin (made in Japan)
Available at: JR Tokai Line station shops (Tokai Kiosk), SCMAGLEV and Railway Park, and onboard the Shinkansen
4. Yamanote Line Drink Tote Bag
Visitors to Tokyo will be familiar with the Yamanote Line that loops around the city. Now is your chance to own a bag featuring your favorite Yamanote station! These bags from Rootote are like portable cup holders, made for carrying your drink with you wherever you go! Available for the 30 stations of the Yamanote Line, including the new Takanawa Gateway station that opens this March.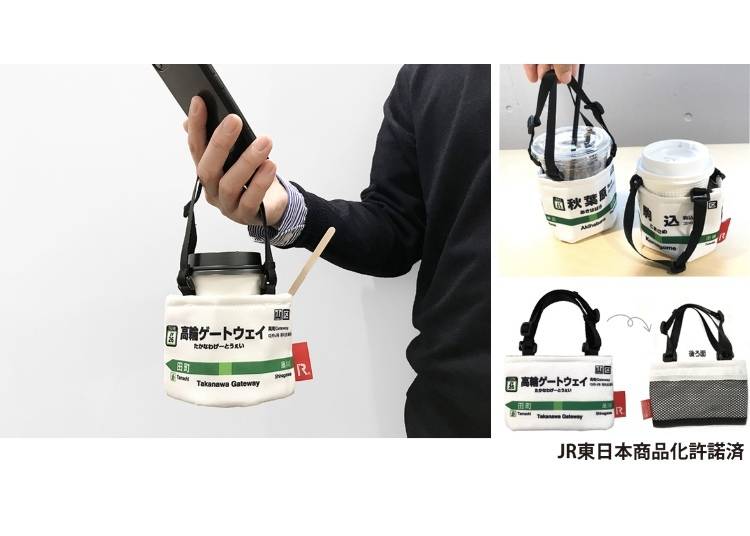 Remember your time in Tokyo with this unique Yamanote drink tote bag!

Product Information
Price: 1,500 yen (not including tax)
Size: Width 14 x Height 9 x Depth 8 cm, Handle: extendable from 20 to 34 cm
Material: Polyester lined with aluminum bonding, 1 external pocket
Available at: Advance sale at Ikebukuro Tokyu Hands from March 4, general sales from April online at the Rootote Rakuten Shop https://www.rakuten.ne.jp/gold/rootote/ and wherever Rootote products are sold.
5. Kids's Ride-on Shinkansen Suitcases from Jet Kids by Stokke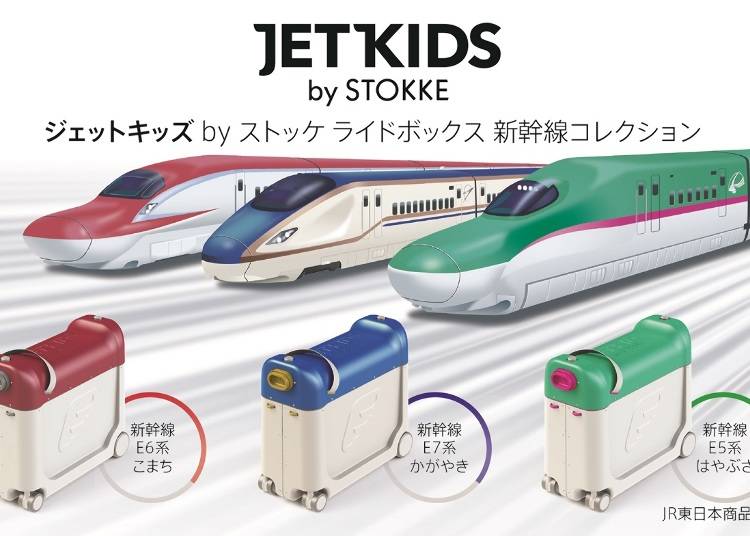 For the little traveler in your life, check out these Shinkansen-themed ride-on suitcases from Norwegian kids' brand Stokke. With color schemes that echo the popular Komachi, Kagayaki, and Hayabusa Shinkansen trains, these sturdy ride-on suitcases are perfect for traveling with little ones. Young train fans can enjoy personalizing their suitcase with the sticker sheets included. Hold onto the strap and take your Shinkansen for a ride!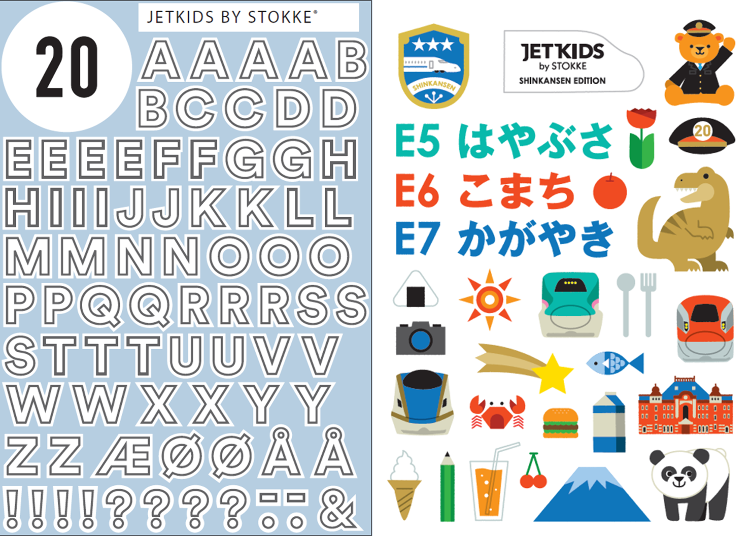 Product Information
Product Name: Jet Kids by Stokke Ride Box Shinkansen Collection
Contents: Ride Box, strap, 2 A4-sized sheets of stickers, etc.
Price: 18,000 (not including tax)
Types: 3 types available (Komachi, Kagayaki, Hayabusa)
Weight: 3 kg
Capacity: 20 L
External dimensions: Length 46 x Width 20 x Height 36 cm
Strap: Maximum length 126 cm

Show your love of Japan's trains with these new products, and let everyone know you are a proud Tetchan!

Sources:
https://prtimes.jp/main/html/rd/p/000000002.000054426.html
https://prtimes.jp/main/html/rd/p/000000024.000023295.html
https://prtimes.jp/main/html/rd/p/000000143.000026530.html
https://prtimes.jp/main/html/rd/p/000000160.000021774.html
https://prtimes.jp/main/html/rd/p/000000073.000006741.html
*This information is from the time of this article's publication.
*Prices and options mentioned are subject to change.
*Unless stated otherwise, all prices include tax.