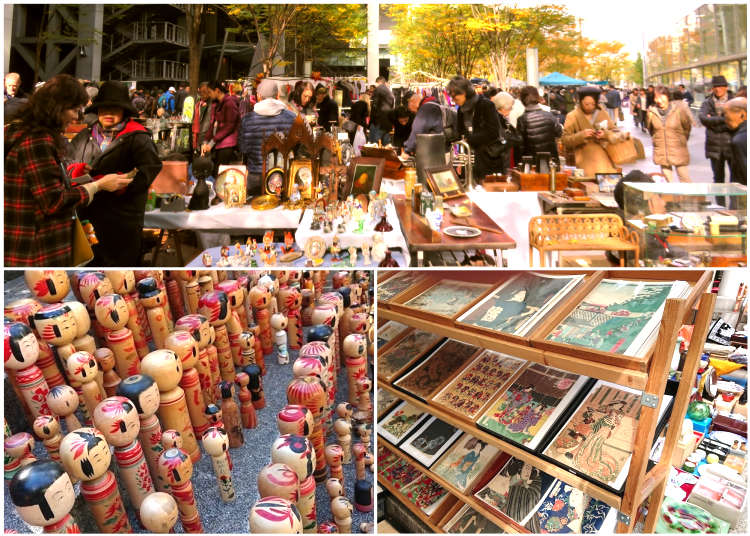 Tokyo is often thought of as an expensive city. While in some departments that statement may ring true, it's also easy to grab more than your fair share of bargains—you just need to know where to look. Well thankfully, we're here to help. Tokyo's flea markets are a bargain hunter's paradise and there's also a strong chance you can pick up some seriously unique items while you're at it. Plus, the flea markets, which are spread across the city, are one of the many manifestations of Tokyo's quirky, eccentric culture. Here are some of our favorites!
Flea Markets at Shrines and Temples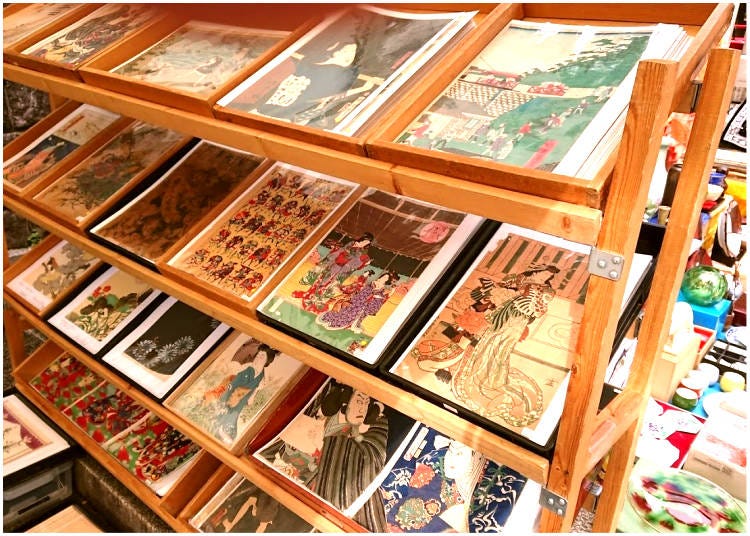 1 – Nogi Jinja
The flea market at Nogi-jinja shrine is one of the most popular among tourists of all Tokyo's markets. This is mainly thanks to its location, nestled between the visitor-friendly downtown neighbourhoods of Roppongi and Akasaka. The eponymous shrine is named after the revered imperial commander, General Maresuke Nogi (1824-1912), who is one of Japan's most celebrated war heroes. You can even check out his former residence which is still in good condition on the site of the shrine.

The market here takes place on the 4th Sunday of every month (excluding November), lasting from 9am through to 4pm. Recently it has become more catered towards the foreign clientele that throng to the market each time it makes an appearance. As such, you're more likely to find higher-end goods than in some of the other flea markets in the city. The goods are spread across 40 individual retailers, with traditional Japanese trinkets, wares and odds and ends making up the bulk of the merchandise on offer.

When: 4th Sunday of every month; 9am-4pm
Address

8-11-27, Akasaka, Minato-ku, Tokyo, 107-0052
View Map

Nearest Station

Nogizaka Station (Tokyo Metro Chiyoda Line)
1 minute on foot


Phone Number

03-3478-3001
2 – Hanazono-jinja
The Hanazono-jinja shrine's flea market is another one of the most popular in the city. The shrine is the largest of its kind in one of Tokyo's most famous entertainment districts—Shinjuku. The shrine which has been dubbed "The Guardian of Shinjuku", is a stunning example of ancient Japanese architecture that is strikingly juxtaposed against the high-rise nightlife hub of Kabukicho just a stone's throw away.

If this market tickles your fancy, then the good news is that it runs on a weekly basis. It kicks-off every Sunday at around 6:30am, lasting until around 3pm that day. Here you will find between 25 and 30 individual booths peddling an assortment of goods, with particular emphasis on antiques. Whether you want to pick up some vintage coins, get your hands on some traditional hand-woven Japanese garments, or nab yourself a bargain on furniture that displays Japanese wood-craftsmanship at its finest, you're in the right place.

When: Every Sunday; 6:30am ~ 3pm
Address

Shinjuku 5-17-3, Shinjuku-ku, Tokyo, 160-0022
View Map

Nearest Station

Shinjuku-Sanchome Station (Tokyo Metro Marunouchi Line / Tokyo Metro Fukutoshin Line / Toei Shinjuku Line)


Phone Number

03-3209-5265
3 – Tomioka Hachiman-gu
Hachiman is a divine spirit in the Shinto religion who supposedly provides tutelage to warriors, while concerning himself with the skills of archery and warfare—and he has no shortage of monuments built in his name. First erected in the 17th century, the Tomioka Hachiman-gu shrine in Tokyo's Koto ward is the largest Hachiman shrine in the city. The shrine also carries significance as the former official home of sumo in Tokyo for many years, along with housing a splendid mikoshi (divine palanquin) which is still on display today.

Given the shrine's hulking size, the near weekly market that graces the site is equally large. Almost every Sunday from sunrise to sunset there will be at market the Tomioka Hachiman-gu shrine with offerings that range from vintage flea market items to more traditional crafts and antiques—it can vary depending on the weekend that you go. The market generally contains around 50-80 sellers spread over 120 individual stalls. Imari porcelain, Japanese toys, kimono, household goods, as well as collectibles and memorabilia (such as 19th century postcards), have all been known to feature heavily.
Address

1-2-3, Tomioka, Koutou-ku, Tokyo, 135-0047
View Map

Nearest Station

Monzen-Nakacho Station (Tokyo Metro Tozai Line / Toei Oedo Line)
3 minutes on foot


Phone Number

03-3642-1315
4 – Gokoku-ji Temple
Gokoku-ji Temple in Northern Tokyo's Bunkyo ward was built in 1681 at the behest of the mother of the 5th Shogun of Japan—Tokugawa Tsunayoshi. Its main hall is the oldest standing wooden temple building in Tokyo having withstood the destruction of the 1923 Great Kanto earthquake, the carpet bombings that Tokyo was subjected to during the Second World War and the tides of urbanization and redevelopment that have swept across much of greater Tokyo in the modern era.
The flea market here is on the smaller side (there are usually between 25-40 stalls), but is a little-known, souvenir mini mecca. If you want to bring home some authentic Japanese gifts, this place has them in abundance. The market typically takes place on the second Saturday of every month from 7am – 3pm.
Address

5-4-1, Otsuka, Bunkyo-ku, Tokyo, 112-0012
View Map

Nearest Station

Gokokuji Station (Tokyo Metro Yurakucho Line)
1 minute on foot


Phone Number

03-3941-0764
5 – Takahata Fudoson Temple
Takahata Fudoson temple is a major Buddhist monument hidden with Tokyo's western suburbs. The temple is dedicated to Acala (known as "Fudo Myoo" in Japan) who is a protective deity, worshipped within the Shingon sect of Buddhism. Aesthetically it is one of the finest temple complexes in the city, with a five-story pagoda that pays homage to the sect's founder—Kobo Daishi—while also housing 1000 peculiar, yet ornate Jizo statues.
Although this site is a little more out of the way than Tokyo's other flea markets, the trip is certainly worth your patronage. The flea market which takes place on the 3rd Sunday of every month, provides the hustle and bustle atmosphere of an old market-square. Aligning the pathway that leads up to the shrine are 120 antique sellers and merchants that have gathered from Tokyo and the surrounding cities. Again, gifts from yesteryear take to the center stage, including garments, furniture, collectibles, art and more. If it has a vintage quality to it, it can probably be found at the Takahata Fudoson flea market.
Takahata-Fudoson Kongoji Temple

高幡不動尊 金剛寺

Address

733 Takahata, Hino-shi, Tokyo
Flea Markets at Other Sites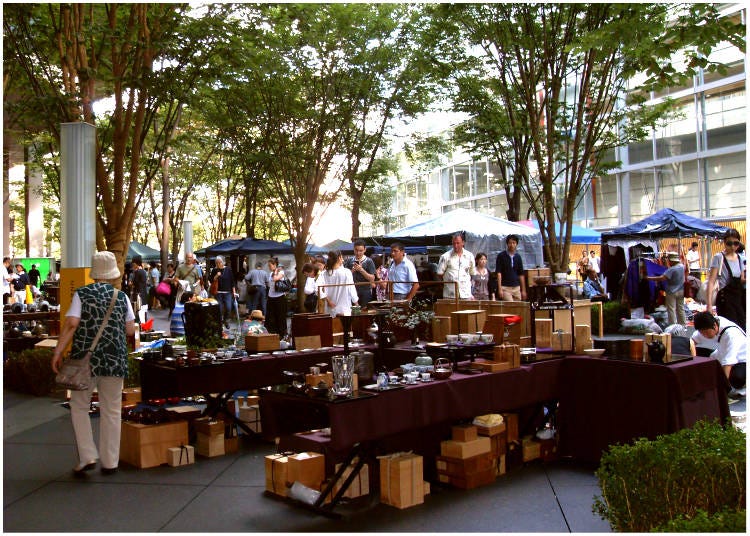 1 – The Oedo Antique Markets
The Oedo antique market is one of most popular of all of Japan's markets, such that it makes an appearance at two separate locations in the capital.

Tokyo International Forum
The market at Tokyo International forum is the largest outdoor antique market in the country with over 250 dealers selling a huge selection of Japanese artefacts from every era under the rising sun. Held on the first and third Sundays of every month from 9am – 4pm and with a central location it is very accessible for those staying in downtown Tokyo. The sheer number of stalls lends itself to the variety of merchandise on offer. Fabrics, garments, pottery, ceramics, crafts, quirky trinkets and tons of food are all readily available. The one caveat is that it can get super busy around lunchtime, so if you want to avoid the crowds, then plan accordingly.
Address

3-5-1, Marunouchi, Chiyoda-ku, Tokyo, 100-0005
View Map

Nearest Station

Yurakucho Station (JR Keihin-Tohoku Line / JR Yamanote Line / Tokyo Metro Yurakucho Line)
1 minute on foot


Phone Number

03-5221-9000
Yoyogi Park
The Oedo Antique market also makes an appearance in one of Tokyo's biggest and best inner-city parks, Yoyogi Koen. The specific date varies, but usually the market takes place on a weekend towards the end of February, once in June and then once again in July. Given Yoyogi's close proximity to the popular shopping district of Harajuku, the area's hip youth culture has bled into the culture of the antique market. This has given rise to a younger clientele and as a result there's plenty of merchandise on offer that is catered towards them. One of the main focuses is on recycling and reselling of unwanted goods. So, if you're on the hunt for cheap retro clothing or nostalgia-fueled second-hand gifts, then this might be your best bet in the city. Also, unlike many other markets in Tokyo, Oedo vendors are known to be open to a bit of bartering!
Address

2-3, Jinnan, Shibuya-ku, Tokyo, 150-0001
View Map

Nearest Station

Harajuku Station (JR Yamanote Line)

2 – The Aoyama Antique Market
The Aoyama Antique market is held weekly in one of Tokyo's most popular tourist districts—Shibuya. The concept stemmed from the desire to bring a weekly flea market to Tokyo in the mould of the popular markets that are so commonplace across many major European cities such as London, Paris and Amsterdam. The idea was that a place where you can buy a variety of unusual paraphernalia, antiques and vintage merchandise from all of the world would hopefully attract people from far and wide.

The market is held in conjunction with the Aoyama Farmer's market and at the same location just opposite the United Nations University, meaning there really is something here for everybody. From 10am – 4pm every Saturday an eclectic assortment of booths and merchants congregate in the square, with products that extend well beyond the reaches of Japan. Italian ceramics, vintage British garment accessories, French embroidery tools and an array of European art can all be found at this unique market.
United Nations University

国際連合大学

Address

5-53-70 Jingumae, Shibuya-ku, Tokyo
3 – The Heiwajima Antique Fair
Since its inauguration in 1978 the Heiwajima Antique Fair has consistently been one of the biggest and most popular flea markets in the city. The fair is held at the Tokyo Ryutsu Center in Ota ward, over 5 separate weekends every year. Better yet, the fair typically lasts for three days, giving you a larger window of opportunity to check it out. However, given that there is obviously a limited amount of goods on offer, it's wise to show up as early as you can.

Over 280 sellers crowd the huge indoor space at the Ryutsu Center, peddling wares and antiques from Japan as well as many other eastern Asian nations. Once again, variety is at a premium. Expect to find lacquerware, ceramics, myriad styles of traditional Japanese wooden dolls, kimono obis and fabrics, embroidery and sewing tools, coins, stamps and everything in between. Prices can be a little more expensive that those found at Tokyo's outdoor markets, but the amount of merchandise on offer means that the Heiwajima Antique Fair is a must-visit for bargain hunters.

General dates: One weekend in each of the following months; March, May, June, September, December.

Address: Heiwajima Tokyo Ryutsu Center Bldg. 6-1-1 Heiwajima, Ota-ku, Tokyo
Tokyo Ryutsu Center (TRC)

東京流通センター

Address

6 Chome-1-1 Heiwajima, Ōta-ku, Tōkyō-to 143-0006
4 – Akihabara UDX Flea Market
Tokyo's "Electric Town" area in Akihabara is the city's resident otaku haven. Every weekend in the space under the railway tracks near the Electric Town exit of Akihabara Station, a flea market that celebrates Japan's acclaimed pop-culture appears in all its multi-colored splendor. The event typically runs every Saturday, Sunday and on public holidays from 11am – 6pm.

The market contains the usual trimmings that you expect to find in Akihabara with toys, manga, anime, video games and a menagerie of pop-culture icons all coming to the fore. Many of the 40 or so booths also offer anime-themed costumes and cosplay options. If Halloween or a special event is on the horizon, then you may get the chance to dress up as one of your favorite anime characters without having to break the bank on a costume. In spite of the markets frequency it still manages to bring a new selection of merchandise every time it comes around, so there's always a few surprises in store!
Address

Akihabara the first floor of UDX Akiba open space, 4-14-1, Sotokanda, Chiyoda-ku, Tokyo, 101-0021
View Map

Nearest Station

Akihabara Station (JR Keihin-Tohoku Line / JR Yamanote Line / Tokyo Metro Hibiya Line / Tsukuba Express / JR Sobu Line)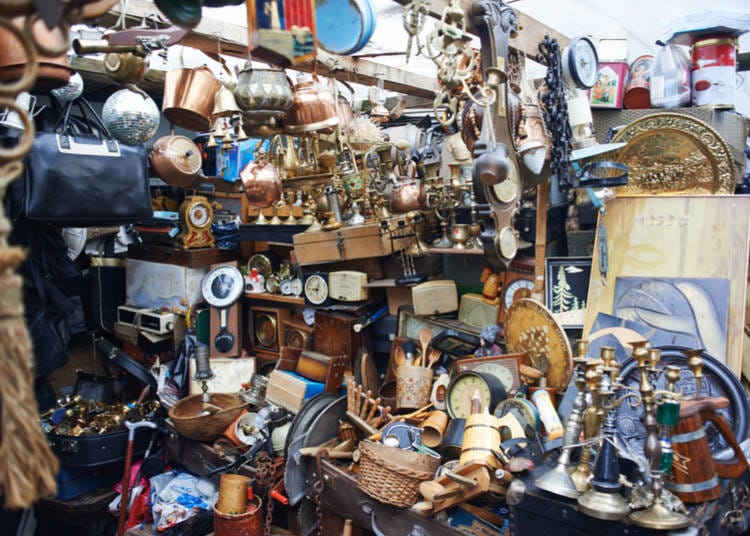 5 – Tokyo City Flea Market
Saved the biggest and best for last? The Tokyo City Flea Market at Oi Racecourse in Shinagawa is a true mammoth of a market—by far the largest of its kind in the Tokyo area. The flea market here will evoke memories of a classic American car trunk sale, as an average of 600 vendors flock the racecourse car park to peddle anything and everything. If it's no longer used and in need of a new home then it's fair game at Tokyo City Flea Market.

Admittedly the trinkets and bric-a-brac items tend to be less traditional than those that can be found at the shrine and temple markets, but the quantity of goods on offer highly increases your chance of stumbling upon a rare find or an unbelievable bargain. The market kicks off around 8:30am and "officially" ends around 2:30pm. In saying that, many of the vendors will start clearing up around noon, so your best bet might be to get down early. It usually makes an appearance every Saturday and Sunday with irregular breaks due to public holidays.
大井競馬場

Address

東京都品川区勝島2丁目1−2/2-1-2 Katsushima, Shinagawa-ku, Tokyo
This article is based on information from 2020.
Written by: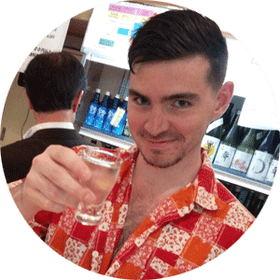 *This information is from the time of this article's publication.
*Prices and options mentioned are subject to change.
*Unless stated otherwise, all prices include tax.