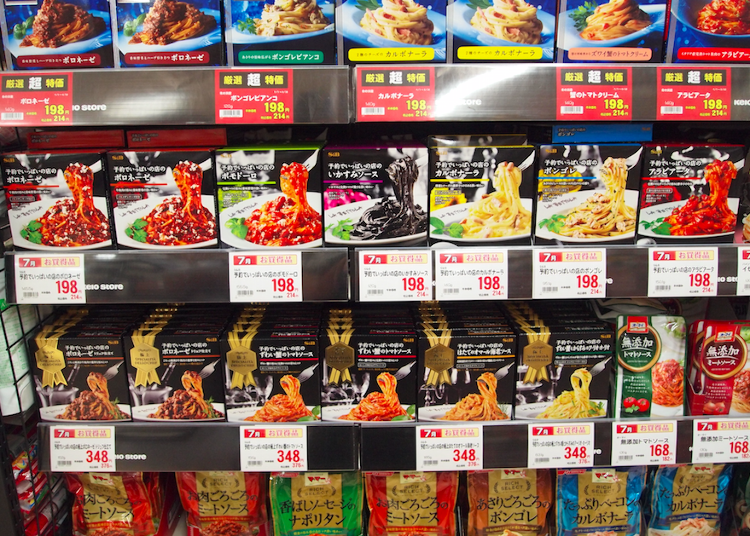 Pasta first came to Japan when the first Non-Japanese people settled in Yokohama between 1850 and 1860. From then on, legend goes that fully automated pasta machines from Italy were imported and became a massive success. In 1927, Japanese pasta became its very own cuisine with the birth of Pasta Napolitan, a ketchup-based sauce with bell pepper, bacon, mushrooms, and so on. Of course, pasta is nothing without the sauce and nowadays, you'll find a wide variety of both classic and uniquely Japanese pasta sauces in supermarkets all across the country. Tickle your taste buds with sauces that incorporate wasabi or tarako (cod rode), or explore the world of luxurious sauces with snow crab and sea urchin. We've compiled the top 10 must-try pasta sauces of Japan for an authentic Japanese pasta experience!
#1. Japan's Number One Favorite: Aeru Pasta Sauce Tarako (Kewpie, 168 yen excluding tax)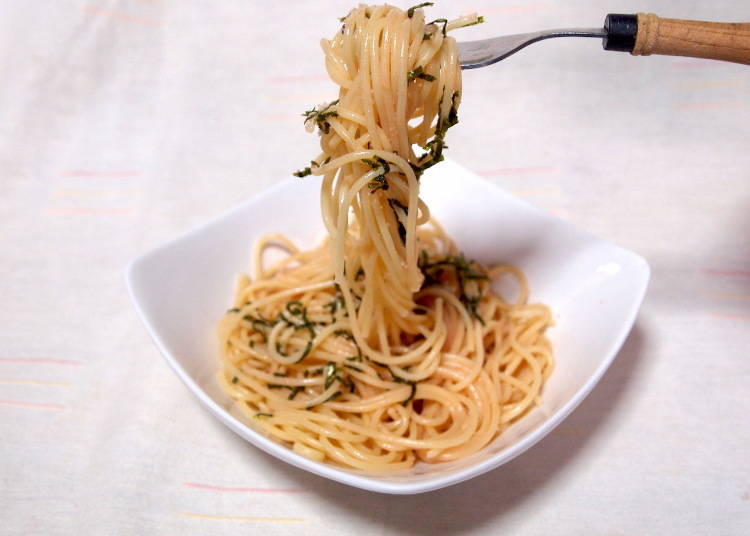 Cod roe and shredded seaweed is a great combination.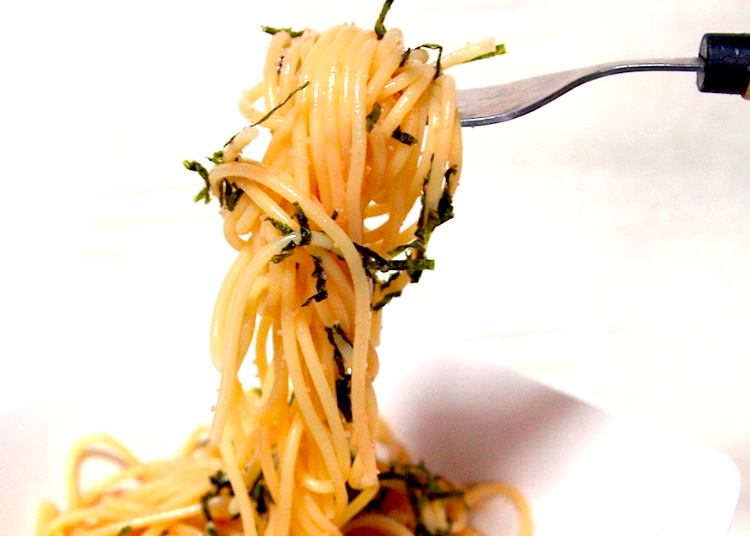 The tiny cod roe sticks perfectly to the pasta.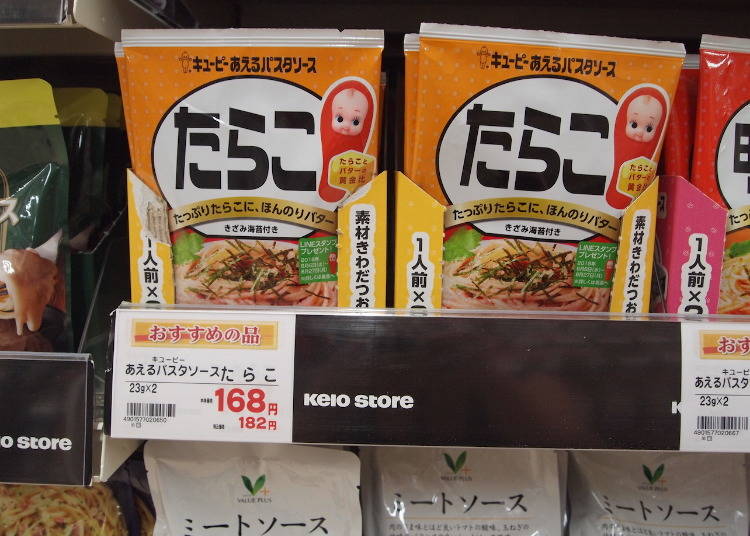 The Kewpie character graces the packaging. Here, it's dressed up as a piece of cod roe.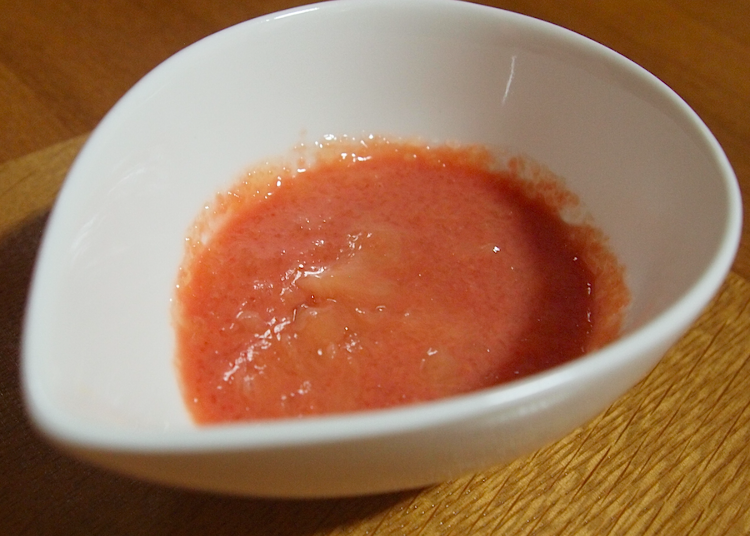 The sauce has an authentic tarako flavor.

First up is the Kewpie Aeru Pasta Sauce, tarako flavor. Kewpie is a large Japanese food manufacturer that focuses on condiments and seasonings such as mayonnaise. The angel-like character is closely associated with the company in Japan. Tarako Pasta is quite simply pasta with cod roe and a choice as basic as carbonara or meat sauce. You don't even have to heat up the retort sauce – simply mix it in with the freshly boiled pasta and you're good to go, so this is a recommended choice even for pasta beginners who want to try an authentic Japanese flavor. The grainy texture and unique flavor are the main characteristics of cod roe and mixed with a hint of butter and some shredded seaweed, it'll quickly become one of your new pasta favorites. Next to the tarako sauce, there's also "karashi mentaiko" (spicy cod roe) and "mentai mayo" (cod roe with mayonnaise). That means three kinds of pasta sauces in total!
#2. Luxurious and Irresistible: Ao no Dōkutsu Snow Crab Tomato Sauce (Nisshin Foods, 198 yen excluding tax)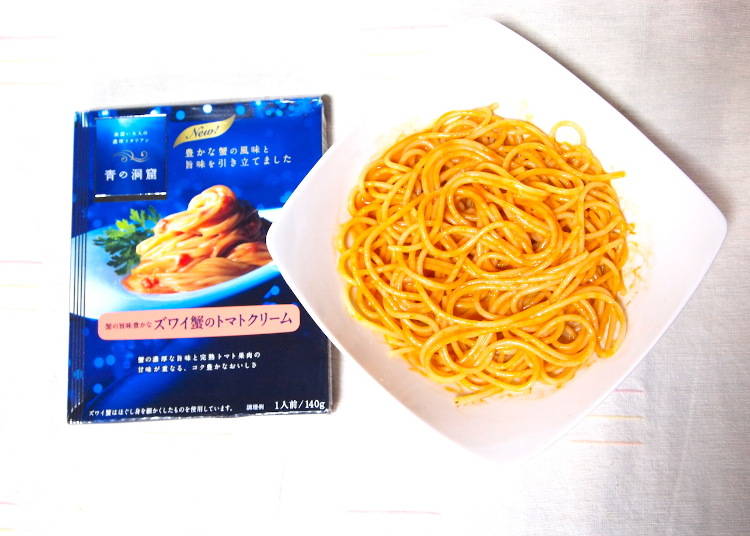 The creamy tomato sauce with snow crab.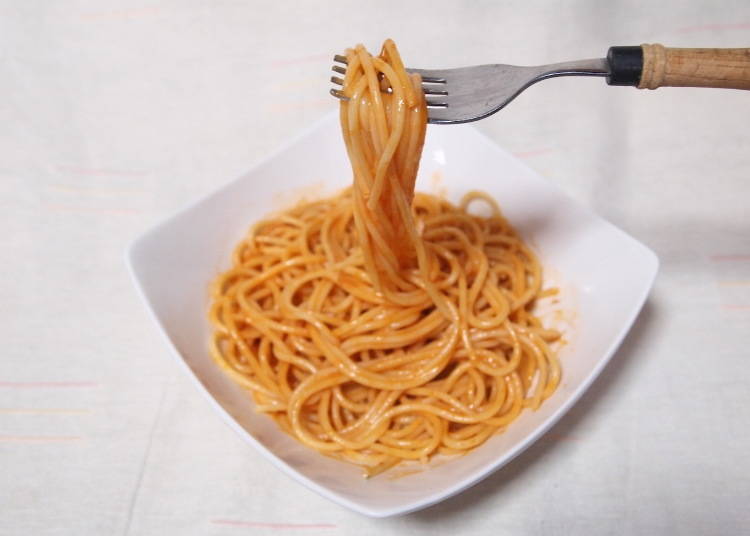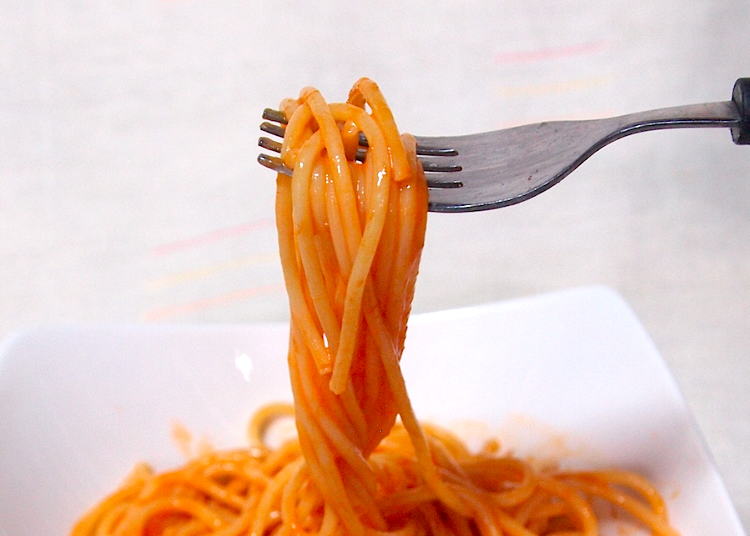 It boasts a creamy and smooth texture.

Ao no Dōkutsu ("Blue Grotto") is a Japanese pasta sauce series that aims for an authentic Italian taste – the blue packaging immediately catches the eye. Indeed, it is known for bringing the authentic flavor of various parts of Italy to homes all across Japan. The snow crab version is incredibly flavorful from the first bite on, the deep taste of the crab mixing just perfectly with the fruity tomato. It's certainly a choice for a sophisticated palate. This is number two on our list because it will make you feel like you're enjoying dinner at an Italian restaurant.
This series doesn't only feature 14 varieties such as porcini cream and aglio e olio with olive oil but also three premium sauces, including beef Bolognese and aged bacon carbonara. You might also want to try the various frozen foods such as lasagna, pasta, and vegetable sauce.
#3. Mama's Meat Sauce (Nisshin Foods, 158 yen excluding tax)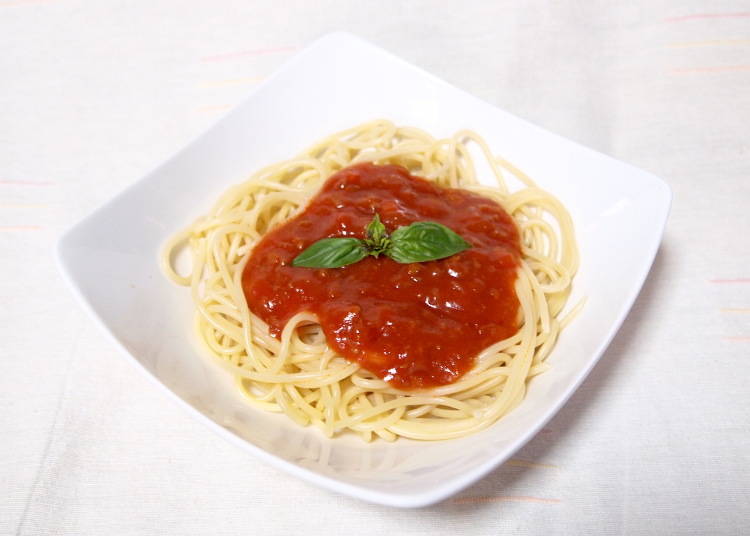 This brilliant sauce features plenty of tomato pulp (the basil is not included).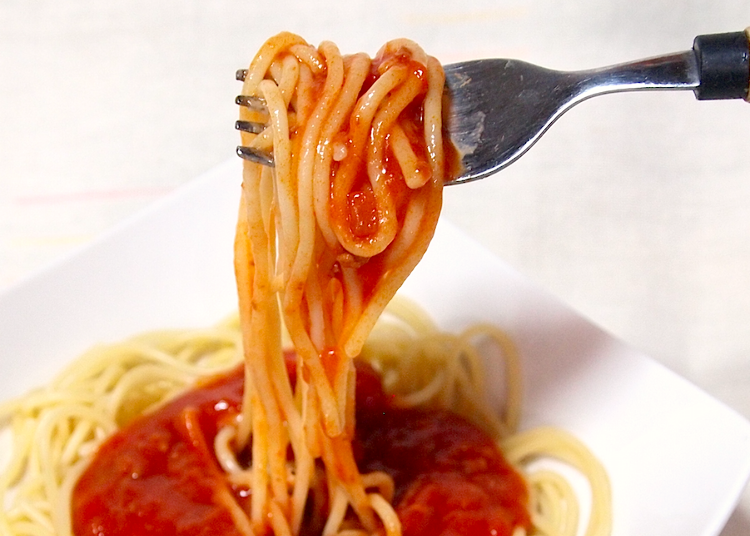 Coating the noodles with sauce, a satisfying harmony of meat and tomato.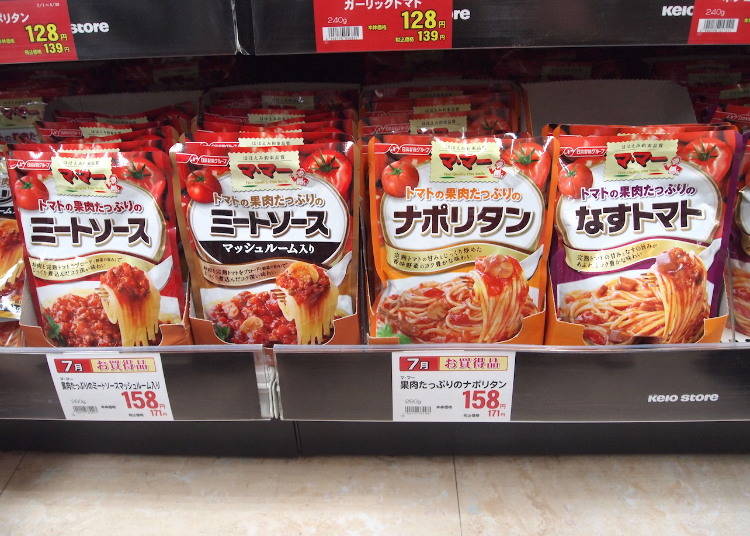 The Mama's series offers plenty of volume and a large variety of flavors.

Nisshin Foods' Mama's Meat Sauce has the deep flavor of ground beef and pork, simmered in slowly with ripe tomatoes. There's plenty of pulp to be savored along with the meat and onions and one bag easily feeds two people. The sauce isn't particularly thick and doesn't necessarily stick to the noodles that well, but the solid taste has a nice balance between sweetness, saltiness, and acidity. Meat sauce is a representative of Japanese pasta sauces and this one is wonderfully light, making it a favorite among both young and old. Mama's pasta sauce series features eight varieties of sauce in total, including three meat sauces and Napolitan pasta.
#4. Go Full Japanese: Oh My "Wa" Pasta Suki no Tame no Fragrant Wasabi (Nisshin Seifun, 168 yen excluding tax)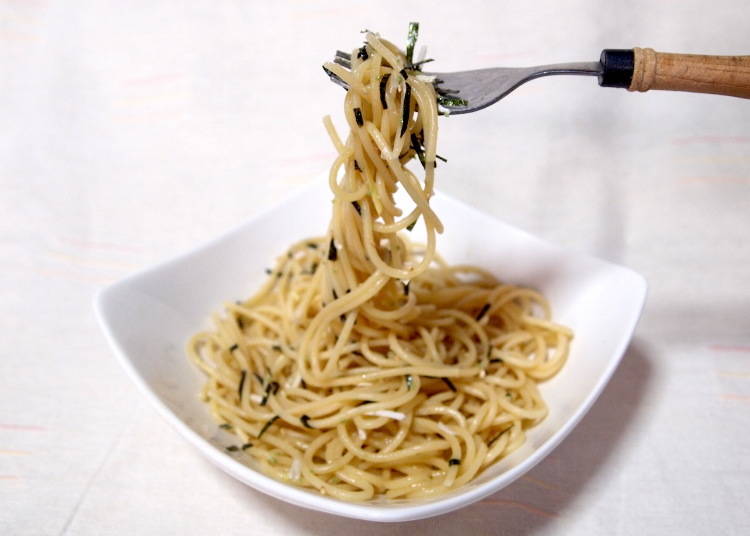 Thinly sliced white of the green onion, sesame, shredded seaweed, and wasabi powder go into this flavorful sauce.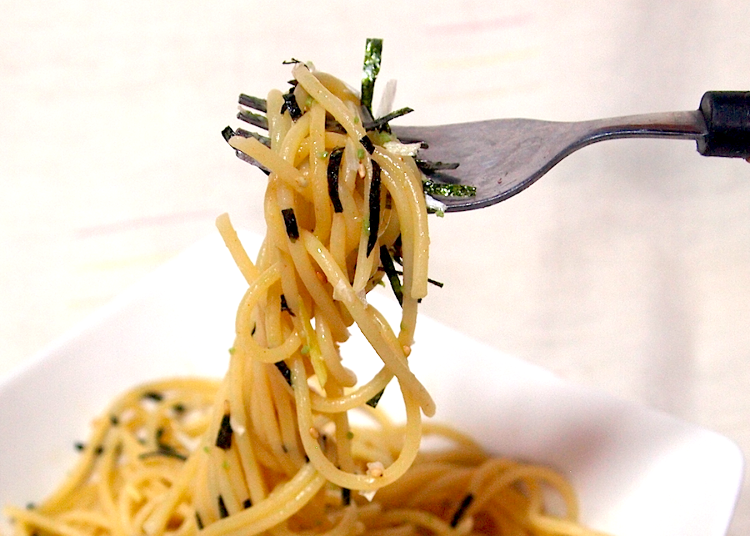 Add all the toppings and mix them well with the pasta.
Wasabi and pasta, an authentically Japanese combination.

This another pasta sauce that you can simply mix with your freshly boiled pasta without having to heat it up first. It is part of Nisshin Seifun's "Oh My 'Wa' Pasta" series ("wa" stands for "Japanese") and combines high-quality wasabi powder with garlic and soy sauce for a mix that we especially recommend to people who want to try authentically Japanese ingredients. The rich aroma is reminiscent of grating fresh wasabi, and the white part of a green onion, sesame, and shredded seaweed further add to the taste as intriguing toppings. It's not a flavor you'll find outside of Japan, which is exactly why this sauce should go in your shopping cart. The wasabi will sting your nose pleasantly with every bite! Next to this one, the series has eight flavors in total, also featuring yuzu and Japanese plum.
#5. A Rich Basil Aroma: Mazeru Dake no Spaghetti Sauce Basil (S&B Foods, 158 yen excluding tax)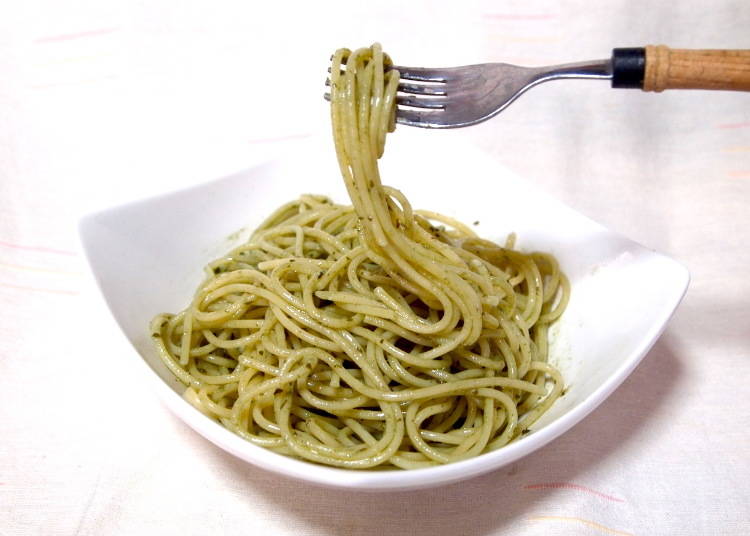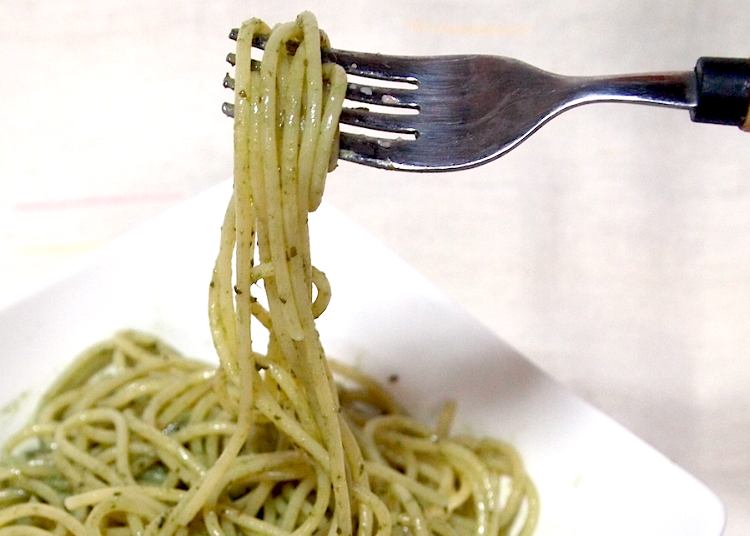 A Genovese sauce with olive oil.

The packaging is vividly green just like basil.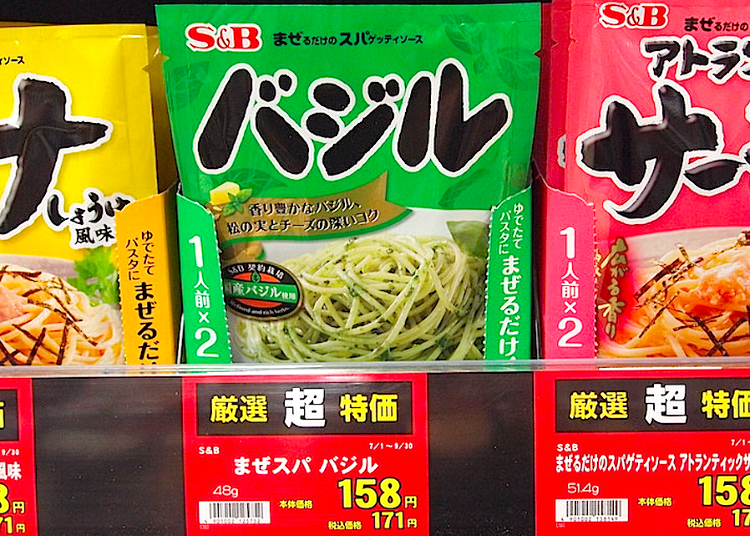 Simply add this sauce to your hot pasta and you have a delicious meal, no heating up required! It is made with domestically produced basil and aromatic pine nuts using contract farming and stands out with the richness of cheese. As soon as you raise the fork, the wonderful aroma of basil will tickle your nose and whet your appetite and while basil-based pasta is originally from Italy, Japan fell deeply in love with the flavor. This series focuses on Western-style pasta sauces such as aglio e olio, but also offers more Japanese-inspired tastes including tuna and soy sauce – there are 12 varieties to try in total. Especially the flavors of "raw cod roe" and "raw spicy cod roe" and popular, celebrating their 30th anniversary this year.
#6. The King of Creamy: Carbonara Sauce (Kewpie, 188 yen excluding tax)
The creamy carbonara sauce, super popular in Japan!

This is Kewpie's Carbonara Sauce. Egg yolk and cheese don't only make for an excellent combination, they also provide a rich and deep flavor – Japanese people love carbonara sauce! However, the Italian original does not feature any cream and uses pancetta instead of bacon, both of which are found plentifully in Japanese-style carbonara, along with a finishing of parmesan cheese. This sauce might redefine an old pasta favorite, so be sure to try this immensely popular sauce variety! It's thick but not persistent and every mouthful is smooth deliciousness!
#7. A Light Choice for Seafood Fans: Oh My Vongole Bianco (Nisshin Seifun, 128 yen excluding tax)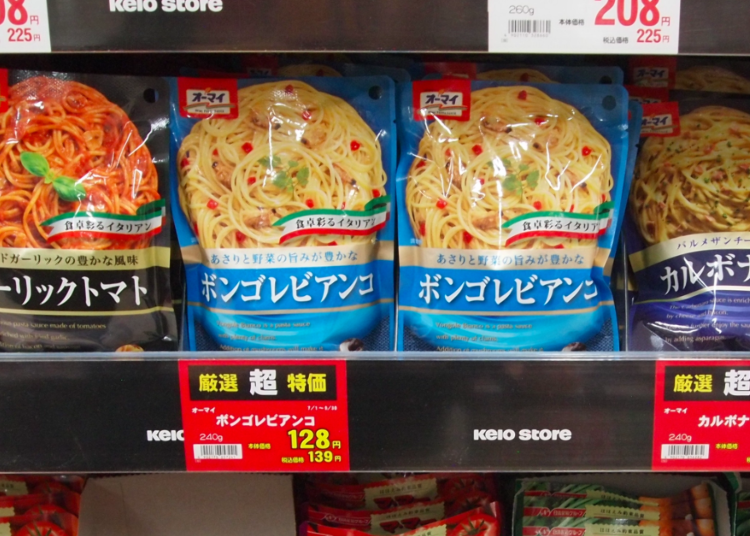 The blue packaging emphasizes the seafood theme.

Nisshin Seifun's "Oh My Vongole Bianco" boasts a rich taste that unites clams and vegetables. Red peppers add a nice splash of color and whole clams sit on top of the pasta. The sauce, featuring clam extract, is particularly known for how well it sticks to the pasta while eating. In Italy, "vongole" means "clam" and "bianco" refers to white wine in this case—though this sauce does not feature any of the latter. We nevertheless do encourage you to enjoy a cold glass alongside this sauce!
#8. Produced by Chef Ochiai, Japan's Pioneer of Italian Cuisine: Yoyaku de Ippai no Mise no Bolognese (S&B Foods, 348 yen excluding tax)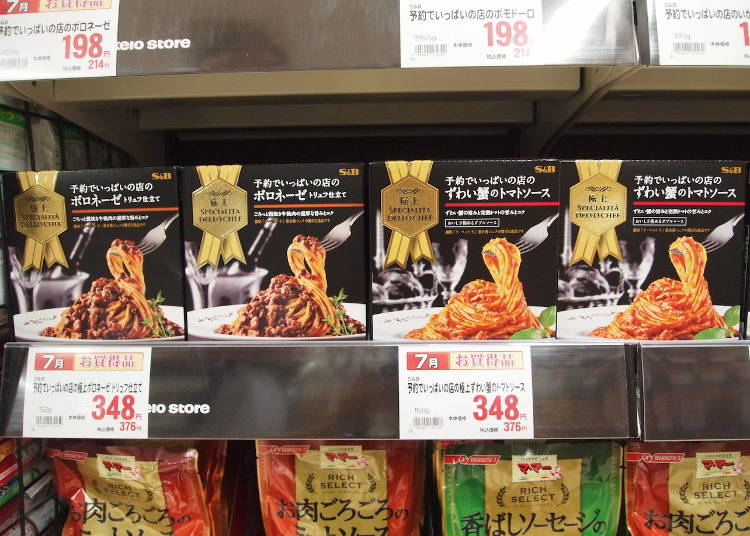 There's no one in Japan who hasn't heard of "La Bettola" in Ginza, an incredibly famous Italian restaurant run by Chef Tsutomu Ochiai. He learned the art of Italian food in Rome and Florence for years and even locals appreciate his cooking, so you can be sure that this sauce is chock-full of authentic flavors! Carefully chosen ingredients and brought to perfection with continued improvements, being able to savor this saucy delicacy at home is truly special. The Bolognese whets the appetite with the flavor of simmered beef and parmesan, to be sprinkled over your freshly cooked pasta. This series has 13 flavors in total, including Pomodoro, Arrabbiata, and so on, while the "Gokujo Pasta Sauce Series" and its five varieties further ups the luxury factor.
#9. Super Rich and Flavorful: Kraft Cheese Pasta Sauce Parmesan Noko Cream Cheese (Heinz, 348 yen excluding tax)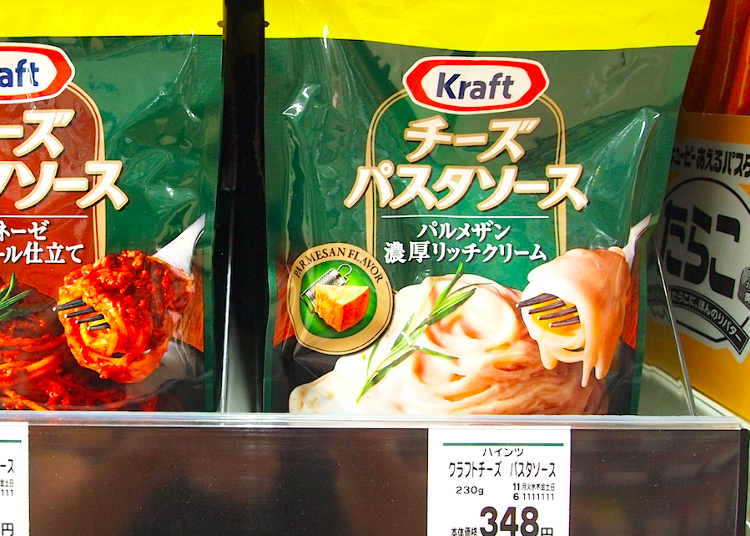 The color of the package is the same as Kraft's grated parmesan cheese.

Heinz' "Kraft Cheese Pasta Sauce Parmesan Noko Cream Cheese" uses, as the name suggests, the famous Kraft parmesan cheese. Known as a pasta sauce made by cheese experts, its main characteristic is the authentic richness of cheese engulfing your entire mouth. This cheese pasta sauce series features four varieties and including this one, there's also the "Cheese pasta Sauce Bolognese Camembert," "Cheese Pasta Sauce Cheddar Cheese Cream and Smoked Bacon," and "Cheese Pasta Sauce Mellow Cream Cheese and Spicy Cod Roe."
#10. A Rich Sauce with Shrimp Extract: Homard Tomato Sauce Soup (Heinz, 188 yen excluding tax)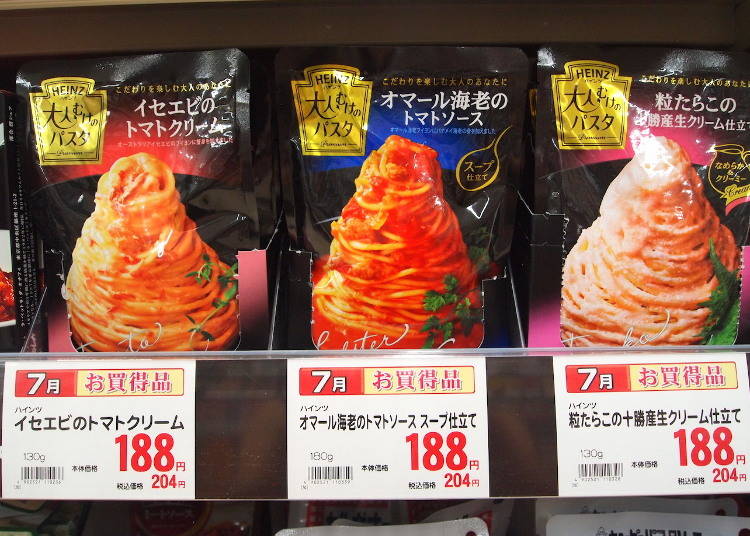 The packaging catches the eye with its unique pasta arrangement

This sauce is made with a soup of ripe tomatoes rich in umami and a bouillon blended with homard flavor. The homard and whiteleg shrimp extract are an intriguing combination and skillful use of spices will make this sauce one of your all-time favorites! The "pasta sauces for adults" series features nine varieties, with lobster tomato cream being one of the most prominent. Make sure to try your way through these sophisticated sauces to determine which one you like best.

Keio Store is a supermarket chain that is all about the daily life around Keio Electric Railway's lines. As of right now, there are 33 individual stores including the affiliates Kitchen Court and Keio Store Express, all of them loved by the locals. We hunted for the best heat-to-eat curry specialties at the Sakuragaoka Store, right next to Sakuragaoka Station, and also recommend its other diverse product selection, ranging from fresh foods to alcohol and miscellaneous goods. Women are the main customers during the day while office workers crowd the shop in the evening.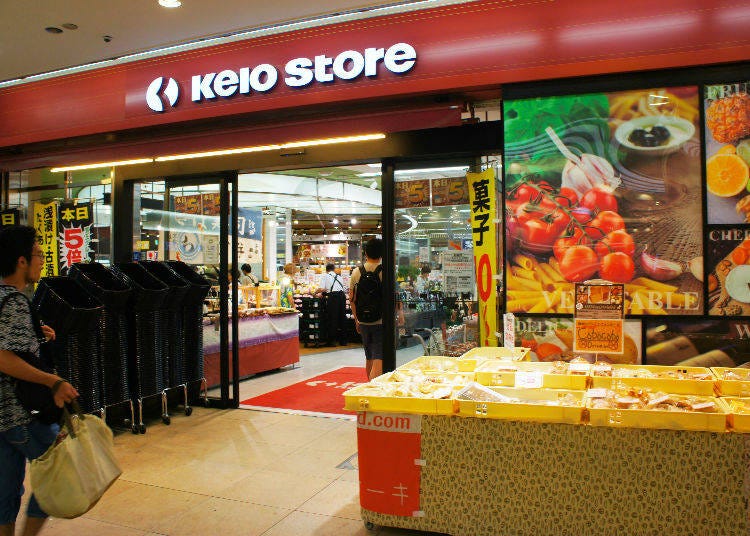 京王ストア 桜ケ丘店

Address

〒206-0011 東京都多摩市関戸1-11-1 / 1-11-1 Sekido, Tama-shi, Tokyo, 206-0011, Japan

Nearest Station

Seiseki-sakuragaoka Station (Keio Line), right next to the station


Phone Number

042-337-2511

Hours: 10:00 a.m. – 11:30 p.m. (2F is open until 9:00 p.m.)
Closed: January 1, irregularly twice a year
*This information is from the time of this article's publication.
*Prices and options mentioned are subject to change.
*Unless stated otherwise, all prices include tax.
Limited time offer: 10% discount coupons available now!