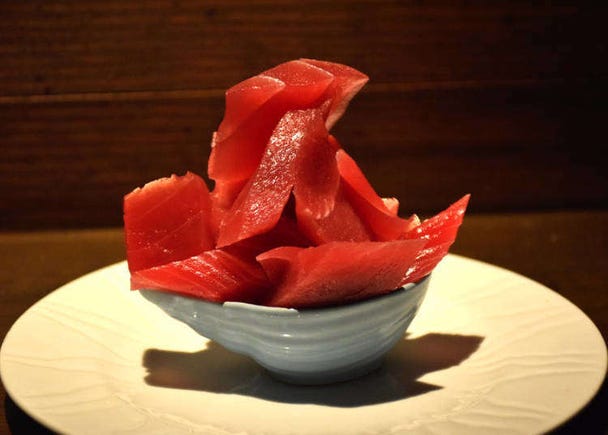 Hungry? You have to check out this restaurant where you can heap on as many tuna chunks as you possibly can - for just 100 yen (around $1)!

Maguro Bugyo To Kani Daikan in Shinbashi (Tokyo's east side) is a shop offering a unique and crazily great cost performance menu. We tried out the challenge where you can pile on as much tuna within one minute!
Maguro Bugyo: Delicious Izakaya Where You can Make a Tuna Tower for 100 Yen
About a 2 minute walk from Shinbashi Station, which is known as the holy land for salarymen (business men) is Maguro Bugyo to Kani Daikan (Tuna Governor and Crab Magistrate) known for its amazing cost performance.

It is near Shinbshi Station with many fantastic night spots, so it is a perfect place for bar hopping.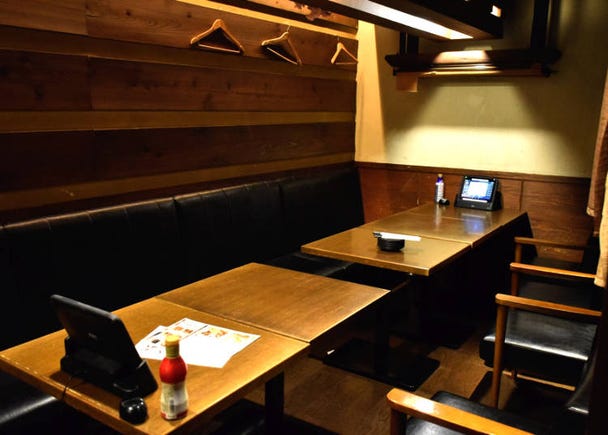 The store has 180 seats and most of them are semi private rooms. There are many partitions so you can relax without worrying about your surroundings.

The store's hit menu is the limited one serving per group, Magruo Butsu Mori Houdai (Heap on as Much Tuna Chunks as You Want) for 100 yen (without tax)!

Yup, your eyes are working correctly, it is really only 100 yen to heap on as much as you want!
Game like System to Heap on the Tuna!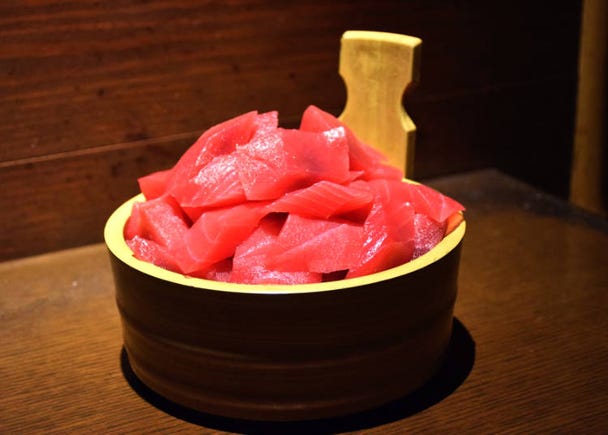 When you order the heap on as much as you want, a bowl filled with tuna chunk is served.

However it doesn't mean you get to eat everything in the bowl.
The rule is simple, you get one minute to heap on as much tuna as you can in a small plate!

If your plate overflows or you go over the time limit the game is over. The key is to quickly but carefully place the tuna.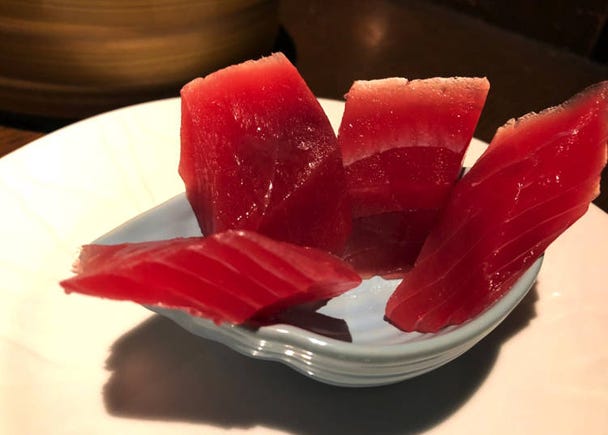 According to the staff, it is better to layer the sides of the plate with a wall of tuna, then you can create a stable tower.

They say that if you can stack 15 chunks in the plate that is a lot. We recommend you aim for 15 chunks on your first challenge.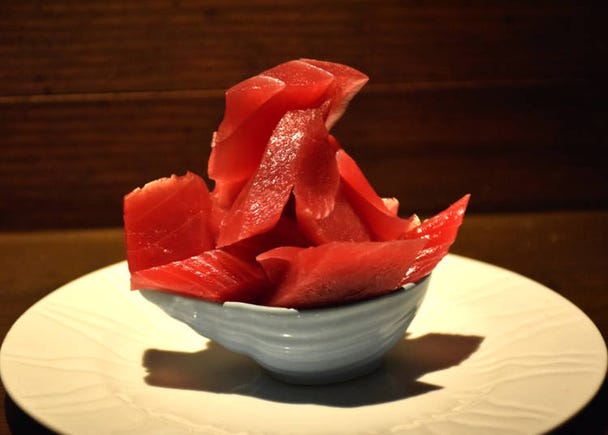 On this day we were able to stack 14 chunks of tuna!

All this for 100 yen, what a bargain!

The one minute time limit is much shorter than you think. Cheer on your friend as they fill up your plate!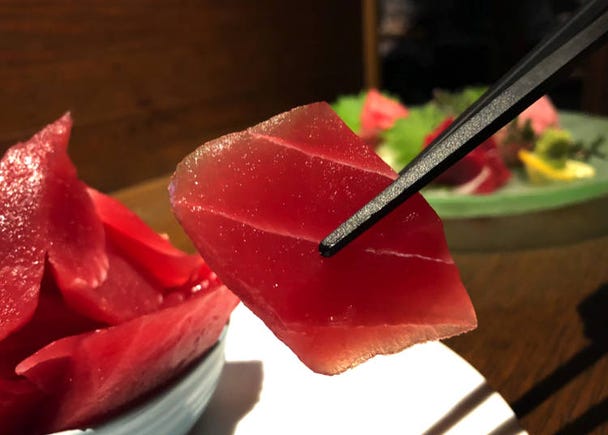 The tuna is moist and soft with some sweetness, a quality that will make you wonder with a slight pang of guilt if it's really okay to get so many delectable chunks for about a buck.

The more you chew, the umami increases - it is simple but matches beer. A perfect dish for your first round of drinks!
Many Fresh Seafood Options Including Tuna and Crab!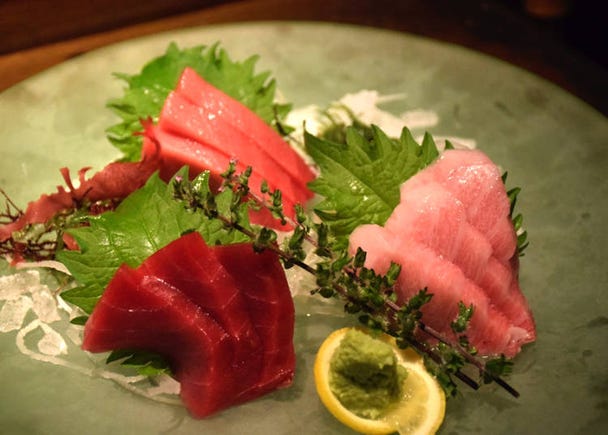 The store is popular for their tuna, and a popular dish is the Maguro Sanshu Moriawase (3 types of tuna plate) (1,814 yen), which includes akami (red meat), chutoro (medium fatty tuna) and otoro (fatty tuna). A dream come true for tuna lovers.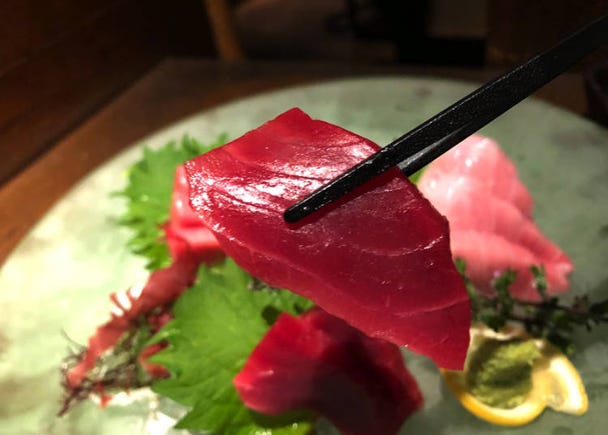 The akami with a smooth texture has a decent tenderness, with a taste that makes you crave more.

You can tell the tuna is fresh with its shininess.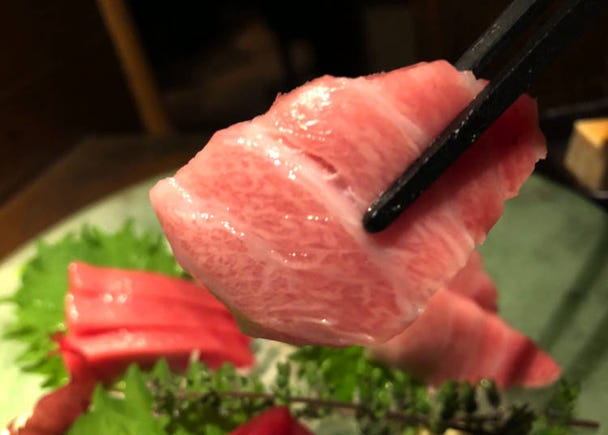 The pretty pink chutoro has the perfect juicy texture that matches your drink!

The feeling of the flavor of the tuna expanding in your mouth is something special.
Otoro with lots of fat packs a super rich flavor. The moment it goes in your mouth, it will start to melt!

Enjoy the blissful taste of tuna with your friends!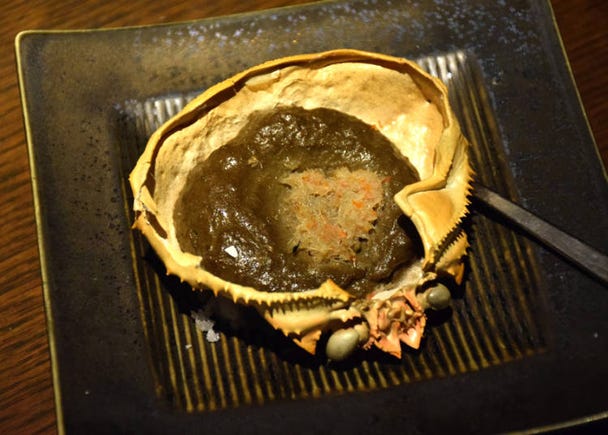 With a store name like Maguro Bugyo to Kani Daikan ("Tuna Governor and Crab Magistrate"), crabs are also their specialty.

Here is another popular dish Kani Miso Koura Yaki (crab fat grilled in the shell) (950 yen) is perfect with a cold drink!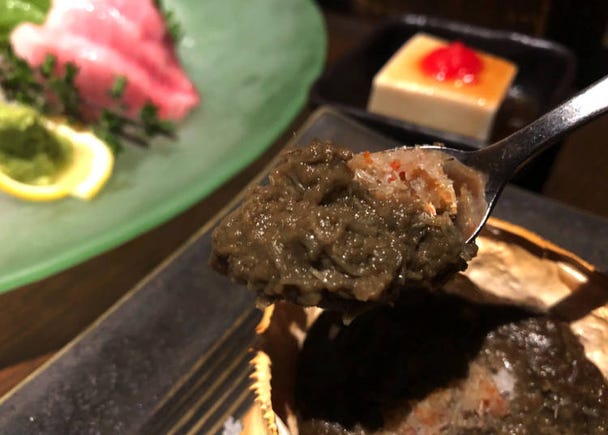 Not bitter and with just the right bite, the salt flavored crab fat has a great aroma and rich texture!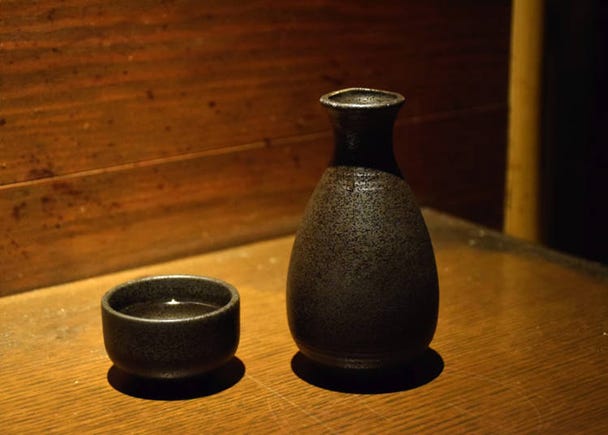 We recommend sake for kani miso and taking small bites as you sip your glass.

The reporter had some Masumi, a sake from Nagano Prefecture with a clear taste.

Such a wonderful moment being able to casually eat tuna and crab, and washing it away with some sake!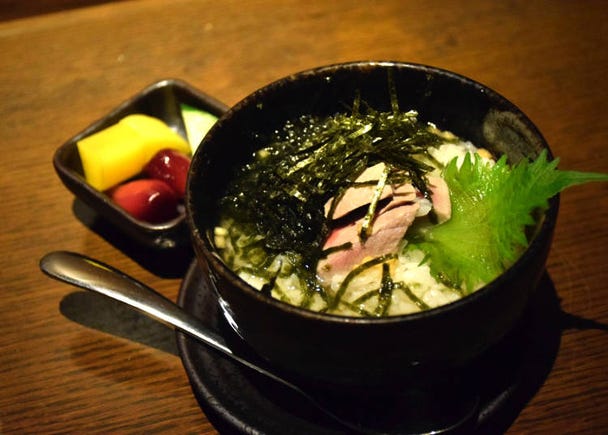 How about more tuna to finish your night? The Zuke Maguro no Ochazuke (soy sauce pickled tuna on rice with tea) (842 yen) should be your next order.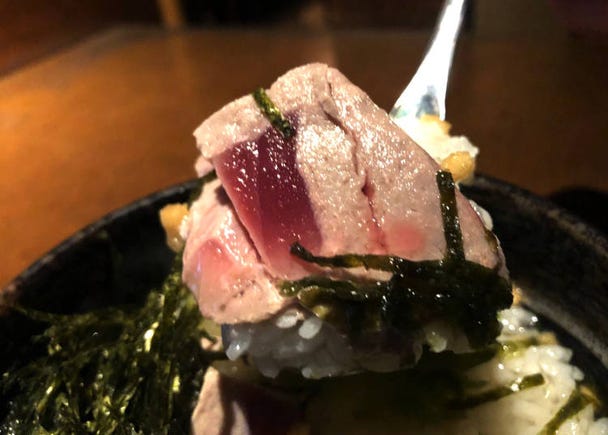 A mellow flavor that's perfect to finish your night of drinking. The sweet warm taste of tuna expands in your mouth.

You can refresh your mouth with various pickles like takuan (pickled daikon radish) and rakkyo (pickled Japanese scallion), which is perfect for the final dish.

One serving is pretty big so it might be just right to share it with 2 to 3 people.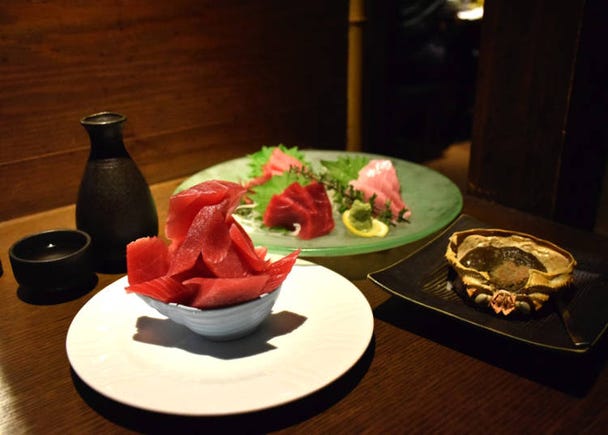 The 100 yen all you can heap on tuna can be enjoyed like a game with great cost performance. A perfect dish to spice up your conversation!

They also several other amazing tuna and crab dishes, we are sure that if you come with your friends or coworkers, you will have an amazing time.
Maguro Bugyo to Kani Daikan (Shinbashi Store)

まぐろ奉行とかに代官 新橋店

Address

Tokyo Minato-ku Shinbashi 3-23-1 Rox'R Shinbashi 3F

Nearest Station

Shinbashi Station


Phone Number

080-4197-2197

Hours: Lunch – 12 p.m. ~ 5 p.m. (L.O. 4 p.m., Drink L.O. 4:30 p.m.) * Lunch time is only for banquets with reservations.
Monday ~ Thursday, Sunday and holidays Dinner – 5 p.m. ~12 a.m. (L.O 11:30 p.m.) / Friday, Saturday and Day before holidays 5 p.m. ~ 12 a.m. (L.O. 11 p.m., Drink L.O. 11:30 p.m.)
Closed: Open daily
Writer by Yojiro Kurosawa

*Information as of March 2018. Prices include tax unless otherwise noted. Product and information may vary.

*This information is from the time of this article's publication.
*Prices and options mentioned are subject to change.
*Unless stated otherwise, all prices include tax.