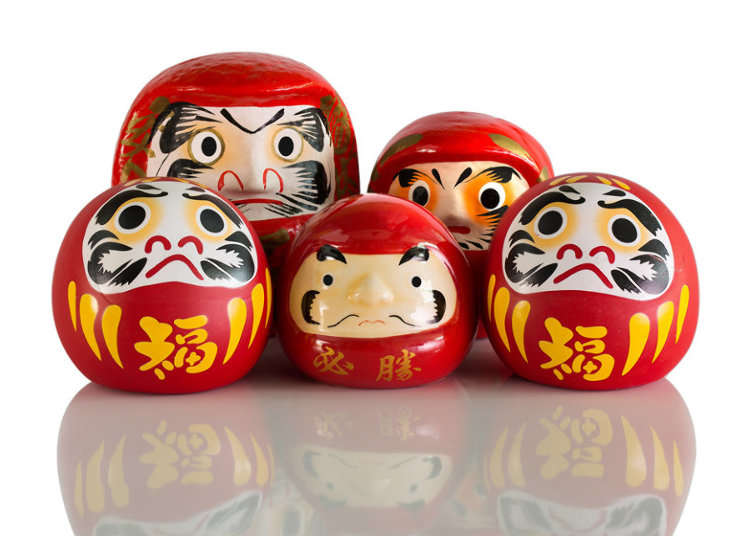 Anyone looking for spring activities related to traditional Japanese culture would do well to head to the Jindaiji Temple Daruma Fair in Chofu. This fair is the place to go to buy one of the iconic and auspicious red daruma dolls that are so prevalent in Japanese culture.

But what is the story behind these dolls? Read on to learn more about Daruma and where you can find them in Tokyo!
Daruma and Buddhist Legend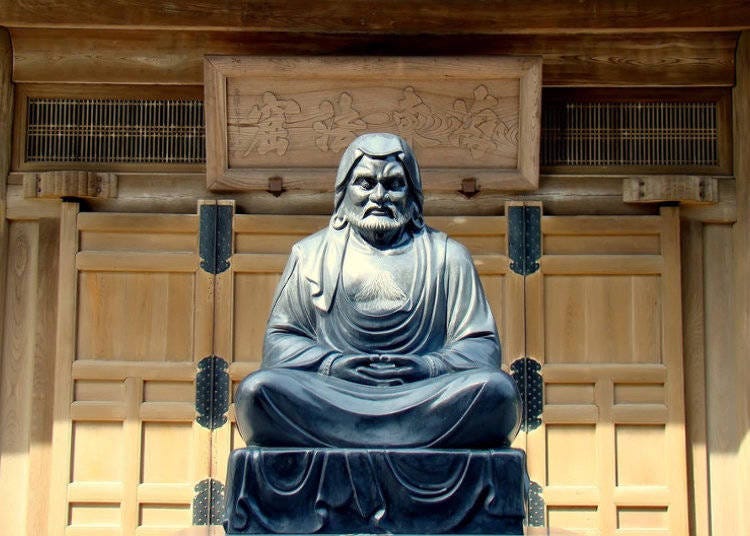 The Daruma doll, called simply 'daruma' in Japanese, was made as a figurative representation of Bodhidharma, a monk estimated to have lived in the 5th century, and who is credited with having founded Zen Buddhism. (He is also one of the "Six Patriarchs" of China.) Bodhidharma has become something of a legendary figure, as few of his biographical details can be verified.

According to the legend, he spent nine years in meditation, facing the entrance of a cave to reach enlightenment. It was during this long period of asceticism that it's said he lost the use of his limbs. The story goes on to say that to in order to prevent falling asleep during this meditation, Bodhidharma simply plucked out his own eyelids and threw them to the ground, where they sprouted into China's first green tea plants. This legend is the basis for the daruma doll that can be found even today: A round, limbless body with a stoic expression punctuated with its signature large, open eyes.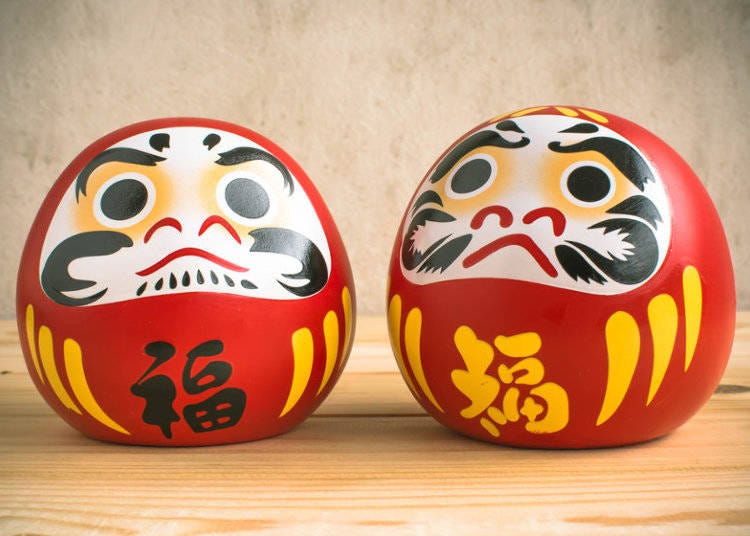 While Bodhidharma's story primarily takes place in China, the Daruma doll was actually created in Japan's Shorinzan Darumaji Temple in Takasaki (Gunma Prefecture). Priest Shinetsu, who founded the temple in 1697, began giving farmers pictures of Bodhidharma on talismans to ward off evil during the New Year's holidays. Later on, paper mache Daruma began to be produced. At that time, they more closely resembled human figures. It wasn't until the Meiji Period that the Daruma's signature rounded shape became the standard.

The figure is inspired by the image of Daruma meditating. Its eyebrows resembling cranes, and beard which resembles a turtle, are both symbols of longevity. The rounded bottom of the doll is weighted so that it always returns to an upright position even after being tipped. It is for this reason that Daruma is often associated with the Japanese proverb 'Nanakorobi Yaoki,' which translates to "Fall seven times, stand up eight." Even to this day, about 80% of all Daruma dolls in Japan are produced in their birthplace of Takasaki.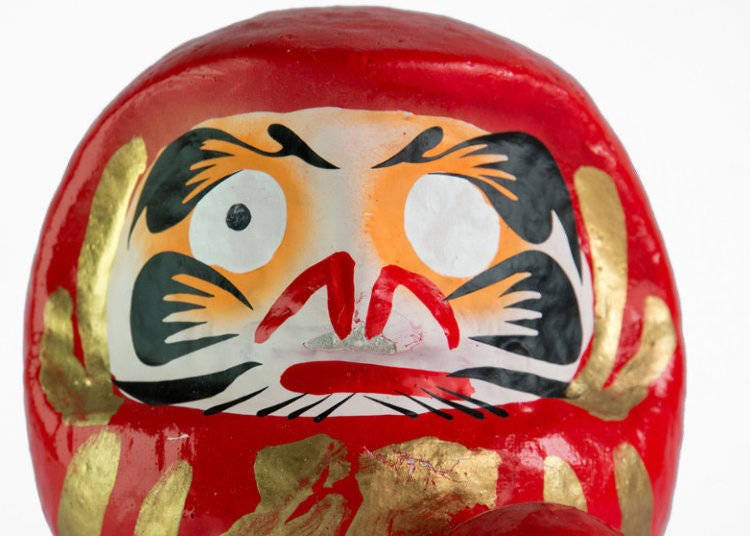 When you buy a Daruma, you should draw the left pupil in black, and make a wish. Passing in front of your one-eyed Daruma will remind you of your goal and will give you that extra push to complete it. If you are able to achieve your goal, you should draw in the second, signifying your luck and success. At the end of the year, it is common to bring back the completed Daruma to the temple grounds so it can be burned, and to buy a new one.
The Jindaiji Temple Daruma Fair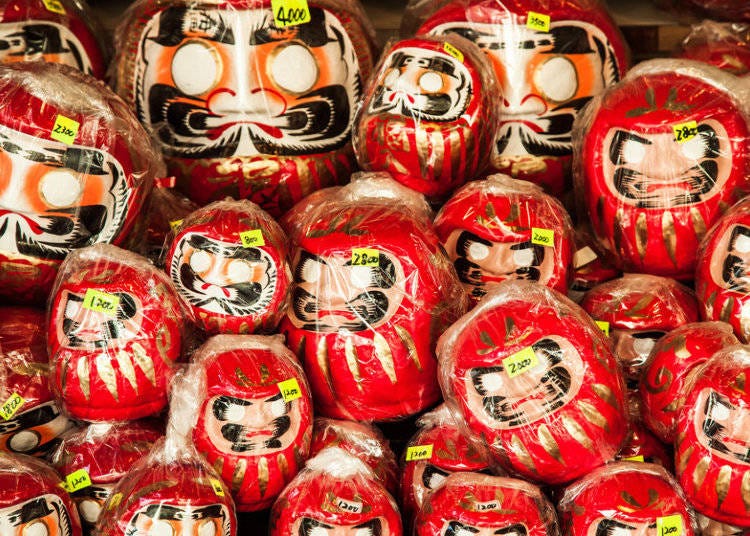 The spring brings visitors the chance to visit two notable Daruma fairs within the Tokyo area. The Jindaiji Temple Daruma Fair ('Daruma Ichi') in the city of Chofu is one of the largest in the Kanto Region.

Jindaiji Temple is the second oldest temple in Japan. Held on March 3rd and 4th from 10AM, the fair features a ritual known as 'Hyakumi Kuyo,' during which a procession and also an offering of sweets and tea for the Buddhist figure Ganzan Daishi takes place, as well as prayers for success are offered.

Visitors can visit hundreds of stalls selling not only Daruma dolls, but other traditional Japanese keepsakes, and refreshments. Additionally, visitors can opt to have monks write a Sanskrit character on their Daruma's eye, instead of drawing it in themselves.

Tip: The neighborhood where it is located is famous for its many delicious soba shops. So you may want to grab a bowl of the famous buckwheat noodles after visiting the fair!
深大寺

Address

5 Chome-15-1 Jindaiji Motomachi, Chofu, Tokyo 182-0017
*This information is from the time of this article's publication.
*Prices and options mentioned are subject to change.
*Unless stated otherwise, all prices include tax.