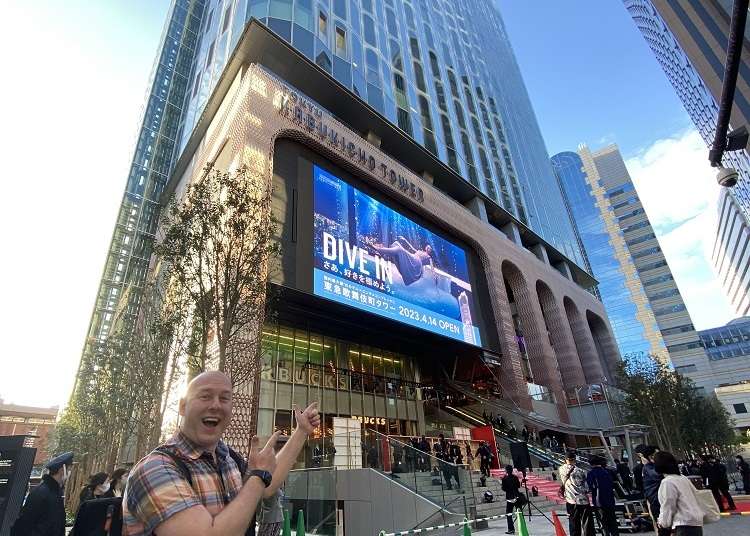 Tokyo never fails to impress with its constant evolution and redevelopment, and the latest addition to its skyline is the exciting Tokyu Kabukicho Tower!

This brand-new, state-of-the-art facility is located in the vibrant Shinjuku area - a must-see destination for both locals and tourists alike. With its grand opening in April 2023, it's already causing quite a stir in the city!

But what sets this tower apart from the rest? Well, we couldn't resist the opportunity to check it out for ourselves and give you an inside scoop! Get ready to discover the endless fun and entertainment that awaits you at the Tokyu Kabukicho Tower, including top attractions that will be a hit with foreign visitors!

LIVE JAPAN editor Timothy will guide you through this thrilling experience.
Introducing Tokyu Kabukicho Tower (Opened on April 14)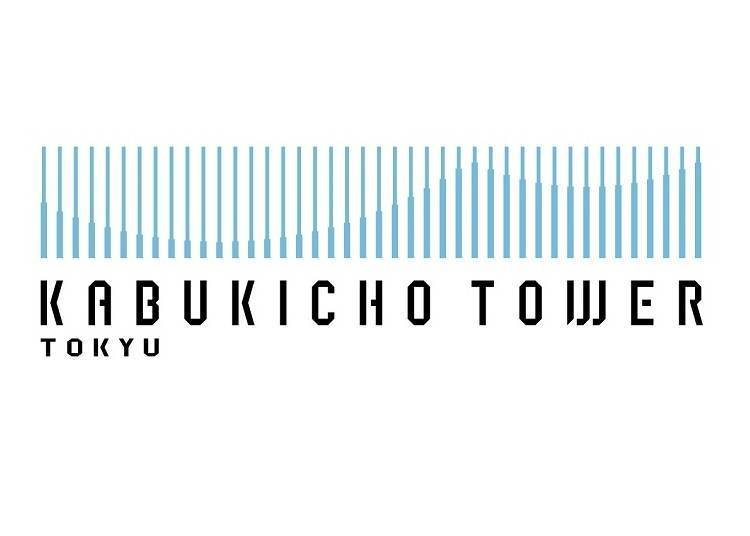 Standing tall at 225 meters, the Tokyu Kabukicho Tower is a colossal skyscraper complex that officially opened its doors on April 14, 2023.

With 48 floors soaring above ground, five below, and a dazzling rooftop floor, it's safe to say that this tower is one of the biggest and newest hotel entertainment complexes in Japan!

Boasting hotels, a movie theater, playhouse, live music clubs, and an array of restaurants, the Tokyu Kabukicho Tower has it all.

As a result, it's quickly becoming one of the most talked-about destinations in the Kabukicho district of Shinjuku, known for its commercial and entertainment facilities. This new landmark promises endless excitement and is not to be missed!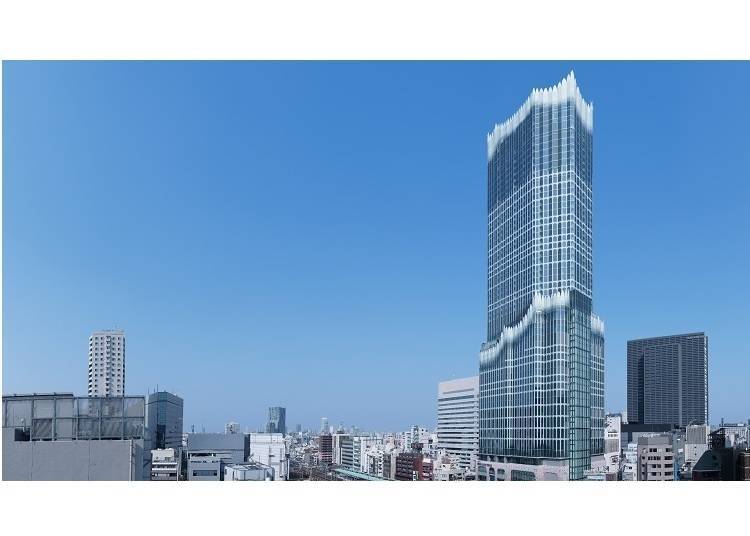 It's only a one-minute walk from Seibu Shinjuku Station on the Seibu Shinjuku Line and a seven-minute walk from Shinjuku Station on the JR, Odakyu, and Keio Lines. This towering facility is easy to spot wherever you are!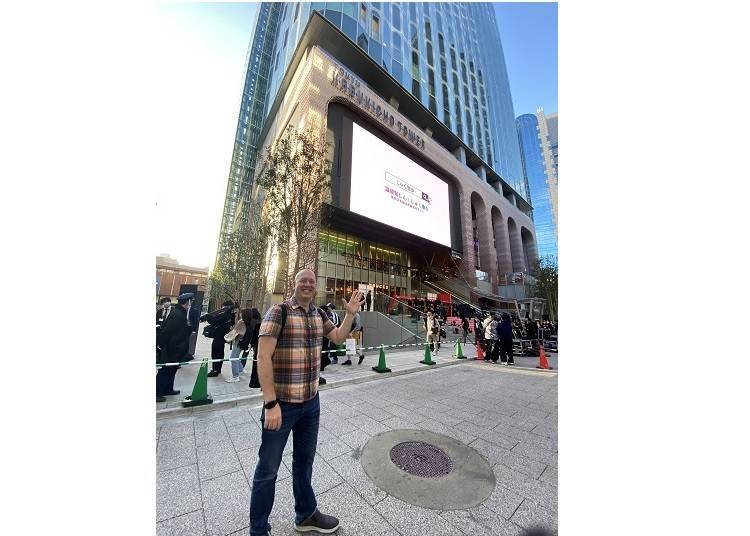 Tokyo Kabukicho Tower is easily recognizable due to its large digital signage, and various events are scheduled to be held here in the future.
(Floors 39-47) BELLUSTAR TOKYO, A Pan Pacific Hotel: Stay at a villa 200 meters in the sky!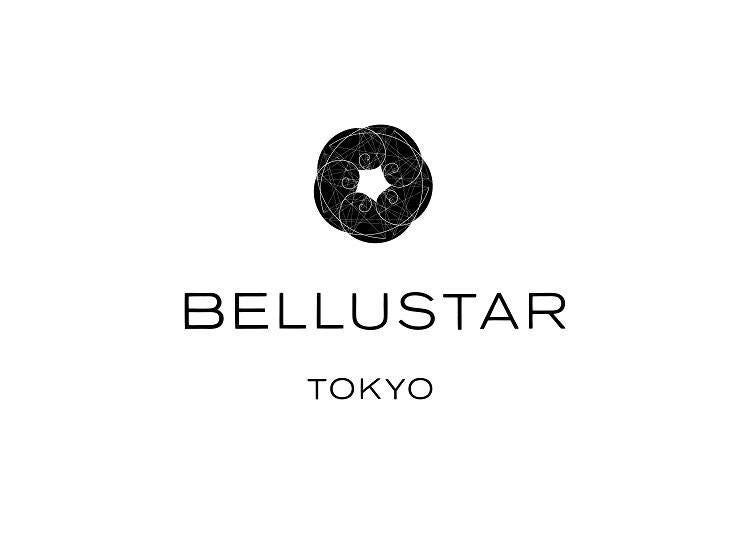 The 18th and 39th to 47th (top) floors are occupied by BELLUSTAR TOKYO, A Pan Pacific Hotel. This high-end hotel features a total of 97 exquisite rooms, including five breathtaking penthouse suites that offer panoramic views of the city. BELLUSTAR TOKYO is the perfect place to unwind and indulge in some much-needed relaxation. (Opened May 19, 2023).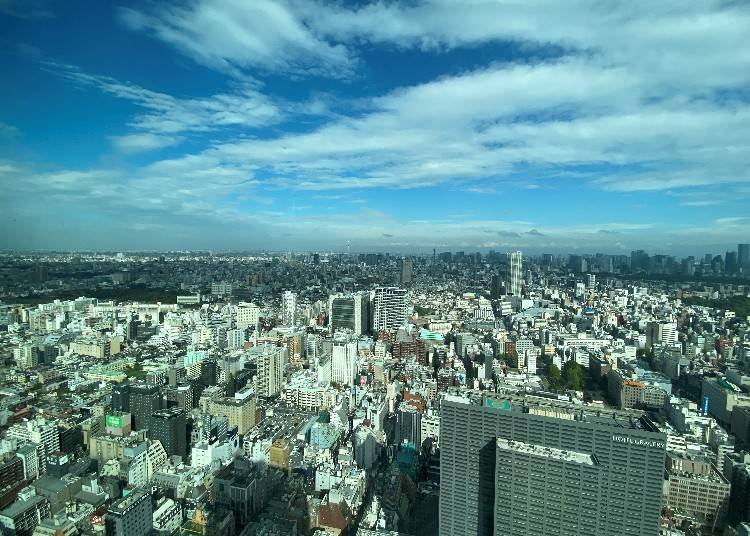 The view from the 45th floor, which is 200 meters above ground, is absolutely breathtaking! Tokyo Skytree®, the Tokyo Metropolitan Government Building, and the rest of Tokyo spread out below you.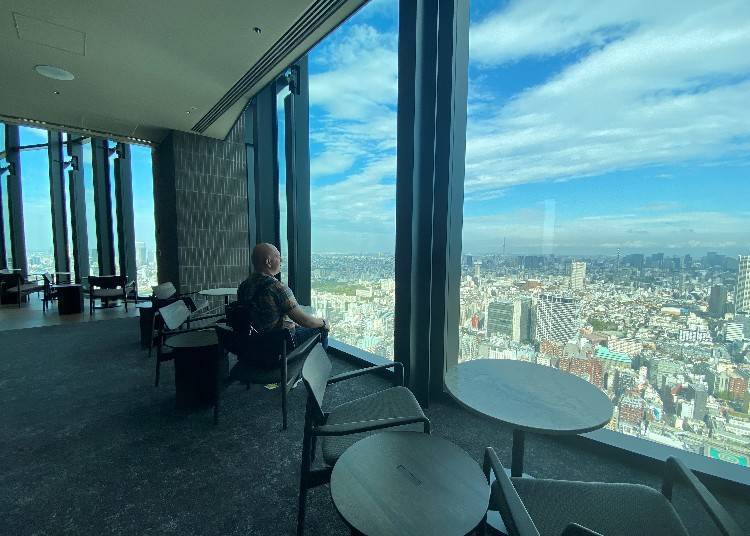 Perched atop the 45th to 47th floors, the bar and restaurant at BELLUSTAR TOKYO are not just for hotel guests.

Open to all, these spectacular dining and drinking spots offer an unforgettable experience that you won't find anywhere else in Tokyo! As you savor your delicious food and drinks, you'll be treated to stunning views of the city below that are nothing short of breathtaking.

"This is amazing! I highly recommend coming to see this view when visiting Tokyo. I'm sure the nightscape is spectacular as well," Timothy shared while relaxing at the bar lounge.
One of the most notable features of the restaurant is its open atmosphere, allowing you to relax while enjoying your meal. And let's not forget the view - it's truly a sight to behold and worth the visit alone!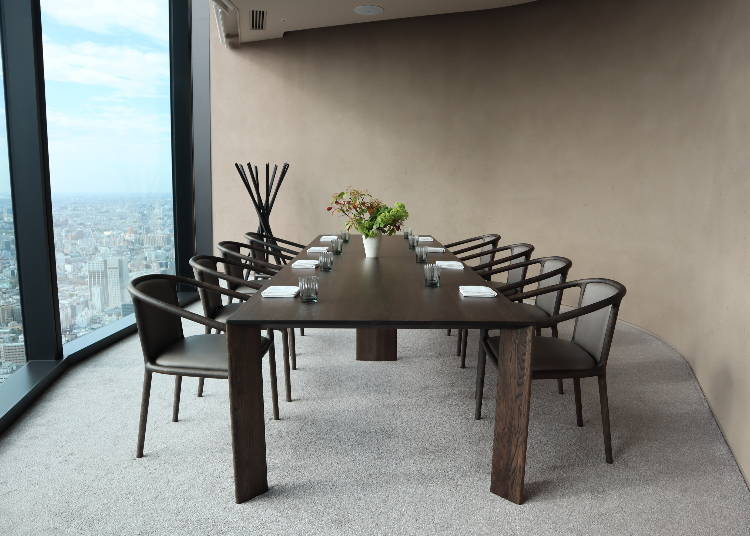 A private room that accommodates up to eight people is also available for special occasions and private dinners.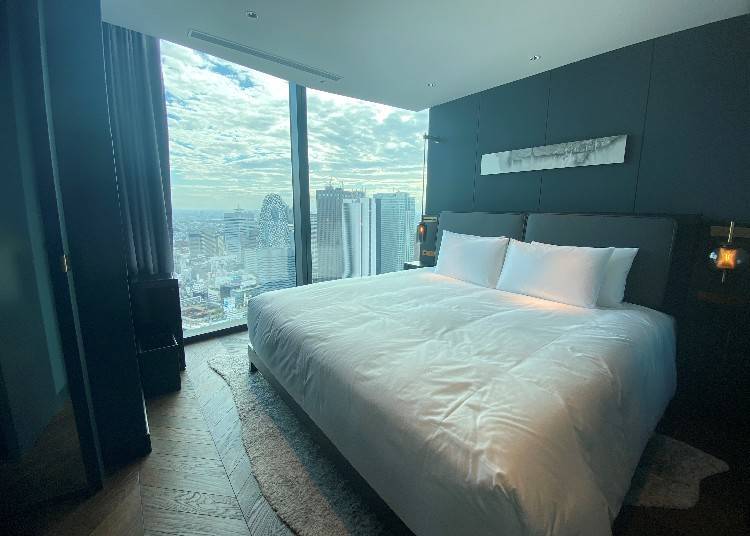 Rooms are typically decorated in a chic and relaxed manner, with Japanese cultural pieces woven throughout. Panoramic views can be enjoyed from the large windows.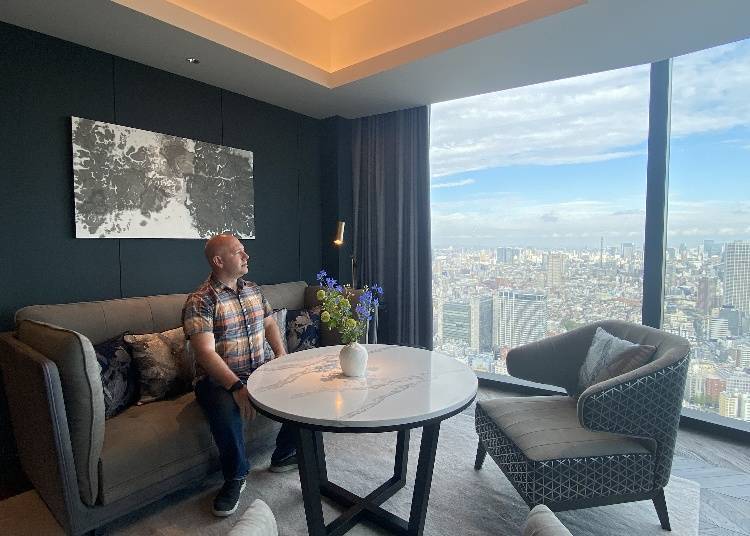 "The view from both the living room and bedroom is fantastic! I would love to stay here at least once."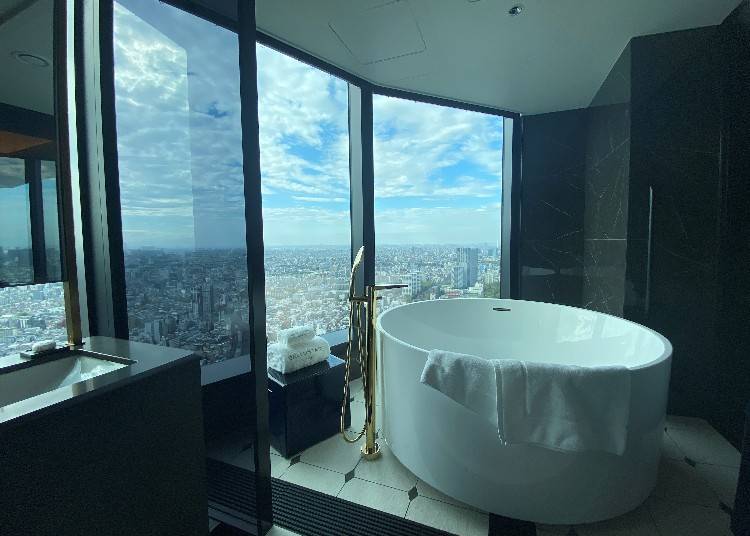 Here you can also enjoy a dreamily luxurious experience of soaking in a bath while taking in the view of Tokyo at night.
Address

1-29-1 Kabukicho, Shinjuku, Tokyo-to, 160-0021
View Map

Nearest Station

Seibu-Shinjuku Station (Seibu Shinjuku Line)
3 minutes on foot


Vacancy search, reservation

from

94,496JPY

1room, 2adults

Check with our partner site as the latest rates, rate details, and guest room requirements may vary.
(Floors 18, 20-38) HOTEL GROOVE SHINJUKU, A PARKROYAL Hotel: Discover Kabukicho's unique flair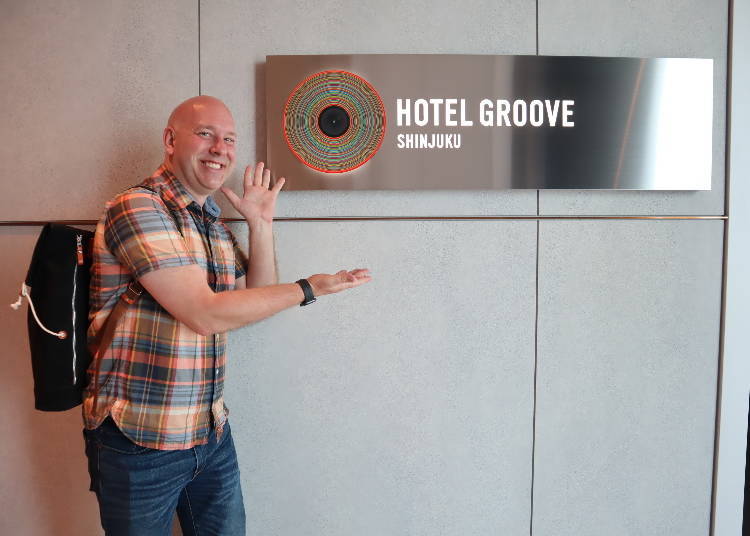 Spanning floors 20 to 38, HOTEL GROOVE SHINJUKU - A PARKROYAL Hotel is another outstanding accommodation option in the Tokyu Kabukicho Tower.

Its lobby is located on the 18th floor, welcoming guests to a space designed around art, music, and culture - perfectly in tune with the vibrant atmosphere of Shinjuku, known for its entertainment and nightlife. This hotel offers a more laid-back and casual experience, with a focus on practicality and comfort.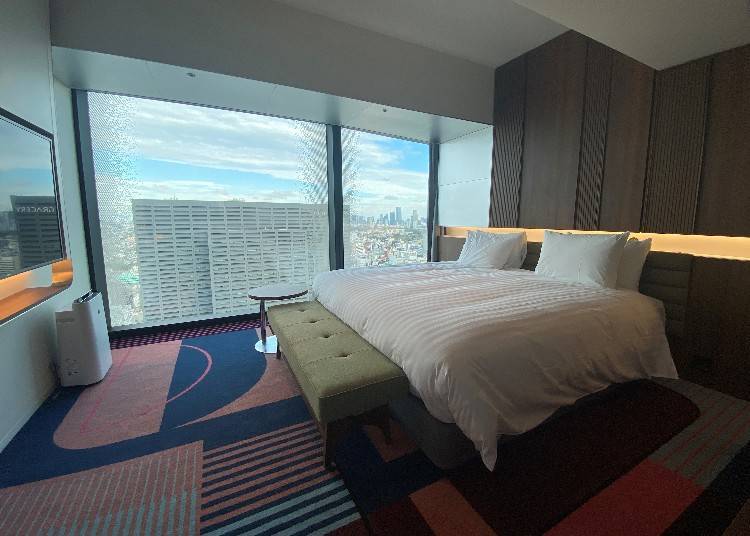 Guest rooms at HOTEL GROOVE SHINJUKU, A PARKROYAL Hotel also have large windows, creating a sense of openness and spaciousness.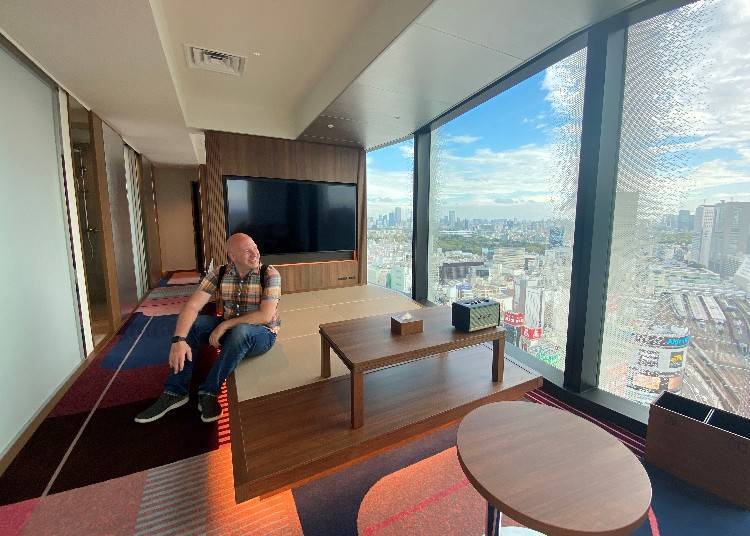 There is a total of 538 guest rooms, offering a wide range of accommodation options to suit every traveler's needs. From cozy and compact bedrooms to spacious rooms with kitchenettes, laundry facilities, and even small rooms with traditional tatami-mat flooring, you're sure to find the perfect fit for your stay.

As our LIVE JAPAN editor observed, "The rooms seem to be very welcoming to a wide range of guests, from single travelers to families. Also, they can accommodate both short-term and long-term stays."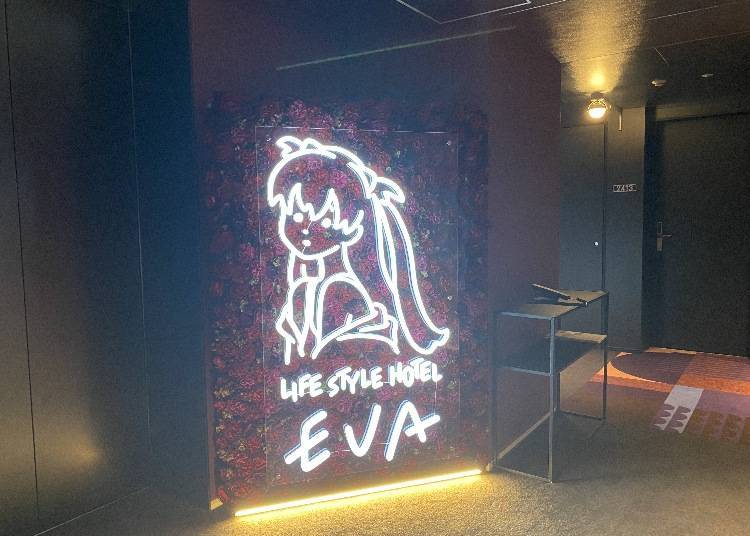 Currently, for a limited time, one floor has been taken over by LIFESTYLE HOTEL EVA in collaboration with Evangelion.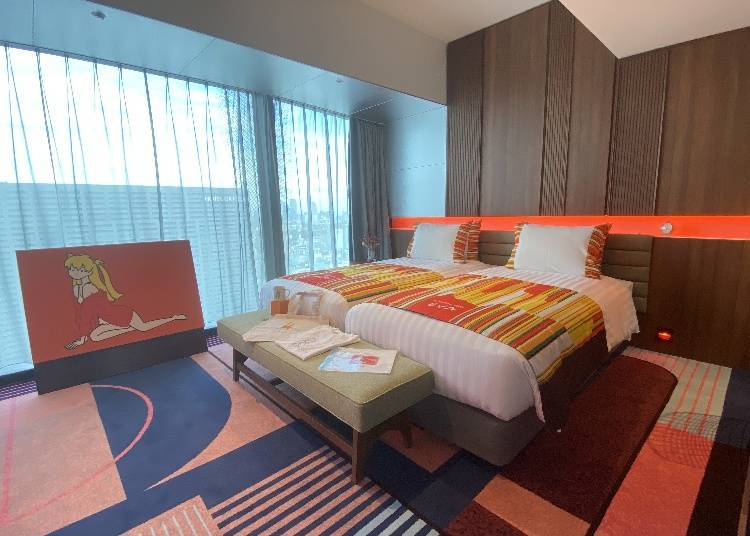 Special packages that offer special perks such as interior decorations, merchandise, and videos inspired by Evangelion characters are now available.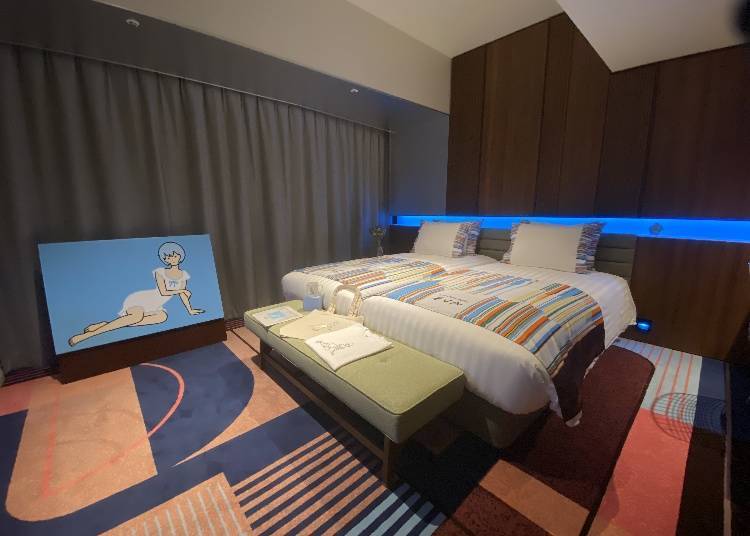 "This is a must-stay for all the Evagelion fans out there!" This package stay is available for a limited time until July 20, 2023, so if you're interested, act quickly!
Address

1-29-1 Kabukicho, Shinjuku, Tokyo-to, 160-0021
View Map

Nearest Station

Seibu-Shinjuku Station (Seibu Shinjuku Line)
3 minutes on foot


Vacancy search, reservation

from

33,561JPY

1room, 2adults

Check with our partner site as the latest rates, rate details, and guest room requirements may vary.
(Floor 17) JAM17 DINING & BAR: Enjoy a fun jam session!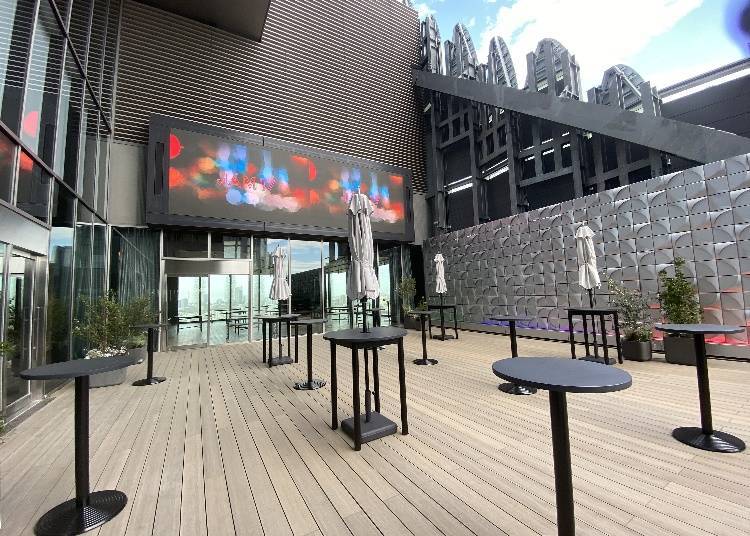 JAM17, located on the 17th floor, has a bar, restaurant, a gelato store, a rooftop terrace and event space!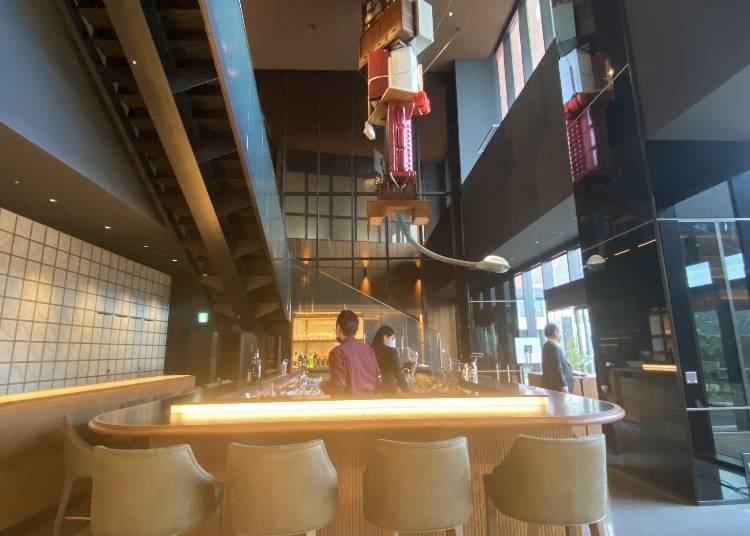 Whether you want to drop by the cafe for a quick bite, socialize with friends over drinks and food, or attend one of the many exciting events taking place here, the possibilities are endless.
(Floors 9-10) 109 Cinemas Premium Shinjuku: Enjoy Japan's first all-premier seating movie theater!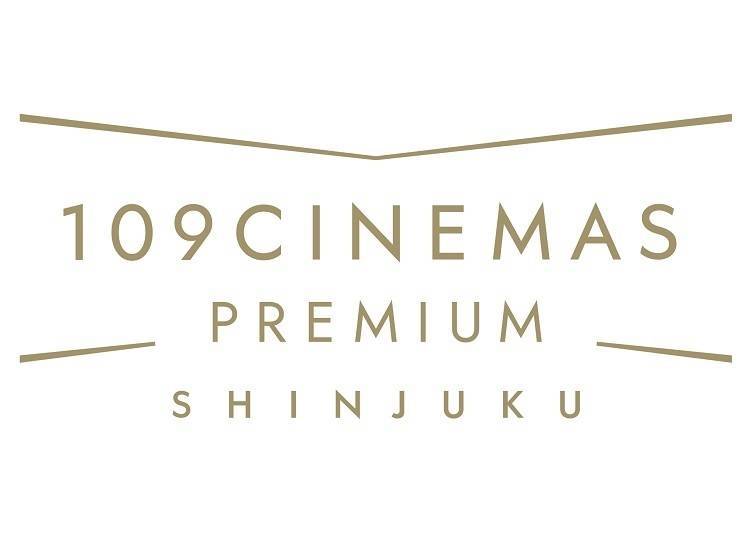 If you're used to traditional movie theaters, 109 Cinemas Premium Shinjuku - the latest addition to the 109 Cinemas brand - will blow your mind! Unlike your average cinema, it focuses on providing a top-notch audio-visual experience and unmatched hospitality. As a matter of fact, it's the first cinema complex in Japan to exclusively offer premier seats, ensuring a truly premium viewing experience that's second to none.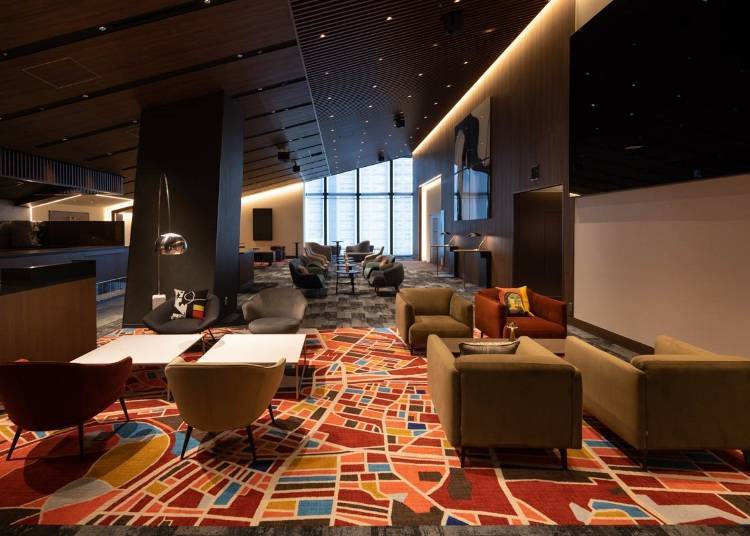 This is the movie theater lounge. It's an elegant and relaxing space reminiscent of a luxury hotel lobby, far from what you would imagine a regular movie theater to look like.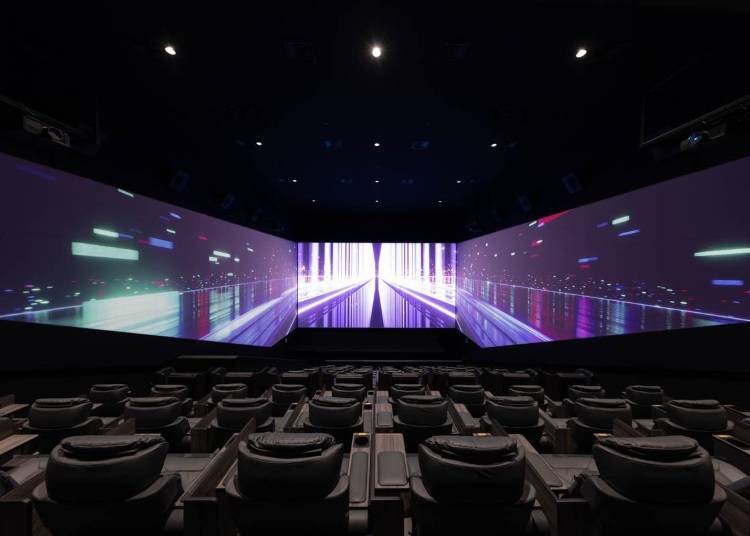 The audio-visual environment is exceptional! With premier seats that are up to 2.3 times larger than those found in traditional multiplexes, a "ScreenX" wide-view theater that expands the main screen and immerses you in the movie, plus state-of-the-art sound systems supervised by the legendary Ryuichi Sakamoto, every aspect of your viewing experience is sure to be top-notch.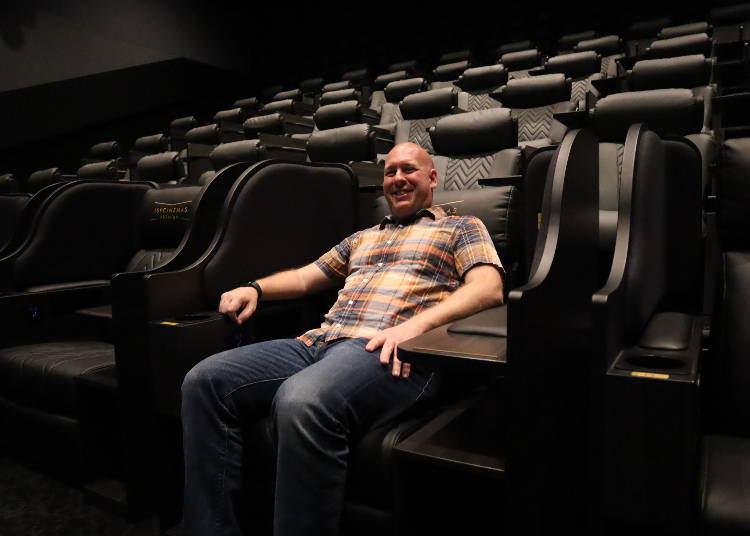 You can choose between two types of premier seats - A or S - with the photo above showcasing the S variety. These luxurious seats are equipped with automatic reclining options, ample luggage storage space, and even convenient charging stations!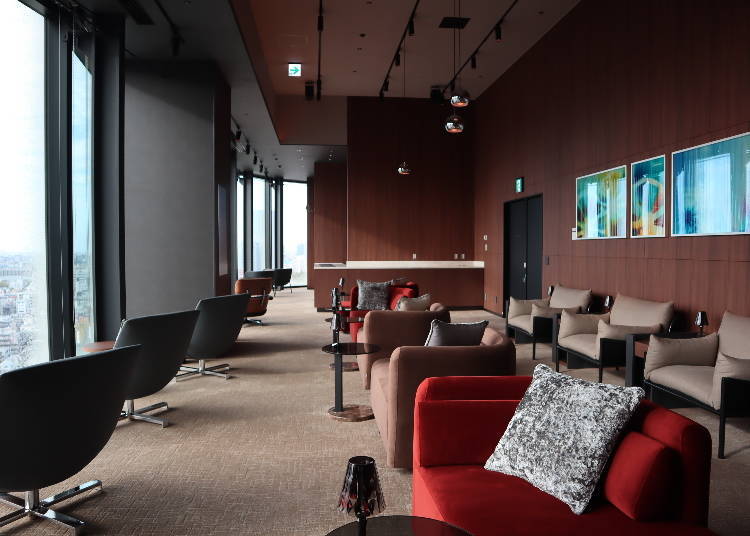 The S seats come with exclusive use of lounge after the movie and one free drink. With a full array of facilities where you can fully immerse yourself in the world of cinema before and after the show, a visit to this theater is not just for "going to the movies," but a special event!
(Floors 6-8) THEATER MILANO-Za: Enjoy Plays, Music, and Video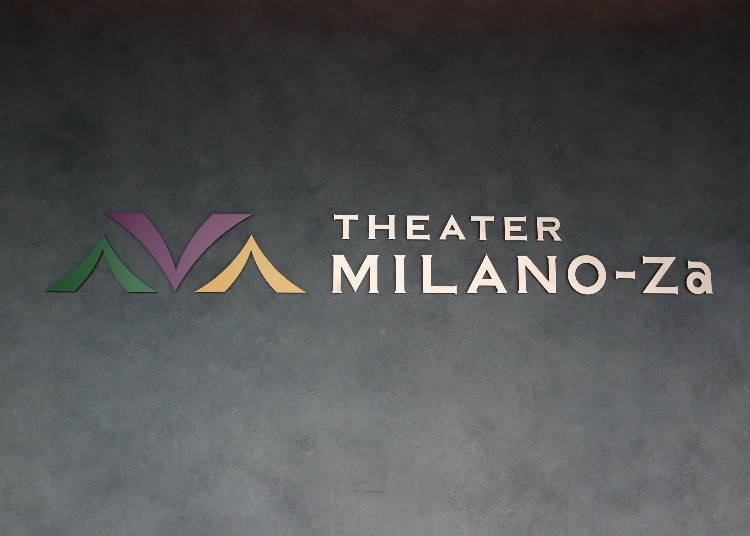 Tokyu Kabukicho Tower was built on what formerly the Shinjuku Milano-za theater. The tower's new facility, THEATER MILANO-Za, carries on its name.
Despite its huge size and being able to seat around 900, the theater boasts an intimate atmosphere with a close distance between the stage and the audience. This creates a unique environment that allows performers and audience members to truly connect and become one during a performance.
(Floor 5) EXSTION: A members-only wellness club centering on beauty and health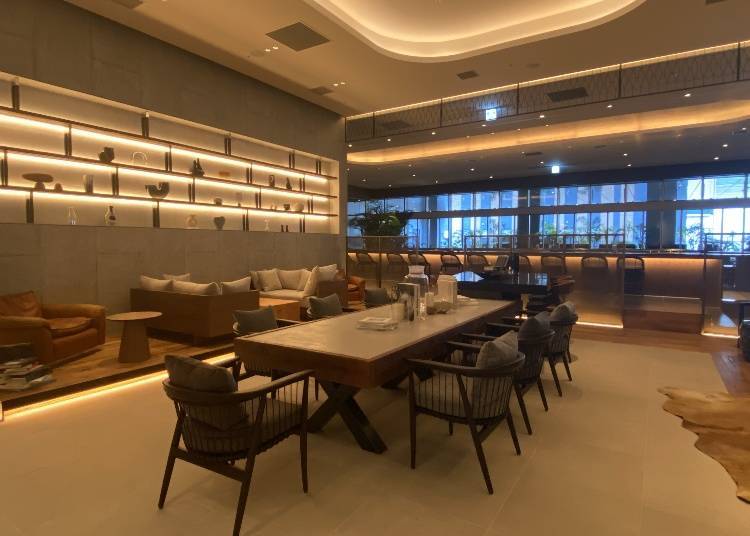 On the fifth floor is EXSTION, a wellness entertainment facility that offers a variety of services aimed at improving physical and mental health as well as better living.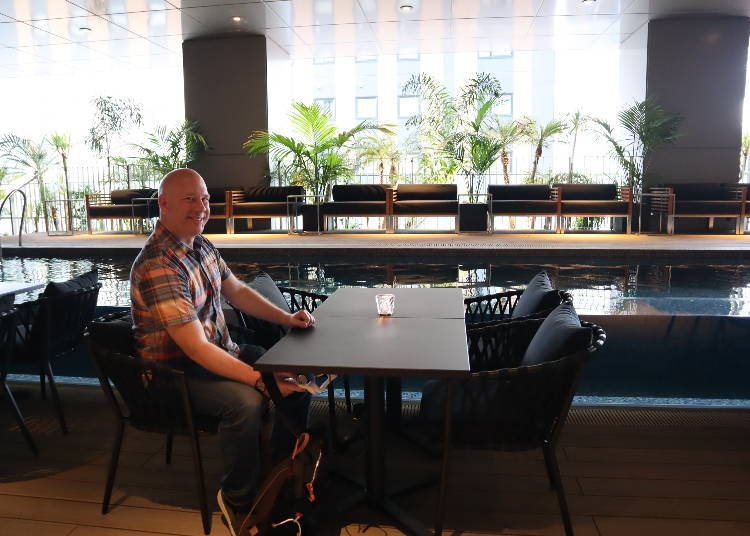 The facility is themed around "beauty and health," and includes a training gym, a private sauna, a terrace pool, an art congenial restaurant open to the public, and more facilities available only to members.
(Floor 4) THE TOKYO MATRIX: Experience an interactive attraction in a dungeon!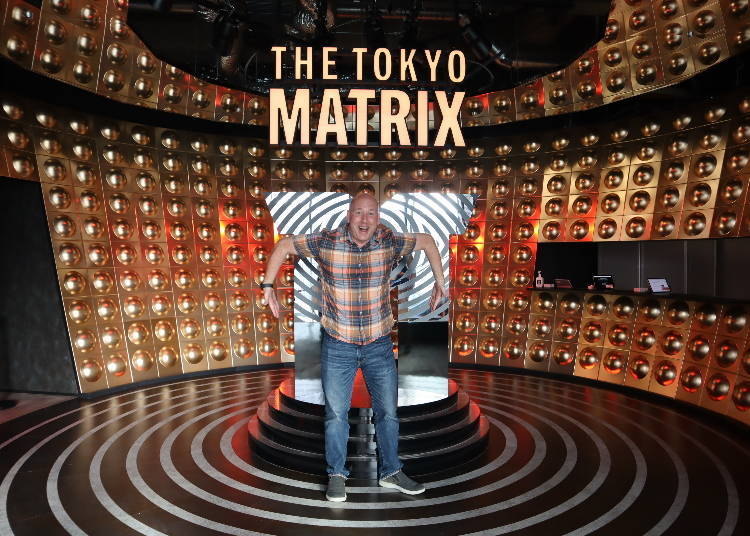 Get ready to immerse yourself in the latest cutting-edge technology with THE TOKYO MATRIX - an exciting new interactive attraction that takes entertainment to a whole new level.

Here, you'll become an avatar and enter a thrilling virtual space where you'll embark on a series of exciting missions and adventures in a dungeon-like setting.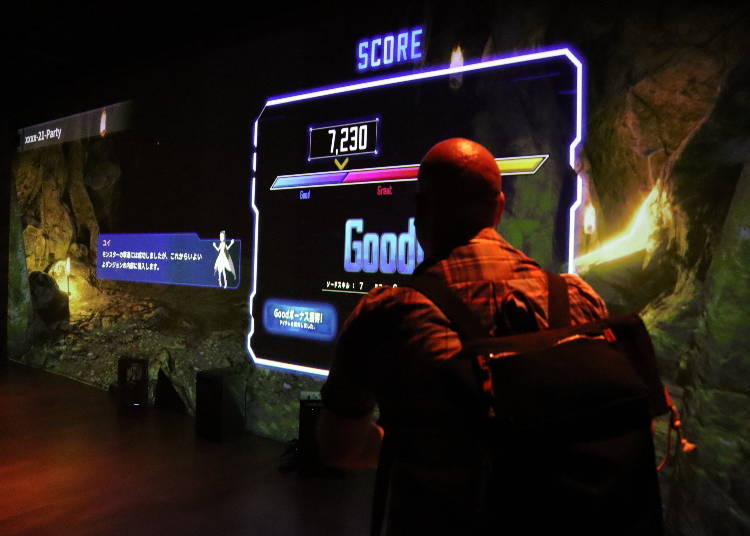 On the day our editor visited, he got to experience a small taste of what this game had to offer. As his avatar reacted to his movements, Timothy had to give it his all. "This is going to be fun!"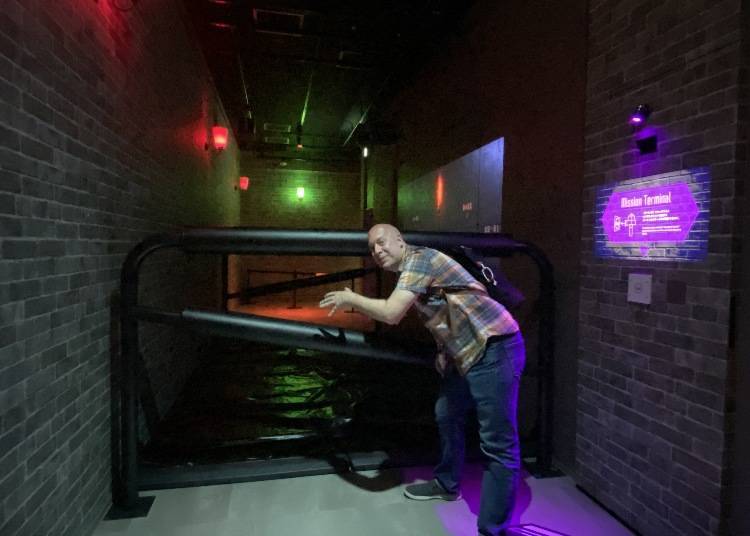 This game is said to be quite difficult to win and the mission changes every time you go. It's an attraction you can enjoy no matter how many times you try it!
(Floor 3) namco TOKYO: Experience a fusion of games, food, and events for the ultimate entertainment!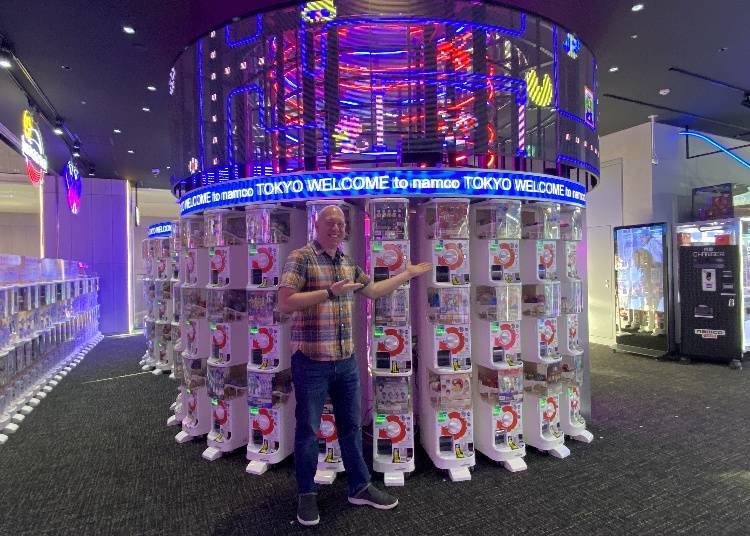 Get ready to level up your entertainment game with namco TOKYO - the ultimate hub for non-stop fun and excitement on the third floor! This brand new business model by the BANDAI NAMCO Group combines everything you need for a thrilling time, including games, machines, delicious food, and epic events.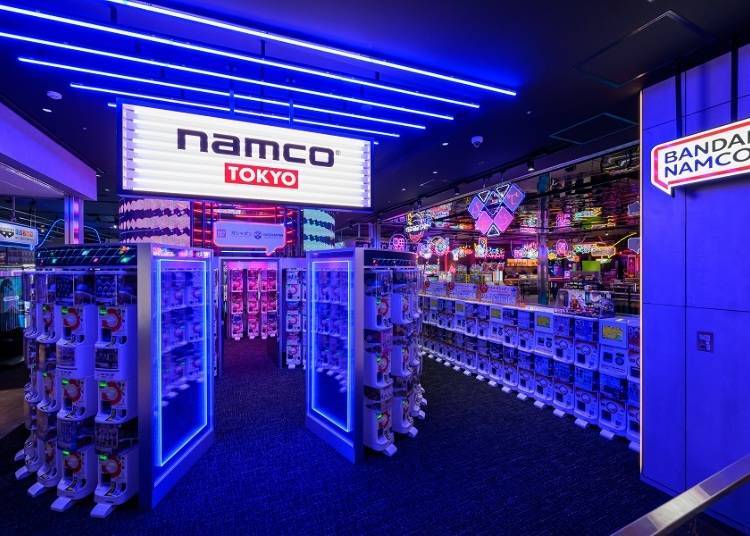 Here is a total of 250 "gachapon" capsule toys, which are very popular overseas! In addition to this, there's "Gachapon Odyssey" the only capsule toy machine in the world (as of April 2023) equipped with 3D images.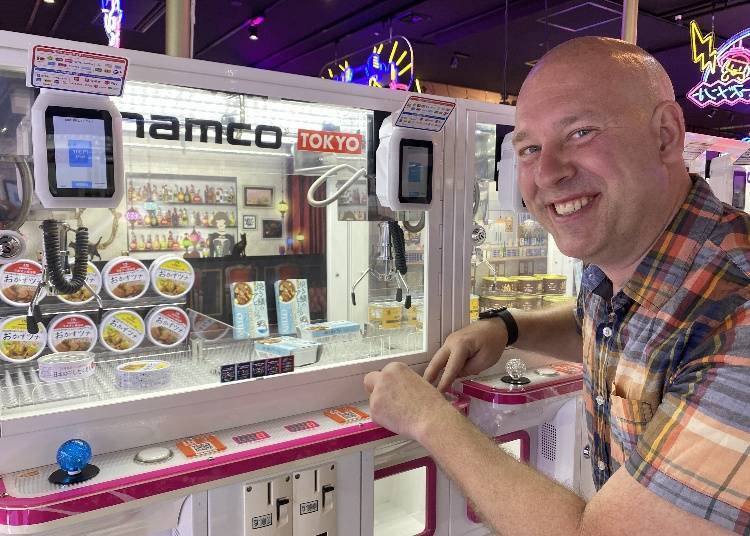 Claw machines of all sizes are available, with prizes ranging from stuffed animals and knick-knacks to canned goods!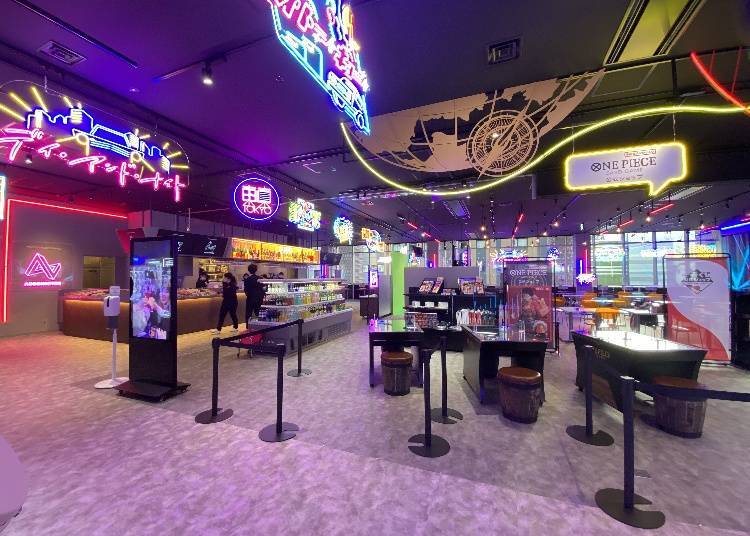 MUSIC&PLAYLOUNGE "ASOBINOTES" offers drinks and food with music played by an A.I. D.J.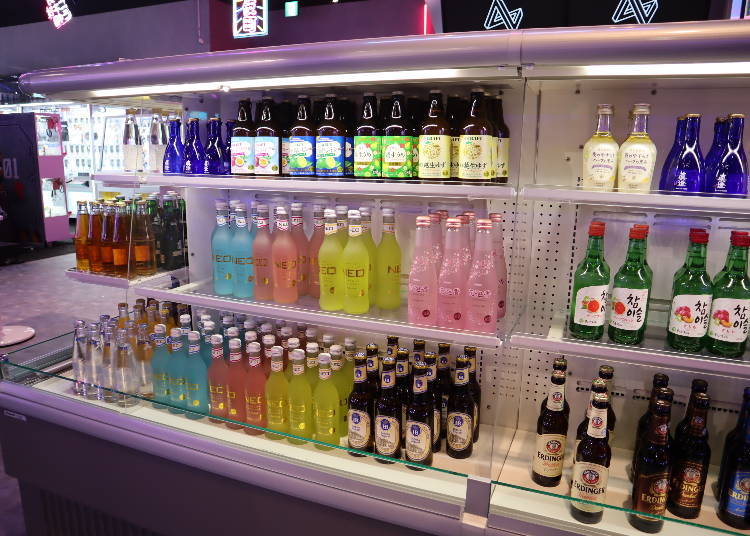 Whether you're taking a break between games or simply looking to unwind with friends, namco TOKYO has got you covered! This space offers the perfect spot to relax and enjoy drinks while taking in the exciting atmosphere. And if you're feeling peckish, be sure to try their rare local canned goods - the perfect snack to accompany your favorite alcoholic beverage.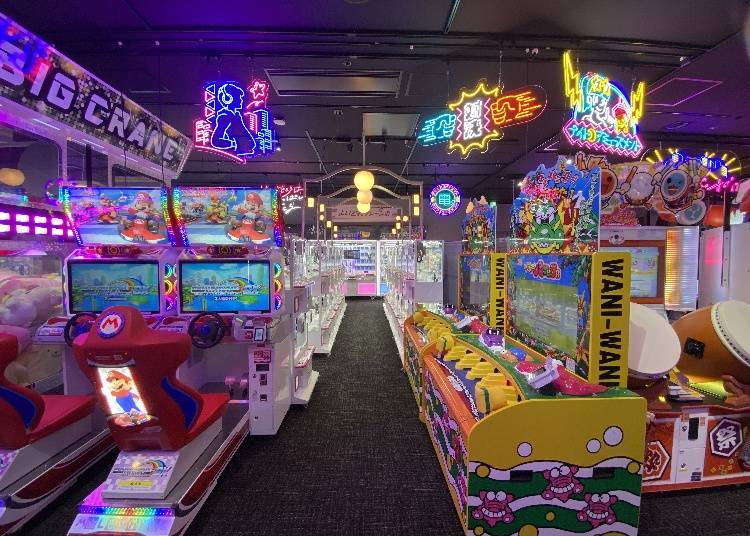 There are many machines that will thrill everyone, including Gator Panic, Mario Kart, and Taiko Drum Master, all of which are well-known at Japanese video game arcades!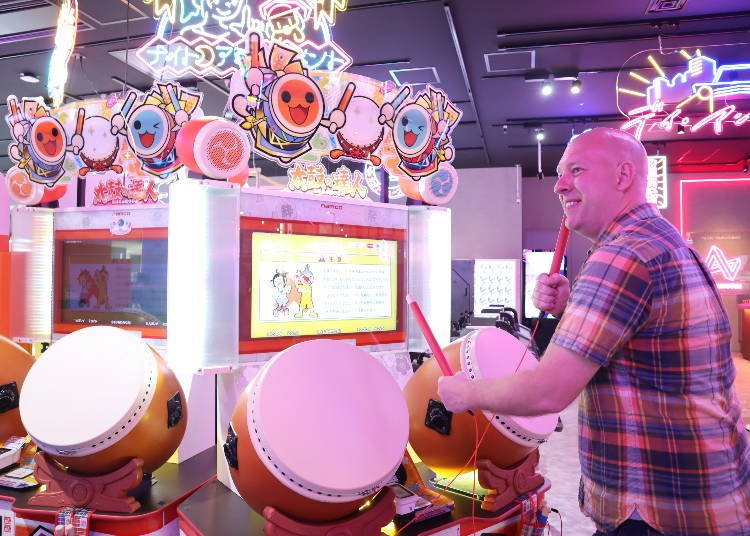 "I could stay here all night!" exclaimed Timothy, with his hand still hovering awkwardly in the air as he tried to master the taiko drums.

One of the many great things about namco TOKYO is their cashless payment system, which accepts various forms of digital payments for games, food, and beverages. This is especially convenient for tourists, who no longer have to worry about carrying around coins to enjoy all the fun and excitement this amazing entertainment complex has to offer.
(Floor 2) Shinjuku Kabuki Hall - Kabuki Yokocho: Indulge in Shinjuku's ultimate food entertainment scene, from morning till night!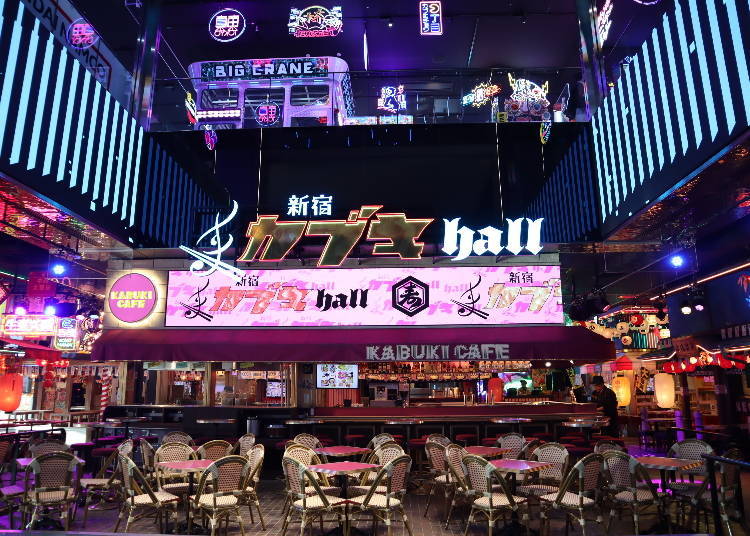 Shinjuku Kabuki Hall~Kabuki Yokocho, a food court open from 6:00 a.m. to 5:00 a.m., is inspired by Japanese festivals and food stalls.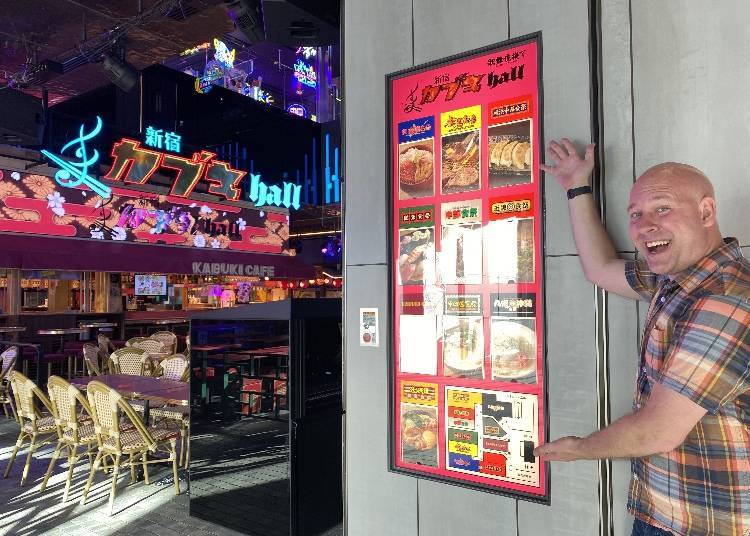 The food court features ten restaurants offering a wide variety of local delicacies from Hokkaido to Okinawa prefectures and seats a whopping 1,300 people.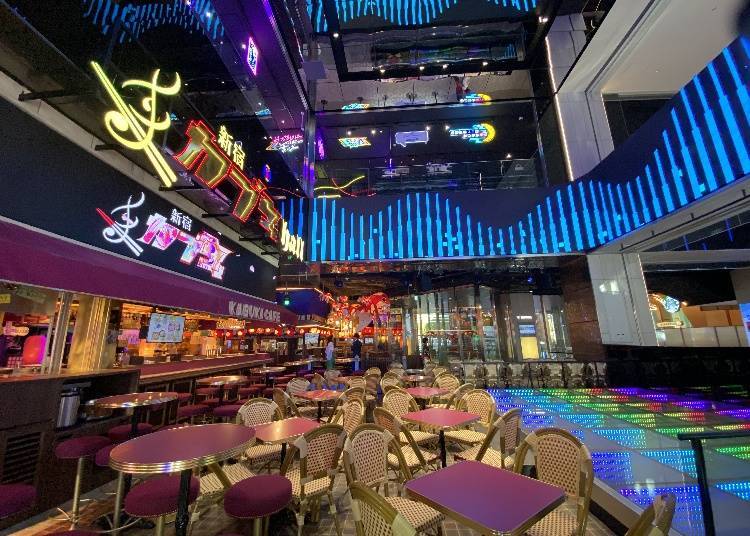 Various events are scheduled nightly on the food court stage. This includes DJ sets, magic acts, and karaoke! This is a space where you can fully enjoy entertainment and dining.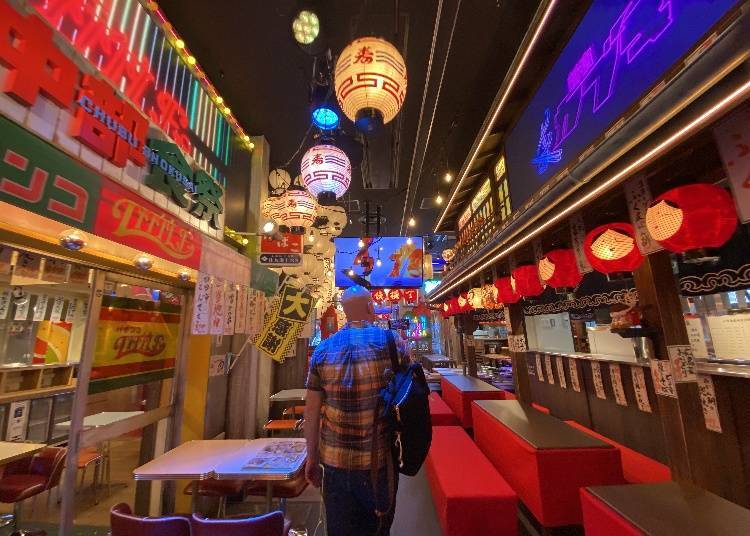 "It's hard to believe you're still in Tokyo Kabukicho Tower, it's like you're in a different world."
(Floor B1-B4) Zepp Shinjuku (TOKYO) and ZEROTOKYO: Enjoy great music and a night out in Kabukicho!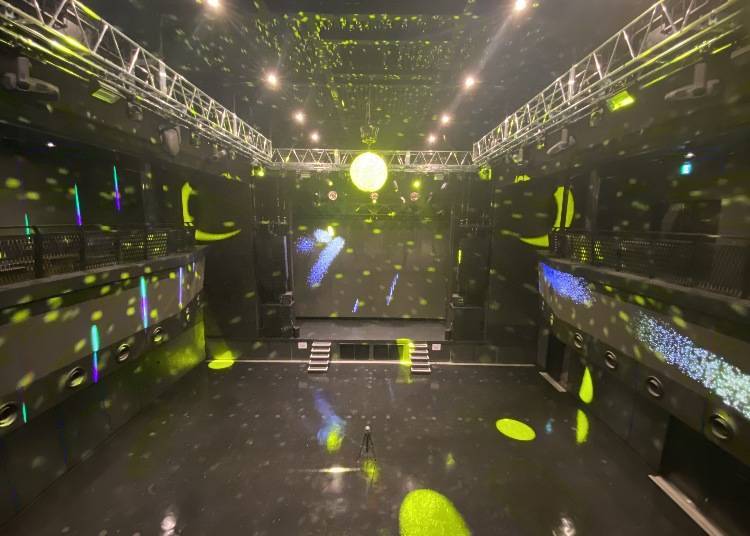 From the B1 to B4 floors, you'll find a plethora of live music halls and nightlife facilities to explore at Tokyu Kabukicho Tower. Leading the pack is Zepp Shinjuku (TOKYO), which is one of the biggest live halls in the Shinjuku area, accommodating up to 1,500 people.

This is the third Zepp concert hall to open in Tokyo. The Shinjuku location stands out, as large-scale standing live music halls are often located far from the city center.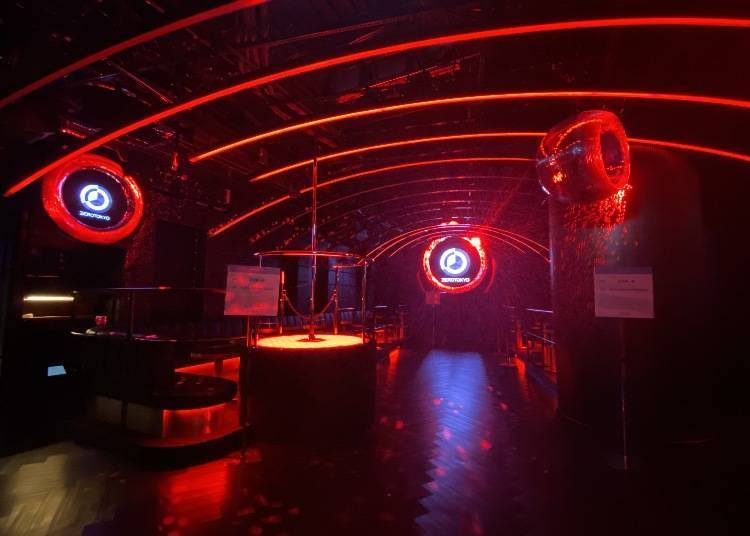 There's also ZEROTOKYO, one of the largest nightlife facilities in Japan, consisting of three floors and five different sections.

Themed around the concept "ENTERTAINMENT JUNCTION," ZEROTOKYO aims to create an unprecedented nightlife experience by acting as an intersection for all kinds of entertainment such as music, DJs, scenography, and performances. Here, people from all walks of life can enjoy their favorite entertainment mediums to the fullest.
(Ground Floor) Discover restaurants, the Tourist Information Center, flower shops, and more!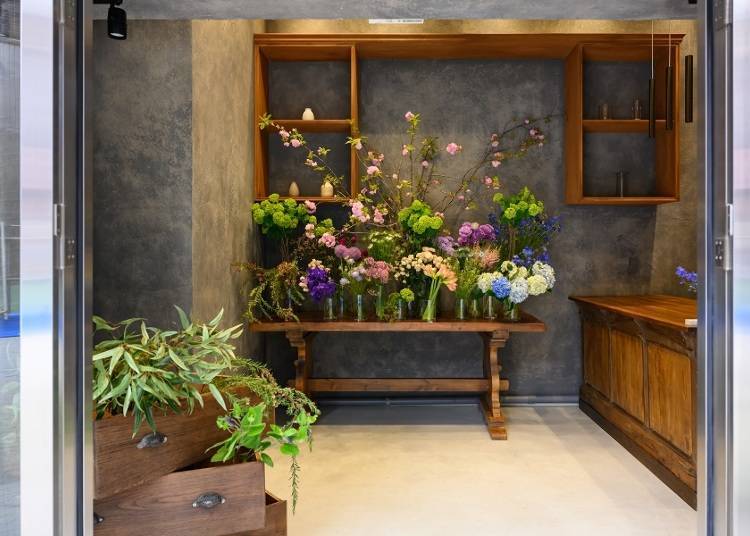 The first floor is lined with restaurants and shops that give you a taste of Japanese food culture and convenient facilities for sightseeing.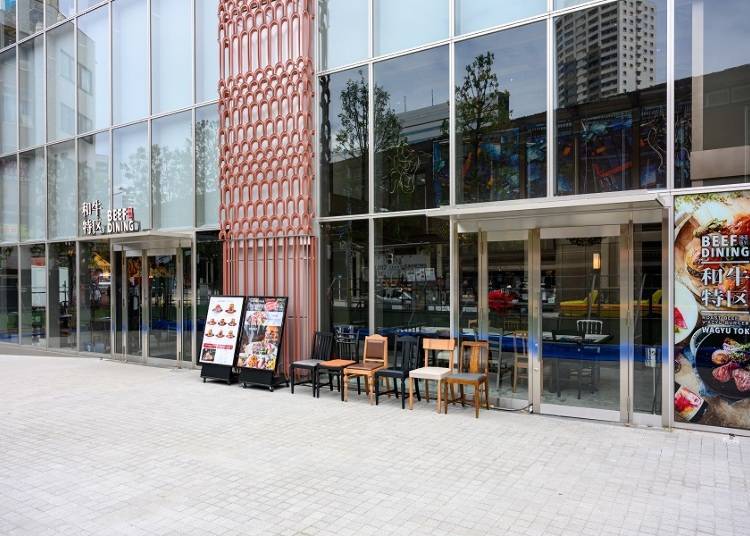 Indulge in the ultimate Japanese delicacy at Beef Dining - a new restaurant by the renowned "Heijo-en" chain of yakiniku (Japanese barbeque) restaurants. Here, they use an entire Japanese beef cow to create a variety of original dishes that are sure to tantalize your taste buds and maximize the deliciousness of the Wagyu beef. Get ready for an unforgettable culinary experience like no other!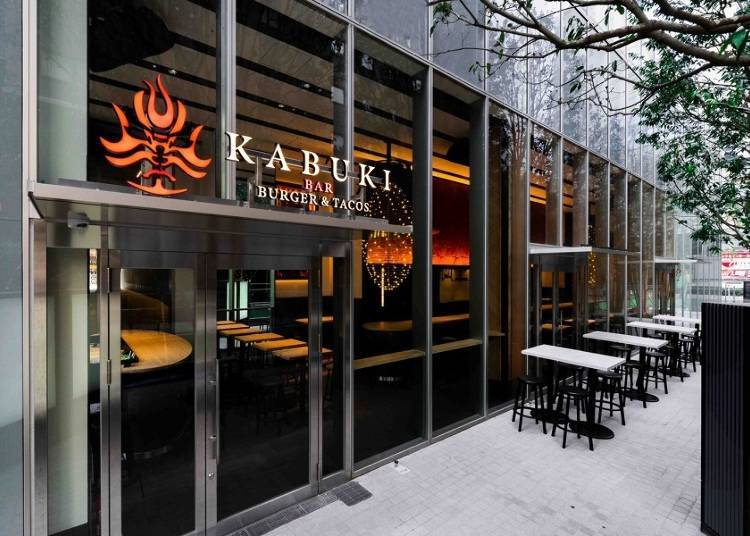 In this area, visitors can enjoy delectable cuisine at the KABUKI BURGER & TACOS restaurant or grab a cup of coffee at Starbucks. Additionally, the TKTS sales booths are available for purchasing tickets to plays, musicals, and traditional performing arts. Plus, there are flower shops for those looking to add a touch of beauty to their day.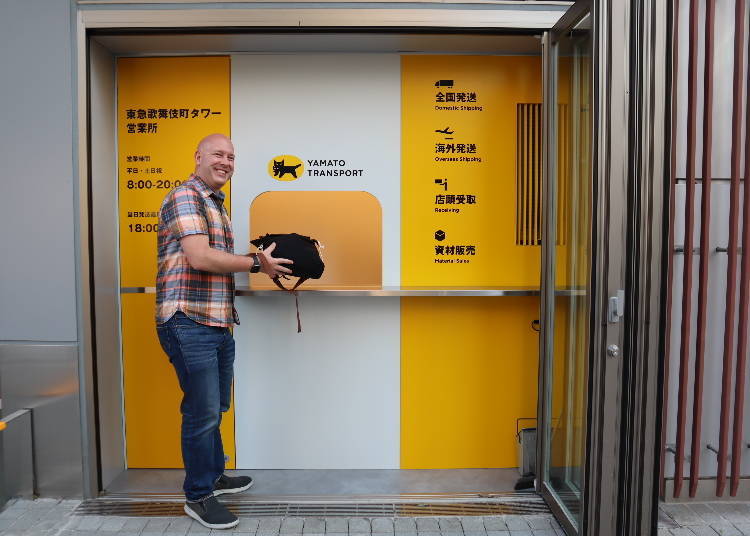 In addition, visitors can take advantage of the permanent Yamato Transport delivery counter. This handy feature provides a convenient way to have large packages delivered with ease, including international shipping services for added convenience after a long day of shopping.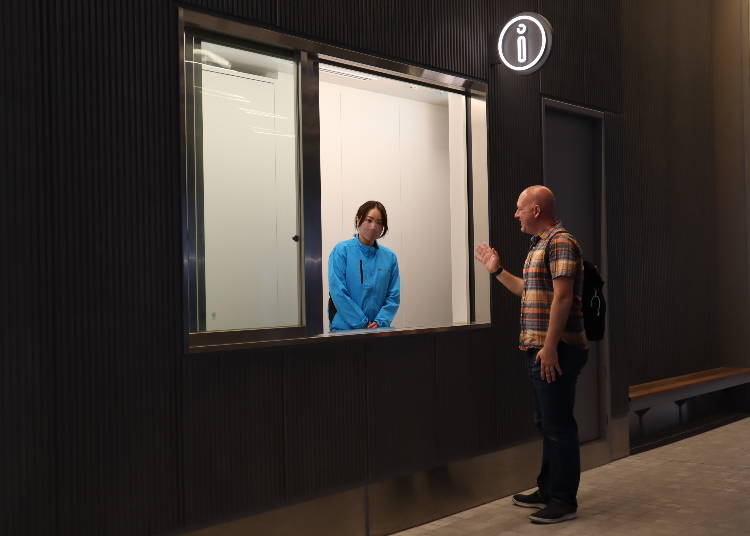 There's also a sightseeing information counter! You can casually go up to the counter if you have any questions about the Tokyu Kabukicho Tower or sightseeing spots in the area.

Nearby is a bus stop for airport shuttle buses, making it easy for tourists to access the area.
Don't Miss Out on the Art Projects Throughout the Museum!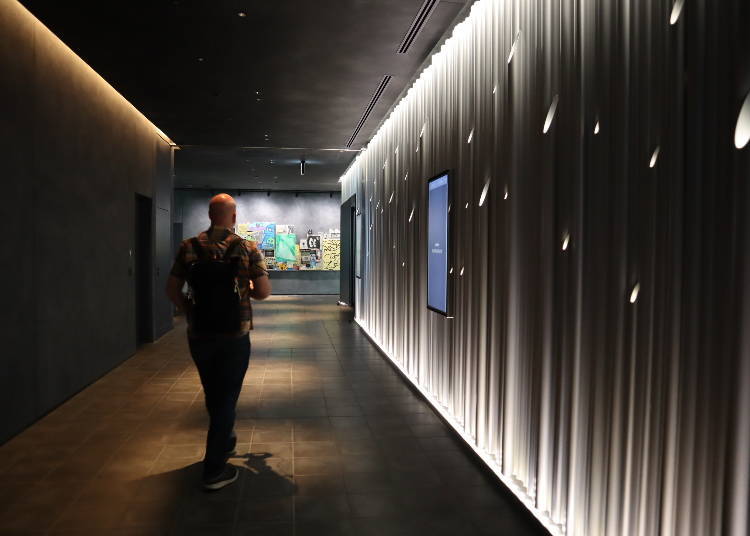 Tokyu Kabukicho Tower is a facility that offers cultural experiences in Shinjuku and Kabukicho, and is involved in various art projects.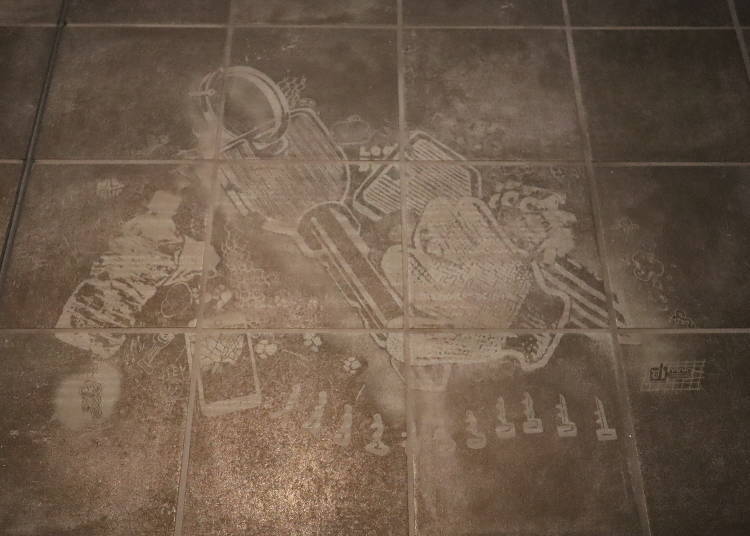 Throughout the facility, you'll find artworks by a range of artists! This includes at the entrance, lobby, and lounges of each facility, as well as hotel rooms.
Tokyu Kabukicho Tower: Introducing Kabukicho to the World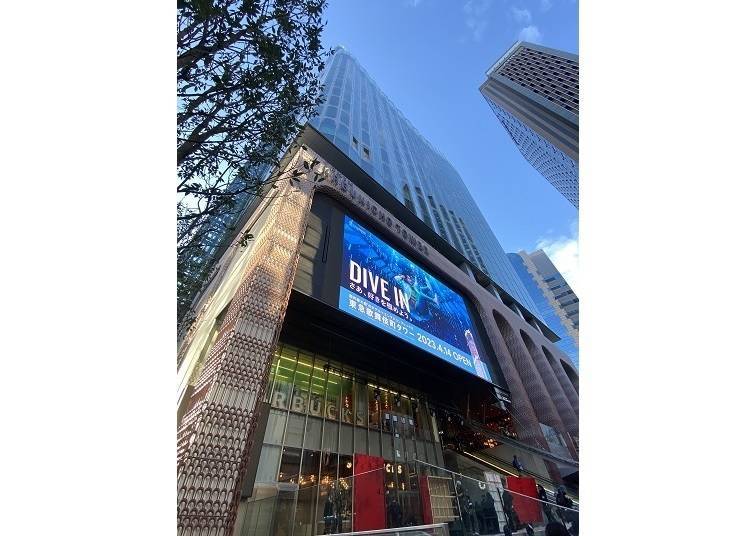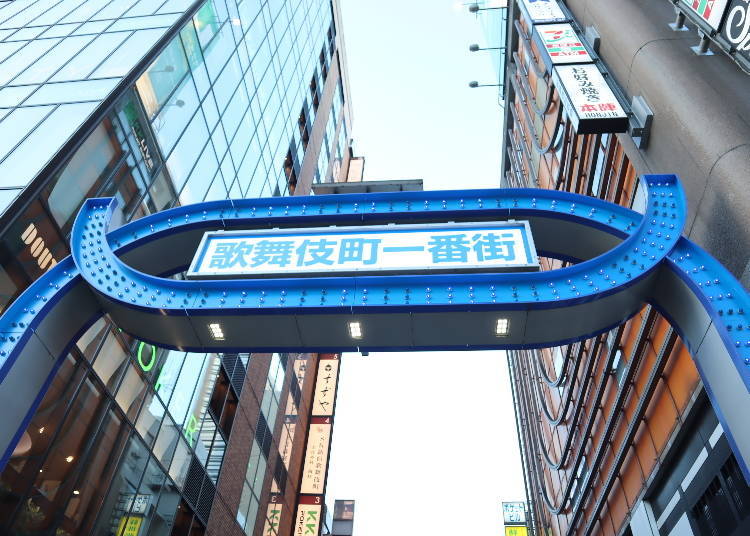 At Tokyu Kabukicho Tower, the focus is on presenting itself as the ultimate entertainment hub with a mission to attract visitors from around the globe. This exciting destination is expected to become a top tourist attraction, offering a unique opportunity to experience Japanese hospitality, the latest technology, entertainment, culture, and art in one amazing location!

One of the many highlights of this destination is the chance to experience authentic Japanese nightlife, which is a rare treat in Japan. We highly recommend a visit to the new and improved Kabukicho district and Tokyu Kabukicho Tower for an unforgettable experience in Tokyo.
東急歌舞伎町タワー

Address

1-29-1, Kabukicho, Shinjuku Ku, Tokyo To, 160-0021, Japan

Nearest Station

One-minute walk from Seibu Shinjuku Station on the Seibu Shinjuku Line / Seven-minute walk from Shinjuku Station on the JR, Odakyu, and Keio Lines / Six-minute walk from Shinjuku Nishiguchi Station on the Toei Oedo Line / Eight-minute walk from Shinjuku-Sanchome Station on the Tokyo Metro Marunouchi Line, Fukutoshin Line and Toei Shinjuku Line


Hours: Depends on each facility
Written by:
*This information is from the time of this article's publication.
*Prices and options mentioned are subject to change.
*Unless stated otherwise, all prices include tax.
Limited time offer: 10% discount coupons available now!