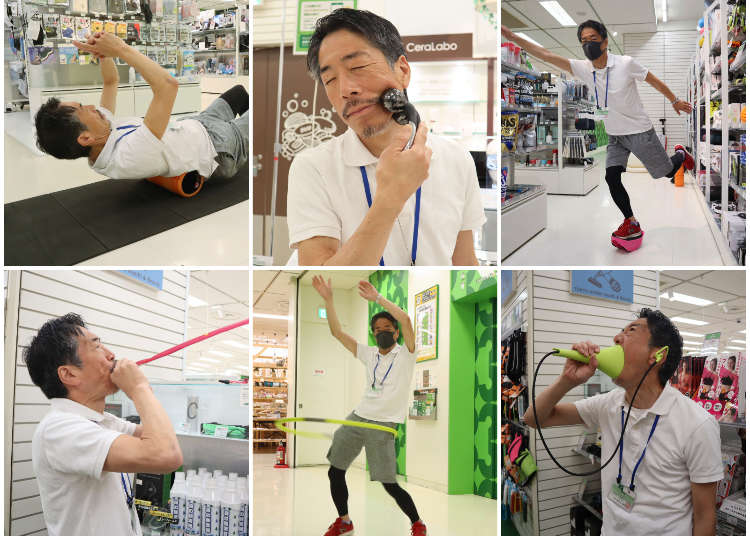 This year, many in Japan are continuing to stay home while refraining from long-distance travel. During these times of remote work and isolation, it's more important than ever to reset your body and prevent yourself from falling into unhealthy lifestyles.

Lucky, Japan boasts a wealth of compact and well-priced fitness products to keep you in shape while staying indoors! To find out more, we visited the iconic Tokyo department store, Tokyu Hands, in Shinjuku to ask the staff for their top 10 sports and fitness product recommendations!
Tokyu Hands Shinjuku: A Shopper's Paradise!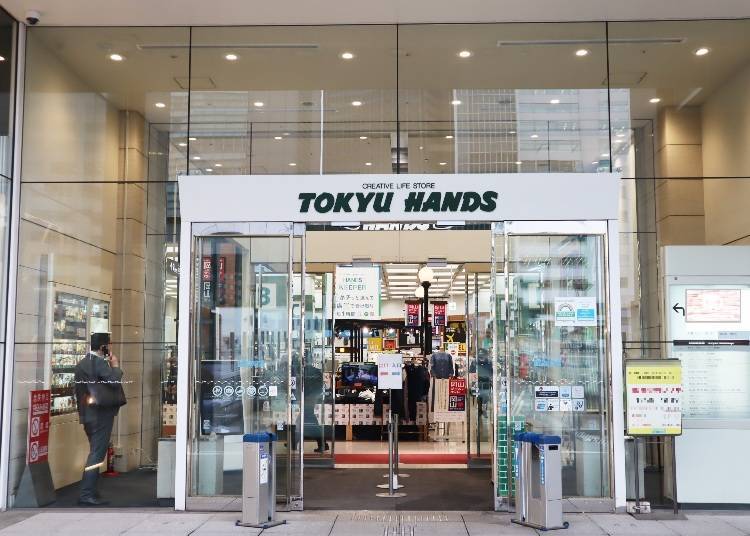 Cosmetics, stationary, bags, kitchenware, cleaning products, pet goods, gardening tools, DIY materials - the sheer range of everyday essentials offered at Tokyu Hands is utterly staggering!

Even within this scope, the mega-sized Tokyu Hands of Shinjuku is on another level. Just a 2-minute walk from the new south exit of Shinjuku Station and located on floors 2-8 in the iconic Takashimaya Times Square department store, its location is second-to-none!

Bursting with fashion and gadgets, Tokyu Hands Shinjuku is a reliable source for Japan's latest seasonal trends and shopping developments.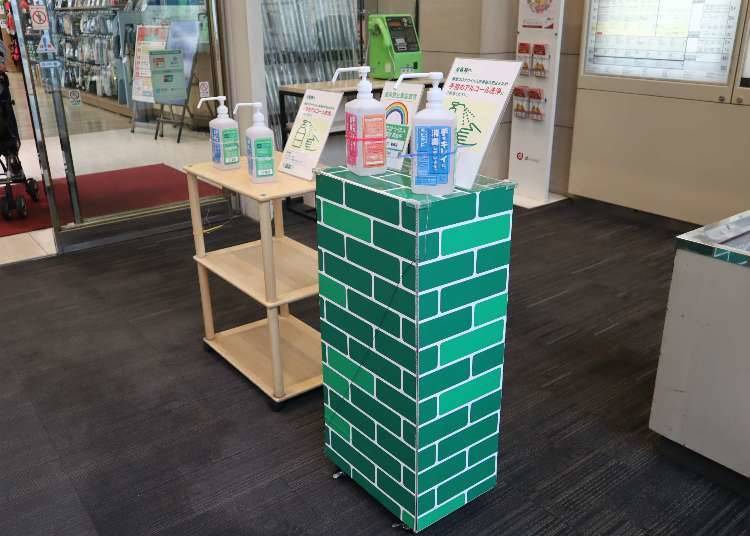 The entrance is fitted with sanitizer, ensuring customers are protected against the spread of COVID-19.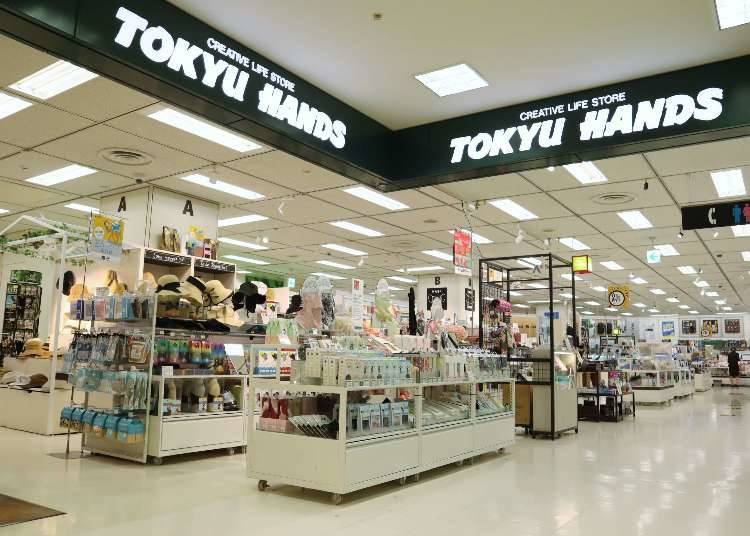 Tokyu Hands Shinjuku's selection of fitness goods can be found on the 3rd floor. With plenty of samples set up for customers to try, you can thoroughly test out the product's usability and quality before buying.

The range is vast and innovative, supporting a wide diversity of lifestyles from young to old. Expert staff well-versed in muscle training and aerobic exercise can also provide demonstrations and thorough explanations for each product.
Home Training: The Latest Japanese Fitness Craze!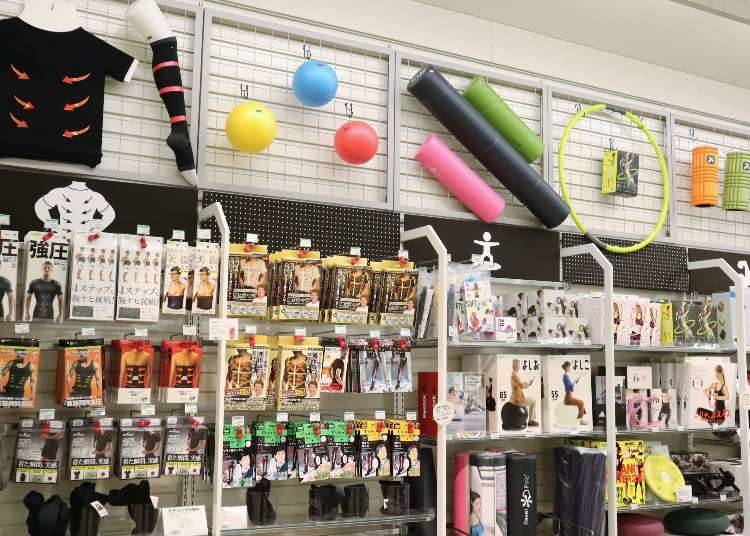 Due to the impact of COVID-19, fitness fans in Japan are increasingly favoring easy and safe "home training" as their chosen regimen. In addition to stretching gear and compact weights, comprehensive and advanced treadmills and other hefty machines allow authentic aerobic exercise without going to the gym.
Nishi-san: Tokyu Hands Shinjuku's Popular Fitness Expert!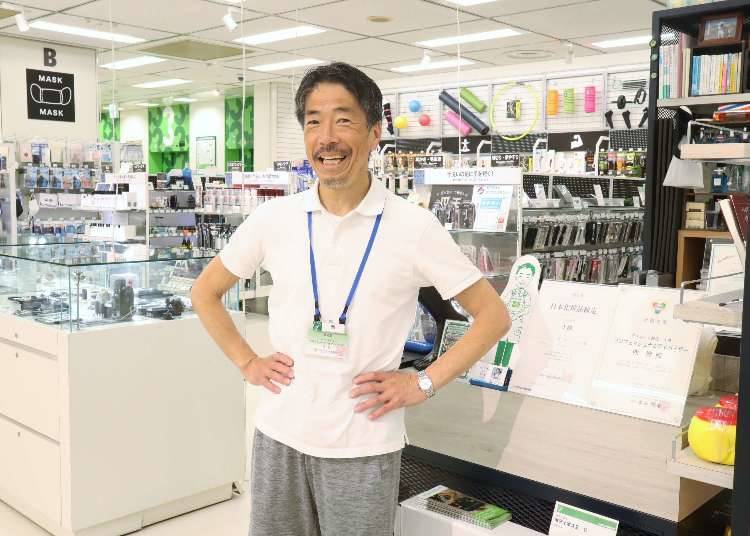 For home-based fitness product recommendations, we spoke with Nishi-san, one of Tokyu Hands Shinjuku's most beloved staff.

Nishi-san runs "Otoko-buri," one of the individual stores within Tokyu Hands Shinjuku specializing in fitness goods for men. For bodybuilding items, this guy knows it all!

(*Thorough hygiene practices were observed during photography)
(*Masks are normally worn)
1. La-VIE Gym Ball with Ring Base: Shisei Yoshiko - Work Out While Multitasking! (2,640 yen)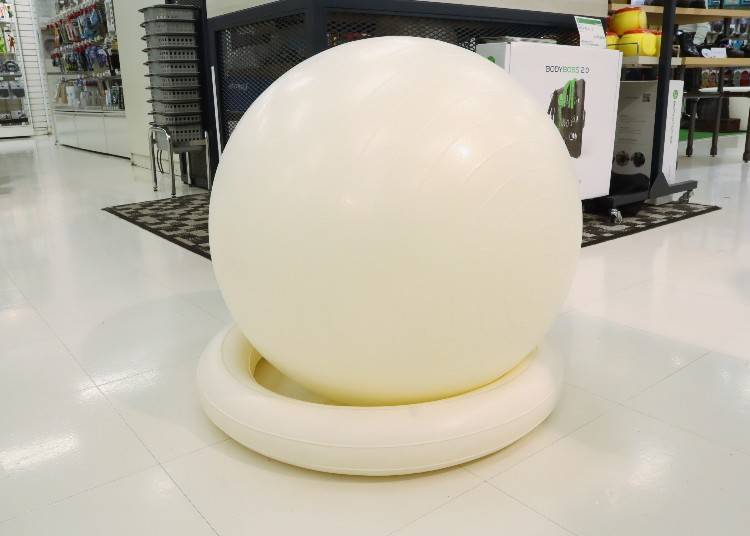 This high-quality gym ball comes from popular fitness and training gear specialists La-VIE. By just sitting on one of these balls, you'll increase core strength while improving posture!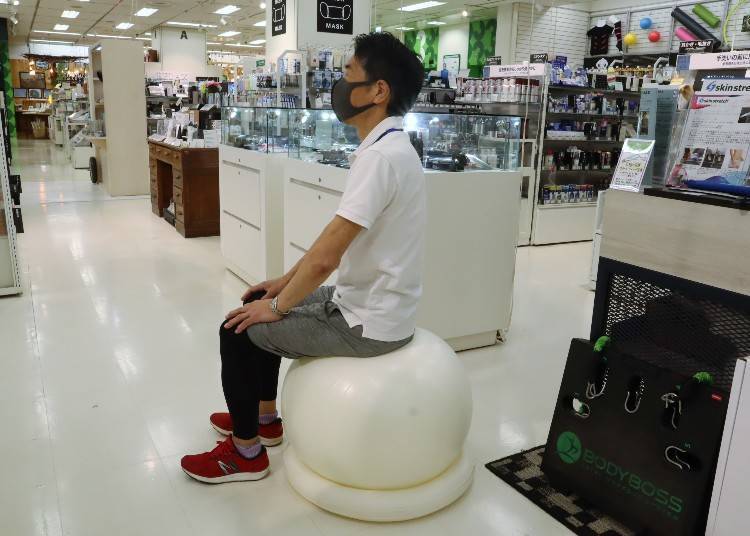 "When sitting on the ball, your spine will tense up while your abdomen is forced to strengthen. You can slot in this simple workout while watching TV, studying, or even doing work, making it a great tool for busy people. Some offices even use them instead of chairs!"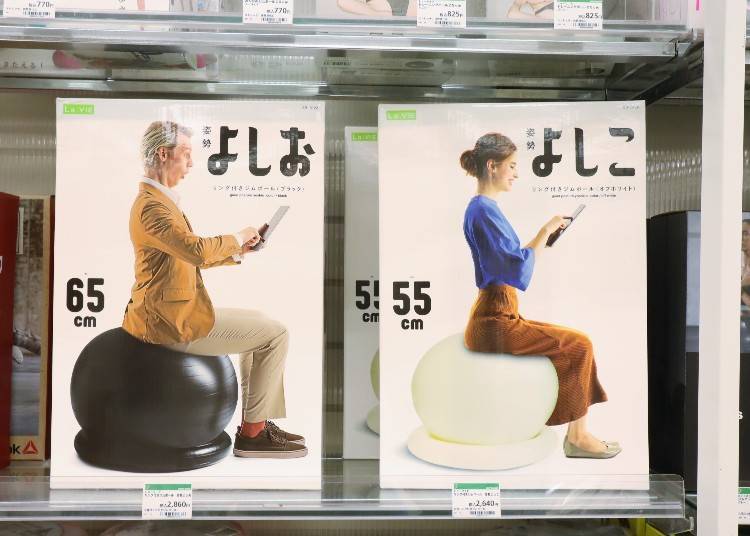 The ball also comes with a ring around the base, making it safe for elders and allowing it to be placed anywhere. The black "Shisei Yoshio" (2,860 yen) boasts a hefty diameter perfect for people between 155cm - 175cm.
2. La‐VIE: Grapita Board (Pink) - Strengthen Your Core! (2,178 yen)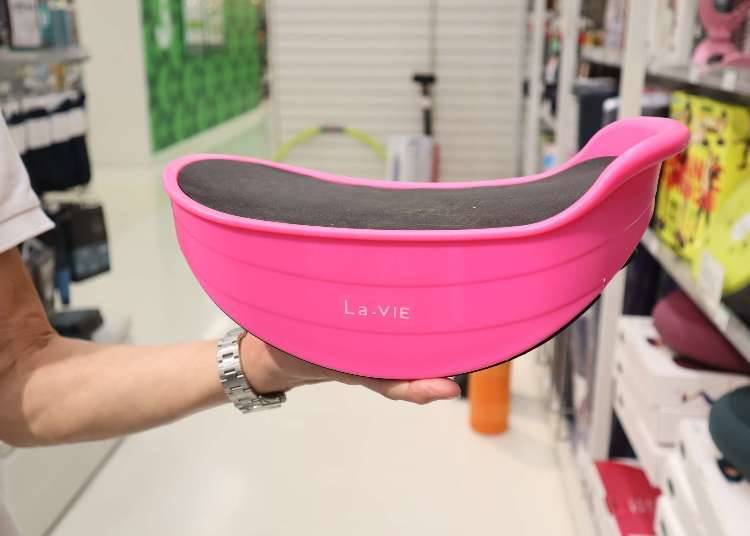 By standing on it with one foot, this clever training apparatus encourages core strengthening and balance correction. It's the perfect, small-size item for those aiming to maintain body shape or for shaping legs and hips.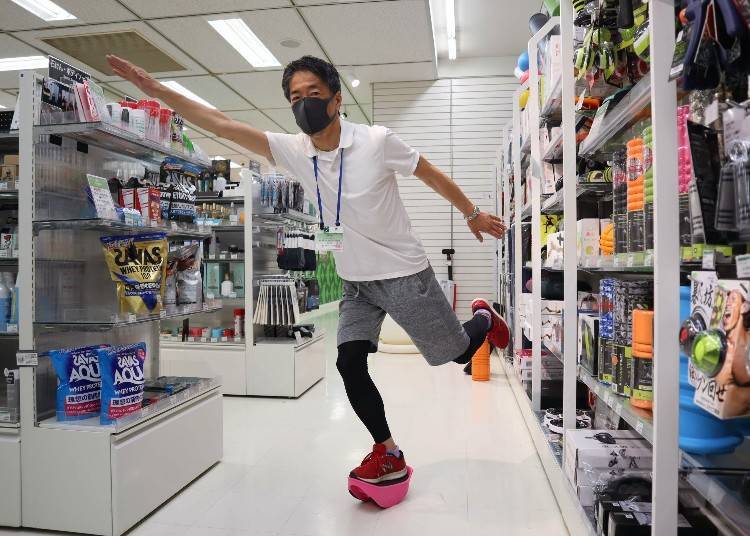 "Plant one foot on the Grapita Board while holding onto something. Once you feel confident, lift and spread your arms and try to balance!"
Even if you can balance on your dominant leg, trying on the other is surprisingly difficult! As there is always a difference between the left and right sides of the body, taking the extra time to practice on the more difficult leg will drastically improve your core balance.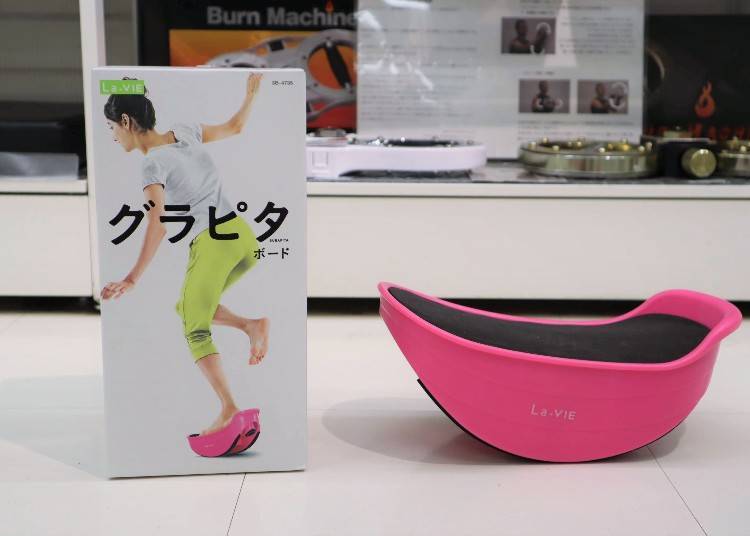 Being light and easy to carry, the Grapita Board hardly takes up any space.
3. La‐VIE: Girl's Hula Hoop (Heavy) - Tighten Your Waist While Having Fun! (1,980 yen)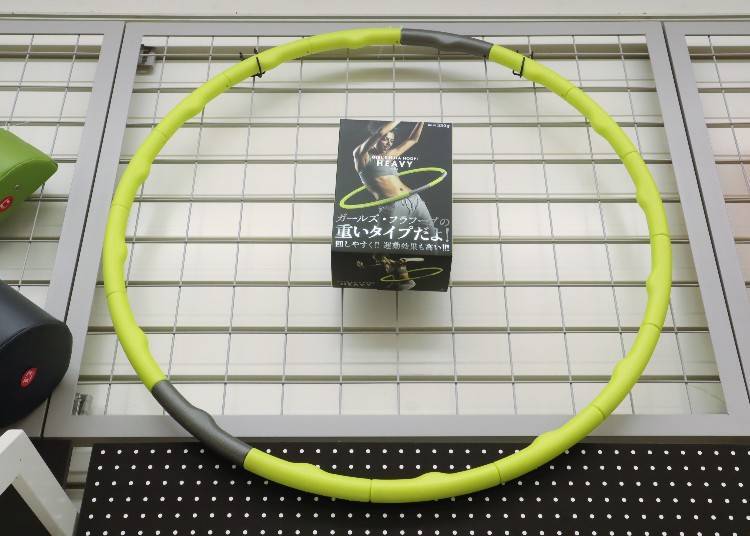 With online sales through the roof, the humble hula hoop has been gaining fresh popularity during the age of coronavirus! La‐VIE's high-tech hula hoop can be split into 16 parts, making it super-compact and easy to store. Each part boasts a slight protuberance, which works to increase muscle stimulation of the abdomen.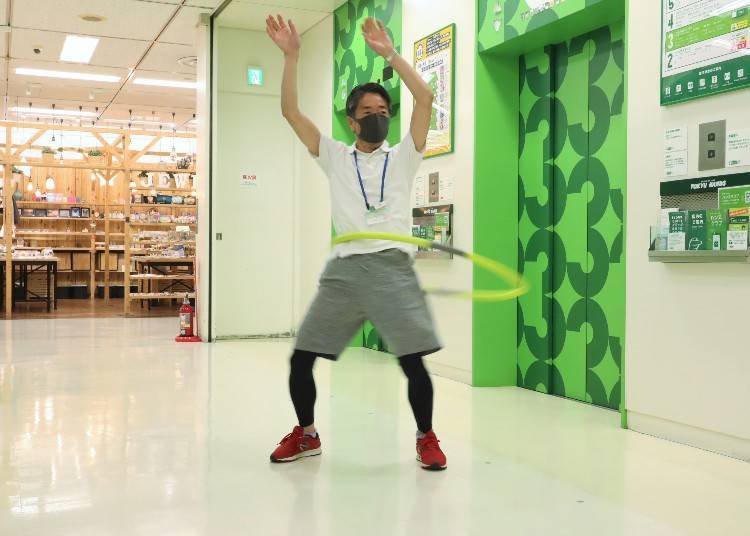 "In order to skillfully use a hula hoop, a great deal of centrifugal force is needed. An example of centrifugal force is putting a cup upside down on your finger and spinning it around. If you can picture an image like this while hula hooping, you'll surely be an expert in no time!."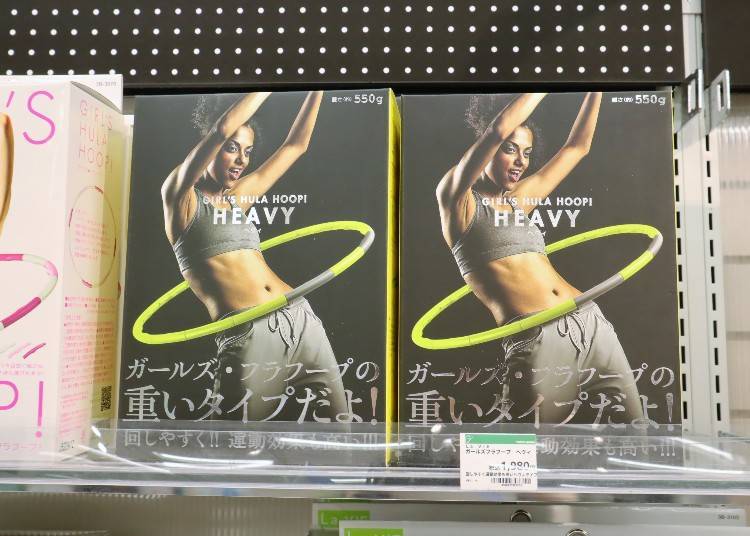 While titled "heavy," at just 550g, it is actually rather light. As many of us loved playing hula hoop during our childhood, this fitness item offers a bit of nostalgic fun while tightening the waist.
4. TriggerPoint: GRID Foam Roller (Orange) - Relax Your Body with a Myofascial Release! (5,500 yen)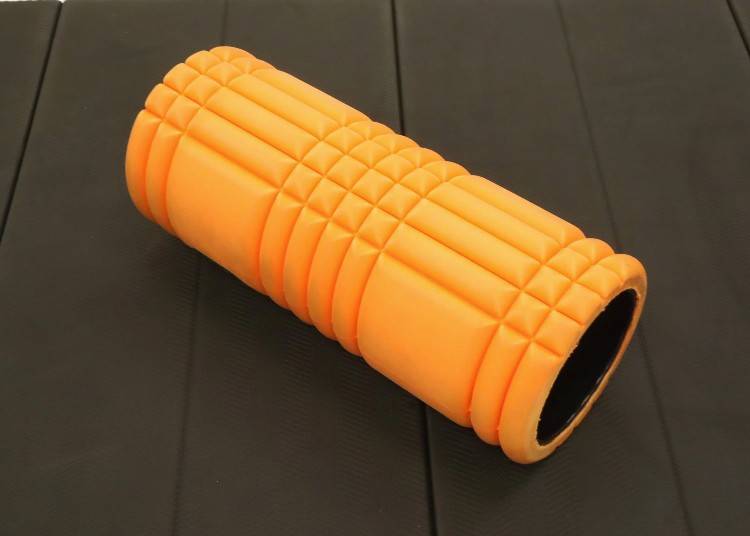 This foam roller is specially designed to massage muscle stiffness and tension effectively. It allows users to perform a myofascial release, which will improve muscle flexibility and the movability of joints. Loved by many top athletes, its effectiveness is written in stone!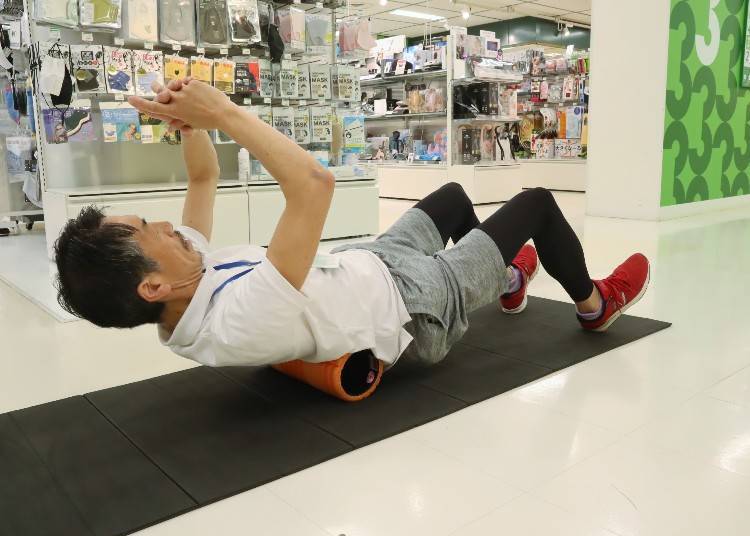 "Rest it under your body's weight and roll back and forth for the most potent effect. Then, from your hips, over your back, and to your neck, gradually move it up under your body to massage all regions. Once you've finished, you'll surely notice the difference!"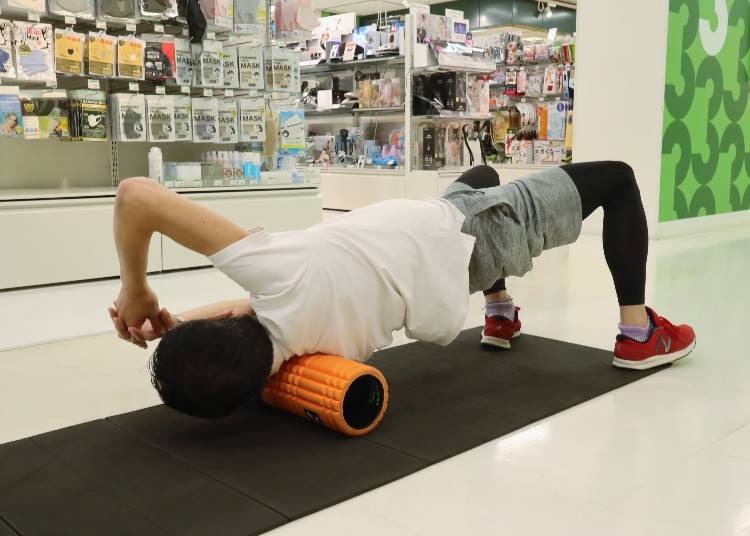 "While there are numerous foam rollers out there, TriggerPoint's rendition is the biggest hit yet. Using it has become a big part of my own personal morning routine!"
While there is a variety of sizes, we recommend the 15 x 33cm "standard" version, which boasts robust durability able to handle most body weights.
5. Tokyu Sports Oasis: Reset Pole (Navy Blue) - An Easy-to-Use Posture Corrector! (5,489 yen)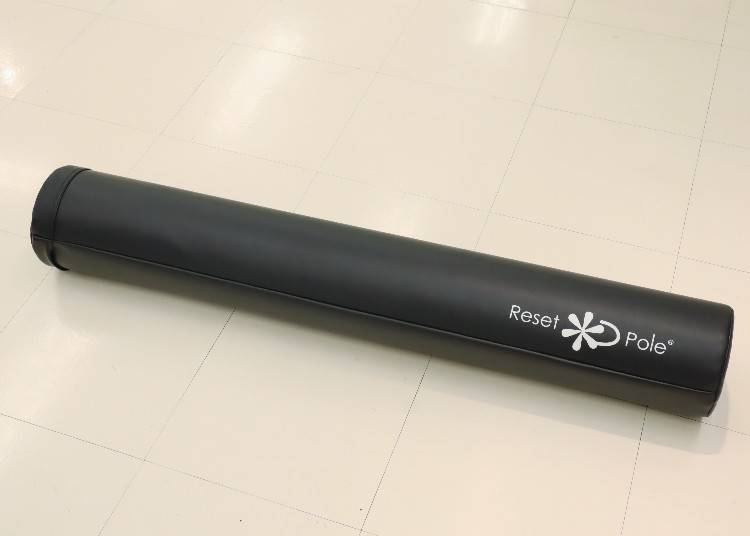 Just by lying on it, this high-quality stretching pole will relax and massage your entire body. It will unravel stiff and contracted shoulders while encouraging a correct posture.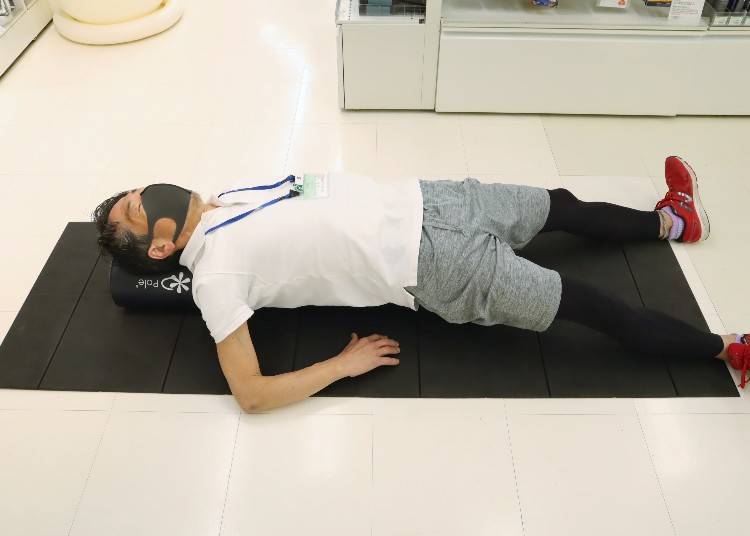 "All you have to do is lie on the pole and rest! It feels great and is super easy!"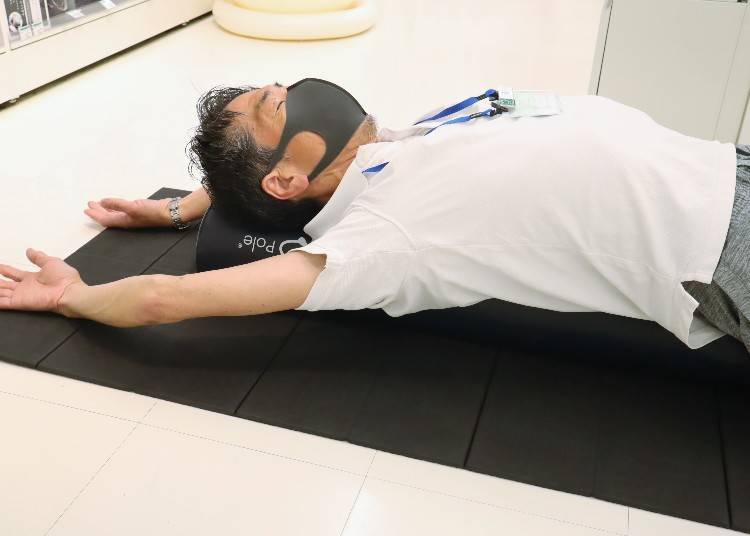 "Whether you're at the office or working from home, your posture will inevitably become tight and constricted. During these times, lay on the pole for a few minutes while spreading out both arms and releasing the shoulder blades. You'll feel instantly refreshed and ready to get back into it!"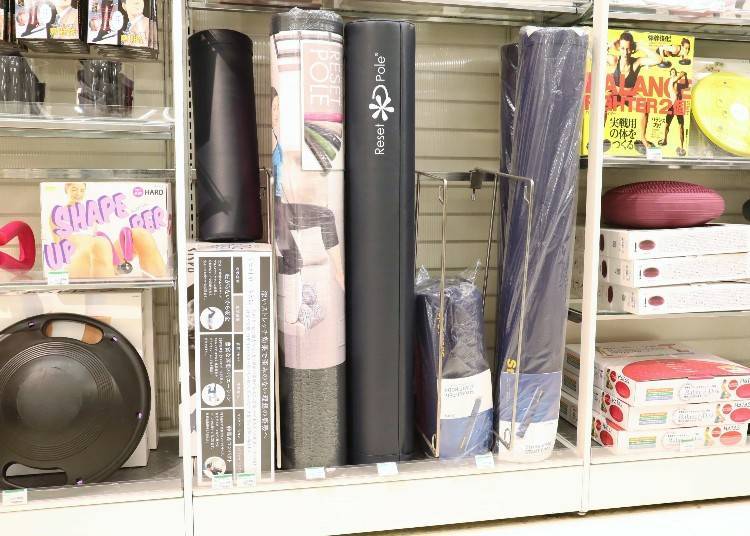 The roughly 1 meter (98cm) edition should be big enough for even tall adults to lie on easily.
6. MTG: FACIAL FITNESS PAO (White/Black) - Train Your Facial Muscles! (14,080 yen)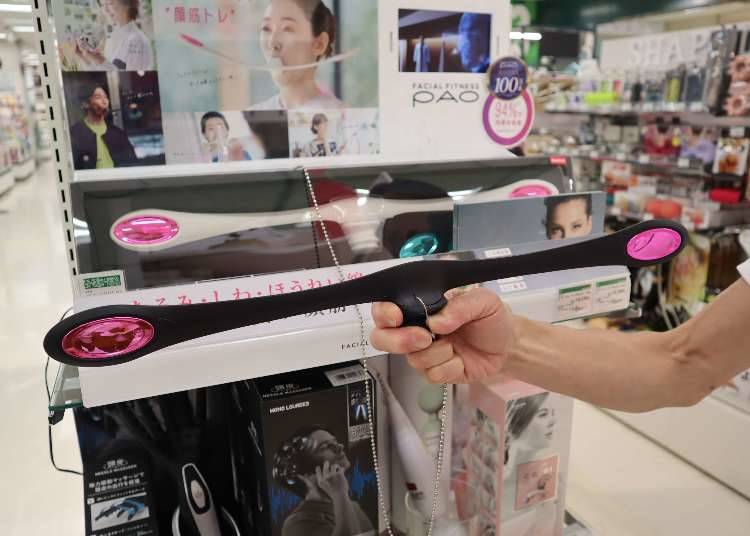 As a facial exerciser painstakingly developed by experts, "PAO" will train your facial muscles to produce a sharp, refined countenance.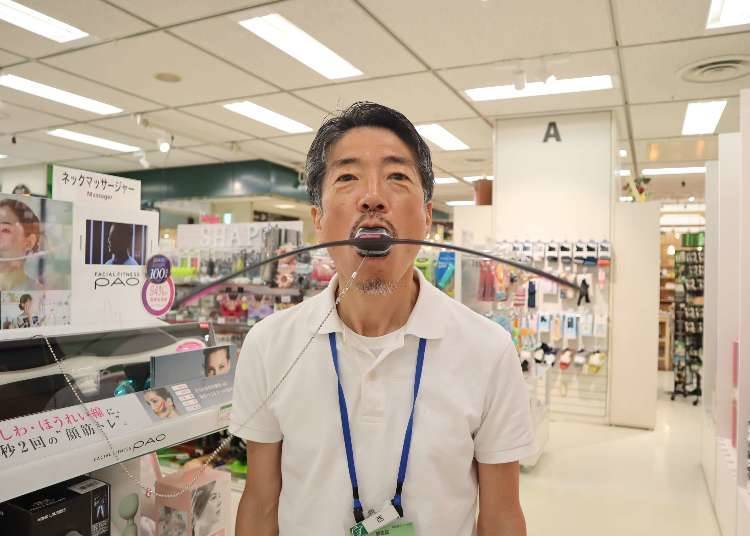 It's really easy to use - hold it in your mouth while rocking it softly in a rhythmic manner! But, while looking easy, it's surprisingly intense!

"With an adjustable weight, you can control the difficulty of the workout. While the movement itself is basic, you'll feel your facial muscles burning in no time! Training a part of your body that doesn't generally move much feels great too!"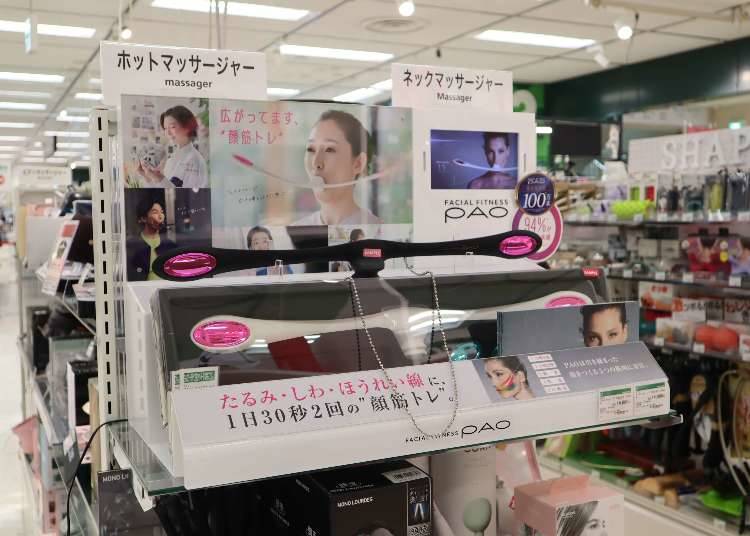 These days, as we're not meeting and chatting with as many people, our cheeks aren't getting the workout they deserve, which can lead to flabbiness. It's also effective against smile lines, bringing forth a bright, clear, and refined face!
7. ReFa "ACTIVE WF" (Black) - Face and Body Massaging! (35,200 yen)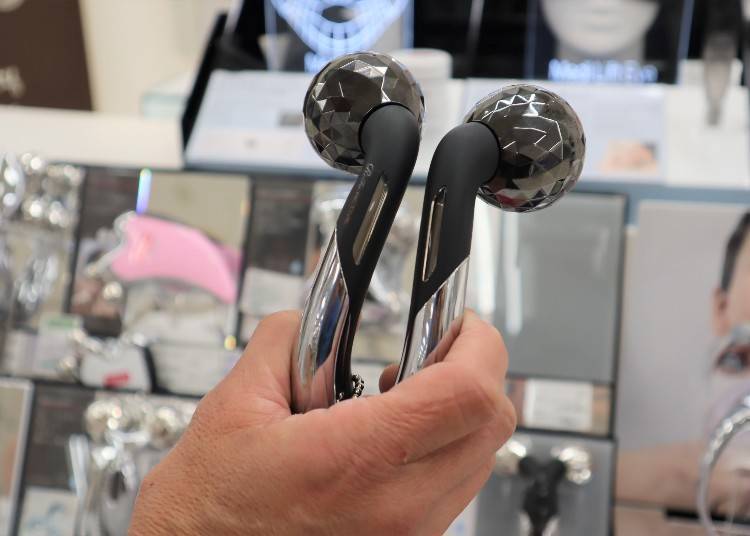 A part of the mega-hit ReFa facial roller series, the ACTIVE WF roller boasts a special surface of 440 sides working to pinch and press your skin gently.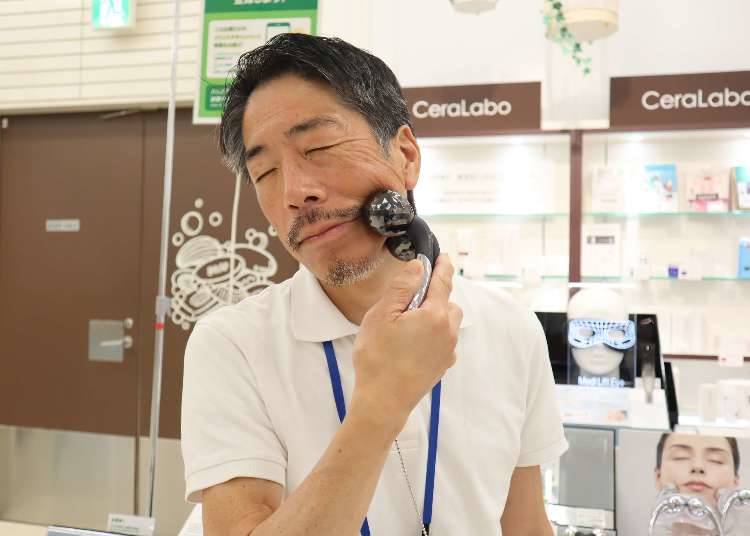 The roller has a microcurrent extremely close to the one flowing throughout the human body, stimulating a light electric current. Spreading over each crevice while deeply pinching the muscle, the roller will firmly hold and massage each of the body's finest lines, firmly rearranging and adjusting the muscles and skin.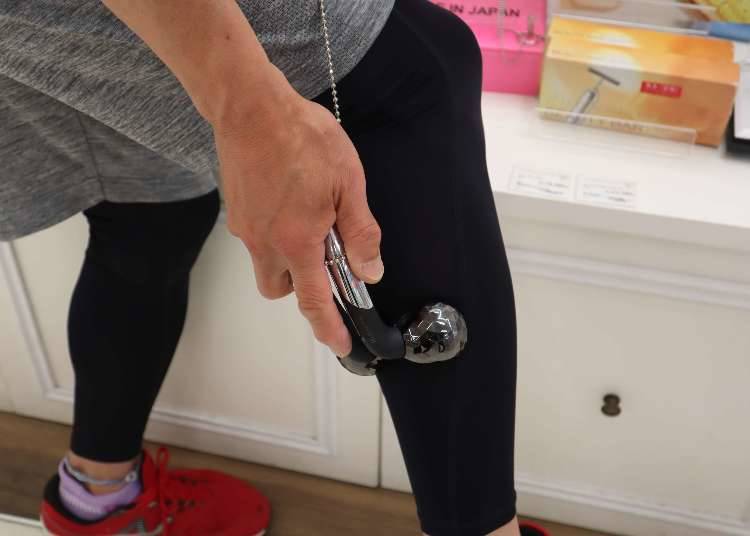 "This ACTIVE WF roller can be used all over the body. It's particularly useful on the joints in the neck and arms where lymph nodes can become blocked. Of course, it also works wonders on legs, shoulders, arms, or wherever else you need some relief."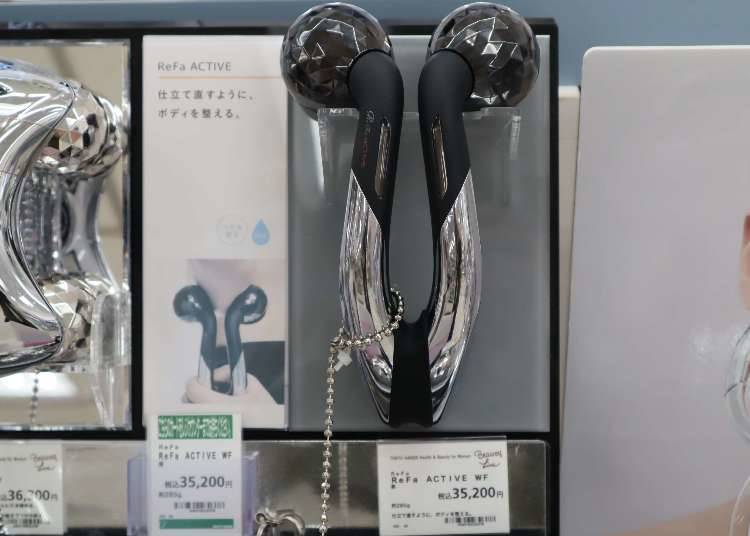 With a titanium coating, it is extremely safe against nicks or cuts. It's also impervious to sweat and totally waterproof, allowing use in the bath. With just one item, both your beauty routine and workout regimen will jump to another level.
8. Proidea: Abdominal Breathing Exercise Long Party Whistle - A Massive Hit Overseas! (1,078 yen - 1,188 yen)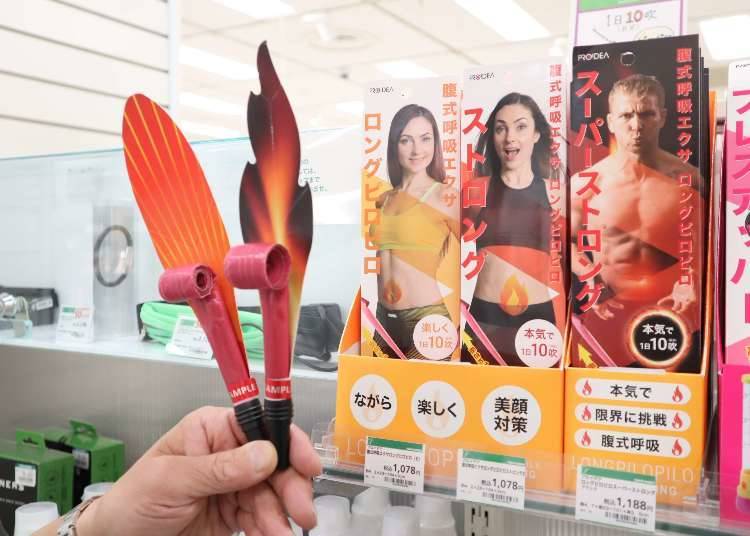 While seemingly a simple toy for children, this powerful workout device is not to be underestimated! The super-long Proidea party whistle provides intense abdominal training through extended breathing.

In the past, when a Dutch television company came to film, everyone on the team fell head over heels for this bizarre product, frantically scooping up as many as they could to bring back home.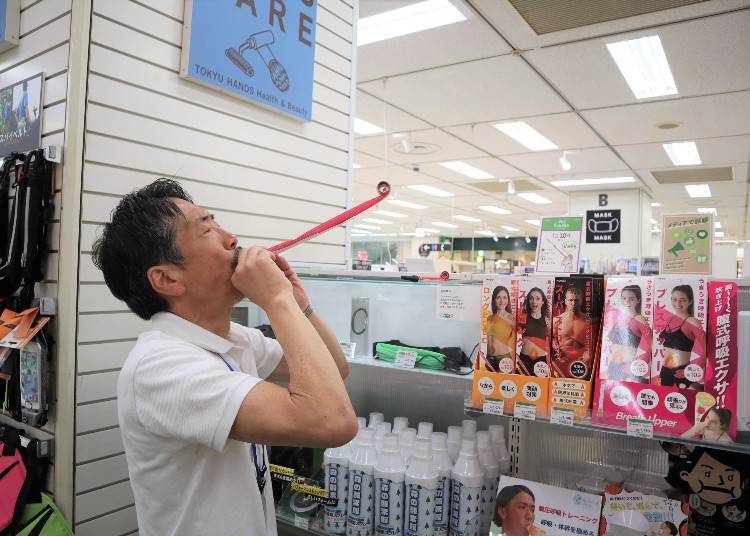 "Despite being just an old-fashioned party whistle, it has a definite and potent abdominal strengthening effect, making it popular with people looking to tone their stomachs."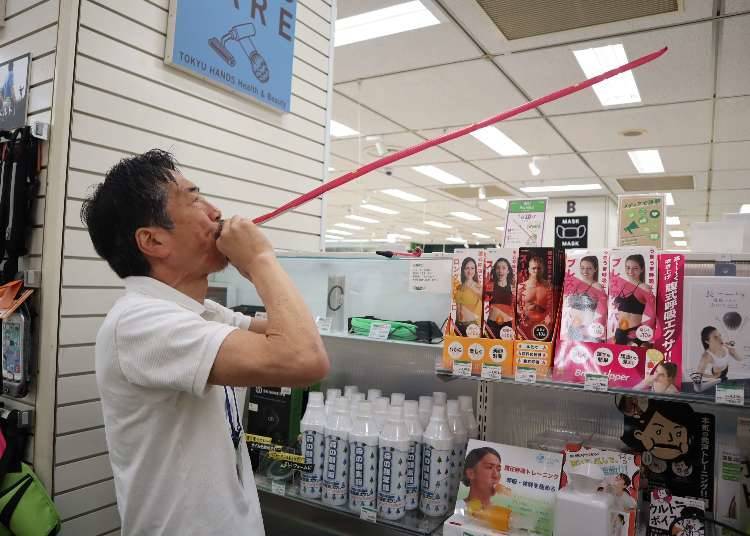 The super-long whistle can extend up to 1 meter!
"Using this whistle properly requires intense use of the abdominal muscles. However, you have to make a point to blow and fully extend it for at least 10 seconds before slowly allowing it to return in a span of 3 seconds or more. So don't just do it quickly, take your time and workout steadily. There are three difficulty levels available - easy, strong, and super-strong. We recommend starting off easy and moving up once you feel confident!"
9. Proidea: UTAET (Green) - Zap Away Stress While Exercising Your Abdomen (4,378 yen)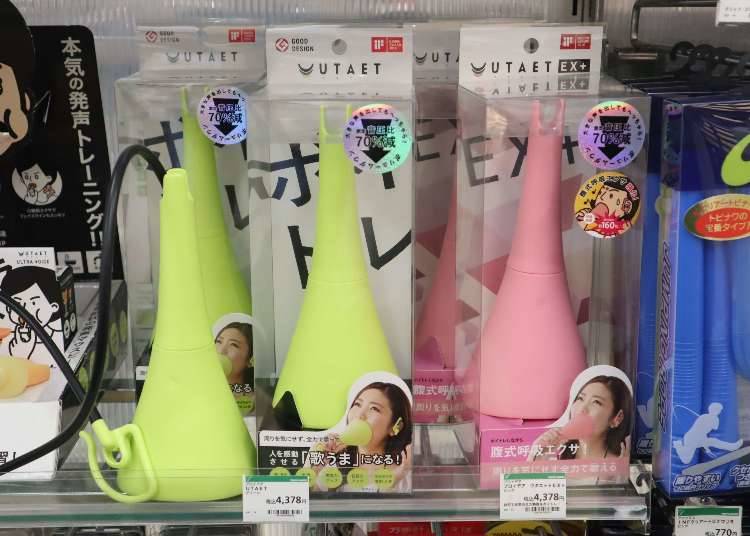 Developed by a voice training teacher, the UTAET is a voice training tool that can erase sound, allows users to sing their heart out, and train their abdomen without disturbing those around them.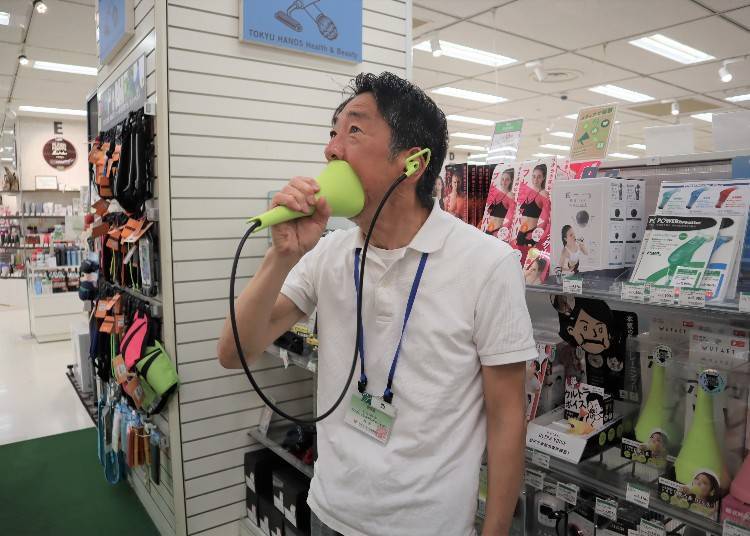 "Projecting a loud voice requires a considerable amount of energy. Using the UTAET, you can exercise your stomach muscles while having fun and perfecting your karaoke game. Above all, you'll feel that built-up stress melt away!"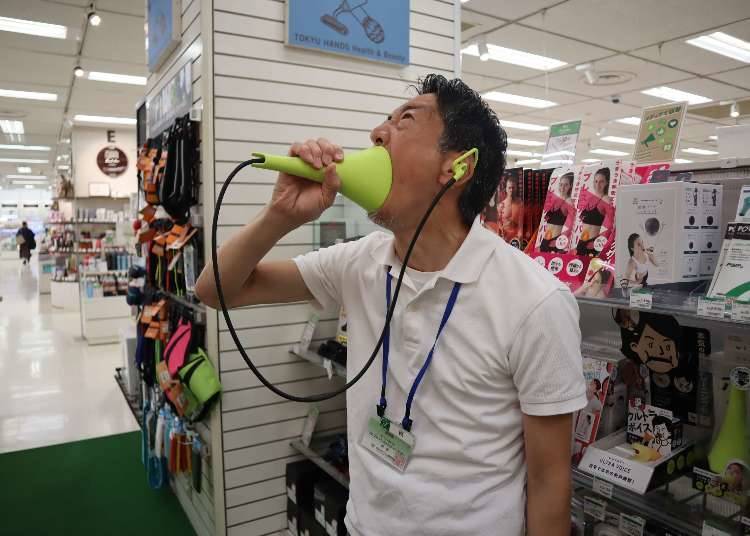 Even if you scream as loud as possible, all you'll hear outside is a faint voice softer than a regular conversation. So alongside breathing exercise and vocal training, it acts as a fantastic destresser! However, be aware you'll still hear a loud voice in your own ears, so be careful.
10. BODYBOSS 2.0 Extra Package - An All-in-One Gym! (29,920 yen)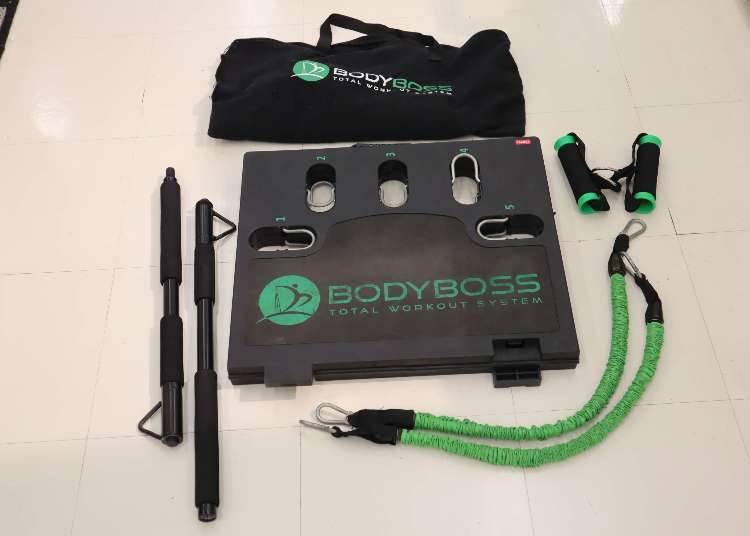 Be in your house while at the gym with the complete in-house training BODYBOSS portable gym.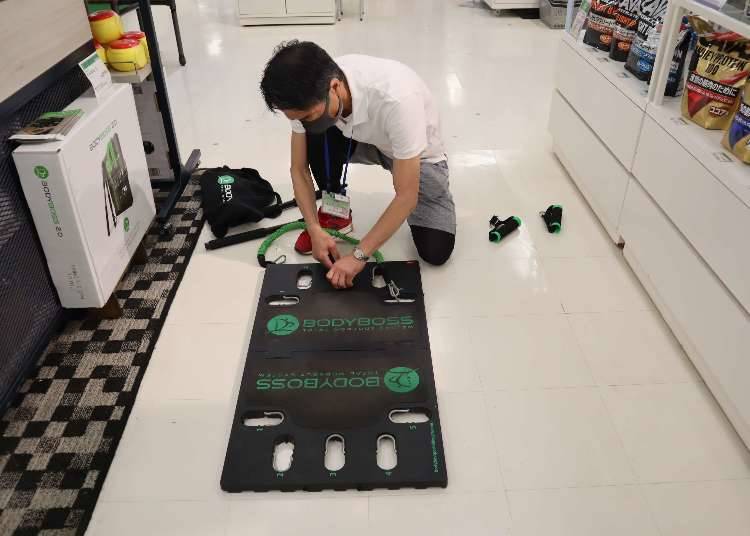 The set includes a workout bar and handle, along with wrist and ankle straps that, when adjusted, allow for more than 20 different types of in-house workouts.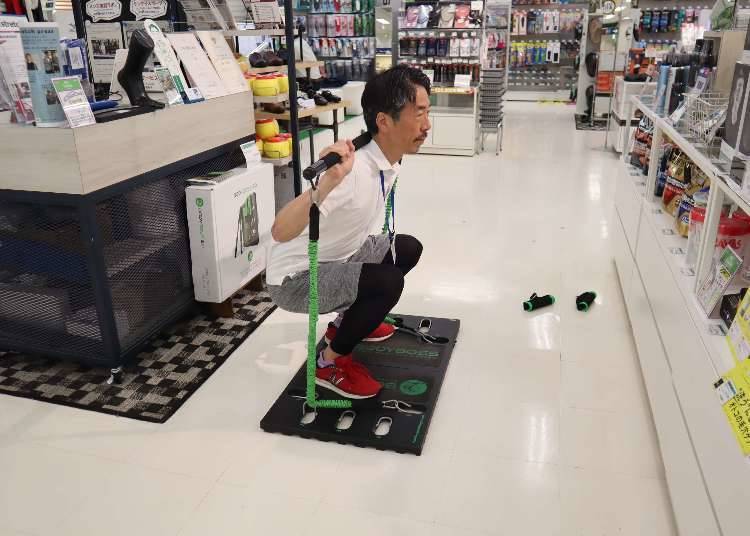 In addition to muscle training, the set boasts aerobic exercise and core-strengthening functions.

"I particularly recommend using BODYBOSS for squats and deadlifting. Using this set, you can complete a typical gym regimen from the comfort and convenience of your own home."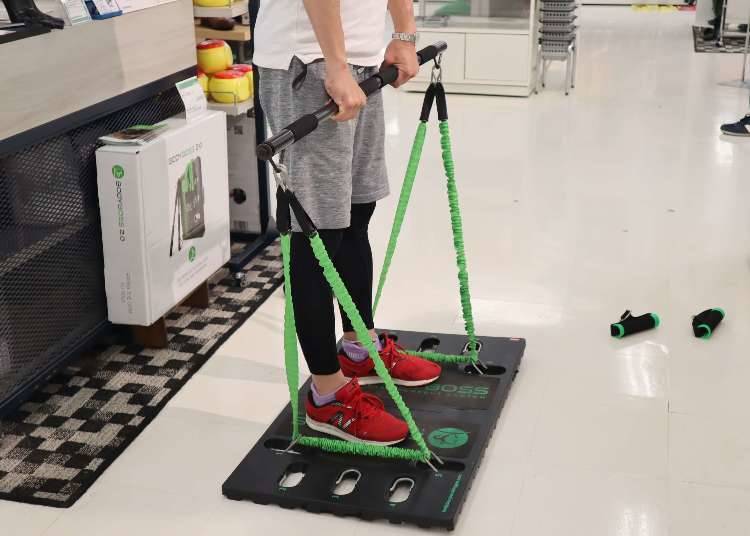 "BODYBOSS themselves have created an official YouTube channel filled with videos demonstrating the product. Whatever body part you wish to train, there's a setting for you!"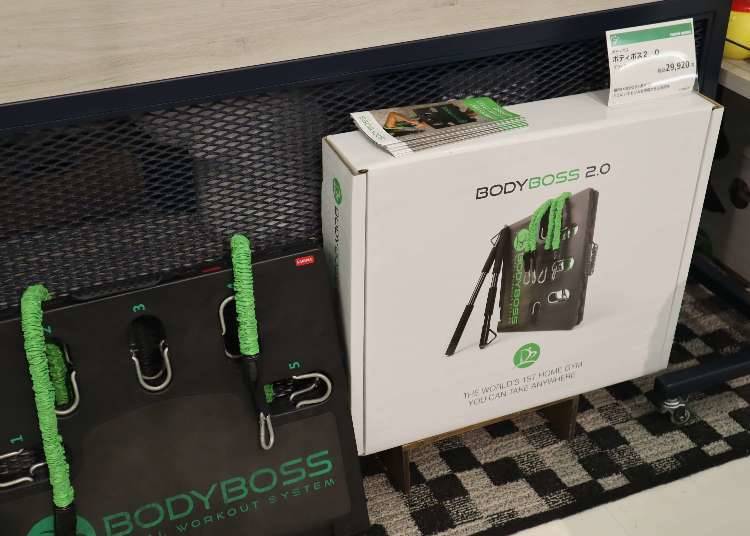 Despite its considerable versatility, the BODYBOSS set is compact and foldable, making it easy to store. Whether it be light exercise to lose weight or an intense workout to build muscle, the ample customization options will ensure it meets your needs.

Current Campaign Information:
New members who join the Tokyu Hands "Hands Club" will receive a 300 point present. In addition, those who make purchases of 5,000 yen or more (including tax) will be entered into a lottery to win 1,000 points (until May 16).

Tokyu Hands Have an Online Shop!
All the products listed in this article are available at the Tokyu Hands online shop!
*Some products may be sold out
Get Your Body Ready For Summer at Tokyu Hands!
From tiny devices the size of your palm to giant, large-scale machines, Tokyu Hands Shinjuku is the one-stop shop to get your home-gym in order. If you start working out now, your body will be in tip-top shape for summer!

Decide what kind of regimen and body-part you want to train, ask the knowledgeable and friendly Tokyu Hands staff, and find Japanese fitness equipment that meets your goals and needs!
Indoor disinfection measures taken - Sanitizer installed - Ventilation measures in place - Coin trays used - Plastic partitions installed - Staff wear masks, gargle, wash hands regularly, and monitor body temperature - Capacity is limited, reservation system in place - Masks required - Temperature check enforced

*This information is accurate as of April 2021
*Product availability will depend upon individual stores
*Pricing and details may change
*All prices are including tax
Tokyu Hands Shinjuku Store

東急ハンズ新宿店

Address

Times Square Building 2-8F, 5-24-2 Sendagaya, Shibuya-ku, Tokyo 〒151-0051

Phone Number

03-5361-3111

Hours: 10:00am to 9:00pm
Closed: Open daily
*Business hours may be affected by the spread of COVID-19
Written by:
*This information is from the time of this article's publication.
*Prices and options mentioned are subject to change.
*Unless stated otherwise, all prices include tax.