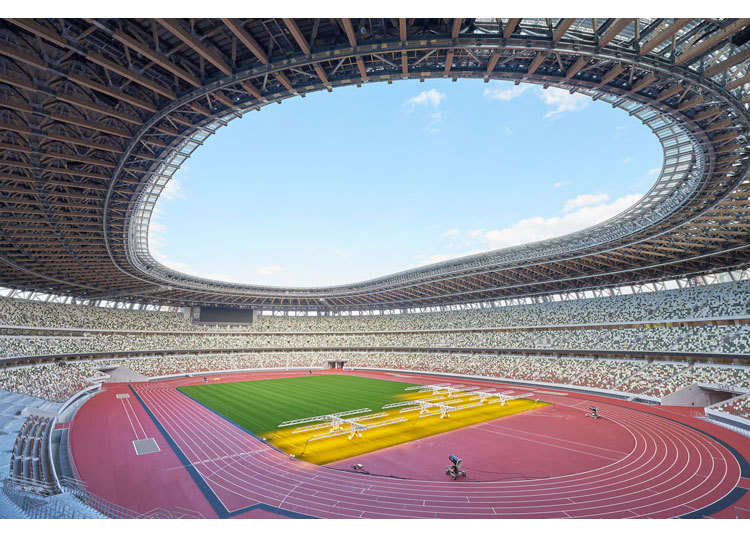 The entire area around Tokyo National Stadium is still filled with lush greenery. Blending into this beautiful environment is the completely renewed stadium, where countless epic matches have taken place and scores of legends have made their marks.

The new stadium has been carefully designed by Mr. Kengo Kuma, an iconic Japanese architect, and he was assisted by a construction consortium made up of Taisei Corporation, Azusa Sekkei, and Kengo Kuma and Associates. The stadium measures 49 meters (about 160 feet) at its highest and is made from wood materials sourced locally in Japan, ensuring that it looks and feels right at home within the natural environment enclosing it.

Without a doubt, the stadium is an increasingly popular place to visit these days, so here are some other hotspots you can consider dropping by as well when you're there to make the trip doubly or triply worth it!

Our list includes everything you need for the full Japanese experience, from must-see sightseeing spots to must-try tasty food, shopping areas, and a brand spanking new hotel.
The National Stadium - A Sanctuary for Sports and Sports Lovers
Photo credits: Japan Sport Council
The most visually prominent aspect of the National Stadium has got to be the nokibisa, or cantilever beams protruding out at various levels.

These beams take inspiration from Horyu Temple's Five-Story Pagoda. Besides serving to block out the searing rays of the hot sun, the beams also direct airflow towards the spectators' stands, making the spectating experience more comfortable for all.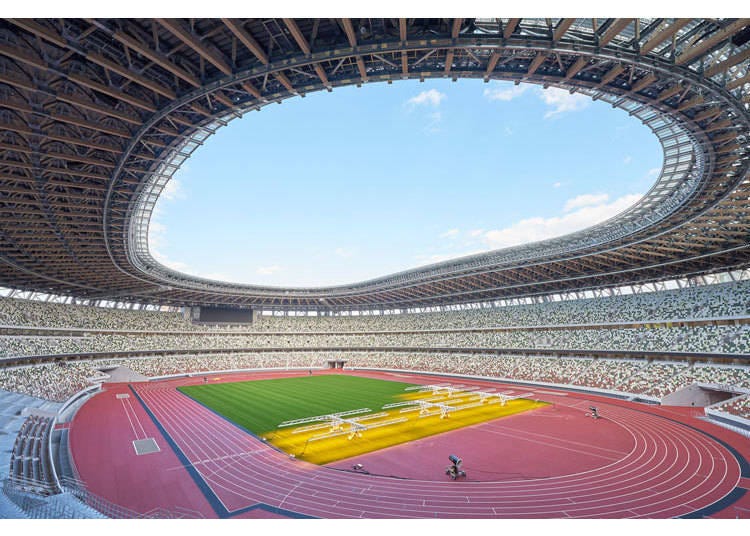 Photo credit: Japan Sport Council
Construction of the current National Stadium started in 2016 and was completed in three years. In consideration of the environment, all electricity within the stadium comes from environmentally-friendly energy sources. On top of that, the stadium is designed to attract natural wind in an efficient way and energy-saving way as well.

After its completion, an opening ceremony was held on December 21, 2019 to inaugurate the new stadium, and as its opening event, the final match of Japan Football Association's Emperor Cup was held there on January 1, 2020.

The stadium is thus officially ready to welcome international athletes for the largest sports event in the world to be held in summer 2020 - the Olympics! Events currently scheduled to take place in the National Stadium are the opening ceremony, track and field, as well as the final match of women's soccer.

Just reading about all this is enough to make you hear in your mind the loud cheers that will reverberate through the stadium on those event days!
How to get to Tokyo National Stadium
The best way to get there is through Exit A2 of Kokuritsu-Kyogijo Station on the Toei Oedo Line. It's only about a 1-minute walk! For those using JR, the stadium is about a 5-minute walk from Sendagaya Station or Shinanomachi Station on the JR Lines.

The area around these train stations are also great places to enjoy some sightseeing, food, or shopping before or after visiting the stadium, and here are some of our recommendations.
(1) Shinjuku Gyoen National Garden: An urban oasis
The National Stadium is located in the Shinjuku area, one of the most urbanized places in Tokyo well-known for its impressive swaths of towering skyscrapers. Nevertheless, there are plenty of sightseeing spots near the stadium that are still teeming with nature, making them conducive areas to enjoy Japan's seasonal sights. Shinjuku Gyoen National Garden is one such location that we particularly recommend visiting.

Situated between Shinjuku Station and the National Stadium, it's the perfect place to go for a relaxing walk before or after an exciting sports event at the stadium!
Shinjuku Gyoen has a long history, dating back to the time of Shogun Ieyasu Tokugawa (1543 to 1616 CE). The area used to be part of a mansion that belonged to Naito, one of Tokugawa's retainers.

It was used as an agricultural experiment station for a while, before turning into an imperial garden in May of 1906.

In 1949, it became a national garden and was opened to the public. Ever since then, Shinjuku Gyoen has built up a reputation among local residents as a precious oasis of respite in a usually hectic metropolitan city.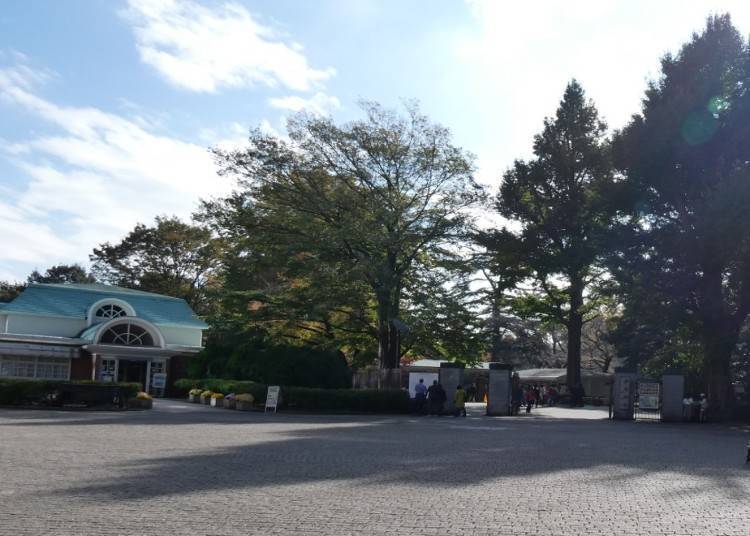 Shinjuku Gyoen National Garden has three gates - Shinjuku Gate, Okido Gate, and Sendagaya Gate. The gate nearest to Shinjuku Station on the JR Lines is, as its name suggests, the Shinjuku Gate.

Meanwhile, Sendagaya Gate is the gate nearest to the National Stadium. Okido Gate is right next to a carpark, which makes it a convenient starting point for those intending to drive to the park.

Rest and relax in a forested garden
Inside Shinjuku Gyoen are three beautiful gardens, each featuring a pond - Kaminoike (upper pond), Nakanoike (middle pond), or Shimonoike (lower pond) that are connected to each other.

1) Japanese Garden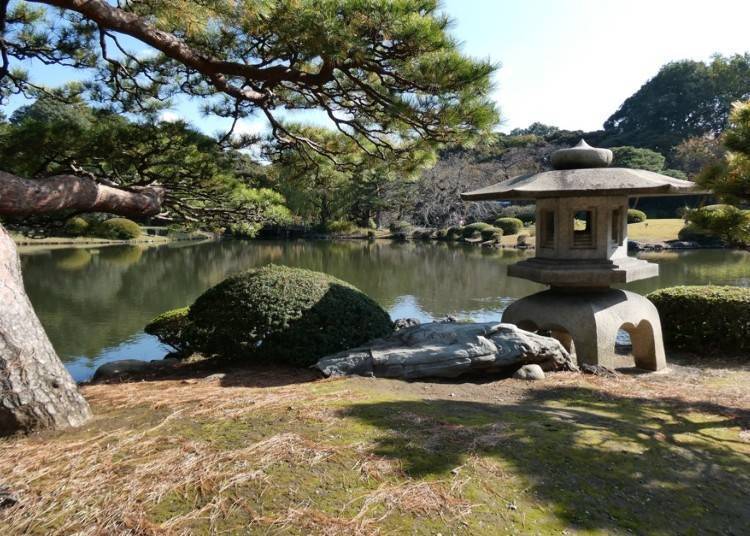 Inspired by Japanese garden aesthetics, the Japanese Garden in Shinjuku Gyoen is planted along the gentle streams of a pond that is bordered by a pathway.

The exotic mood of the place encourages visitors to admire the hushed tranquility found within and forget about the hustle and bustle of modern city life - even if for a moment.

Wedged between the garden and the pond is an impressive and authentic Chinese-style structure known as the Kyugoryotei, or Taiwan Pavilion. The pavilion was built above water to provide cooling shade for the crown prince during his summer strolls.

<@2) Formal Garden@>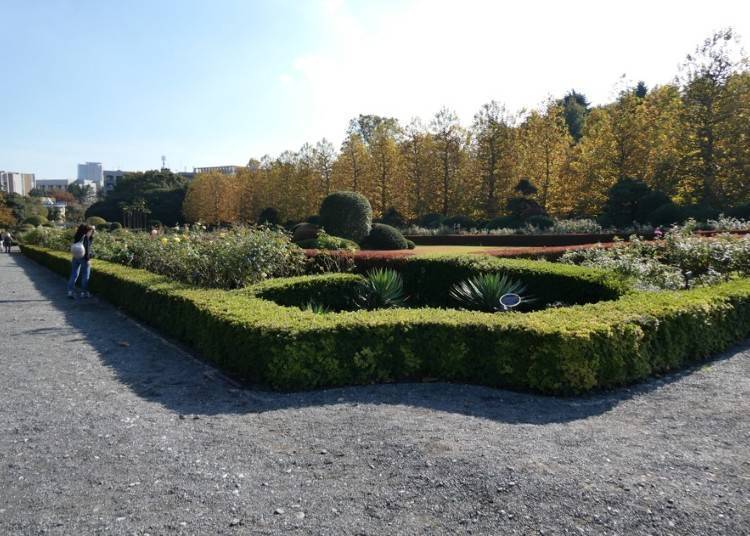 The Formal Garden is a carefully manicured symmetrical Western-style garden. At the center of the garden is a rose bed where about 500 roses of 110 different species bloom beautifully.

On either side of the garden are 156 plane trees that line up in avenues about 200 meters (656 feet) long. The tree avenue is like a scene right out of a movie and truly a sight to behold in person.

Needless to say, this is one of the more popular places for photographs in the area.

3) Landscape Garden
Spacious lawns and massive trees that seem to touch the sky are symbols of the comfortable Landscape Garden of Shinjuku Gyoen. The sturdy trees found here add a dramatic touch to the city's background of skyscrapers. The lawns are so well-maintained, it makes you wish you could lie on them to look up at the clear blue sky during fair weather days.

Other than the three main gardens, there are other rest stops and refreshment areas in Shinjuku Gyoen as well. Near the Taiwan Pavilion are popular areas such as Azumaya and Fujidana that were featured in the anime film, "The Garden of Words".

If you're ever in need of a little moment of peace during your travels, wish to be surrounded by soothing greenery, or just want to get in closer touch with Japan's garden culture and structures, come to Shinjuku Gyoen!
Address

11 Naito-machi, Shinjuku-ku, Tokyo, 160-0014
View Map

Nearest Station

Shinjuku-Gyoemmae Station (Tokyo Metro Marunouchi Line)
5 minutes on foot


Phone Number

03-3350-0151
(2) Bicqlo: Comfortable clothes and convenient home appliances all in one shop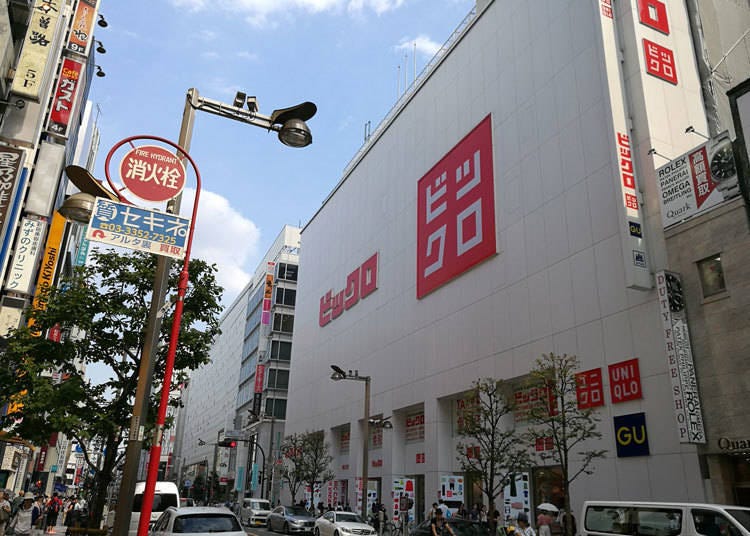 Bicqlo Bic Camera Shinjuku Station East Store / Nattasit Poonnakasem / Shutterstock.com
Bicqlo is a collaboration retail shop between home appliance seller Bic Camera and Uniqlo, a homegrown Japanese apparel label that has made a name for itself around the world.

The building goes down all the way to basement three and has six floors aboveground as well. The 1st to 3rd floors feature Uniqlo clothing, a brand known for quality and stylish casual clothes that are reasonable on the wallet.

All the basement floors and the 4th to 6th floors aboveground are retail spaces for Bic Camera. If there's a general item you need, whether household appliance, toiletry, or sporting product, you're very likely to find it here!

The shop employs staff capable of speaking English, Mandarin Chinese, and Korean, so international visitors can shop with absolute peace of mind! To make things even more convenient for everyone, you can pay for your goods via credit cards, electronic wallets, and Bitcoin as well!
Address

3-29-1, Shinjuku, Shinjuku-ku, Tokyo, 160-0022
View Map

Nearest Station

Shinjuku-Sanchome Station (Tokyo Metro Marunouchi Line / Tokyo Metro Fukutoshin Line / Toei Shinjuku Line)
1 minute on foot


Phone Number

03-3226-1111
(3) Elephant Lounge: The largest sports bar in town!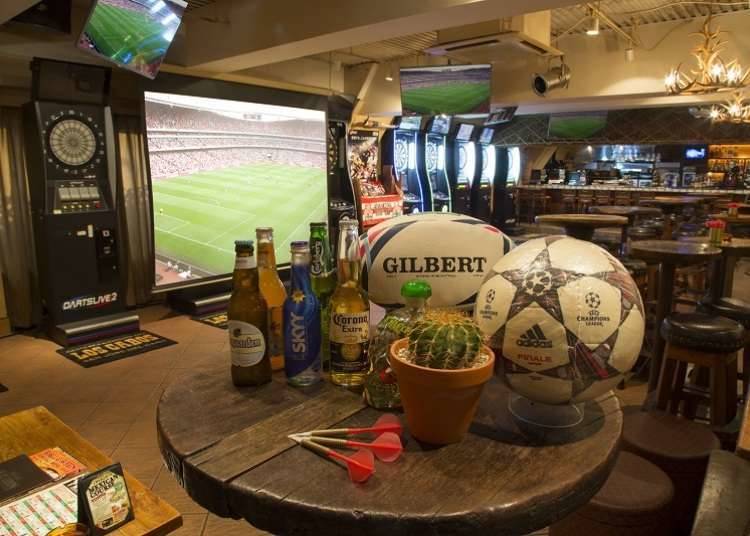 Nothing adds to the enjoyment of watching an exciting sports match quite like a plate of delicious food or two, and that's why you should be dropping by the largest sports bar in the Shinjuku area - Elephant Lounge.

The electrifying bar is located on the 8th floor of Pasela Resorts Shinjuku, best known for its karaoke and party spaces. Sports spectating is the main draw of Los Cobos, as evidenced by the five high-definition TV screens installed within shop premises.

To enhance the spectating experience, the bar also offers great-tasting food and alcoholic beverages to bar-goers as they cheer on their favorite sports or athlete.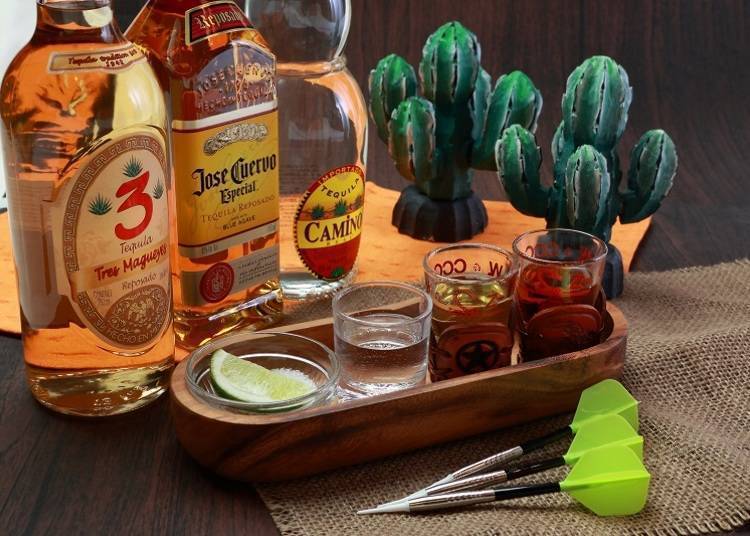 Inside, the shop is decorated like a good old Mexican bar. It's hard to understand how great a glass of alcoholic beverage can taste when spiced up with the thrill of watching an exciting match on a large screen until you try it!

The atmosphere here is so welcoming, even perfect strangers tend to hit it off from the get-go. There are two types of draft beer and four types of bottled beer you can order, along with 13 types of tropical cocktails and 9 types of mason jar cocktails, amongst others.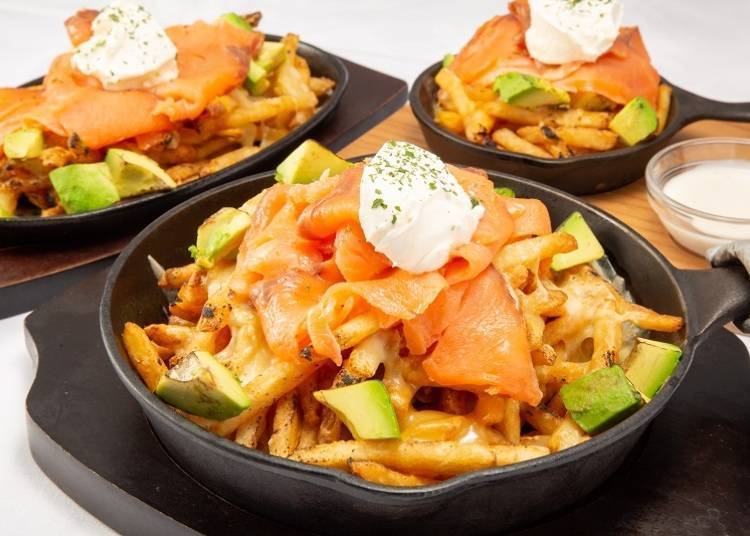 Elephant Lounge also serves a slew of sumptuous international cuisine, such as Mexican-style American food in the form of Fried Cheese Nacho Tacos, Bagna Cauda prepared garden-style with seasonal vegetables, and plenty of other irresistibly tasty finger food.

Need something a bit more hefty? Feel free to fill up your rumbling tummy with a plate of Salmon and Roe Cream Pasta, Nasi Goreng Indonesian Fried Rice, or other meal offerings. You'll need it for the cheering!
エレファント ラウンジ

Address

Pasela Resorts 8F, 1-3-16 Kabuki-cho, Shinjuku-ku, Tokyo-to 160-0021

Nearest Station

5-minute walk from Shinjuku Station on the JR Lines; 4-minute walk from Shinjuku-sanchome Station on the Tokyo Metro


Phone Number

050-3476-8644

Hours: Mondays to Fridays / Eve of holidays 6:00 p.m. – 6:00 a.m. the next day (last order 5:00 a.m., drinks last order 5:30 a.m.)
Saturdays 12 noon – 6:00 a.m. the next day (last order 5:00 a.m., drinks last order 5:30 a.m.)
Sundays 12 noon – 5:00 a.m. the next day (last order 4:00 a.m., drinks last order 4:30 a.m.)
Closed: Open daily
(4) Mitsui Garden Hotel Jingu-Gaien Tokyo Premier: What's it like to have the National Stadium all to yourself?
Scores of glamorous hotels have been popping up one after another in Tokyo between 2019 and 2020, and one of the most-talked about hotels among the crop is Mitsui Garden Hotel Jingu-Gaien Tokyo Premier, because of its excellent location - right in front of the National Stadium!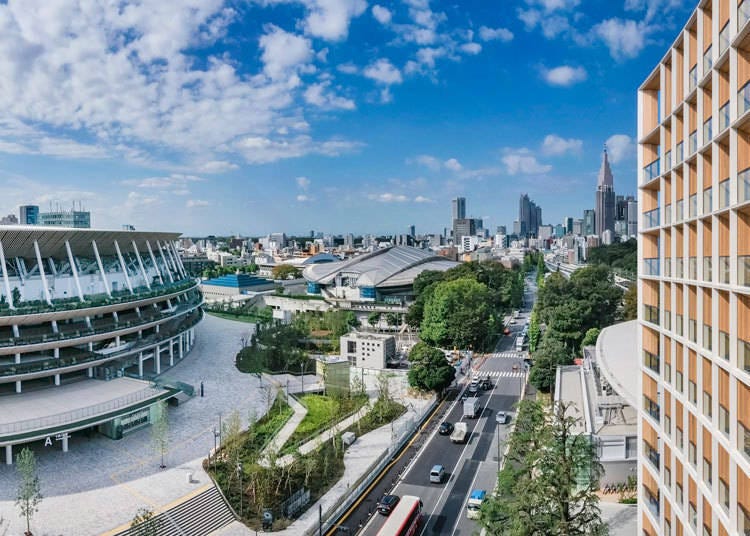 The hotel's exterior was built using wood materials, and the design makes liberal use of curved lines. It blends in with Jingu Shrine's verdant outer grove and makes a harmonious pair with the National Stadium's equally nature-based design.

All hotel rooms come with a balcony area that opens up to some form of greenery depending on the direction it's facing - Jingu's outer garden to the south, Shinjuku Gyoen to the north, the vast green foliage of the Imperial Palace to the east, and Meiji Jingu and Mt. Fuji to the west.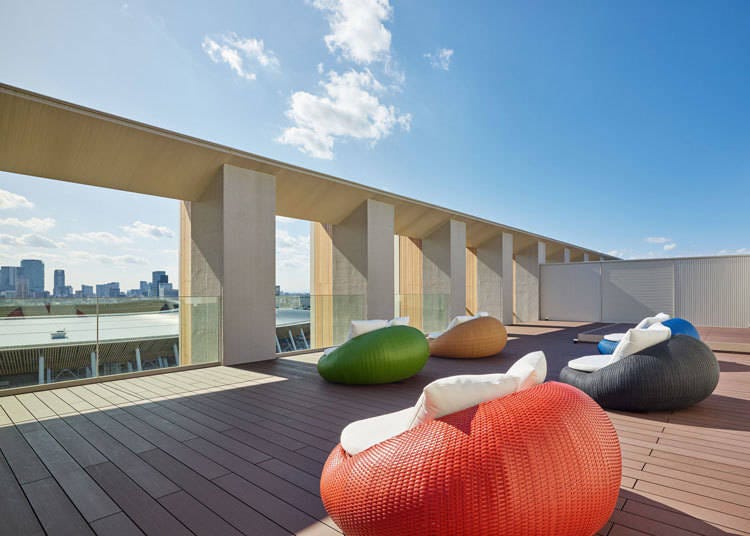 On the 13th floor of the hotel, you'll find a rooftop terrace that offers an unbeatable view of the stadium. To help you thoroughly enjoy that view, the hotel has installed several colorful sofa cushions on outdoor chairs for you to sink into as the blue sky above embraces you. Talk about luxury!

If being kissed by the sun isn't your kind of vacation, try going out at night instead to be surrounded by a veil of glittery stars and distant lights from the city night life all around.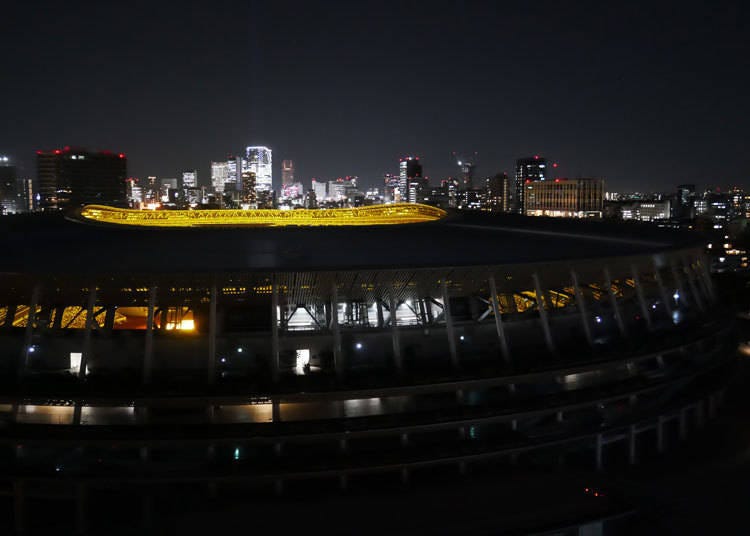 If you prefer a bit more privacy, every room of the hotel actually has its own terrace as well, and the views are equally magnificent whether day or night. You'll also find alcoholic beverages vending machines and ice making machines within the hotel, in case you feel like grabbing a quick, cold drink to accompany you as you admire Tokyo's glitzy nightscape from the comforts of your hotel bed!
In terms of accommodation, the hotel has 9 types of rooms available for booking, from reasonably priced moderate rooms to gorgeous-looking junior suite twin rooms, making it easy for visitors to pick something suitable for their budget and preferences.

The combination of Serta mattresses, a popular brand in the United States, with the hotel's original comfy pillows ensures a good night's rest after a day of intense activities.

Stringent security measures have been put in place within the hotel, so that ladies who are traveling alone can feel safe during their stay here.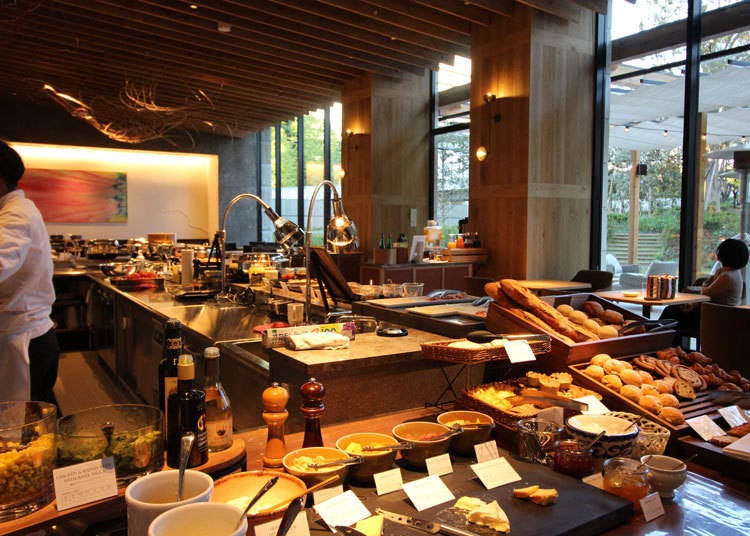 After waking up refreshed, it's time for breakfast at the hotel restaurant, Ristorante & Bar Evolta. The restaurant's garden is enclosed by the shrine groove connected to Jingu Shrine's outer precinct, and the atmosphere here certainly feels more like a resort hotel located on a highland instead of in the middle of a bustling urban city!

A great way to lift your mood first thing in the morning would be to take a seat on the terrace during a clear weather day and breakfast with the pleasant and melodious chirping of early birds in the background.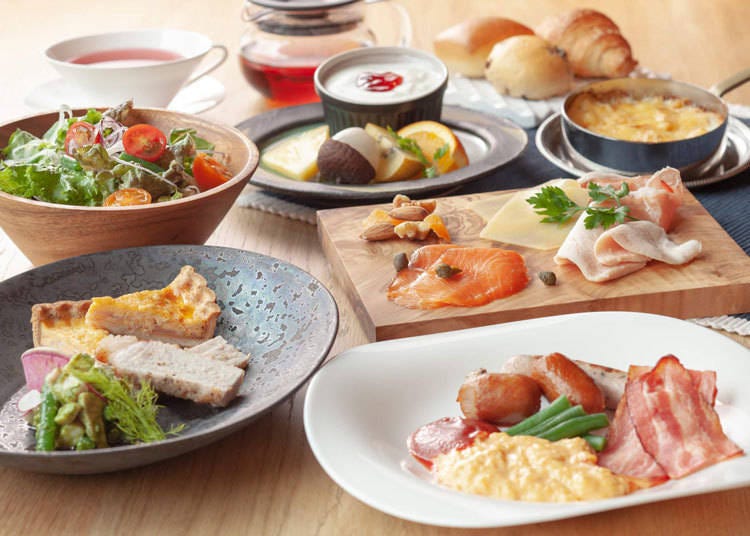 The breakfast buffet is a delightful mix of Japanese cuisine, Western cuisine, homemade smoothies, beverages, and more than 100 different kinds of food items in all.

The fresh loaves of bread being served are made using wild yeast. Breakfast ham is carefully grilled over a charcoal fire that imbues it with an appetite-whetting aroma. It almost feels like you're glamping! The live kitchen also whips up fresh Egg Benedict and other breakfast favorites on demand. Truly a spread that pampers all your senses!

The hotel has coin laundromat facilities that can be used for a fee. The fitness room is available free of charge for room guests, and it contains the latest fitness machines from Technogym - equipment that work well together with a supplementary training app (visit the official website for more information).
Mitsui Garden Hotel Jingu-Gaien Tokyo Premier

三井ガーデンホテル神宮外苑の杜プレミア

Address

11-3 Kasumigaoka-machi, Shinjuku-ku, Tokyo-to 160-0013

Nearest Station

Take an express train from Tokyo Station to Ochanomizu Station on the JR Chuo Line (about 4 minutes), change to the JR Chuo-Sobu Line to Shinanomachi Station (about 10 minutes), disembark and walk for about 6 minutes to destination
- Take a train from Shinjuku Station to Kokuritsu-Kyogijo Station on the Toei Oedo Line (about 4 minutes), disembark and walk for about 1 minute to destination
- Take a train from Shinjuku Station to Sendagaya Station on the JR Chuo-Sobu Line (about 4 minutes), disembark and walk for about 5 minutes to destination


Phone Number

03-5786-1531

- Front desk is open 24 hours. Staff can speak English and Japanese
Official website: https://www.gardenhotels.co.jp/jingugaientokyo-premier/

Vacancy search, reservation

from

13,500JPY

1room, 2adults

Check with our partner site as the latest rates, rate details, and guest room requirements may vary.
English translation by: Huimin Pan
*This information is from the time of this article's publication.
*Prices and options mentioned are subject to change.
*Unless stated otherwise, all prices include tax.