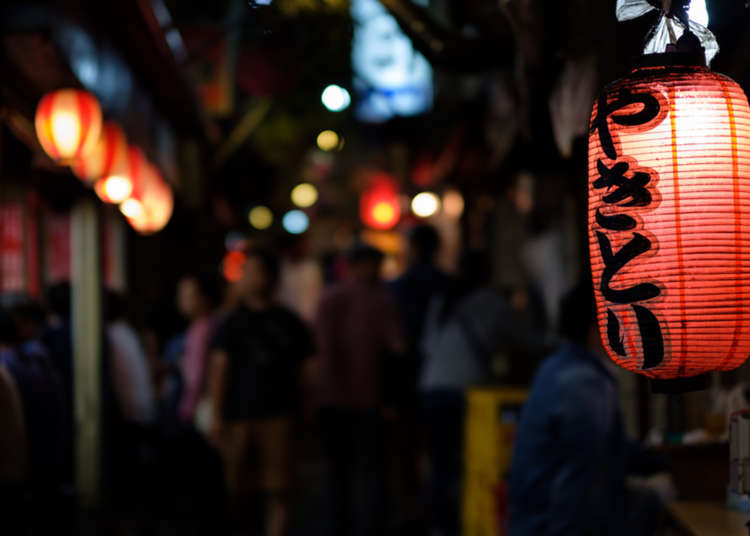 The many back alleys of Arakicho in Tokyo's Yotsuya neighborhood was once a bustling geisha district, a major hub of entertainment for the Tokyoites of old. Now, the atmospheric alleys are crowded with restaurants and cafes, making it a popular gourmet hot spot right next to the lively Shinjuku. We've skimmed the area and found our three most favorite restaurants that we'd like to recommend to both Arakicho veterans and beginners!
Savoring the Local Delights of Imabari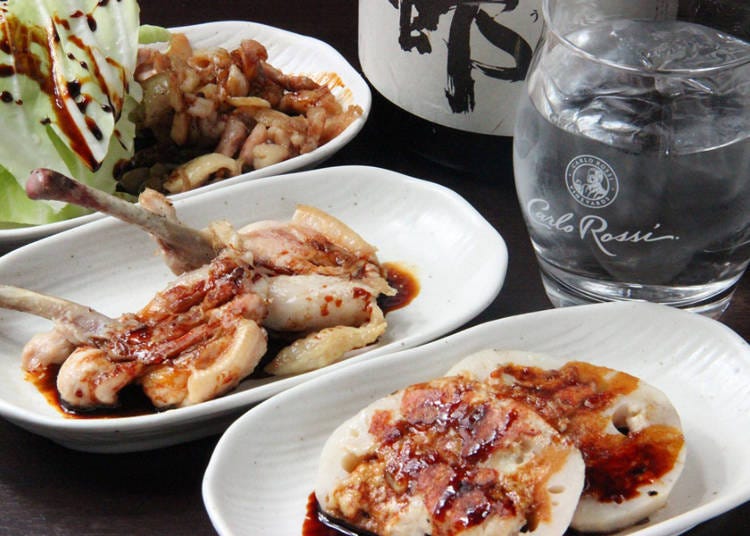 Toryu, the first spot on our list, is just a 2-minute walk away from Akebonobashi Station and serves a very special kind of cuisine. The shopkeeper is from the city of Imabari in Ehime Prefecture, and thus spoils gourmet-savvy Tokyoites with local delights from Japan's Shikoku. The dish that absolutely needs to be tried when coming to Toryu is the yakitori (grilled chicken) for 320 yen. In Imabari, the dish isn't skewered like in the rest of the country, but instead grilled on an iron plate. This gets rid of extra fat, making the skin especially crunchy and the meat incredibly juicy and tender. But beware - once you've tried Imabari yakitori, you will undoubtedly come back for more!

While on the topic of chicken: the restaurant's karaage, or fried chicken, isn't what you'd usually expect when ordering it in Japan. Instead, you'll get to enjoy a thoroughly seasoned piece of chicken meat on the bone! Be sure to try one of the many sake on the menu as well, they go fantastic with the yakitori dishes.

Hours: 6:00 p.m. - 2:00 a.m.
Sundays & national holidays: 5:00 p.m. - midnight
Holidays: none
TORYU

Address

Espero Bldg. 1F, 16 Arakicho, Shinjuku-ku, Tokyoto 160-0007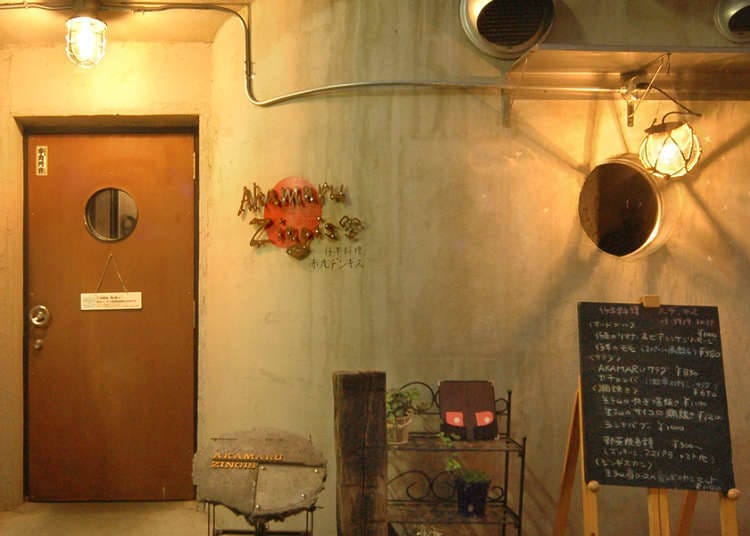 Enjoying the Taste of Lamb, Genghis Khan Style!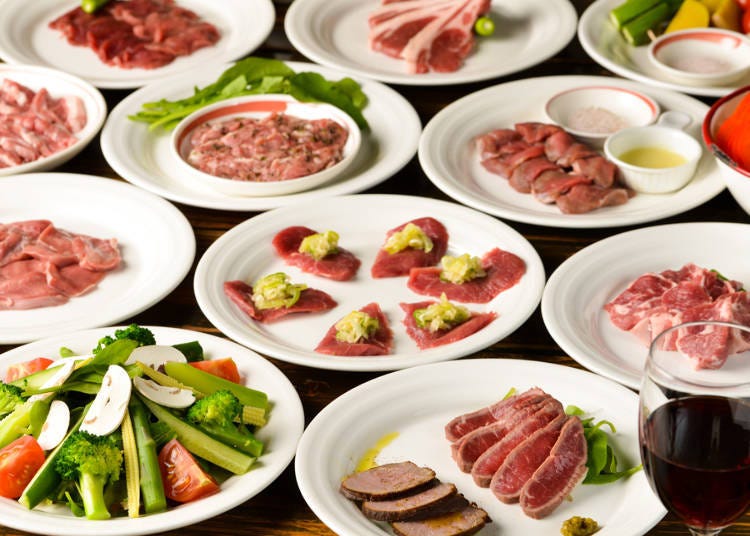 From Yotsuya-Sanchome Station, you'll take about three minutes on foot to reach Akamaru Zingis, an atmospheric restaurant that is tucked away in Arakicho's charming back alleys. When you ask the locals about this particular place, pretty much everyone will be able to point you in the right direction - it's rather famous not only among lamb lovers.

Why lamb? Because it's the main star of Akamaru Zingis' menu. Using high quality lamb meat from Australia, our special recommendation is the course for 5,280 yen. This will let you try all kinds of lamb delights, from seared lamb to the classic Ghengis Khan, a Japanese-style grilled lamb dish, making for a wonderful journey through the world of lamb meat. Especially delicious is the sweet, homemade apple sauce that goes extremely well with the savory meat. This is a must when in the area!

Hours: 6:00 p.m. - 11:30 p.m.
Holidays: Sundays, Mondays
仔羊料理 赤丸ヂンギス

Address

Andou Bldg. 1F, 7 Arakicho, Shinjuku-ku, Tokyo-to 160-0007
A Smoked Cuisine Specialty Restaurant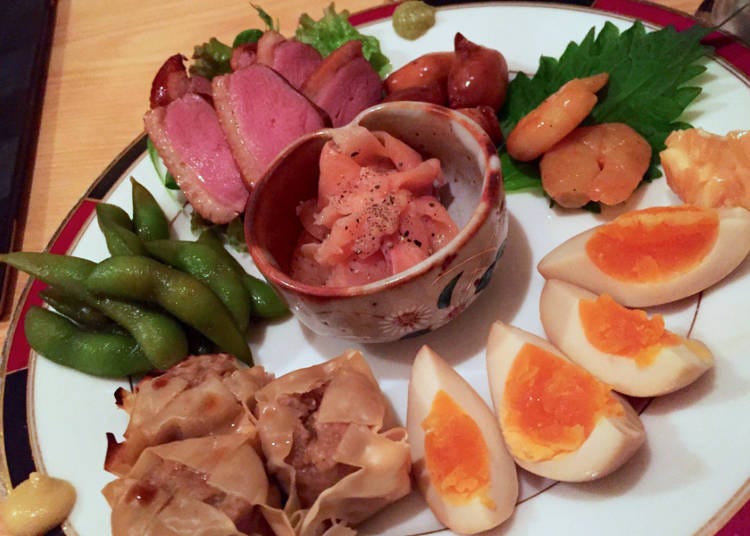 Engine, a smoked cuisine specialty restaurant, was founded by Gyuzo, a member of the popular Tokyo Shock Boys, basically a Japanese TV show from the 90s that focuses on rather dangerous stunts. This alone makes the restaurant somewhat of a local landmark but the taste of the many smoked specialties does in no way lag behind its reputation!

The unique charm about smoked cuisine is the way that food is tasted - the nose plays as much of a part here as the tongue, taking in the savory and delicious smoke aroma of the dishes. Depending on the wood that the ingredients are smoked over, they do taste different and unique and Engine offers six different smoking methods, cherry, beech, and hickory wood among them.

Not only fish, meat, and vegetables are smoked at Engine, but so are the seasonings and sauces like olive oil and soy sauce. Everything is made to fit together for a perfect smoked cuisine experience - which is best perfected with pleasant company and a drink, by the way! The food goes especially great with Shochu, so be sure to try. Our recommendation for smoke beginners is the "Mixed Smoked Plate, Half Size" for 1,580 yen, offering a variety of different dishes to be compared and savored.

Hours: 6:00 p.m. - 11:00 p.m.
Holidays: Irregular
煙人

Address

Miyake-Sou 1F, 3 Arakicho, Shinjuku-ku, Tokyo-to 160-0007
Written by : Mikiko Okai
*This information is from the time of this article's publication.
*Prices and options mentioned are subject to change.
*Unless stated otherwise, all prices include tax.