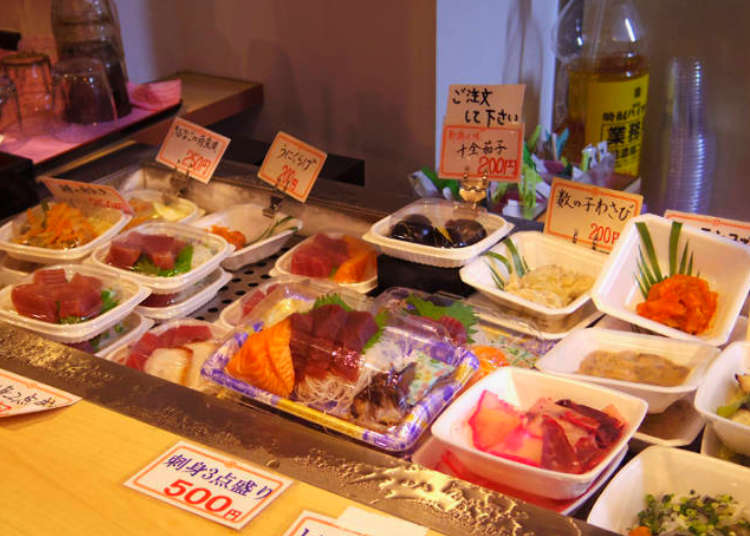 This time, we wanted to focus on our female travel friends who seek to dip their toes in Japan's fun izakaya culture.

With Ueno Park, Ameyokocho, and numerous museums, Ueno - a neighborhood on Tokyo's east side - has a ton of unique and fun sightseeing spots to offer! After a long day of exploring the charms of the area, nothing is better than a couple of cold drinks in the evening. Ueno is a lively town filled with numerous traditional Japanese pubs called izakaya, making the choice of where to go for one – or more – last drinks before heading home.

Here are our three recommendations, to be enjoyed with your friends or all by yourself!
1. Ueno Yorozuya Shuho: Try the Fun Custom of "Kaku-Uchi" - Drinking at a Liquor Store!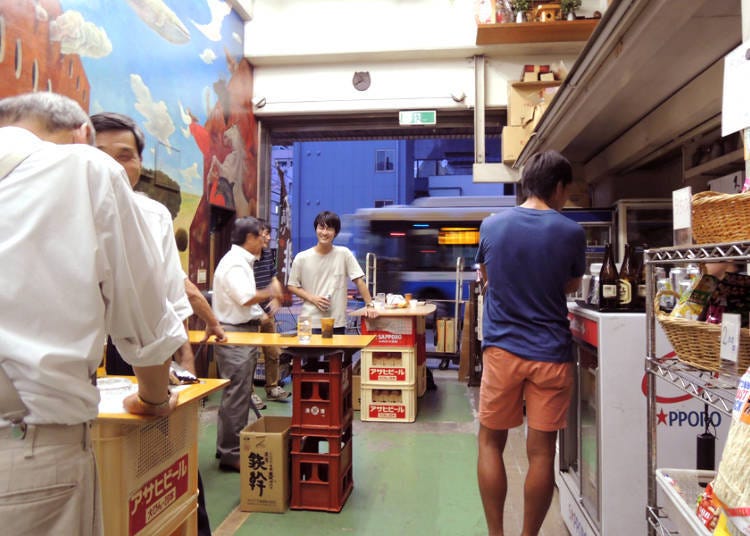 Ueno Yorozuya Shuho is the first spot on our list and a truly unique one. This izakaya invites you to experience the Japanese drinking custom called "kaku-uchi," meaning to drink directly at a liquor store. It's just a brief walk away from the station but still nestled in a calmer, more relaxed part of Ueno's downtown area.

Yorozuya Shuho originally was a long-established liquor store that could look back on a history of more than 90 years – until the place was refurbished and renovated. With a cozy warehouse-style feel, the motto of Yorozuya Shuho now is "introducing the proper taste of sake to younger generations." Thus, the fun experience of "kaku-uchi" started being offered!

The bright and open space has a very warm, welcoming atmosphere to it and the colorful mural on the wall gives the place a dash of modern art. The show owner herself is a woman who likes a good Japanese sake, so it really is a great place for female travelers on the lookout for a couple of drinks.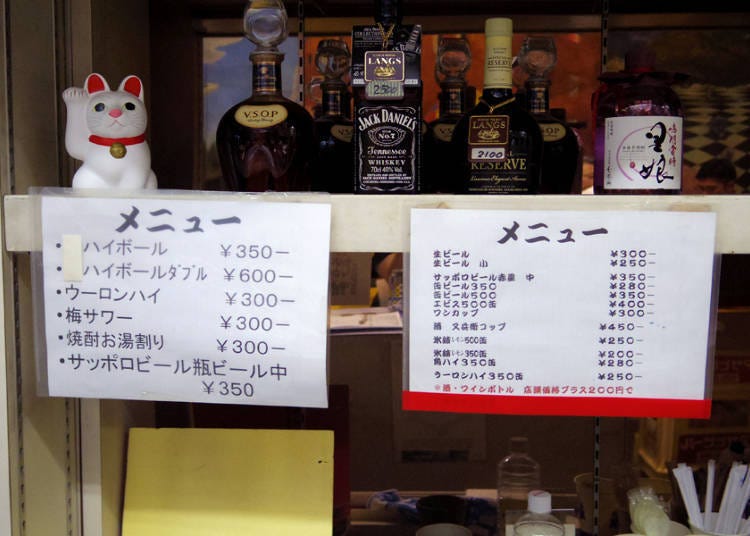 The best part about kaku-uchi are the ridiculously cheap prices. Not only the draft beer is amere 300 yen, so are all the home-made dishes!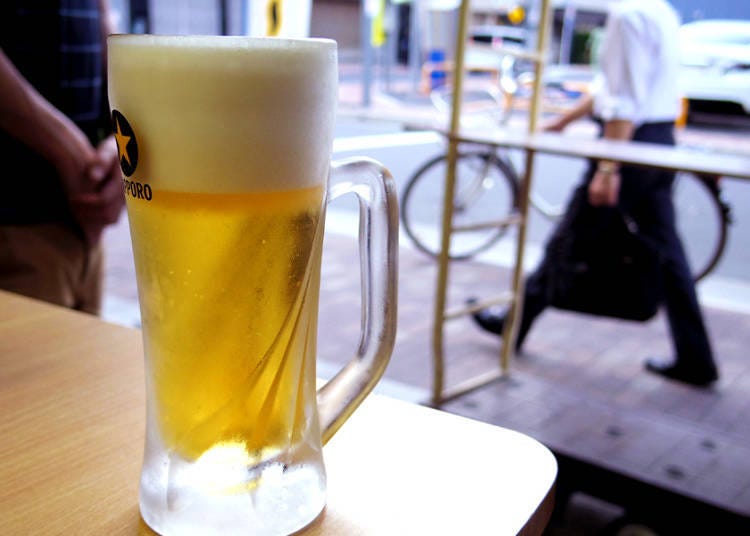 Even entire bottles of sparkling wine are readily available to celebrate your trip, a great evening, or simply yourself.
Our Recommendation: the 500-Yen Set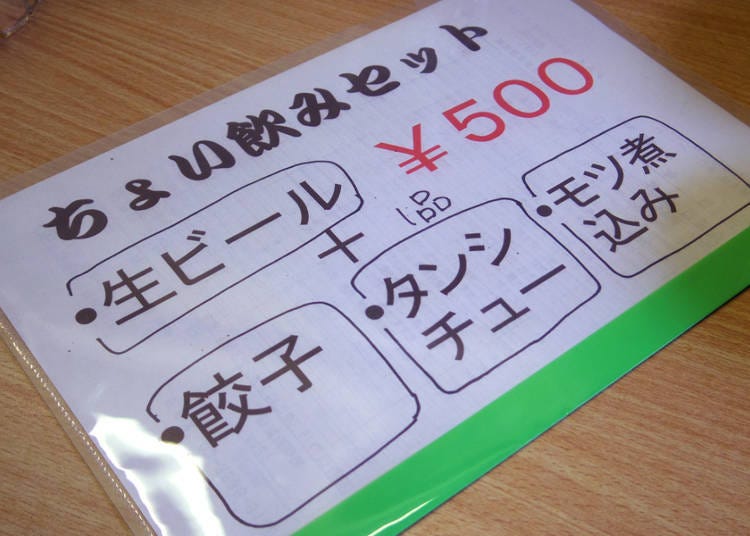 The best and most delicious deal that you can make at Ueno Yorozuya Shuho undoubtedly is the 500-yen set. This nets you a draft beer and one out of three dish choices: gyoza (dumplings), beef tongue stew, or offal stew.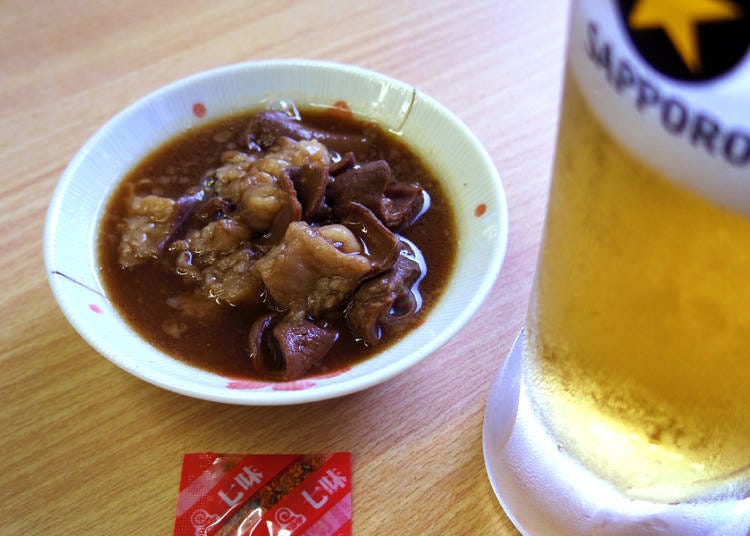 The offal stew is made from pork offal and plenty of vegetables, boiled in a simple yet heavenly delicious soy sauce-based broth. Even if you've never had offal before, this classic Japanese comfort food is a gourmet experience so tasty, it'll leave you craving for more!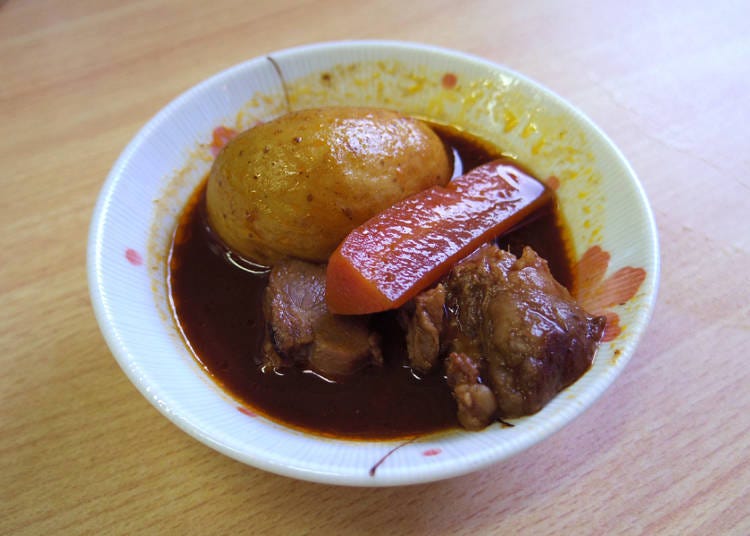 The beef tongue stew combines beef tongue with a savory demi-glace sauce and vegetables. This is a popular dish of what can be called Japanese Western-style cuisine and makes a wonderful snack to be enjoyed while sipping a cold beer.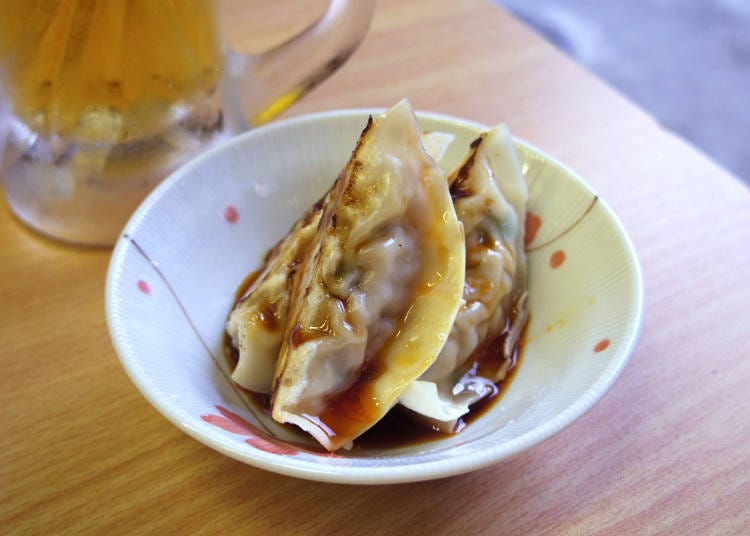 Gyoza, Chinese-style dumplings, are the safest choice for everyone who doesn't feel like experimenting with food. The light filling of pork, cabbage, and other ingredients will make gyoza one of your favorite beer foods in no time.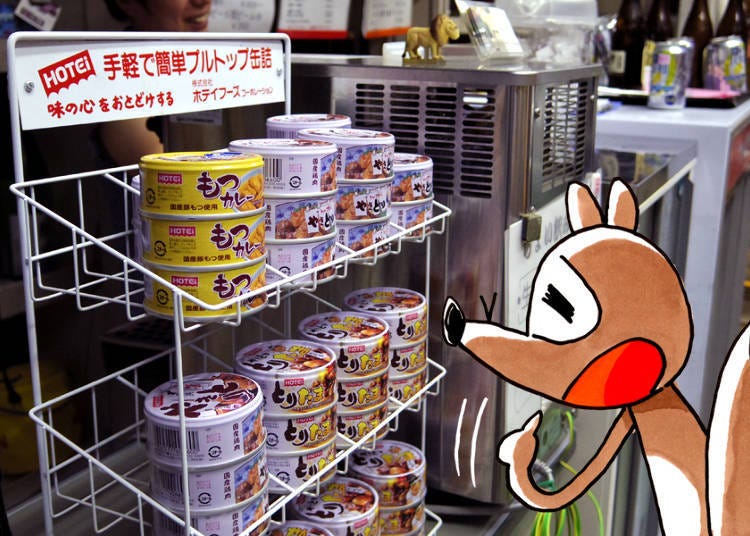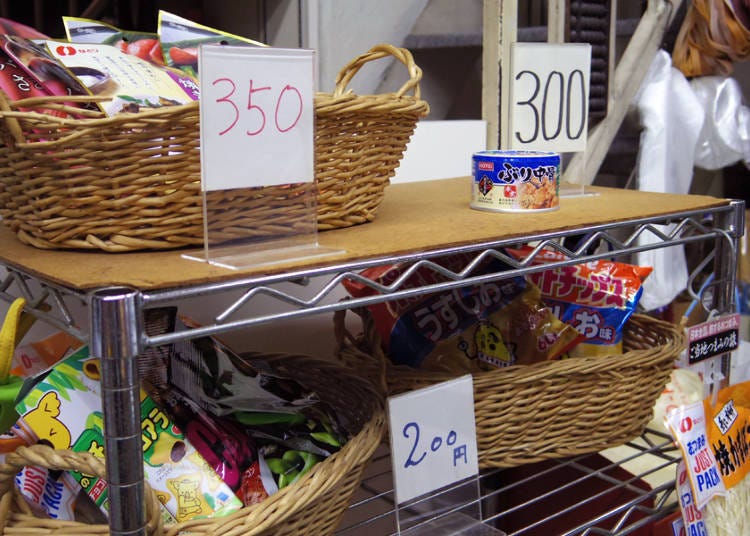 Another characteristic of the kaku-uchi drinking experience are the sweets and canned foods! The shop offers a variety of readily-packed delights that can be hard to find anywhere else, so make use of the casual experience and taste your way through Japan's cans!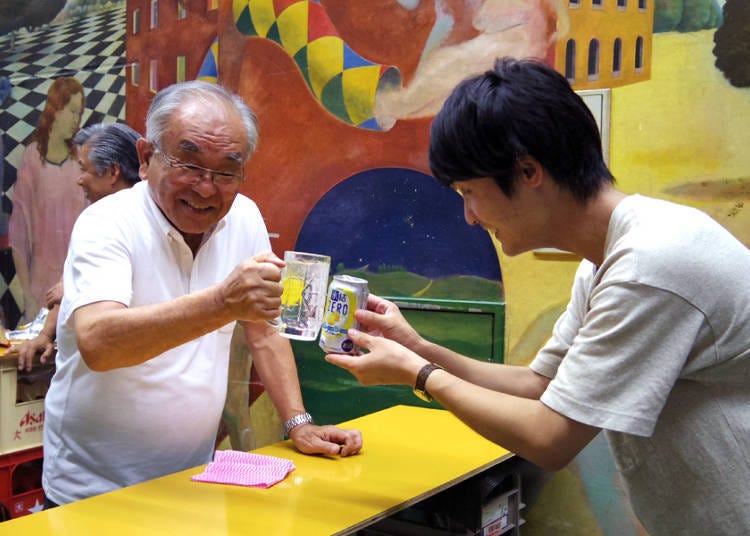 Ueno Yorozuya Shuho is a place where everyone comes together to enjoy casual drinking in a warm, welcoming atmosphere, no matter age, gender, or nationality. Have a chat with the local regulars and make new friends – everyone's friendly here!
Hours: 2:30 p.m. – 7:00 p.m. (Mondays to Fridays)
Closed: Saturdays, Sundays, national holidays
上野萬屋酒舗

Address

1-25-8, Higashiueno, Taito-ku, Tokyo, 110-0015
2. Ajinofue: The Perfect Izakaya for Sushi Lovers!
Spot number two is called Ajinofue and can be found under the viaduct that connects to Ameyokocho, near Okachimachi Station. It's a standing bar managed by Yoshiike, one of Ueno's most famous and long-established seafood stores.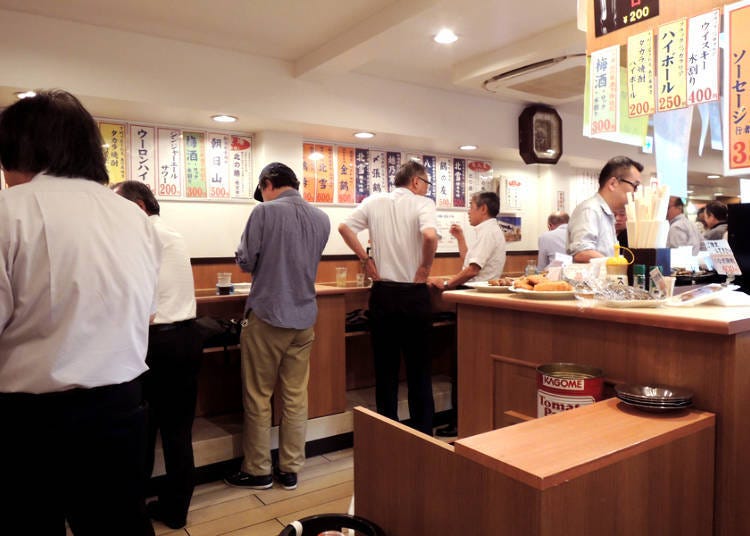 The first floor offers a spacious, warm standing space to casually enjoy a drink at, while tables can be found on the second floor for those who'd like to rest their legs after a long day of sightseeing. The bright, relaxed environment makes Ajinofue a great spot for women by themselves or groups of friends.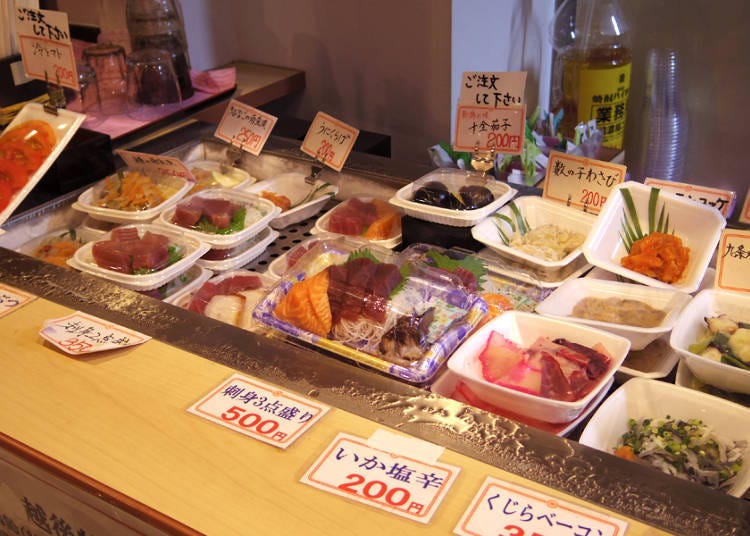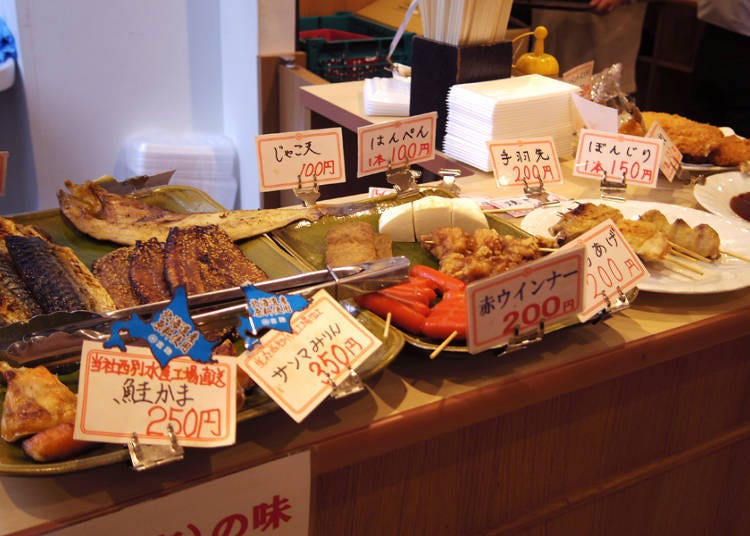 One of the biggest charms of Ajinofue is its wonderful selection of seafood-centered side dishes. All sorts of little gourmet gems are arranged side by side at the counter, ready to be picked up and enjoyed! Since the bar is managed by a famous seafood wholesaler supplying various department stores around, you can look forward to amazing quality and taste!

Ajinofue's system is simple. You simply choose the dish you want to eat, bring it to the cash register, and enjoy it anywhere you like!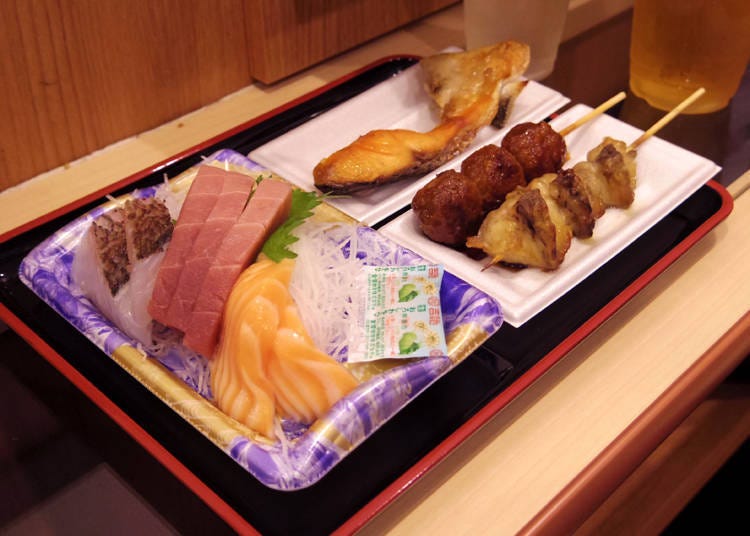 These are the three delicacies that we chose, a nice mix of sashimi and grilled delights! As you see, you can create your very own dinner, perfectly adjusted to your favorite flavors. Still, if you're in the mood for sashimi, we urge you to try the "3 kinds of prime sashimi" plate, shown above, for 500 yen.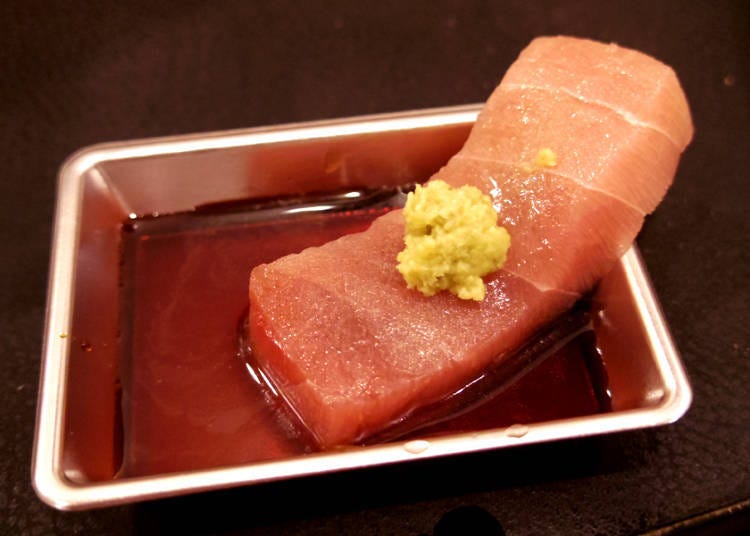 This is a piece of chu-toro, medium-fatty tuna. It is amazingly fresh, has a rich tuna flavor, and is so soft, it basically melts on your tongue! The sea bream and salon are equally delicious, so don't hold back and indulge in prime sashimi for an astonishingly low price!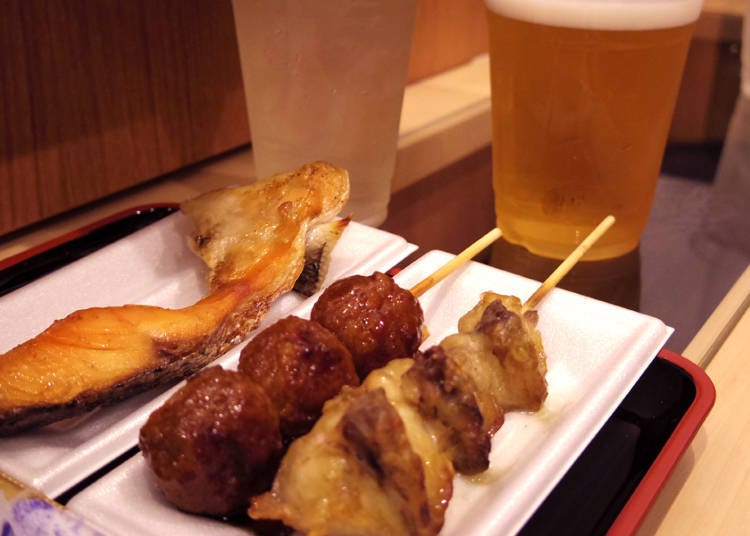 The grilled salmon (left, 250 yen) was caught in Hokkaido directly brought to Ajinofue, giving you a uniquely delicious taste of Japan's northernmost prefecture. Our other plate is grilled chicken tails (150 yen) and little meatballs (130 yen) also made from chicken meat. They're juicy and flavorful, the perfect snack for a cold beer!
The Sake Experience: From Standard to Luxurious Brands!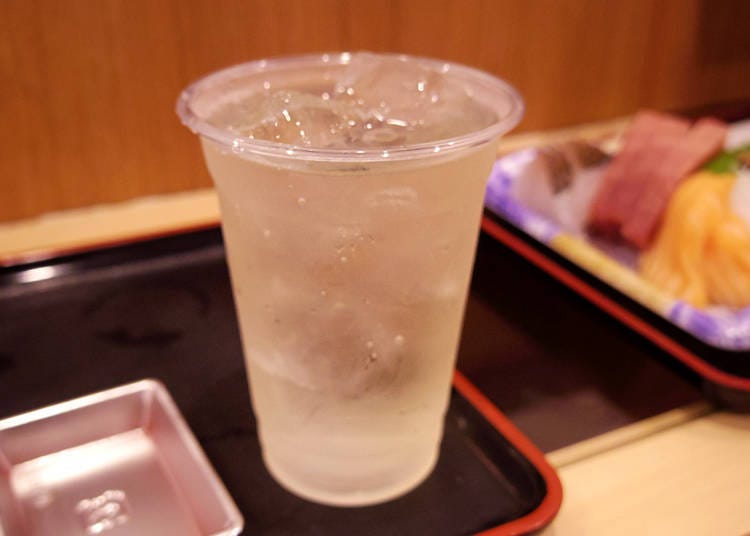 Of course, Ajinofue also offers an amazing selection of drinks of the menu. We always go for the lemon sour for 200 yen as a starter and work from there.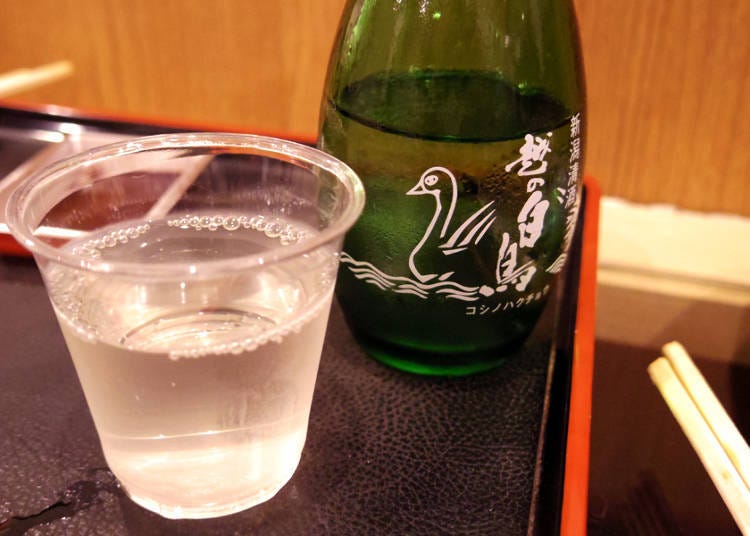 The Japanese sake selection focuses mainly on Niigata. If you're a sake beginner, we recommend starting with Koshi no Hakucho for 300 yen. This sake is a solid choice if you don't know where to start – and comes in a cute bottle!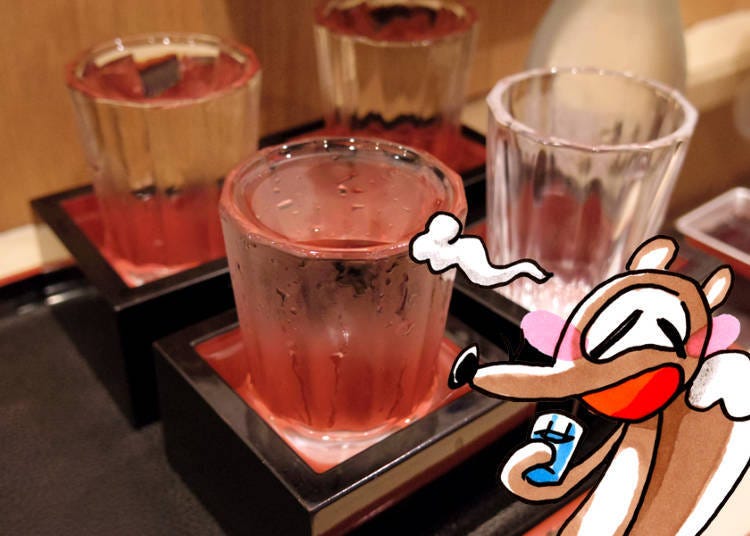 There are several famous sake options on the menu, such as Koshi no Kanbai for 500 yen, Secchubai for 500 yen, or Kintsuru (600 yen). The traditional Japanese drink is served in a glass and the characteristic box called masu.
Ajinofue offers a variety of snacks and especially delicious sashimi, lets you savor various Japanese sake delights and a wonderfully laid-back atmosphere that is welcoming and fun! Enjoy the place all by yourself or bring friends!
Hours: 3:00 p.m. – 10:00 p.m. (last order at 9:30 p.m.)
Closed: Sundays
味の笛 本店

Address

5-27-5, Ueno, Taito-ku, Tokyo, 110-0005
3. Meat Oyama: The Perfect Harmony of Beer and Meat!
Last stop before heading home: Meat Oyama! This place is one of Ueno's most famous eating and drinking hot spots, a long-established meat wholesaler that has tickled the taste buds of millions of Tokyoites with its heavenly dishes. Next to the take-away counter, the shop offers a standing bar, inviting you to have a drink and a hearty meal!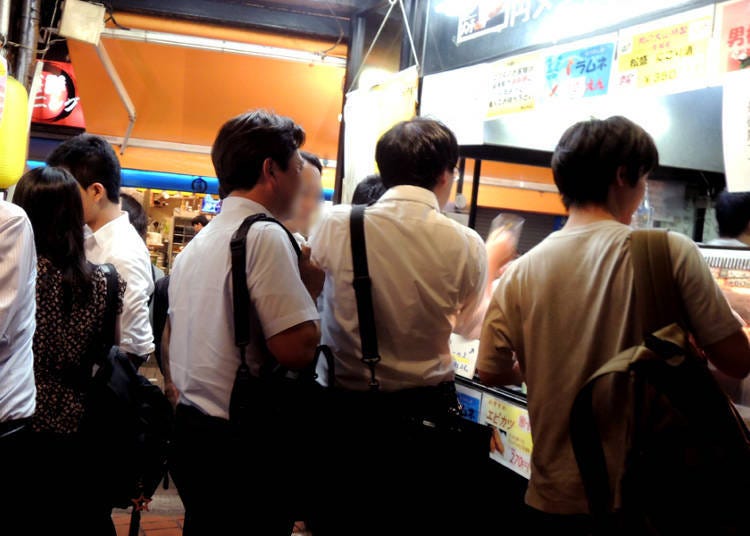 Because of its nature as a standing bar, Meat Oyama is Ueno's perfect spot to just drop by yourself. You'll always manage to find a spot!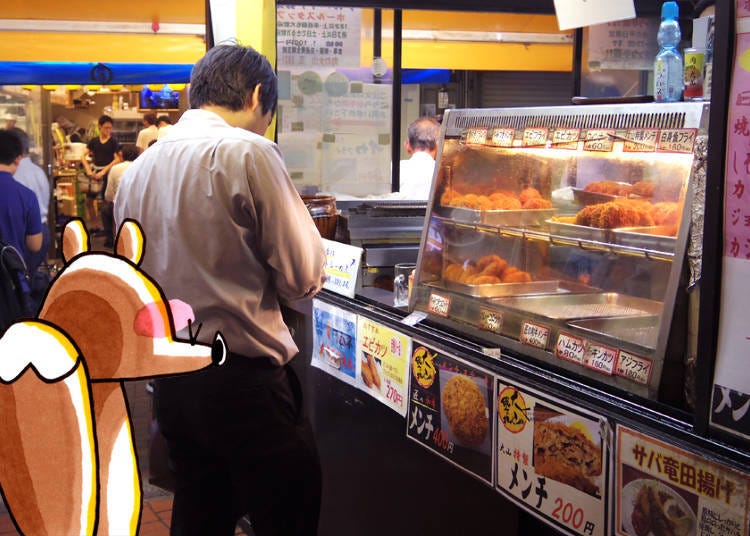 Simply order at the cash register right next to the glass case that contains all the yummy fried treats. Having to wait in line can be a real boon here, as you get the chance to look at the different dishes and choose which one you like.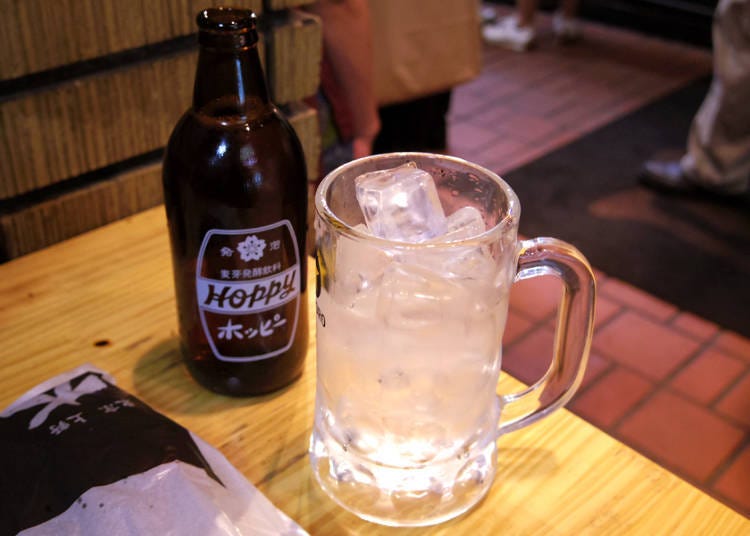 Be sure to order Hoppy, the characteristic drink of Tokyo's old downtown area. Hoppy tastes like beer, except that it is not! By itself, the drink only has 0.8 percent alcohol and is usually mixed with shochu. At Meat Oyama, one bottle of Hoppy (called "soto") costs 340 yen, while the shochu used for mixing (called "naka") is available for 240 yen – making the set cost 580 yen. This set comes with plenty of shochu, however. So much that one bottle of Hoppy will last you for three full cups!

The first snack we'd like you to try is the "special menchi" for 200 yen. Menchi is short for "menchi-katsu," a breaded and deep-friend cutlet of ground meat. This fried delicacy smells so good, it'll make your mouth water as soon as you start to unwrap the paper!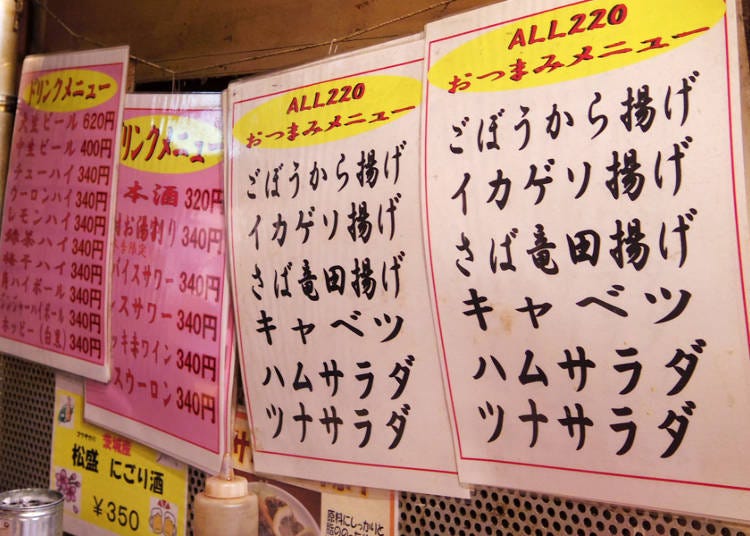 3 Kinds of Menchi – 3 Kinds of Delicious!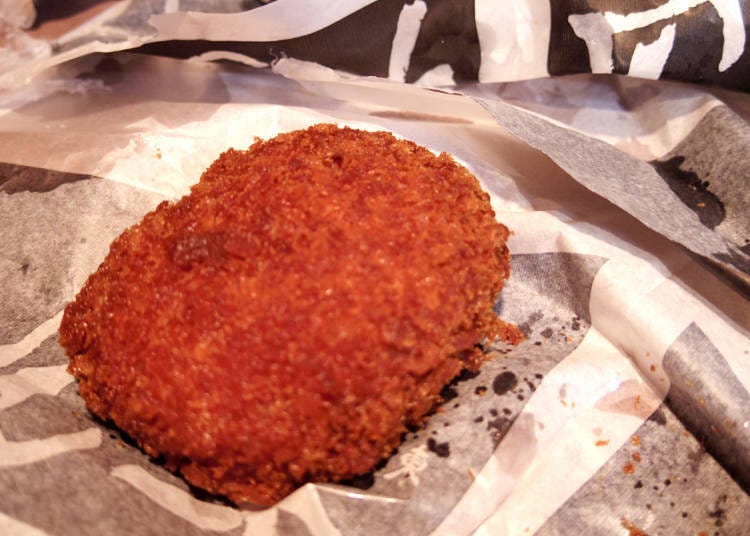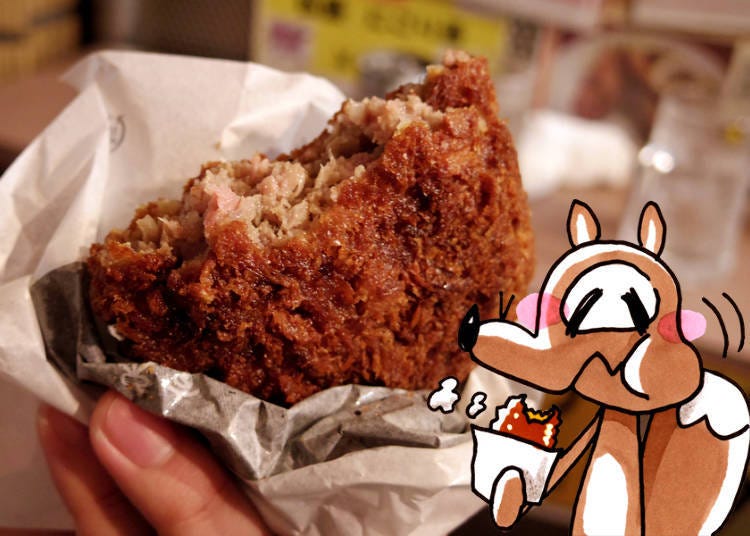 As a meat specialty shop, Meat Oyama offers three kinds of different menchi: the "yamitsuki menchi" (yamitsuki quite literally means "addictive) for 120 ten, the aforementioned "special menchi" for 200 yen, and the "takumi no wagyu menchi" (Japanese beef) for 400 yen. The rising price is explained by the rising quality of the beef – just choose whatever your mood and budget say is best! Apart from nenchi, Meat Oyama offers plenty of snacks for 220 yen, so we are sure you won't go hungry!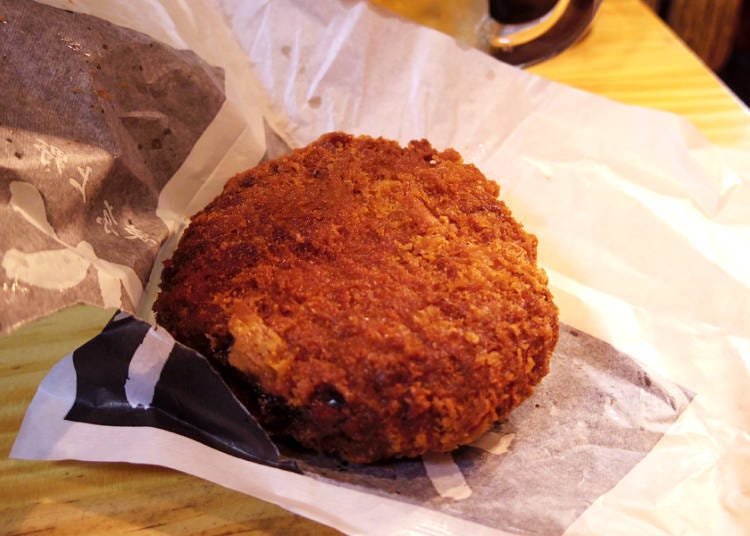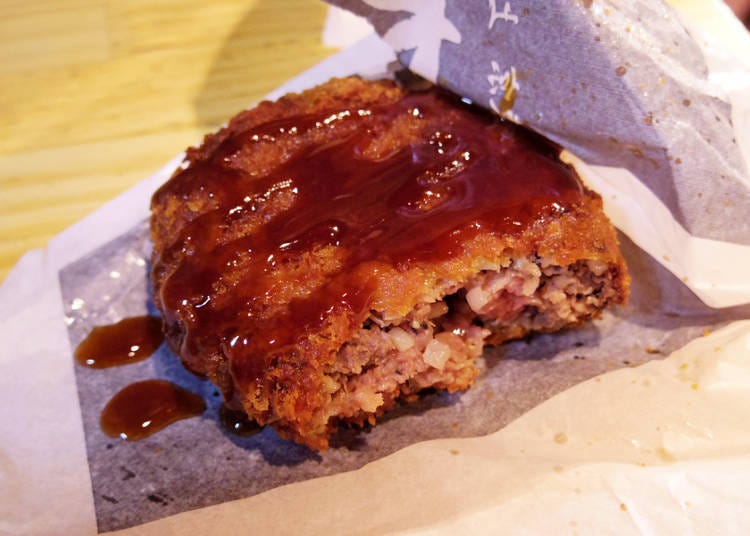 If you really want to treat yourself, go for the takumi no wagyu menchi for 400 yen. Prepared with the finest Japanese beef, this luxurious snack will give you an excellent, yet down-to-earth impression of Meat Oyama's excellence.
The crunchy breading reveals a juicy filling and the wonderful umami flavor of beef will start to spread on your tongue from the first bite. This menchi is delicious all by itself, but adding a little sauce gives it an extra kick!
Even though Meat Oyama is a specialty store for meat, various other dishes are offered just as much, so why not try your way through the menu?
One of them is the "ebi-katsu" for 270 yen, a deep-friend cutlet of soft and juicy shrimp meat! Its springy texture and natural flavor make this a must-try for every seafood lover.
Hours
Mondays to Saturays: 11:00 a.m. – 11:00 p.m. (last order at 10:00 p.m.)
Sundays & national holidays: 11:00 a.m. – 10:00 p.m. (last order at 9:00 p.m.)
肉の大山

Address

6-13-2, Ueno, Taito-ku, Tokyo, 110-0005
After a long day of sightseeing in Ueno, why not do some bar-hopping and try all the three spots on our list? Whether you're a woman traveling by herself or are looking for a fun place to spend an evening with friends, look forward to a welcoming atmosphere, great dishes, and lots of drinks!
Wrtitten by Paricco

*This information is from the time of this article's publication.
*Prices and options mentioned are subject to change.
*Unless stated otherwise, all prices include tax.