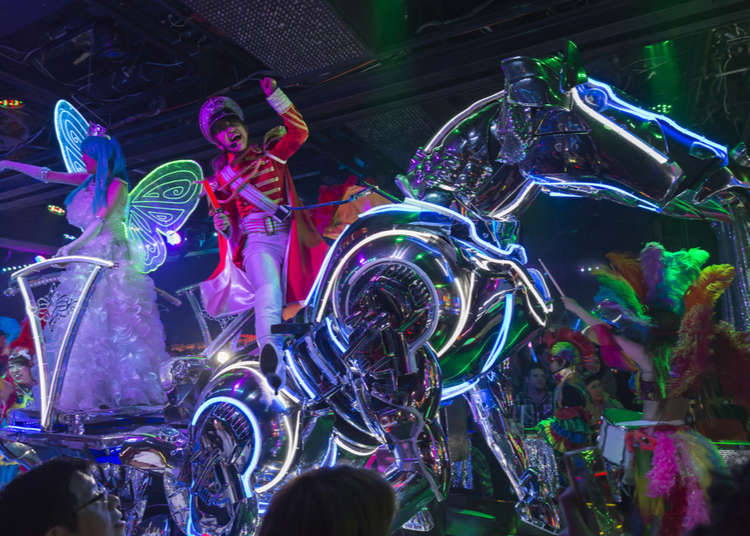 Robot Restaurant is the neon-filled night of dancing, crazy costumes, and robot battles. If this sounds like your kind of Tokyo dreamland, there's no question that you need to visit!

I took a look inside one of Shinjuku's most unusual and talked-about theme restaurants to see if it lived up to the hype. The short answer? Absolutely!
The Rise of Robot Restaurant in Japan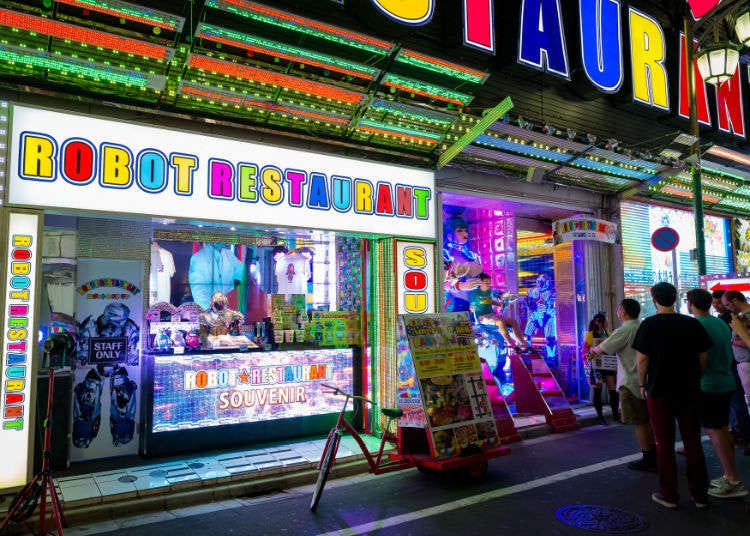 When the 10 billion yen Robot Restaurant opened in July of 2012, it was originally targeted at Japanese businessmen. However, as word of the unique dinner cabaret spread across the world, the audience shifted toward foreign tourists in search of that "only in Japan!" experience. These days, the majority of customers are non-Japanese, and at any given show, you're likely to find a number families with children in attendance.
A Robot's Home? In the Neon Heart of Shinjuku!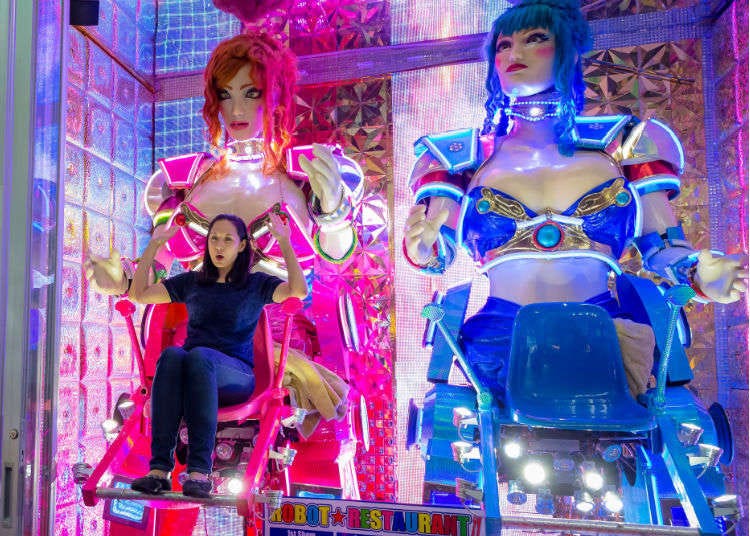 Robot Restaurant is located in the Kabukicho area of Shinjuku, an entertainment district known for being something of an "adult playground."

While most of the surrounding establishments are decidedly not kid-friendly, Robot Restaurant stands as a happy beacon to people of all ages and nationalities. To access the restaurant, head towards the Kabukicho Exit on the East side of JR Shinjuku Station. It will take about five minutes on foot. Or, if you're coming to Shinjuku Station via the Marunouchi Line subway, it's a four-minute walk from either the B11 or B12 exit.

Before I could even see the restaurant itself, I could hear its infectious music in the distance: "Roboto, roboto, re-su-to-ran…" I soon found myself face to face with the icons of Robot Restaurant: two large and colorful lady-robots, called Roboko, just outside the entrance. The bikini-clad pair had built-in seats, welcoming visitors to climb in and get that perfect shot that allows them the chance to return home and brag about "that time I commandeered a Japanese robot."

A smaller, but equally dazzling robot stood beside them, almost like a bodyguard. From there, it was easy to find the ticket counter, as English is used on all of the signs, as well as by the staff. After receiving my ticket, I was guided through a mysterious, narrow, neon-lit hallway, leading to a sparkling elevator, which was decorated with more robot imagery.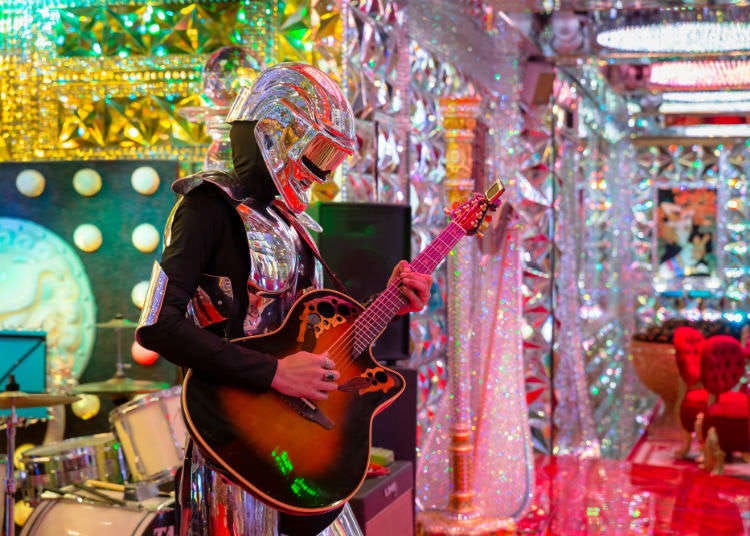 As instructed, I had arrived 30 minutes prior to showtime. However, it's really to your benefit to arrive as early as you can because you'll want to spend some time in the waiting area lounge. Once you arrive on the third floor, you'll really begin to feel like you've stepped into another world.

The lounge is decorated from floor to ceiling in over-the-top opulence: mirrors, rainbow lighting, chandeliers, large screen videos, and yes, robots! Just by the drink counter is a friendly and helpful little robot who introduces himself as Jamie.

You can also buy souvenirs here, along with any soft drinks, sake, or beer you may wish to get before the show. I took a seat in one of the many oversized golden throne-like chairs and listened to the gentle strumming of a robot-man's guitar, before being instructed to walk down several flights of stairs to the stage area.

It was almost time to begin! (Before leaving, you may also want to check out the ritzy restroom in this area - it may be your only chance to see a golden bathroom with a neon flower-patterned toilet!)

We were greeted by smells of salty and sweet popcorn as we took our seats. Unlike a typical theater, the stage was located right in the middle, with seats one another on either side. I was surprised at just how close all of the seats were to the stage.

Vendors were selling refreshments in the middle of the stage area, so anyone who missed out on getting a drink in the lounge had a chance before the show started, as well as later on during the short breaks that occurred throughout the performance.

If you want to eat a full meal for the complete "restaurant" experience, you can order one of their sushi or pork bento boxes in advance, or order a burger from the refreshment area in the lounge.
It Begins! Warrior Women Meet Traditional Japanese Culture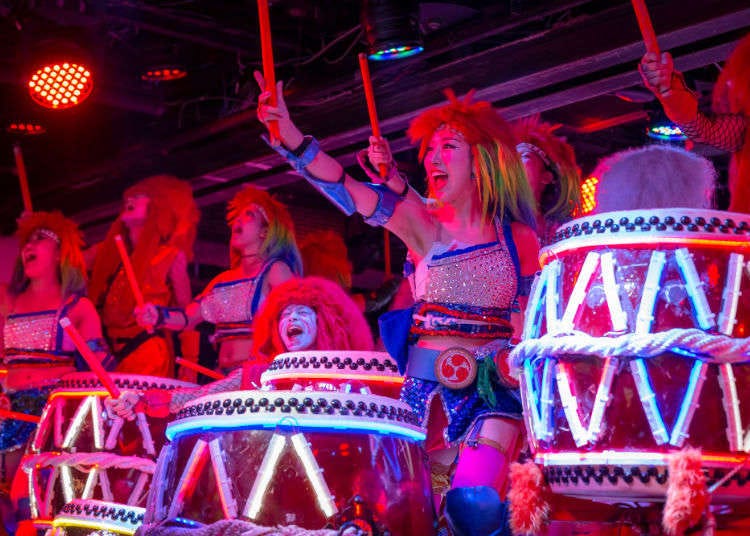 Finally, the snacks were wheeled away and suddenly a flurry of music, dancing, and fluorescent costumes began while the rules were cheerfully explained. Not a beat was skipped as three giant illuminated platforms traveled across the stage, carrying a number of girls who, despite their wild costumes, gave a genuinely powerful taiko performance.

This portion of the show was the one that most paid tribute to traditional Japanese culture, with mikoshi (portable shrines), a giant robotic Daruma doll, and a parade float with super-sized sushi. At one point, there was a duet between an electric guitar player and a giant oni (Japanese demon) playing a traditional shamisen.

One of the overarching themes of the show is the presence of warrior women, or "josen," who fight whichever villain - robotic or otherwise - that threatens their otherwise peaceful existence of sparkly fun. These battles were not limited to a grand finale, instead, we were treated to a dance-fighting performance, with both josen and a few ninja men, right from the start.

The smoke from the gigantic dragon-like robot dragon had barely cleared before sparkling, rainbow-haired dancers brightened the mood again. As the opening act began to wind down, inexplicably, a pair of hip hop dancing clowns appeared, and ended up giving a bucket of popcorn to some lucky kids in the audience.

The first act finished, and I was left wondering how what I had just witnessed could possibly be topped! Luckily there was a short break, because I think the entire audience needed some recovery time.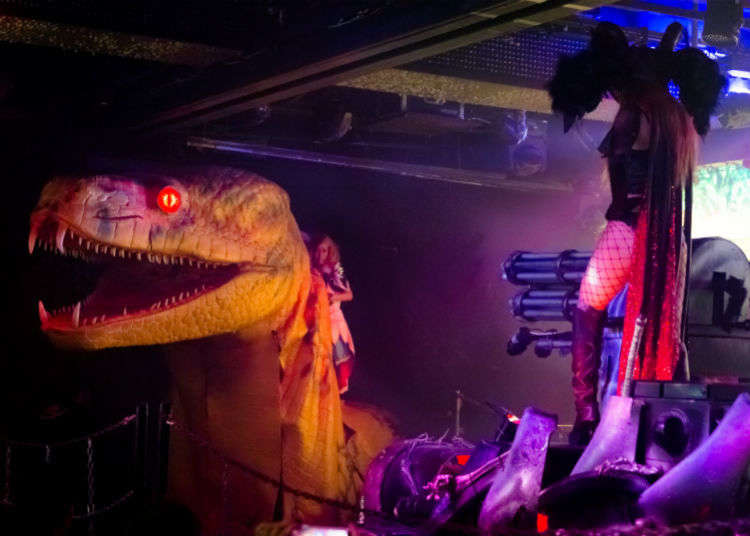 You could tell that things were about to get serious when the room darkened and chain fencing was stretched across either side of the stage.

The panoramic video screens that lined the walls lit up with images of unicorns, fairies, mermaids, and even Zeus, as a narrator set the scene for the next upcoming act. We listened to the story of the sacred forest, a normally peaceful place, which, as fate would have it, was destroyed by some evil invaders of the robot empire.

Those evil machines even destroyed the sea! Luckily, the explanation was kept to a minimum, because what occurred next was a battle so epic, it almost transcends words. That being said, I can tell you a few of the highlights.

After some josen tribal dancing, we met the two main rivals, each riding their own weaponized robots. The villainess, dressed in black leather with a fantastic Carnival-style headdress gave a deliciously campy performance: "This forest is so beautiful, I wanna trash it!"
Dinosaurs, Monkeys, and Mermaids Battle Against Evil!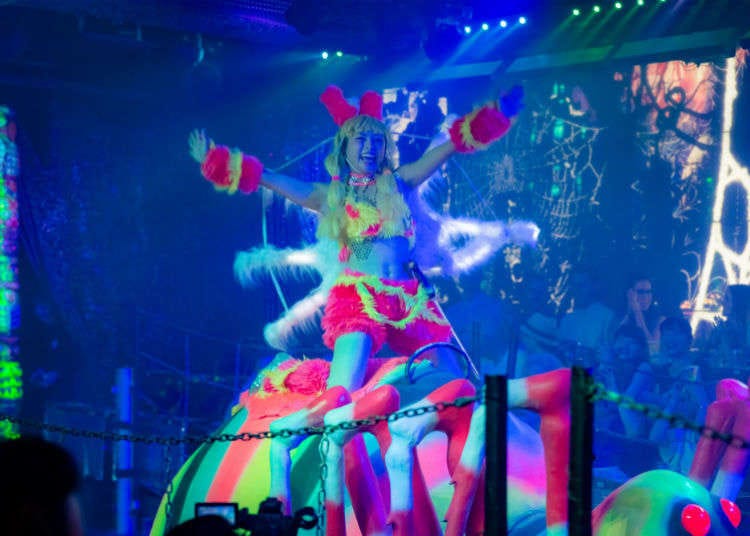 After seeing a cartoonish ninja panda riding a cow, and a mechanical griffin-like creature shooting sparks out of his mouth, the battle really began to heat up. We witnessed some of the neon-colored heroes (including a warrior on a spider, a mermaid on a shark and a monkey being carried by a flying monster) fight back against some wicked robot samurai.

The battle reached a climax when the the evil villainess was eaten alive by a dinosaur, presumably, restoring peace throughout the land.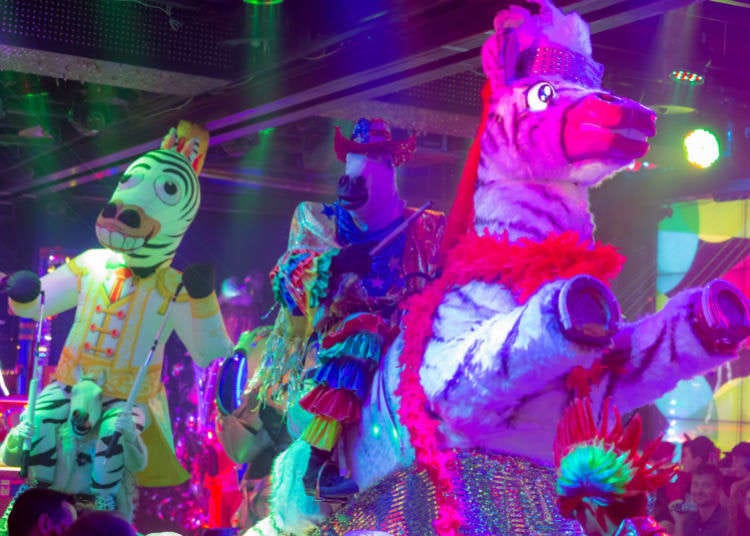 The intense mood of the previous act gave way to a fun, circus-like atmosphere, with E.L. dancers, the "Amazing Crazy Dancers," and a few characters whose existence defy logic ("The Wildest Horse in Shinjuku" who happens to be a cowboy). During the final festivities, multi-color light sticks were handed out to the audience so that we could participate too!

Just before the grand finale, the circus ringleader advised us not to lean into the stage area, as the robots were about to parade right up to the audience, as well as a final comment: "It's going to blow your mind!"

She wasn't wrong. The final parade consisted of several large and impressive robots, in conjunction with glittery-costumed singers, rainbow-feathered dancers, and at last, the appearance of Robot Restaurant's mascot, Roboko, who was piloted oddly enough, by one of the breakdancing clowns from earlier in the show."
Experience the Robot Restaurant During Your Tokyo Trip!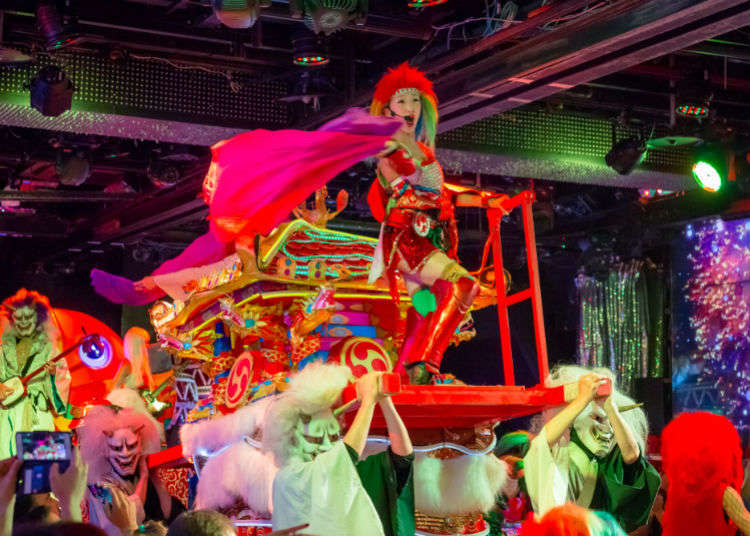 As much as I can try to explain the happy chaos of Robot Restaurant, there is no substitute for seeing it in person! It's something you truly need to experience to believe. The entrance fee is 8,000 yen per person, with an optional meal fee of 1,000 yen. Robot Restaurant is open Friday through Wednesday, running 3 to 4 shows each day. Due to high demand, it's advised to purchase tickets in advance as soon as possible.

Potential visitors should also take note that the show includes many bright, flashing lights, as well as some loud, and potentially startling noises. Kids are welcome, but some of the imagery may be too intense for smaller children. As a courtesy, Robot Restaurant provides headphones to all children to muffle the loud noises.

Robot Restaurant really is an experience you won't find anywhere else in the world, so if you're in Tokyo, check it out for yourself!

Main image: Andreas Mann / Shutterstock.com
ロボットレストラン

Address

1-7-7 Kabukicho Shinjuku-ku Tokyo,Japan

Phone Number

03-3200-5500
Book an unforgettable Robot Restaurant experience!
Make your trip extra memorable by booking one of these recommended tickets via our partner site, Voyagin!
Written by: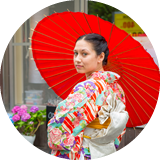 *This information is from the time of this article's publication.
*Prices and options mentioned are subject to change.
*Unless stated otherwise, all prices include tax.